Custom Garage Storage Cabinets in Irvine CA
100% Satisfied Customers | Free Estimates and 3D Rendering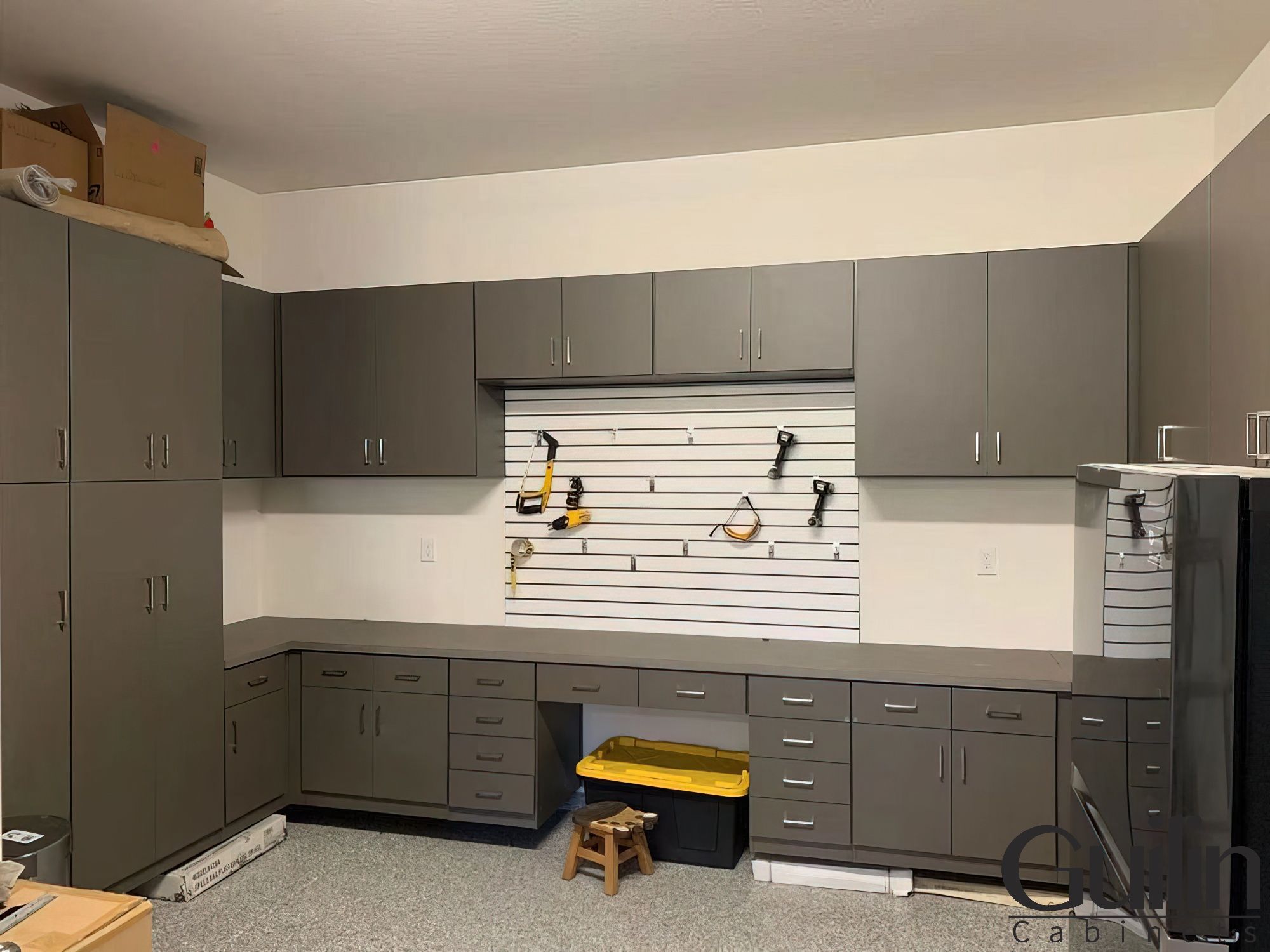 [New Look Of Your Garage]
Experienced Custom Cabinets For Garage Storage
Is the garage becoming an eyesore for you? Do you seek a method that helps you get your area in order and improves its visual appeal? Put away your search! You've found Guilin Cabinets, Irvine, California's top manufacturer of garage storage cabinets.
We know how stressful working in a disorganized garage can be, so we've made it our mission to help you create a space that serves your needs while also looking great. As specialists in the design of unique storage solutions, we are confident that you will find our custom garage cabinets to be an excellent investment. Get ready to welcome order and cleanliness to your garage. Get in touch with us right now to learn about the options available for your ideal garage.
YOUR HOME – YOUR BUDGET – YOUR CHOICE
[ OUR SERVICES & WHAT CAN WE DO ]
Explore Our Custom Garage Storage Cabinets
Experience the convenience and beauty of our custom-made garage storage systems at Guilin Cabinets. Say goodbye to the hassle of parking your car in a cluttered garage, fearing damage to your car door, and struggling to find your belongings. With our innovative solutions, you can enjoy a perfectly organized garage that meets all your needs. Imagine effortlessly stepping out of your car and entering your home without any obstructions. Visualize walking into your garage and effortlessly locating any item you desire within minutes. This may seem like a distant dream, but it can become a reality with a custom garage system tailored by our skilled professionals.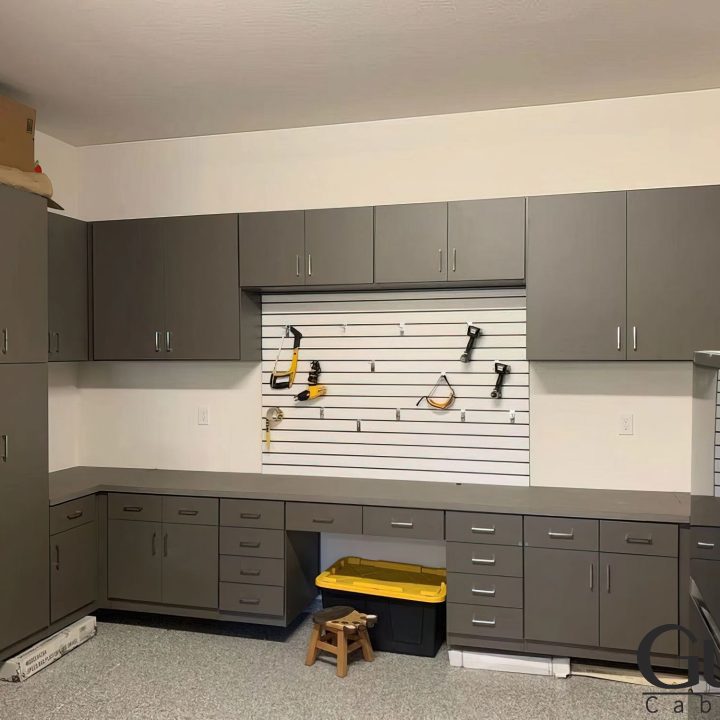 Our cabinets provide a dust-free and protected environment for your garage items with their closed doors. Made from top-notch material, these cabinets are resistant to stains, moisture, and fading, thanks to the melamine coating. They can hold heavy loads and feature strong steel hardware that is rust and corrosion-resistant. 
Our slatwall racks enable you to easily customize storage for various items such as tools, cleaning supplies, hardware, gardening essentials, and more. Transform your garage walls into a versatile storage space where you can conveniently keep everything you desire.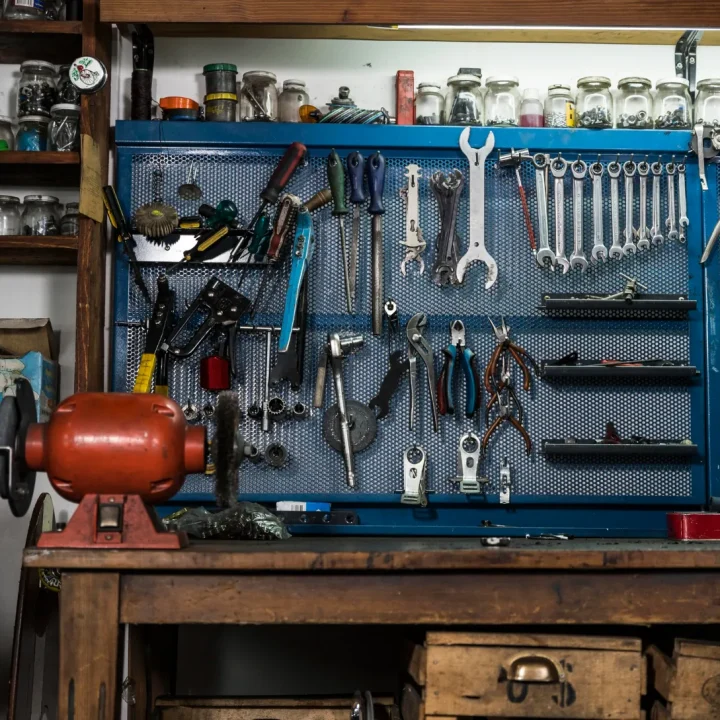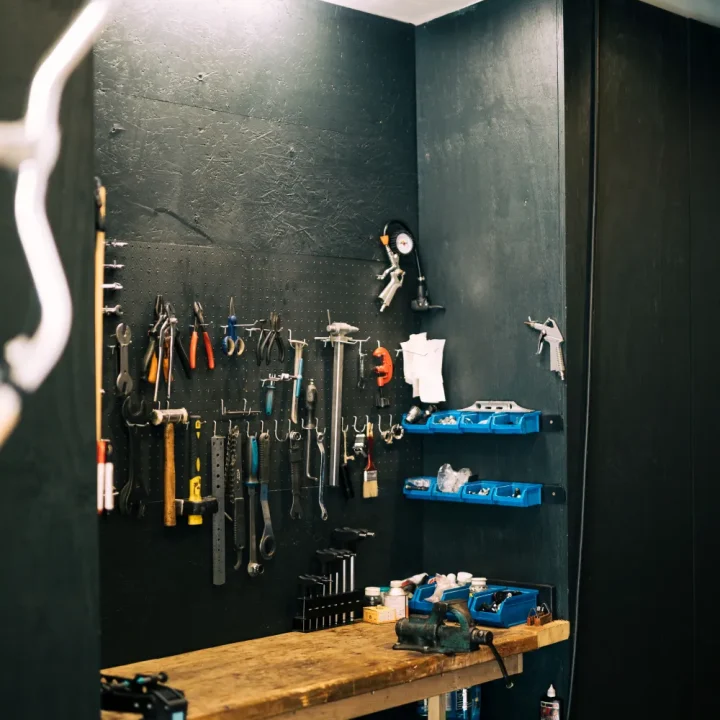 A workbench is indispensable in your garage if you require a dedicated workspace and tool storage. With appealing finishes, it offers a clean, flat surface along with extra storage space. Enhance your productivity and keep your tools organized efficiently by investing in this essential piece of furniture.
Upgrading your garage storage with shelving offers a convenient and accessible solution. Crafted from wood, these shelves come in various finishes, perfectly harmonizing with your preferred décor. Elevating your items off the ground, they provide both practicality and aesthetic appeal to complement any decorating style.
Our new tall overhead storage racks allow you to store items like bicycles and seasonal decorations near the ceiling, maximizing space. With no interference to the garage door, these racks create additional room that you may have overlooked.
Furthermore, our extensive range of accessories comfortably accommodates all your essentials, such as spray cans, ladders, brooms, and mops.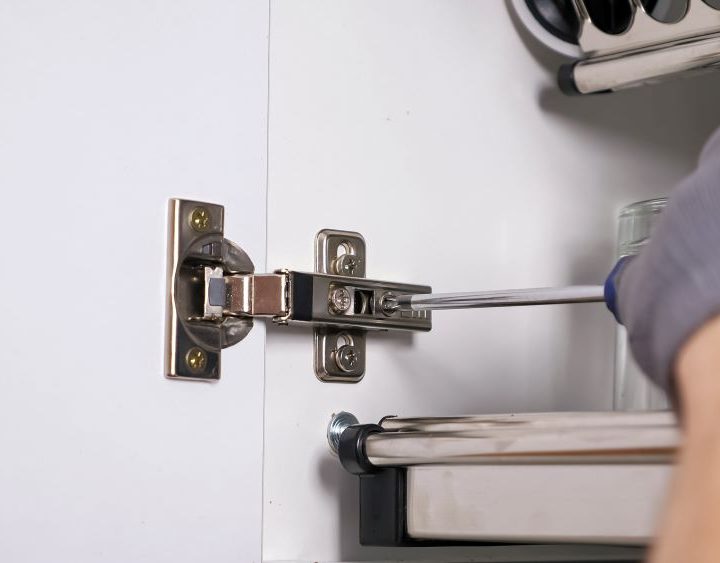 [ Our Service Proccess ]
How We Transform Your Space With Custom Closets
Schedule a free design consultation

Whether on-site or online, our expert interior design consultant will examine your space, needs, and budget.

Provide a 3D design

Our team will design a 3D digital model of your space. Together, you'll edit and finalize the design until it is exactly what you want.

Custom build your Cabinets

We use the highest-quality material to custom-build your Cabinets

Professional Installation

Our installation teams are staffed with professionals who ensure that cabinets are correctly installed on schedule and that product is distributed into proper units.
[Service Area]
Guillin Cabinets Serves All of Southern California, Including the Following Cities:
Los Angeles: Agoura Hills| Beverly Hills | Burbank | Calabasas | Carson | Glendale | Hawthorne | Hidden Hills | Lancaster | Long Beach | Malibu | Marina Del Rey | Norwalk | Ontario | Pasadena | Santa Clarita | Santa Monica | Torrance | Palmdale
Orange County: Anaheim | Brea | Buena Park | Costa Mesa | Fullerton | Fountain Valley | Irvine | Huntington Beach | Garden Grove | Laguna Beach | Lake Forest | Laguna Niguel | Mission Viejo | Newport Beach | Orange | Santa Ana | Tustin | Westminster
Ventura County: Camarillo | Moorpark | Newbury Park | Oxnard | Simi Valley | Thousand Oaks
[ INSPIRATION ]
Insirastion Remodel Projects
Are you in need of some ideas for your remodel project? Check out our #inspirations! We have everything from kitchen remodel ideas, and buying guides, to style and design tips to help you get started.
[ our contact details ]
We Want To Hear About Your Project
Give us a call or drop by anytime, we endeavour to answer all enquiries within 24 hours on business days. We will be happy to answer your questions.