Understanding the different types of bathrooms available will help you to plan and design the ideal space for your needs. A well-designed bathroom will make everyday tasks more comfortable and add value to your home.
How to Know the Type of Bathroom in My Home
In fact, each bathroom component is typically considered to be one-quarter of the four overall components. This means that if a bathroom has all four components, then it can be classified as a full bathroom. If it only has two or three of the components, it may be considered a half bath or three-quarter bath. It's important you need to know the type of bathroom you have, as it can affect both the value of your home and its functionality. For example, a full bathroom is more desirable to potential home buyers than a half bath.
=> Related Article: Bathroom Remodel Services In California | Guilin Cabinets
Types of Popular Bathroom Layout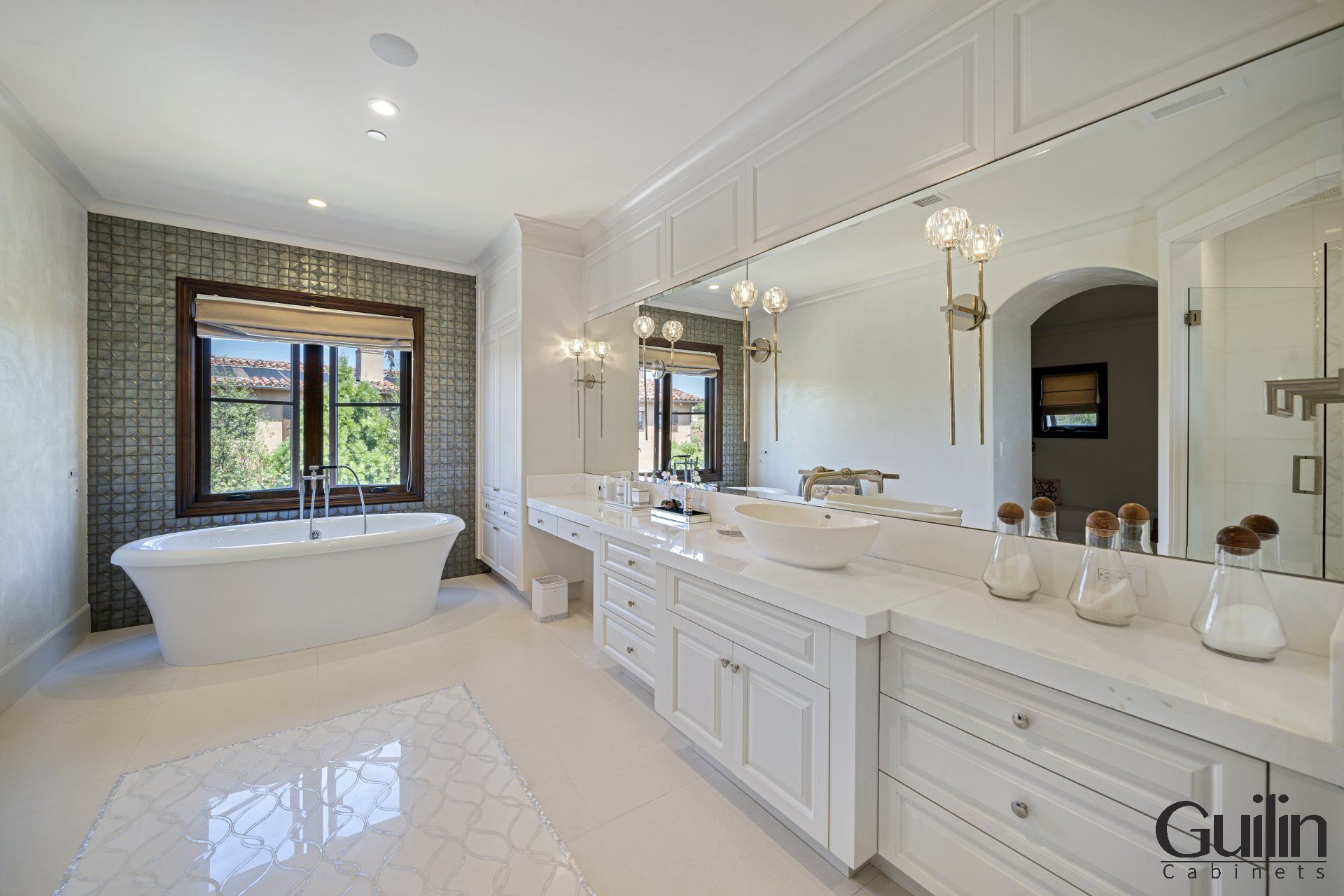 Master Bathroom:
These are the most luxurious types of bathrooms and are typically found in the master bedroom. They are designed for ultimate relaxation and often include high-end features such as jetted tubs, double sinks, and even a separate shower area. If you're in search of a spa-like experience in your own home, then a master bathroom is the way to go.
=> Read more: What Master Bathroom: Understanding, Tips and Ideas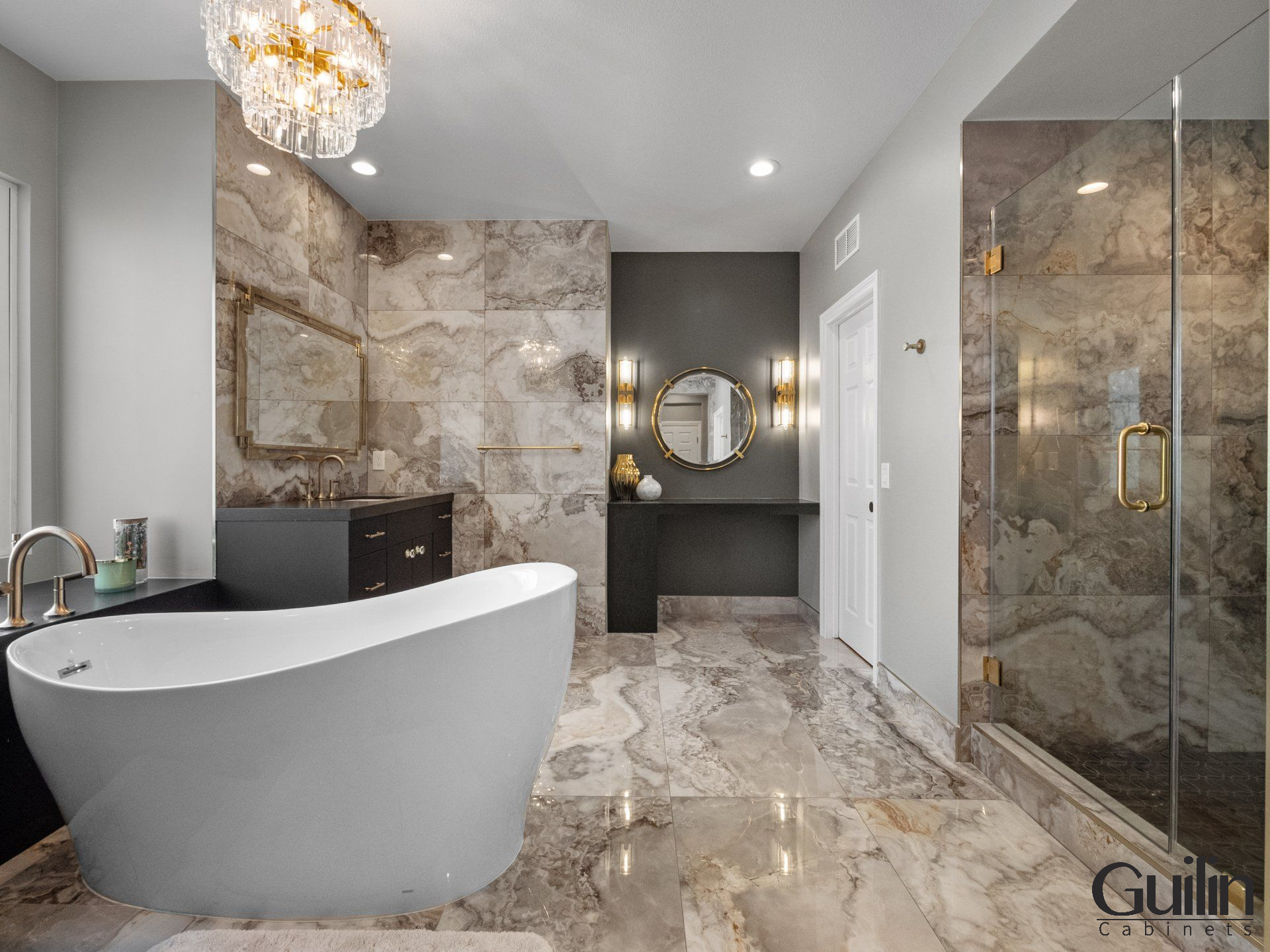 Full Bathroom:
A full bathroom is where you can have your next shower or bath. It consists of a toilet, sink, and tub or shower. Full bathrooms are more common and are used regularly for bathing, grooming, and other daily activities. They typically can be made with a lot more options for designing and customizing to suit your needs.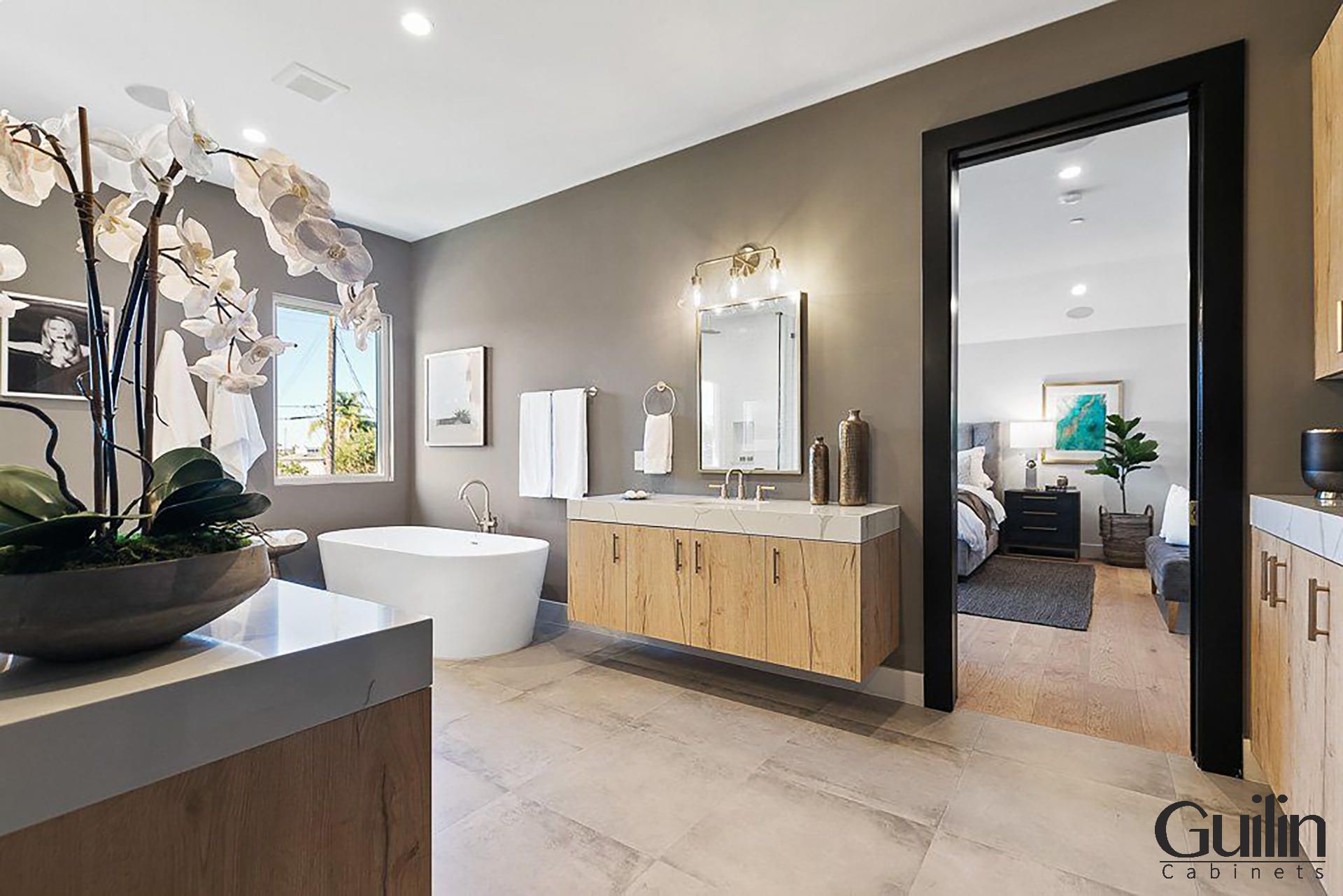 Half Bathroom:
Also known as a powder room, a half-bathroom consists of a toilet and a sink. Usually, half bathrooms are located in areas close to the living space and serve guests and family members. The design and decor of half-bathrooms are usually more lavish and dramatic than other types of bathrooms to make the visit more pleasant.
Three-Quarter Bathrooms:
Finally, we have Three-Quarter Bathrooms. These bathrooms are somewhere in between a full bathroom and a half bathroom. They typically include a shower stall, toilet, and sink. Three-quarter bathrooms are great for homes with multiple people who are always scrambling to get ready in the morning, as they offer more space and privacy than just a half bathroom.
=> Read more: Unveiling Benefits of Three-Quarter Bathrooms to Your Home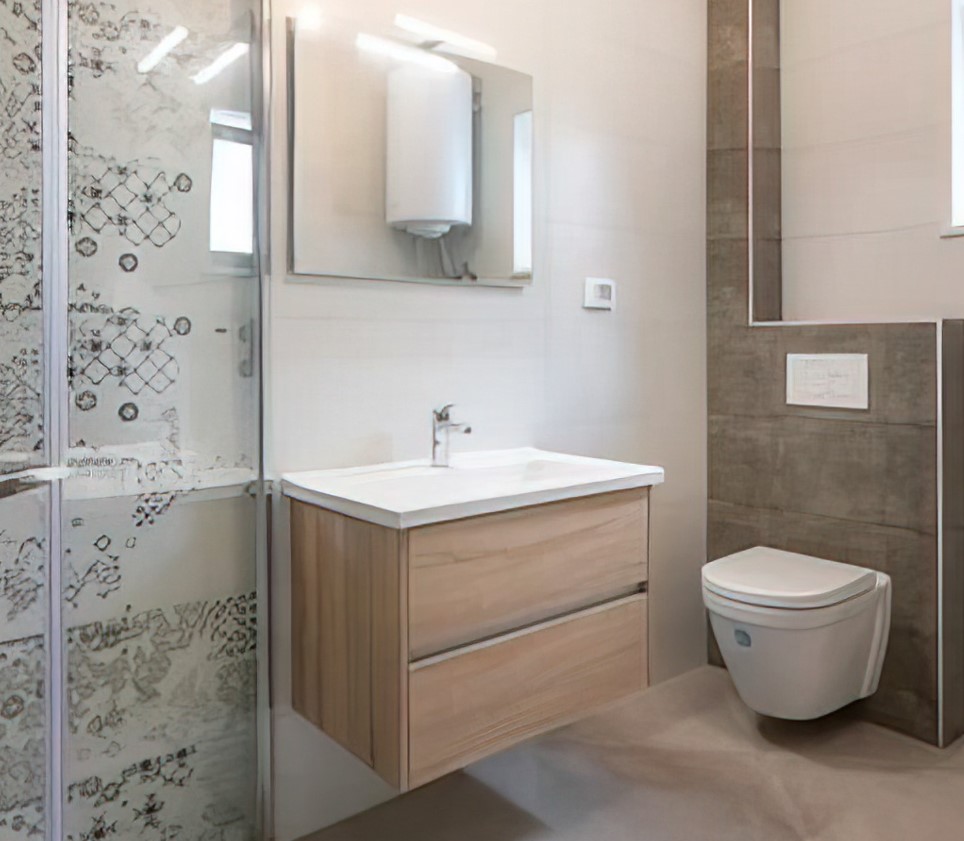 Guest Bathrooms:
Guest bathrooms are an essential part of any home, and they provide a practical and functional and comfortable space for your visitors. Unlike your private bathroom, this space can offer you a unique opportunity to showcase your creativity and hospitality through bold and entertaining design choices.
The best feature of guest bathrooms is that they are unbound by the constraints that come with other parts of your home. Since they usually stand alone in hallways or near guest bedrooms, you can freely experiment with creative design ideas without worrying about them clashing with other rooms. It's like having a blank canvas that you can customize according to your taste and preferences.
=> Read More: Guest Bathrooms Ideas, Trends, Tips to Make It Better?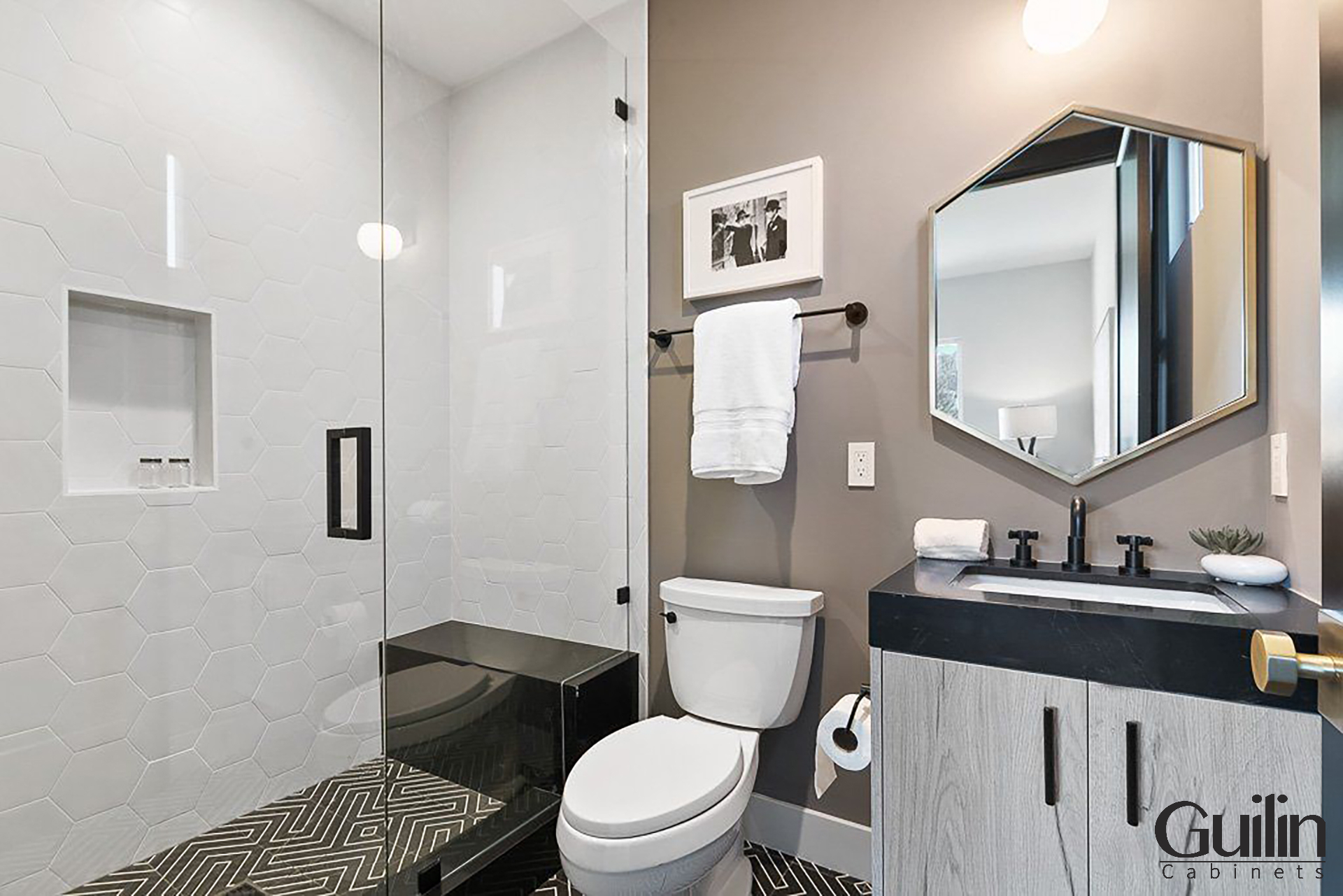 Powder Room:
If you're unfamiliar with the term "powder room", it's a small bathroom located near the main living areas of a house. Although these tiny spaces may not be the most functional rooms in a home, they're still very important. They serve as convenient spaces to freshen up and transform your appearance, whether you're attending a social event or simply need a quick touch-up.
But powder rooms are more than just functional spaces, they're also an opportunity to add a touch of elegance and style to your home. You don't need a large space to create a bathroom that's both stylish and functional. By combining vintage and modern textures and materials, you can create a powder room that's truly unique and reflects your style. In Addition, the Powder room can be used as a guest bathroom, It typically contains a toilet and a sink and is usually located near the main living areas, that still providing a functional and comfortable space for your guests
=> Read more: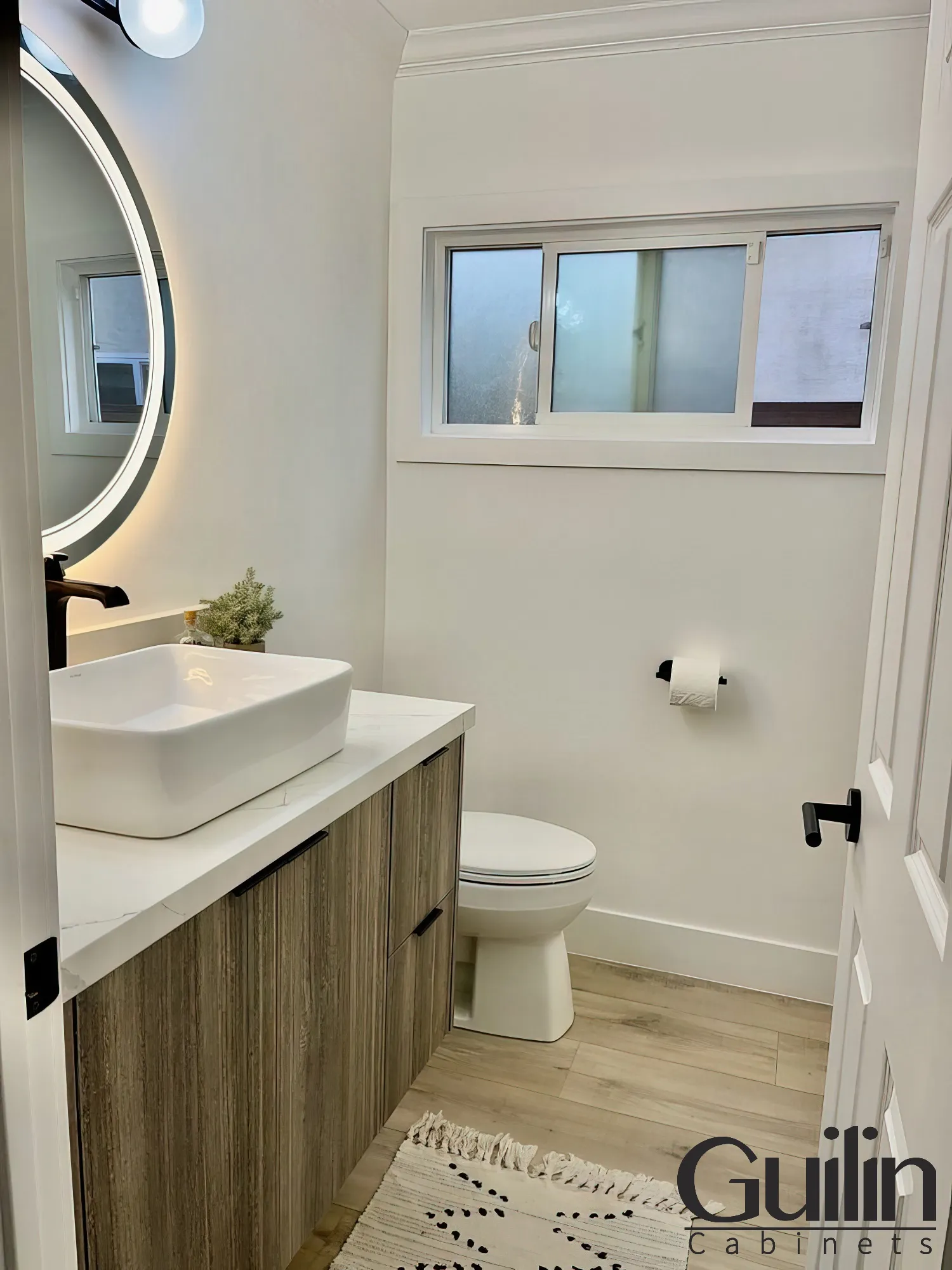 Bathroom Design Ideas From Guilin Cabinets Completed Remodel Projects