Limestone is a beautiful and luxurious stone that can add a touch of elegance to any kitchen or bathroom. Unfortunately, limestone is also a porous material, making it particularly susceptible to staining. In this guide, we'll explain how to clean, maintain, and remove stains from limestone countertops so you can keep your countertop looking its best.
=> Related Articles: How To Clean, Maintain, and Remove Stains of Stone Countertops
What are Limestone countertops?
Limestone countertops are a popular choice for homeowners wanting to achieve the elegant look of marble for a more affordable price. Not only are they a great value, but they are also typically white or off-white in color with unique, random patterns in the stone. Unfortunately, limestone is also very porous and prone to scratches and discoloration more so than other countertop materials. But with the right sealant and a little extra TLC, you can ensure that your limestone countertops will last for decades to come.
Feature of Limestone countertops:
Has a Classic, Timeless Look
Cheaper Than Other Nature Stone Options
Long Lifespan When Cared For

it properly.

More maintenance and upkeep than other types of stones.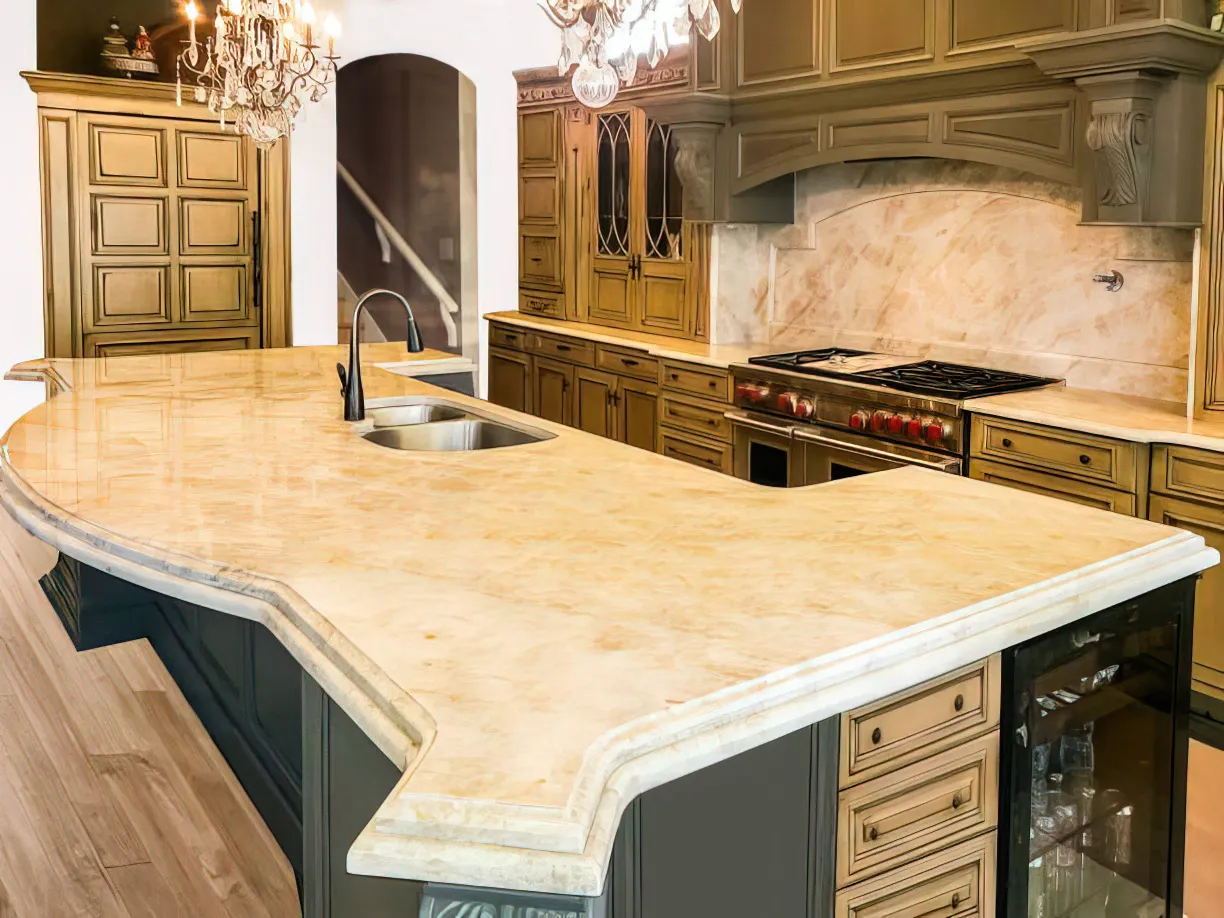 How to Maintain, and Clean Limestone Countertops:
Keeping your limestone countertops looking their best is simple with daily cleaning.
=> Related Article: The Average Price of Different Countertops
For Daily / Clean Regularly :
For spills, small dirt, and debris: After every meal preparation, make sure to wipe down your countertops with a soft cloth. Avoid using sponges or scrubbers which may scratch the finish of your limestone countertops. With proper daily maintenance, your limestone countertops will stay looking great for years to come.
Removing small stains: Removing stains from your limestone countertops can be an easy job if you do the right method. As limestone is softer and more porous than other stones, it can be easily stained with acidic and dark-colored foods like red wine, black tea, and coffee. In addition, excessive heat can cause burning or scorching of the stone. To remove these stains, important, you need to act quickly and use a soft cloth to blot up any liquid or food that has been spilled.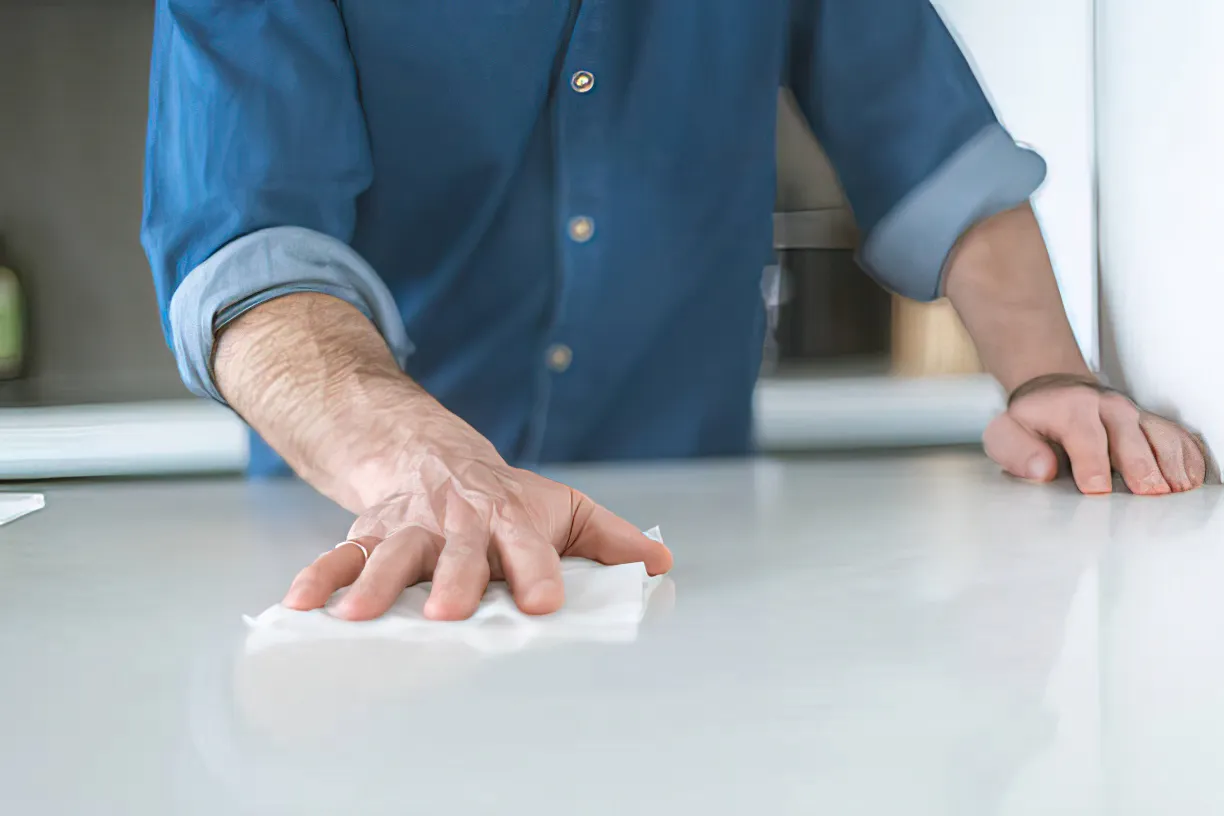 Monthly:
Apply a Sealer: Applying sealer to your limestone countertop is an important step in making sure it stays in pristine condition. The sealer acts as a barrier to prevent spills, stains, and dirt from penetrating the porous stone. When limestone is manufactured, a sealer is already applied to the surface. But since this sealant will eventually wear away with regular cleaning, it's important to reapply it every few months. You can find limestone sealers at most local home improvement stores, and they are usually fairly affordable. Maintaining your limestone countertop with regular sealing will help ensure that it looks beautiful for years to come.
How to Remove Tough Stains of Limestone Countertops:
Mild soap and warm water
To efficiently remove stains from limestone countertops, start by wiping the surface to get rid of any dust or dirt that may be lingering. Then, spray the "mild soap and warm water" onto the affected area and let it sit for a few minutes. After that, use a soft cloth to gently scrub the area and then rinse with clean water. If the stain remains, repeat the process until it's gone. Finally, dry the area with a microfiber cloth to avoid any streaks.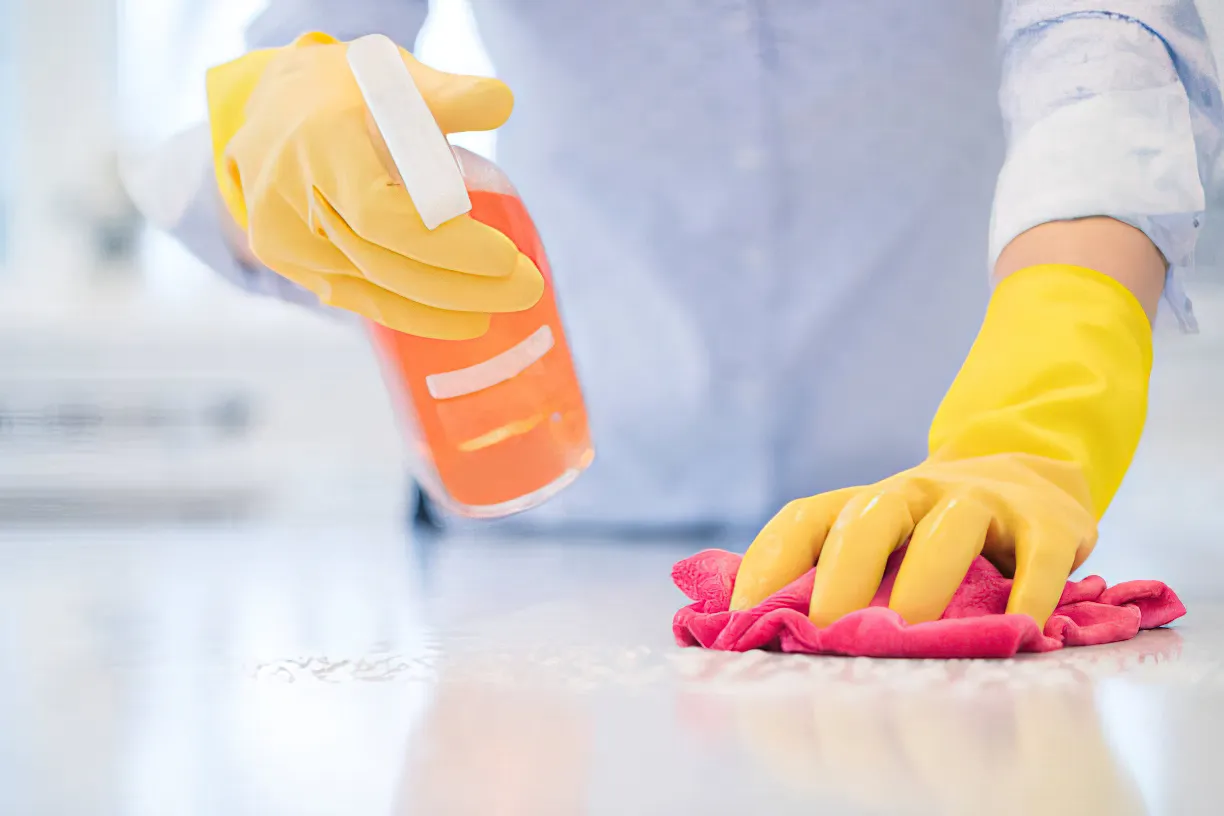 Hydrogen peroxide and flour mixture:
Does your limestone countertop still have severe stains? DONT WORRY you can easily remove them with a poultice made of hydrogen peroxide and flour. To make the paste, simply combine ¾ cup of flour with hydrogen peroxide and mix them together until a thick paste is formed. Once the paste is ready, apply it to the stained areas and leave it to dry. In most cases, the paste will harden within one or two days. When the paste has completely dried, remove it with a rubber scrapper and your limestone countertop will be free of stains!
Specialized cleaning product
If you're looking to tackle tough stains on your limestone countertop in an easy way, a specialized cleaning product like MB Stone Care is a great option. This cleanser is pH balanced, so it's safe to use on limestone without causing any damage to the stone. It's designed to safely remove dirt and stains without the need for harsh abrasives or scrubbing. Before you use the product, however, it's important to test it on a small, hidden area to make sure it won't change the appearance of your countertop in an undesirable way. Other specialized cleaning products that are safe to use on limestone include Safe n Easy, Dumond, and Weiman. For the best results, make sure you follow the product instructions carefully