The kitchen is the centerpiece of every house, therefore it should be decorated in a way that shows who you are. However, kitchen renovations may be expensive, with average expenditures ranging from $15,000 to $50,000. But who says you have to spend a fortune to have a stylish and practical kitchen? You can completely transform your kitchen's design and functionality for about $5k. In order to assist you in your endeavor, we have compiled some ingenious ideas and strategies that will reveal to you how to revamp your kitchen. If you want to update your kitchen without going into debt, keep reading for some useful tips.
Prepare a Good Plan for Cost Management:
Having a well-defined goal in mind is crucial for keeping costs in check. Create a prioritized list of the features (cabinets, countertops, appliances, lighting, flooring, etc.) that need updating. Then, arrange the items on your list from most important to least.
The Key Factors to Keep Costs Under $5000:
Keep everything simple.
Planning a budget.
Prioritize your wish list items.
Research and compare.
Be mindful of hidden costs.
=> Read more: 5 Easy Steps Planning Your Kitchen Remodel Projects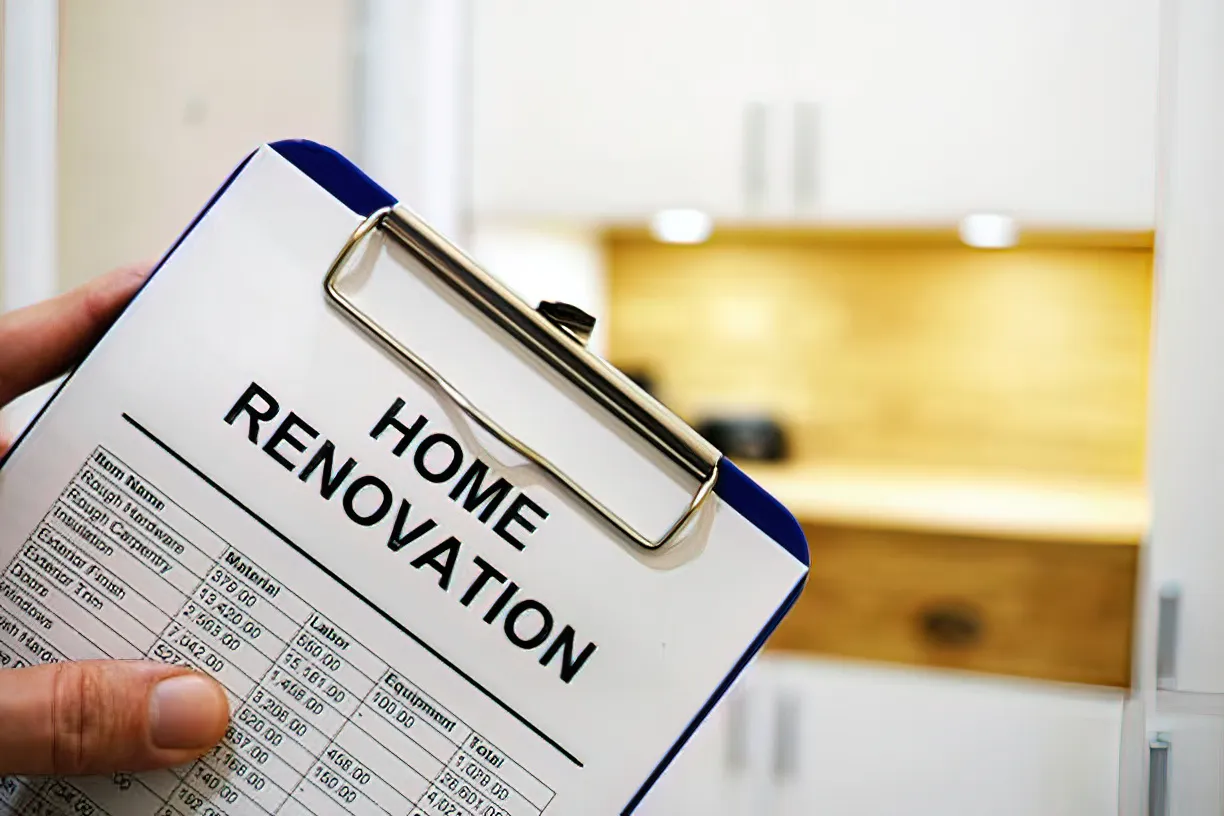 Use the Existing Kitchen Layout You Have:
By keeping the current kitchen layout intact, you can save a considerable amount of money as compared to completely overhauling the kitchen and starting over. Redesigning the kitchen to incorporate new cupboards, plumbing, walls, and electrics can add up quickly and take your renovation budget through the roof. The best way to stick to a budget for your kitchen renovation is to focus on a cosmetic makeover. Take the existing kitchen layout and simply update the look with a fresh coat of paint, new countertops, and updated appliances. These changes don't require the same level of work or cost as a complete redesign, so they will help you save money while still creating a beautiful new look.
=> Read more: Refacing cabinets service a good option to Use the Existing Kitchen Layout
Try to Re-use Your Old-Appliances:
It might be challenging to replace a whole suite of main kitchen equipment on a budget of $5,000. You can save money by updating and repairing your old appliances in the kitchen instead of replacing them.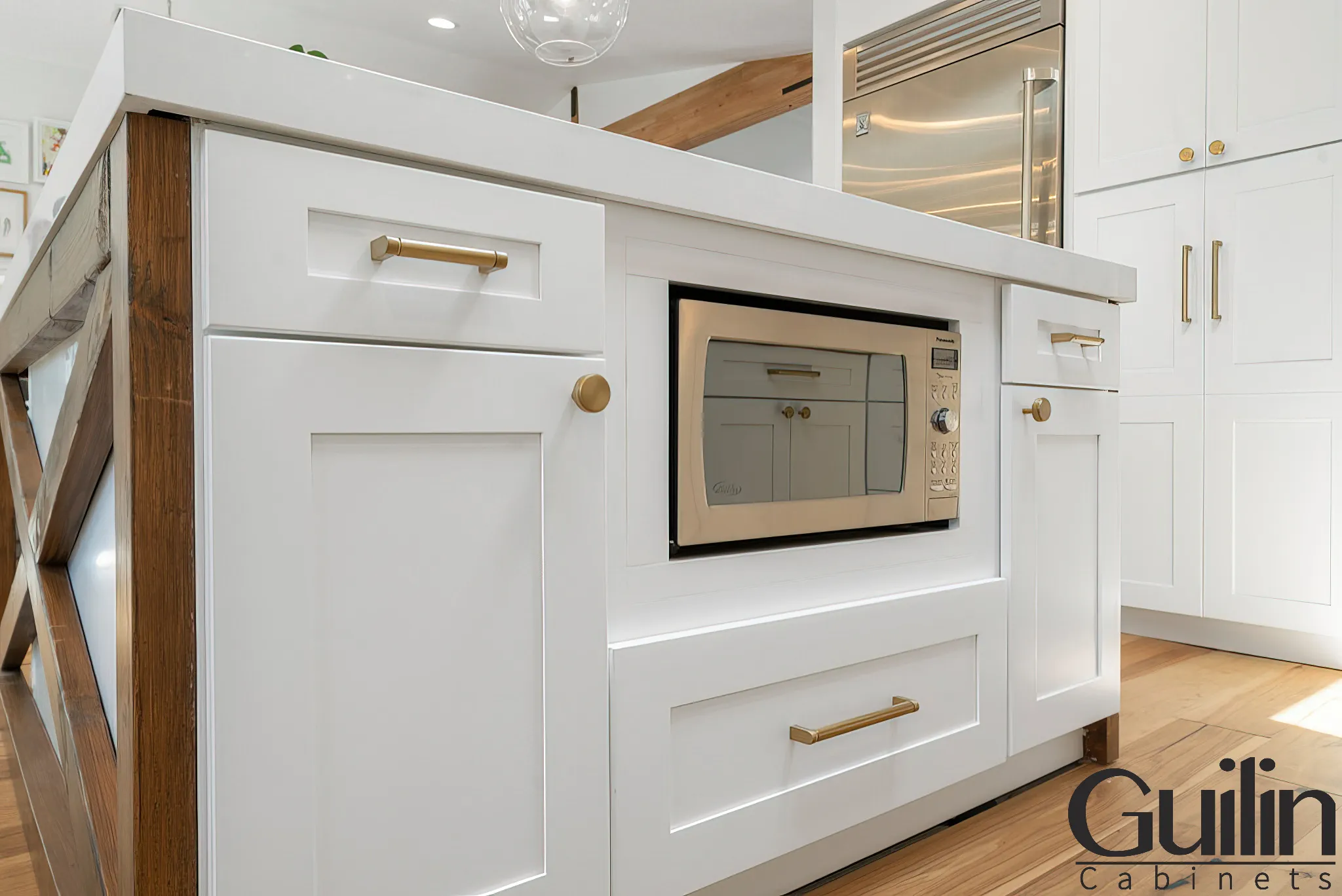 Use a soft abrasive cleaner to thoroughly scrub your gadgets clean. After you've given them a nice scrub and polish, you should double-check that they're still in working order. If they are, it seems wasteful to throw them away and acquire new ones. Even the kitchen sink is not immune to this possibility! With the money you've saved, you can upgrade your kitchen with a brand-new mixer tap or something else amazing. You may save money and give your kitchen a more contemporary design by recycling your old appliances.
Re-using and upgrading your existing appliances to control the kitchen remodel project cost:
Repair your existing appliances
Cleaning your existing appliances
Look for sales and discounts
Consider buying used appliances
Upgrade one appliance at a time
=> Read more: How Long Kitchen Remodel: The Average Time to Complete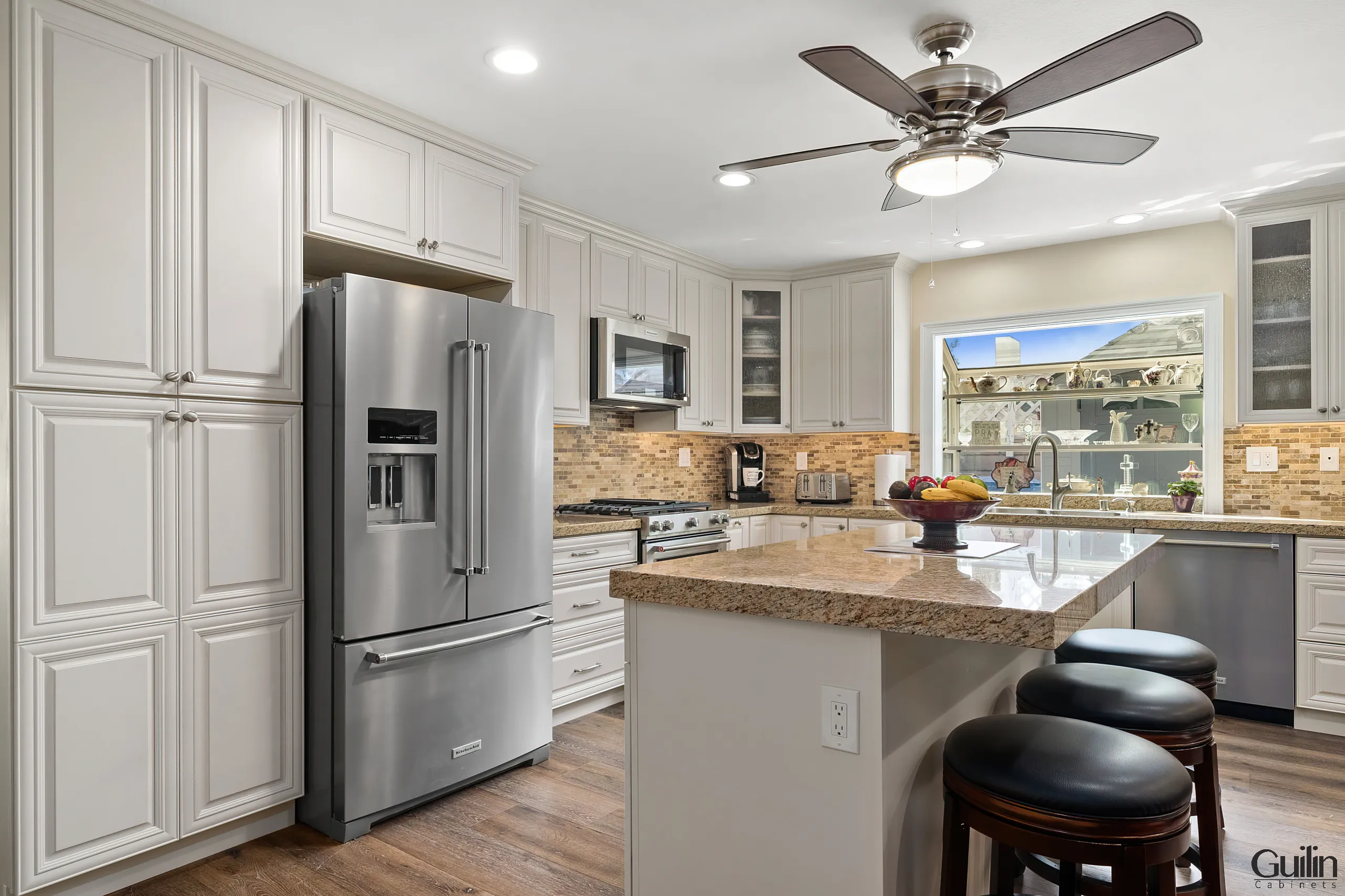 Instead of a complete overhaul & reinstall the new ones, consider refacing cabinets as a cost-effective and eco-friendly solution. Refresh involves applying a new finish to the existing cabinet boxes and replacing the doors and drawer fronts with new ones. This option provides a fresh, updated look without the expense of ripping out and replacing the entire cabinet system. Additionally, the process is much quicker than a full cabinet replacement (only 3 – 4 days), which minimizes disruption to your daily routine.
=> Read more: Refacing vs Replacing Cabinets: Which is Better for Your Kitchen Remodel
70 – 80% of your Kitchen is Cabinets – When budgeting for cabinet replacement or refacing, a healthy estimate of $1500 – $2000 is a good place to start. Keep in mind that additional expenses, such as hardware, can quickly add up. Handles, kitchen faucets, and sinks could cost a few hundred dollars extra each. However, these simple upgrades can make a significant difference in the overall aesthetic of your kitchen. Refacing your old cabinets can be a smart, cost-effective way to give your kitchen or bathroom a fresh look. Consider this alternative before committing to a full cabinet replacement to see if it's the best solution for your home improvement project.
How to Refresh the cabinets and what is the refacing cabinet process:
Add new hardware
Replace cabinet doors
Install open shelving
Paint or stain to reface cabinets.
=> Read more: What Cabinet Refacing: Understanding, Where to Get Start?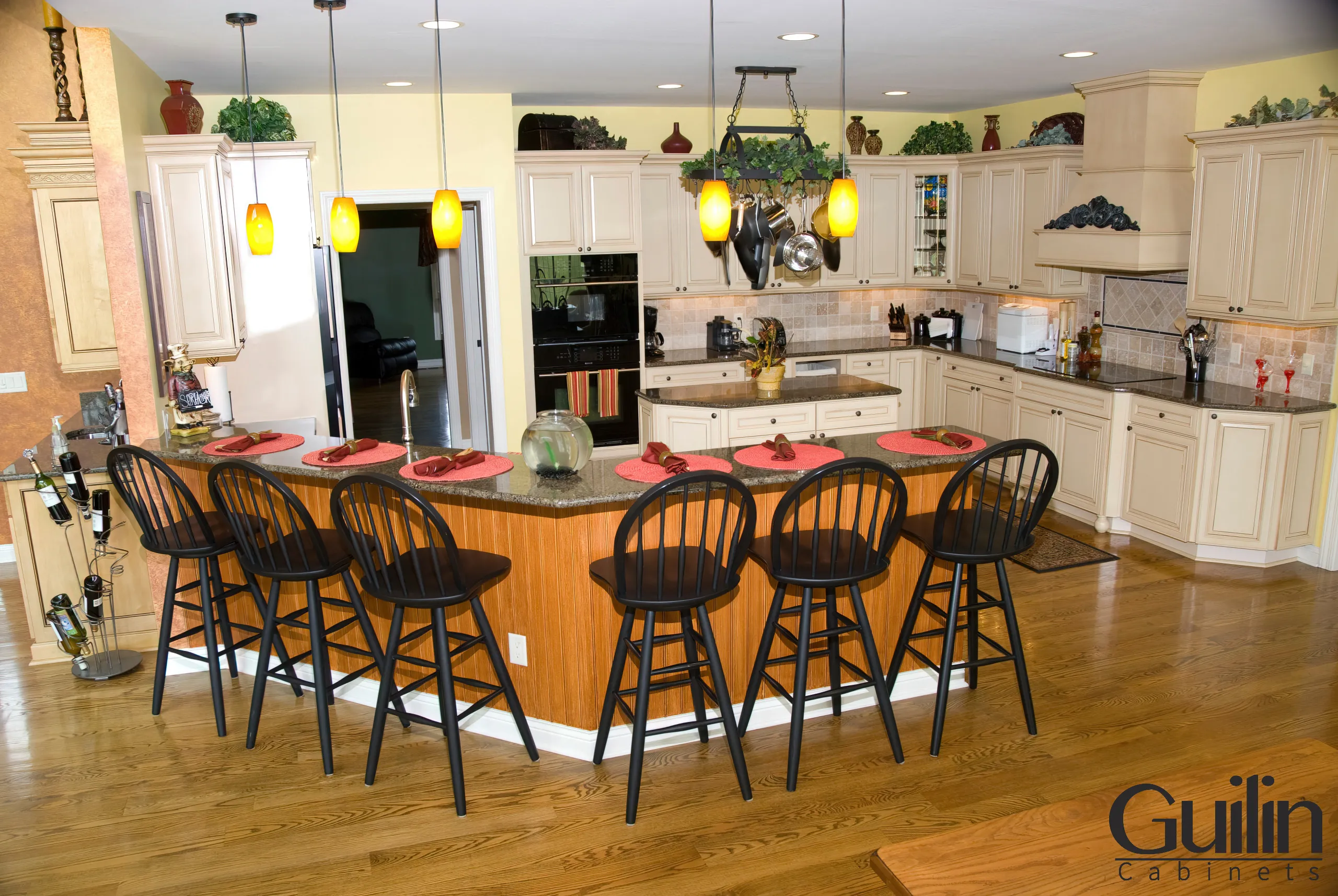 Add New Hardware
Swapping the new hardware is a low-cost way to update the look of your kitchen without sacrificing quality. You can drastically improve your kitchen's aesthetic by adding new cabinets or refacing the ones you already have. It's worth noting, though, that if you're already operating on a tight budget, purchasing hardware kits can be prohibitively expensive.
Not to fear, though; we've got a workaround! If you look around online, you can locate secondhand stores in your area that sell complete sets of hardware. This is a great way to give your kitchen a high-end, custom look in a low-cost way.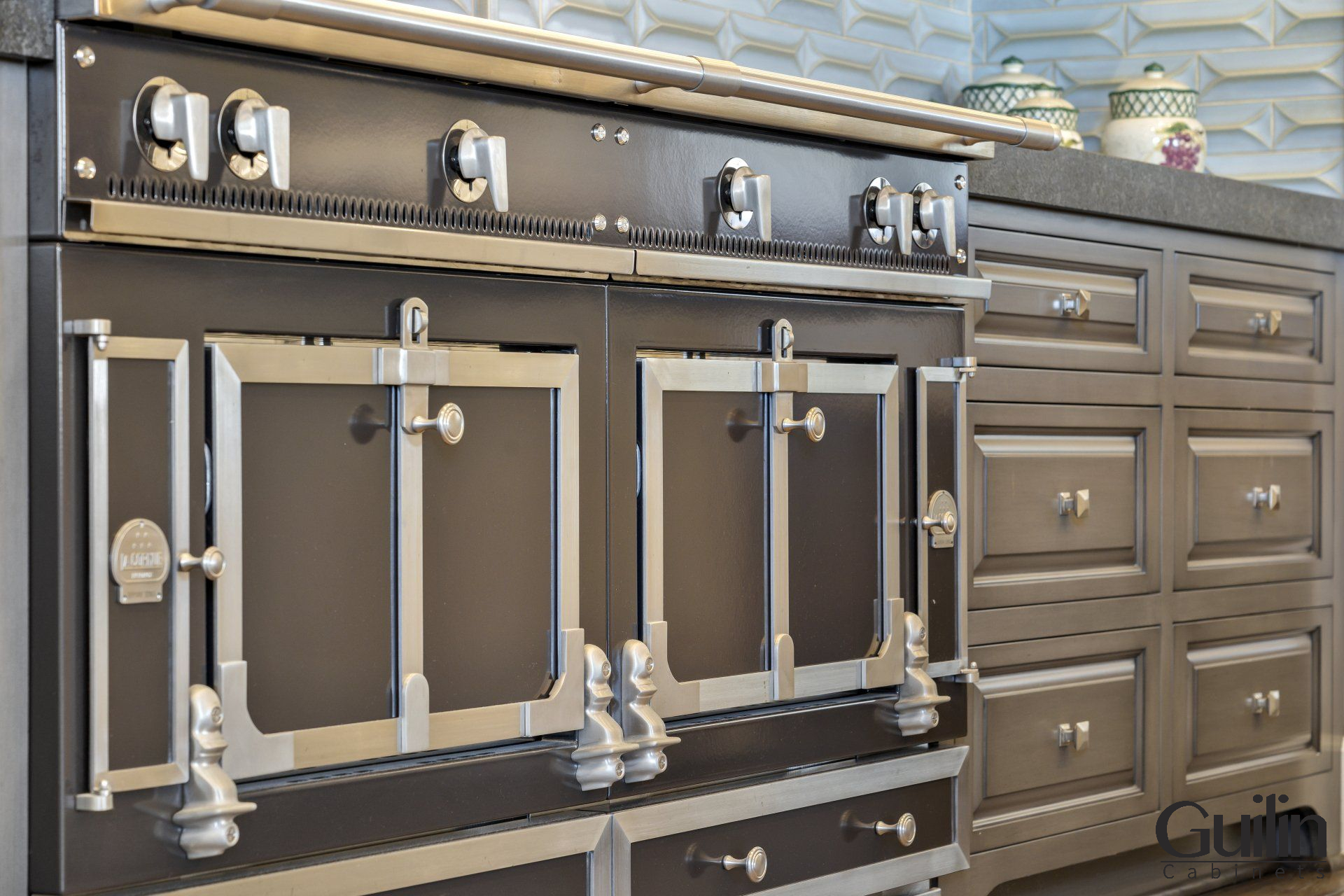 Resurfacing Countertops Solution
Kitchen remodeling can be a costly affair, and one of the most expensive changes homeowners consider is replacing their countertops. However, there is no need to spend a fortune on new countertops when resurfacing your countertops is a viable, cost-effective option that can save you a significant amount of money. With a budget of only $5000 for your kitchen remodel project, you can be resurfacing your countertops by yourself and can give your kitchen a fresh and updated look while still utilizing the original surface.
=> Read more: The Average Price of Different Countertops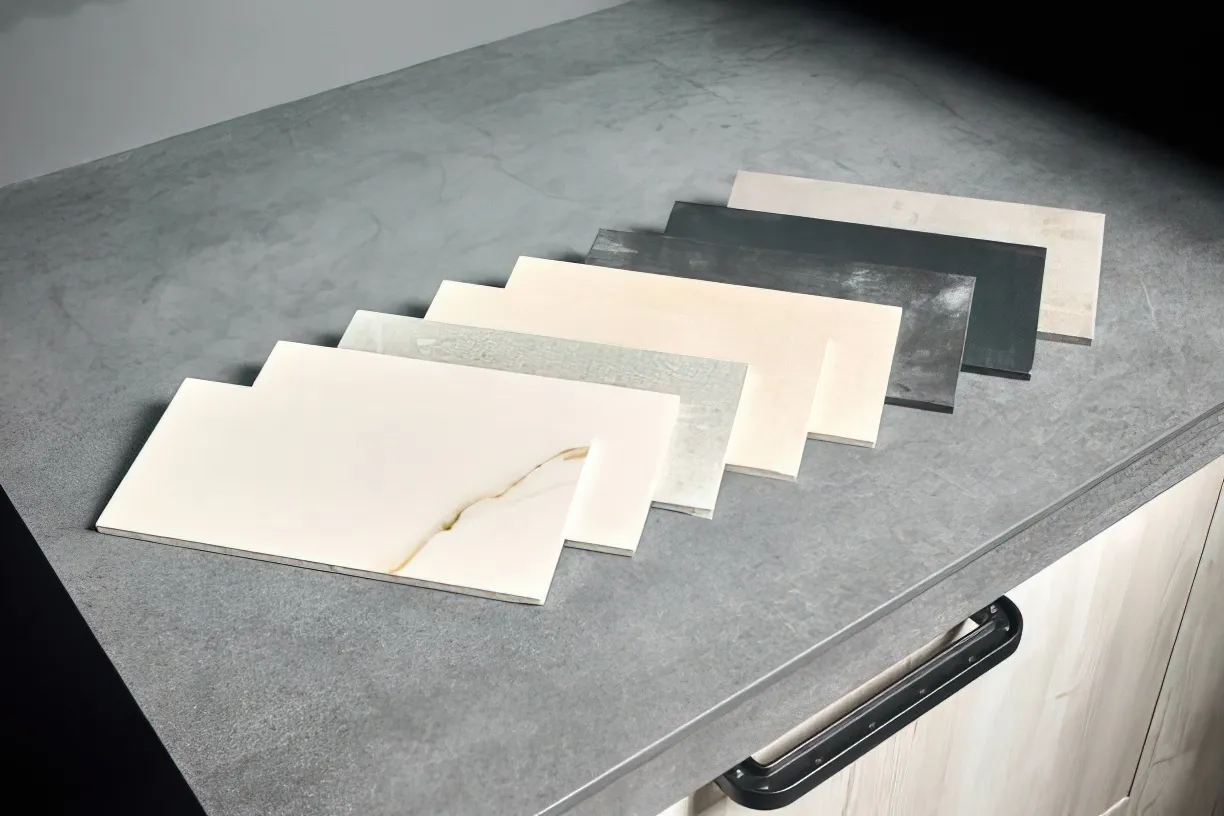 Redoing your backsplash
Redoing your backsplash is a great way to bring creativity and personality to your home kitchen. Not only is it a simple DIY project, but it can also help you save money on more expensive renovations. With just a few materials and some inspiration, you can create an entirely new look that will transform your kitchen into a space you're proud to show off. By investing a little bit of time and effort, you can create a stunning backsplash by yourself that will make your kitchen look more inviting and modern. Whether you prefer a minimalist look, bold patterns, or anything in between, there are plenty of possibilities. Some popular options for affordable backsplash updates include subway tiles, vinyl decals, beadboard, and even chalkboard paint…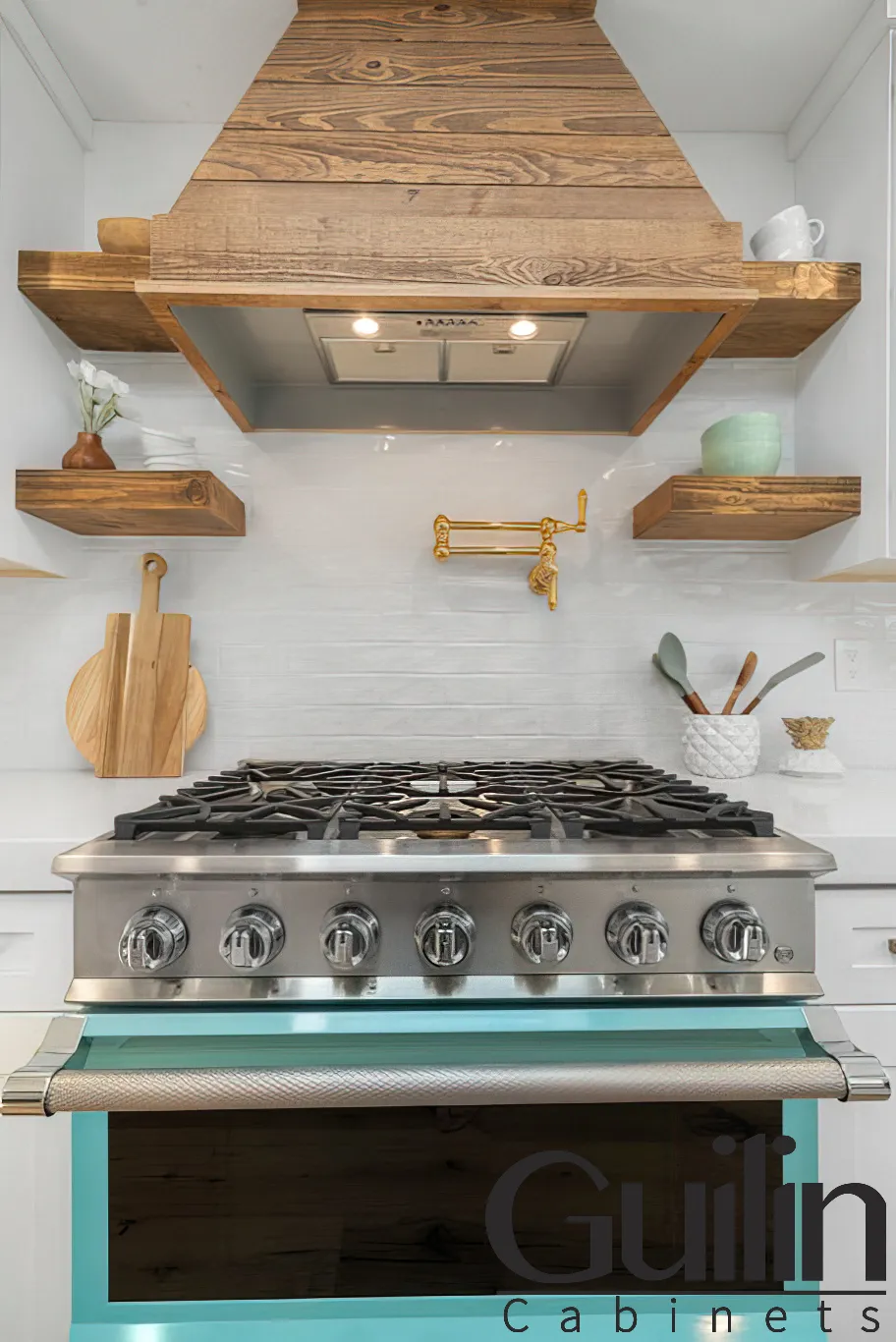 For example: Instead of spending thousands of dollars on replacing your glass tile backsplash, consider painting over it by using oil-base primer and latex paint for a smooth finish. This cost-effective redoing backsplash solution and you can do it by yourself, They can help save you tons of money and provide a beautiful update to your kitchen.
Repainting Interior
Whether you're looking for a feature wall, solid colors, or a trendy design, applying a new coat of paint can quickly transform any room. It's an affordable option that can help you save money on kitchen renovations under $5000. If you're trying to renovate your kitchen on a small budget, repainting the walls can instantly give your kitchen a facelift without having to install new cabinets or countertops, making it an affordable alternative.
=> Related Article: Can Laminate be Painted? What Need to Know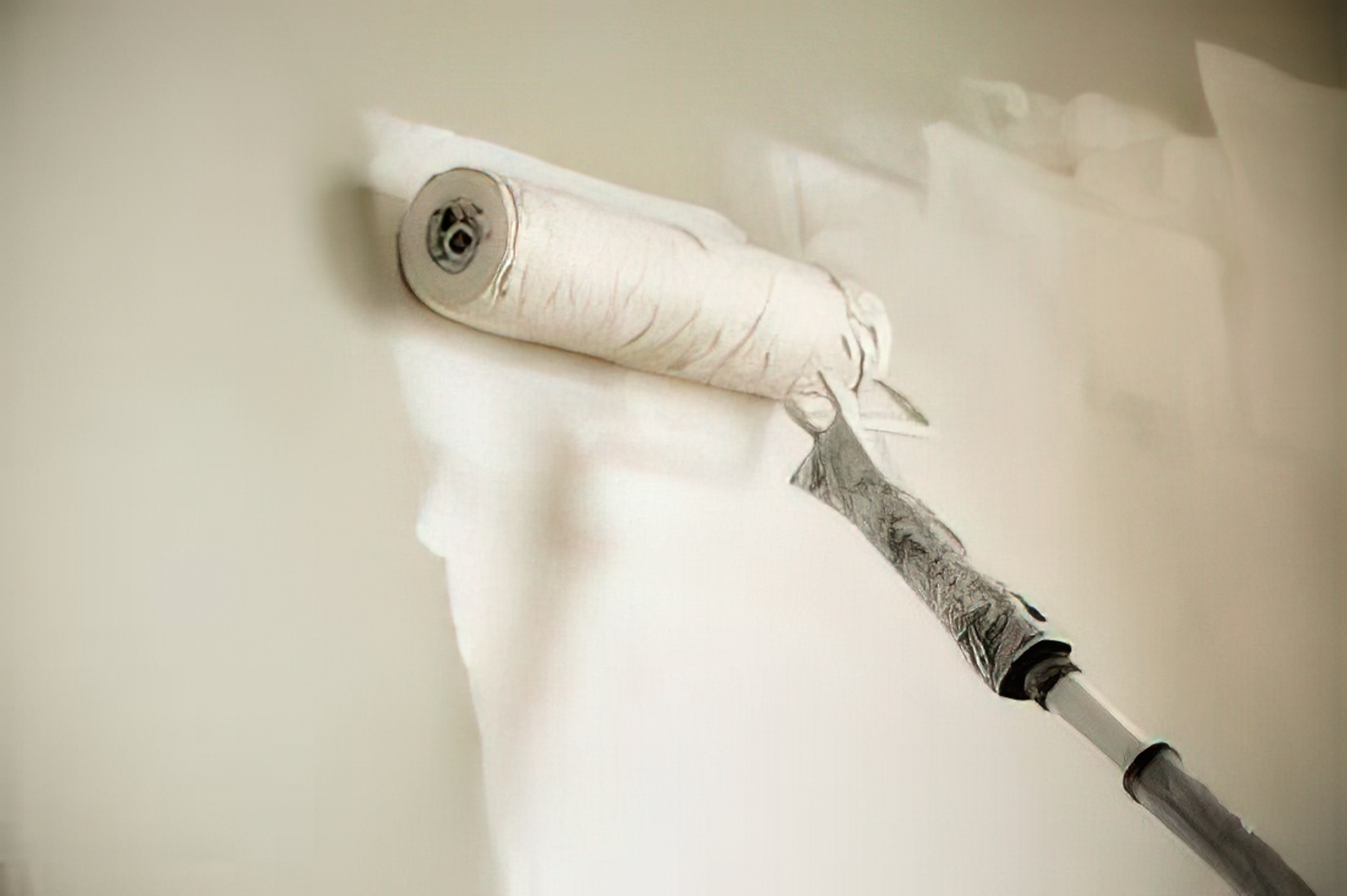 Installing new lighting
Finally, When you Planning a cheap kitchen renovation for under $5000, installing new lighting is a good way for your project. They can significantly enhance the look and feel of your kitchen. Proper lighting not only illuminates dark corners and makes the space feel bigger and more open, but it also saves you money in the long run. For example: To save money, consider energy-efficient LED bulbs that last longer and use less energy than traditional bulbs.
=> Read more: Kitchen Remodeling Services | Experienced Contractors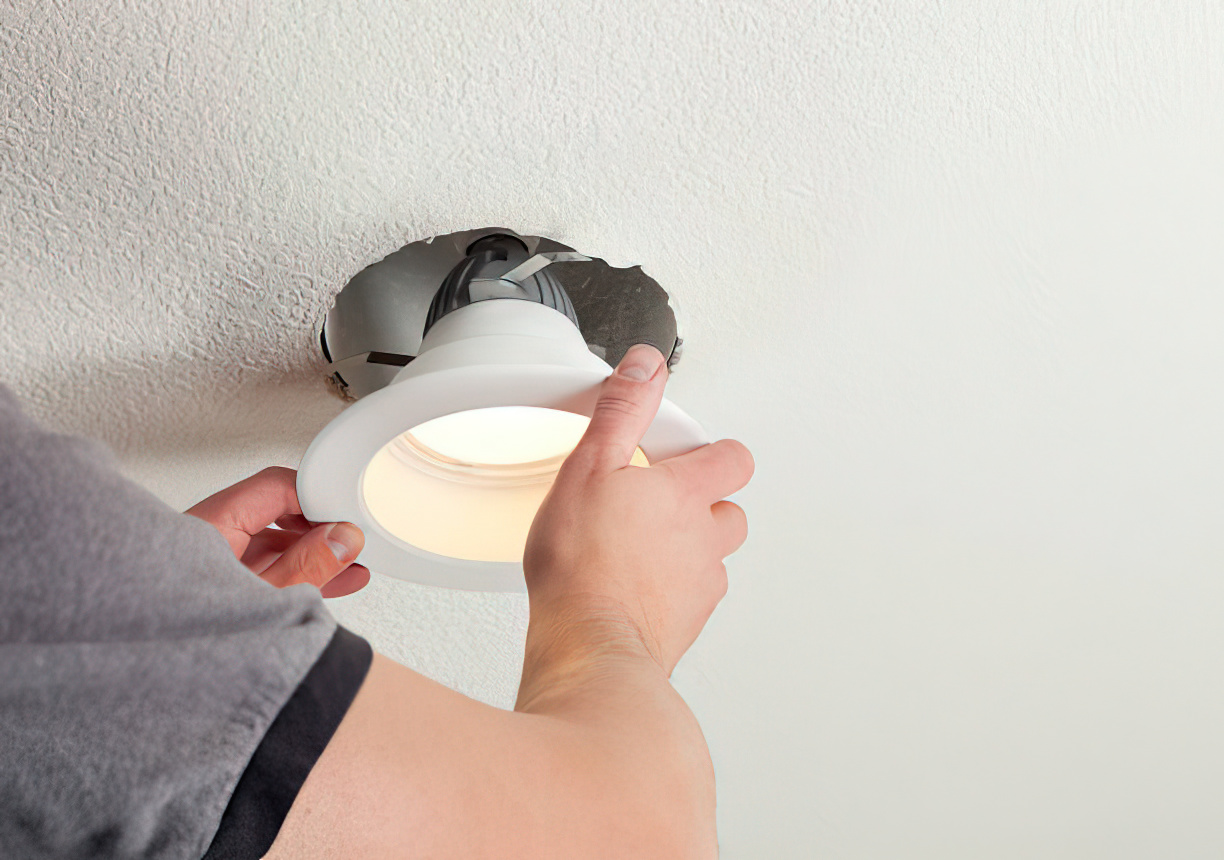 Contact Your Local Kitchen Remodel Contractor
Guilin Cabinets is a remodeling contractor in Irvine, CA offering services including bathroom, kitchen, and custom home building. Our mission is to assist Southern California residents in achieving their dream homes while staying within budget. We have showrooms with a wide selection of cabinets, countertops, flooring, tiling, backsplashes, and more. Visit us to learn more and discuss your project with a design consultant.
=> Read more: How to Find Affordable Cabinet Refacing Contactor Near My Home?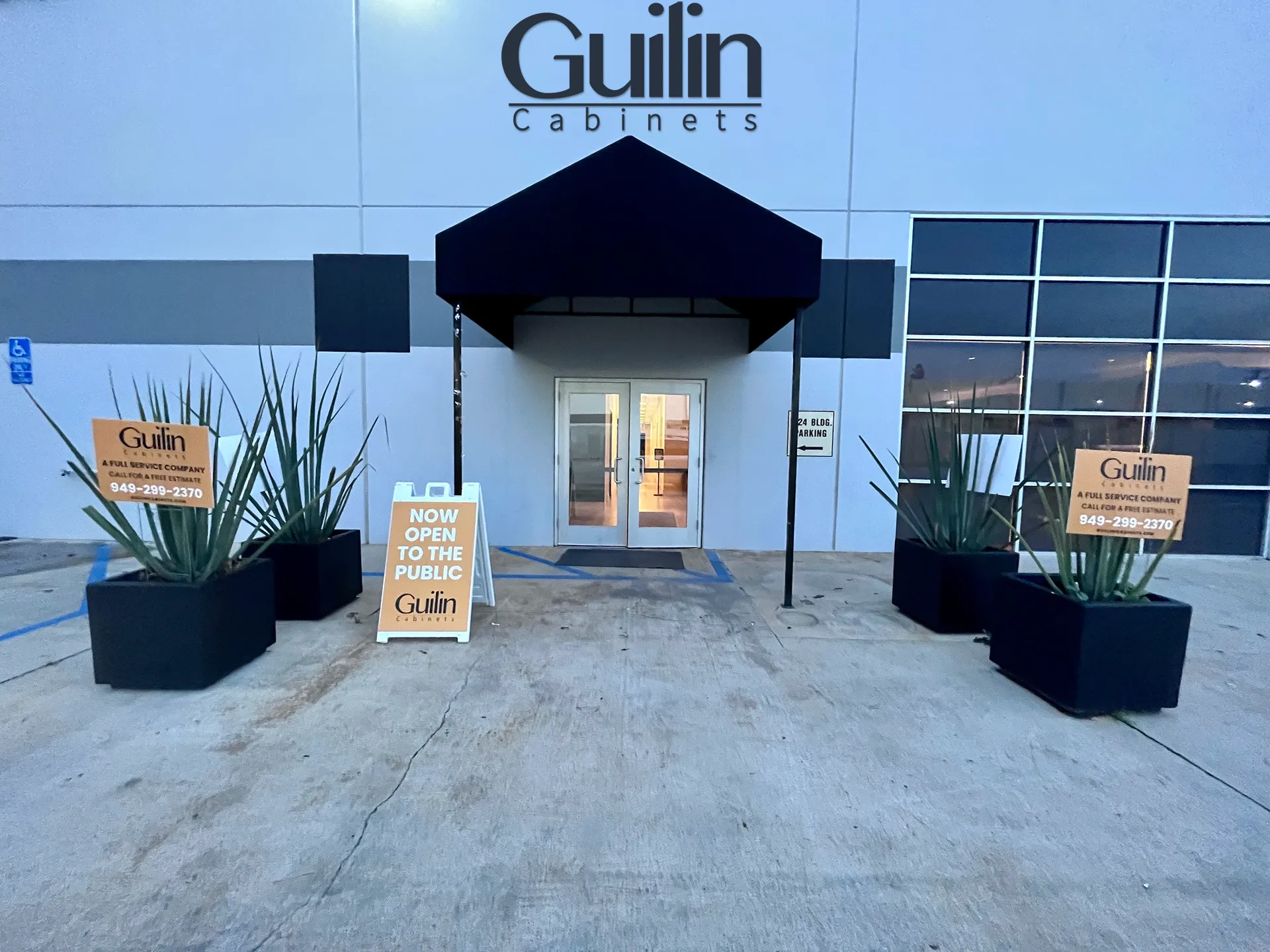 Faqs About: Cheap Kitchen Renovations Under 5000$?
Is it possible to renovate a kitchen for under $5000?
Yes, it is possible to do a budget kitchen renovation for under $5000 if you're willing to put in some effort and get creative with your choices. For example, You can make your kitchen look bigger by painting the walls a light color, installing open shelves or glass-front cabinets, adding under-cabinet lighting, and choosing a reflective backsplash material like glass or stainless steel.
What are some ways to save money on a kitchen renovation?
There are several ways to save money on a kitchen renovation, including trying to keep the layout the same, refacing or repainting cabinets instead of replacing them, resurfacing your countertops, or choosing affordable countertops and flooring materials, and the most important is trying to do some of the work yourself, that help you reduce labor cost.
How important is it to set a budget for a kitchen renovation?
Planning the budget is the most important thing for a kitchen renovation to avoid overspending and to ensure you are getting the best value for your money. You can prioritize the most important elements of your renovation and allocate your budget accordingly to keep your kitchen remodel project Under 5000$.
Can I do a partial kitchen renovation on a budget?
Yes, you can do a partial kitchen renovation on a budget. You can choose to update specific elements such as the cabinets or countertops or focus on smaller projects such as adding a backsplash or updating lighting fixtures.
Can I update my appliances without spending a lot of money?
Yes, you can update your appliances without spending a lot of money by shopping for sales or clearance items, buying gently used appliances, or considering less expensive brands or models.
Do I need to hire a professional for Saving money for my kitchen renovation?
YES! if you plan to undertake more complex tasks such as installing new cabinets or electrical work, it may be advisable to hire a professional to ensure that the work is done safely and to a high standard. Attempting to do such tasks without the necessary experience and knowledge can be dangerous and could end up costing you more in the long run if mistakes are made.