From the timeless look of solid wood to the modern feel of thermofoil, one thing is certain – cabinets make an incredible impact on your home's interior design. But with the wide variety of options available, how do you decide which is the right one for you? In this blog post, we will explore the differences between thermofoil cabinets and solid wood cabinets. We will discuss the advantages and disadvantages of each style, as well as their costs, aesthetics, and functionality. By the end of the article, you'll be able to make an informed decision as to which type of cabinet is best for your home.
=> Read more: Thermofoil, Laminate, Melamine Cabinets: What Different
Understanding Thermofoil Cabinets
Thermofoil cabinets are a popular choice for many homeowners looking for a budget-friendly option. They are constructed from medium-density fiberboard (MDF), or Particleboard which is a mixture of wood fibers and resin. A layer of vinyl is then applied to the MDF, which is heated and molded to create a smooth, seamless surface. The vinyl layer not only adds a sleek finish to the cabinets but also provides an extra layer of protection against moisture and other potential damages. This makes thermofoil cabinets a great option for high-moisture areas like kitchens and bathrooms.
=> Read more: Thermofoil cabinets: pros and cons
The Main Pros of Thermofoil cabinets – Advantages: Thermofoil cabinets are available in a wide range of colors and styles. They are easy to clean and maintain. They are resistant to moisture, making them ideal for kitchens and bathrooms, and less expensive than solid wood cabinets.
The Main Cons of Thermofoil cabinets – Disadvantages: Thermofoil cabinets are not as durable as solid wood cabinets and may crack or peel over time. They are susceptible to heat and may warp if exposed to high temperatures. The vinyl layer may yellow over time if exposed to direct heat or sunlight. If scratches, dents, or dings the vinyl coating, water may invade the MDF core, causing buckling, bubbling, and deterioration.
=> Read more: Easy to clean and inexpensive to purchase, thermofoil cabinets are very friendly for Cheap Kitchen Renovations Under 5000$
Understanding Solid Wood Cabinets
Solid wood cabinets have emerged as one of the most sought-after options for homeowners looking to give their kitchens a premium and luxurious appearance. They are made entirely of natural wood, which imparts a timeless charm to your kitchen décor. The most common types of wood used for cabinets are maple, oak, cherry, and birch… Solid wood cabinets offer several advantages, including durability, strength, and beauty. They are also an excellent choice for people looking for eco-friendly options while renovating their homes. 
=> Read more: Solid Wood Cabinets: Pros and Cons
The Main Pros of Solid Wood cabinets – Advantages: The durability of solid wood cabinets is unparalleled. They can withstand years of daily use without showing any signs of wear and tear. Unlike particleboard or plywood cabinets, solid wood cabinets do not warp or delaminate, ensuring that they retain their original shape and form over time. These magnificent pieces add timeless beauty and value to your home. They are a sustainable option as they can be refinished and repainted multiple times. Additionally, they are also heat-resistant and do not easily warp or crack, making them a practical and robust choice.
The Main Cons of Solid Wood cabinets – Disadvantages: Solid wood cabinets may come with a higher price tag compared to thermofoil cabinets. However, they require more maintenance and care than their counterparts. Due to their natural properties, solid wood cabinets can be prone to swelling or warping when exposed to moisture. Therefore, it is crucial to keep them dry and handle them with care.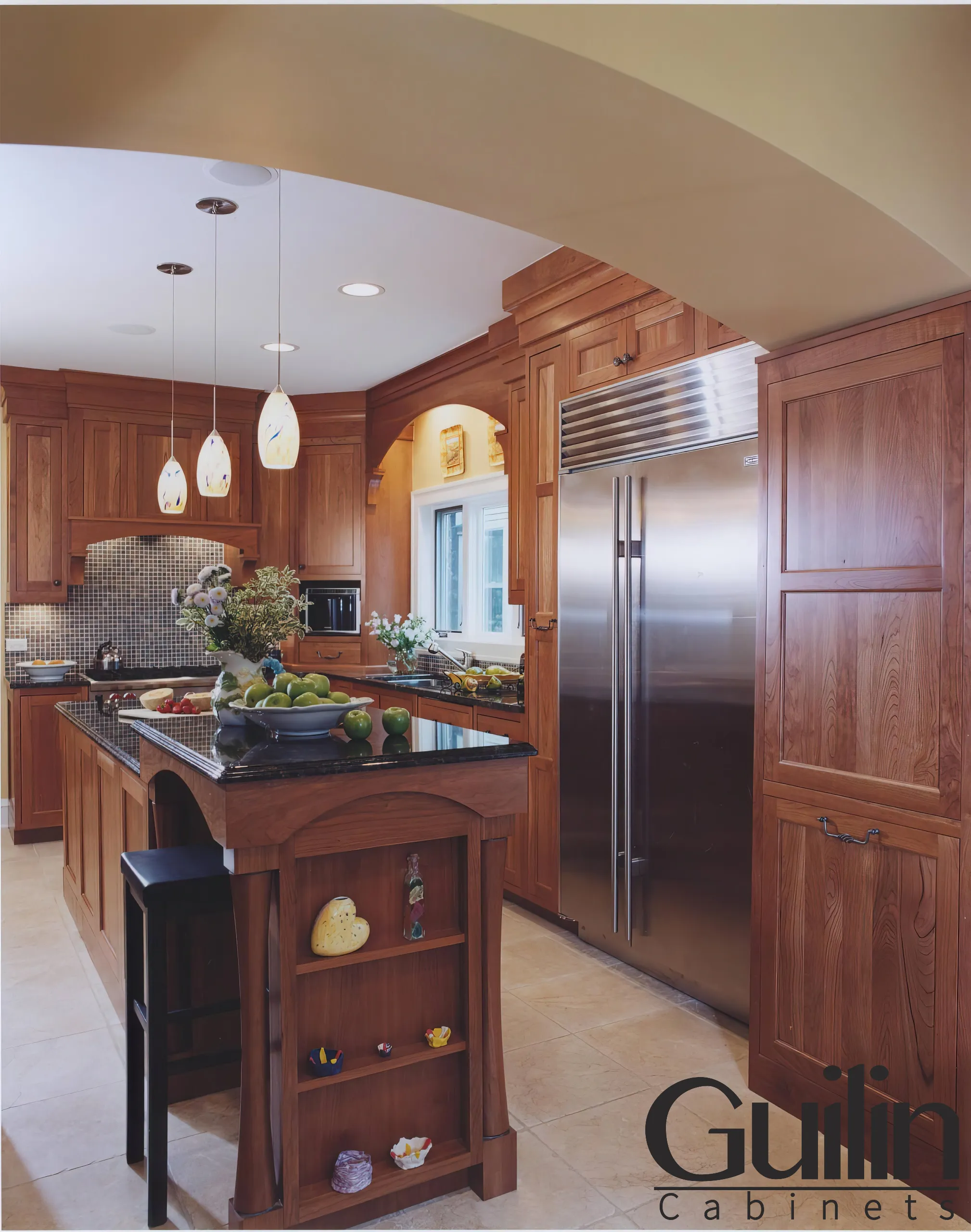 Thermofoil vs Solid Wood Cabinets: Which Option for You?
Choosing between thermofoil cabinets and solid wood cabinets, ultimately depends on your personal preferences, budget, and lifestyle… For example: If you're looking for an affordable and low-maintenance option that is resistant to moisture, thermofoil cabinets may be the best option for you. On the other hand, if you're looking for a premium and long-lasting option that adds value to your home, solid wood cabinets may be the best choice.
Here are Some Factors you can consider when you choose:
Personal preferences: Firstly, personal preferences are the important thing to consider. If you prefer the natural beauty and warm texture of wood, then solid wood cabinets may be the best choice for you. On the other hand, if you are looking for a sleek and modern look, thermofoil cabinets may be more appealing to your taste.
Your lifestyle: Secondly, your lifestyle is also a key factor. If you have a busy lifestyle and don't have time for delicate upkeep, thermofoil cabinets will be a more practical option. These cabinets are easy to clean and maintain, making them ideal for families with young children or pets. In contrast, solid wood cabinets require more care and attention, and maybe more suitable for homeowners who have the time and resources to maintain them properly.
Your Budget: Finally, budget is a critical consideration. Thermofoil cabinets are generally more affordable than solid wood cabinets, making them an excellent option for those on a tight budget. While solid wood cabinets are more expensive, they can add value to your home and provide a stylish, long-lasting option that will stand the test of time.
Environmental impact: Solid wood cabinets are eco-friendlier than thermofoil cabinets. They are made from renewable resources and can be recycled or repurposed, unlike thermofoil cabinets, which are made from vinyl and are need more time to biodegradable and hard to recycle.
=> Related Article: Thermofoil vs Laminate vs Melamine: What Different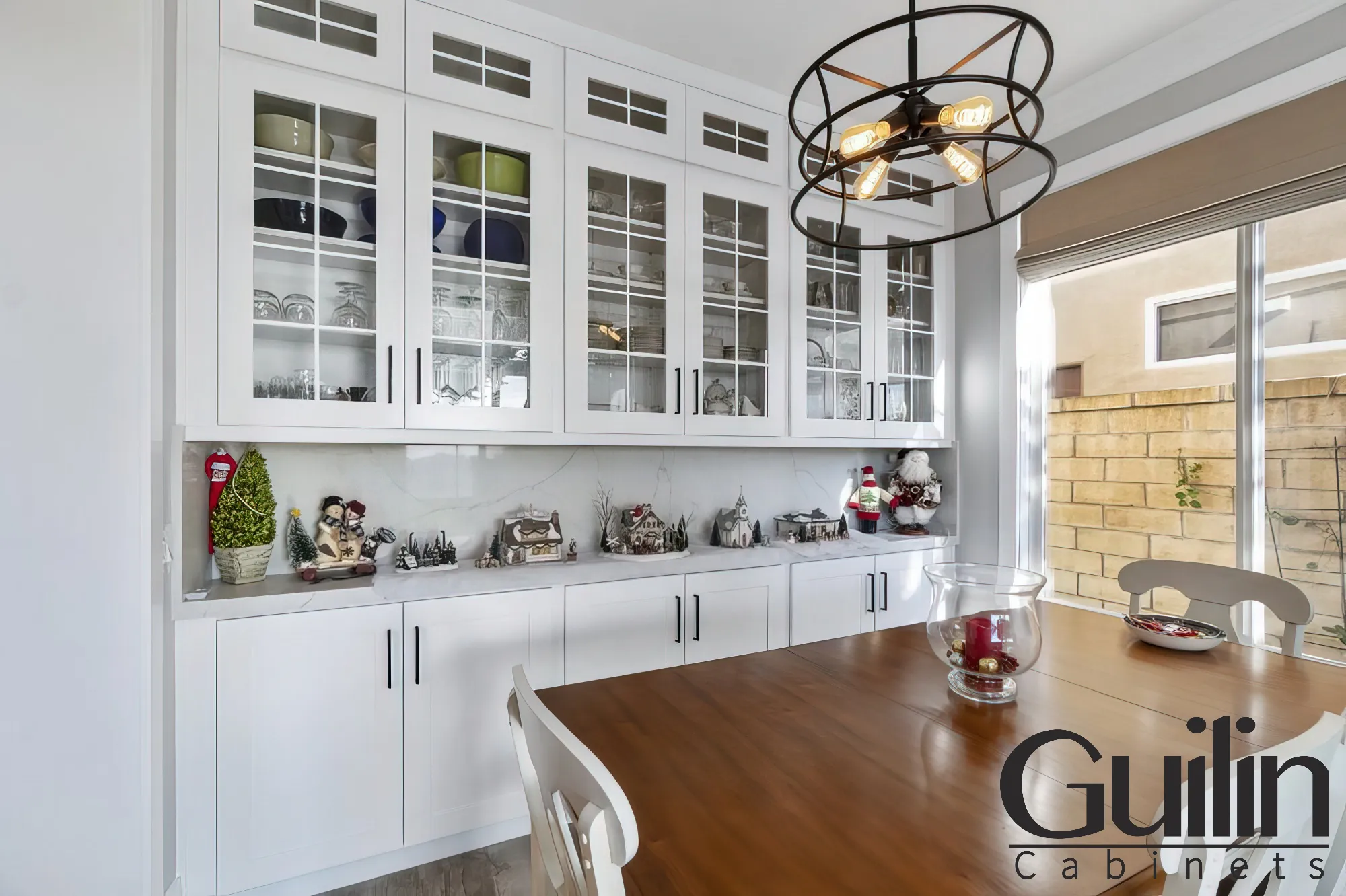 FAQs Thermofoil vs Solid Wood Cabinets