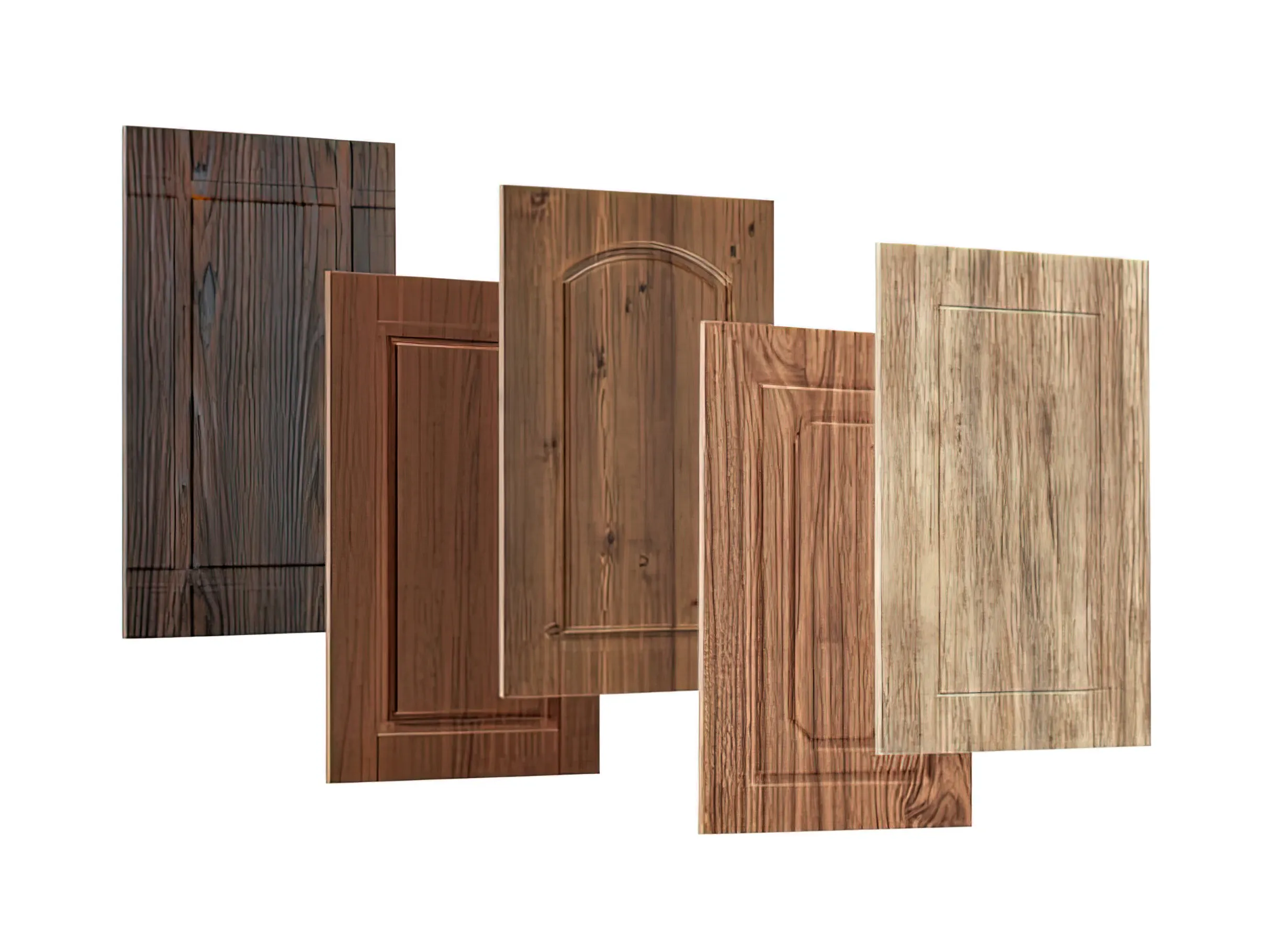 Are you looking for a budget-friendly option to enhance the look and feel of your kitchen or bathroom? Then thermofoil wood cabinets might just be the answer you've been searching for! As a homeowner or renovator, it's essential to weigh up the pros and cons of every design decision made, so you don't end up with costly mistakes. Thermofoil wood cabinets are a popular choice for modern interiors and can provide an impeccable finish at an affordable price. However, as with any home renovation project, there are both benefits and drawbacks to consider. In this blog post, we'll take a closer look at the pros and cons of thermofoil cabinets, so you can make an informed decision and achieve your dream design without spending too much time.
=> Related Article: 10 Common Cabinet Materials: How To Choose Right!
What is Thermofoil Wood Cabinet
The cabinets are created using a type of flexible vinyl material that is heated and molded over either engineered wood. The result is a durable and smooth cabinet door that is resistant to chipping and peeling. Thermofoil isn't applied directly to the wood. Instead, it's applied to a medium-density fiberboard (MDF) surface, which is a man-made product created with wood fibers, wax, and resin. Manufacturers press all these components together to produce a wood-like material that mimics the look of natural wood and plywood. Thermofoil is loved for its durability and resistance to scratches and fingerprints. Although often confused with laminate and melamine cabinet surfaces, Thermofoil is hot-pressed onto the cabinet surface, while laminate is glued. Both materials make cleaning a breeze, but Thermofoil cabinets tend to be more heavy-duty and long-lasting. If you're on a budget and want to spruce up your kitchen or bathroom, Thermofoil cabinets are a fantastic option to consider.
=> Read more: Thermofoil vs Laminate vs Melamine: What Different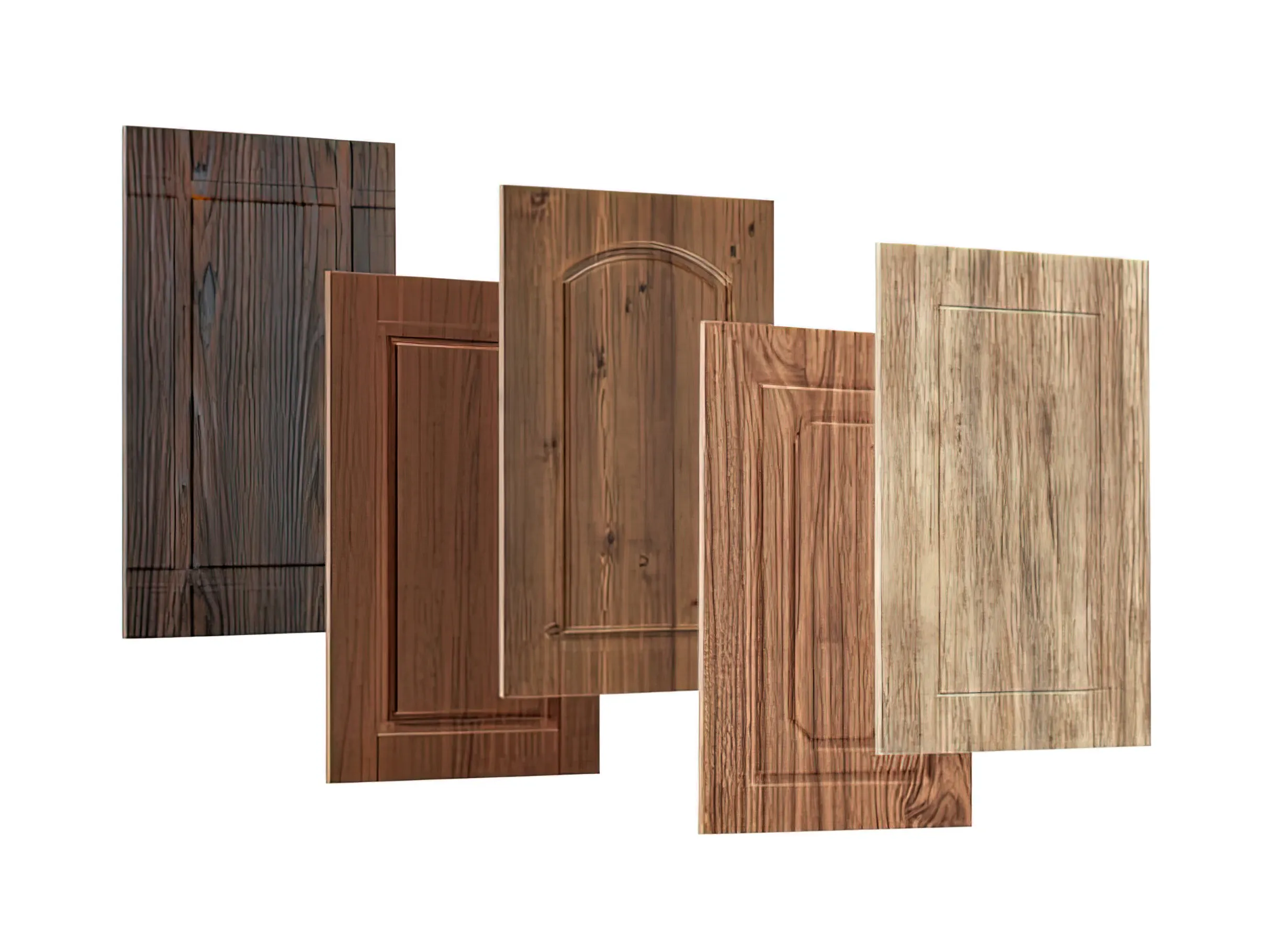 How to Thermofoil Wood Made:
In this process, MDF cabinet pieces are placed onto a flat tray and fed into a large machine, where a thin and flexible layer of foil-like material is heated and then vacuum sealed onto the surface. The beauty of Thermofoil is that it offers a huge selection of colors and patterns, from faux wood grains to solid colors and more. Despite these limitations, Thermofoil can still be used on slightly more complex designs like shaker doors or simple arches, so you don't need to be limited to simple flat panel doors.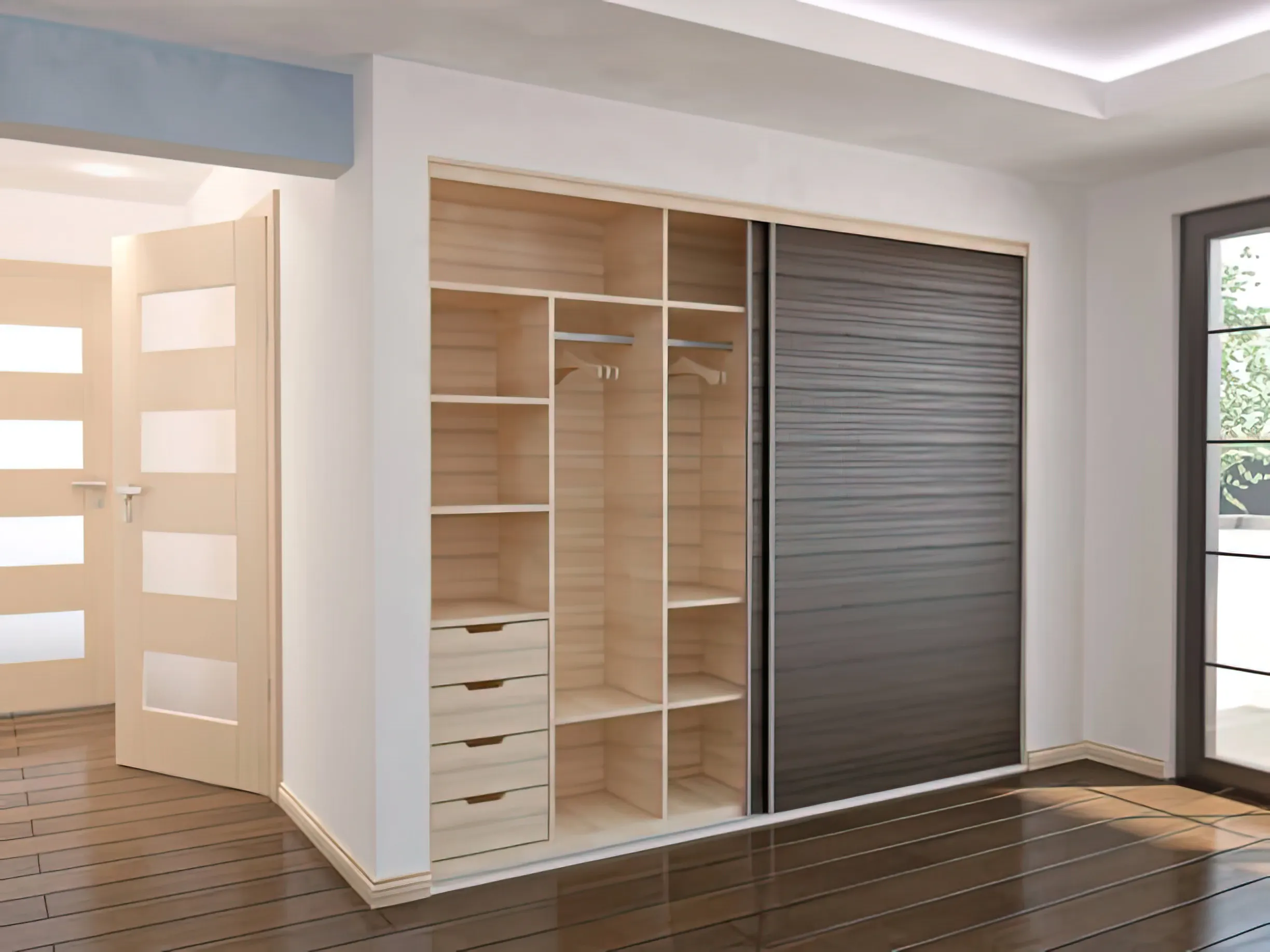 The Pros of Thermofoil Wood Cabinets – Advantages
Cost-effective: Thermofoil cabinets are typically less expensive than other materials such as solid wood. Thermofoil cabinets are a great option if you're on a tight budget.
Easy to maintain: Thermofoil cabinets are easy to clean with mild soap and water. They can be wiped down with a damp cloth and dried with a dry towel, making it more manageable to keep clean and shiny.
Resistant to moisture: Thermofoil cabinets are resistant to moisture, an excellent feature for a room that is prone to moisture like the kitchen or bathroom. The vinyl layer protects the cabinet from water damage or warping and provides an extra layer of protection.
Heat-resistant: Thermofoil cabinets have a layer of vinyl film that makes them heat-resistant. You don't have to worry about accidental spills, the plastic film will protect the MDF from damage.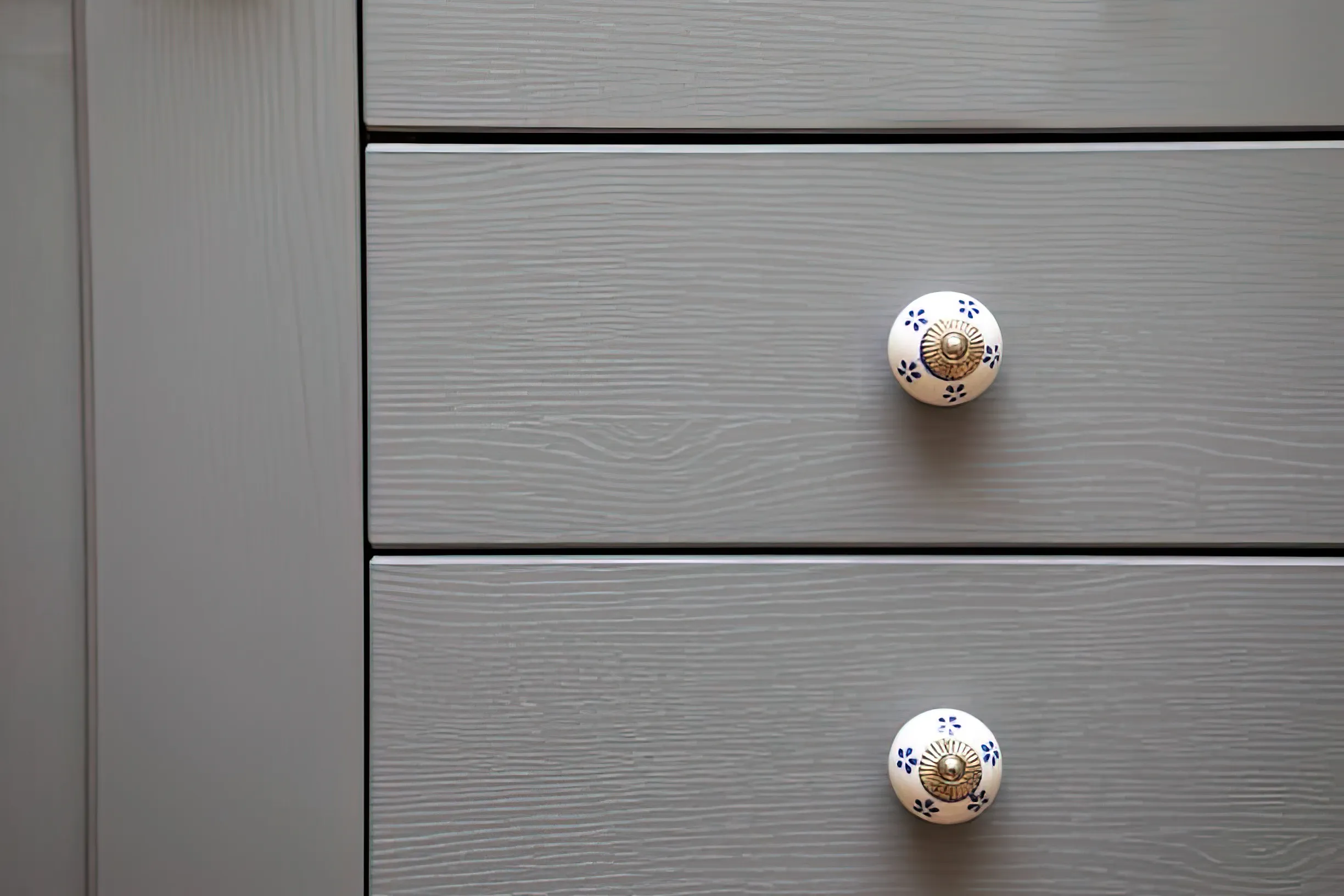 The Cons of Thermofoil Wood Cabinets – Disadvantages
Can't handle repair: Thermofoil cabinetry can't be repaired or refinished. If the vinyl layer is damaged, the entire cabinet will need to be replaced.
Not as customizable: Thermofoil cabinets come in a set range of colors and styles to choose from. It limits the customization options compared to other cabinetry options.
Susceptible to peeling: If the space is frequently damp, the thermofoil might peel, which will look unsightly, and the cabinet will need to be replaced.
Difficult to replace a single piece: It is challenging to replace one thermofoil cabinet as each style has its texture and pattern, and getting an exact match for a particular piece can be challenging.
Vulnerable to Heat Damage: Thermofoil cabinets are a popular choice for many homeowners due to their affordability and stylish appearance. However, one of the biggest drawbacks of these cabinets is their susceptibility to heat damage. Unlike other cabinet materials, thermofoil surfaces can easily be damaged when exposed to extremely high heat.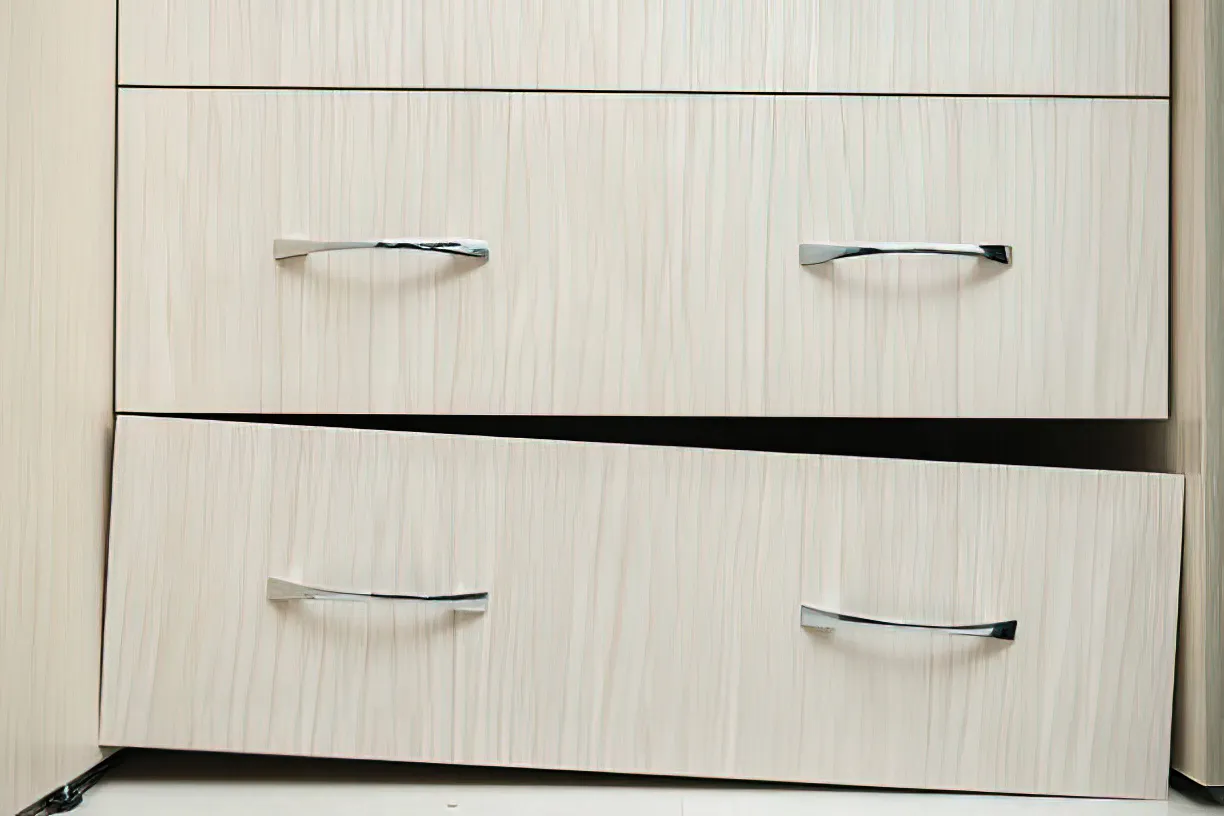 FAQS About – Pros and Cons of Thermofoil Wood Cabinets
What exactly are Thermofoil cabinets and what are they made of?
Thermofoil cabinets are made from a special kind of vinyl laminate that is heat-sealed around MDF wood. They are cost-effective and easy to maintain, but they lack the natural warmth and durability of solid wood. On the other hand, solid wood cabinets are strong, durable, and aesthetically pleasing, but they're more expensive and require more maintenance. => Read more: MDF (Medium-Density Fiberboard) For Cabinets: Pros and Cons
What are the pros of using Thermofoil cabinets for your kitchen?
Thermofoil cabinets have several benefits, including being very easy to clean, being resistant to moisture, and being able to withstand temperature changes. They also come in a wide variety of colors and styles, so you can choose the perfect cabinets to match your kitchen decor.
Can Thermofoil cabinets be repaired if they are damaged?
Thermofoil cabinets can be difficult to repair if they are damaged. If the vinyl layer peels away from the MDF, it can be very difficult to fix or reattach the damaged area. This means that if your Thermofoil cabinets get damaged, you may need to replace them entirely.
How do Thermofoil cabinets compare to other types of cabinets, such as solid wood?
Thermofoil cabinets are less expensive than solid wood cabinets, but they are also less durable. Thermofoil cabinets, but are not as moisture-resistant and are more prone to warping or peeling. Ultimately, the choice of the cabinet will depend on your personal preferences and budget. => Read more: Medium-Density Fiberboard (MDF) For Cabinets: Pros and Cons
Are Thermofoil cabinets suitable for humid and wet areas such as bathrooms?
Thermofoil cabinets are good for areas with high humidity and moisture as they are moisture-resistant. However, if the monocoque is somehow damaged, water can get trapped underneath and cause the cabinet to split or warp. So, it's best to have regular check-ups of your cabinets to avoid such issues.
What is the lifespan of Thermofoil cabinets?
The lifespan of Thermofoil cabinets varies based on factors such as usage, maintenance, and quality of construction, among other factors. In general, Thermofoil cabinets can last between 10-20 years, depending on how well they are taken care of over time. Regular cleaning and care will extend the longevity of your Thermofoil cabinets.