Bathroom vessel sinks are a popular luxury item that has been trending for over two decades now. These sinks are defined as freestanding basins mounted on countertops, and each sink can be customized to fit the homeowner's preferences easily. Also known as tabletop sinks, vessel sinks have a more sophisticated feel to them, making them a hallmark in modern vanity design. While they take inspiration from older designs, vessel sinks are a perfect mix of old-world charm and new technology, making them appealing to particular homeowners. In this article, we'll focus on the pros and cons of bathroom vessel sinks to help you make an informed decision when choosing the best bathroom sink for your home.
=>Related Article: 10 Common Cabinet Materials: How To Choose Right!
Ceramic and Porcelain Vessel Sinks
Ceramic and porcelain vessels are excellent options for their attractive, glossy finishes and easy-to-clean surfaces. While white is the most classic choice for fixtures, don't discount the variety of colors and textures that glazed pottery can provide.
=> Related Service: Bathroom Remodeling Company In Southern California
Pros: One of the top benefits of ceramic and porcelain is their stain resistance, which makes cleaning a breeze. Another great advantage is that vessel sinks made from ceramic have the potential to look like stunning sculptural pieces – it all depends on the shape of the bowl you choose. However, if you opt for a bowl that's too contemporary, you may find it quickly goes out of style.
Cons: Keep in mind that overly contemporary Ceramic and Porcelain vessel designs may become outdated over time.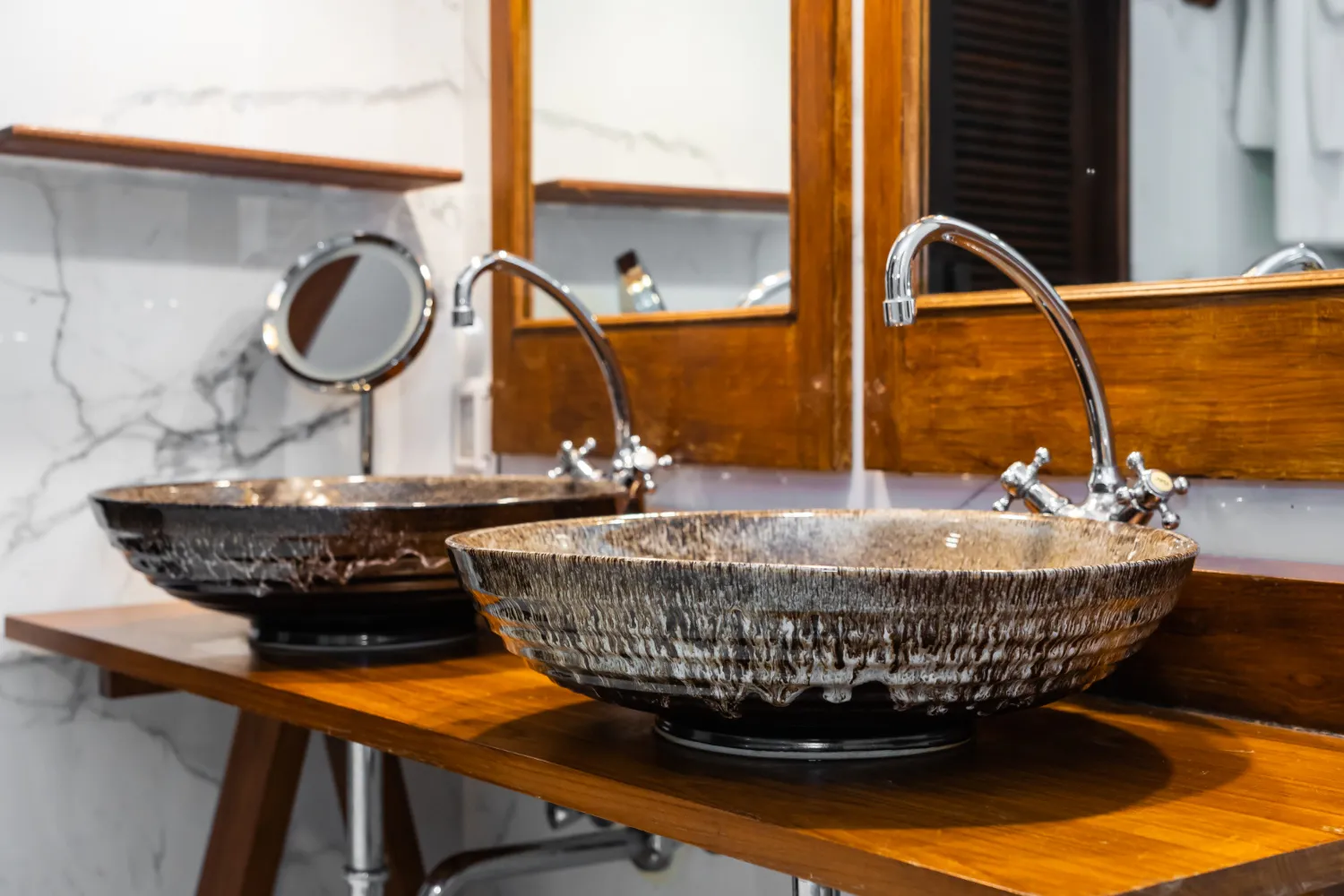 Glass Vessel Sinks
Glass vessel sinks are a stylish way to add a touch of elegance to your bathroom. With their translucent materials, they become the focal point of the room, and you have options in the clarity of the glass, ranging from clear to opaque. The beautiful textures of the glasswork are visible beneath the surface, and you can easily see the water level from outside the basin.
Pros: One of the outstanding features of glass is its ability to reflect and refract light, creating a new dimension of brightness in your bathroom that amplifies your light sources. Glass vessel sinks are a statement piece that adds a pleasing aesthetic to your bathroom ambiance.
Cons: However, it is necessary to keep in mind that glass does require maintenance and upkeep. Fortunately, there are many cleaners available in the market or natural solutions that you can use to keep your glass vessel sink clean and sparkling.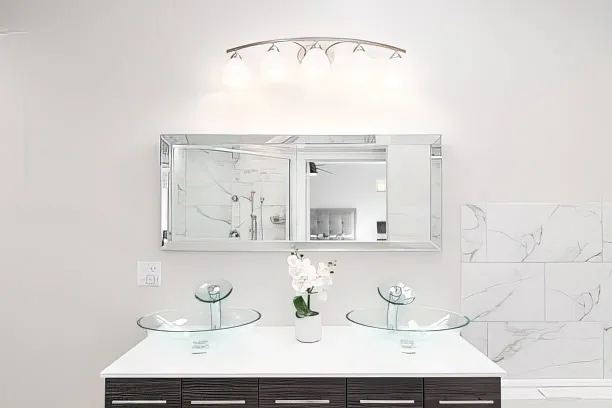 Copper Vessel Sinks
If you're in search of a classic and elegant addition to your bathroom, consider a copper vessel sink. With its beautiful bronzed sheen, copper fits well in both elegant and rustic designs, adding a touch of sophistication to any bathroom space.
Pros: Copper vessel sinks are coated with enamel, making them safe to use with water. This gorgeous European-inspired material comes in a neutral brown that complements most aesthetics and can be engraved with beautiful patterns to truly elevate the regal sensation.
Cons: Over time, copper develops a natural patina that will darken its color, giving it an even more classic look. However, it's important to note that copper requires special care and maintenance to stay in top shape. While it may come only in its signature color, copper does vary in lighter and darker tones.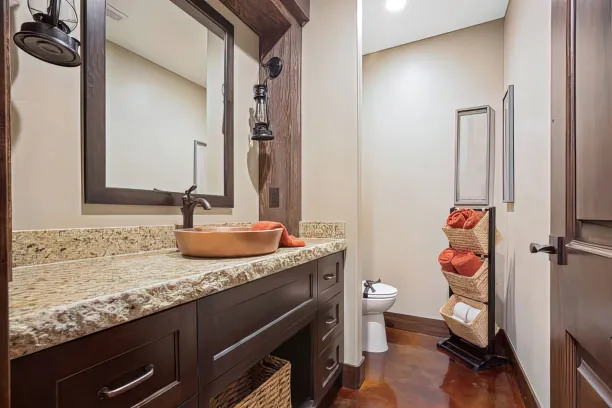 Stone Vessel Sinks
Stone vessel sinks are a great way to give your bathroom a more natural and elegant look. Popular stone choices include granite and marble, which offer a heavy and sophisticated feel to your space. You can choose from a range of shapes and textures, including smooth polished travertine or rough, porous lava stone, to give your bathroom the perfect ambiance. Adding greenery and other natural elements around your stone vessel sink is a great way to enhance the natural feel of your space.
Cons: Most stone vessel sinks come with a sealant to protect them from etching caused by acids such as juices and coffee. However, it's important to note that this material is harder and more expensive to carve into its basin shape. Despite this, stone vessel sinks are still an excellent long-term investment for your bathroom's overall aesthetic and functionality.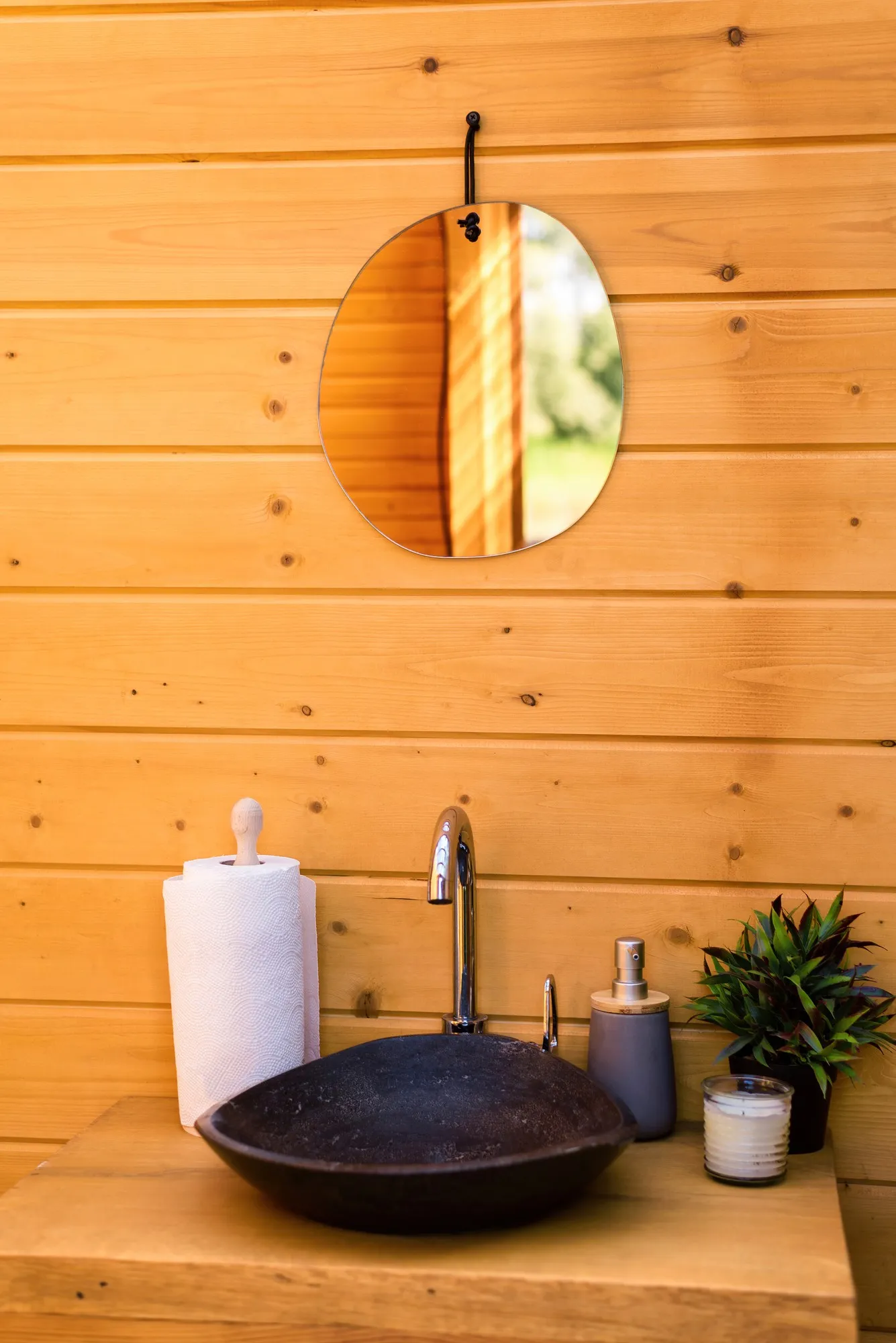 Stainless Steel Vessel Sinks
Finally, If you're looking for a classic and easy-to-maintain sink, then the stainless steel vessel sink might be the perfect choice for you. This silver-colored metal is a cool neutral that complements many bathroom designs. It also pairs perfectly with chrome or black electronics that are commonly found in bathrooms.
Pros: Keeping your stainless steel vessel sink clean is a breeze. All you need is a cloth with warm water and soap to wipe it down. Then, use another cloth to dry it off. With these simple steps, your sink will look as good as new.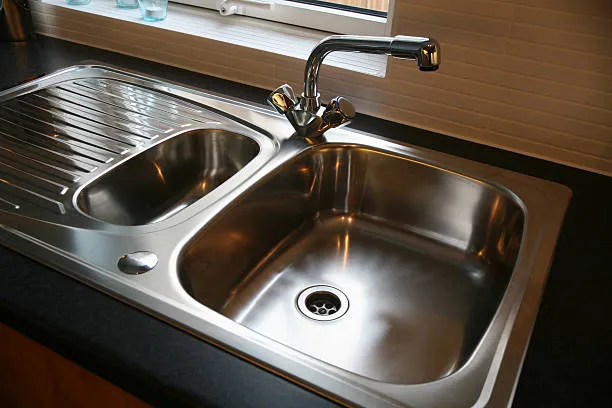 Synthetic Materials

Vessel Sinks

Resin or acrylic vessel sinks resemble the appearance of porcelain or stone sinks, but they come at a more affordable price. These sinks are light in weight and easy to install, making them a popular choice for DIY enthusiasts. However, when compared to other materials, resin and acrylic vessel sinks may not be as sturdy. These materials are not as resilient as marble or granite, and therefore, they may suffer wear and tear after prolonged use.