Kitchen remodeling is essential for homeowners who want to enhance the functionality and aesthetics of their kitchen. One of the most cost-effective ways to upgrade the kitchen without spending too much money is by refacing cabinets with laminate. This approach is gaining popularity because it is a quick and easy solution to enhance the appearance and functionality of kitchen cabinets. Refacing cabinets with laminates involves applying a thin layer of laminate over the outer surface of the cabinets to give them a brand-new look. But, the real question is, can refacing cabinets with laminates be the right choice for your kitchen remodeling project?
=> The Quick Answer: Yes, laminate cabinets can be refaced as long as the cabinet boxes are in good condition. And refacing your laminate cabinets is a good option to save money. That will help you control the price when you remodel your kitchen with a low budget. If your cabinet boxes are curved or damaged by water you may need to replace all of them.
=> Read More: What's Cabinet Refacing: Understanding, Where to Get Start?
What is Cabinet Refacing With Laminate?
Laminate is a thin sheet of plastic that is bonded to medium-density fiberboard (MDF) or particleboard. This process creates a durable and low-maintenance surface that can mimic the look of painted, stained wood, or natural stone. By using laminate, you can achieve a sleek and modern look that is easy to clean and affordable compared to traditional cabinet refacing materials.
Cabinet Refacing with Laminate is becoming increasingly popular as homeowners search for budget-friendly, eco-friendly alternatives to renovating their kitchens. This innovative technique involves saving a lot of money and helps reduce the time of a remodel project. They only need to place a thin layer of laminate over the existing cabinetry, providing a new look without the need to replace the entire set.
=> Read more: Can laminate countertops that look like quartz, marble, or granite?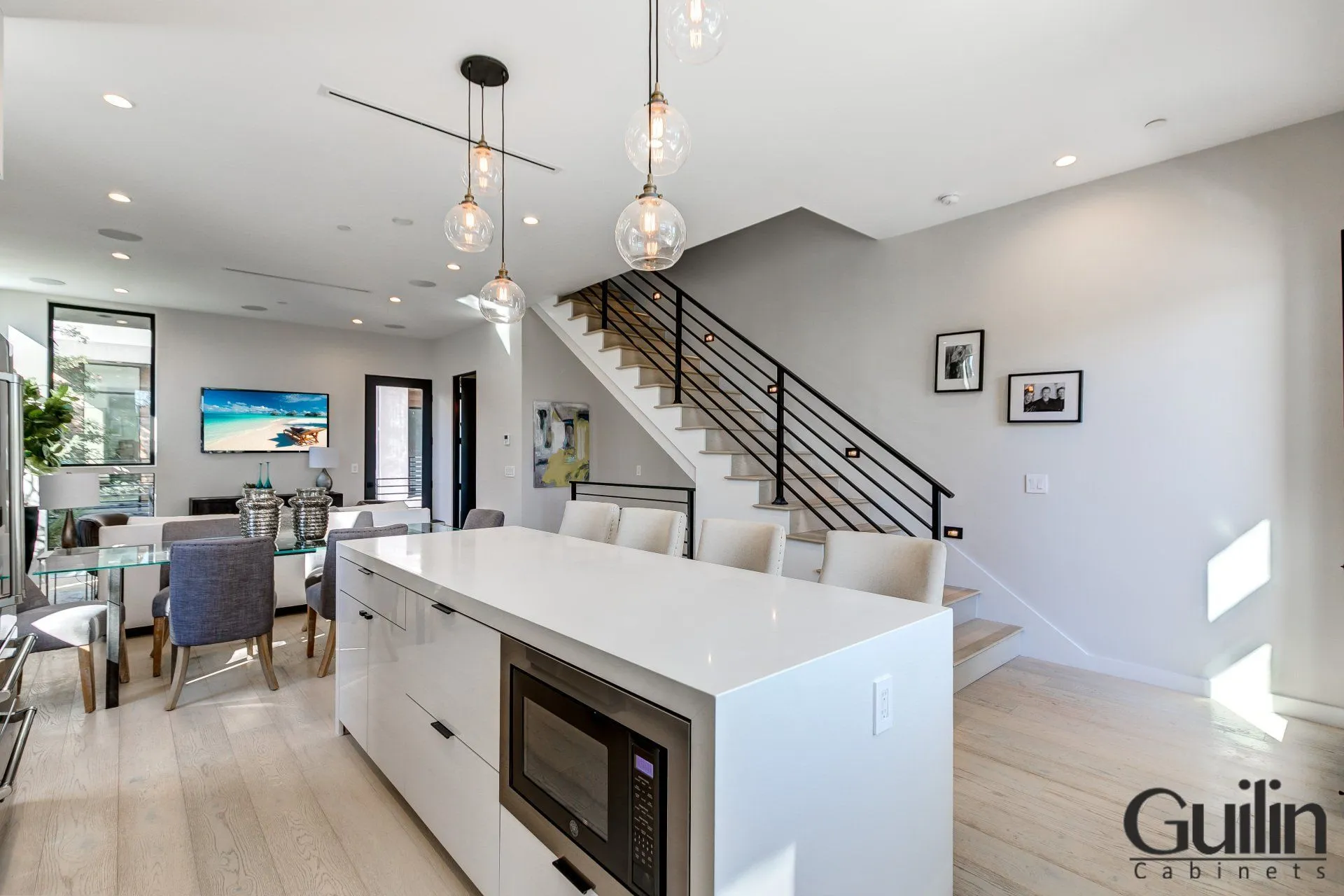 Why is it Help to Your Remodel Project?
Refacing cabinets with laminate can not only save you money and time but also provide an opportunity to transform your kitchen's appearance. Laminate refacing can be done in a variety of styles and colors, which makes it versatile for any design aesthetic. By updating your cabinets' look, you can elevate the entire room's design, making it more functional and aesthetically pleasing.
The Major Benefits of Laminate Refacing:
Cost-effectiveness: Refacing cabinets with laminate is typically less expensive than completely replacing them. Help you save lots of money in a small kitchen remodel project.
Minimal disruption: Since the cabinet boxes remain in place, there is less disruption to your kitchen during the refacing process.
Customization options: Laminate comes in a wide variety of colors and patterns, so you can choose a look that fits your style.
Durability: Laminate is a durable material that can withstand everyday wear and tear.
The Process of Refacing Cabinets with Laminate
The process of refacing cabinets with laminate typically involves the following steps:
Removing cabinet doors and drawer fronts: With refacing service, you'll get brand new doors. The first step is to remove the doors and drawer fronts from the cabinets. With a refacing, you'll get brand new doors.
Cleaning and sanding: After the first step, The surfaces of the cabinet boxes and doors are then cleaned and sanded to ensure a smooth and clean surface for the laminate to adhere to. Your refacing cabinet contractor will also strip and sand your cabinet boxes to prepare them for the new finish of your choosing.
Applying laminate: The laminate is then cut to size and applied to the cabinet boxes and doors using a special adhesive.
Trimming and Finishing: Once the laminate is in place, any excess material is trimmed away and the edges are finished with edge banding.
Reinstalling doors and drawer fronts: Finally, the doors and drawer fronts are reinstalled, and any hardware is replaced. The refacing contractor will also install any upgraded hardware you chose like new cabinet pulls or soft-close hinges or drawer tracks.
=> Related service: Custom Refacing Cabinets Service CA
Where Can I Find Cabinet Refacing with Laminate Contractor?
Refacing kitchen cabinets can sometimes be an expensive endeavor, and choosing the right contractor can make a huge difference in the overall cost. Regardless of whether you want to give your kitchen an updated look or prepare your property to sell, it can be challenging to find an affordable cabinet refacing contractor. With so many options available, where do you start? Here is your way:
=> Read More: How to Find Affordable Cabinet Refacing Contractor Near My Home?
Research & Check Reviews, Ratings Online:
One of the easiest ways to find a reputable and affordable cabinet refacing with a laminate contractor is to check online reviews and ratings. Visit websites like Yelp, Google, and Facebook to read reviews from previous customers. Look for contractors with high ratings and positive reviews from customers.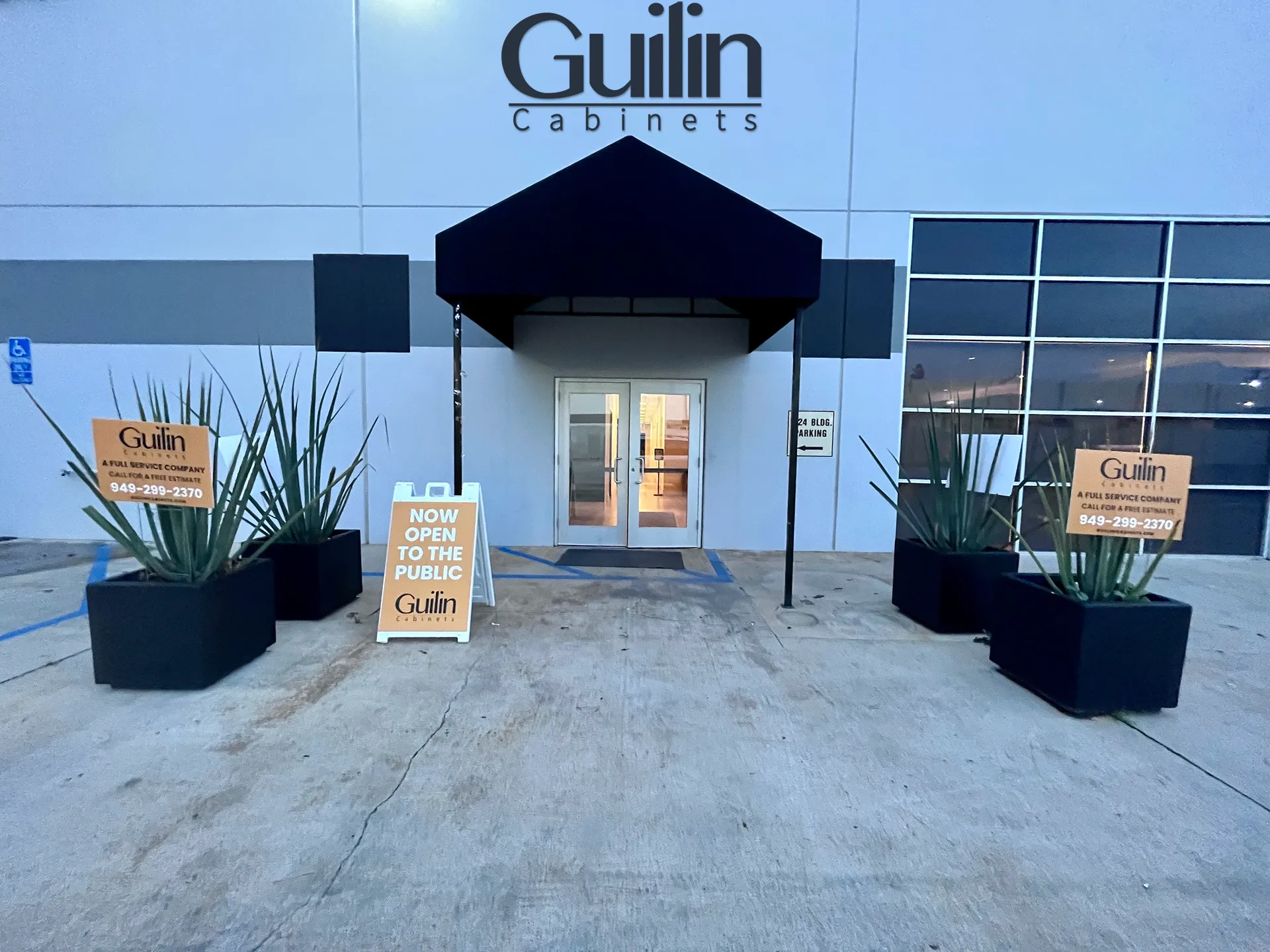 Ask for Referrals:
Another way to find an affordable cabinet refacing contractor is to ask for referrals from friends or family members who have had a similar project done. Ask them about their experience and if they would recommend the refacing contractor they used.
=> Read more: 5 Kitchen Remodel Mistakes Need to Avoid – Guilin Cabinets

Faqs About Can Reface Cabinets with Laminate?
How long does a cabinet refacing project take?
The length of time it takes to complete a cabinet refacing project will depend on the size of your kitchen and the complexity of the project. However, most projects can be completed in 2-4 days. => Read more: How long does a cabinet refacing project take?
Can I refinish or paint laminate cabinets instead of refacing them?
Yes, you can refinish or paint laminate cabinets, but it may not be as durable as refacing with new laminate material. Additionally, it requires more labor and skill to properly prepare and finish the surface, so it may not be cost-effective for larger projects. => Read more: Can Laminate Countertops be Painted? What Need to Know
How Long Do Refacing Kitchen Cabinets Last?
The answer to this question depends on several factors. One of the most significant determinants is the quality of the materials used in the cabinet refacing process. For instance, cabinets refaced using high-quality wood veneers or laminate materials may last up to 20 years or more. => Read More: How Long Do Refaced Kitchen Cabinets Last?
Can I still use my kitchen during the refacing process?
Cabinet refacing is relatively quick and easy, taking only 3 to 5 days, depending on the size of the project. This is an excellent option for people who want to remodel their kitchen or bathroom quickly and need to minimize the disruption during the remodeling process.
What is cabinet refacing can it be done with laminate material?
Cabinet refacing is a process of covering the exterior of existing cabinets with new material to give them a fresh look. Yes, it can be done with laminate material, which is a cost-effective and durable option for remodeling projects.
Can laminate be customized to match my kitchen decor?
Yes, laminate comes in a variety of colors, patterns, and textures that can be customized to match the existing decor of your kitchen. You can choose from a wide range of options to create a unique and personalized look for your cabinets.
Is it possible to reface cabinets with laminate DIY-style?
Refacing kitchen and bathroom cabinets with laminate can be completed as a DIY project with a little research, patience, and attention to detail. While it's not the easiest home improvement project to tackle, many homeowners have successfully completed it themselves, saving money in the process.