Wood veneer kitchen cabinets offer an attractive and cost-effective way to bring a natural, classic look to your kitchen. Real wood is used to create these veneer cabinets, but only a thin layer of it is placed on top of a wood core material (like MDF, HDF, or Particleboard…),. This gives the cabinets the look and texture of natural wood without the high cost. With wood veneer cabinets, you can get the beauty of wood without sacrificing your budget.
=> Read more: 10 common cabinet materials: how to choose right!
What is Wood Veneer?
Wood veneer cabinets are real wood but they have been mechanically stripped from the big logs into very thin layers of wood. After that, the manufacturers only adhere a very thin sheet of real natural wood onto particleboard, MDF, HDF, or plywood substrate, which is the same material used for Cabinet, allowing for the look and feel of natural wood, without the hefty price tag.
=> For Short Answer: Engineered Wood core inside and Real Wood look outside.
The Materials to Made Venner:
Natural wood veneer, as the name suggests, is made from genuine wood slices or peels that are cut from logs using a slicing or peeling machine. This process results in a thin layer of wood that is then glued onto a substrate or core material. The natural veneer can be made from a wide variety of wood species, each with its unique character, grain, and color. One of the advantages of natural veneer is its natural beauty; it has a warmth, texture, and unique character that cannot be duplicated by artificial veneer. However, natural veneer comes with a higher price tag and requires more care and maintenance to preserve its natural beauty.
Artificial veneer, on the other hand, is a man-made product that is created by using a printed image and laminating it onto a substrate. An artificial veneer is created to replicate the look of natural wood, and it is a more affordable alternative to natural veneer. One of the advantages of artificial veneer is that it does not require the same level of care and maintenance as natural veneer. It is also available in a wide variety of finishes, colors, and patterns, making it easier to achieve a specific look or design.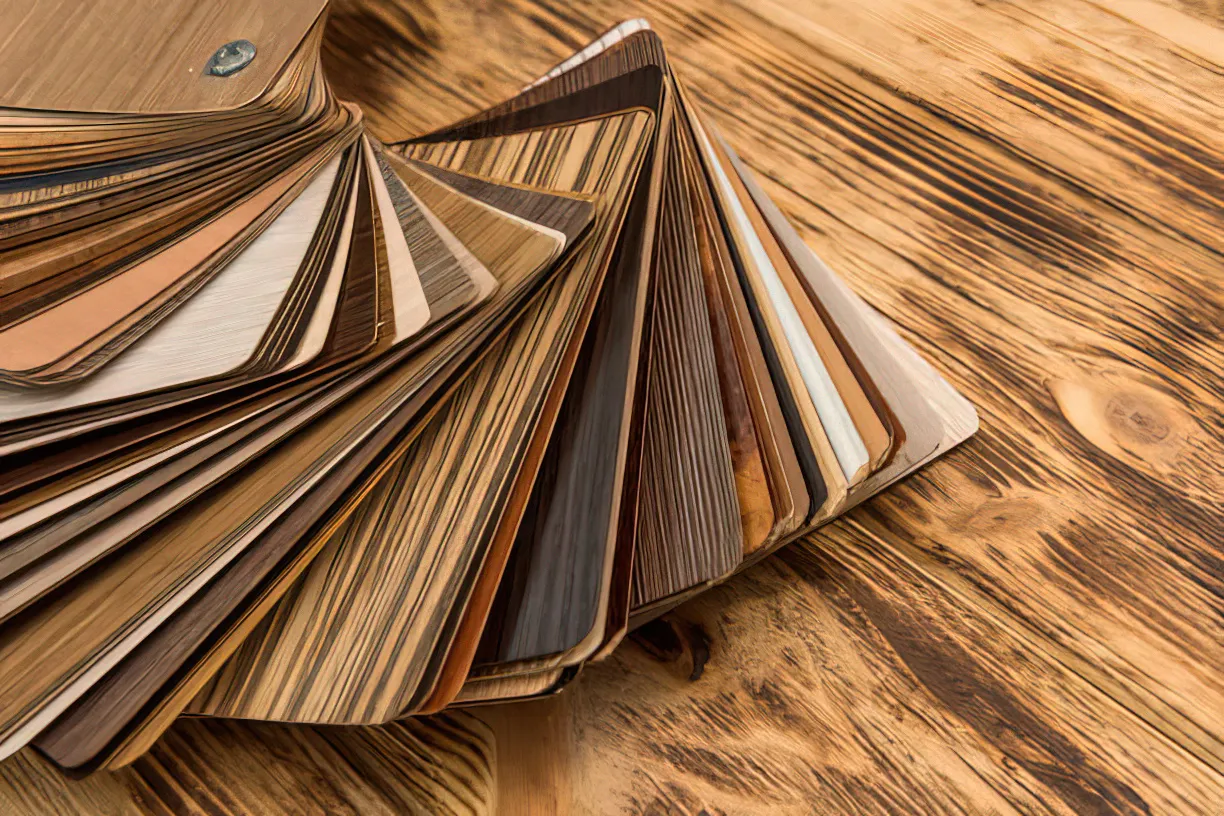 Common types of Using Wood Venner:
Wood with Veneer Finish: These are real wood but manufacturers stripped them from the big logs into very thin layers. As very thin, they're usually used as an outer layer, adhering to particleboard, fiberboard, MDF, HDF, or a plywood substrate.
Plywood Core Veneer: Veneer-core plywood is one of the most common types of plywood used for cabinetry, it consists of a center veneer and alternating crossband veneers layered on either side of the core, creating an odd number of veneers for the core. -> Read more about Venner-core Plywood here!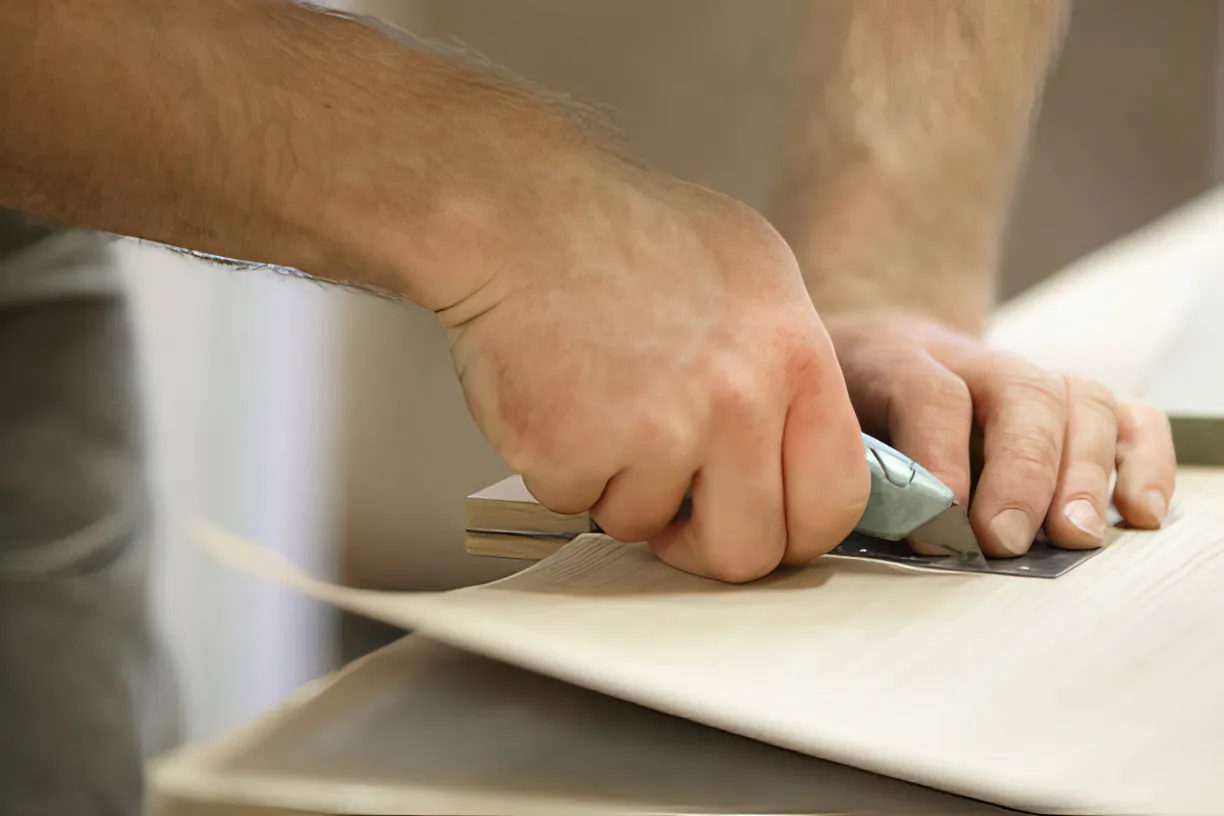 Pros of Wood Veneer – Advantage
Look like natural wood:
Wood veneer looks and feels like real wood and can be used to add a touch of sophistication to any space. With its beautiful grain, texture, and color, wood veneer can be used to create a stunning natural look that is sure to impress your guests. Natural Wood veneer is a thin slice of wood that is often used to provide a decorative and elegant finish to furniture, cabinetry, and other wood products. There are many different types of veneers available, each with its own distinct look and texture.
The most common types of veneers include walnut, ash, red oak, white oak, birch, acacia, and beech.
Walnut veneer has a dark, rich color and a smooth, even grain.
Ash veneer is light in color, with a prominent grain and a slightly wavy texture.
Red oak veneer has a reddish hue, with a coarse and open grain.
White oak veneer is a light tan color with a subtle grain pattern.
Birch veneer has a creamy yellow hue, with a prominent, straight-grained pattern.
Acacia veneer is a golden-brown color and has an attractive, wavy grain pattern.
Beech veneer has a light tan color and a tight, even-grained pattern.
Each type of veneer provides a unique look and texture, making it a popular choice for furniture and other wood products.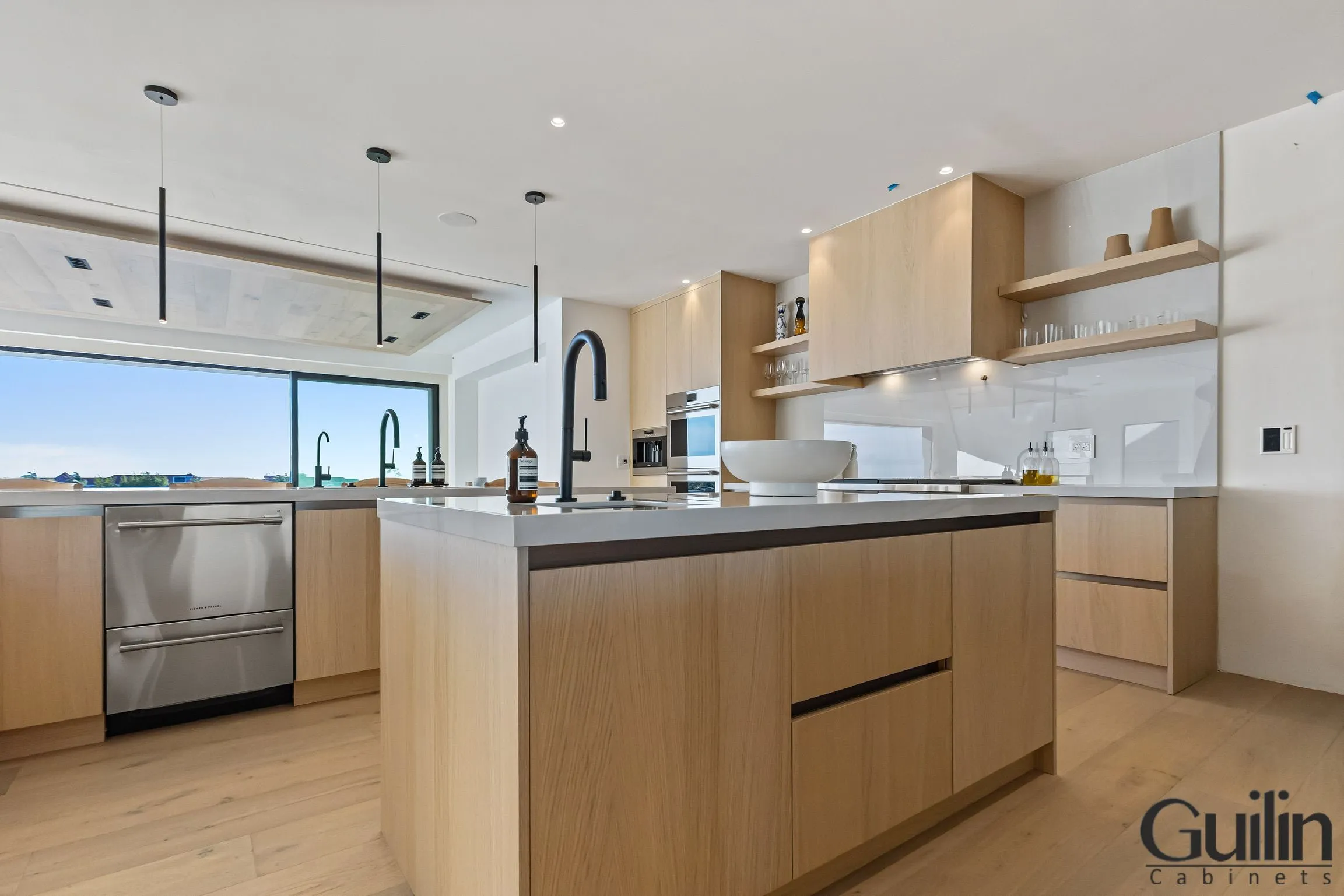 Low Cost than solid wood:
Because Wood veneer is a thin sheet of natural wood material that has been cut from a tree trunk and is used to create a decorative finish on particleboard, fiberboard, and engineered wood surfaces. It is a cost-effective alternative to solid wood and is often used when a more natural look is desired.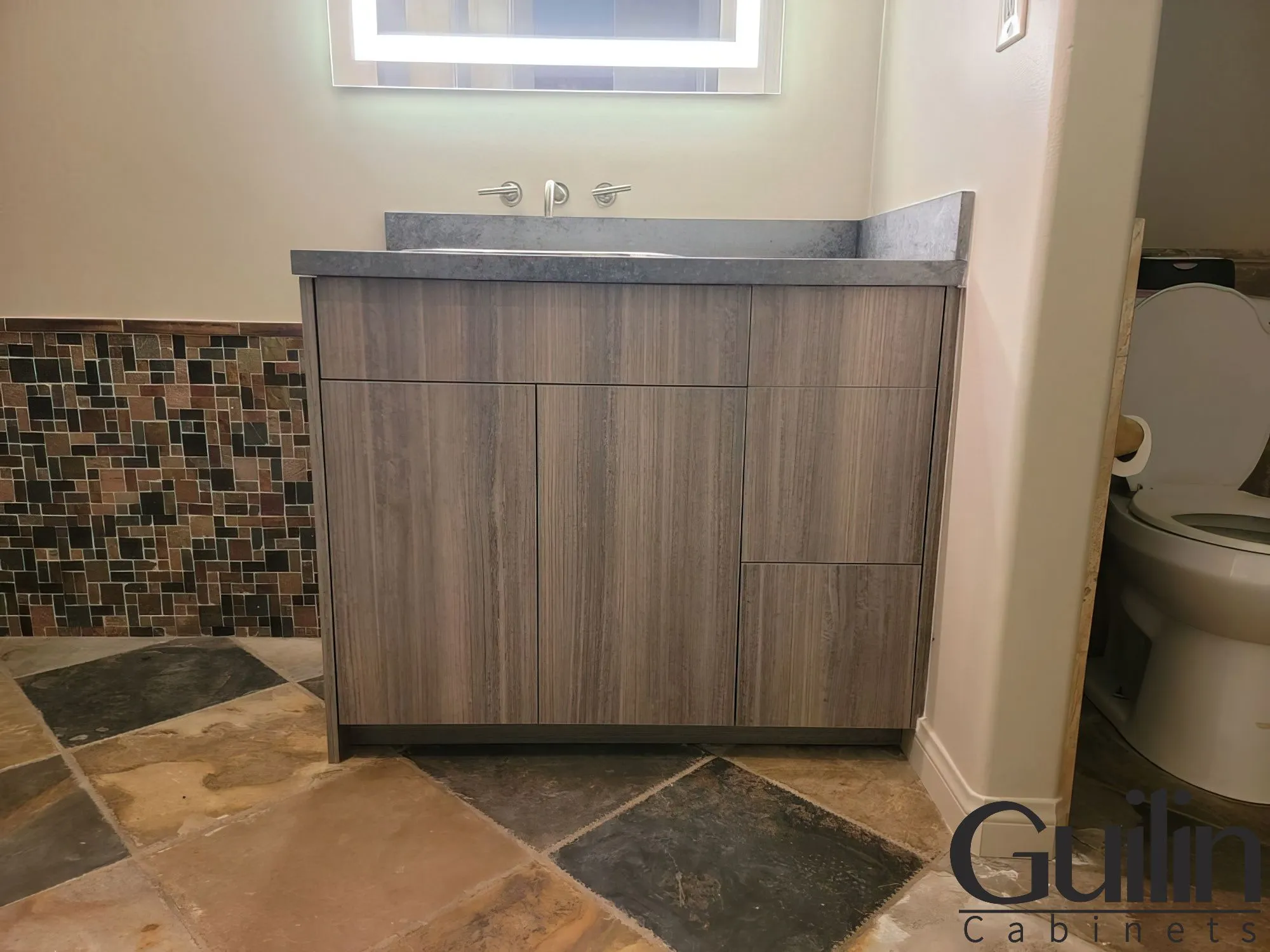 Variety in pattern, and species:
Not only does this reduce cost, but wood veneer also allows for more exotic wood species, such as bamboo and mahogany, to be used more readily.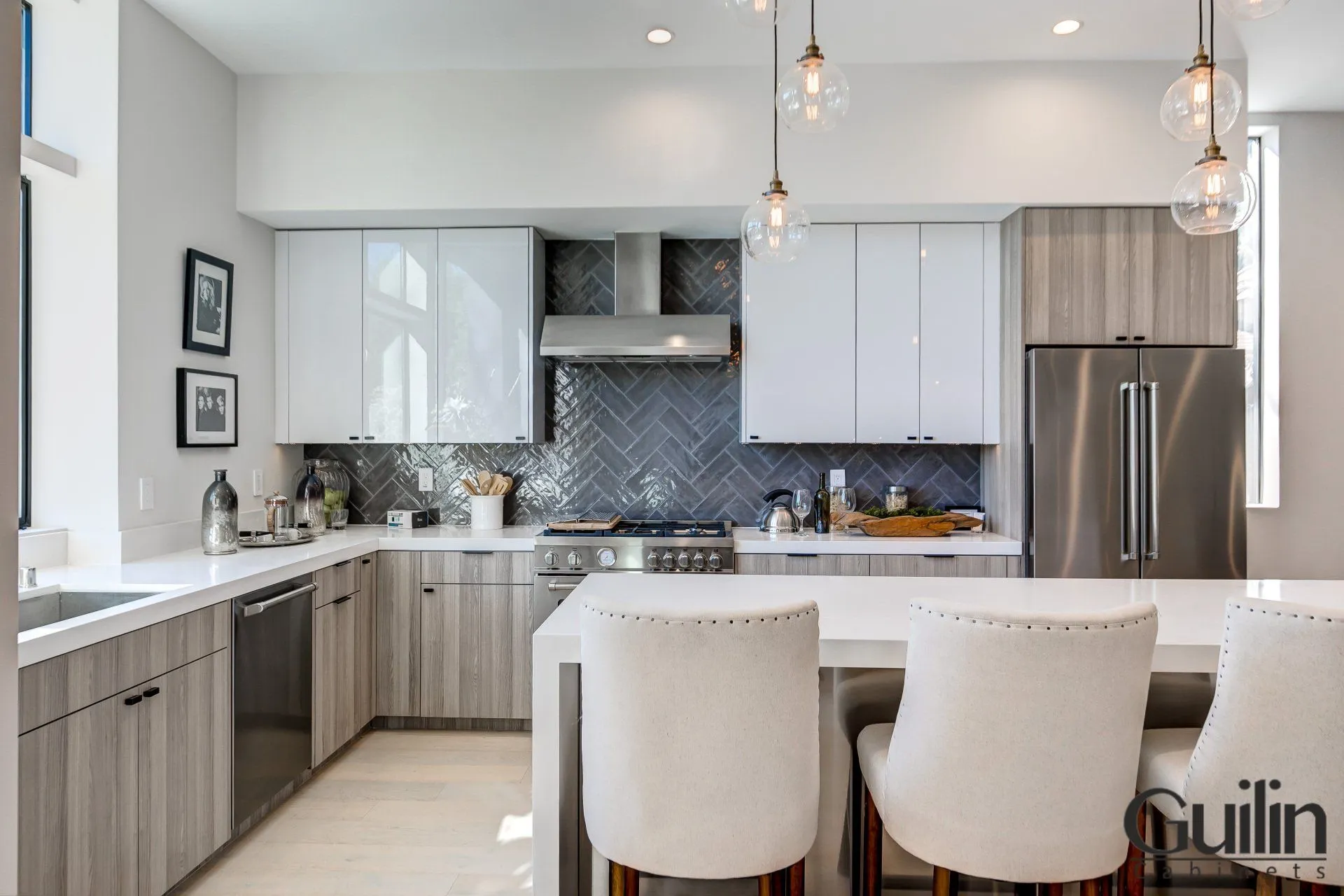 Eco-Friendly than solid wood:
Do you want eco-friendly options for furniture, veneer wood is a great choice. Compared to solid wood, veneer offers a number of environmental benefits, especially when it comes to reducing waste. Veneer is made by slicing thin layers of wood off of a log, so it requires less wood to create the same size product as solid wood. This helps preserve wood resources and makes it a great option for those looking to be more conscious of their environmental impact. Additionally, the veneer is much more lightweight than solid wood, so it can often be a more cost-effective option.
=> Read more: Solid Wood Cabinets – Pros and Cons to Consider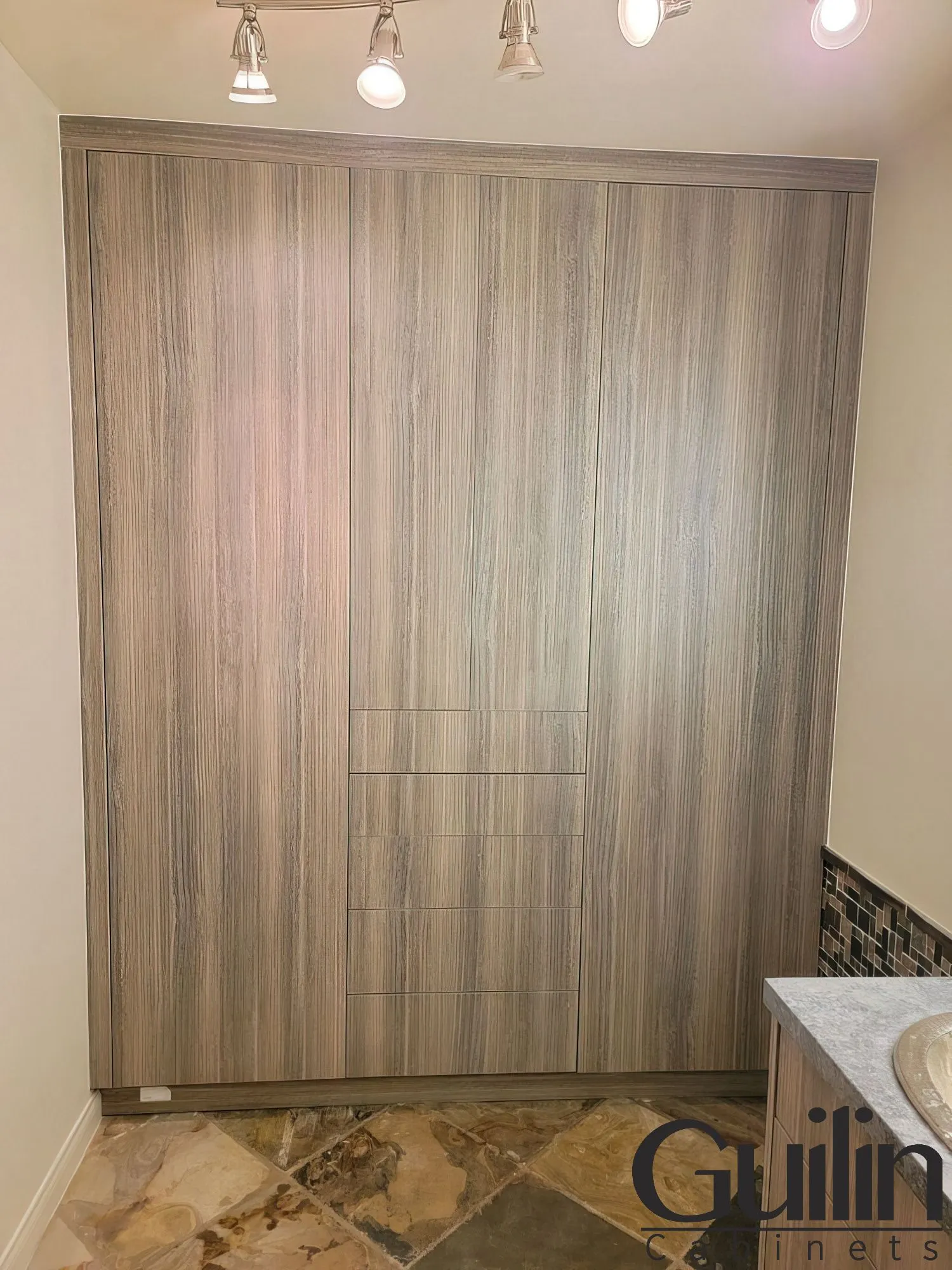 Cons of Wood Veneer – Disadvantage
Request Regular Maintenance:
Unlike solid wood, veneer wood requires regular maintenance in order to keep it looking as fresh and new as possible. Veneer wood is made by adhering several thin sheets of natural wood onto a particleboard or fiberboard base. Because it lacks the natural resistance of solid wood it is more likely to be affected by moisture and insect attacks. Without proper care and maintenance, veneer wood can quickly become damaged.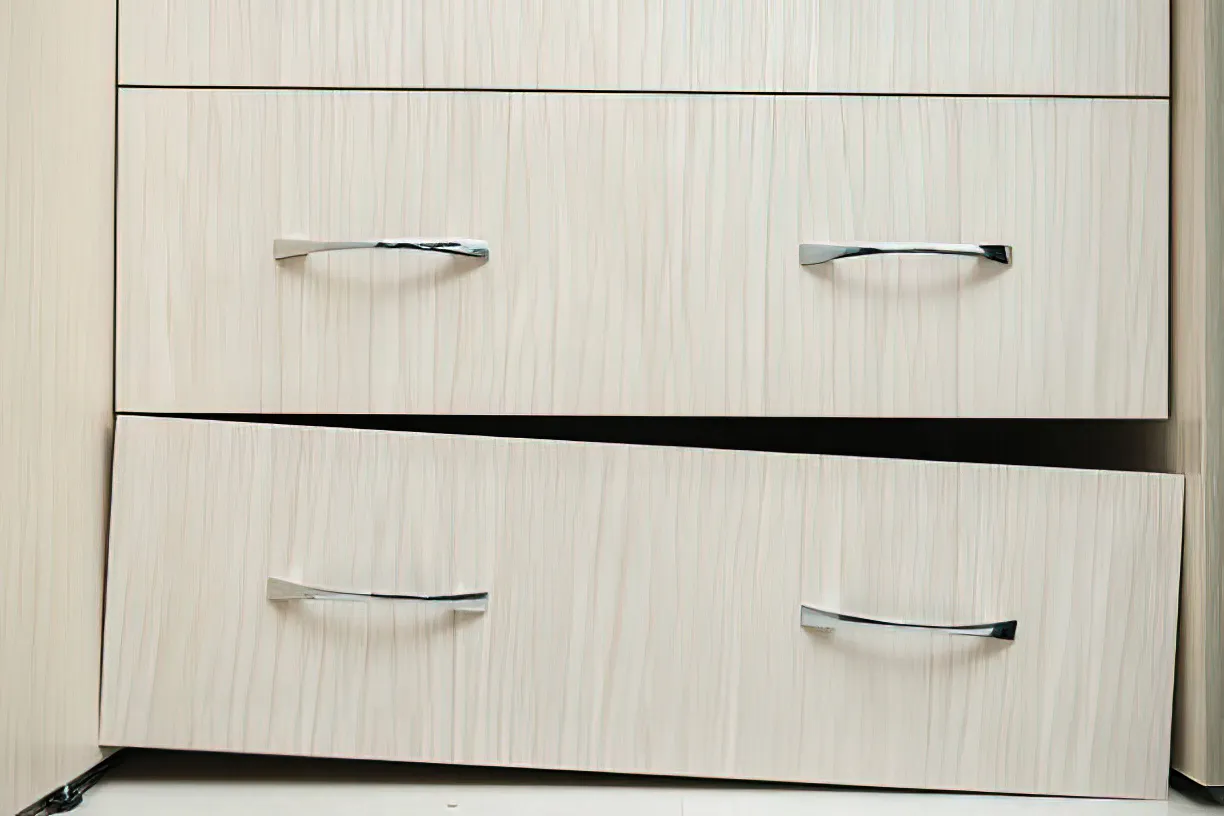 Cost of Venner:
Another potential disadvantage of using wood veneer is the cost. The cost of your veneer cabinets depends on the core of the cabinets and the layer of veneer outside. While it is generally less expensive than solid wood, it can still be quite pricey, especially if you choose a more exotic or rare wood species. Additionally, if you are hiring a professional to apply the veneer, you will need to factor in the cost of labor.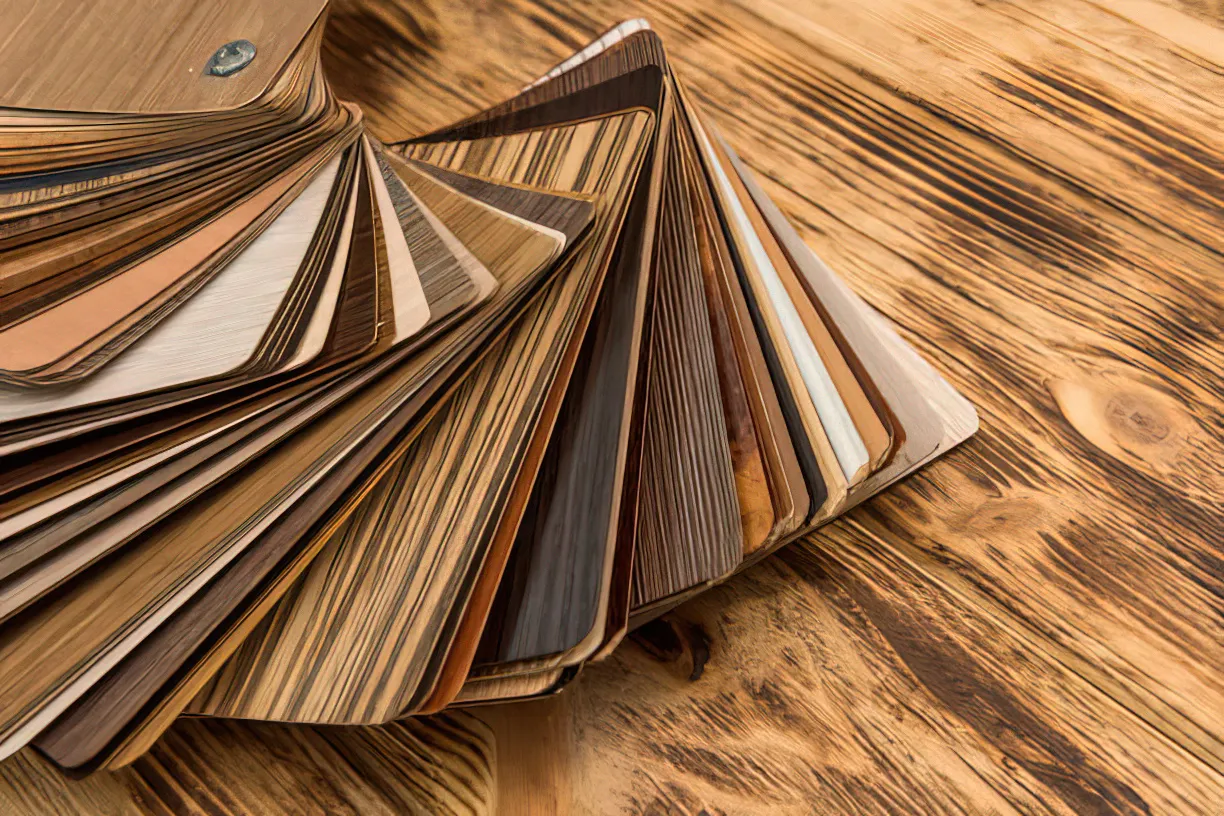 Not as strong as solid wood:
While wood veneer cabinets look like solid wood cabinets, they are not as strong. If you're looking for a cabinet that can withstand heavy use, solid wood may be a better choice. Nevertheless, veneer cabinets are still a great option for those who are looking for a durable and stylish storage solution.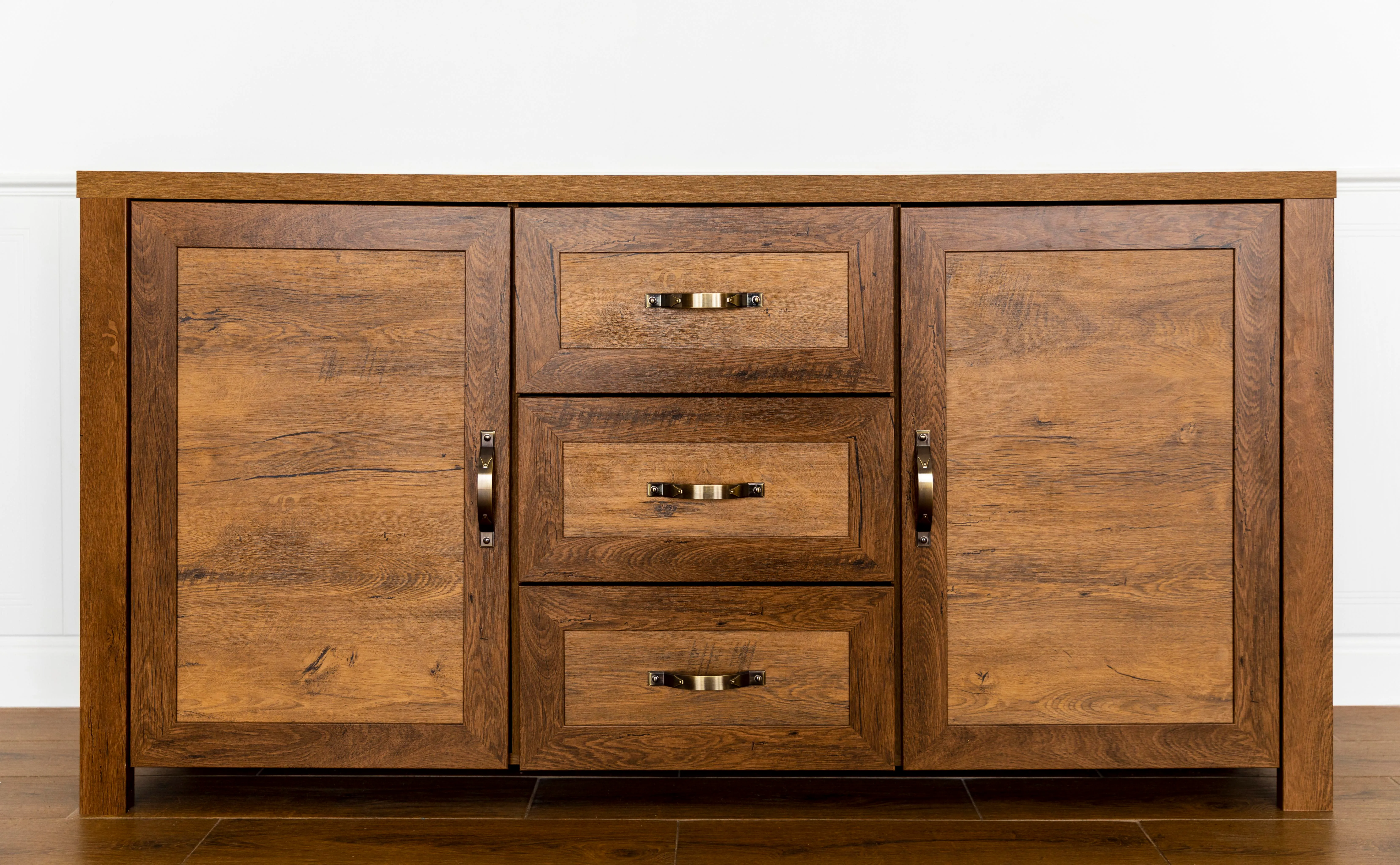 Susceptible to moisture damage:
While wood veneer cabinets are more resistant to warping and splitting than other engineered wood, they are still susceptible to moisture damage. If water is allowed to sit on the surface of the cabinets for an extended period, it can cause the veneer to peel or bubble.
Difficult to repair:
If a wood veneer cabinet is damaged, it can be difficult to repair. This is because the veneer is so thin that sanding or refinishing it can remove the entire layer of wood.
Veneer Can Peel Over Time:
As the veneer is a thin layer of wood that is glued to another material, it can be susceptible to damage and wear over time. If the veneer is not properly installed or cared for, it can begin to peel and chip away from the underlying material. This can lead to unsightly and uneven surfaces on furniture, cabinets, and other veneered surfaces.