Are you thinking about remodeling or refacing kitchen cabinets? If so, you may have come across the term "melamine cabinets." Melamine cabinets are a popular choice for budget-conscious homeowners because they offer a durable and attractive option at an affordable price. However, like any new renovation project, there are both pros and cons that you should consider before making a decision. In this article, we will take a closer look at the pros and cons of melamine cabinets so that you can make an informed choice that suits your style, budget, and lifestyle.
=> Read more: 10 Common Cabinet Materials: How To Choose Right!
What is Melamine Wood?
Melamine (or low-pressure laminate (LPL) melamine board for short, is known as melamine laminated impregnated paper veneer man-made board) is an incredibly durable and versatile material often used for cabinets in homes and businesses. It's made from resin-plastic paper that is permanently fused to a particleboard, MDF, or fiberboard substrate,… with a pressure of 300-500 pounds per square inch, making it resistant to moisture, heat, stains, chipping, peeling, and delamination.
=> Read more: Thermofoil Wood Cabinets: Pros and Cons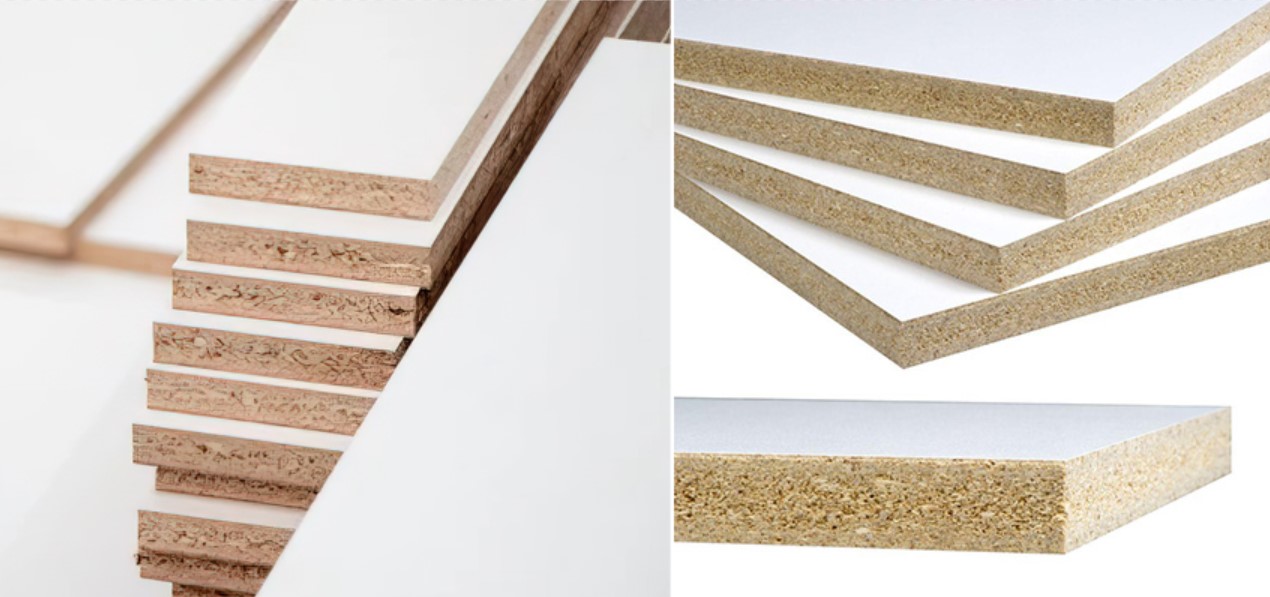 Advantages of Melamine Wood
Melamine cabinets have many advantages. They are cost-effective compared to other materials, durable, and easy to maintain. They are resistant to scratches and stains, so you won't have to worry about them getting damaged easily. Melamine cabinets are also lightweight and easy to install, making them a great option for DIY projects. Additionally, they are customizable to fit your desired look and design with a wide range of colors and patterns available.
Resistant to common issues of cabinets materials:
With its tough outer coating, melamine is able to resist the common issues that can affect cabinets, such as moisture, heat, and stains. Not only is the coating strong and durable, but it is also extremely easy to clean. In addition, melamine cabinets are highly affordable, making them a great choice for those looking to stay within budget. So, if you're looking for a way to keep your kitchen cabinets looking great like new for years, consider melamine cabinets!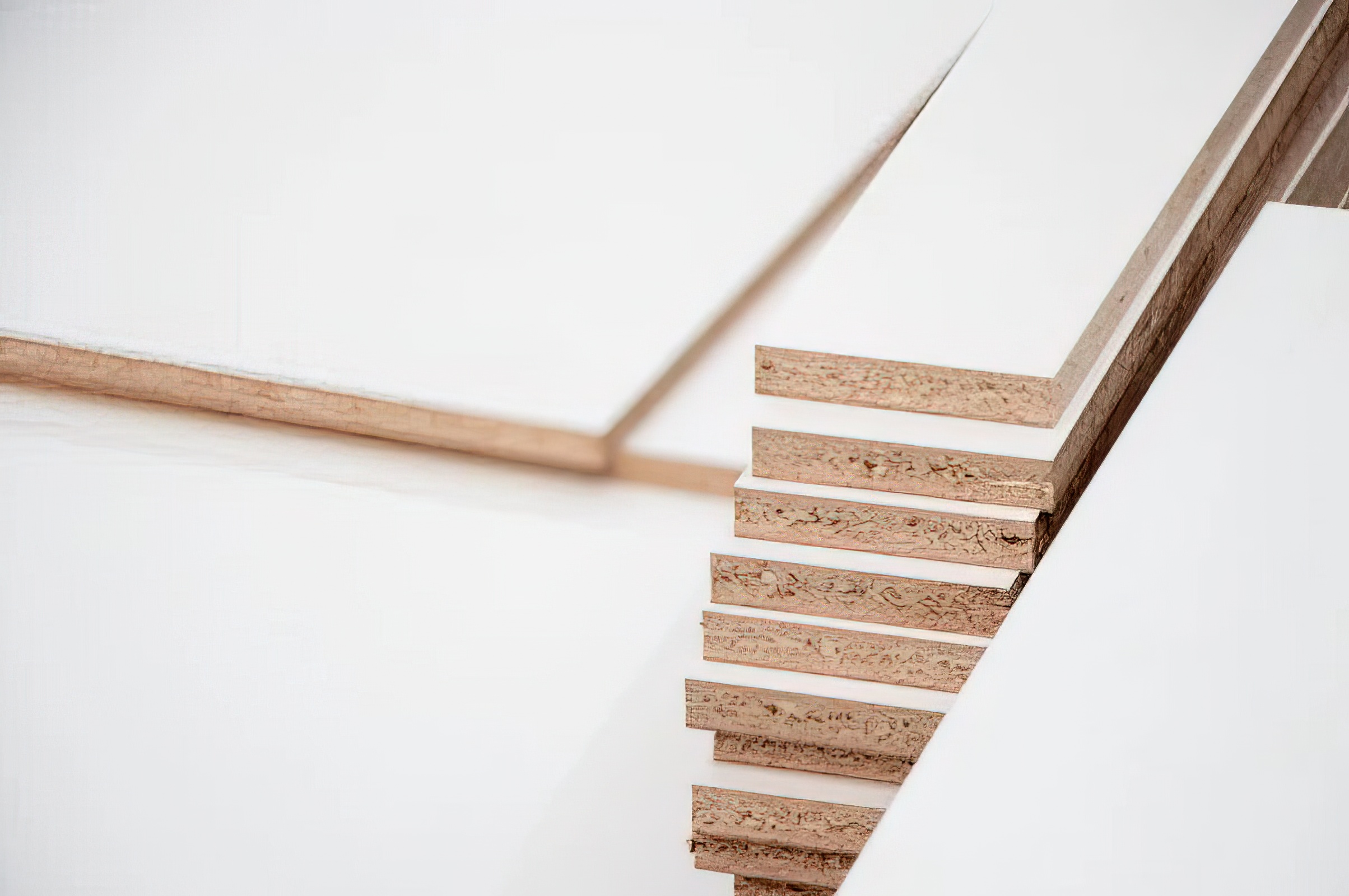 Very cost-effective:
For many homeowners, the cost is a major factor when it comes to remodeling or building new cabinetry. Unless you're lucky enough to have a generous budget, you're probably looking for the best quality materials at the lowest prices. Well, the good news is that melamine is an excellent, cost-effective option when it comes to cabinetry. Not only is it durable and visually appealing, but it's also much more affordable than solid wood drawers and cabinets. That's why melamine is a great choice for those looking for a more wallet-friendly option.
Huge Variety Options:
With melamine, you can select from a variety of faux wood grains in different shades and solid colors, making it easy to find a design that fits the aesthetic of your kitchen. Whether you're looking for black, white, yellowed, blue, or grey melamine cabinets, melamine is an incredibly versatile material that can give you the look and feel you're aiming for. It's no wonder why melamine has become a popular choice for kitchen cabinets in recent years, as its man-made synthetic design gives you the freedom to explore various design possibilities
Disadvantages of Melamine Wood
While melamine cabinets might have a lot of benefits, they do have some downsides. One disadvantage is that they can discolor or warp when exposed to high heat, so they are not the best choice for areas that experience high heat, such as near stoves and ovens. Additionally, melamine cabinets can be difficult to repair when they get damaged or scratched. Although they can be painted over, this is not recommended, since they are not designed to hold paint and could peel off over time.
Not pair well with nails and screw
It's important to note that because of the construction of melamine cabinets, they don't pair well with nails and screws. If used improperly, nails and screws can cause the melamine to splinter, which can be a major downside. If you're looking to use nails and screws with melamine cabinets, it's best to consult a professional. They have the experience and know-how to use the right techniques and ensure that your melamine cabinets remain secure and screw-free. In addition to splintering, nails, and screws can cause warping and discoloration in the cabinet, so it's important to be aware of the potential risks associated with this type of installation.
Can chip easily
Melamine wood can chip easily and impact the visual appeal of your furniture. Although the outside resin coating of melamine cabinets can withstand wear and tear, it's still prone to chipping, especially if you accidentally hit it with a hard object. When chips occur, the internal wood particle core is exposed, making it unattractive in appearance. This exposure might also lead to further damage in the long run due to moisture infiltration.
Water damage
Unfortunately, melamine can still be prone to chipping at the corners, which can lead to the particleboard becoming exposed. If this happens, any liquid that seeps in can spread quickly, potentially leading to water damage. To avoid this, make sure to take good care of your cabinets by regularly cleaning and inspecting them for signs of damage.
Used of Melamine wood:
Melamine Wood (also known as melamine broad) has become a popular choice for construction and home design. Melamine is a synthetic material made by combining melamine resin and paper or cloth. It has gotten quite popular due to its durability and affordability. Melamine board is often used in kitchen and bathroom cabinetry because it is water-resistant, scratch-resistant, and easy to clean. Apart from cabinetry, melamine board is also used in another home decor such as shelving and display counters. This type of board is popular in offices and schools because it works well to create whiteboards and office furniture. Melamine board is also used as flooring due to its durable nature and easy installation.

One of the best things about melamine wood is that it can be used for furniture construction to give otherwise lower-quality materials an attractive and durable finish. When working with a budget, melamine board offers a great wallet-friendly solution to solid wood. It is relatively cheaper than solid wood but still offers a modern and sleek look, making it a popular choice amongst interior designers and construction companies.
What differences between Melamine and Laminate?
Although both melamine wood and laminate share some similarities (they use melamine plastic), there are notable differences between the two.
For instance, melamine wood features a layer of glue resin directly applied to the surface of the wood core, which requires less pressing force compared to laminate wood. Conversely, laminate wood cannot be directly layered onto the wood surface and necessitates a higher heat pressure to embed the coating into the wood's core.
Melamine is a low-pressure laminate (LPL) because it is made with a pressure of 300-500 psi (pounds per square inch). Laminate is a High-pressure laminate (HPL), also called Formica, is made with over 1400 psi (pounds per square inch).
However, that help Laminate is better appreciated and more durable than melamine but the cost of Laminate is higher cost than melamine.
=> Read more: Thermofoil vs Laminate vs Melamine: What Different Between Them?
Would you like to remodel your kitchen with affordable, high-quality cabinets? Stop looking! Guilin Cabinets in Irvine, We are a Wholesale melamine that offers a stunning variety of alternatives if you want to improve the look of your kitchen on a budget.
Please! Contact Guilin Cabinets Today for assistance!
Hotline: +1 949 299 2370
Email: info@guilincabinets.com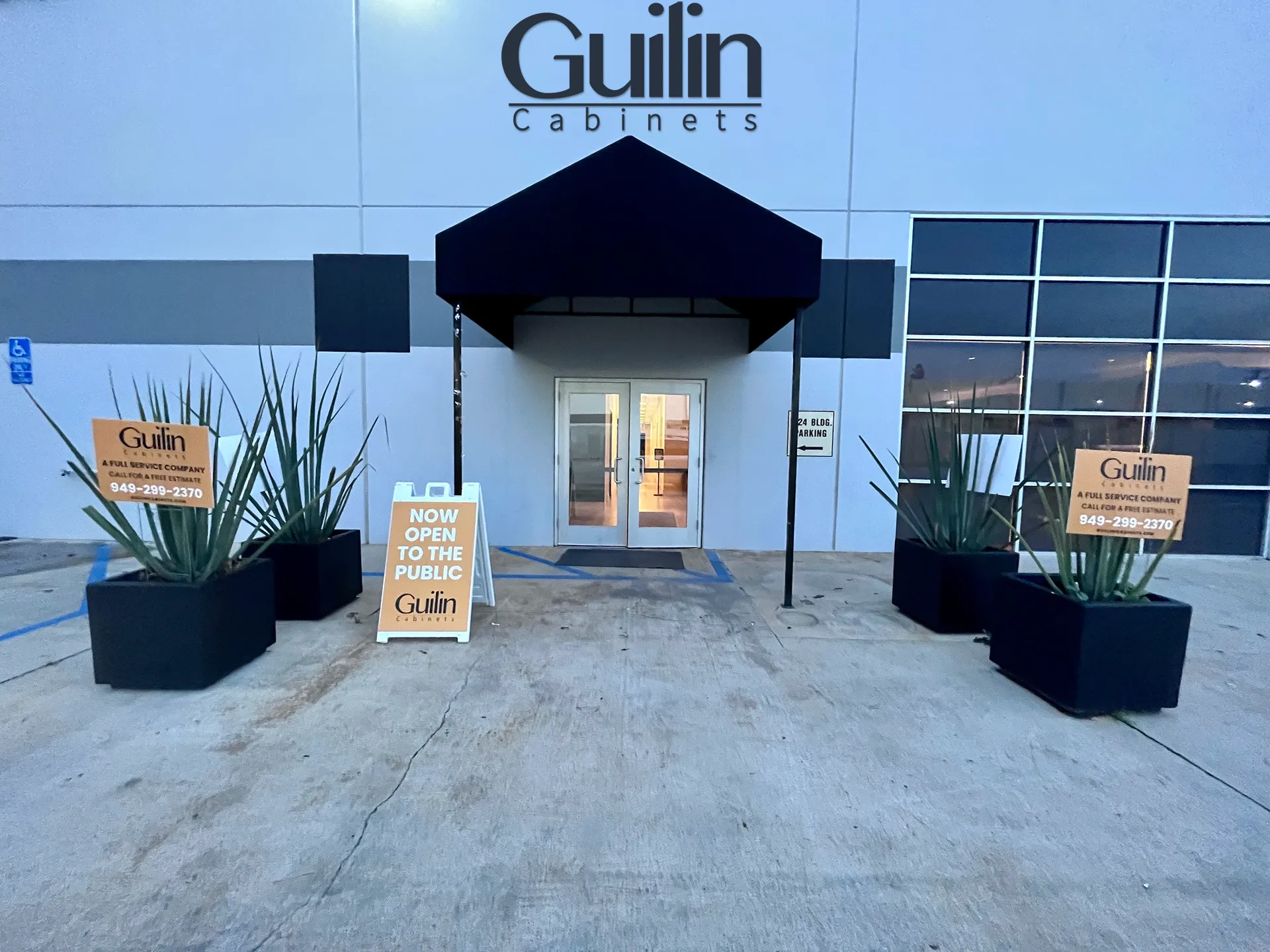 Faqs About Pros and Cons of Melamine Wood Cabinets
Are melamine cabinets safe for the environment?
Melamine cabinets can be environmentally friendly since they are made from recycled materials and are recyclable themselves. Additionally, they do not release any toxic fumes or off-gases, making them a safe option to have in your home. However, it is important to ensure that the manufacturing methods used to create the cabinets are environmentally friendly as well.
How do you clean melamine cabinets?
Cleaning melamine cabinets is easy. You can use a non-abrasive cleaner and a soft cloth to wipe down the surface of the cabinets. Be careful not to use anything too harsh, as this could scratch the surface. Additionally, avoid using acetone or any cleaning products that contain bleach, as this could damage the melamine finish.
Are melamine cabinets a good choice for kitchens?
Melamine cabinets can be a good choice for kitchens, as they are easy to maintain, durable, and come in a wide range of colors and finishes. However, as mentioned earlier, they can discolor or warp when exposed to high heat, so it is important to avoid placing them too close to stovetops or ovens. Additionally, melamine cabinets usually use MDF as the core layer, they are not as durable as some other types of cabinets, such as those made out of solid wood or plywood.