We often come across the term MDF (Medium-Density Fiberboard) when designing and renovating a home. It is a popular material used in the making of furniture and cabinets, but how much do we really know about it? As a homeowner, it is important to understand the advantages and disadvantages of using MDF for cabinets.
=> Read more: 10 Common Cabinet Materials: How To Choose Right!
What is Medium-Density Fiberboard (MDF)?
Medium-Density Fiberboard, or MDF, is a type of composite wood product made from wood fibers that are combined with resin and heated and pressed to form a board material. MDF is often used in furniture and cabinetry due to its lightweight and durable properties, as well as its ease of use. It can also be used in construction applications, such as wall paneling, due to its affordability and its ability to produce a smooth, professional finish. Additionally, MDF is a great choice for cabinetry, kitchen countertops and backsplashes due to its resistance to staining and ease of cleaning. Another benefit of MDF is that it is an eco-friendly material since it is made from recycled wood fibers. The surface of MDF is smooth and can be laminated with a variety of coating materials such as Melamine, Laminate, or veneers of peach, oak, ash, etc. for a beautiful finish that is indistinguishable from natural wood.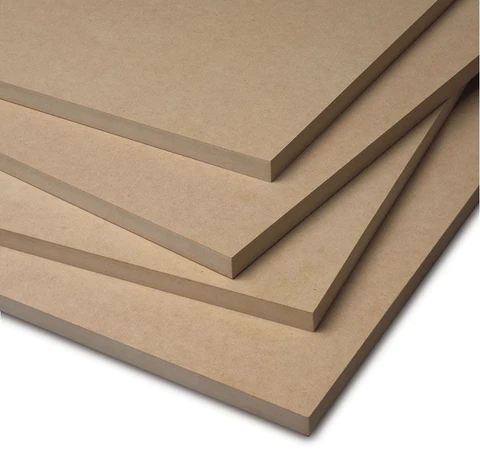 How Many Types of MDF (Medium-Density Fiberboard)?
There are 6 main types of MDF, which are Standard MDF and Moisture-Resistant MDF. However, there are also other variations of MDF that offer specific characteristics and benefits.
Standard MDF:
The first type, Standard MDF is used in most general applications. It has a smooth surface, uniform density, and is easy to cut, shape, and paint. Standard MDF is also less expensive than other types and comes in different thicknesses, ranging from 1/8 inch to 1 inch.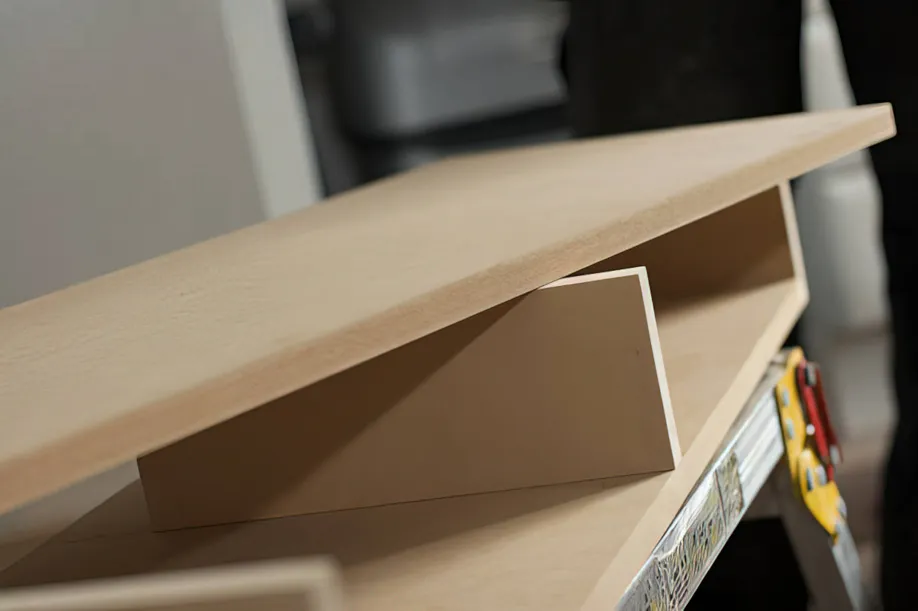 Moisture-Resistant MDF:
On the other hand, Moisture-Resistant MDF, or MR-MDF, is specially treated to resist moisture, humidity, and mildew. This type of MDF is commonly used in areas exposed to moisture, such as bathrooms, kitchens, and laundry rooms. MR MDF comes with a green dye to differentiate it from Standard MDF and usually comes in thicknesses ranging from 1/2 to 1 inch. They usually use for bathroom cabinets and bathroom vanity.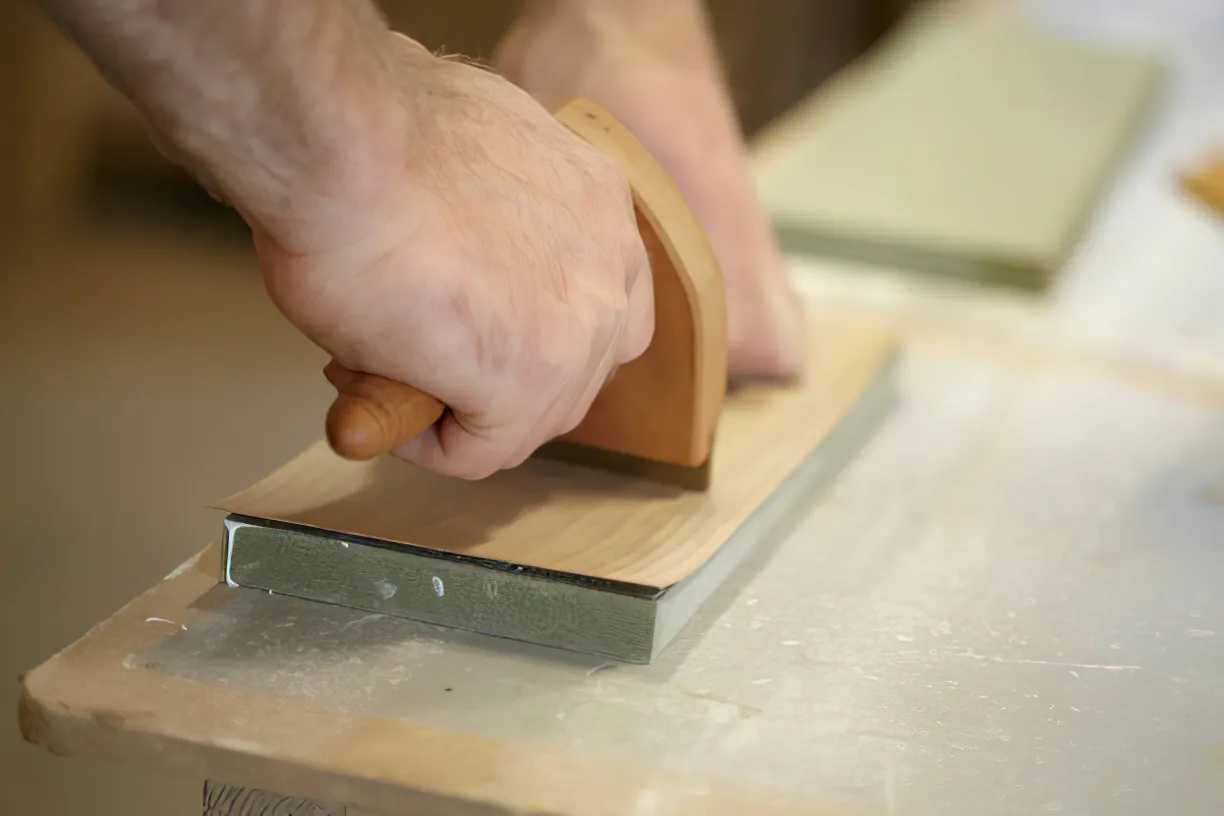 Ultra-Light MDF:
Ultra-Light MDF is a lightweight version of standard MDF that is designed for applications where weight is a key consideration. It has a lower density than regular MDF, which makes it a more convenient option for installations where heavy materials are not viable or preferred. It is highly used in interior furniture, cabinet making, and decorative millwork. The lighter weight of Ultra-light MDF makes it the preferred choice for large-scale projects that require seamless and easy installation of panels.
Fire-Rated MDF:
Fire Rated MDF has been specifically engineered for fire-resistant applications. It is a type of MDF that can withstand high temperatures and pressure without deforming, expanding, or warping. Its composition includes chemical additives that, when exposed to fire, release gases that prevent combustion or delays it. The fire-resistant properties of fire-rated MDF make it an ideal choice for doors, partitions, and other interior applications that require fire-resistant properties. It complies with strict fire safety standards and regulations.
Veneer MDF:
This is one of the most popular types of MDF. It is made by gluing a thin layer of natural wood veneer onto the MDF panel. This not only gives the panel a beautiful finish similar to that of real wood but also enhances its durability and resistance to moisture. Veneer MDF is commonly used in kitchen cabinets, closet shelves, and wall paneling.
=> Read more: Wood Veneer Cabinets: Pros and Cons to Consider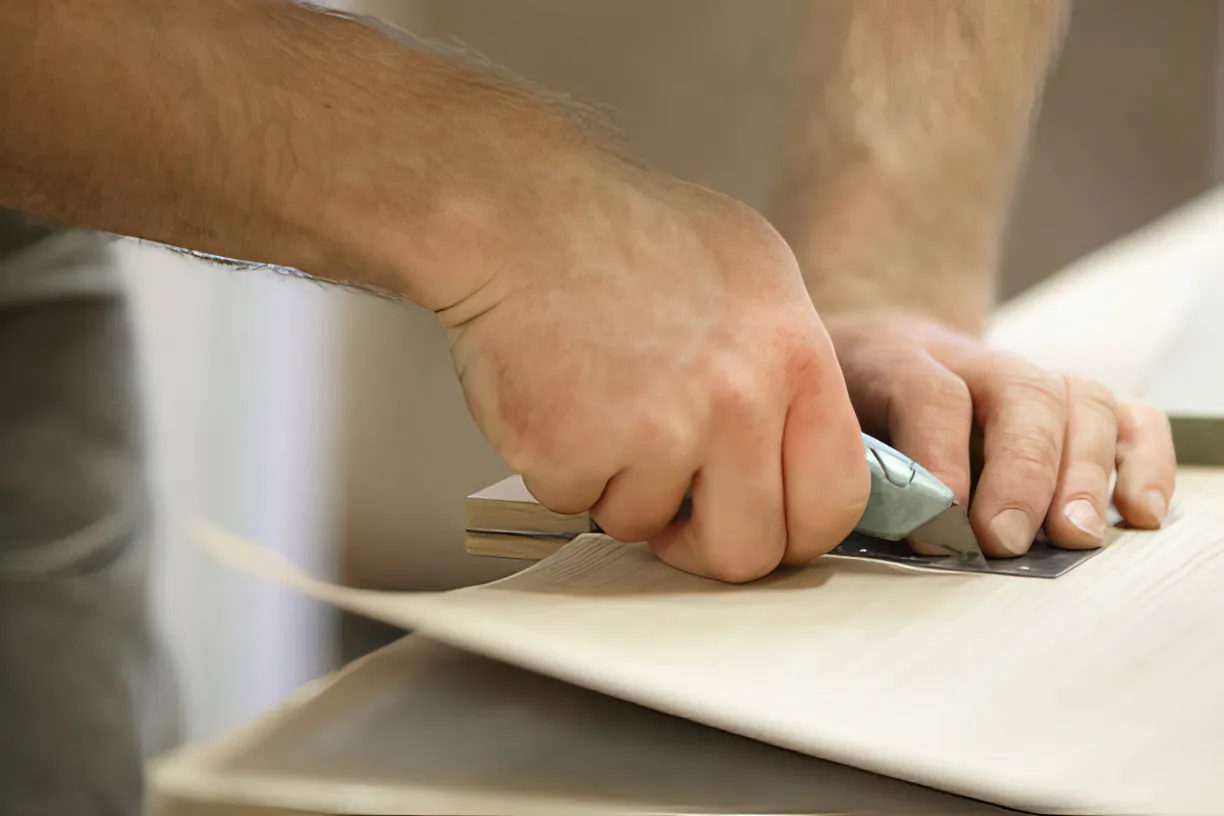 Melamine MDF:
It is produced by covering the MDF sheet with a resin-impregnated paper layer. The resin layer is then cured under high heat and pressure, creating a hard and durable surface. Melamine MDF is commonly used in high-moisture areas such as kitchens and bathrooms, as it is water-resistant and easy to clean. Additionally, melamine MDF can come in a range of finishes and colors, making it a great choice for interior design projects.
Uses of Medium-Density Fiberboard:
Medium-density fiberboard or MDF has many applications in various industries, including construction, furniture making, cabinetry, and decorative applications. This versatile product is easy to cut, shape, and finish and has a uniform surface, allowing it to be used for a wide range of purposes. MDF's durability, affordability, and processability are just some of the reasons why it has become a popular choice in the woodworking industry.
Construction: Flooring, Wall Paneling, Doors, and Windows
One of the primary applications of MDF is in the construction industry. Its ability to hold screws firmly makes it a useful material for creating temporary structures, such as walls and supports. MDF can also be used as a substrate for tiling and flooring. Due to its smooth and uniform surface, it is a great choice for ceiling tiles, moldings, baseboards, and other decorative finishes.
Furniture making: Cabinets, Shelves, Tables, and Chairs
MDF also has significant applications in cabinetry and furniture making. The material is easy to cut, shape, and drill, making it a perfect choice for the creation of furniture details like shelves and doors. MDF can be finished with veneers or laminates to imitate the appearance of natural wood or painted over with ease, making this material's possibilities nearly limitless.
Decorative Applications: Moldings & Trims, 3D Wall Panels, Carvings & Engravings
In the world of decorative applications, MDF can be used to create arts and crafts products, picture frames, and more. MDF's uniformity makes it an ideal material for precision cutting with machines such as a laser cutters.
Pros of MDF (Medium-Density Fiberboard):
Affordability: Compared to solid wood or plywood, MDF is a much more affordable option, making it accessible to homeowners with various budgets
Consistency in quality: Due to its manufacturing process, MDF is a highly consistent material. This consistency is especially beneficial when it comes to building cabinets, as it ensures that each panel has the same strength and durability.
Easy to paint: MDF panels have a smooth surface that is easy to paint, providing a great opportunity to create custom finishes that match the design of the room.
Resistance to warping: When exposed to moisture, solid wood can warp, causing doors and drawers to stick or become misaligned. MDF, on the other hand, is much more resistant to warping.
Cons of MDF (Medium-Density Fiberboard):
Maybe Vulnerability to water damage: While MDF is more resistant to warping than solid wood, it is still susceptible to water damage. If exposed to prolonged exposure to water, MDF can swell and become damaged beyond repair.
Not as strong as solid wood: While MDF is a heavy and dense material, it is not as strong as solid wood. If a cabinet is subjected to excessive weight or pressure, it may crack or split.
Limited style options: While MDF can be painted in custom finishes, it is not as versatile as solid wood when it comes to creating intricate designs or profiles.
Environmental concerns: The manufacturing process of MDF involves the use of adhesives and resins that can emit volatile organic compounds (VOCs) into the air. This can pose health risks to those who work with or are exposed to the material.
FAQs About MDF (Medium-Density Fiberboard)
In Short, What is MDF (Medium-Density Fiberboard)?
MDF stands for Medium-Density Fiberboard. It is a composite wood product that is made from wood fiber, wax, and resin. MDF is often used as a substitute for solid wood, particularly for furniture and cabinets.
Can MDF Cabinets Be Painted?
Yes, MDF cabinets can be painted. Due to the smooth and consistent texture of MDF, it takes paint well, making it an attractive option for those who want a painted finish. However, it is recommended to use a primer before painting to ensure good adhesion and prevent the MDF from soaking up the paint, which can lead to a poor finish.
Are MDF Cabinets Good for Kitchens?
MDF cabinets can be used in kitchens, but it is important to make sure that they are sealed and finished properly to prevent moisture damage. MDF cabinets are also prone to scratches and chips, especially in high-traffic areas. So, while it's an affordable and easy option, it may not be as durable as other materials.
What is the lifespan of MDF Cabinets?
MDF cabinets can last between 15-20 years, depending on factors like usage, moisture levels, and how well they were made. Unfortunately, MDF does not have a long lifespan and won't hold up as well as other natural wood cabinets. It's important to properly maintain and seal MDF cabinets to ensure that they last as long as possible.
How do the costs of MDF Cabinets compare to other types of cabinets?
Generally speaking, MDF cabinets are less expensive than cabinets made from solid wood, but more expensive than cabinets made from particle board. However, one consideration to keep in mind is the overall quality of the cabinets. Cabinet pricing may vary depending on the quality and durability of the cabinet, its construction materials and design.
Are there any Cons of MDF for cabinets?
Yes. While MDF is denser than particleboard, it is not as strong as solid wood, nor is it as durable. It is also more susceptible to moisture damage than natural wood, which can cause it to expand and warp. MDF is also prone to chipping and splitting, particularly around the edges. It's important to note that MDF is not suitable for outdoor use, as it will quickly absorb moisture and break down.
Can I Mix and Match Different Materials for Cabinets?
Yes, you can mix and match different types materials of cabinets to create a custom look. For example, you can use thermofoil cabinets for the lower cabinets and a laminate countertop, or use melamine cabinets for the pantry and laminate cabinets for the island. The possibilities are endless!=> Read more: 10 Common Cabinet Materials: How To Choose Right!