The design of a bathroom vanity is crucial in striking a good chord between aesthetics and practicality. From traditional cabinet-style and freestanding vanities to popular newer choices like floating or wall-mounted vanities, this guide will explore the variety of bathroom vanity forms. Learn how each form may improve your bathroom's aesthetics and utility.
Related Articles:
Conventional Vanity Shapes
Conventional vanity shapes typically encompass cabinet-style pieces that sit on the floor and attach to the wall. These are reminiscent of traditional kitchen cabinets, offering a classic and timeless look. Additionally, freestanding vanities share a similar shape but remain unattached to the wall, often referred to as furniture-style vanities.
Cabinet-Style Vanities
Cabinet-style vanities are the epitome of classic design. They provide a familiar and functional storage solution for your bathroom essentials. With their resemblance to kitchen cabinetry, they bring a sense of tradition to your space.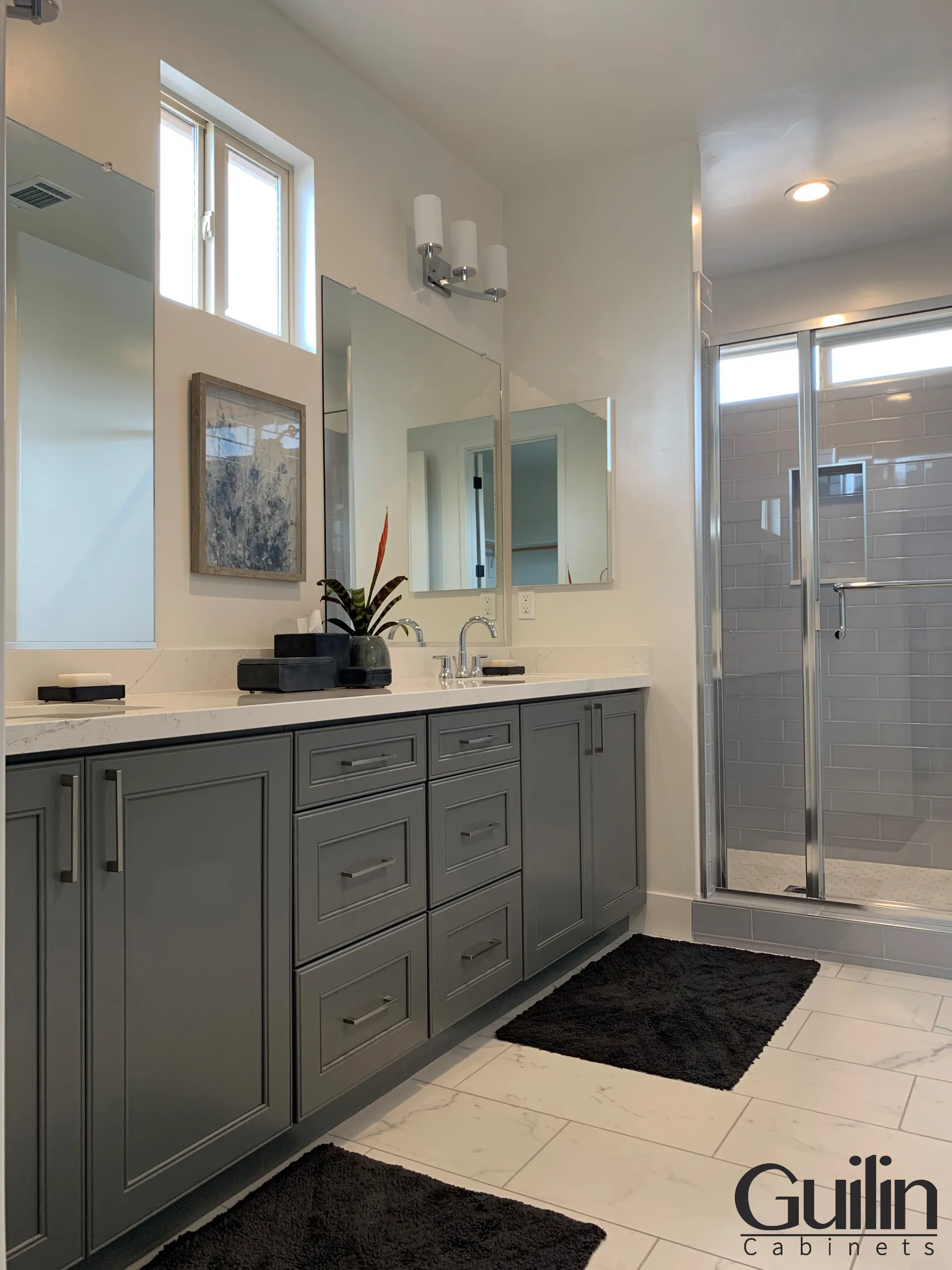 Freestanding Vanities
Freestanding vanities, while sharing the same shape as cabinet-style ones, offer more flexibility in placement. They exude a furniture-like charm and can be easily repositioned if needed. This style is ideal for those who prefer a touch of versatility in their bathroom design.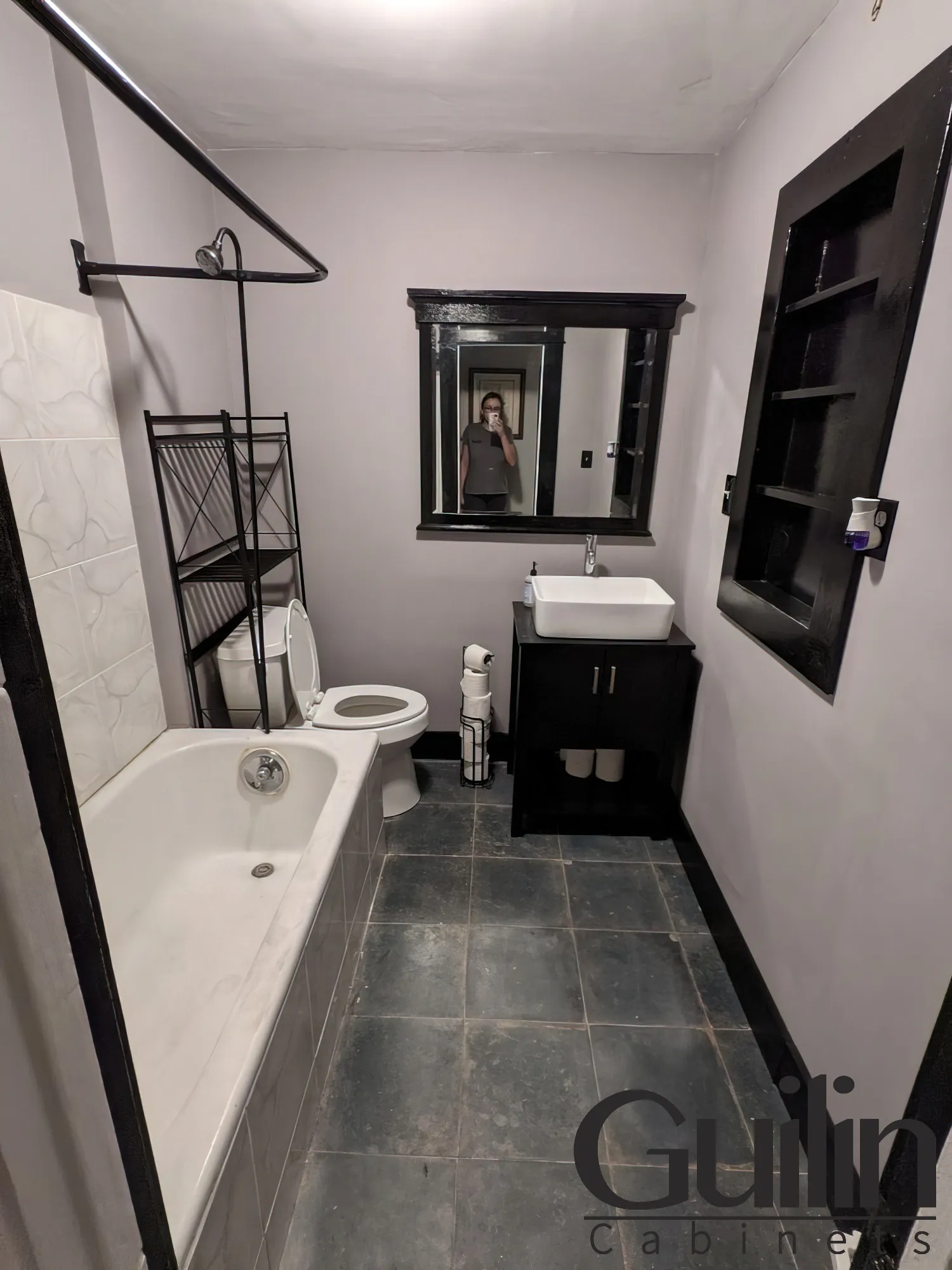 Embracing Modernity: Wall-Mounted Vanities
Wall-mounted vanities have grown in popularity in recent years due to its space-saving and aesthetically pleasing design. Because they are mounted on the wall rather than the floor, these vanities give the appearance that they are floating. Use caution, especially near youngsters, because pushing too hard might cause the tile to come loose from the wall.
Floating Vanity Appeal
Bathrooms with floating vanities look and feel more modern and chic. They're great for bathrooms with limited space or for those going for a more simple look because they don't require any kind of floor support. While wall-mounted vanities offer style and space-saving benefits, it's crucial to ensure proper installation to prevent detachment. Always consult a professional for secure mounting, especially in households with active children.
=> Read More: The Pros and Cons of Floating Vanity Cabinets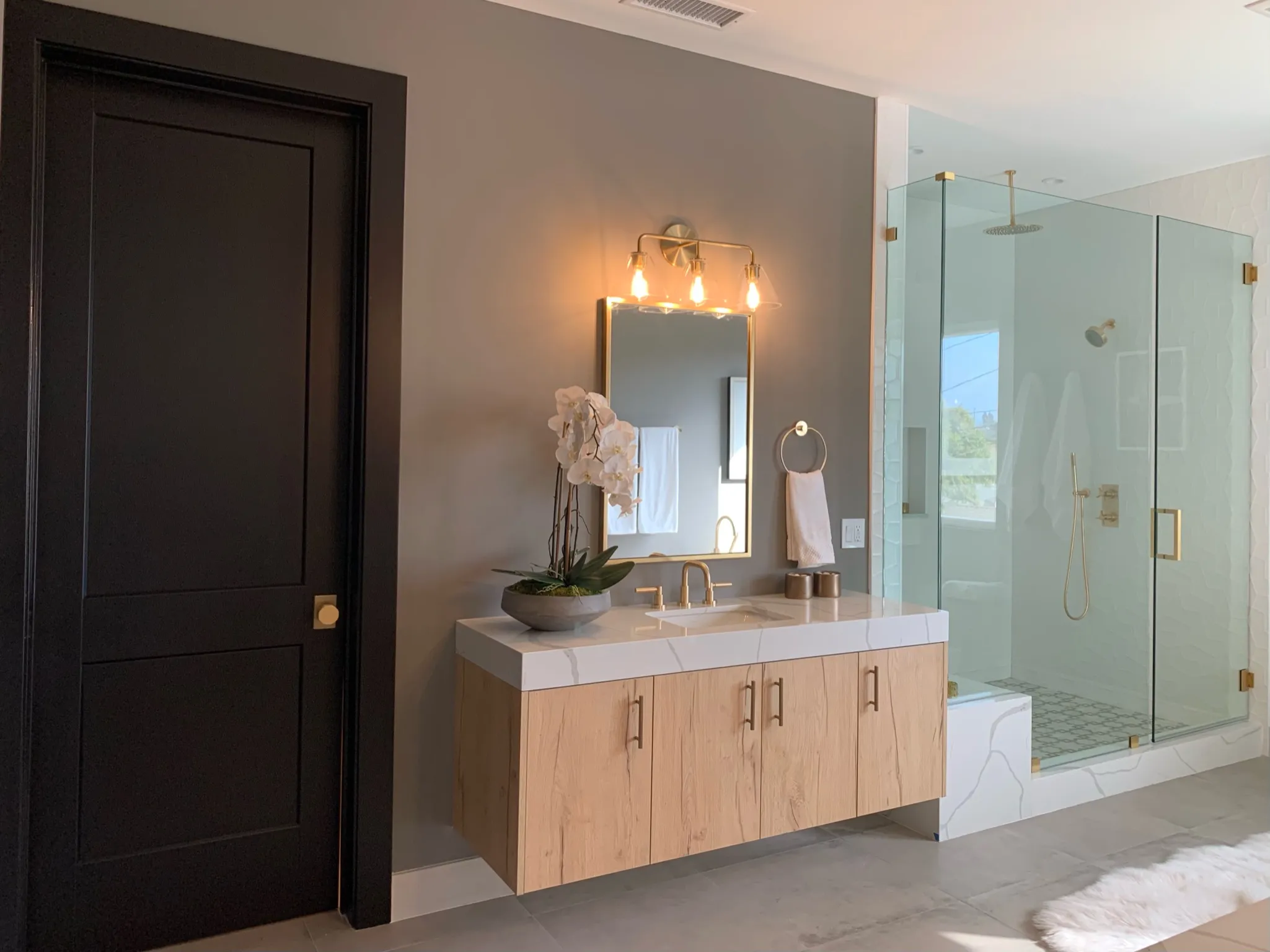 Beyond the Basics: Exploring Additional Shapes
Apart from the standard shapes, there is a world of vanity options to explore, each offering unique aesthetics and storage solutions.
Modern and Boxy Vanities
Modern bathroom designs often incorporate boxy vanities. These geometric shapes add a contemporary flair, emphasizing clean lines and simplicity in your bathroom decor.
Classic Curved Vanities
For those with a penchant for classic charm, curved vanities harken back to old-fashioned elegance. These gracefully rounded shapes soften the bathroom's overall aesthetic, creating a sense of timelessness.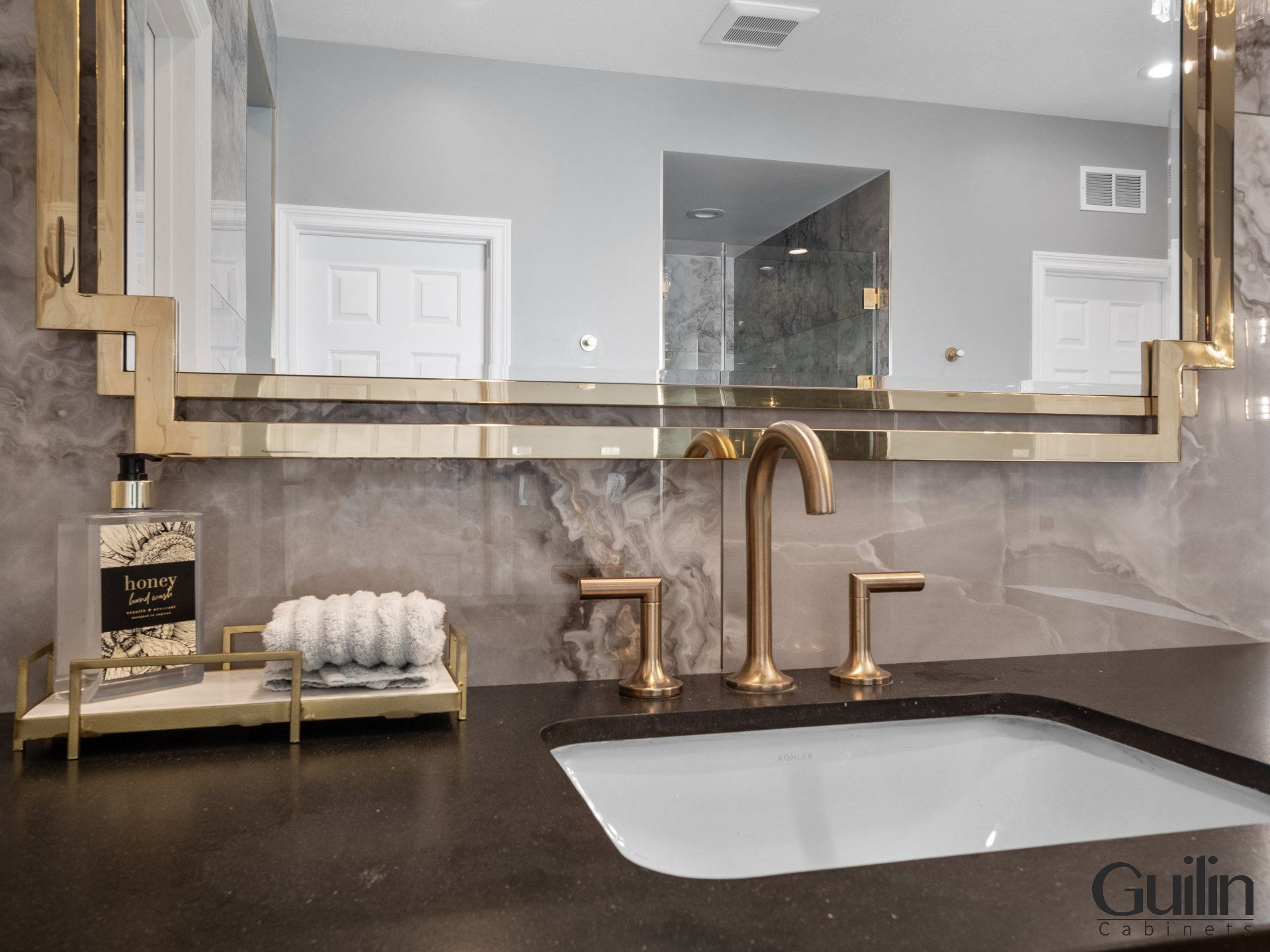 Pedestal Vanities
Pedestal vanities elevate your bathroom with their sculptural and minimalist design. They often feature a single, sturdy column that supports the sink, adding a touch of sophistication to smaller spaces.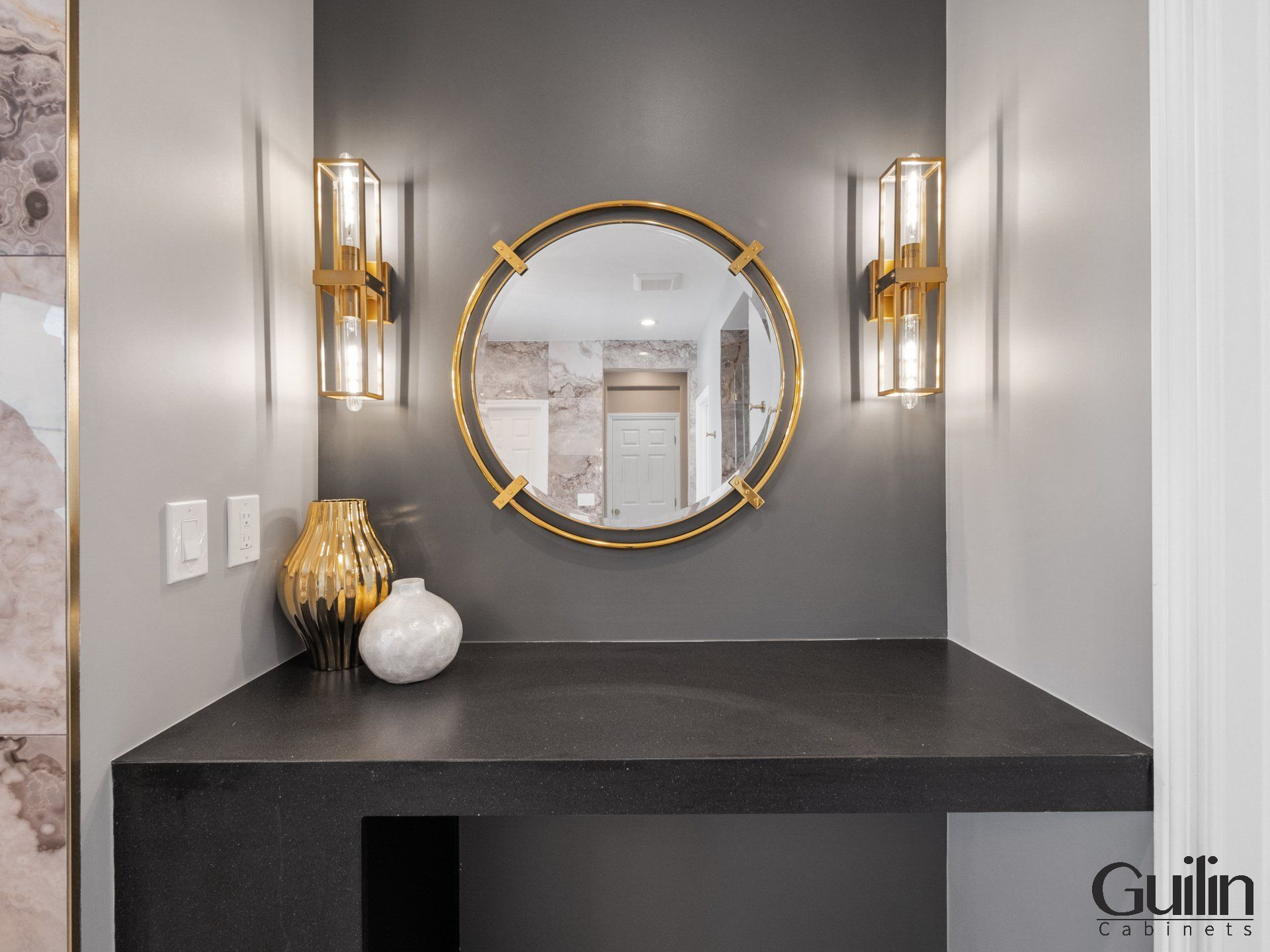 Storage Solutions Galore
Many vanity shapes come with various storage options, allowing you to tailor your choice to your specific needs. Consider these options to optimize your bathroom storage:
Drawer Configurations: Choose between one or two large drawers or multiple smaller ones to accommodate your organizational preferences.
Cabinet Doors with Shelving: Opt for cabinet-style vanities with doors and shelves for concealed storage and easy access to bathroom essentials.
Open Shelves: Embrace open shelving for a contemporary and accessible storage solution, ideal for displaying decorative items or frequently used products.
No Storage: In minimalist designs, you may choose vanities with no storage to emphasize simplicity and spaciousness.