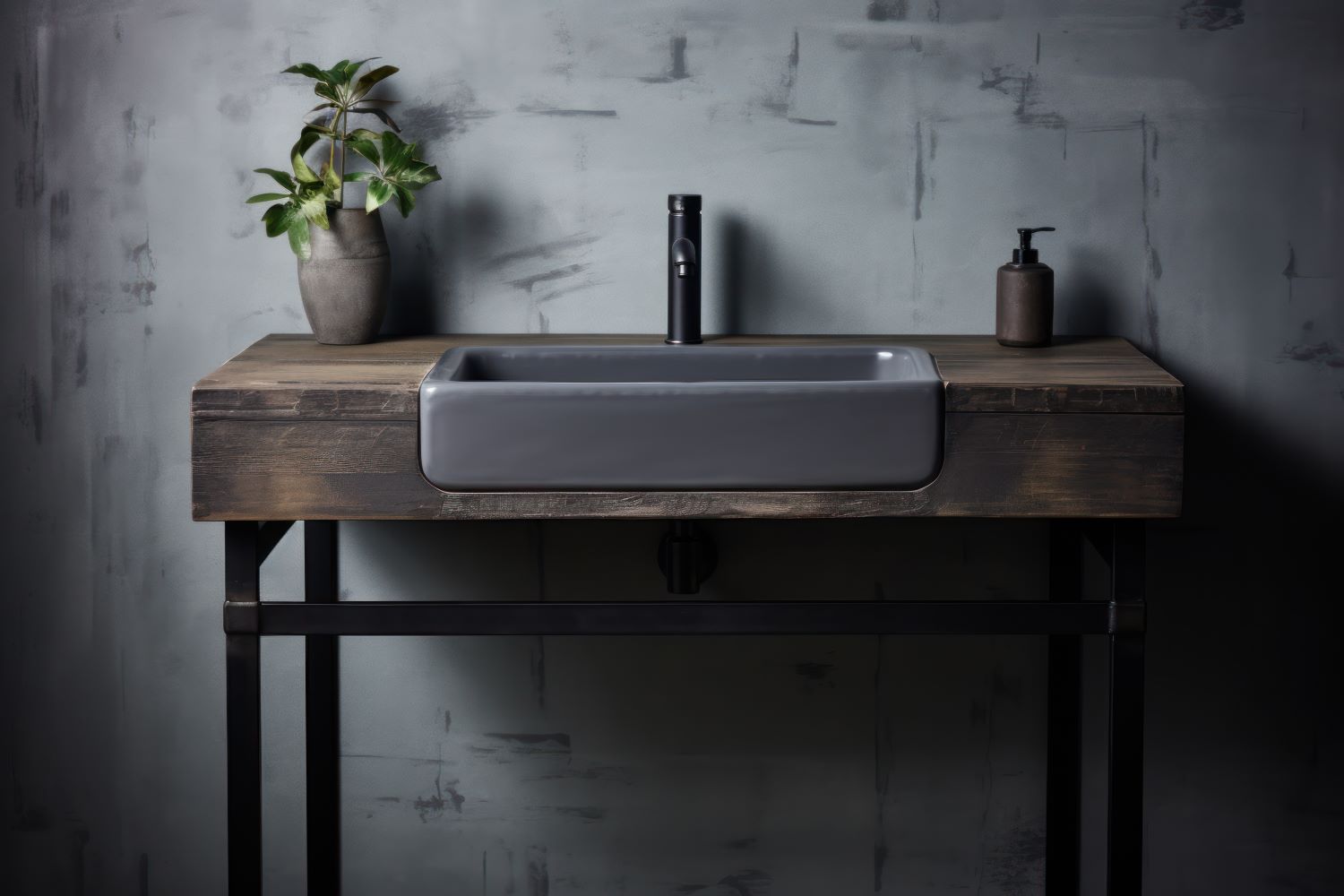 In this detailed tutorial, we'll talk about all the different bathroom vanity materials so you can pick the best one for your house. We'll go through the benefits and drawbacks of various building materials, from concrete to marble, so you can make an informed decision.
Related Articles:
3 Factors to Consider For Bathroom Vanity Material
Bathroom Aesthetics
The material you select should complement the existing fixtures and finishes in your bathroom. Make sure the bathroom vanity material you choose goes with the rest of the room's decor. It's crucial to pick a material that works well with your bathroom's aesthetic and color scheme in addition to having the desired qualities. For example, if you have a traditional bathroom, you might want to opt for a wood vanity, while a more modern bathroom may prefer a marble vanity.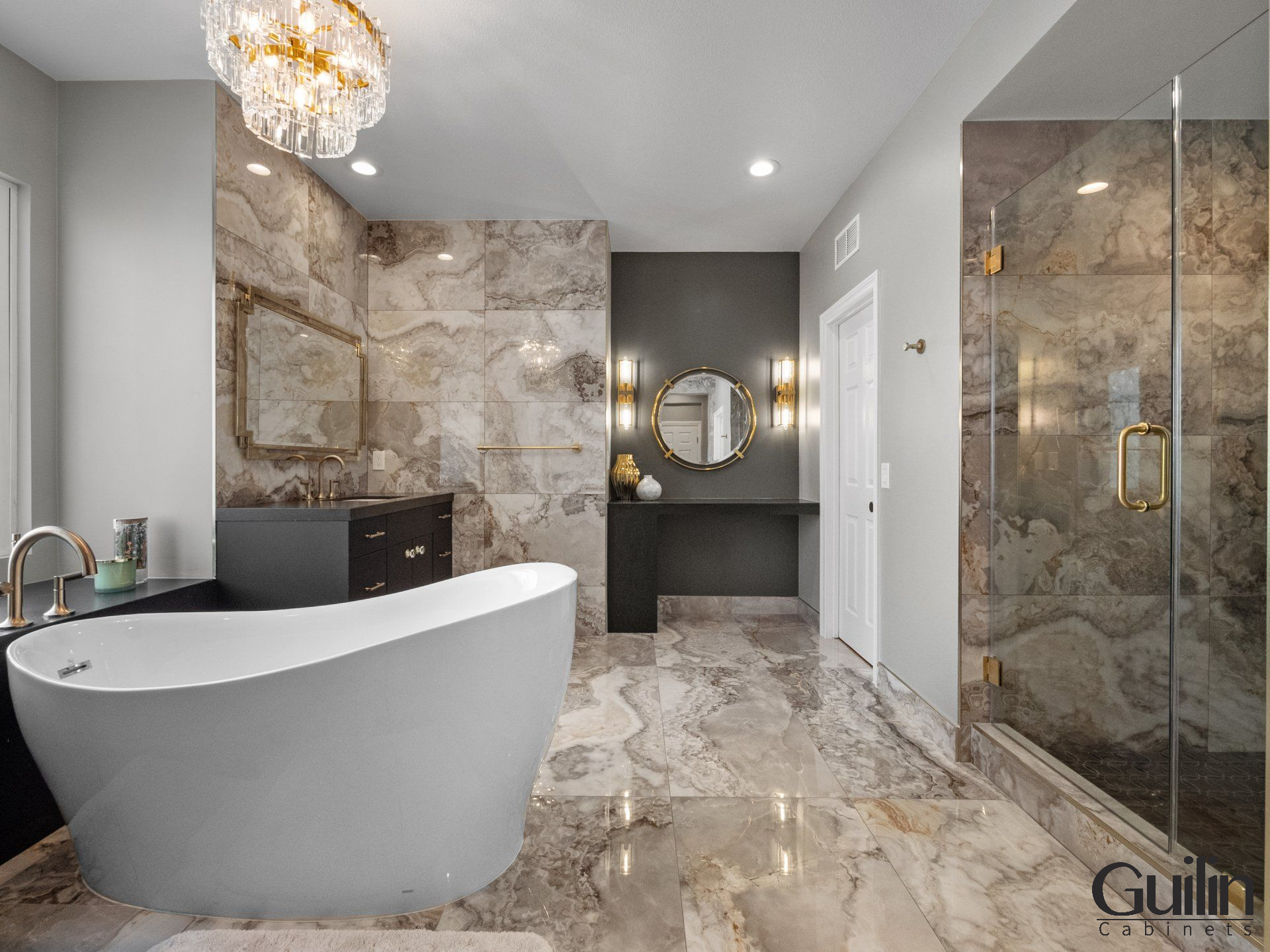 Durability
Consider how much wear and tear your vanities will endure. Wood may suffice for a guest bathroom, but for heavy daily use, materials like marble or quartz are more durable. Consider choosing vanities with easy-to-clean surfaces, such as marble or quartz. Avoid vanities with intricate detailing, as it will be difficult to keep clean. In addition, choose vanities with rounded corners or edges, as this will prevent water from collecting in the corners and causing mold or mildew.
=> Read More: How Much Weight Can a Bathroom Vanity Hold?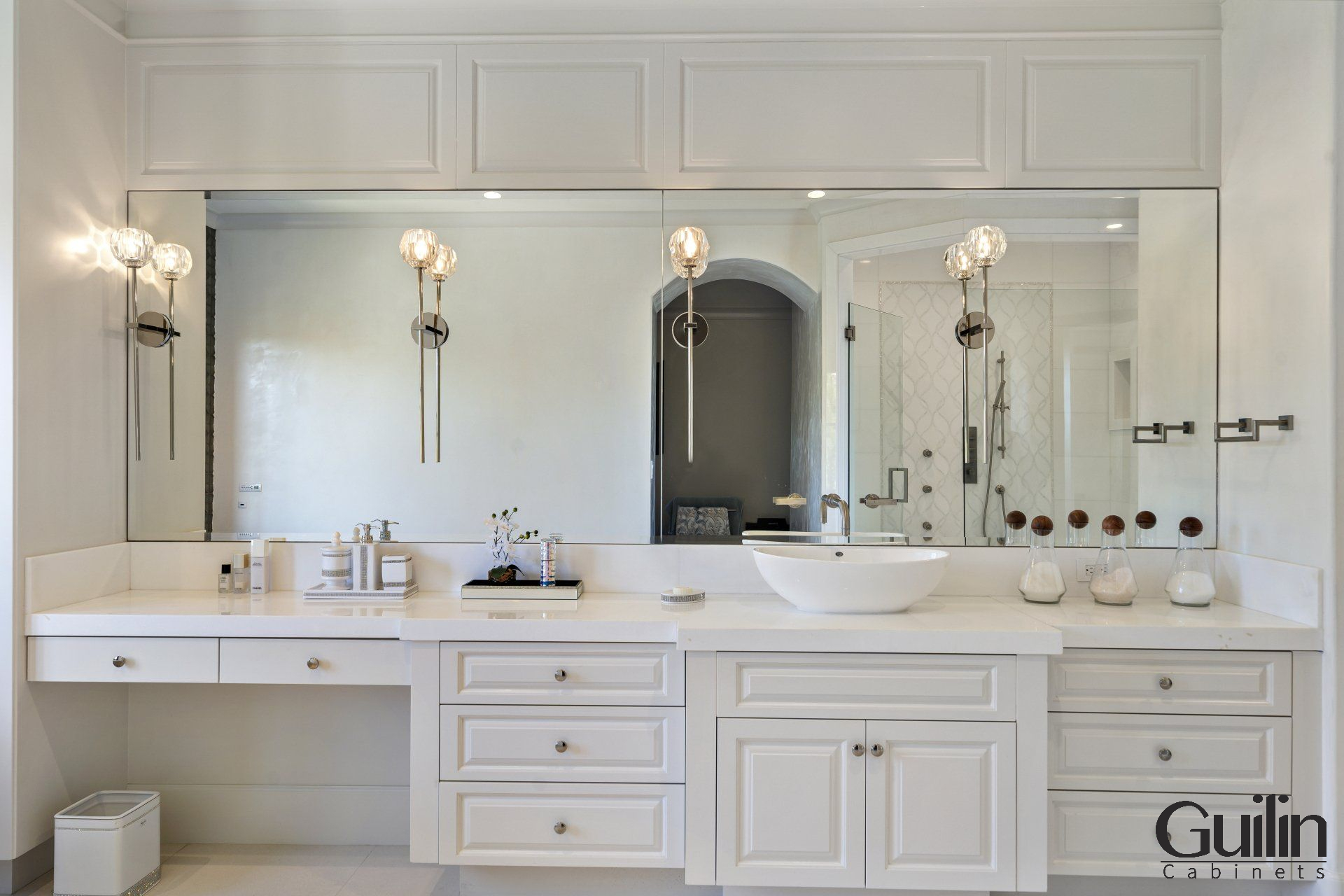 Family-Friendly
If you have children, opt for materials that can withstand spills and rough handling. Durability becomes even more critical in this scenario. Some materials, such as stainless steel, porcelain, and ceramic are also antimicrobial, which prevents germ spread. Stainless steel is also easy to clean and resistant to corrosion, making it a great choice for families with children. It also has a timeless look that will fit in with almost any home decor.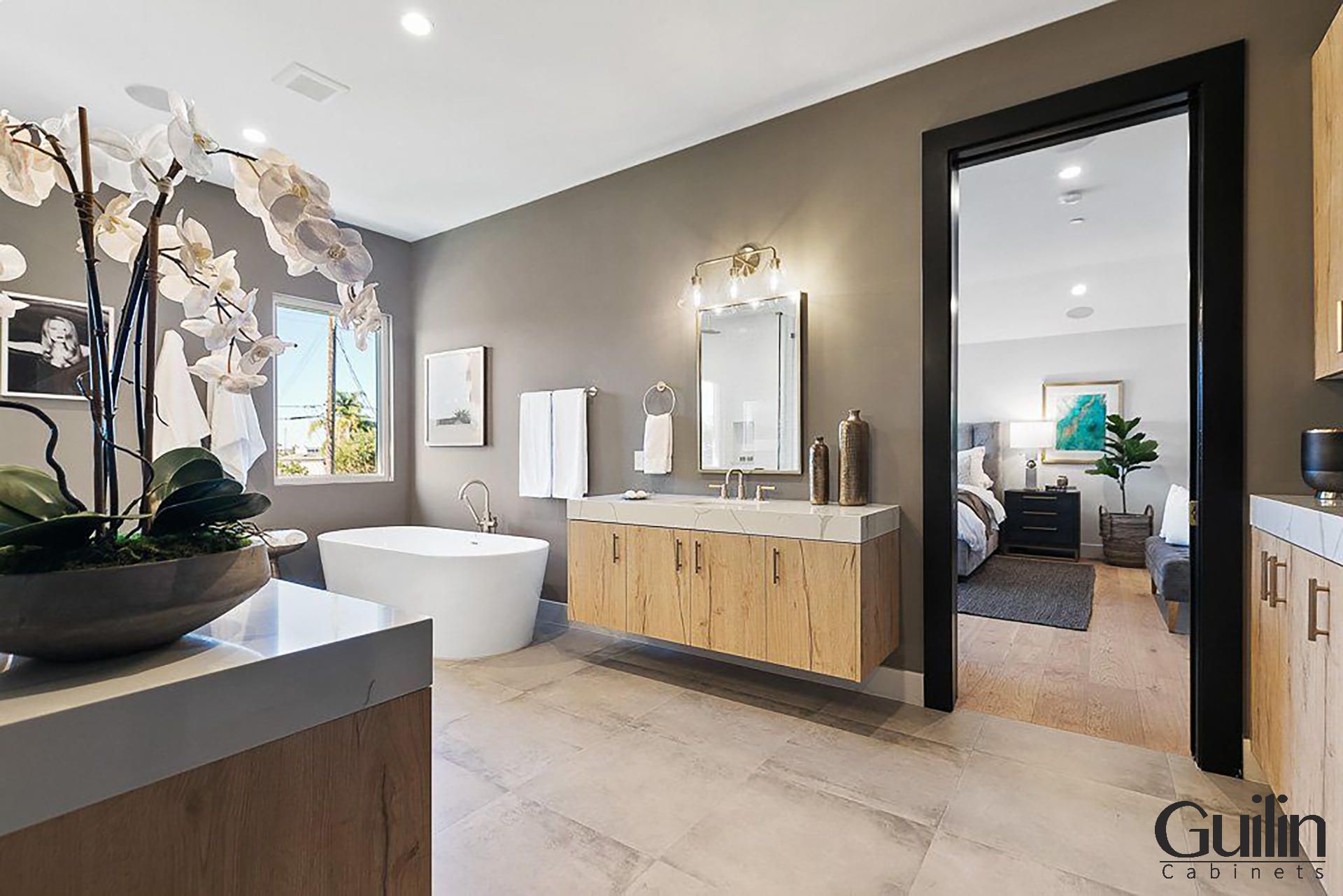 Exploring Bathroom Vanity Materials Options
| Material | Description |
| --- | --- |
| Concrete | A rugged and industrial option that adds a modern touch to your bathroom. |
| Wood | Classic and timeless, wood vanities offer warmth and charm. |
| Laminate | Affordable and versatile, laminate countertops come in various designs. |
| Porcelain | Durable and resistant to stains, porcelain is a practical choice. |
| Granite | Known for its natural beauty and durability, granite is a popular option. |
| Marble | Elegant and luxurious, marble elevates the look of any bathroom. |
| Quartz | Engineered for strength and style, quartz is low-maintenance. |
=> Related Article: 10 Common Cabinet Materials: How To Choose Right!
Concrete: Industrial Chic
Concrete vanities offer a unique, modern appearance. They are highly customizable in terms of shape and color. However, they can be prone to chipping and staining if not sealed properly. This is because concrete is porous and will absorb stains and oils if not sealed. It will also chip if the edges are not smoothed and rounded properly. A sealant will help to protect the concrete and increase its lifespan.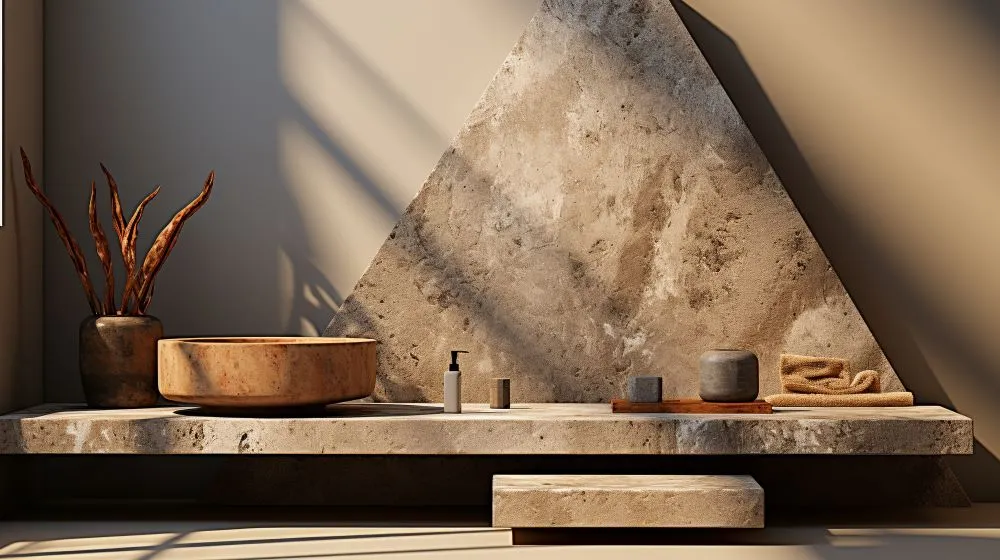 Wood: Timeless
Elegance
Wood vanities exude warmth and timelessness. They come in various wood types, each offering a distinct aesthetic. However, they require regular maintenance and may not be suitable for high-traffic bathrooms. Additionally, wood vanities can be expensive and difficult to repair. They can also be prone to water damage and warping. All in all, wood vanities offer a unique aesthetic appeal that requires regular maintenance and may not be suitable for all bathrooms.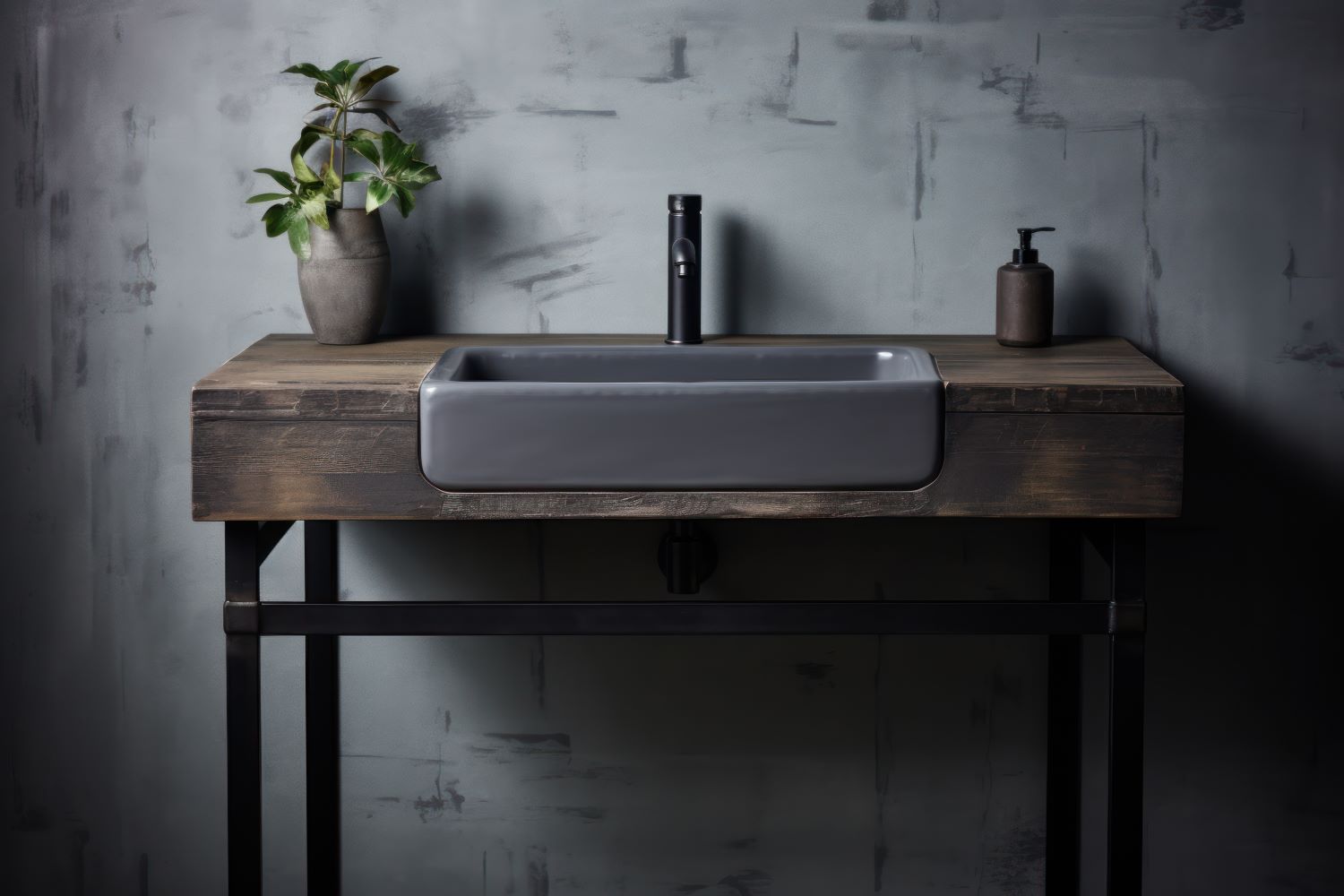 Laminate: Affordable Versatility
Laminate countertops are budget-friendly and come in a wide range of designs, including wood and stone patterns. While they are easy to clean, they may not match the durability of natural stone. Laminate countertops are easy to install and maintain, but they are not scratch-resistant and can be easily damaged by heat or chemicals. They are also not suitable for outdoor use.
Porcelain: Stain-Resistant
Porcelain is known for its resistance to stains and scratches. It's a practical choice for busy bathrooms. However, it can be more susceptible to chipping compared to natural stone. Porcelain is also less expensive than natural stone and is available in a variety of colors. It's also a great option for bathrooms and kitchens because it doesn't require the same level of maintenance as natural stone.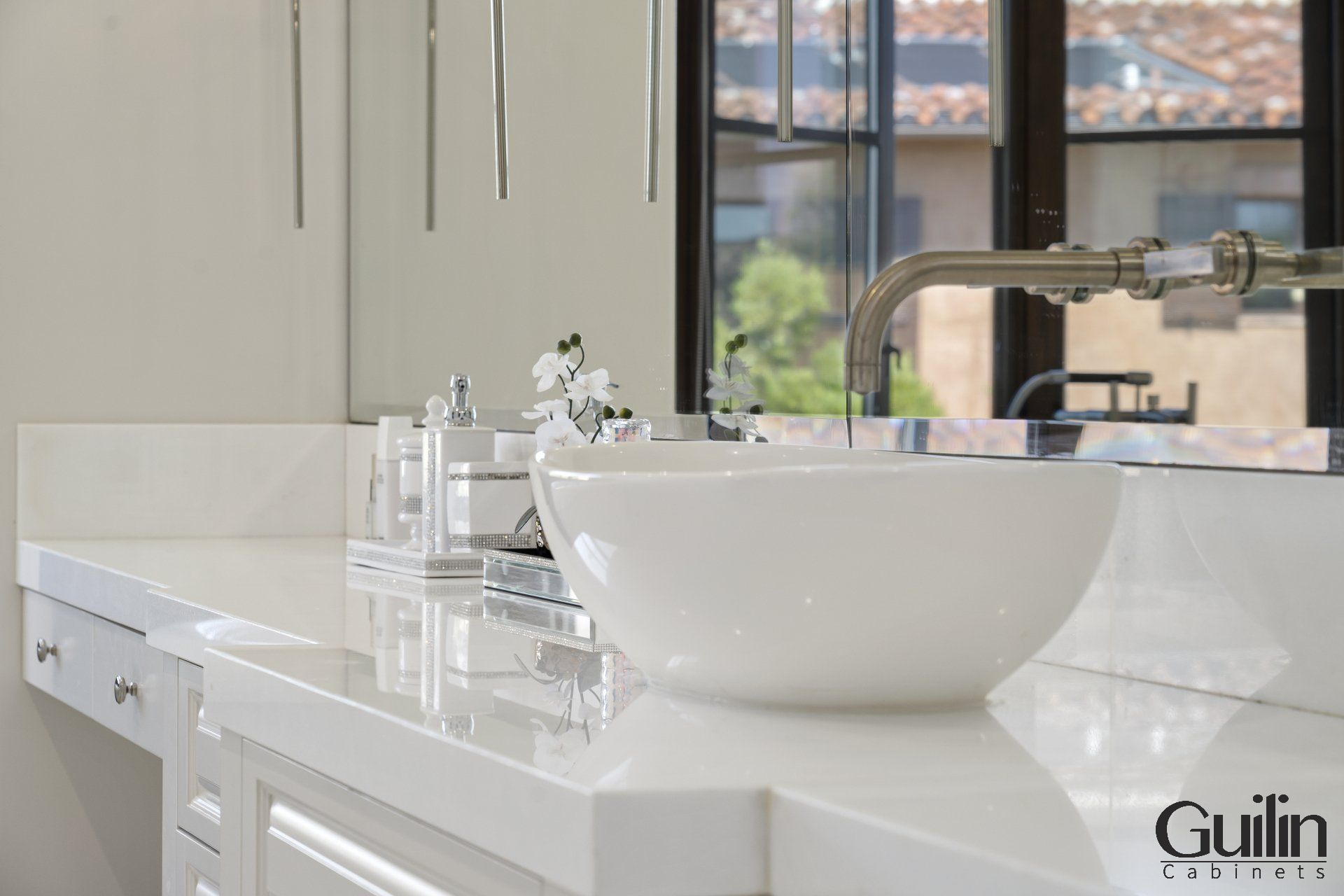 Granite: Natural Beauty
Granite countertops are admired for their natural beauty and durability. They are resistant to heat and scratches, making them an excellent long-term investment. They are easy to clean and maintain, and they require minimal upkeep. Granite countertops For Bathroom Vanity are also eco-friendly and made from natural, sustainable materials.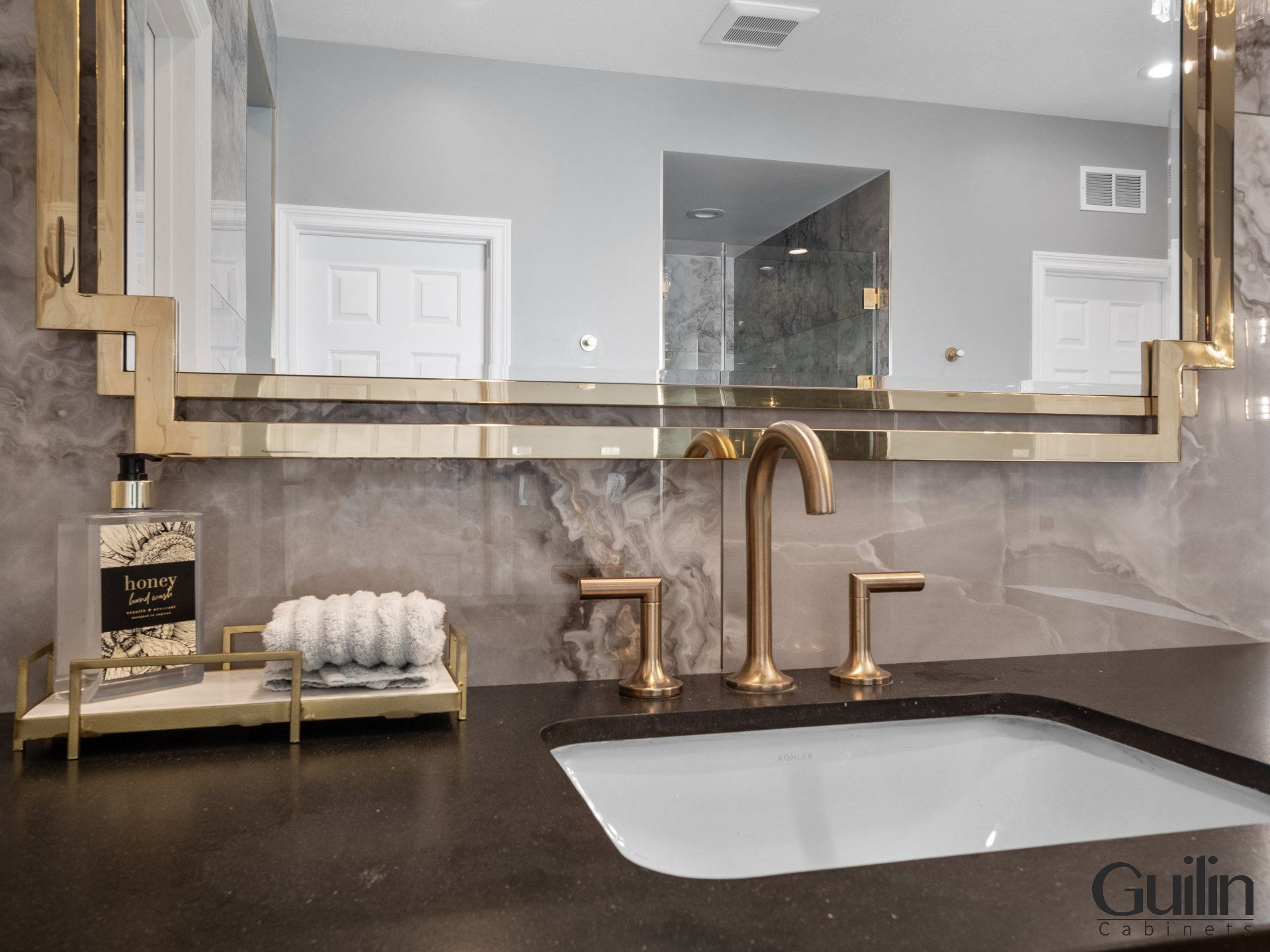 Marble: Timeless Luxury
Marble is synonymous with luxury and elegance. Its distinctive veining patterns make each piece unique. Keep in mind that marble requires regular sealing to maintain its pristine appearance. Marble is also highly porous and prone to staining, so it's important to take extra precautions when using it. It should also be protected from harsh cleaning chemicals.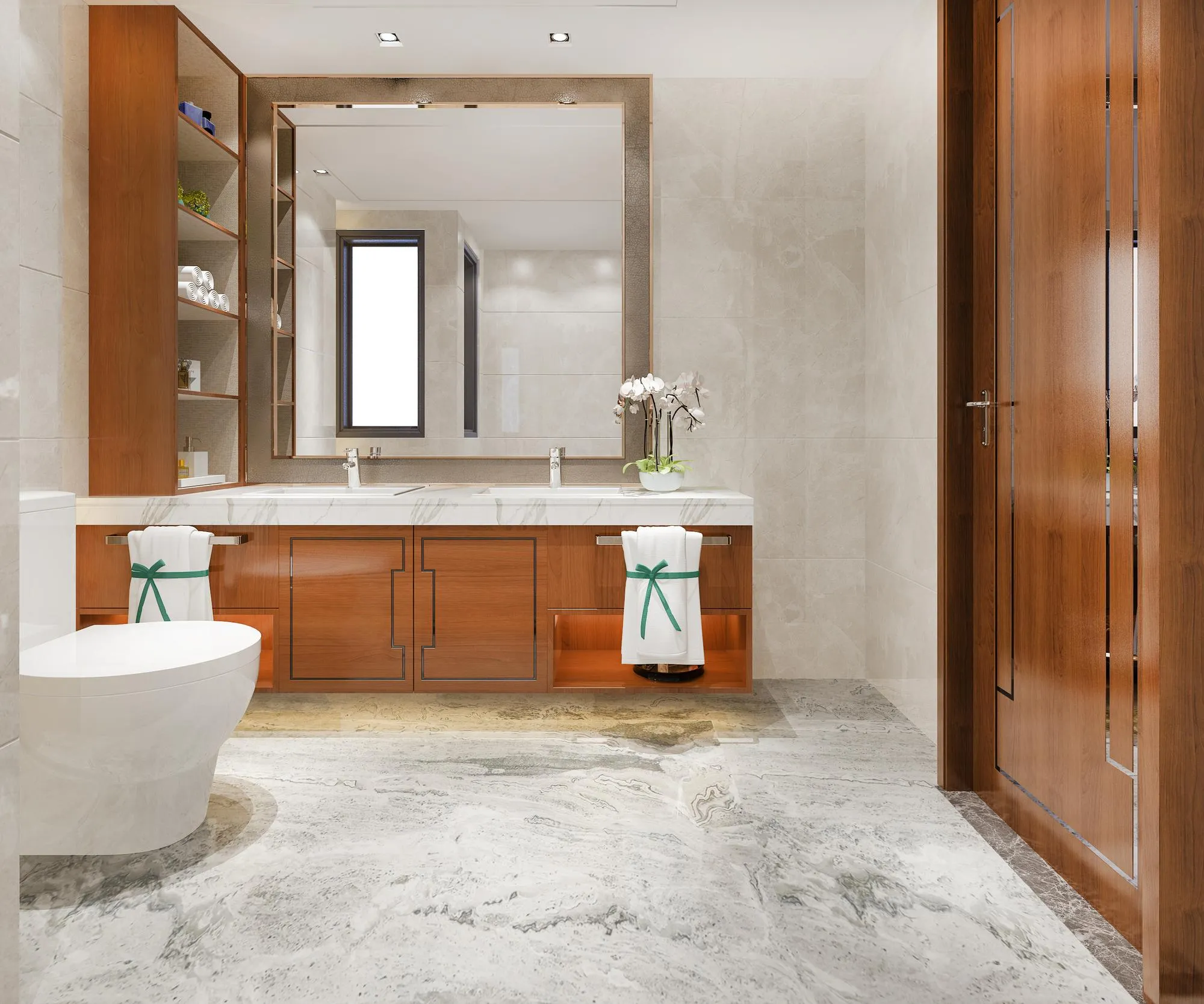 Quartz: Engineered Durability
Quartz countertops are engineered for both durability and style. They are non-porous, making them resistant to stains and bacteria. Additionally, they require minimal maintenance. Quartz countertops are also heat and scratch resistant, making them ideal for kitchens and bathrooms. Furthermore, they are available in a wide range of colors, patterns, and styles, making it easy to find the perfect countertop for any space.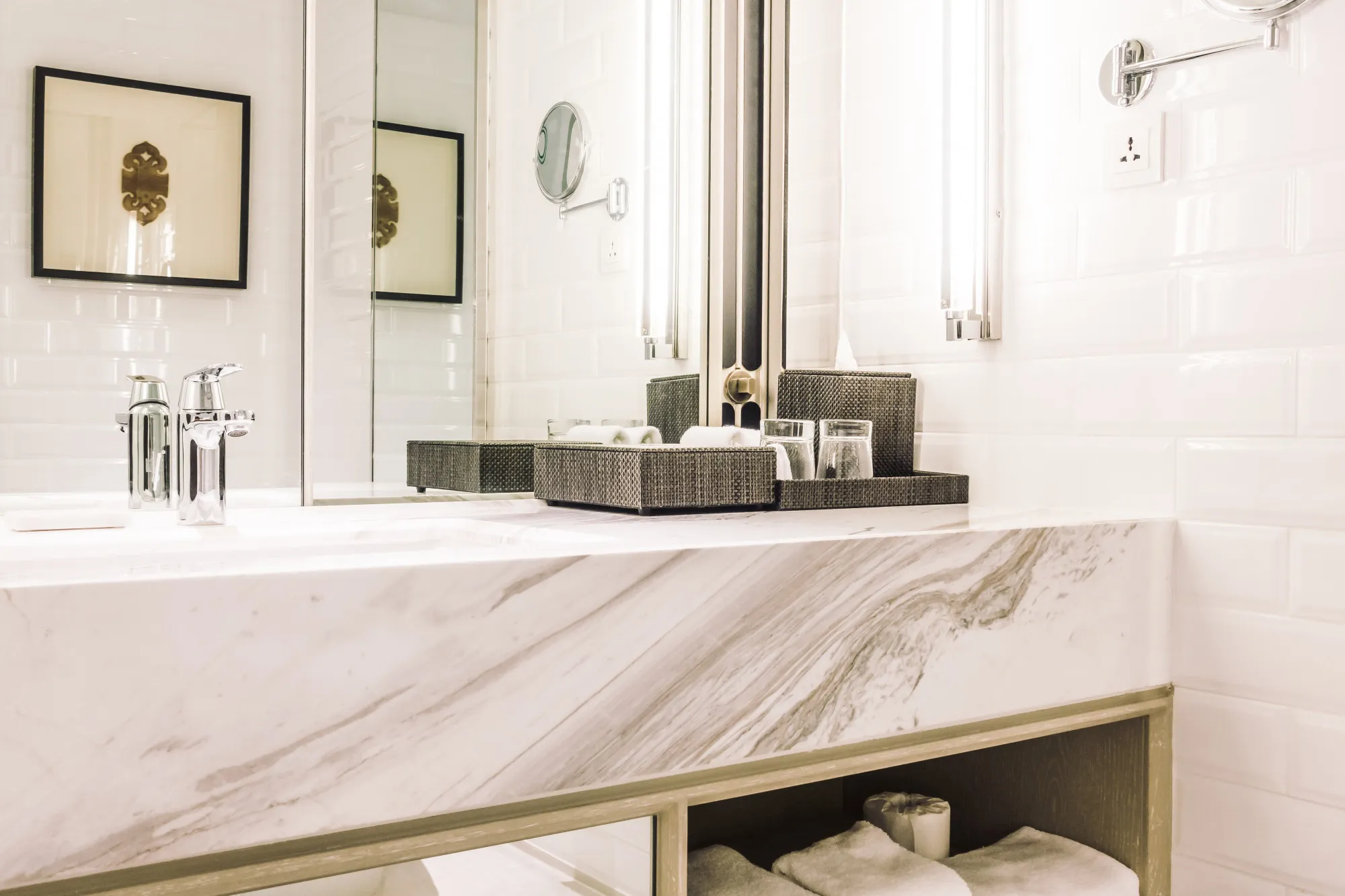 FAQs About Bathroom Vanity Materials
Can I combine materials for a unique look?
Yes, you have the creative freedom to mix and match materials to create a unique and personalized bathroom vanity. Combining materials can add depth and character to your vanity, allowing you to tailor it to your specific aesthetic. For example, you could combine a concrete countertop with wood cabinetry for a modern-rustic look or blend marble with solid surface materials for an elegant and durable vanity design.
Which material is the most budget-friendly?
If you're looking for a budget-friendly option without compromising on quality, solid surface materials like Corian and quartz are excellent choices. They offer affordability while providing durability and versatility. These materials come in various colors and patterns, making it easy to find an option that suits your budget and style preferences.
Are wood vanities suitable for humid bathrooms?
Wood vanities can be used in bathrooms, even in humid environments. However, they require proper sealing to protect against moisture. Regular sealing ensures that the wood remains in good condition and retains its natural beauty. With the right maintenance, wood vanities can be an excellent choice for creating a warm and inviting atmosphere in your bathroom.
Is marble high-maintenance?
Marble is not necessarily high-maintenance, but it does require periodic sealing. This sealing helps prevent staining and water damage, ensuring that your marble vanity retains its beautiful appearance over time. The maintenance involved is relatively straightforward and is well worth it for the timeless elegance that marble adds to your bathroom.