Must-Have Tools for RTA Cabinets! Kitchen cabinets are an essential part of every kitchen. Not only do they provide storage space, but they also contribute to the overall aesthetic of the room. Ready-to-assemble (RTA) kitchen cabinets are a popular option among homeowners because they're more affordable and easier to install than custom-built cabinets. However, putting together RTA cabinets requires the right tools and equipment. In this article, we'll discuss the tools you need to assemble your RTA kitchen cabinets like a pro.
Here are the tools you'll need to complete the job:
Measure Tape
A measuring tape is a versatile tool that helps you measure the length, width, and height of the space where you want to install your cabinets. This ensures that your cabinets fit perfectly and look great in your space. With a measuring tape, you can accurately measure the dimensions of your room, from the ceiling height to the curve of the wall.
When using a measuring tape, it's crucial to take your time and double-check your measurements to avoid any mistakes. Ensure that you use the correct units of measurement and write down your measurements to refer back to them later as needed. By doing this, you'll save yourself the hassle of having to make adjustments later on.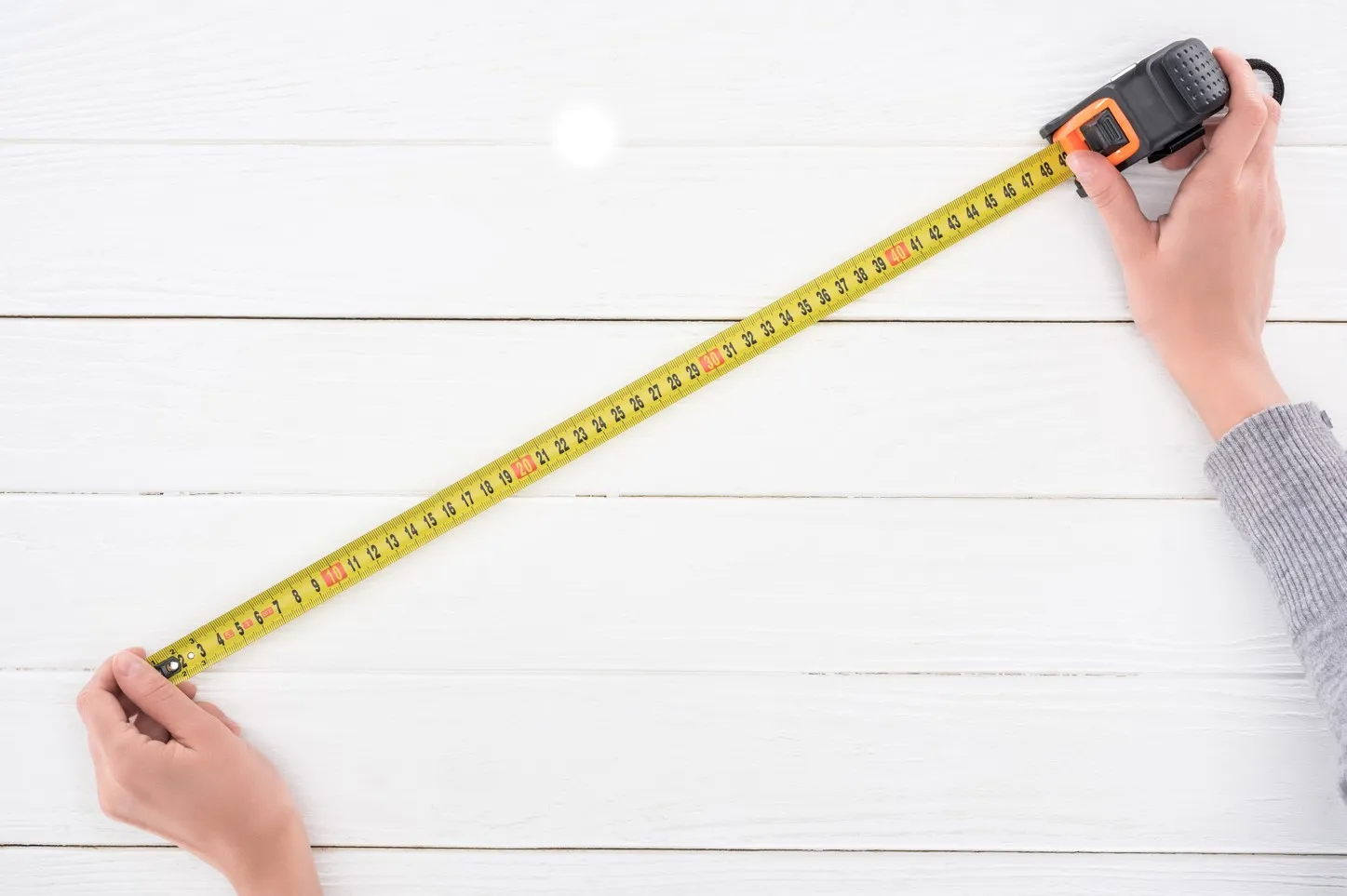 Drill
One of the must-have tools for installing RTA cabinets is a reliable drill. Mounting cabinets, connecting them together, and installing hardware all require the use of a drill. Having a good-quality drill and the right kind of drill bits can make the installation process smoother and more efficient.
Using a cordless drill is a smart choice as it minimizes the risk of tripping hazards in an already chaotic work environment. Investing in or renting a cordless drill will allow you to drill wherever and whenever you need to without the hassle of dragging long extension cords.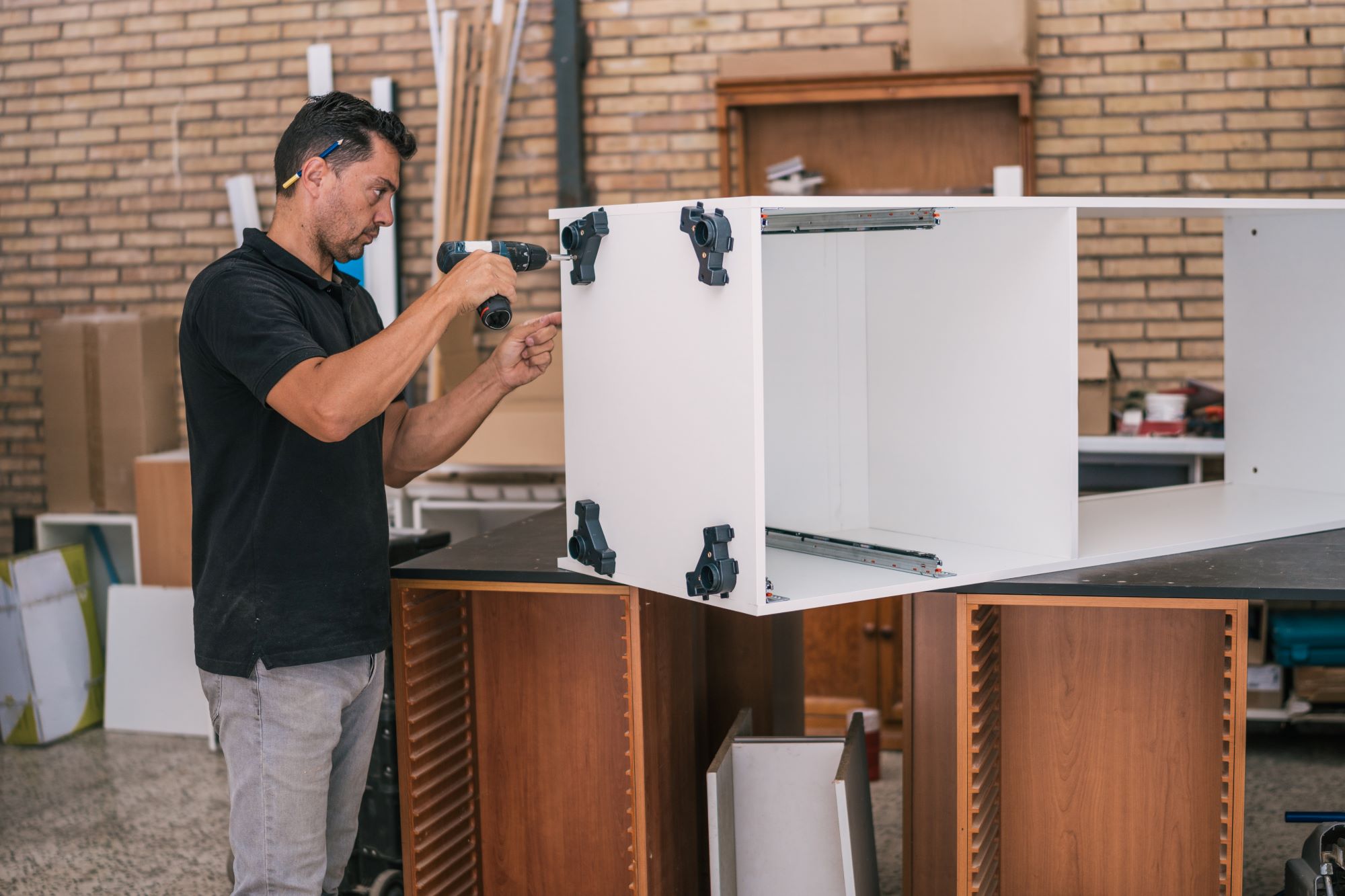 Screwdriver
A screwdriver is an indispensable tool that you simply cannot do without when assembling your ready-to-assemble (RTA) cabinets. This humble tool is key to ensuring that all the screws are tightened perfectly, and everything is secured in place. You can count on the screwdriver to help you put together your cabinets with ease and efficiency, providing a sturdy and reliable structure once it is complete. Therefore, make sure that you have a good-quality screwdriver in your possession before you start assembling your RTA cabinets.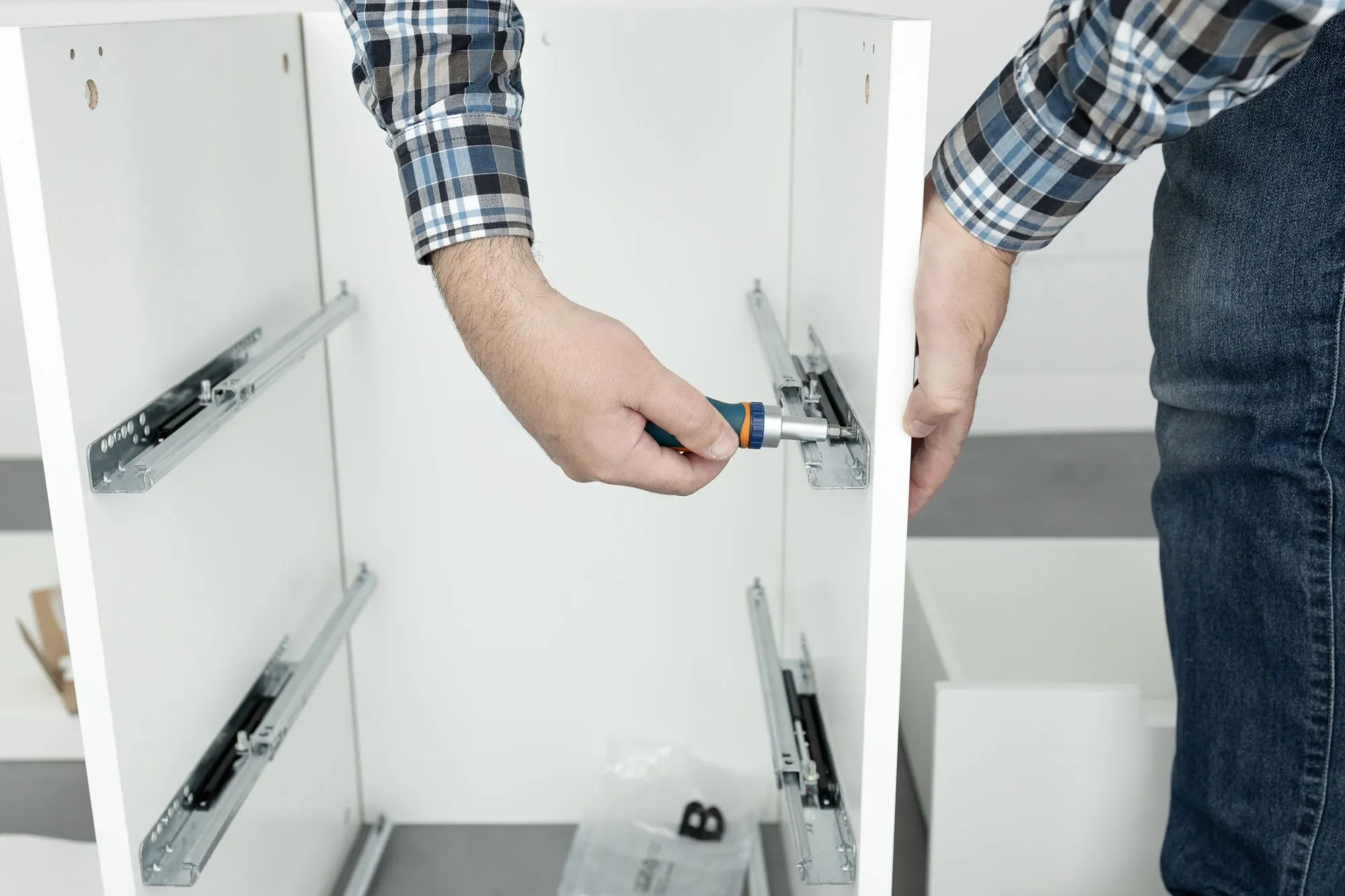 Laser Level
To ensure that your cabinets are installed correctly, you must use a long (6 feet) level or, even better, a laser level. These tools allow you to create a perfectly even line that will allow you to install your cabinets so that they are perfectly level. A laser level is an excellent tool for measuring the verticality and horizontality of your kitchen. It lets you mark perfect lines with laser beam guides, making measurements more precise and efficient. This tool is especially useful when hanging wall cabinets because it ensures a level installation.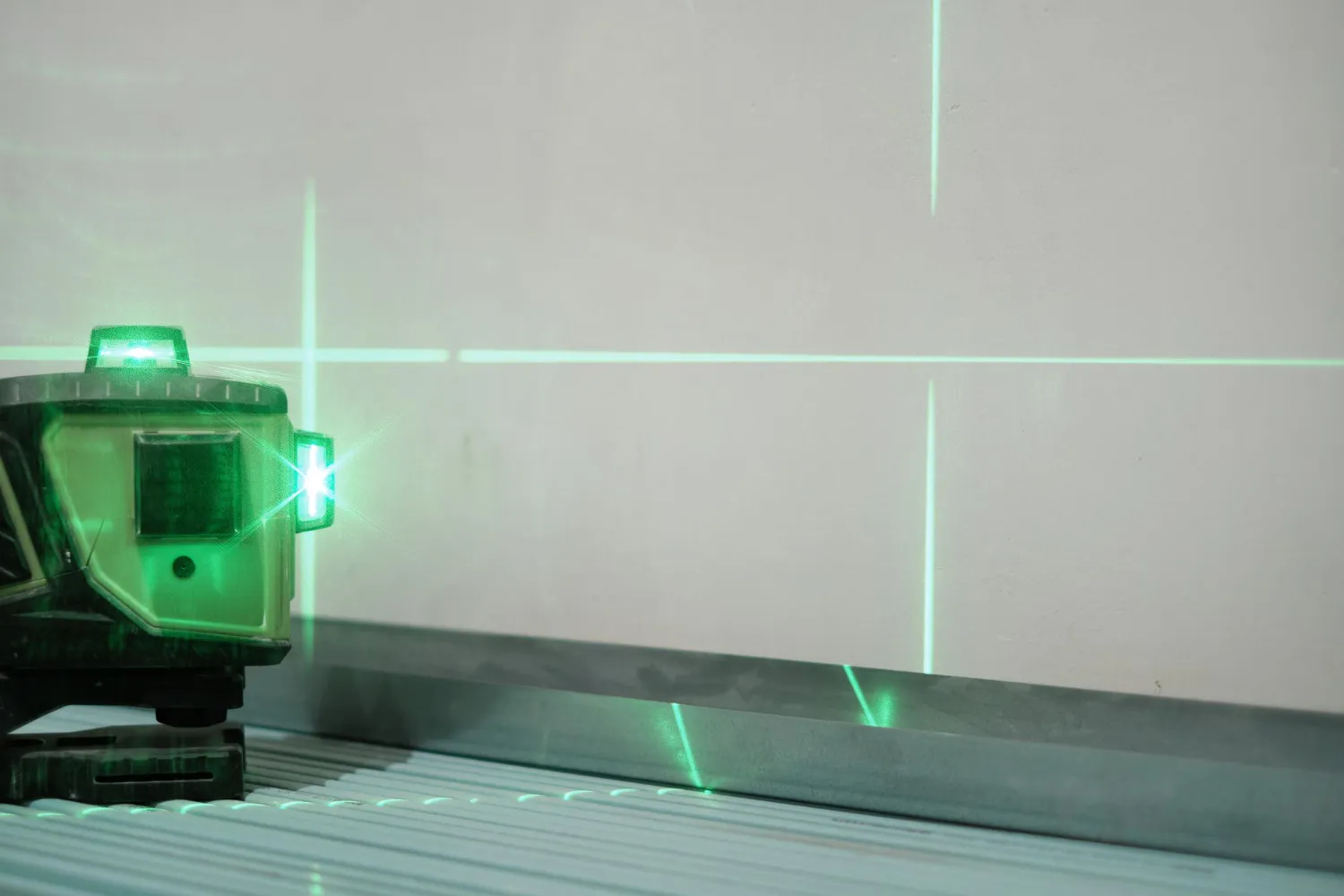 Cabinet Jack
The weight of cabinet boxes can be quite heavy, and you must ensure a level and flush fit for the perfect installation. But don't worry, there's a solution to make your installation process much easier: the cabinet jack. The cabinet jack is specially designed to hold up the upper cabinets, making sure they're in the right position. It eliminates the need for a second pair of hands and saves you time and effort during the installation process.
This tool is a must-have for anyone who wants to install upper cabinets without any hassle. With the help of a cabinet jack, you can hold the upper cabinet in the exact right spot while they're shimmed, clamped, and attached to the adjacent cabinet. Gone are the days when you need to hold the weight on your shoulders. Instead, you can rely on this handy tool to make your installation process seamless and efficient.
Cabinet Claw
The Cabinet Claw is a must-have for anyone attempting to install RTA cabinets. It's designed to attach cabinet boxes, making sure they fit together snugly to provide a perfect finish. The tool clamps the cabinets together, making it easier to keep everything straight and level.
The Cabinet Claw is easy to use, and it saves time during installation. With this tool at your disposal, you don't have to worry about the cabinets slipping or moving around while you attach them. It's an excellent way to ensure that your installation job looks professional and neat. Moreover, the Cabinet Claw is affordable and durable, making it a worthy investment for any DIY enthusiast or professional contractor. With this tool, you can avoid the hassles and headaches that come with a sloppy cabinet installation job.
Cabinet Wedges
Cabinet wedges are the must-have tool for you. A cabinet wedge is a small, inflatable bag that can be powered by a hand pump. These bags are designed to help lift the base cabinet with ease, making it much quicker for you to place shims exactly where you need them.
Using cabinet wedges is simple. All you have to do is slide the deflected bag underneath the cabinet and use the hand pump to inflate it. Once the bag is inflated, it will help lift the cabinet, allow you to place shims underneath. The best part? You'll spend less time crawling around on the floor and more time enjoying your beautifully installed cabinets.
Not only are cabinet wedges incredibly useful, but they're also affordable and easy to use. They take up very little space in your toolbox and can be reused several times. So, if you're planning on installing RTA cabinets, make sure to add cabinet wedges to your list of must-have tools. You won't regret it
Shim
When installing Ready-to-Assemble (RTA) cabinets in your home, not all floors are created equal. Especially in older homes where the foundation may have settled over time, achieving a level installation can be challenging.
Fortunately, a handy tool called a shim can come to the rescue. A shim is a wedge-shaped piece of wood (or other material) that can be placed under one side of a cabinet to help level it out. The size and placement of the shim will depend on the specific needs of your installation. To ensure the shim stays securely in place, it's a good idea to glue it to the base of the cabinet. This will help to provide extra stability and ensure your cabinets look and function their best.
Safety Glass
Their purpose is simple yet essential – to safeguard your eyes from dust and debris that can cause serious injuries. Safety glasses are a must-have tool for anyone working with power tools, especially when installing RTA cabinets in your home. These glasses are designed with lenses that are impact-resistant and can withstand high-speed particles, so you can be sure your eyes are well-protected. They're also comfortable to wear, allowing you to work for long periods without any strain.