Have you been on the finding of perfect kitchen cabinets but can't seem to decide on a color that won't bore you in two years? Take a look at the white kitchen cabinets! This timeless color is the epitome of class and elegance, but its simplicity can also leave some homeowners feeling unsure. In this blog post, we'll explore the pros and cons of choosing white kitchen cabinets and help you decide if they're the right fit for you. So, sit back, pour yourself a cup of coffee, and let's dive into the world of white kitchen cabinets.
White Kitchen Cabinets – What Are They?
Kitchens with white cabinets are a classic choice, and having white cabinets in your kitchen is a trend that has become increasingly popular in recent years. White cabinets can make a significant difference in the overall look and feel of your kitchen. They are easy to clean, offer a cohesive and timeless feel, and can provide a blank canvas for you to decorate and accessorize with any color or pattern you desire.
=> Related Article: 7 Colors Combinations Make Your Kitchen Look Stunning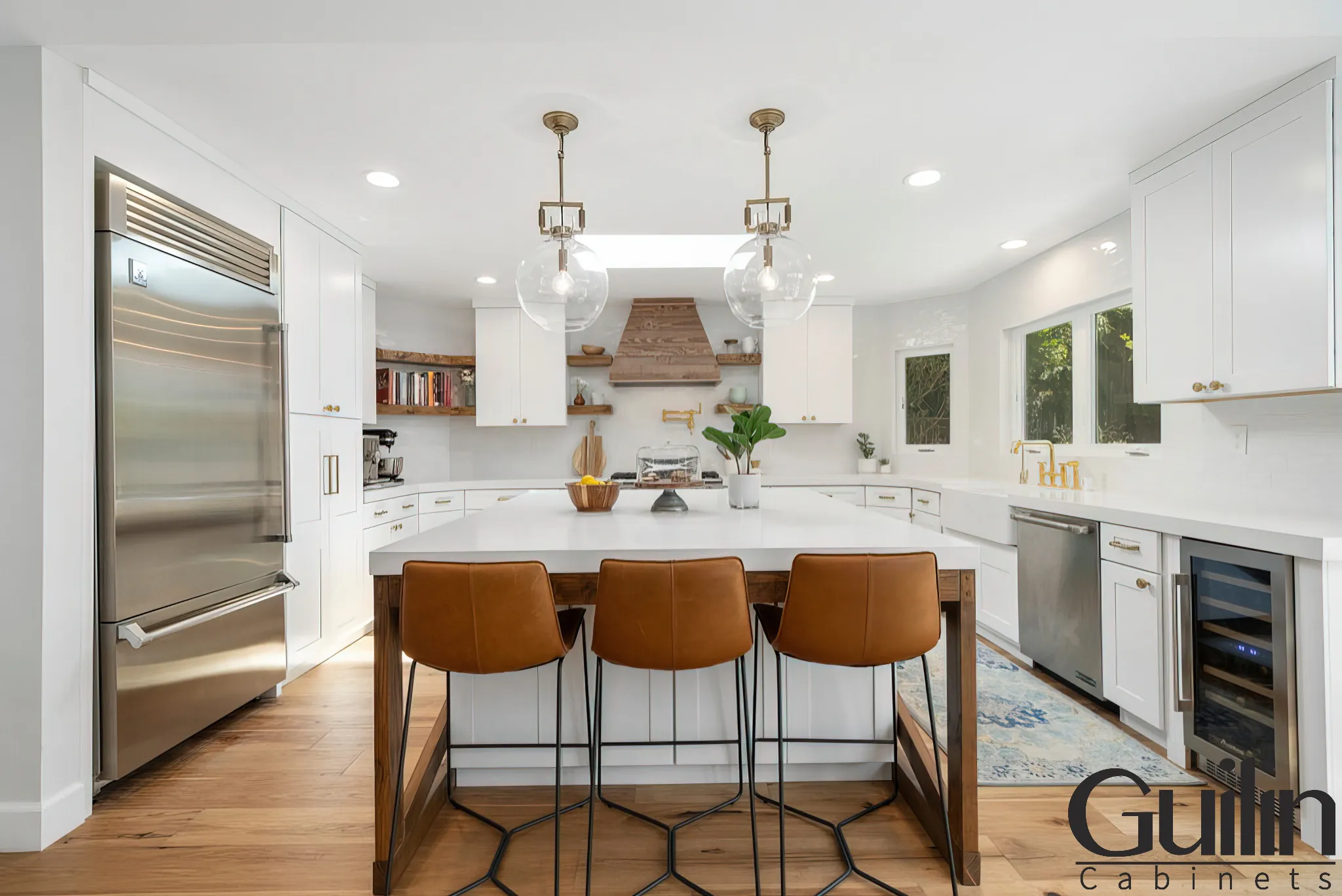 Pros of White Kitchen Cabinets
White kitchen cabinets can truly transform the look and feel of any kitchen. Over the years, they have gained immense popularity, and for good reason! Below, we're going to highlight the pros of white kitchen cabinets and why they are the perfect choice for any household.
=> Related Article: The Countertops For Kitchen With White Cabinets
Classic and timeless look:
First and foremost, white kitchen cabinets give off a classic and timeless look. This evergreen color has been in vogue since ancient times and will continue to be popular for generations to come. It simply never goes out of style! Whether you have a modern or traditional kitchen, white cabinets will seamlessly complement any design.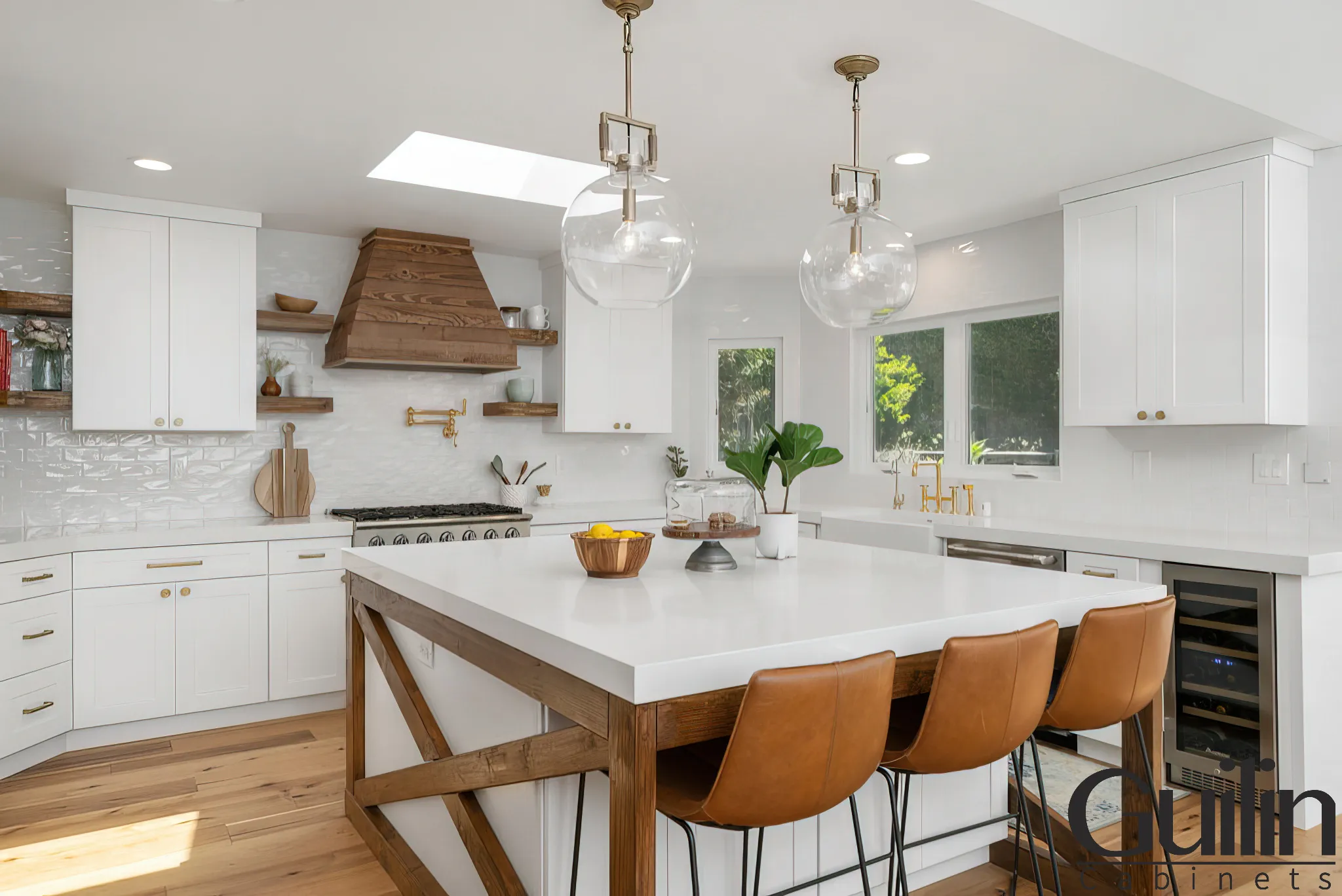 Brighten up small or dark kitchens:
Secondly, white kitchen cabinets can brighten up small or dark kitchens. White is known for its natural ability to reflect light and create a sense of spaciousness. In a smaller kitchen, selecting white cabinets can visually enlarge the space, bringing in more light and making the room feel brighter and roomier.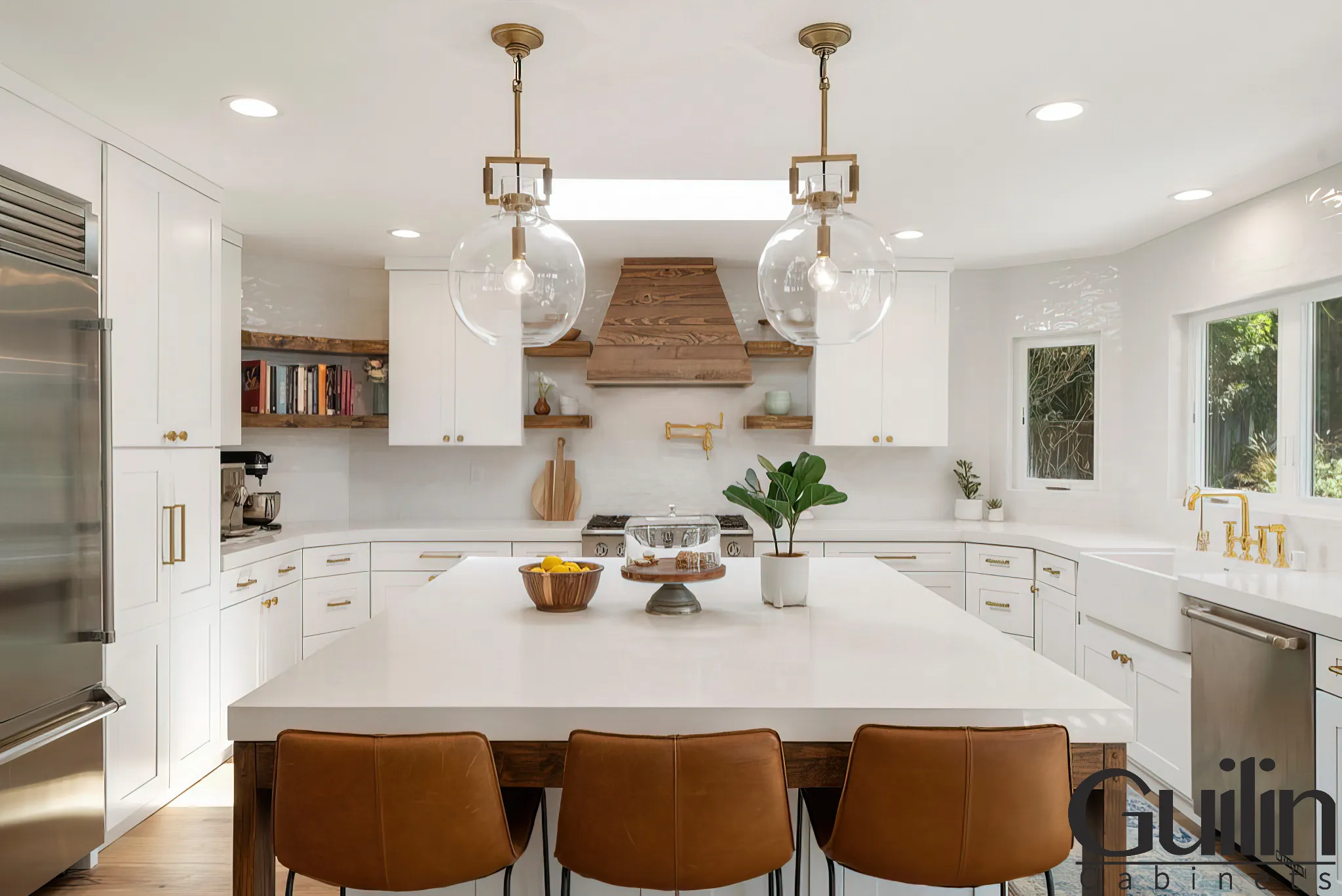 Easy to match with other kitchen elements:
Thirdly, white kitchen cabinets are easy to match with other kitchen elements like countertops, backsplash, and flooring. This versatility allows them to blend effortlessly with various color schemes and design styles, making them the perfect choice for homeowners who enjoy changing things up from time to time.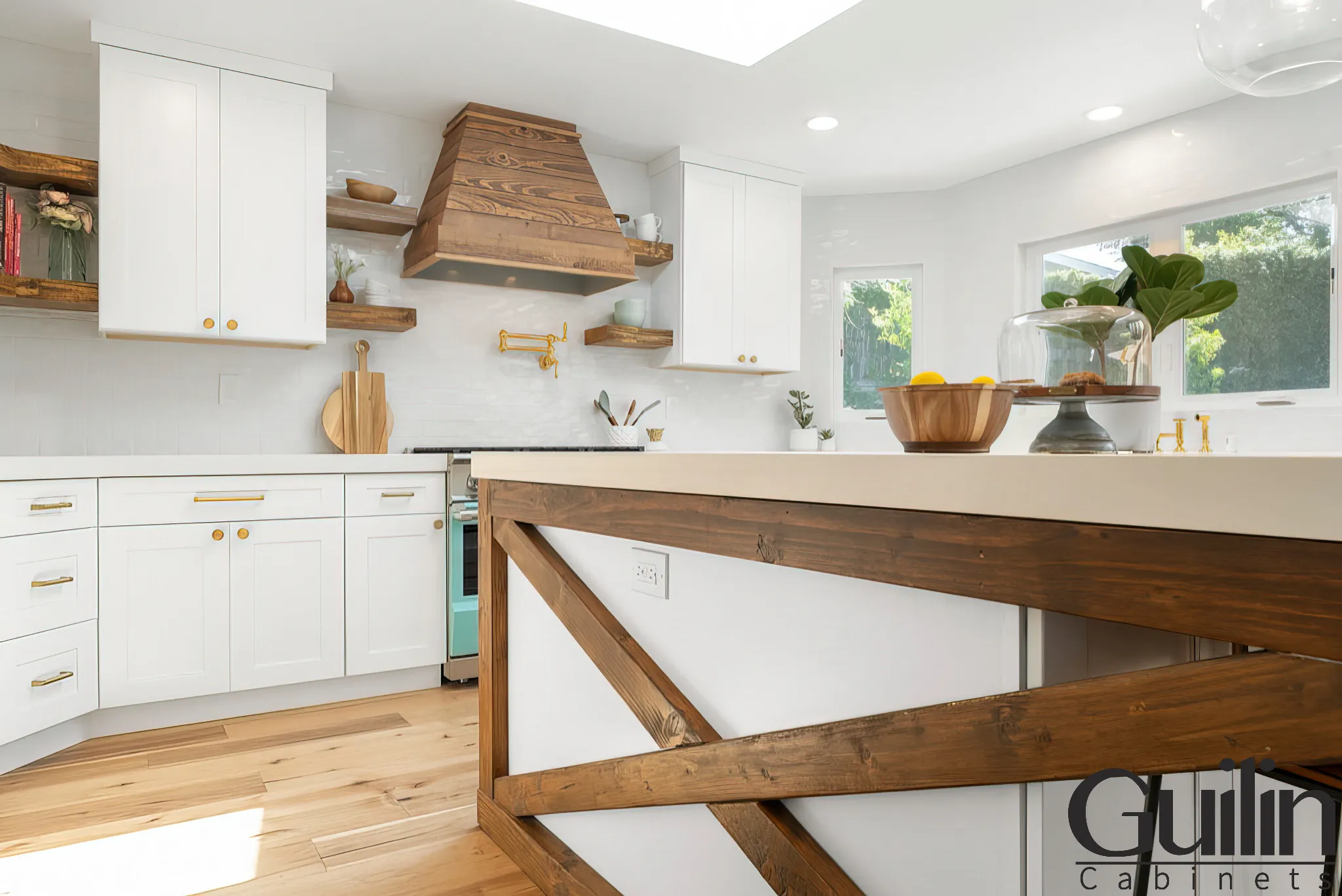 Reflective surfaces can make the room appear larger:
The reflective surfaces of white kitchen cabinets can make the room appear larger. This is because the reflections bounce around the room and create a sense of depth that can't be achieved with darker colors. It's an added bonus for small kitchens that need all the help they can get to create a spacious and welcoming environment.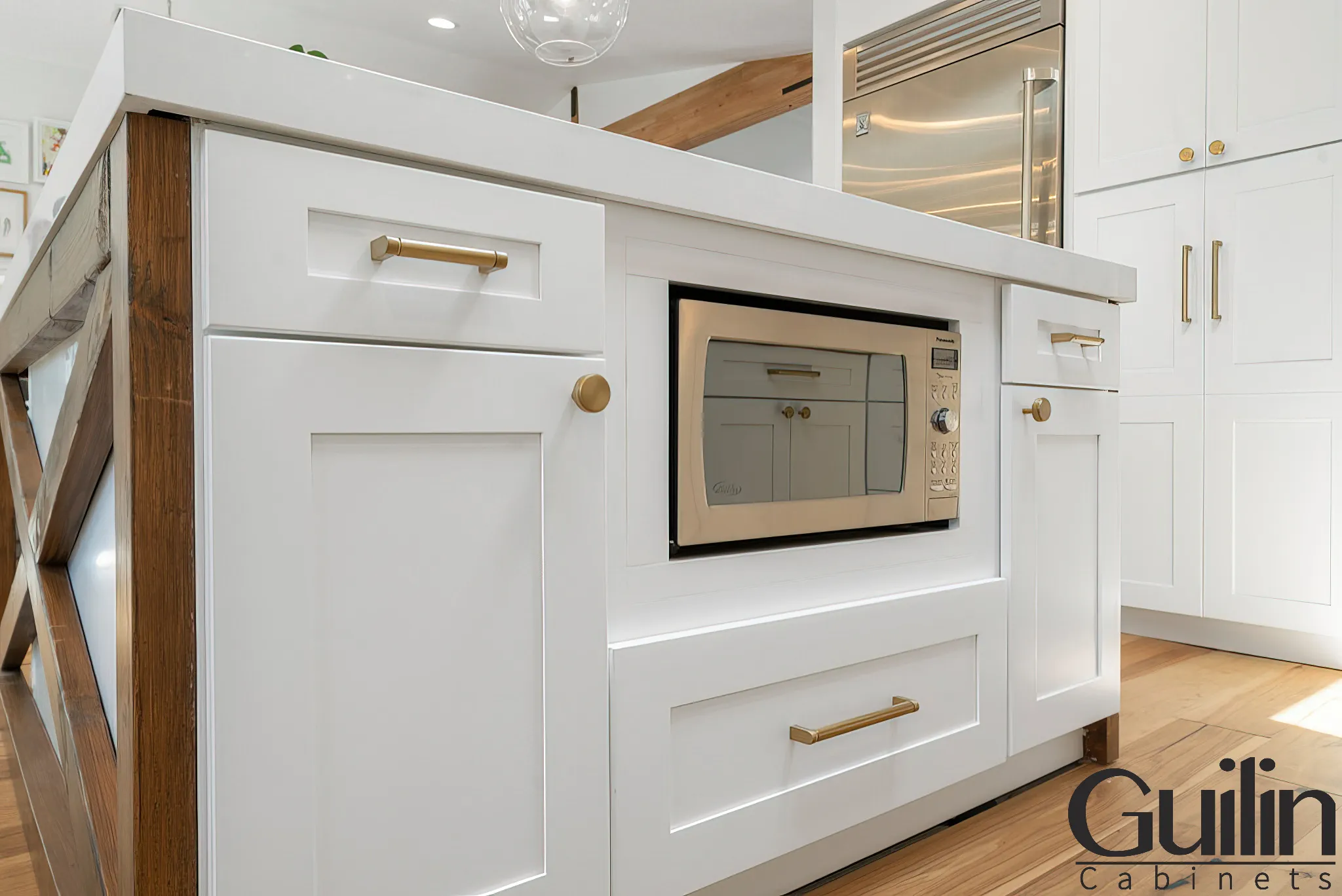 White is a neutral color that can fit any other color:
Another benefit of white cabinets is that they're a neutral color. This means they can work with any other color scheme in your kitchen, making white an incredibly versatile color, and you easy to switch up your decor over time without having to replace your cabinets. If you decide to change up your kitchen's design in the future, white cabinets will still work with any style or trend you choose.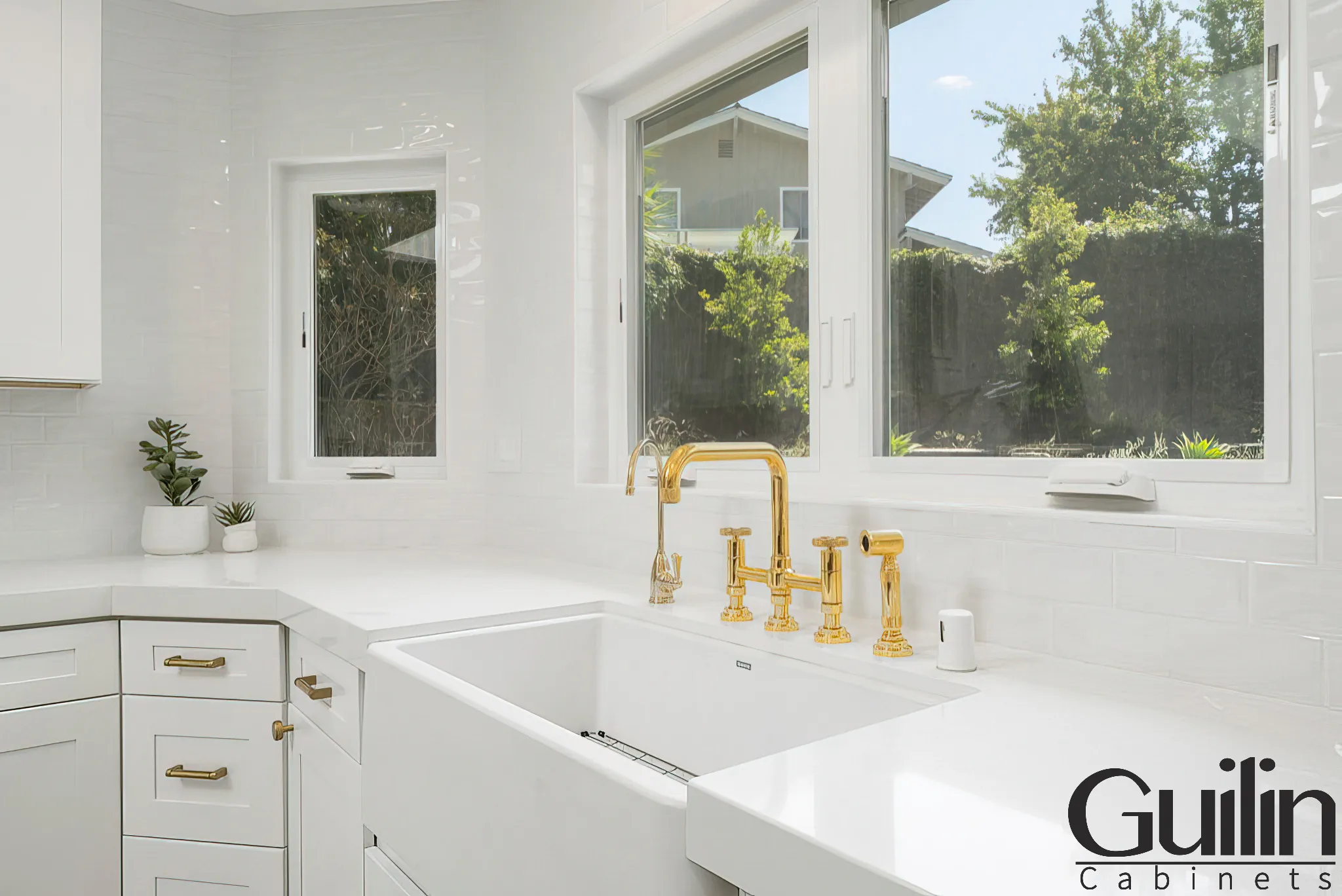 Cons of White Kitchen Cabinets:
However, while there are undeniable benefits to this style, there are also some significant drawbacks to consider before choosing to go with white cabinets.
Prone to showing dirt and stains
White cabinets tend to show dirt and stains more easily than their darker counterparts. This can be a significant disadvantage, especially if you have young children or pets in your home. Even minor spills or splatters can quickly ruin the look of your cabinets.
=> Related Article: How To Keep Your White Cabinets Clean?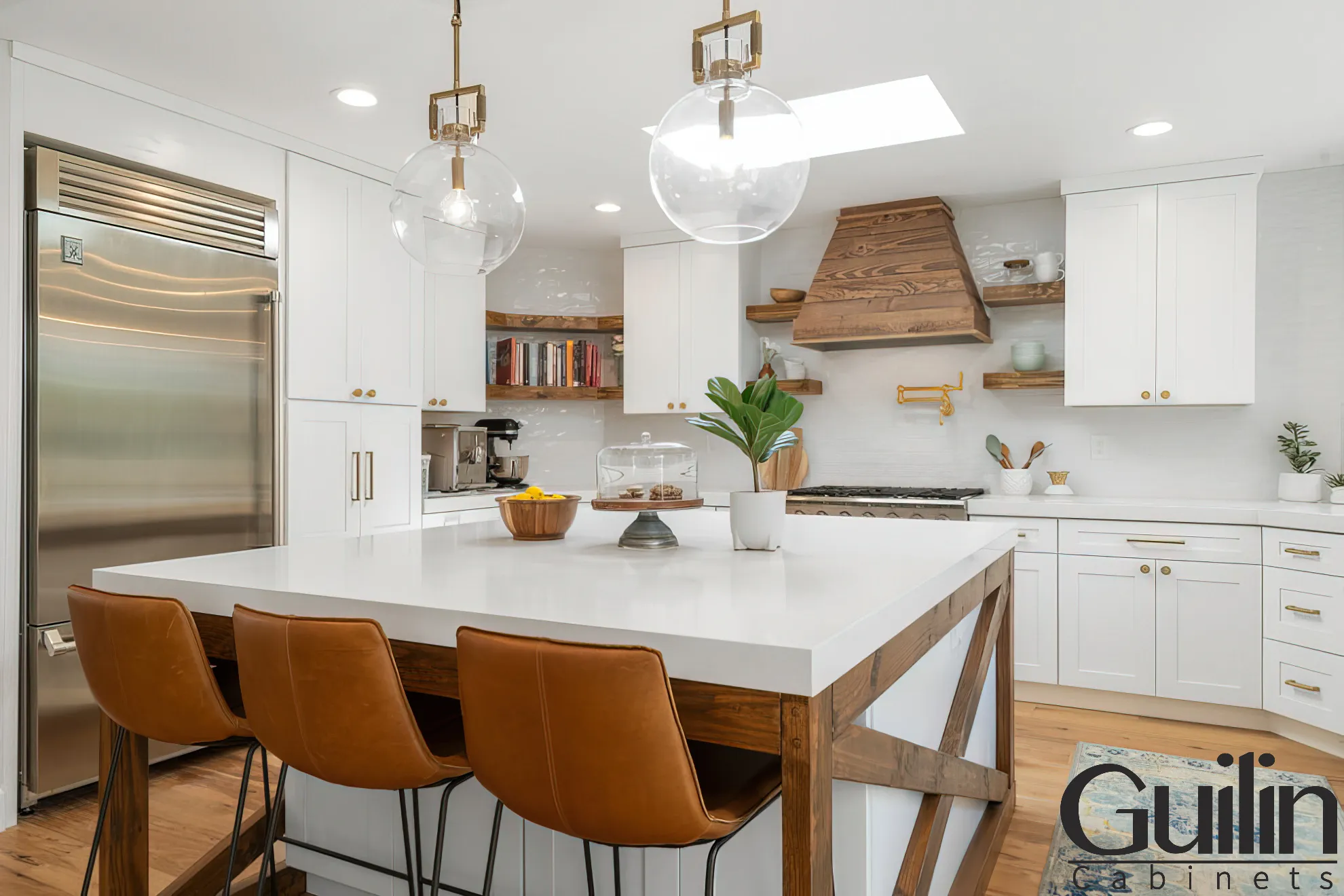 May require more frequent cleaning than darker cabinets
Another disadvantage of white kitchen cabinets is their need for frequent cleaning. As mentioned earlier, due to their light color, any dirt or stains that do appear on them become more noticeable, and you will need to clean them often if you want them to maintain their pristine appearance.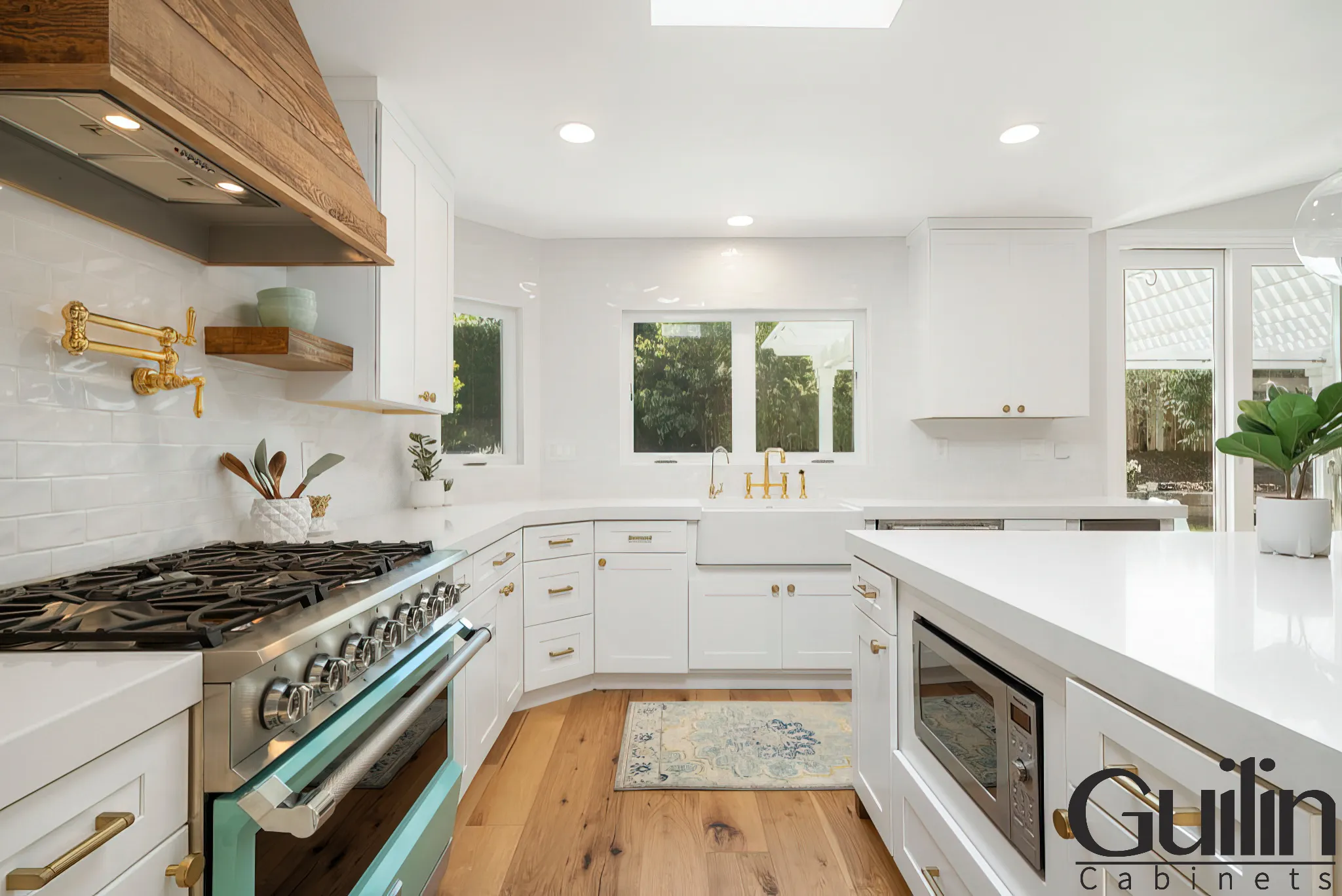 Can appear cold stark or sterile if not balanced with warm elements
White cabinets can also appear stark or sterile if not balanced with the right warm elements. Depending on the style of your kitchen, opting for white cabinets may not be the best choice, particularly if your design style is leaning more towards rustic or industrial. A general rule of thumb is to use wood accents or warm metallic finishes to help balance the cold, modern look of white cabinets.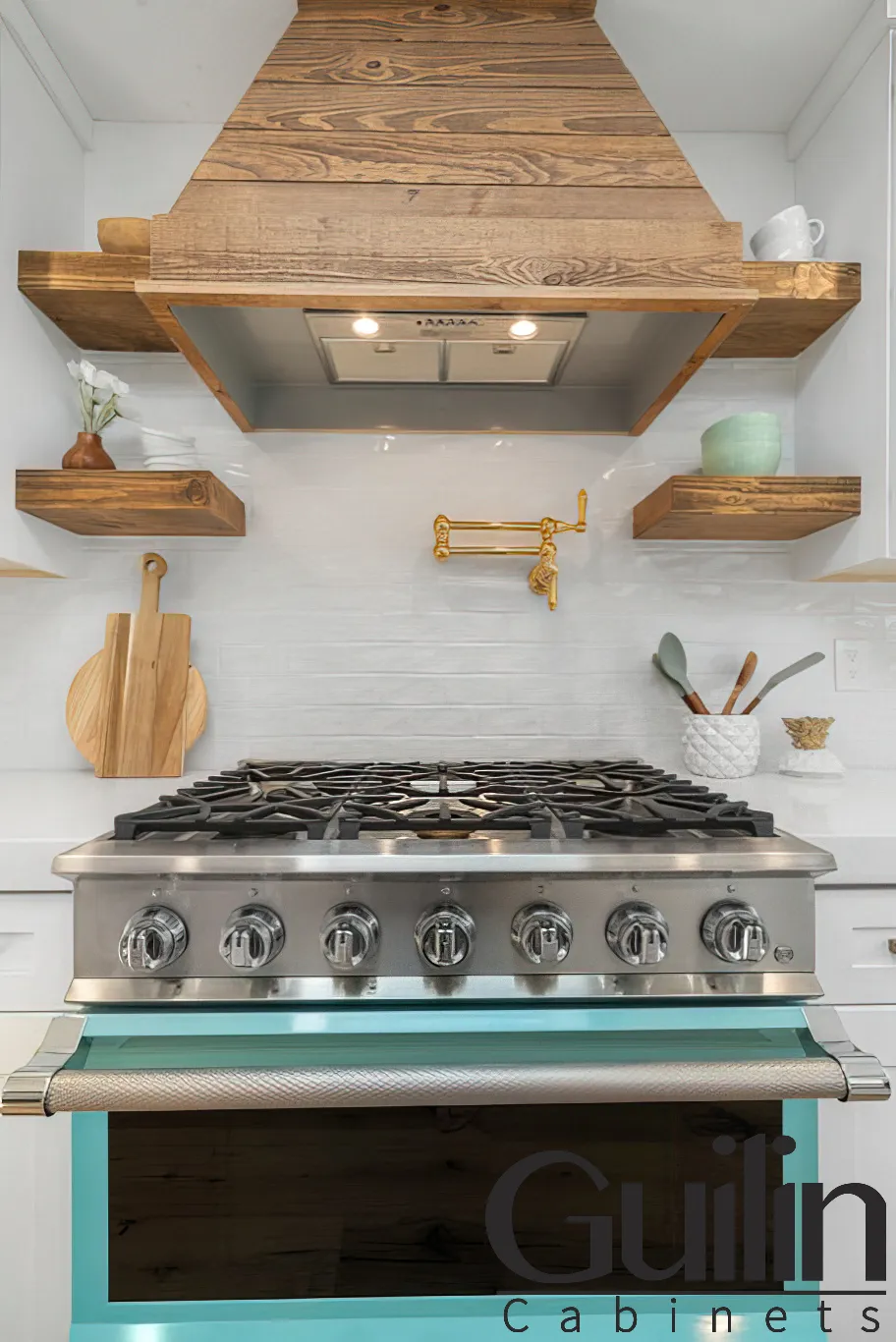 May not be appropriate for certain design elements
Although white has the advantage of being versatile and complementary to other colors in your kitchen, it may not be suitable for certain design elements. Non-white items can appear conspicuous and limit your décor options. This includes small items like a red kettle pot or a brown rag, which can stand out against a white background.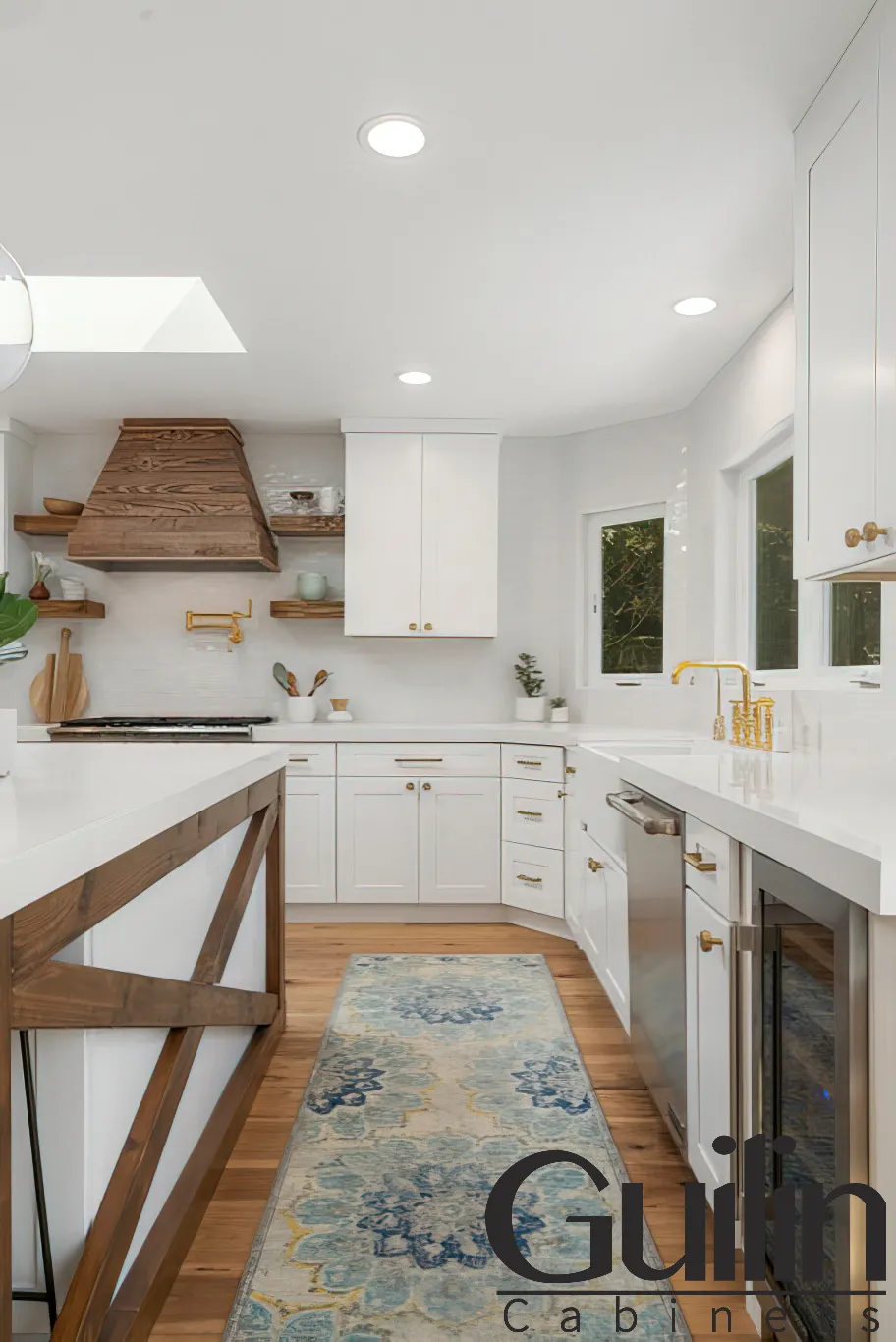 How to Choose the Right Shade of White for Your Kitchen Cabinets:
By choosing the right shade of white for your cabinets you can make all the difference in creating the perfect ambiance that you want to be. With so many shades of white to choose from, it can be overwhelming to pick the right one that matches your style and suits your needs. To help you make the right decision, we have compiled a list of the different types of white cabinets and their pros and cons.
Pure True White:
Pure white cabinets are a classic choice that can work well with many different design styles. White is a very bright, yet not overly intense, white paint that is very clean and does not lean on any color. It is a clean and good white paint that is not too white and not too close to any other color. This shade of white is clean and bright, giving your kitchen a modern and fresh look. However, it can be challenging to maintain as it can easily show dirt and grime, making it a high-maintenance choice.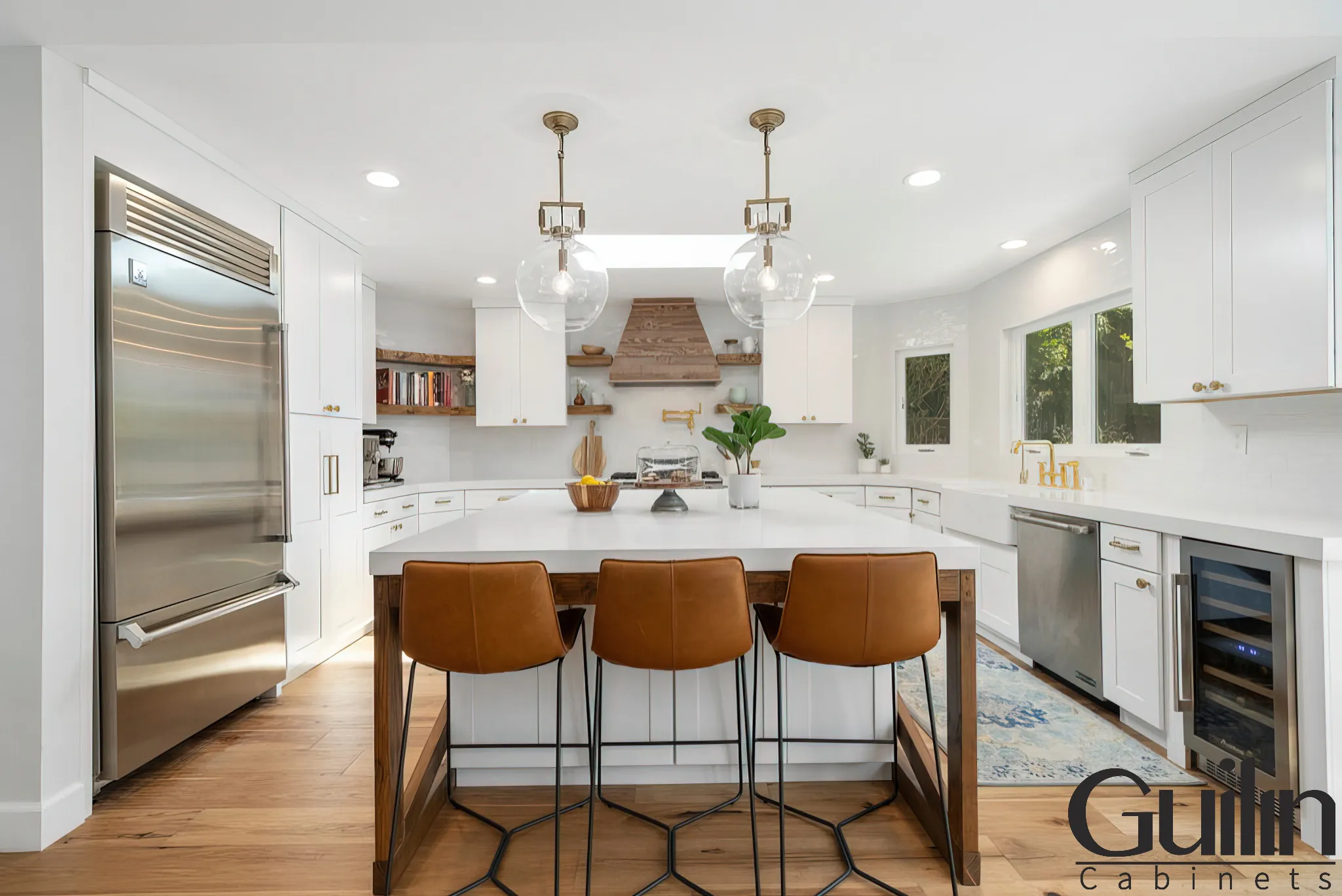 Antique White:
This shade of white has a subtle hint of yellow or brown in it, giving your cabinets a slightly aged, vintage, and classic look. It is perfect for traditional, vintage, and farmhouse-style kitchens for a warm and rustic feel. However, they may not work as well with more modern design styles, and that may require more maintenance to prevent yellowing over time.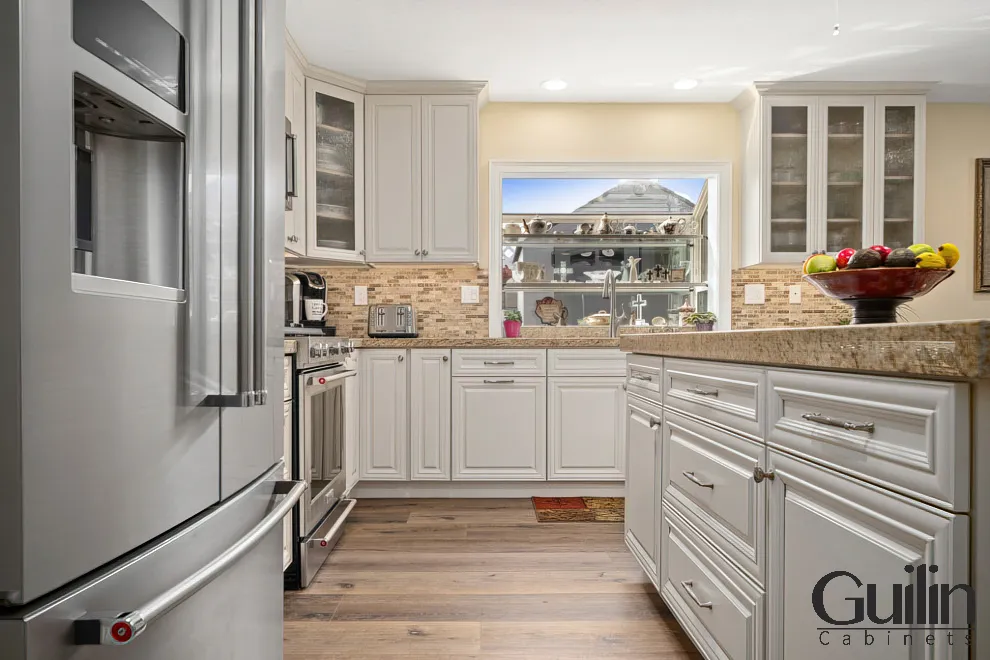 Off-white:
Off-white cabinets have a slightly warmer tone than pure white, which can create a cozy and inviting feel in a kitchen. They are also less likely to show dirt and stains than pure white, and have a soft, subtle tone that adds warmth to your kitchen. However, they may not have the same brightening effect as pure white and may clash with certain countertops or flooring materials. It is will perfect for those who want a white kitchen without it looking too stark, but it may not be the best choice if you want your cabinets to stand out.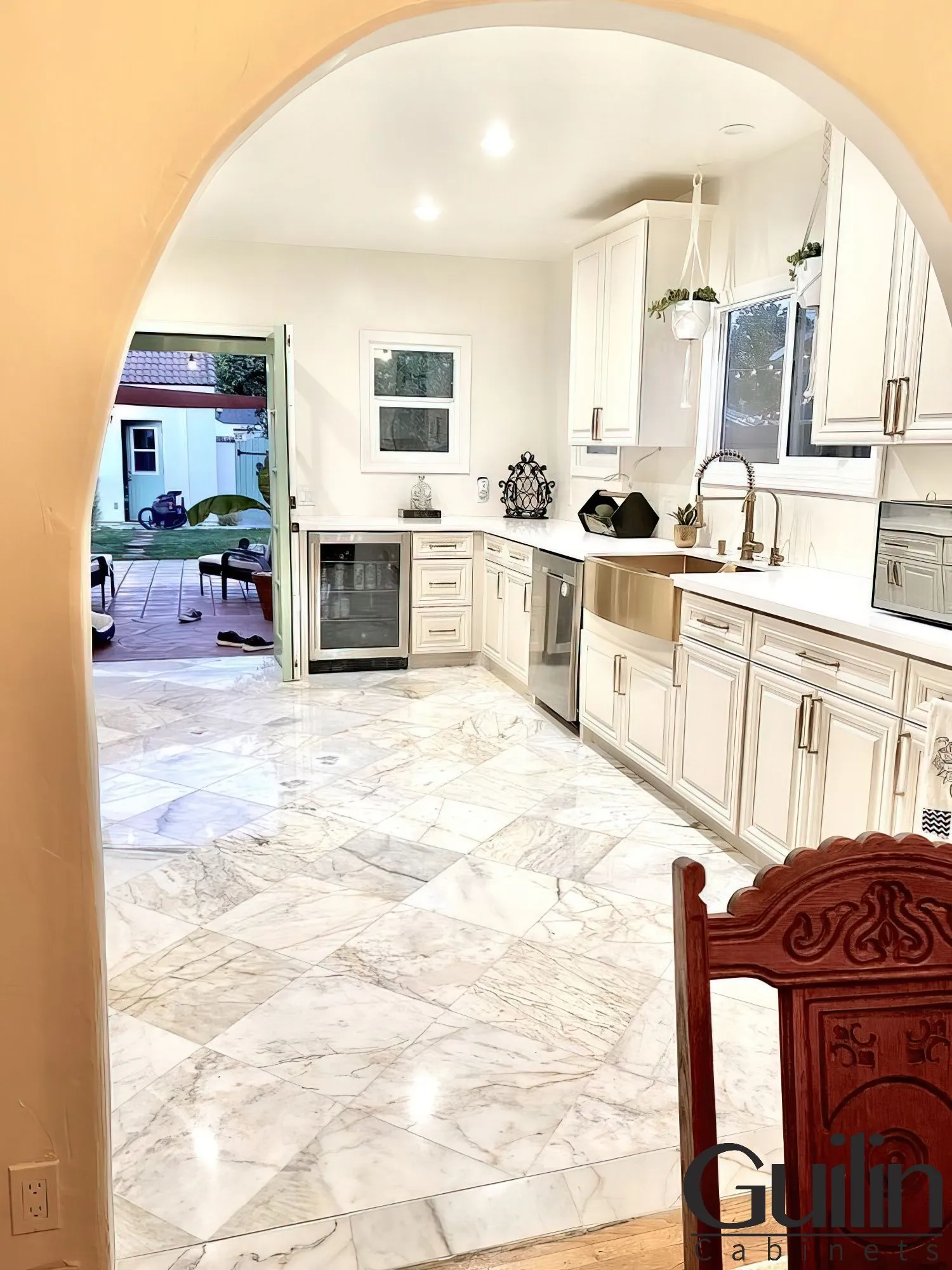 Pearl White:
Pearl white cabinets have a slight shimmer or iridescence that can create a glamorous or luxurious look in a kitchen. They can also reflect light well, making a small kitchen feel brighter and more open. However, they may be more difficult to match with other design elements and may show fingerprints or smudges more easily.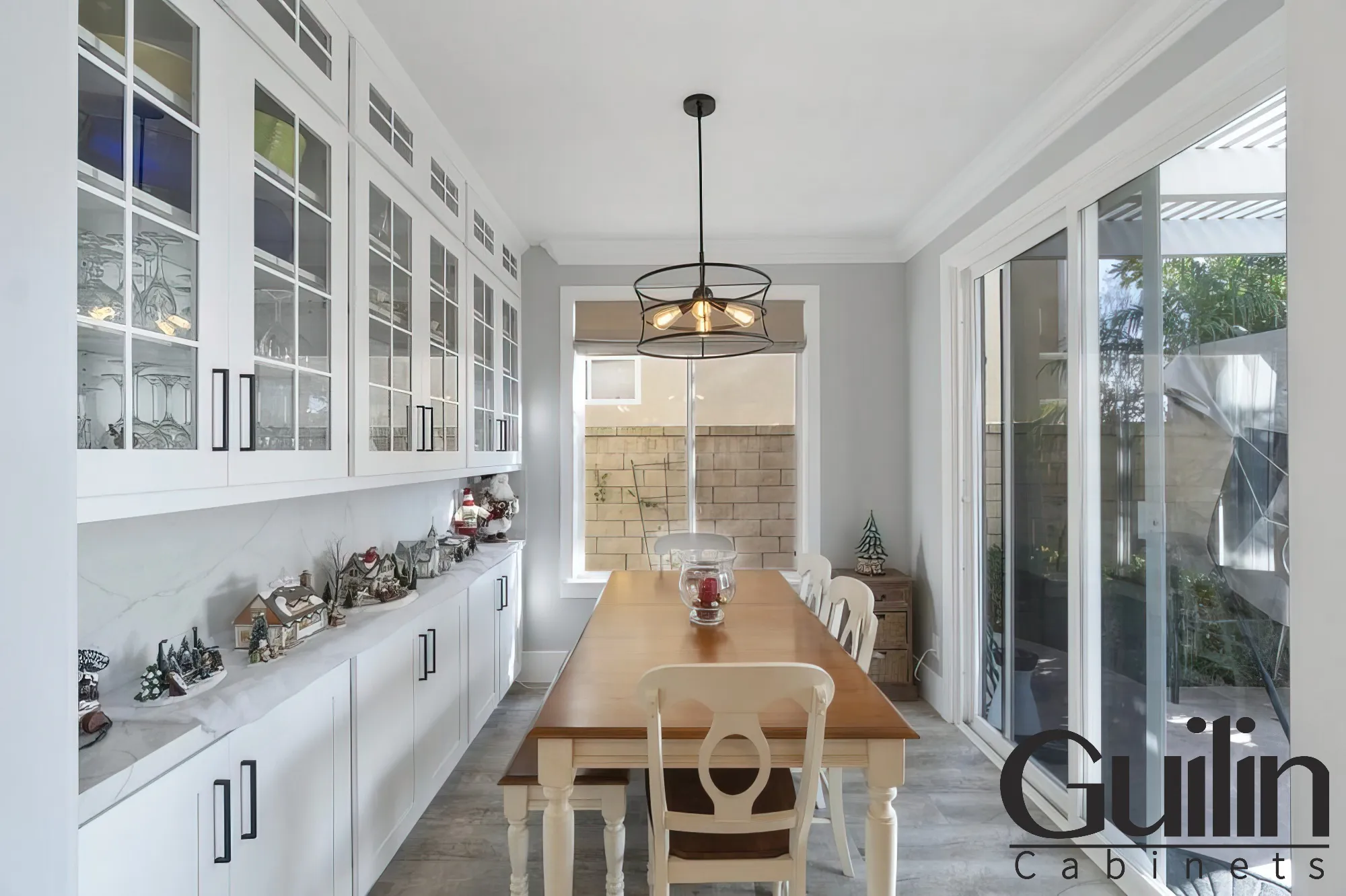 Ivory White:
Ivory cabinets have a slightly yellow or cream undertone that can create a warm and inviting atmosphere in a kitchen. They can also hide dirt and stains well. However, they may clash with certain countertops or flooring materials, and may not have the same brightening effect as pure white. '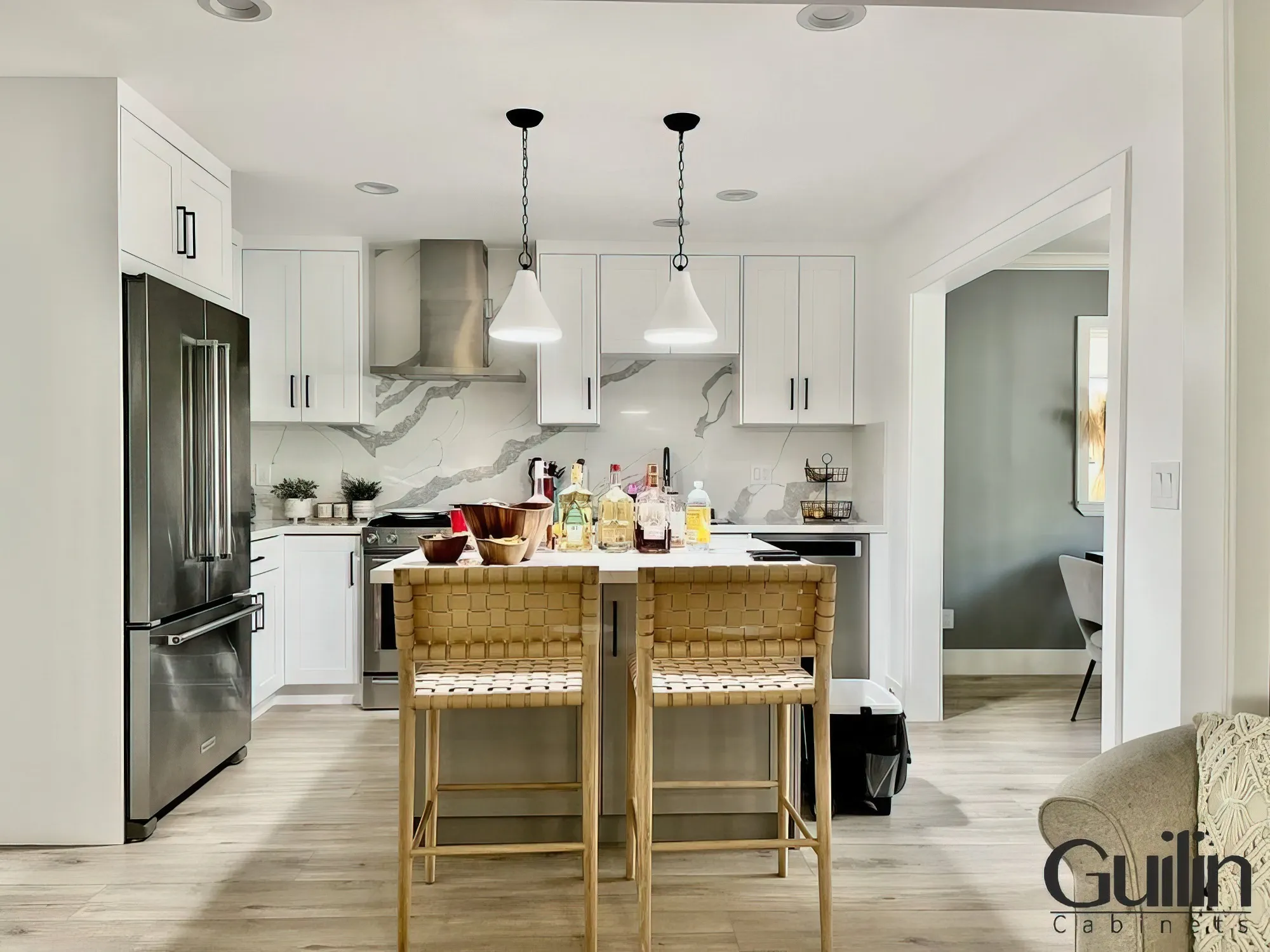 White Kitchen Design Inspiration by Guilin Cabinets Projects
Are you on the hunt for the perfect kitchen design that's both sleek and sophisticated? You can check out the stunning white kitchen inspiration by Guilin Cabinets Projects! With their elegant and simple aesthetics, white kitchens have gained immense popularity among homeowners and designers alike. From farmhouse styles to modern displays, white kitchens can be customized to fit any design vision.
Modern Sleek Kitchen Remodel in Irvine, California by Guilin Cabinets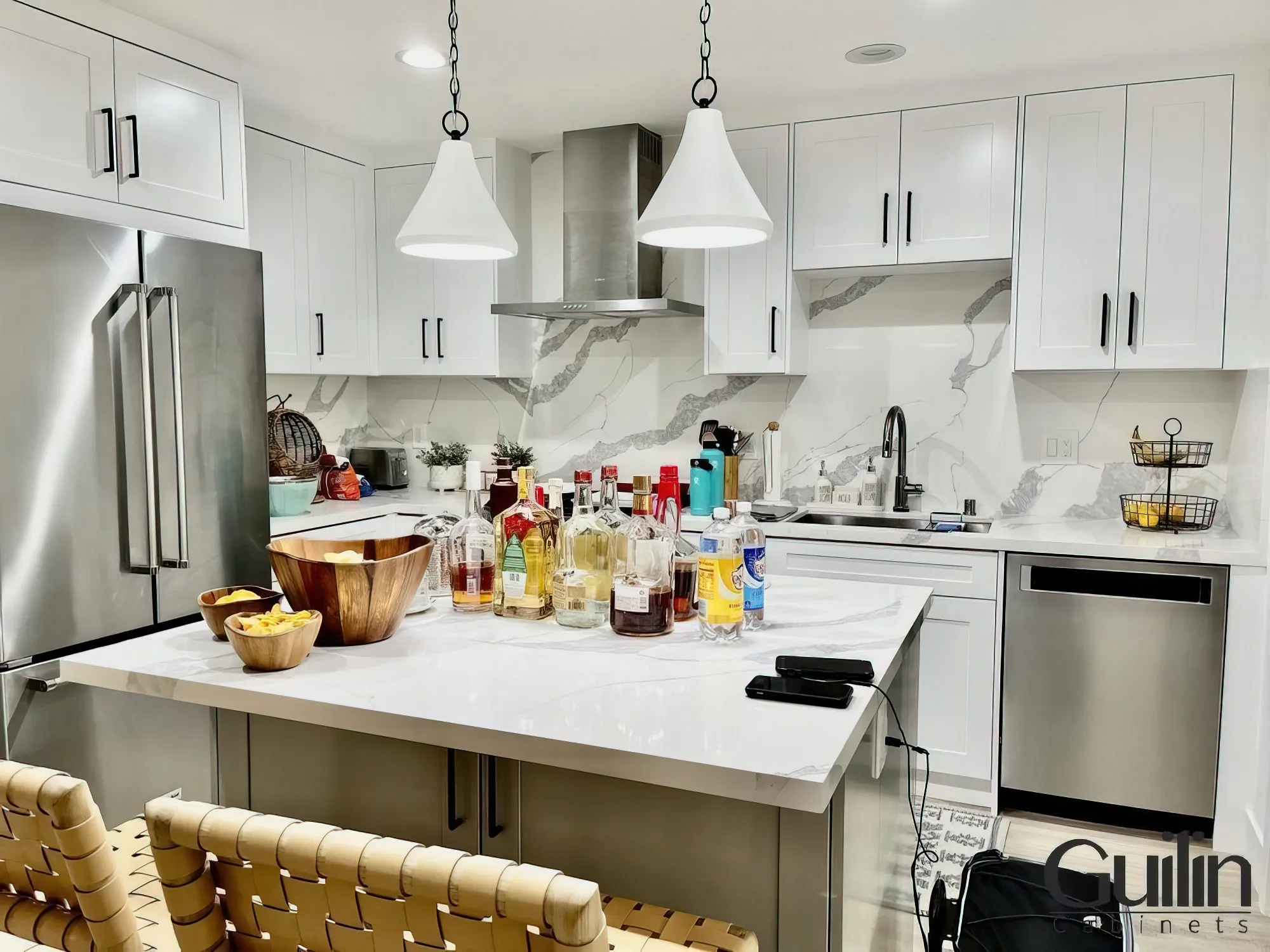 => Click Here to See the Project: Kitchen remodel with sleek and modern Styles in Irvine, California by Guilin Cabinets
White Kitchen Remodel Project Farm House Style in Southern California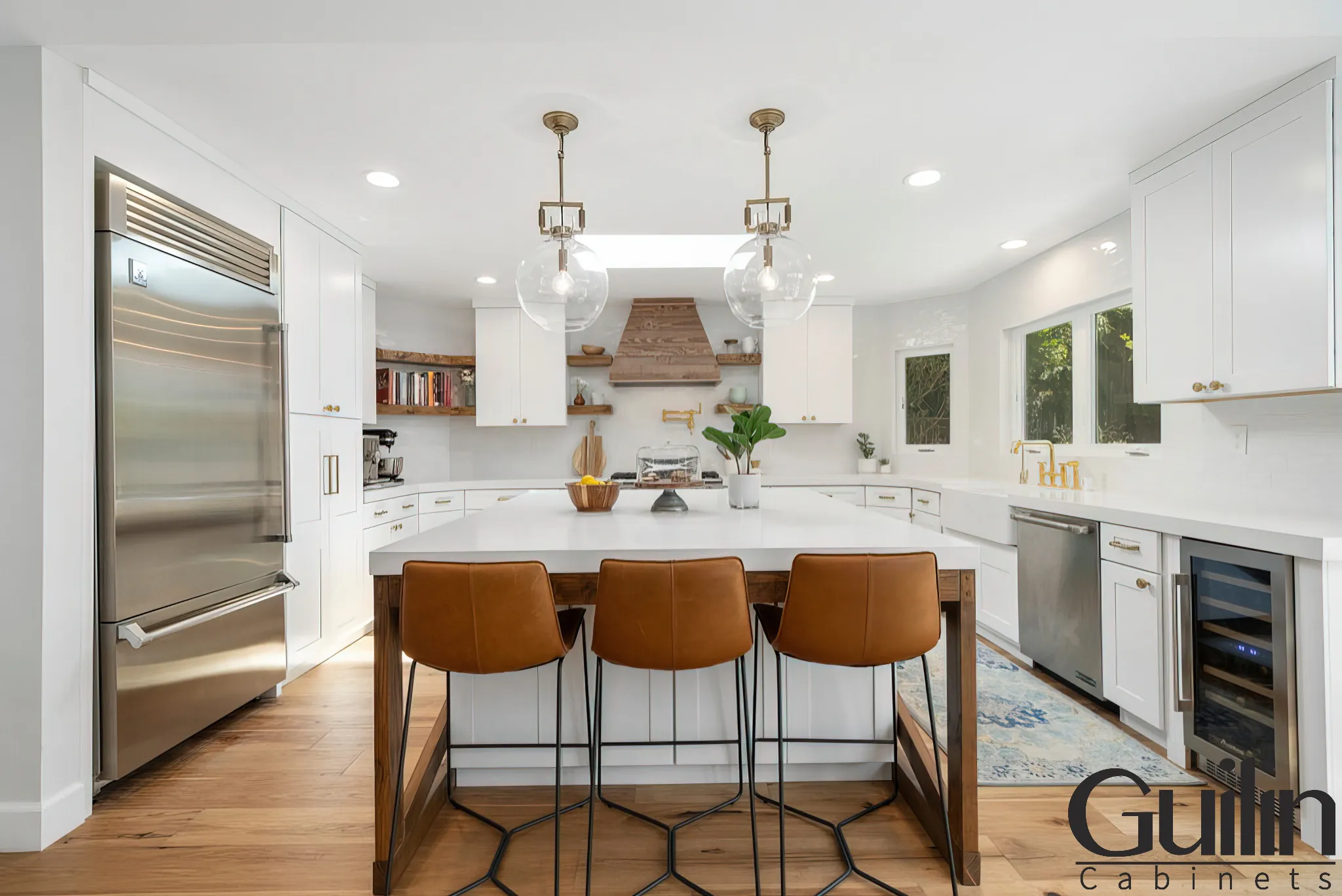 => Click Here to See the Project: Remodel Project Farm House Style in Southern California
Kitchen Remodel into White Tradition in Orange County CA by Guilin Cabinets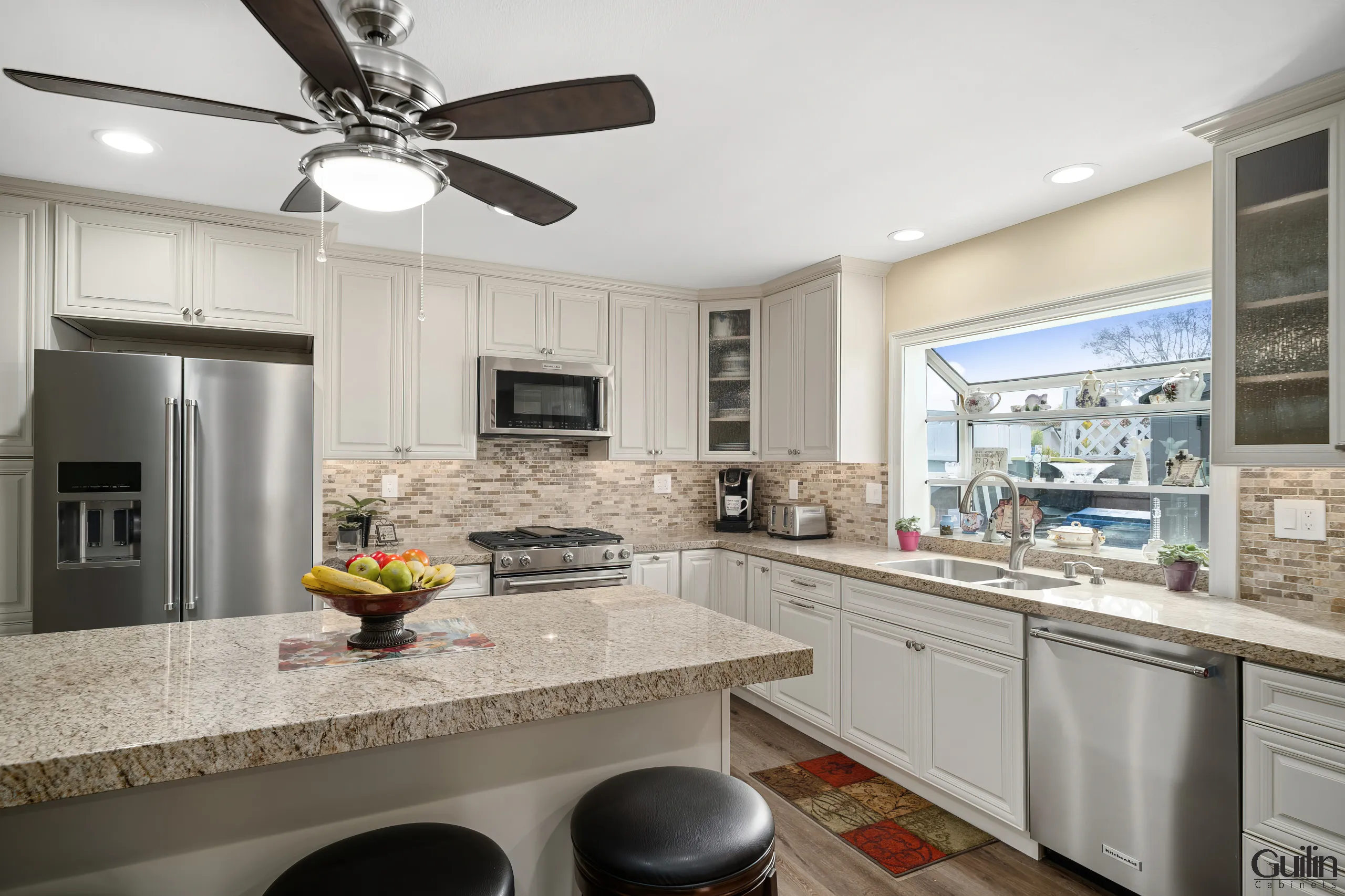 => Click Here to See the Project: a White Tradition Kitchen in Orange County CA by Guilin Cabinets
Remodel Transition White Cabinets Kitchen Gorgeous Backsplash Irvine, California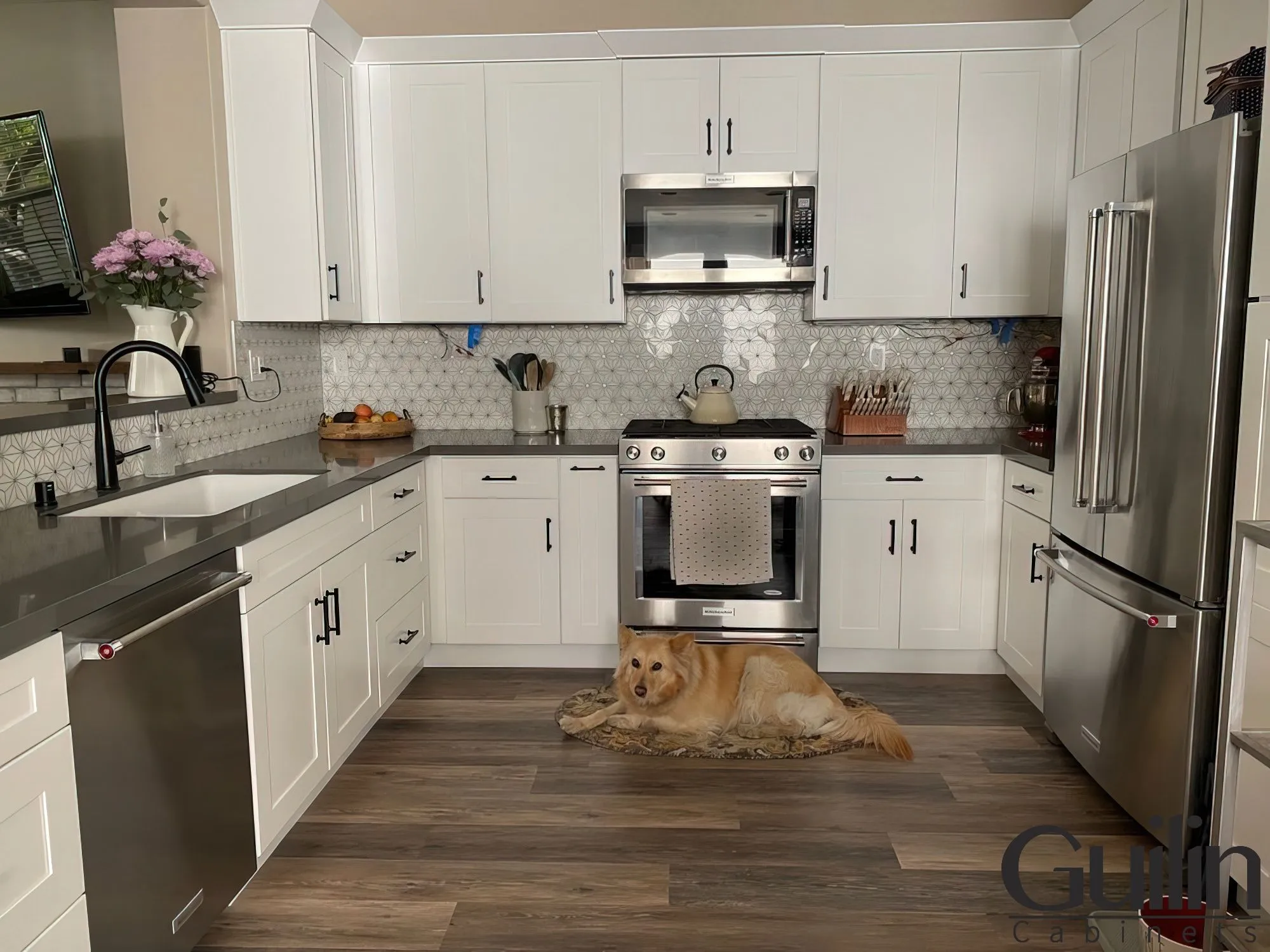 => Click Here to See the Project: Remodel Transition Kitchen with Gorgeous Backsplash in Irvine, California
Custom White Library Bookcases Install in Aliso Viejo, California by Guilin Cabinets
=> Click Here to See the Project: Our Custom Library Bookcases Installed in Aliso Viejo, California
Contemporary, Rustic, White Kitchen Remodel in Chino Hills, California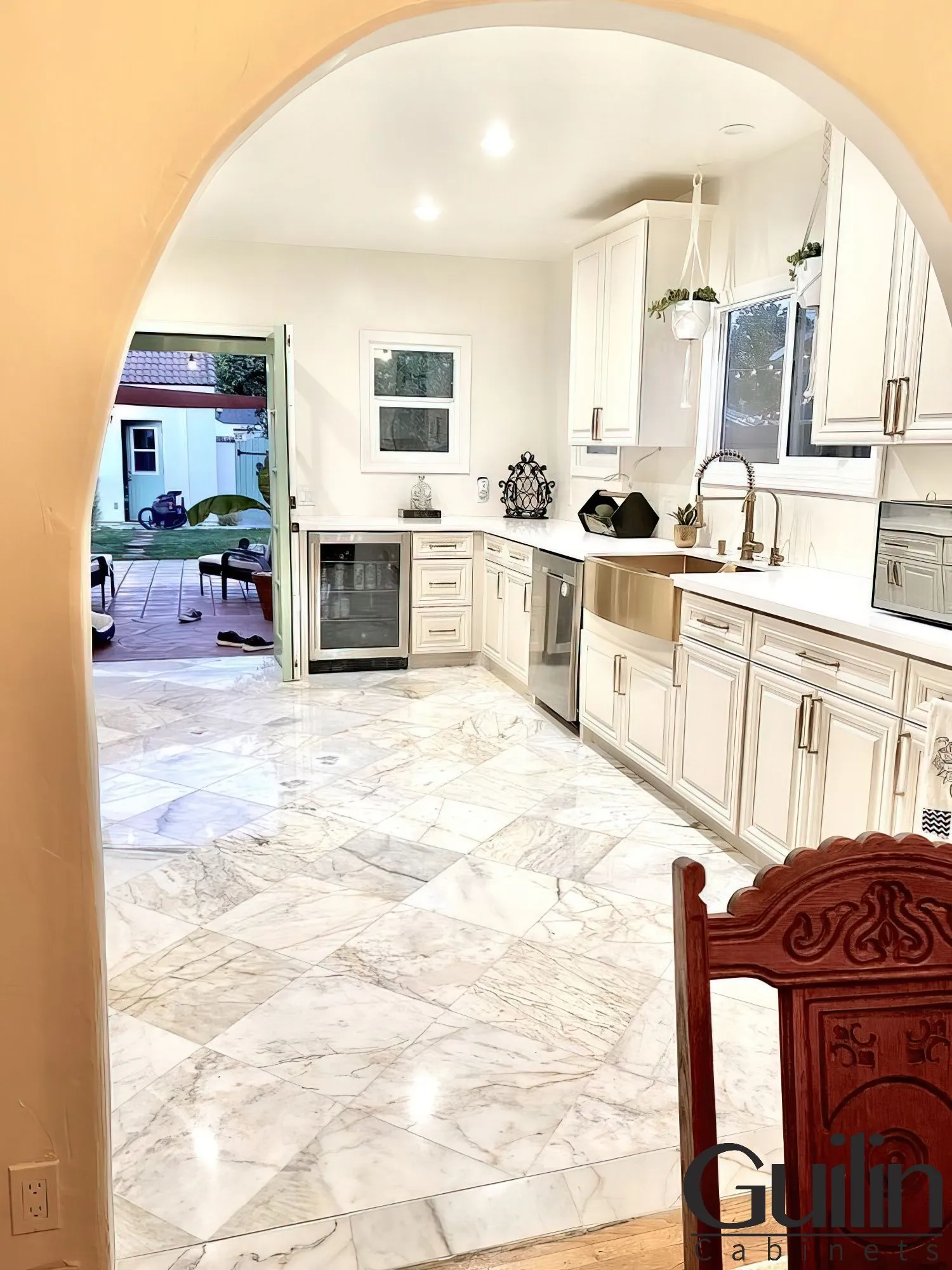 => Click Here to See the Project: White Kitchen Remodel with Contemporary, Rustic in Chino Hills, California
Remodel Coastal-inspired Home Kitchen in Los Angeles, California
=> Read more: Remodel Coastal-inspired White Home Kitchen in Los Angeles, California