How to Measure Kitchen? Are you tired of feeling frustrated with your kitchen layout? Have you struggled to find the right cabinets for your kitchen but keep coming up short? Are you left wondering if you're just not cut out for kitchen design? Measuring your kitchen cabinets before designing the layout is crucial in creating the perfect space. Don't let the pain of a poorly laid-out kitchen continue any longer. We've got you covered with a step-by-step guide to measuring your kitchen and kitchen cabinets like a pro! By the end of this post, you'll be able to confidently design your dream kitchen layout and finally enjoy beautiful results. And if you're not convinced, keep reading for real-life examples from satisfied customers who have successfully transformed their kitchens using our tips.
A. Prepare The Tools For Measuring Kitchen Cabinets
Measuring kitchen cabinets is an integral step toward designing a perfect layout. It sounds easy, but without the right tools, you might end up with incorrect measurements. Throughout this step, we will discuss a list of essential tools needed for measuring your kitchen and your kitchen cabinets and explain each tool's usage.
Before you measure the kitchen you need to prepare the list of tools:
Measuring Tape
Level or Laser Level
Pencil and Notepad
Calculator
Camera or your phone
Square measuring tool
A step stool or Ladder
=> Related Post: The Tools Need to Assemble RTA Cabinets
Measuring Tape
The measuring tape is the most important tool for measuring your kitchen cabinets accurately. It is designed to provide precise measurement, making it easy to identify the right size of cabinets needed. Always choose a measuring tape with a clear, readable scale, and make sure the numbers are well-defined.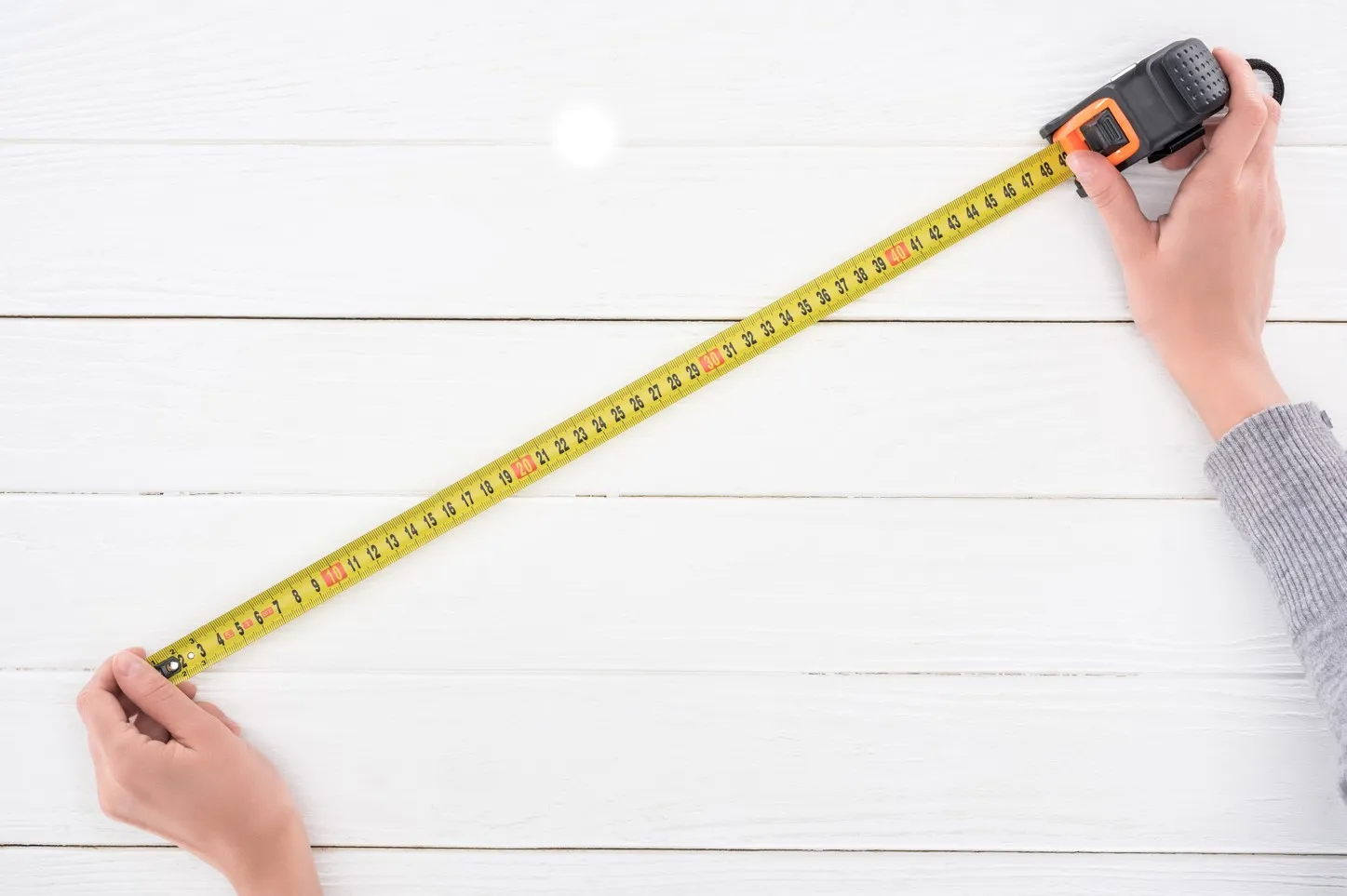 Laser Level
A laser level is an excellent tool for measuring the verticality and horizontality of your kitchen. It enables you to mark perfect lines with laser beam guides, making measurements more precise and efficient. This tool is especially useful when hanging wall cabinets because it ensures a level installation.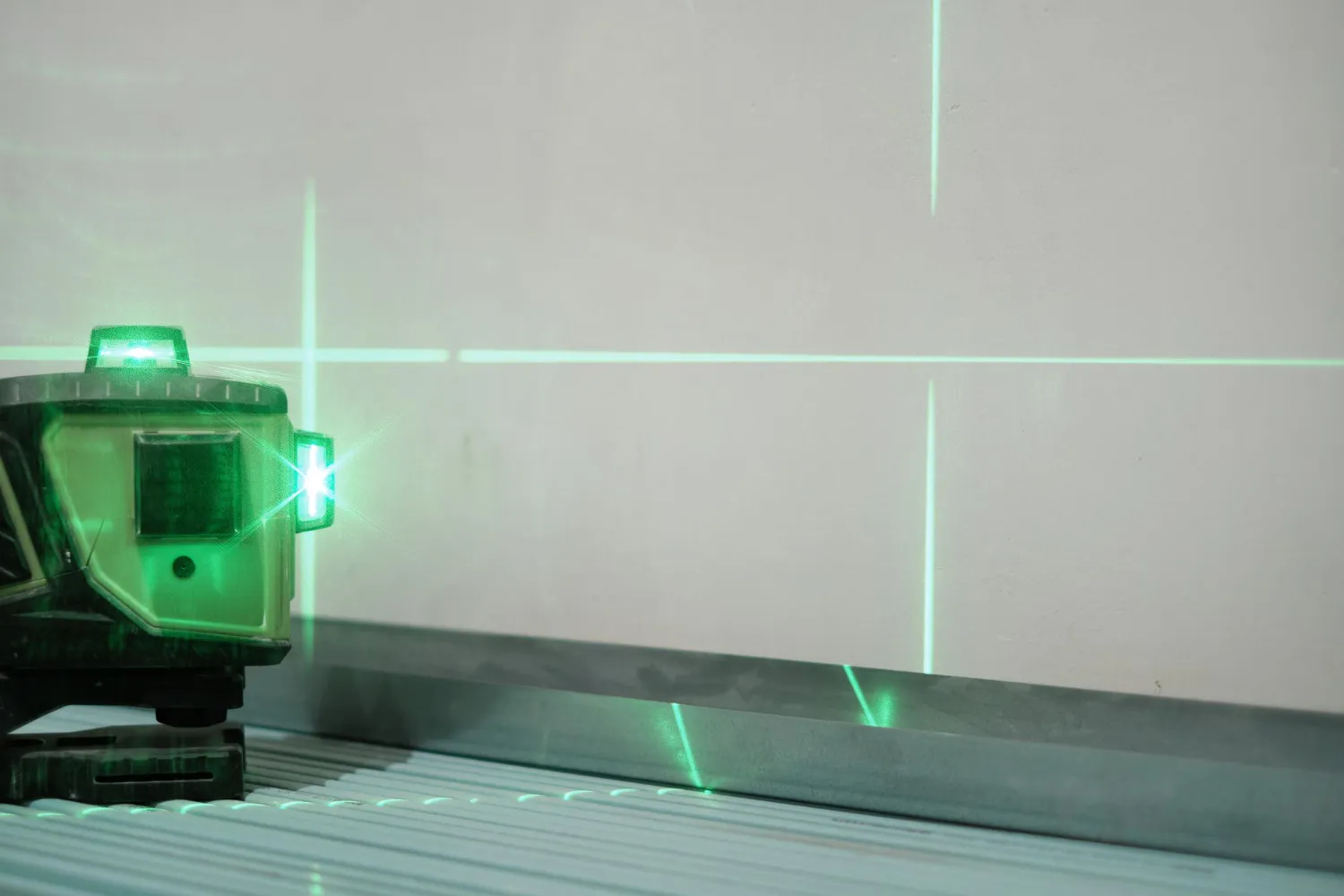 Pencil and Notepad
A pencil and notepad are necessary tools for keeping track of measurements. Once you take measurements of your kitchen cabinets, make sure to record them accurately. This makes it easier to organize your measurements and ensure accuracy during design and installation.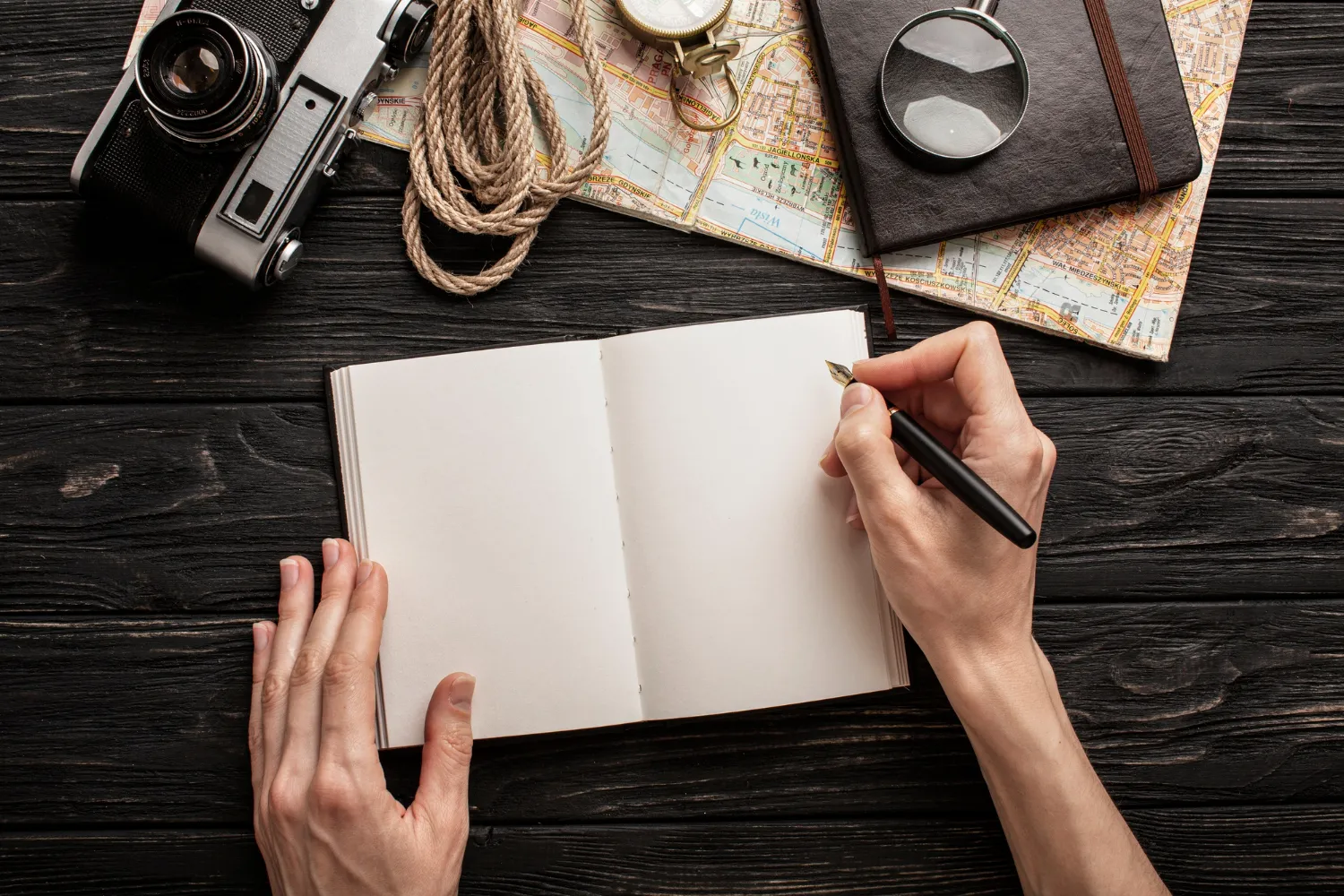 Calculator
the calculator is a useful tool to have when working out kitchen and cabinet measurements. It can accurately add any measurements and divide areas to calculate the square footage of your cabinets. This information is crucial for choosing the right size cabinets and for ordering the right amount of materials.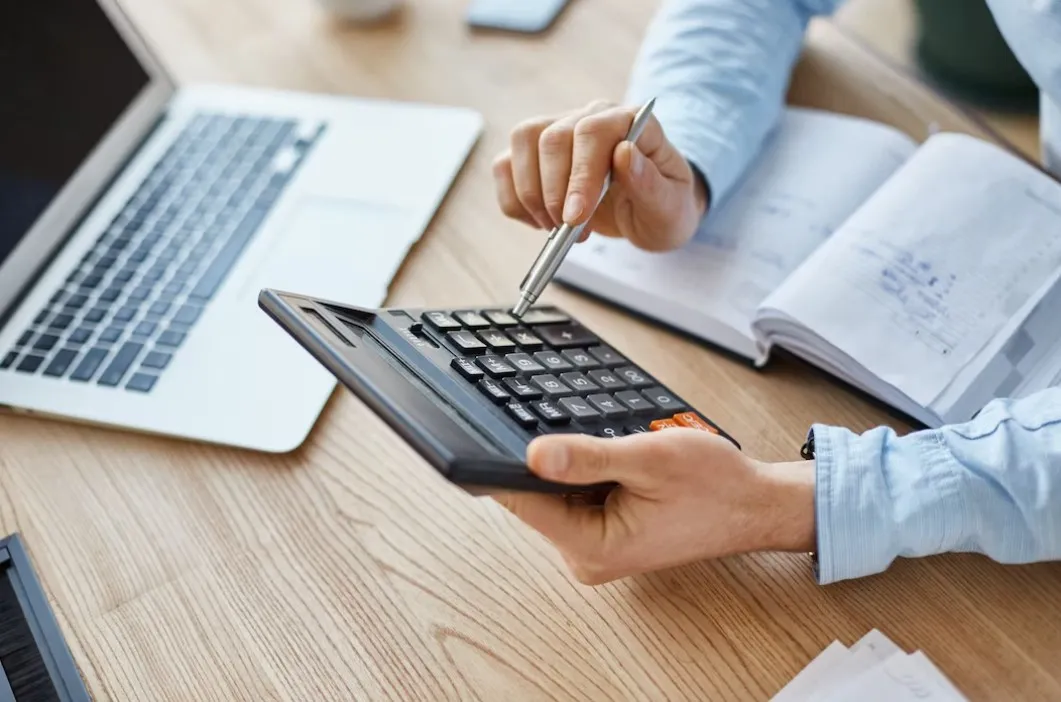 Camera or your phone
Taking pictures of your kitchen and your cabinets can be helpful when planning your kitchen layout and when discussing your project with a designer or contractor.

Square measuring tool
A square is a handy tool that helps you mark 90-degree angles accurately. It is perfect for determining the correct cabinet angles, especially within corners. Always choose a square with a durable spine and well-etched markings.
A step stool or Ladder
A step stool can help you reach higher areas of your cabinets for more accurate measurements, necessary when measuring high cabinets, especially if the space is small, cramped, or difficult to reach, which is common in most kitchens. The combination of a ladder and a tape measure will help get accurate measurements when working around corners and awkward angles.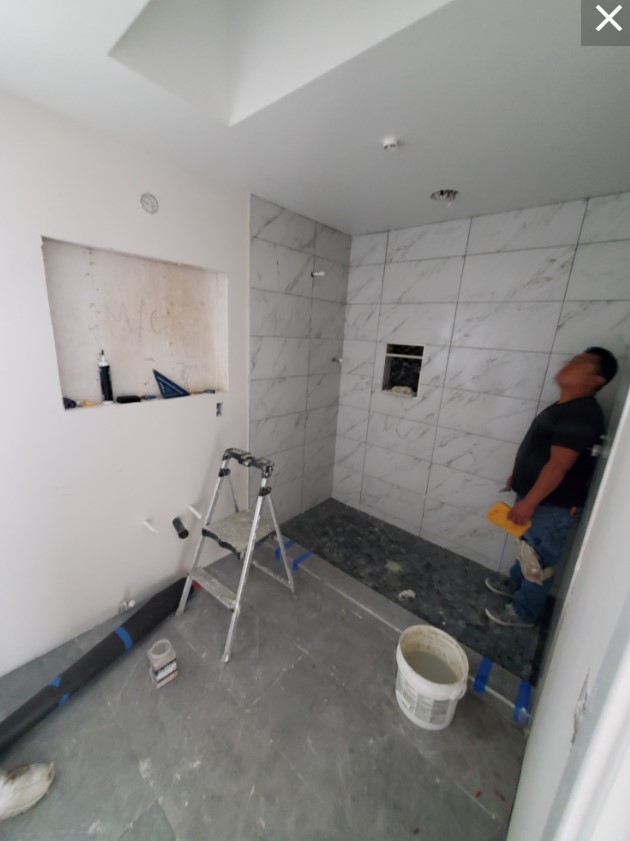 B. How to Measure Kitchen Step-by-Step?
Measuring your kitchen before installing cabinets is an essential first step in any renovation project. A precise measurement ensures that your cabinets will fit perfectly in your kitchen and look great. A poorly done measurement will result in mistakes in the installation process, requiring expensive fixes later on. It is crucial to follow a step-by-step process to measure your kitchen accurately before installing cabinets.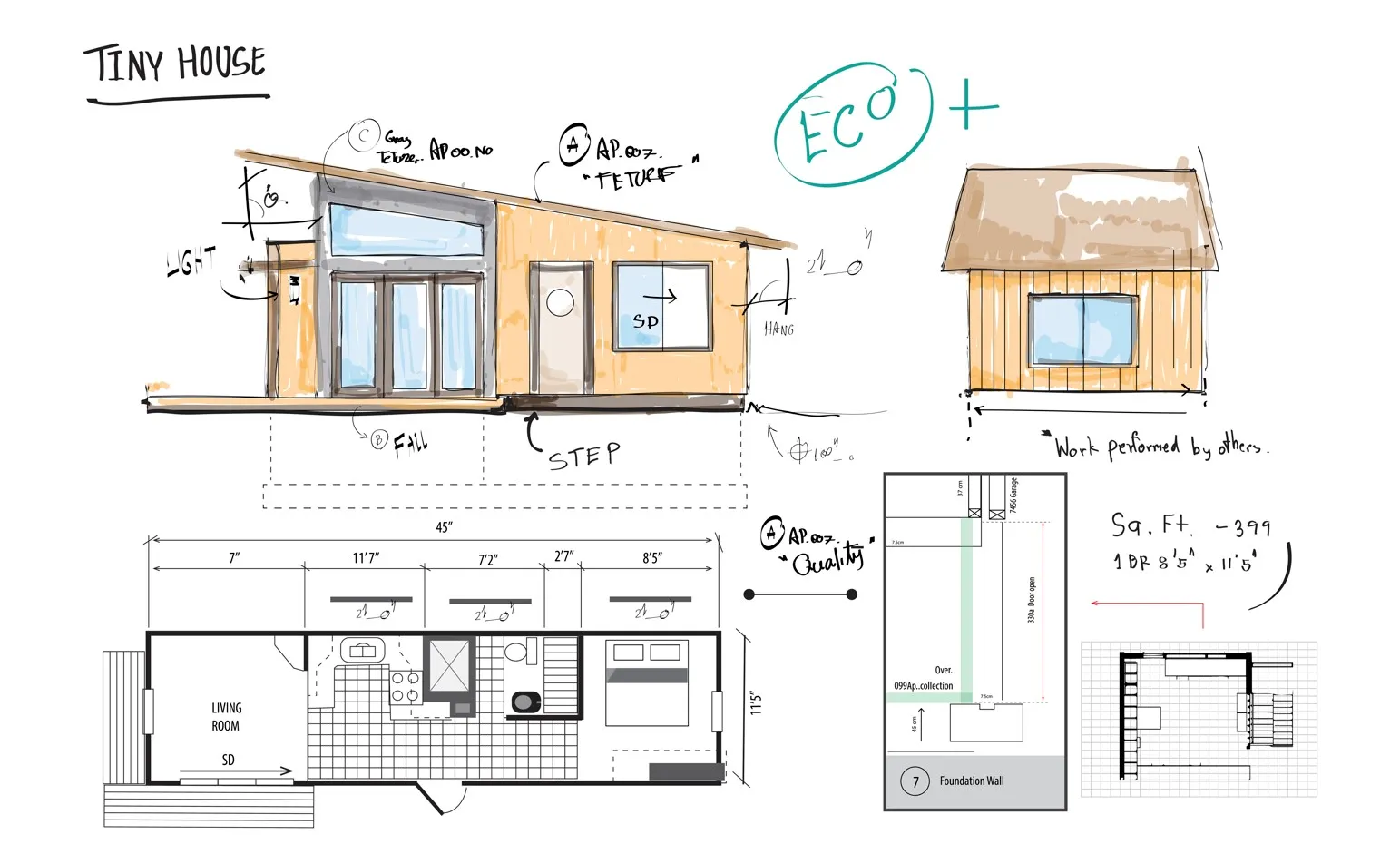 Make a rough sketch of your kitchen
Draw a basic layout of your kitchen, including walls, doors, and windows. Note the location of appliances such as ovens, refrigerators, and dishwashers. In the Advance, Electrical, plumbing, and vents should also be marked. This rough sketch will help you keep track of your measurements and ensure that you don't miss any critical details.
=> Pro tip: When you DIY measure kitchen, The layout you draw does not need to be perfect like Pro design, but the layout you draw should be clear and easy to understand. And you can use grid paper, which can make drawing the layout easier.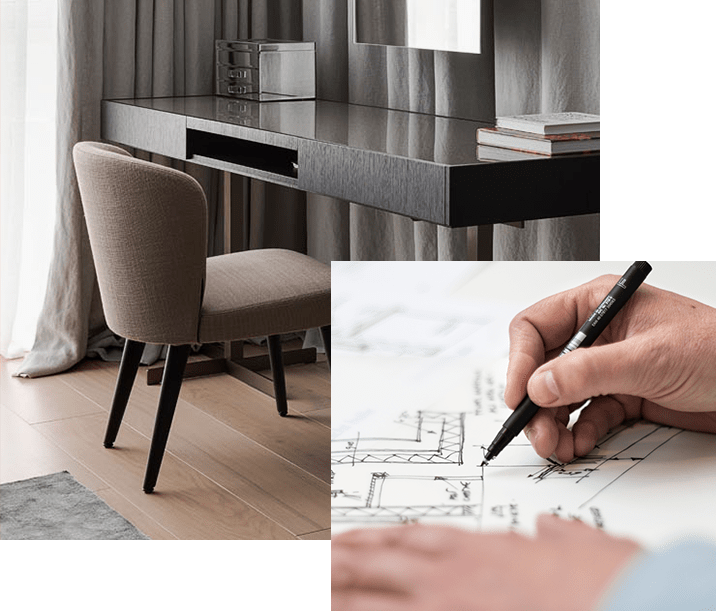 Take horizontal measurements
The second step is to take horizontal measurements. When you make measurements, you start from the left and work your way around the room, measure the length of each wall, and you need to be taken from wall edge to wall edge to get the total space. Ensure that you measure at the same height throughout the room for accuracy.
To measure openings like doors, windows, or vents… in your kitchen, you need to start from one underside of the trim to the other underside of the trim to get the correct measurements. Finally, Note all the measurements in your rough sketch. 
=> Pro tip: The trim or molding around your kitchen doors, and windows are not included in the measurement. All of the numbers should be written clearly and easy to understand. Rounded your measurements result to the nearest one-sixteenth of an inch.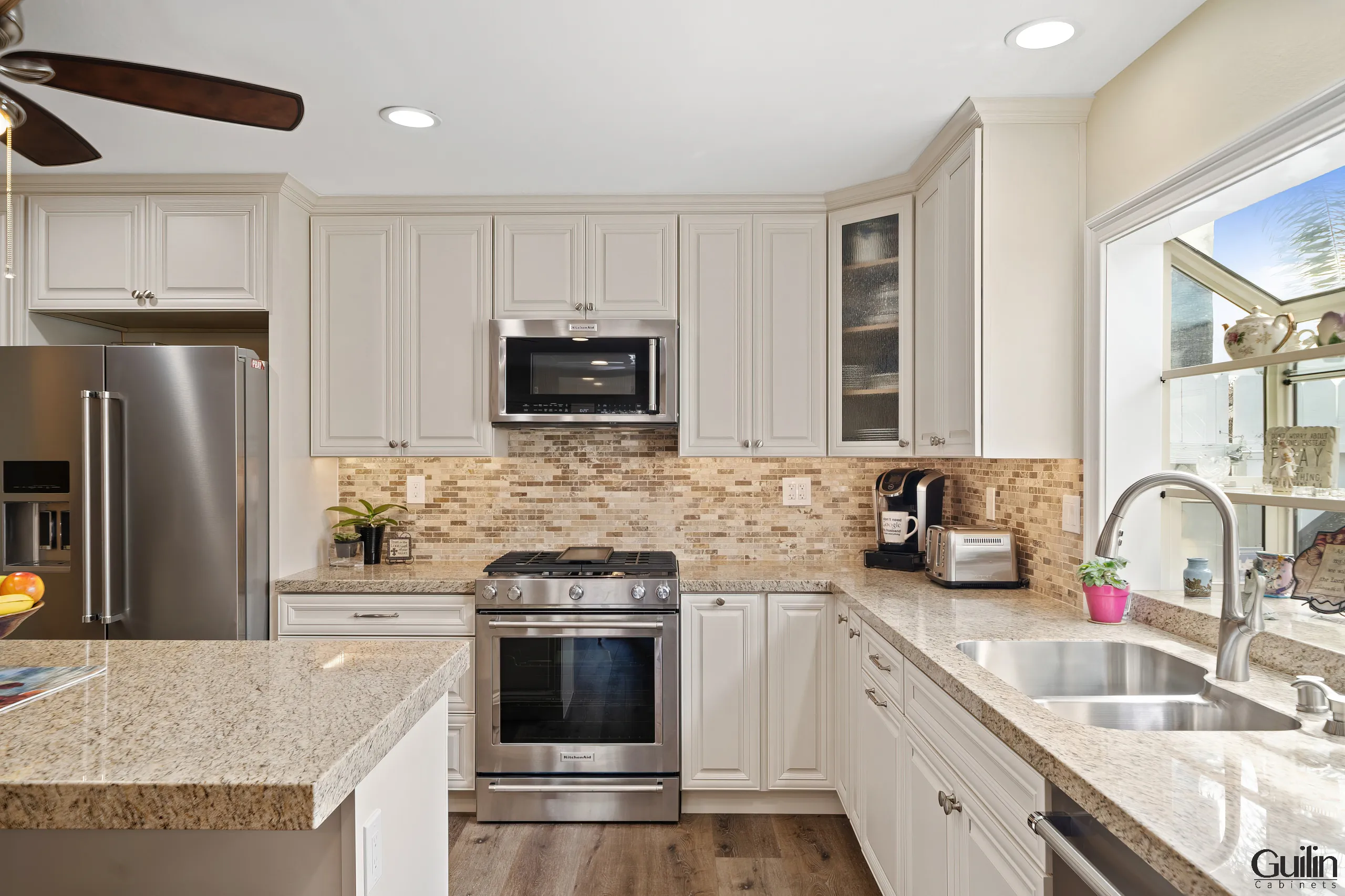 Take vertical measurements
Next, take vertical measurements. Start from the floor and measure the distance to the ceiling in several locations. Note if your ceiling is sloped, and if so, measure the highest and lowest points. In Addition, If your kitchen has soffits, don't forget to measure the height of any soffits or drop ceilings too.
The soffit is the small wall that hangs down from the ceiling in front of doorways, take soffits into your kitchen measurements. To measure soffits take from the floor to the underside of the soffit. Ceiling heights are typically 8 feet in older homes and 9 feet in newer homes. Some homes might have ceilings of 10 to 12 feet.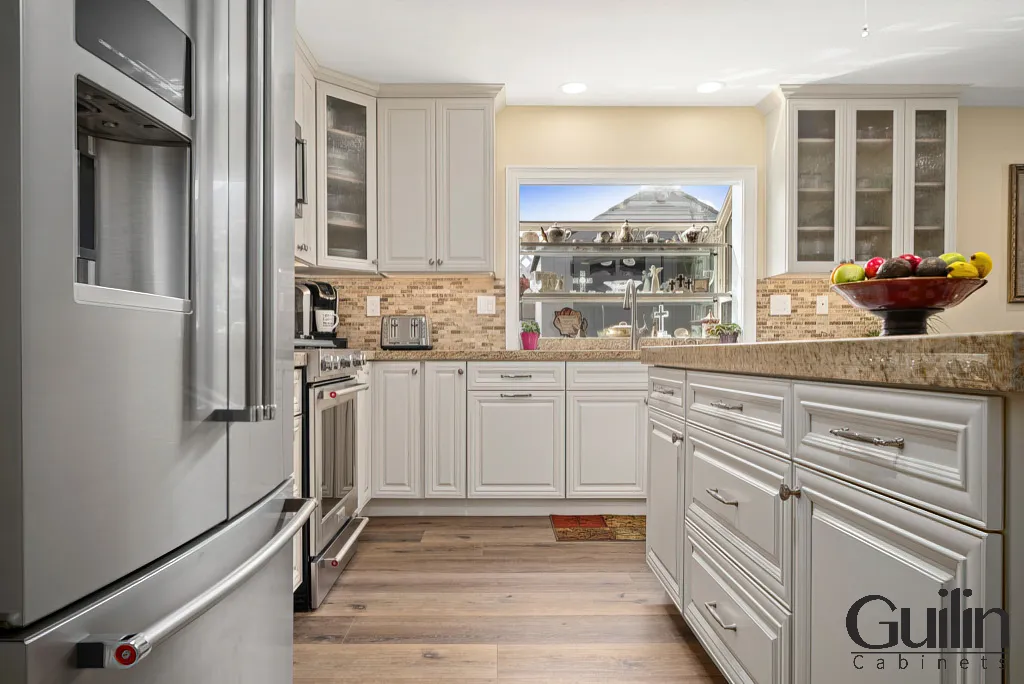 Measure doors and windows
Measure doors and windows. To measure a door or window, measure the height and width from inside the frame. Windows, Doors come in a variety of sizes, and shapes especially depending on styles, layout, and the age of the home, so it is best to make kitchen windows, and doors measurements twice.
The frames & trim of your kitchen Doors and windows should be excluded from measurements. Note if there are any obstacles, such as a knob or hinge, that may affect cabinet installation.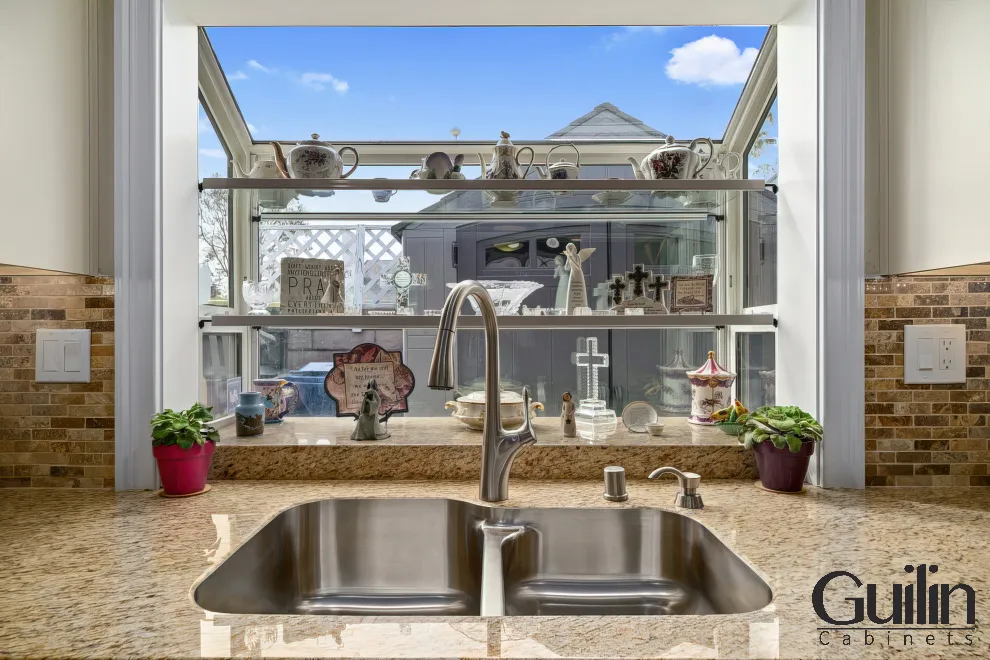 Measure for appliances
When measuring appliances, you need to ensure the new appliances will fit properly in the designated space. Make sure to note the location of electrical outlets, gas lines, and plumbing connections in the space. This will help you determine the best location for the appliance and ensure that the necessary connections can be made.
Here are some steps to follow when measuring for appliances:
Determine the location of electrical outlets, gas lines, and plumbing

Measure the width of appliances

Measure the height of appliances

Measure the depth of appliances

Check for additional clearance of appliances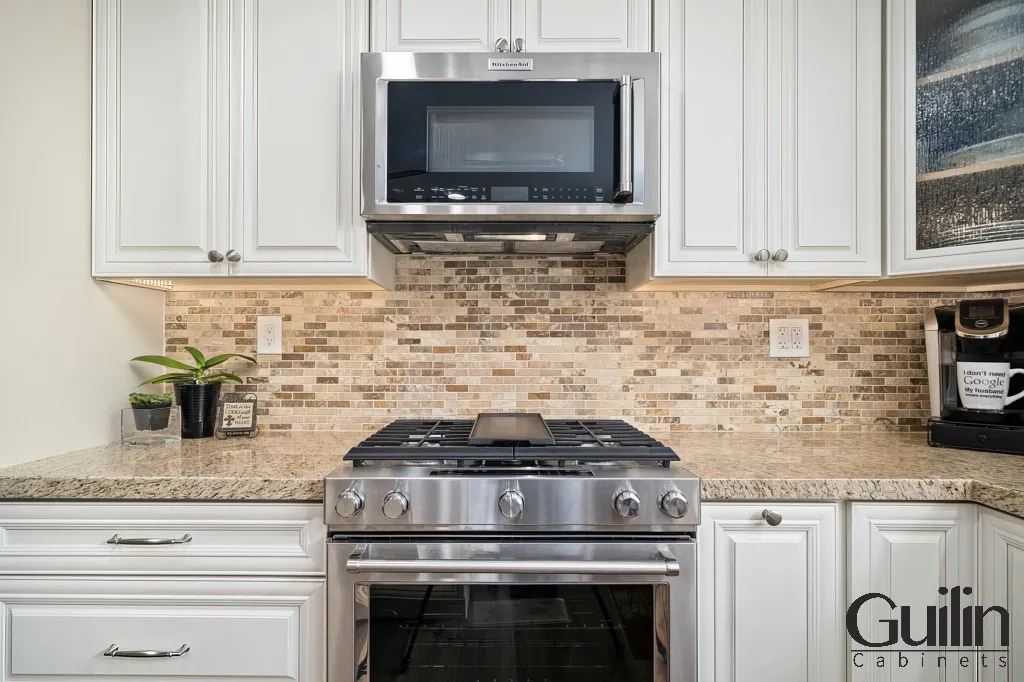 Measure existing cabinets
Measuring your existing kitchen cabinets is an important step in preparing for any kitchen renovation project. As the cornerstone of your kitchen, your cabinets play an essential role in the overall design and functionality of the space.
When measuring your cabinets, you'll want to be as precise as possible to ensure that everything fits perfectly. Depending on the cabinet's design, it might have additional features such as a toe kick, an oversized countertop, or a frameless door.
Here are some steps to follow when measuring your kitchen cabinets:
Step 1: Remove all Items from the Cabinets and make measure each feature.
Step 2: Take measurements of the width, depth, and height of the box of cabinets
Step 3: Measure the Interior dimensions of the cabinets
=> Pro tips: While measuring your cabinets, it's essential to keep a few things in mind to ensure precision and accuracy. Use a reliable tape measure and double-check your measurements to confirm their accuracy. Moreover, ensure that you account for 0.5 inches on the sides and an inch at the back of the cabinets for hinging purposes. This approach ensures that the new cabinets fit snuggly into the existing space and do not damage the walls.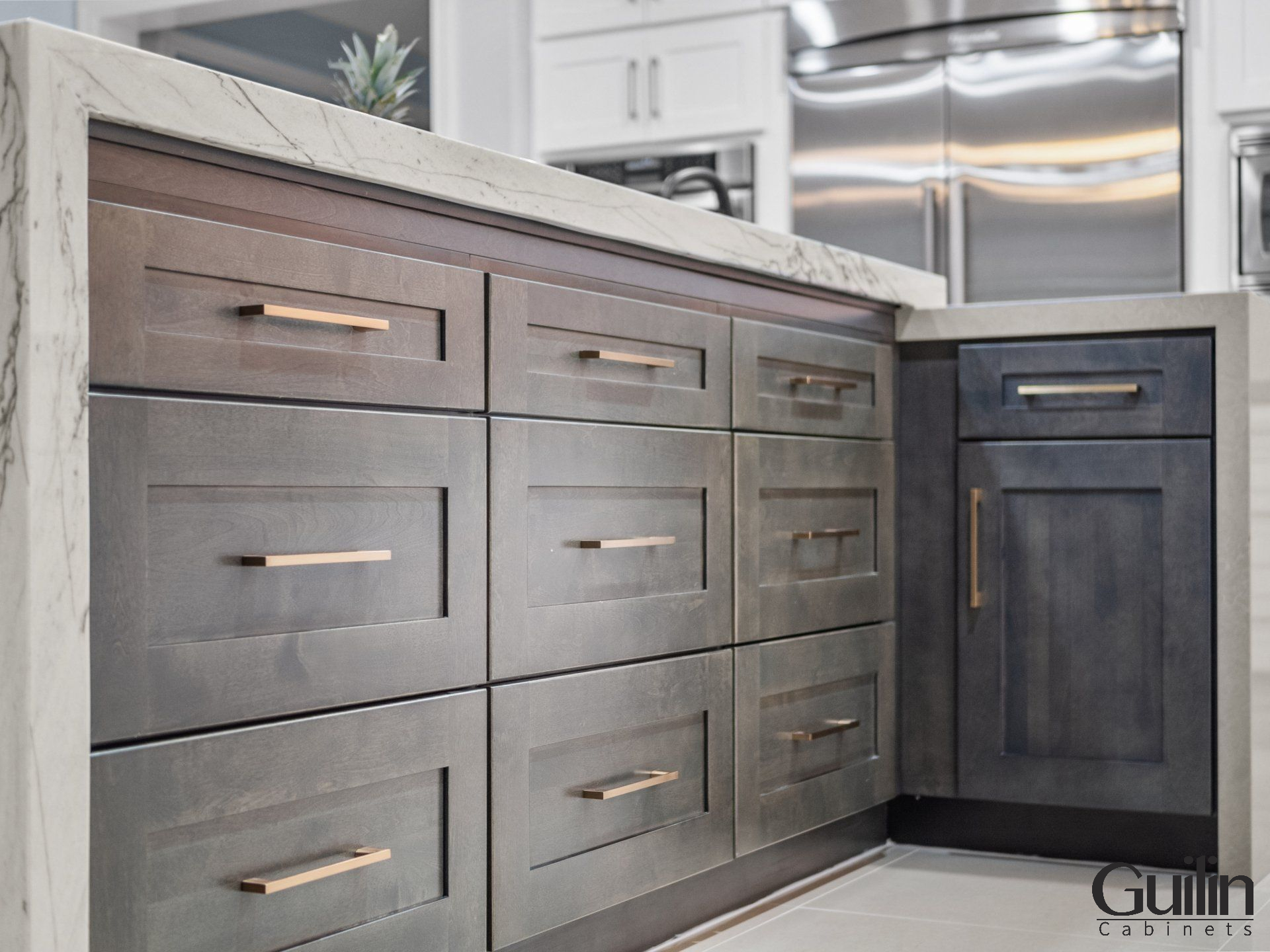 C. Common Mistakes to Avoid When Measuring Your Kitchen
Measuring your kitchen is an important task when planning your remodel or renovation your kitchen. However, it can be a hard task if you're not prepared or if you make common mistakes. Here are some common mistakes to avoid when measuring your kitchen, plus tips on how to avoid them.
Measuring inaccurately:
One of the most common mistakes when measuring a kitchen is not measuring accurately. This can lead to costly mistakes down the line, like ordering cabinets that don't fit or that are too small. To ensure accuracy, only use a high-quality measuring tape and measure from the corner to the opposite corner. Measure twice to be sure your measurements are correct. It's better to take a few extra minutes to measure twice than to end up with a costly mistake.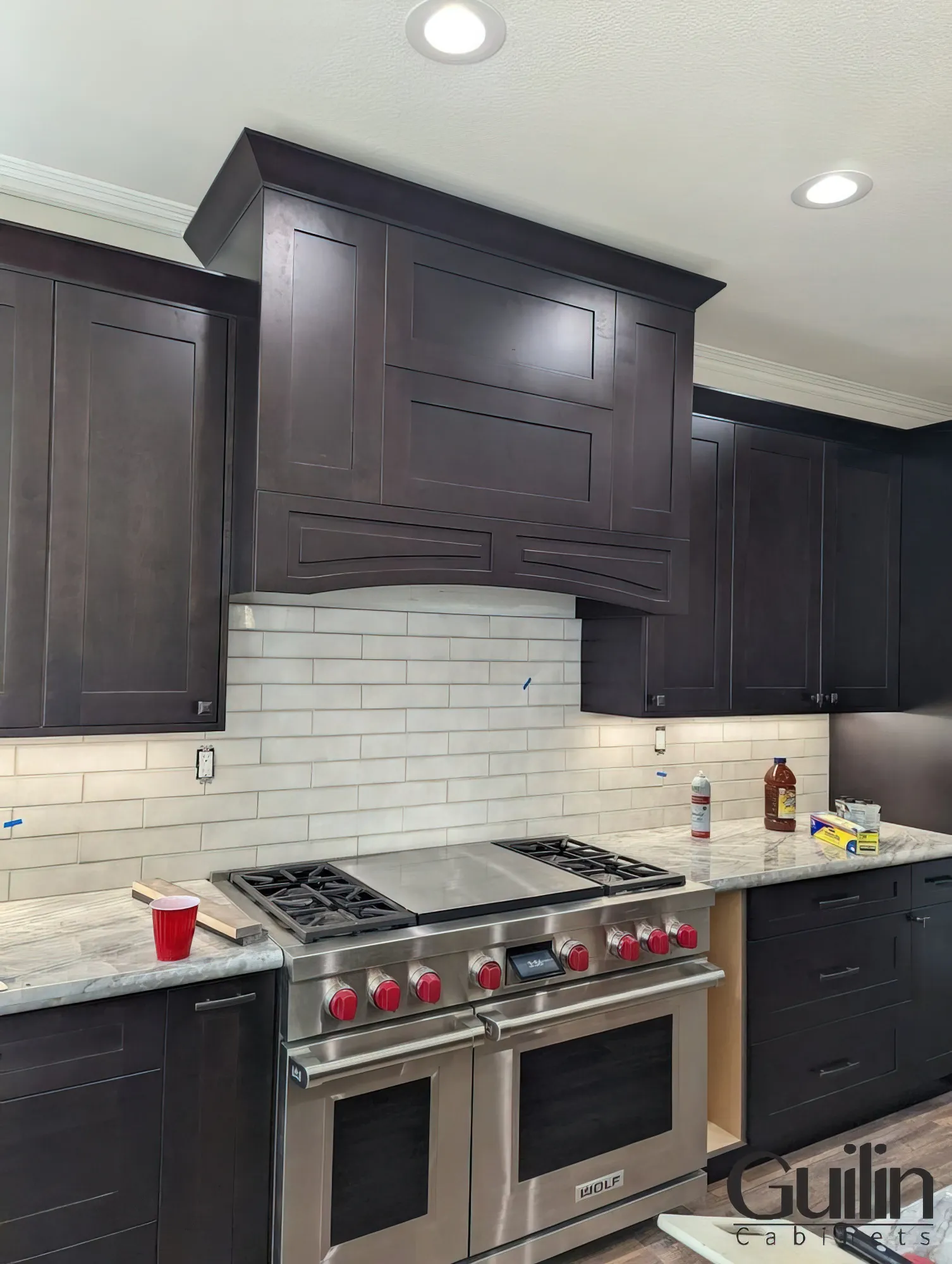 Not measuring every corner:
One of the other common mistakes people make when measuring their kitchen is failing to measure every corner. Don't assume that your kitchen is perfectly square, as even the slightest deviation can cause issues when installing cabinets and appliances, there may be gaps or misaligned cabinets, which can affect the overall look and functionality of your kitchen.
Measure every corner and angle are need to ensure a perfect fit for your cabinets and appliances. This can help you avoid costly setbacks, such as having to re-cut the countertops or cabinets, which can eat up both time and money.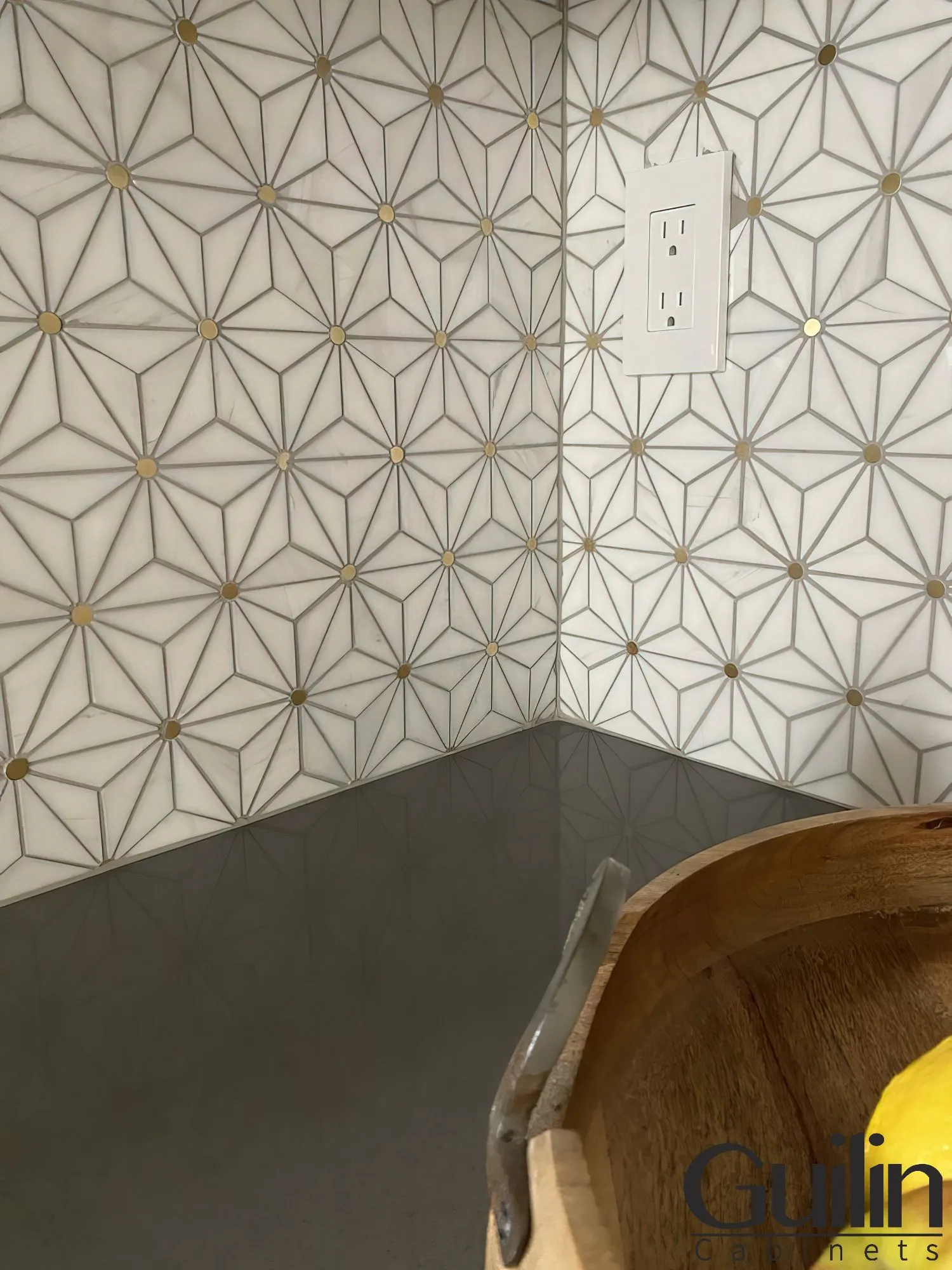 Pick up appliances before measurements:
Another common mistake is buying the appliances before making measurements. This can lead to problems like not having enough space for your fridge or stove. To avoid this problem, Before you buy any appliances for your kitchen. Make sure to measure the space where your appliances will go and take into consideration the size of the appliances themselves.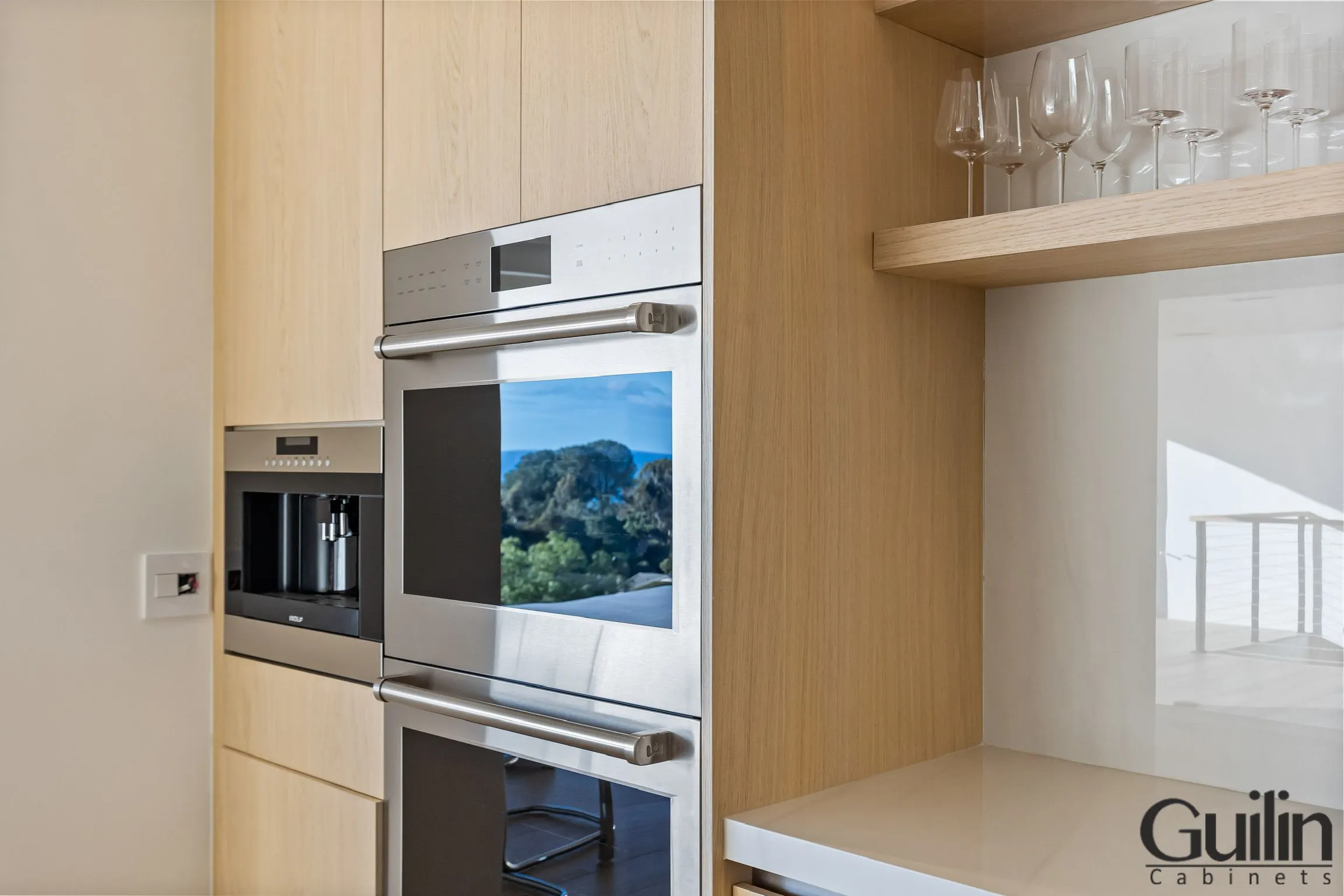 Forget measuring the ceiling height:
Another mistake when you measure kitchen is ignoring the ceiling height. Your ceiling height can impact the overall design of your new kitchen, and it's crucial to measure it correctly to ensure that your new kitchen cabinets fit perfectly. If the ceiling height is not measured correctly, you may face a problem with the installation of lighting fixtures, ventilation, and other ceiling fixtures.
Not factoring in the space for doors and drawers clearance:
You need to consider the amount of space needed for the doors and drawers to open fully without hitting other cabinets or appliances. This is especially important in smaller kitchens where space is limited. Make sure to leave enough space for doors and drawers to open fully without hitting other cabinets or appliances.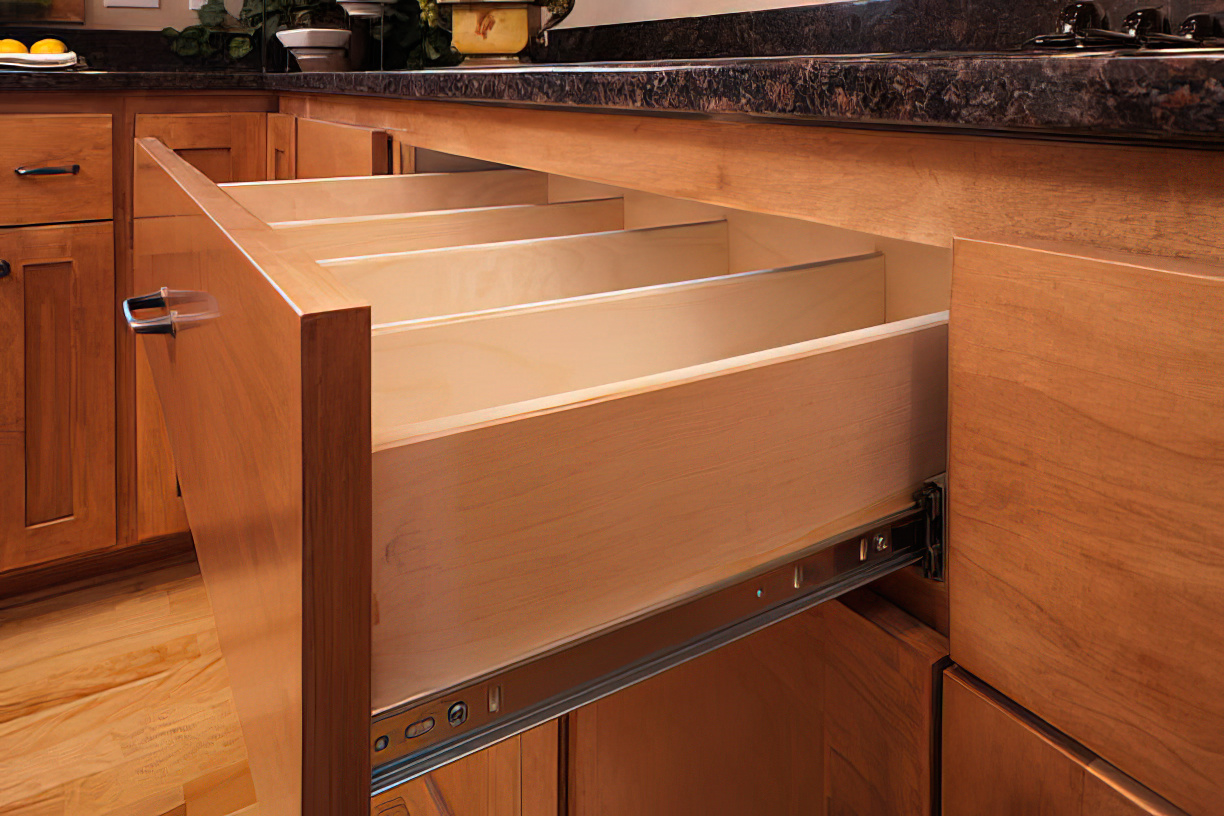 Not measuring for workflow clearance:
Another common mistake is not measuring for clearance. Make sure to measure the distance between the counters, cabinets, and appliances to ensure that there is enough room for you to move around and work in the kitchen.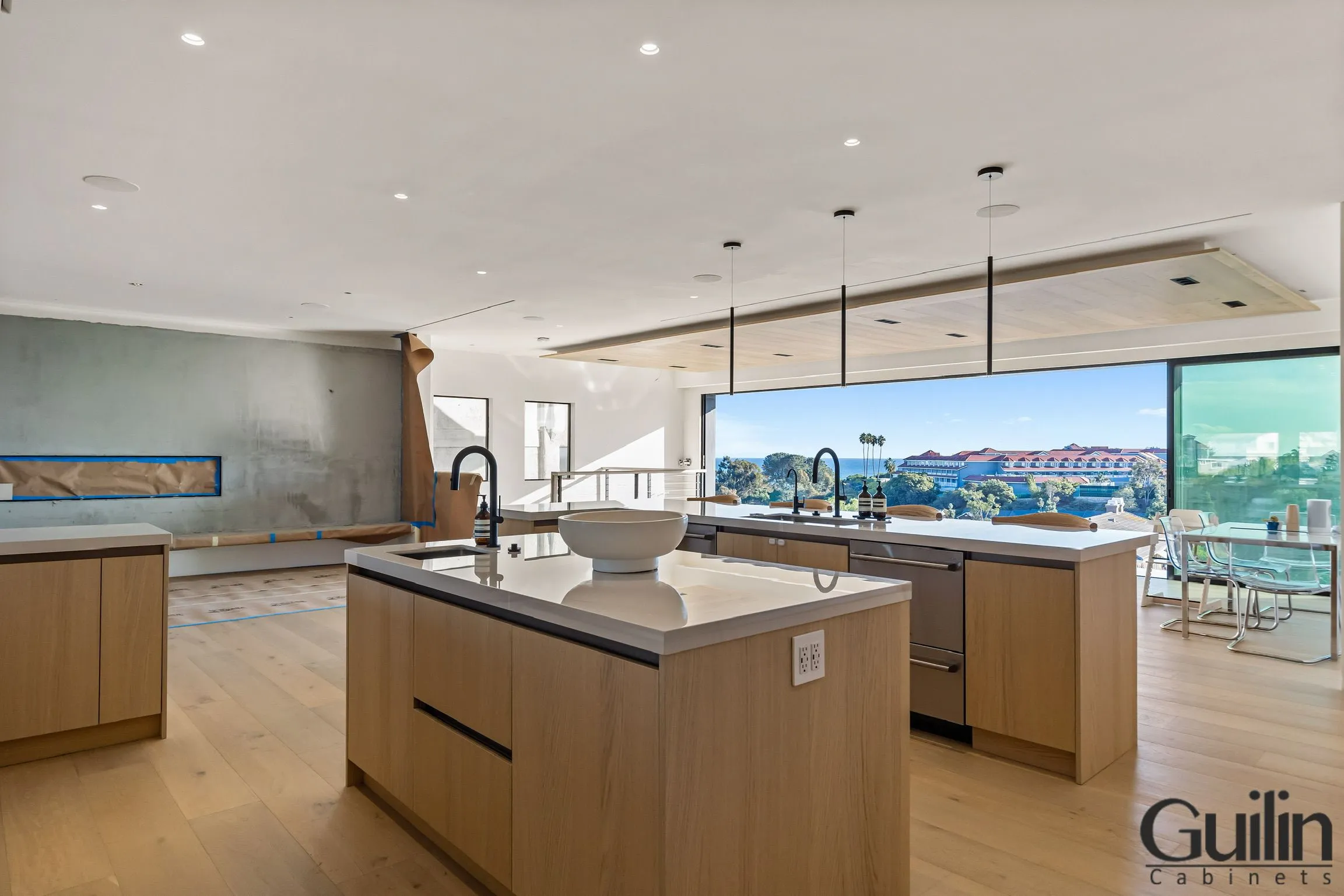 Not seeking professional:
Not seeking professional help or advice is a common mistake. If you're not familiar with measuring your kitchen, it's best to seek professional help. A professional kitchen contractor can offer you accurate and detailed measurements, which can save you from any costly mistakes.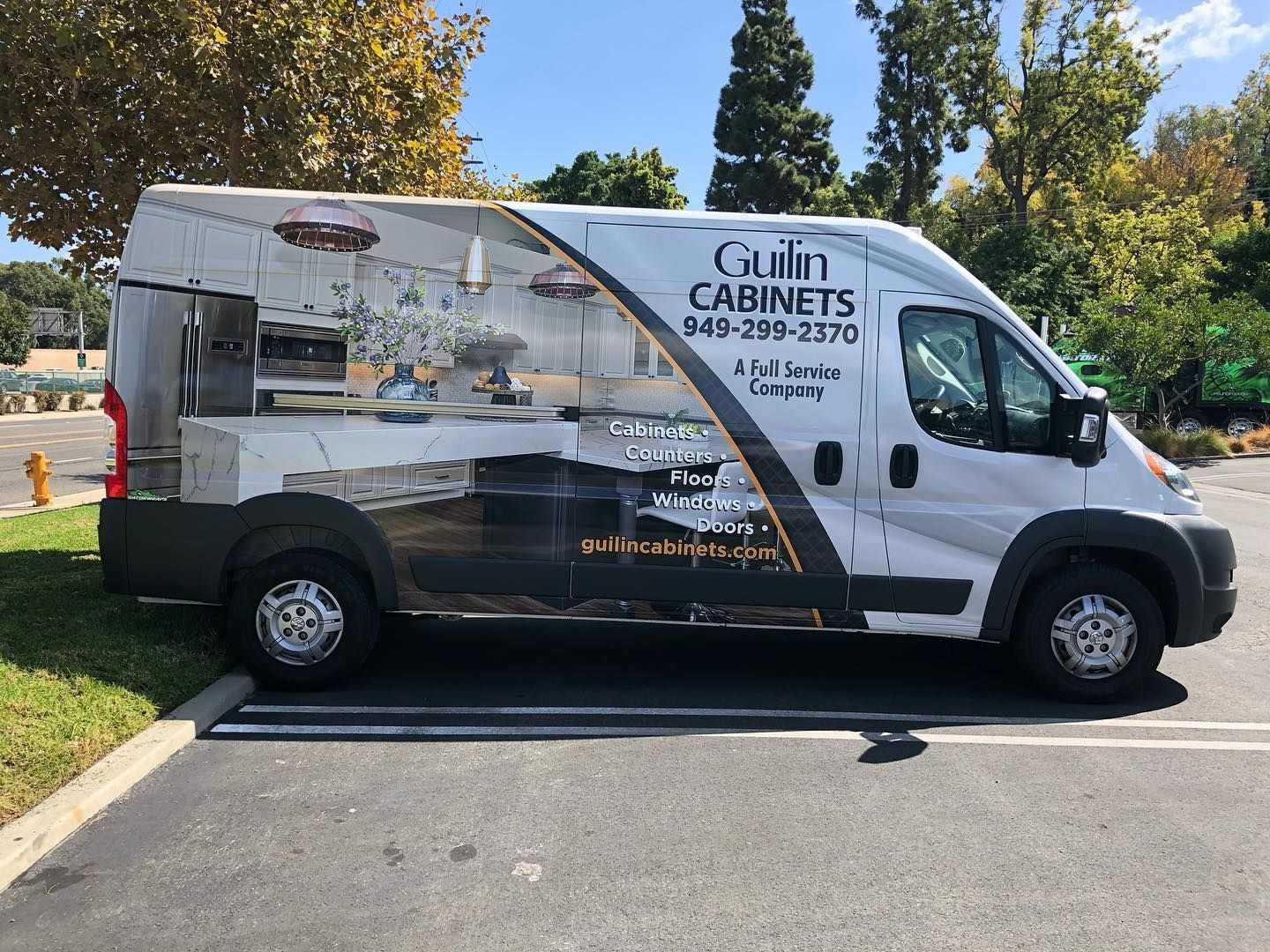 D. How to Choosing the Right Kitchen Cabinets
Why Choosing the right Cabinet for your kitchen is very important? 70 – 80 % of your Kitchen is Cabinets. They're the first thing people will notice when they enter the room, and they can make or break your kitchen's functionality. That way, Cabinets are a Foundation in the kitchen, an essential part of any kitchen, providing much-needed storage and organizing your kitchen space.
But they can also be the focal point of the kitchen, giving it a unique look and feel. With the right cabinets, you can make your kitchen the highlight of the entire house. That's why before making a purchase, it's essential to consider several factors to ensure that you're making the right decision.
Here are three essential factors to consider when choosing cabinets for your kitchen:
Depending on your kitchen layout
Depending on your kitchen design styles
Depending on the measurements of your kitchen 
Depending on your kitchen layout:
Firstly, the kitchen layout plays a crucial role in determining the type of cabinets that will work best. The layout of the kitchen will help determine the size, shape, and number of cabinets required and their positioning. Kitchen layouts can be L- shaped, u-shaped, g-shaped, one-wall, or gallery layout. The cabinets will be configured depending on the layout you want to be. 
Here are some common kitchen layouts: 
Depending on your kitchen design style:
Secondly, the kitchen design and overall aesthetic should be taken into account when selecting cabinets. For example, if you're going for a contemporary look, you may want to choose cabinets with sleek, clean lines and minimalist hardware. On the other hand, if you're going for a classic or farmhouse style, you may want to choose cabinets with intricate details or distressed finishes.
Here are some common kitchen styles: 
Contemporary Kitchen Style: sleek, clean, function over form.
Modern Kitchen Style: sleek, clean, balanced form and function.
Traditional Kitchen Style:  timeless aesthetic
Industrial Kitchen Style: touch, raw, bold space
Coastal Kitchen Style: fresh air, natural light, and a healthy lifestyle.
Scandinavian Kitchen Style: natural wood cabinetry, clean lines, airy.
Rustic Kitchen Style: Tuscan villa, log cabin
Cottage Kitchen Style: family-friendly, warm, cozy
Country Farmhouse Kitchen Style: back to the 18th century
=> See Our Work: OUR WORK – + 180 COMPLETED REMODEL PROJECTS By Guilin Cabinets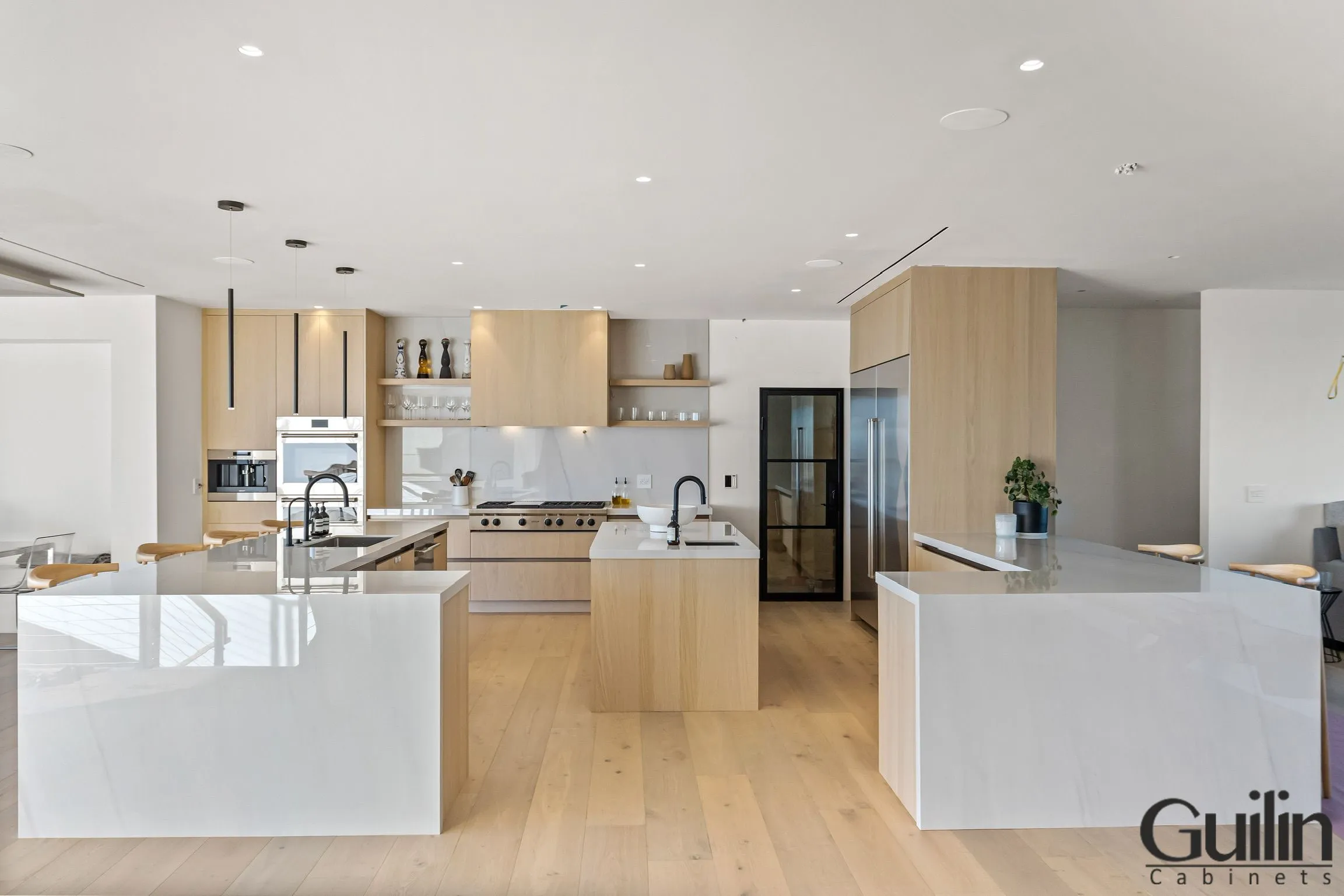 Depending on the measurements of your kitchen:
Lastly, the measurements of your kitchen will impact the size and configuration of your cabinets. Accurate measurements of the space and appliances that the cabinets will accommodate are crucial. This will ensure the elimination of the chances of buying cabinets that are too large, too small, or just not proportionate to the kitchen design.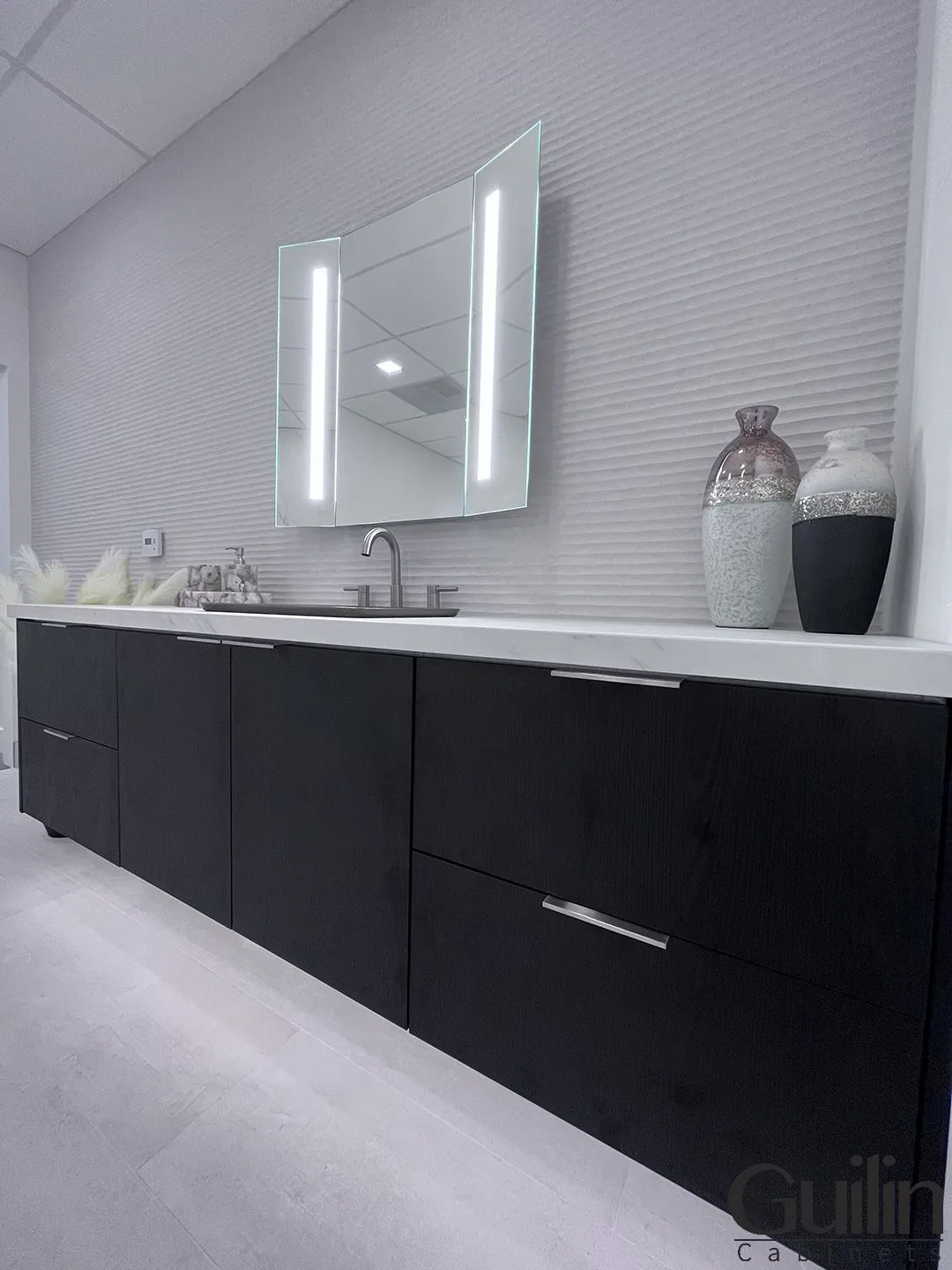 About Standard Cabinet Measurements:
Standard Cabinet Measurements are vital to know if you're planning a kitchen renovation. The size of cabinets can make or break the functionality of your kitchen. The term "standard" may vary depending on what country or region you live in.
However, in the United States, most cabinets come in standard sizes. There are some common sizes that you can expect to find. Here are the standard measurements for base cabinets, wall cabinets, and pantry cabinets:
For base cabinets:
Height: 34 1/2 inches (or 87.6 cm)
Depth: 24 inches (or 61 cm)
Width: 12, 15, 18, 21, 24, 27, or 30 inches (or 30.5, 38.1, 45.7, 53.3, 60.9, 68.6, 76.2 cm)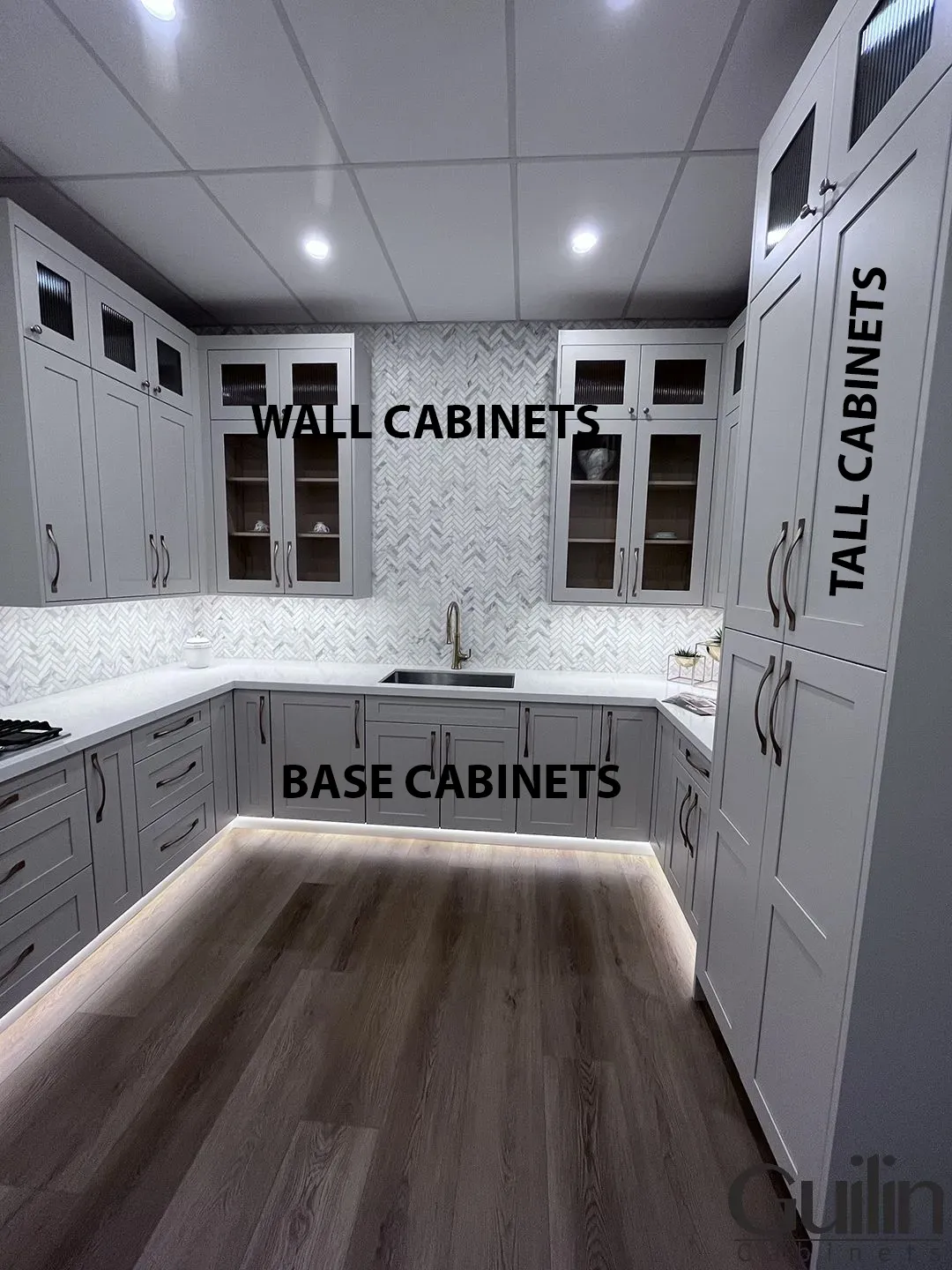 For wall cabinets:
Height: Typically 12 to 42 inches (30.48 to 106.68 cm)
Depth: Typically 12 inches (30.48 cm)
Width: Can range from 9 to 36 inches (22.86 to 91.44 cm) in increments of 3 inches (7.62 cm)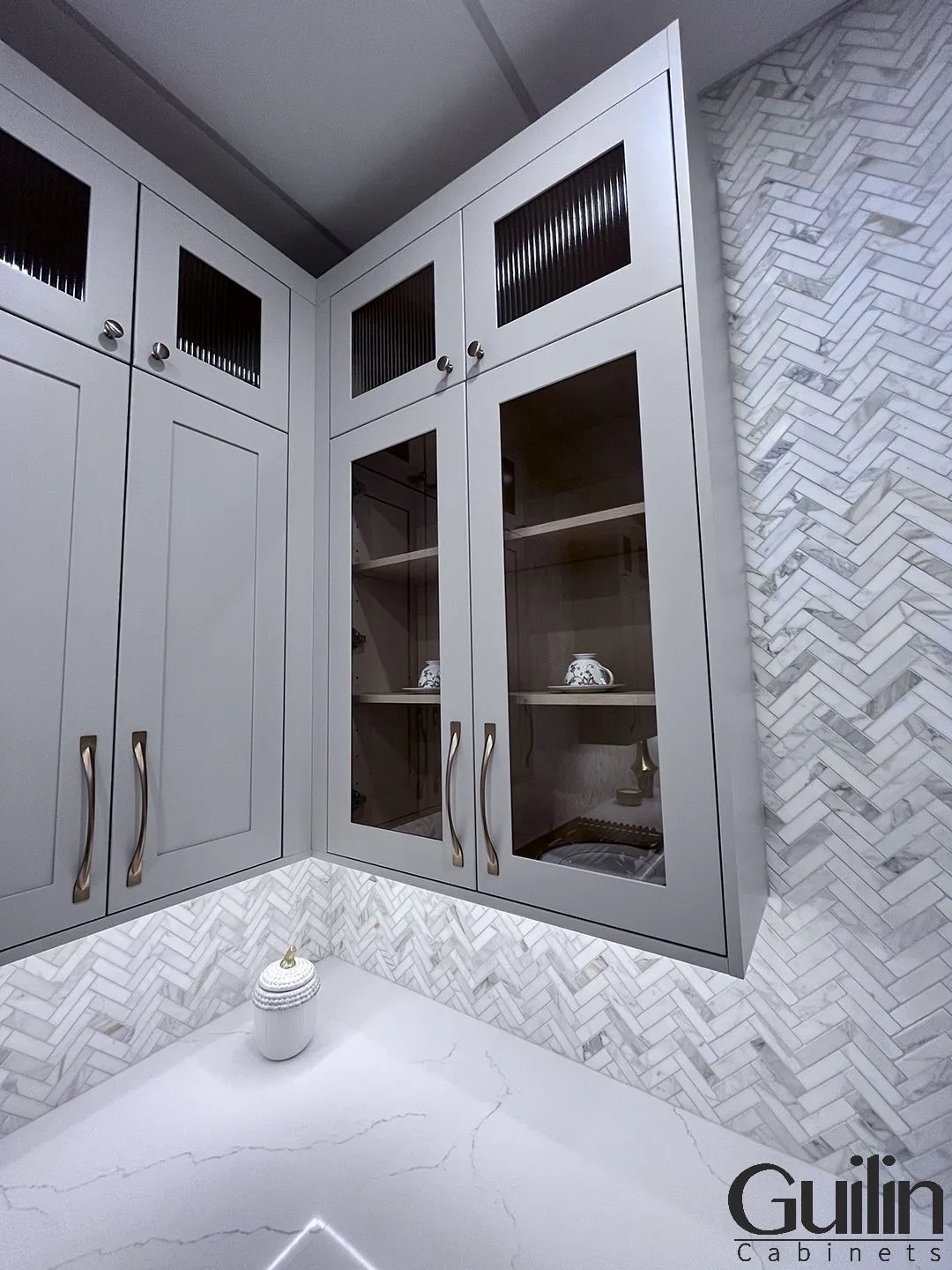 For Tall cabinets:
Height: Typically 84 to 96 inches (213.36 to 243.84 cm)
Depth: Typically 24 inches (60.96 cm)
Width: Can range from 18 to 36 inches (45.72 to 91.44 cm) in increments of 3 inches (7.62 cm)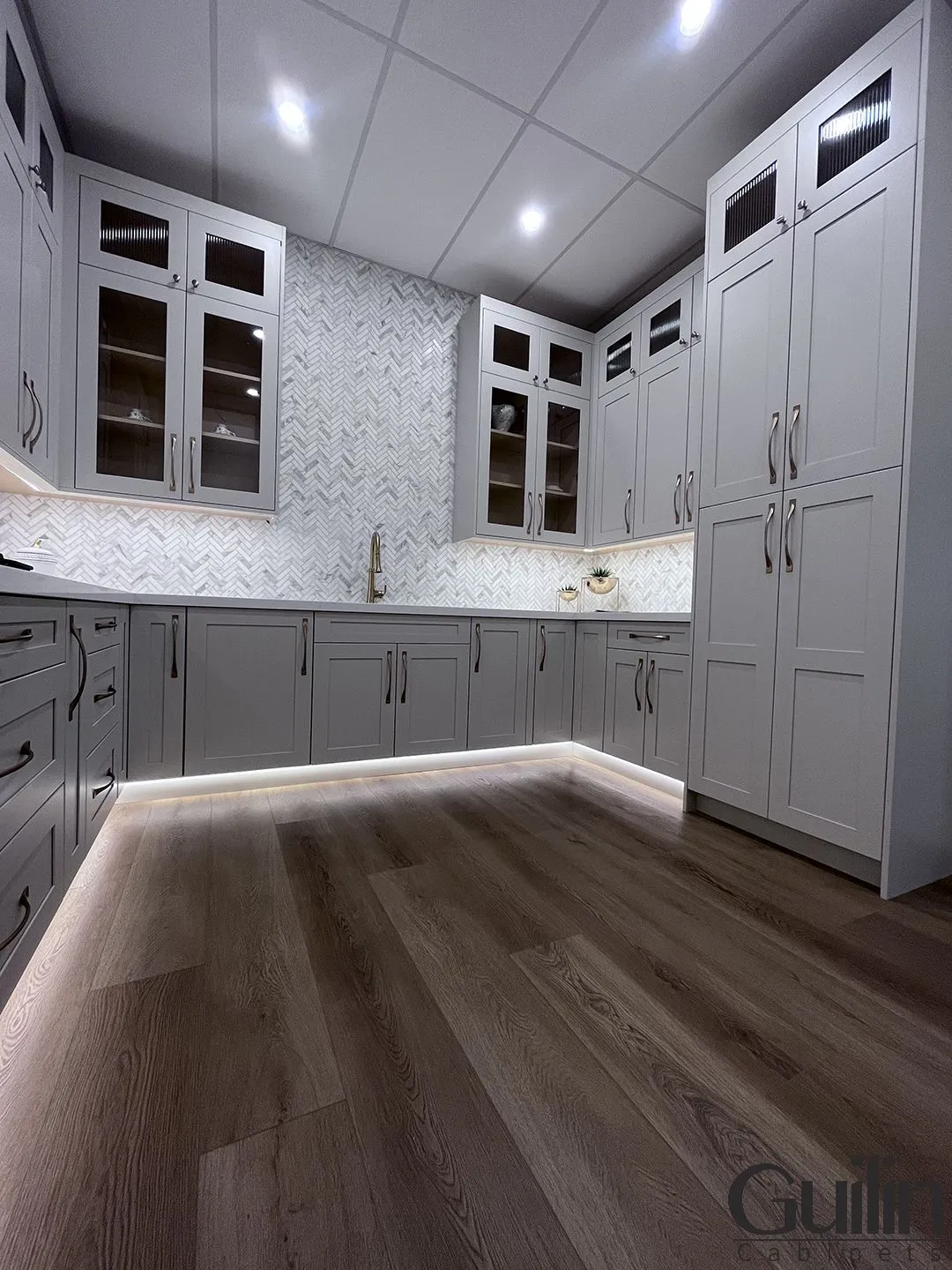 These measurements are based on standard sizes, but it's important to note that custom cabinets can be made to fit your specific kitchen dimensions. Additionally, some manufacturers may offer variations on these sizes, so it's important to double-check the measurements before making a purchase.
E. Other Considerations When Designing a Kitchen Layout
Designing a kitchen layout is a complex and delicate process, requiring careful consideration of multiple factors such as work triangle, traffic flow, kitchen zones, counter space, lighting, and ventilation. With precise measurement and a well-designed layout, you can prevent potential hazards, optimize workflow, and create a functional and beautiful space that meets your family's needs.
Work triangle: The work triangle is an essential element that determines the placement of your major appliances, including the stove, sink, and refrigerator. A good kitchen design ensures that the distance between the three points is neither too long nor too short, allowing for efficient movement and easy access. The total distance of the work triangle should not exceed 26 feet. 
Traffic flow: Another factor to consider is traffic flow in the kitchen. This involves the way people move throughout the space, and it's essential to ensure that the kitchen is easy to navigate and doesn't obstruct access to other rooms or entrances. 
Kitchen zones: This is the area where you will do most of your cooking, so it should be located near the stove or cooktop. This zone should include your pots and pans, cooking utensils, and any other items you need for cooking, such as oils and spices, designated areas for specific tasks, such as cooking, baking, and cleaning, and make it easier to organize your space. By designing your kitchen in zones, you can create a more functional and organized space. This makes it easier to find what you need and reduces the time and effort required to prepare and cook meals.
Counter space: Another important consideration is counter space, as it enables you to have enough room for meal prep, serving, and storage. Adequate lighting is also vital, as it can make or break your kitchen design. 
Ventilation: Proper ventilation is also essential, as it keeps your kitchen fresh, reduces odors, and prevents moisture buildup.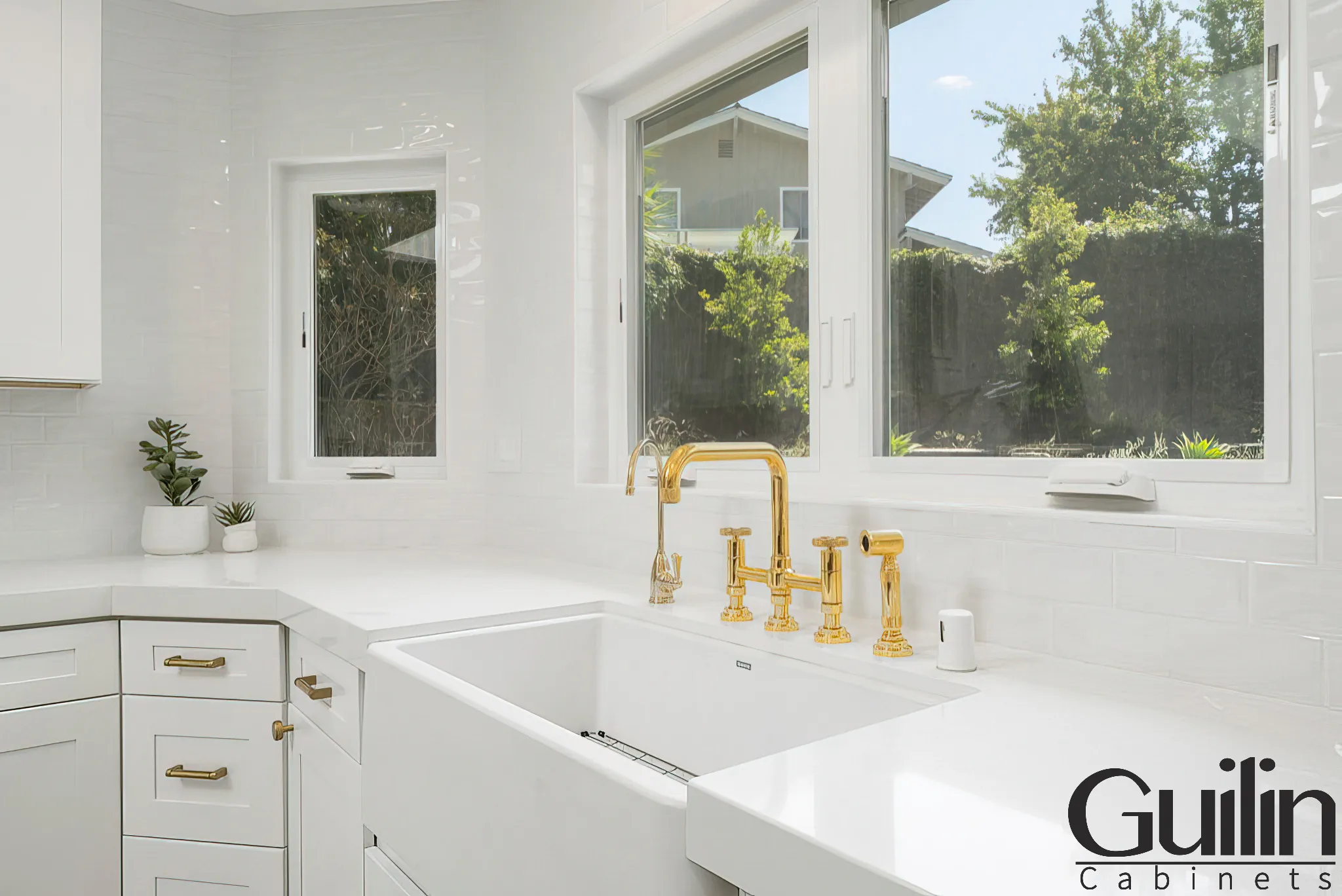 FAQs About How to Measure Your Kitchen Before Designing the Layout?