What Cabinet Refacing Meaning? Are you tired of staring at the same old outdated cabinets in your kitchen or bathroom? Do you want to give your space a fresh new look but don't want to spend too much money on a complete overhaul? Give a try cabinet refacing, a cost-effective way to transform your cabinets without taking too much money.
Understanding where to start when it comes to cabinet refacing can be overwhelming, but fear not. In this blog post, we'll help you know about the pros and cons of refacing kitchen cabinets, guide you through the process and provide you with all the information you need to get started on your cabinet-refacing journey. Say goodbye to dull and outdated cabinets and hello to a refreshed and modern space with cabinet refacing!
=> Read More: How to Find Affordable Cabinet Refacing Contractor Near My Home?
What is Cabinet Refacing?
Cabinet refacing is an innovative and cost-effective alternative to a full cabinet replacement. It is a process of transforming the appearance of your kitchen cabinets by upgrading the doors, drawer fronts, and hardware while keeping the existing cabinet boxes. This method offers homeowners a practical solution to revive their dull and outdated kitchen cabinets without wasting materials or undertaking a major renovation.
=> Related Service: Refacing Cabinets Services in Irvine California | Breathe New Life into Your Cabinets

=> See More Remodel Before and After here
3 Major Options of Cabinet Refacing Services:
There are three main types of cabinet refacing, each offering its own unique benefits and drawbacks. Here's a closer look at each one:
Refinish or RePaint Existing Cabinet Doors and Drawer Fronts
One of the simplest and most affordable ways to reface your cabinets is to refinish or paint the existing cabinet and drawer fronts. This involves removing all hardware, sanding down the surface to ensure an even finish, and then applying a new coat of paint or stain. This type of refacing is great if your cabinets are in good condition but the finish is outdated or damaged.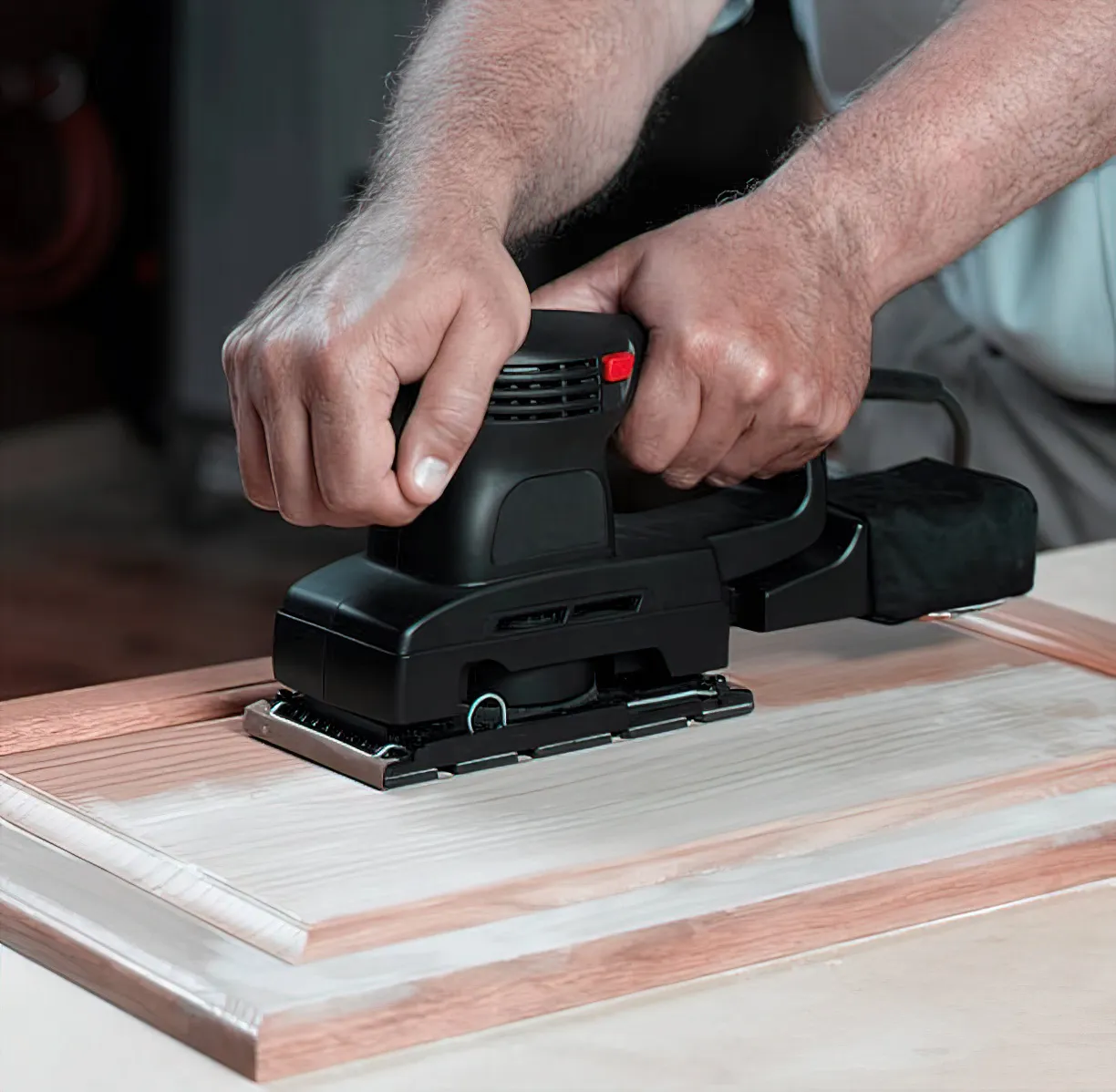 Install Brand New Coast Layer Over Existing Cabinet Door and Drawer Fronts
Another option is to install a new wood veneer or laminate over the existing cabinet and drawer fronts. The existing surface is cleaned and lightly sanded, and then the new veneer or laminate is applied over it. This type of refacing can be a good option if you want to keep the same cabinet layout but want to update the look and feel of the cabinets.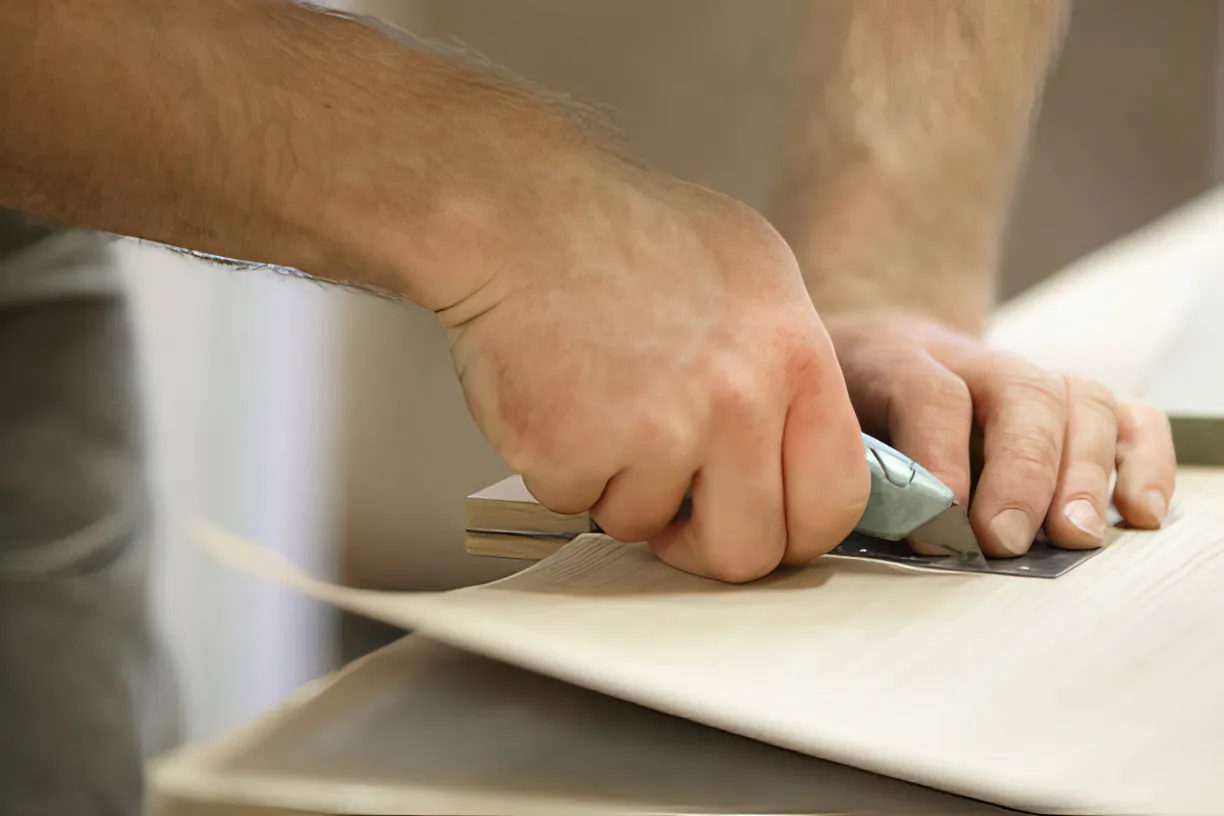 Install Completely New Cabinet Doors, Drawer Fronts, Hardware
The most extensive type of cabinet refacing involves installing completely new cabinet doors and drawer fronts. This option gives you the most flexibility in terms of style and design since you can choose from a wide range of materials, finishes, and hardware. This type of refacing is ideal if your cabinets are in poor condition or if you want to completely transform the look of your kitchen.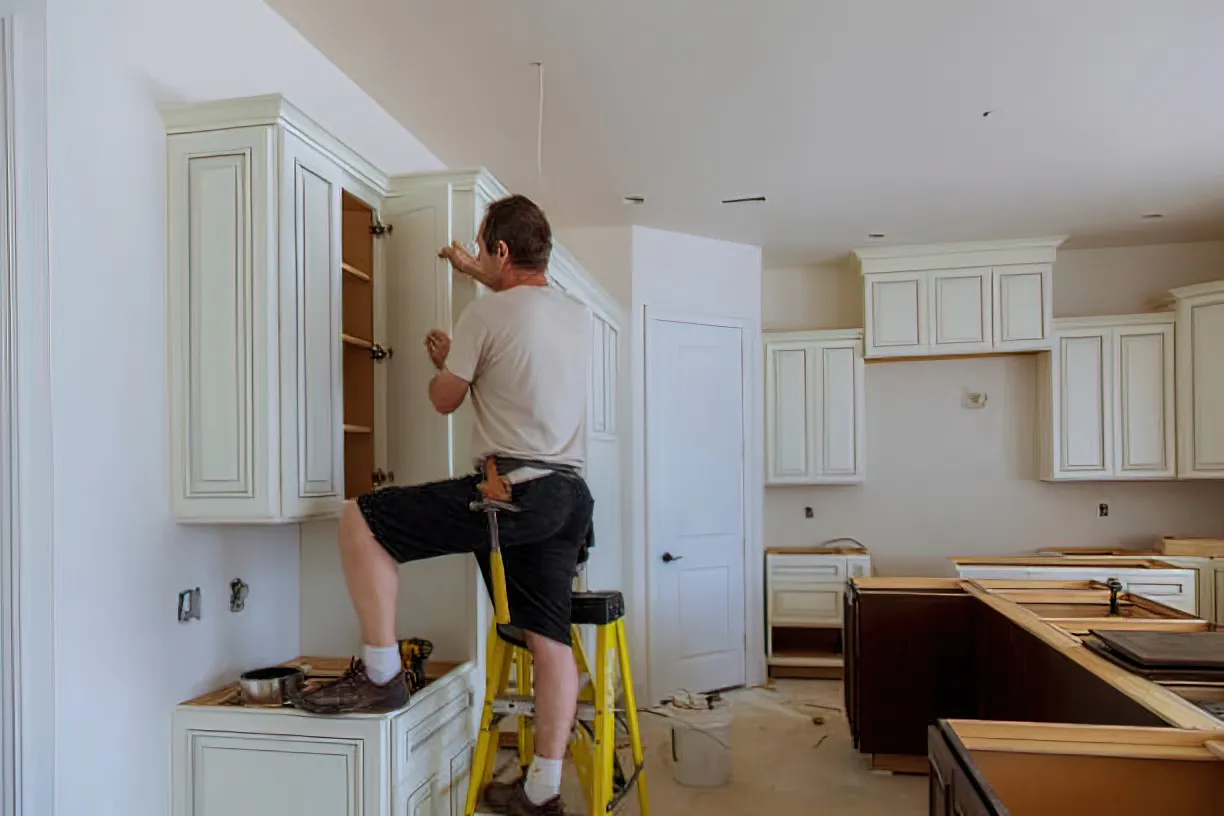 Refacing vs Replacement Cabinets: What Difference?
Refacing involves keeping the existing cabinet boxes and replacing the doors, drawer fronts, and hardware while replacing involves removing the old cabinets and installing entirely new ones. Refacing is typically less expensive and quicker, but replacing allows for more customization and potentially higher-quality materials. A consultation with a professional can help determine the best option for a specific situation.
The biggest difference between cabinet refacing vs replacement:
Cabinet refacing: Still keeping the existing cabinet boxes and replacing the doors, drawer fronts, and hardware
Cabinet replacement: Removing the old cabinets and installing entirely new ones
=> Read More: Refacing vs Replacing Cabinets: Which is Better for Your Kitchen?

The Process of Cabinet Refacing?
Cabinet refacing is a cost-effective and time-efficient way of renovating your kitchen, giving it a whole new look without replacing all of the cabinets. It involves giving your cabinets a facelift by replacing their doors and drawers while retaining the cabinet boxes. But you don't know how does refacing cabinets work? Read more Below, we will delve into the cabinet refacing process, discussing each step in detail and highlighting the reasons why it is the perfect solution for homes in need of a facelift.
4 Step of how cabinet refacing work:
Planning and Design
Removal and Preparation
Installation of New Doors and Drawers
Final Touches to The New Refaced Cabinets
Step 1: Planning and Design
The first step and most important step in cabinet refacing is planning and design. This involves assessing the current state of your cabinets and identifying the style, material, and color you want to achieve. You can work with a professional cabinet refacing team to discuss your options and what will work best for your kitchen. The planning and design phase sets the stage for the entire process, giving you a clear vision of the outcome you want to achieve.
=> Related Article: How to Measure Kitchen For Designing Ideal Layout?
In the Planning stage, you need to:
Assessing the current state of your cabinets.
Identifying the style, material, and color of your cabinets.
Choose the type of refacing cabinets you want.
Planning your budget and listing down all you want a paper
Find a professional cabinet refacing contractor.
Giving to your cabinet refacing contractor a clear vision of the outcome you want to achieve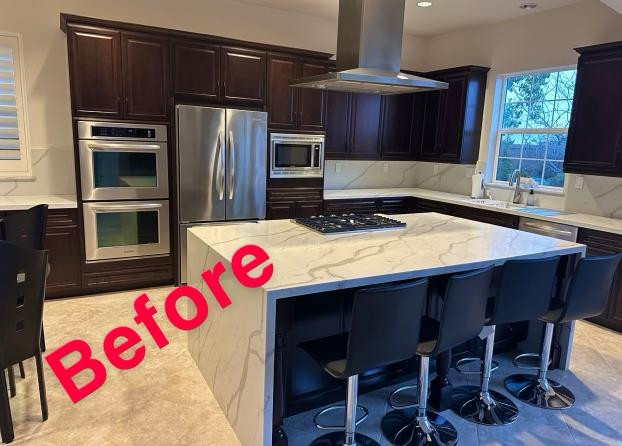 Step 2: Removal and Preparation
Once you have a design plan in place, the next step is your refacing cabinet contractor will send their team to your home to remove the existing doors, drawers, and hardware in preparation for refacing and resurfacing them. This may involve sanding and cleaning the cabinet's exterior to create a smooth surface for the new doors and drawers to go on.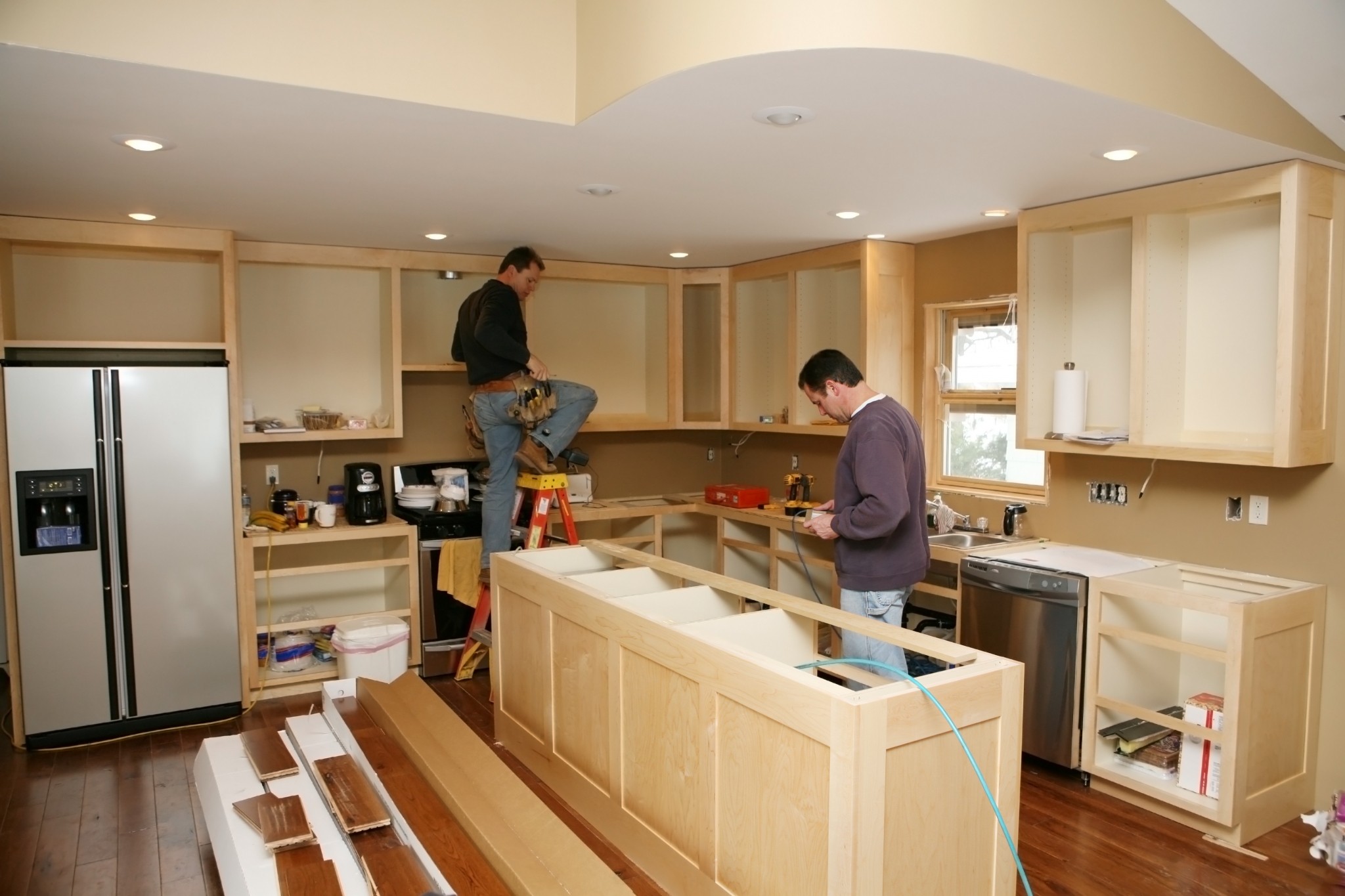 Step 3: Installation of New Doors and Drawers
The next step is the contractor will install the new doors and drawers. This is where your design plan comes to life. You have the option of choosing from various materials, styles, and finishes, giving your cabinets a fresh and modern look. The installation process will take a few days, but you'll be amazed at how quickly your vision turns into reality.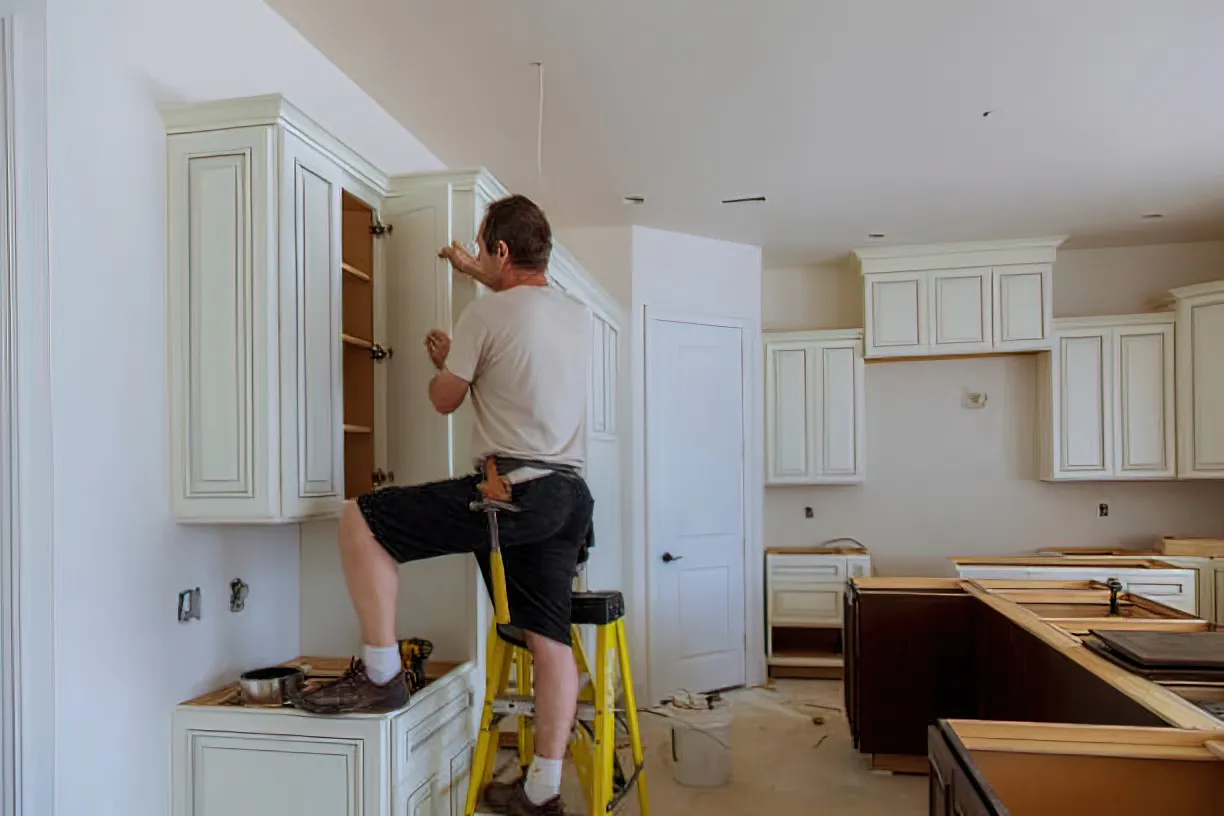 Step 4: Final Touches
After installing the new doors and drawers, the final touches are added, including the hardware, such as the handles, knobs, and hinges. This completes the cabinet refacing process, and you can now enjoy a newly transformed kitchen without the stress and mess of a complete cabinet replacement.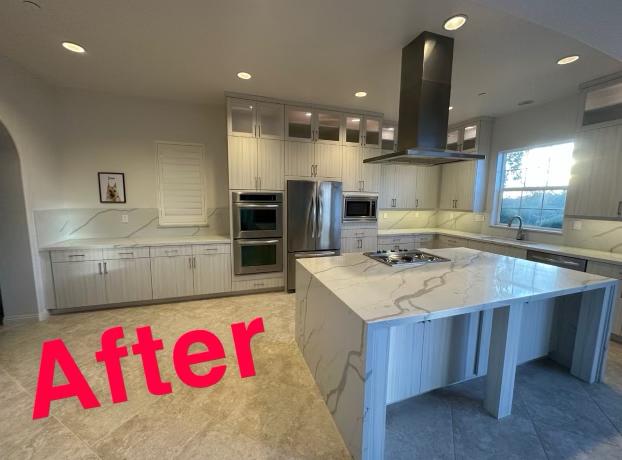 The Benefits of Cabinet Refacing?
Cabinet refacing offers several benefits over a complete kitchen remodel. Firstly, it comes with an eco-friendly choice, making it an affordable solution for those on a tight budget. Secondly, it is a quicker process since the cabinet boxes are left intact, which means that there will be no need for extensive demolition or construction work. This means you can have a new-look kitchen in a matter of days, not weeks. Cabinet refacing is a popular method to update the look of your kitchen without the need for an expensive renovation.
=> Read full: Refacing Cabinet Solution: Pros & Cons – Solve All Your Problems
Cabinet refacing offers many benefits, including:
Environmentally Friendly
Fast and Convenient
Increase Resale Value
Keep the Orginal Layout of Your Kitchen
Environmentally Friendly
First and foremost, cabinet refacing is an eco-friendly choice for home improvement. Instead of contributing to the growing problem of waste and pollution by tearing out perfectly good cabinets and sending them to the landfill, you can give your existing cabinets a second life. This saves valuable resources and energy and reduces your overall environmental impact.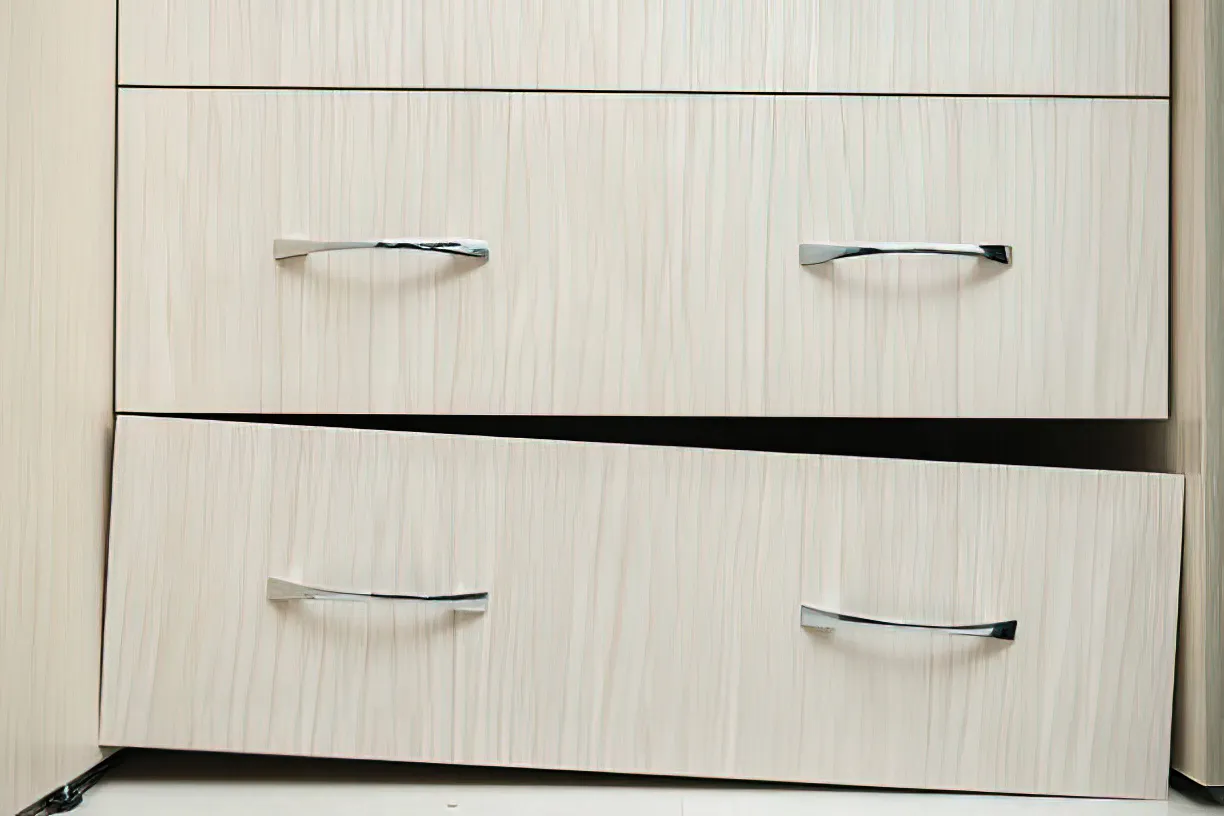 Fast and Convenient
Not only is cabinet refacing more environmentally friendly, but it is also a much quicker and less disruptive process than a complete renovation. Refacing can often be completed in just a few days, whereas a full renovation can take weeks or even months. This means you can enjoy your beautiful new cabinets without the inconvenience of a lengthy construction project.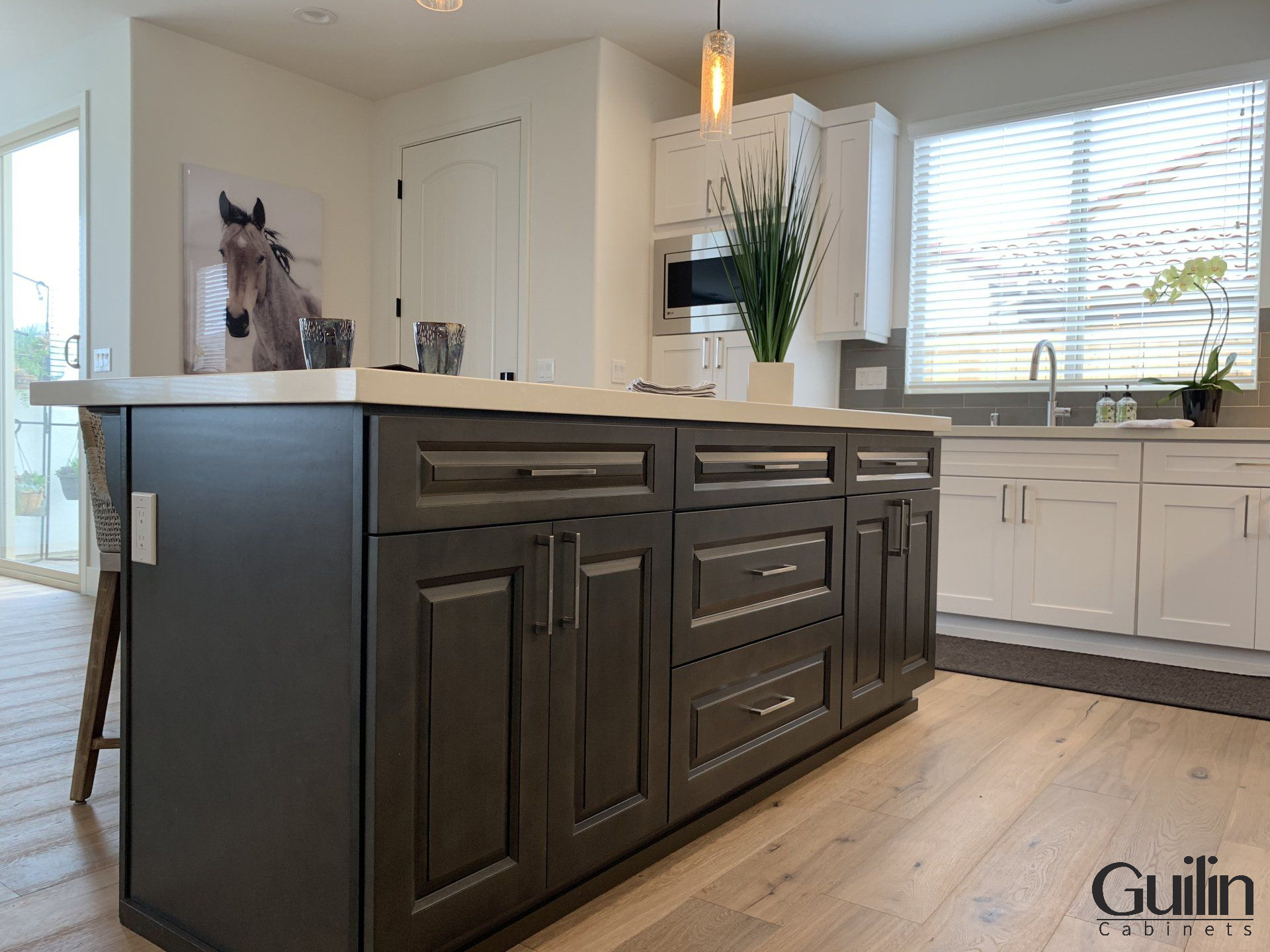 Keep the Orginal Kitchen Layout
Refacing helps keep the base cabinets intact and therefore doesn't need for new plumbing, electrical, and gas connections to be made. This translates to reduced installation costs and less overall disruption during the renovation process.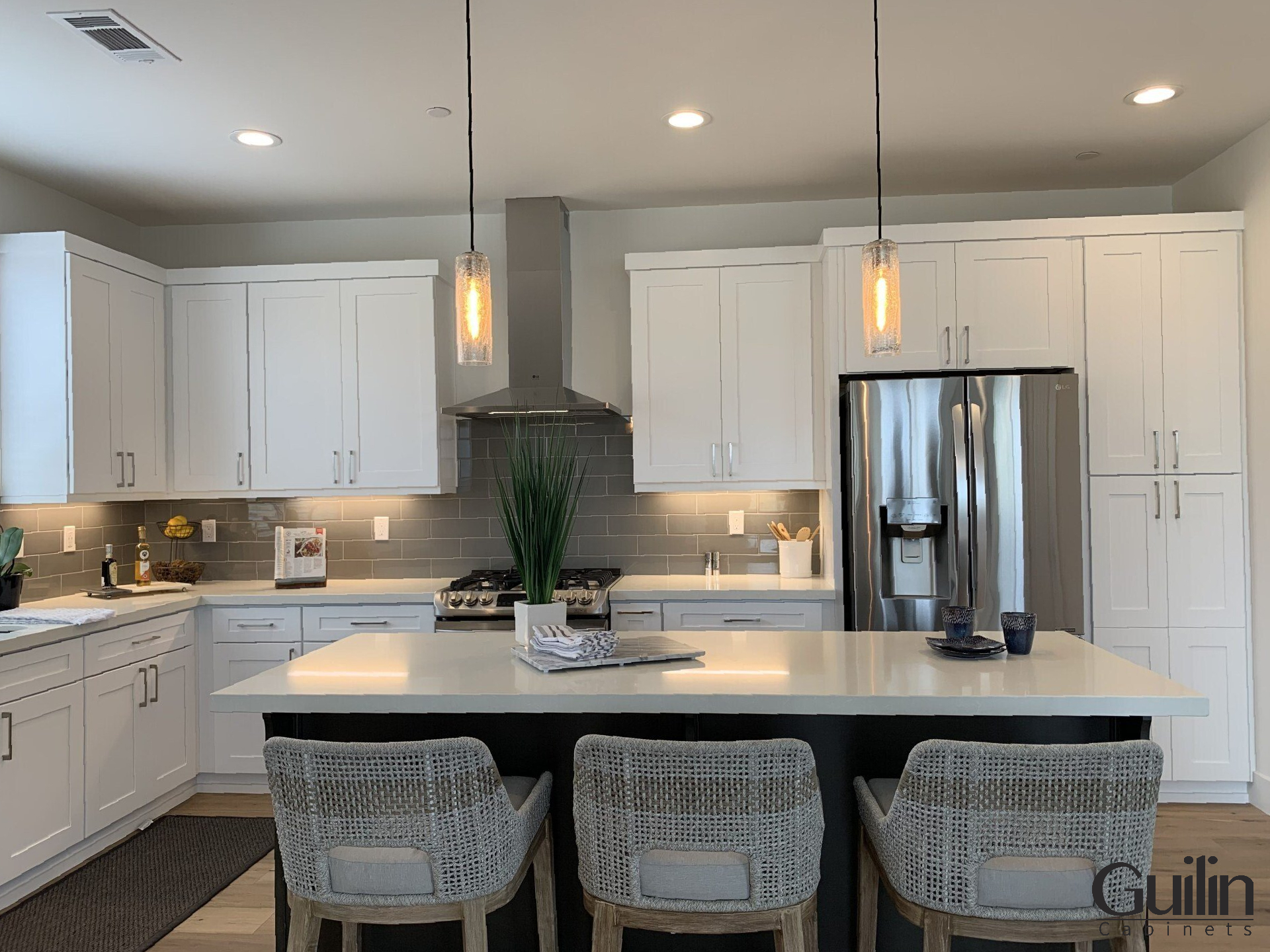 Increase Resale Value
If you're concerned about the resale value of your home, refacing your cabinets can also be a smart investment. Potential buyers will be drawn to the updated look of your kitchen, and you may even be able to recoup your investment in the form of a higher selling price.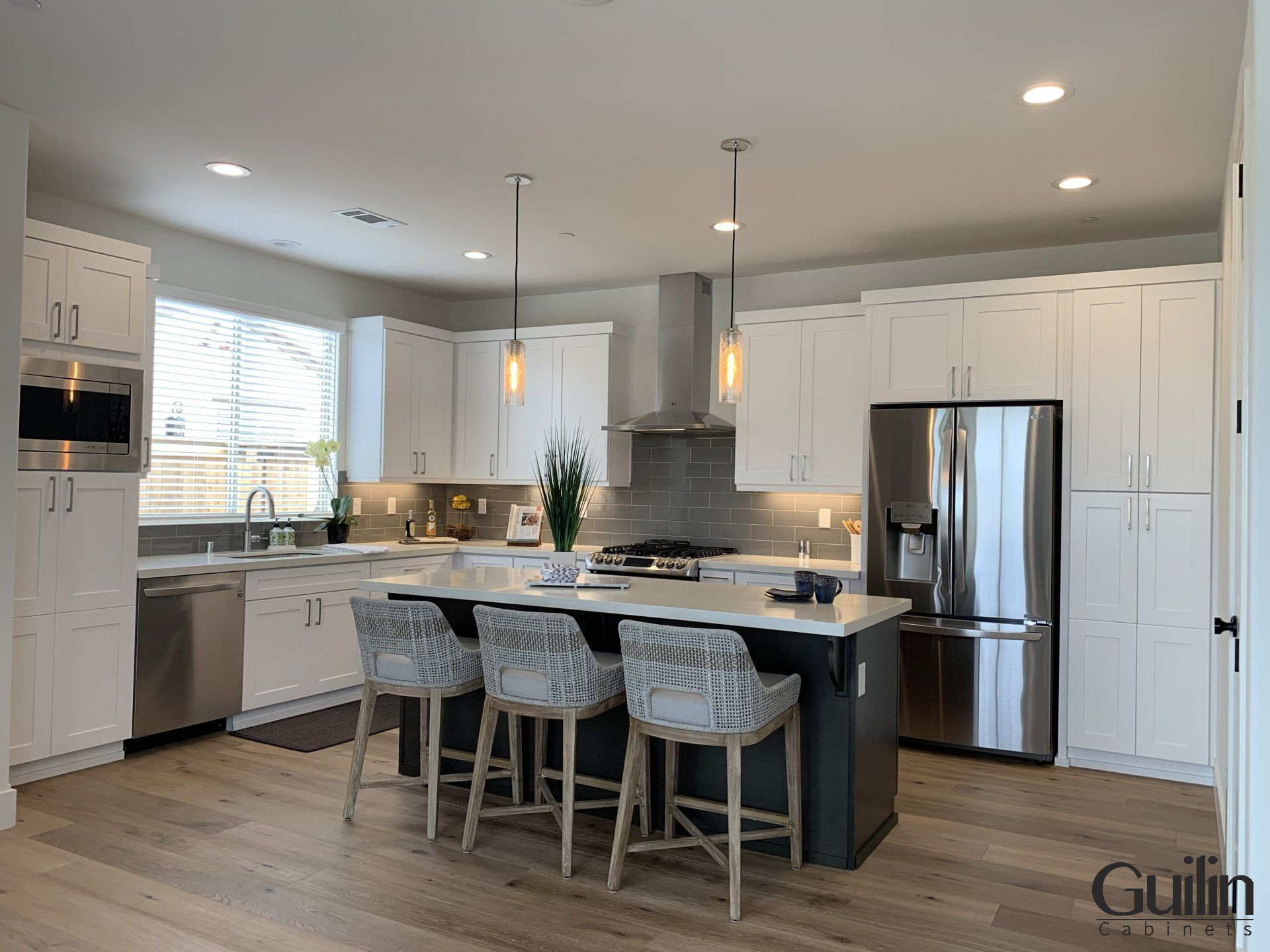 What Types of Materials Can be Used for Cabinet Refacing?
The variety of materials available for cabinet refacing is crucial in achieving the desired finish and longevity. There are a plethora of options to choose from, refacing cabinet materials ranging from solid wood, and natural wood veneers to laminate, particleboard, MDF, and even metal (stainless steel). Each material has its advantages, and selecting the right one can significantly improve the look and value of your home.
Natural wood veneers
Kitchen cabinet refacing wood veneer is popularly used for its beauty, warmth, and natural grain, offering durability and longevity, making them a popular choice for cabinet refacing. The most common types of woods used include cherry, maple, oak, and birch. Wood veneers are an excellent option for those who value natural beauty and aren't deterred by the higher costs associated with their installation.
=> Read more: Wood Veneer Cabinets: Pros and Cons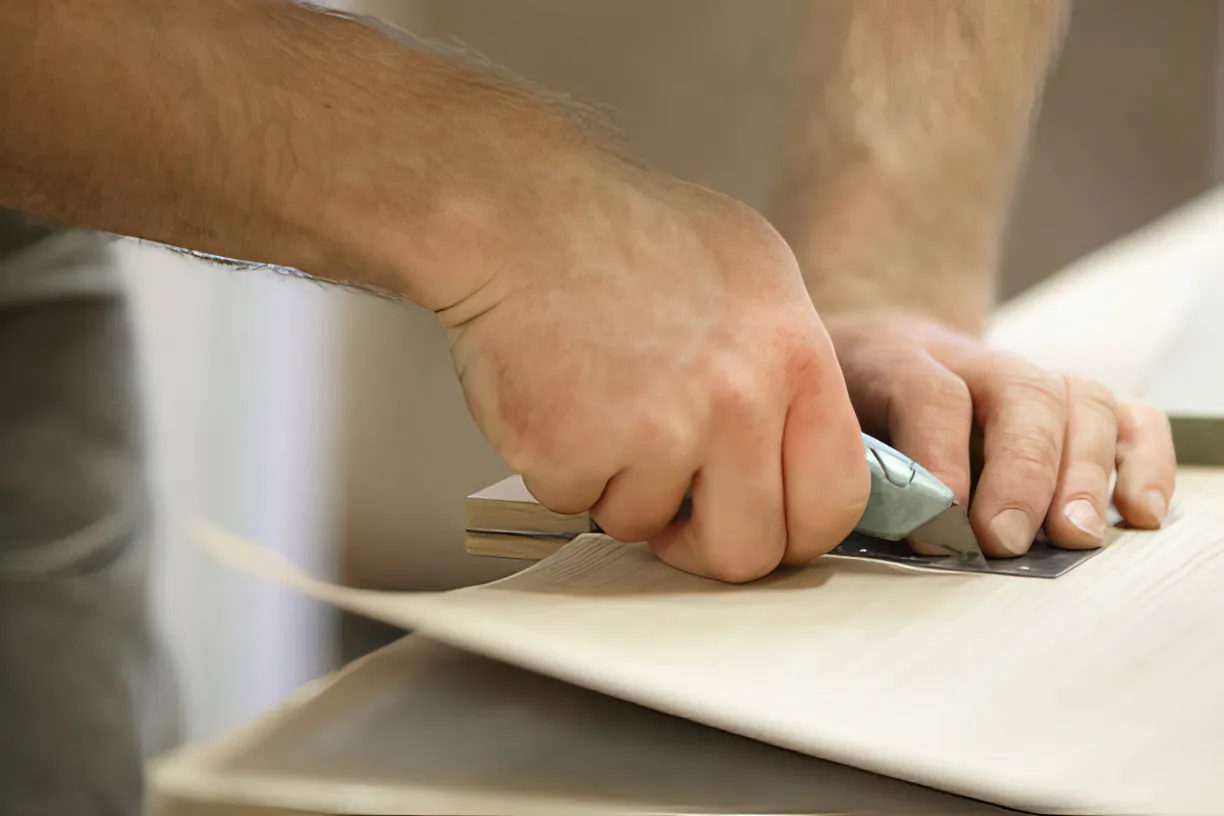 Laminate Wood
This is an affordable, low-maintenance option that can replicate the look of natural wood. It's durable, resistant to scratches, and easy to clean, making it an ideal choice for homeowners with young children or pets. Laminate cabinet refacing options are available in different colors, patterns, and finishes, from glossy to matte. With laminate, you can create the look of expensive materials like wood, metal, or stone without the high costs. The best part? Laminate is very durable, making it perfect for high-traffic areas like the kitchen.
=> Read more: Laminate Wood Cabinets: Pros and Cons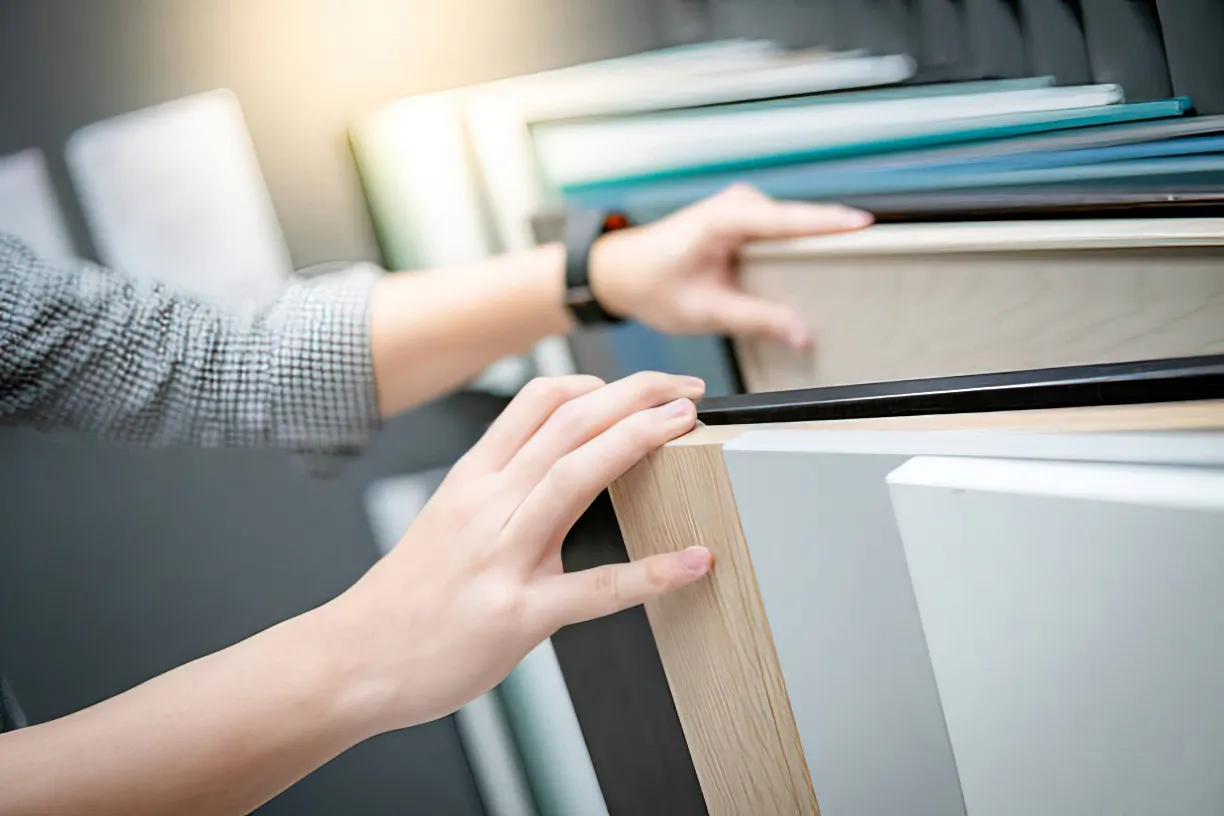 Melamine
Melamine wood cabinets are often used in modern homes because of their durability, affordability, and easy maintenance. Melamine wood is made from a combination of melamine resin and particleboard or MDF, making it resistant to moisture, heat, stains, chipping, peeling, and delamination. Melamine wood materials for refacing cabinets are highly resistant to water, stains, and discoloration. They are also less prone to fading or yellowing over time, making them perfect for use in high-moisture areas like bathrooms or kitchens.
=> Read more: Melamine Cabinets: Pros and Cons
Although both melamine wood and laminate share some similarities (they use melamine plastic), there are notable differences between the two. For instance, melamine wood features a layer of glue resin directly applied to the surface of the wood core, which requires less pressing force compared to laminate wood. Conversely, laminate wood cannot be directly layered onto the wood surface and necessitates a higher heat pressure to embed the coating into the wood's core.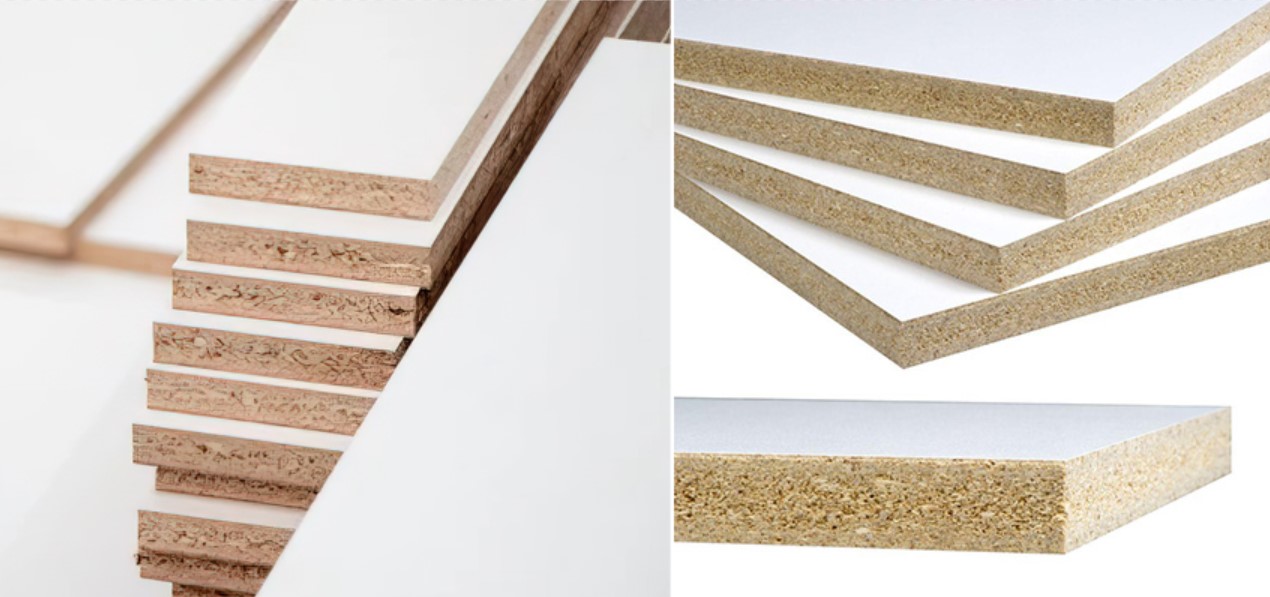 Thermofoil Wood
Another Popular material to consider for cabinet refacing is Thermofoil. It's made from PVC (Polyvinyl Chloride) vinyl film material, that is thermoformed over medium-density fiberboard (MDF) surface through heat and vacuum pressure, fusing the two together. which is a flexible and durable material. Thermofoil can be molded into different shapes and sizes, making it perfect for creating intricate designs. It comes in various colors and finishes such as matte or gloss, so you can easily create the look you want. Additionally, it's easy to clean and incredibly durable.
=> Read more: Thermofoil wood cabinets: pros and cons
Thermofoil wood is a great option for those looking for easy-care and low-maintenance cabinets. Its non-porous surface makes it resistant to liquid substances, which keeps it from getting stained. And since thermofoil isn't absorbent, cleaning it is a breeze. There's no need to worry about spills or messes – just wipe it down for a like-new shine. One of the best benefits of thermofoil wood is its durability against wear and tear. It holds up great over time, even with regular use. However, one thing to be mindful of is placement. Excessive heat or moisture can damage thermofoil wood, so make sure to avoid placing it near sources of heat or in damp areas.
Thermofoil is sometimes mistaken for Melamine and Laminate cabinets, albeit they have different materials. While Melamine and Laminate are produced using melamine plastic, Thermofoil is made of vinyl. To distinguish between them, it is noteworthy that Thermofoil is thicker, has a more supple texture, is simpler to peel off, and is more flexible.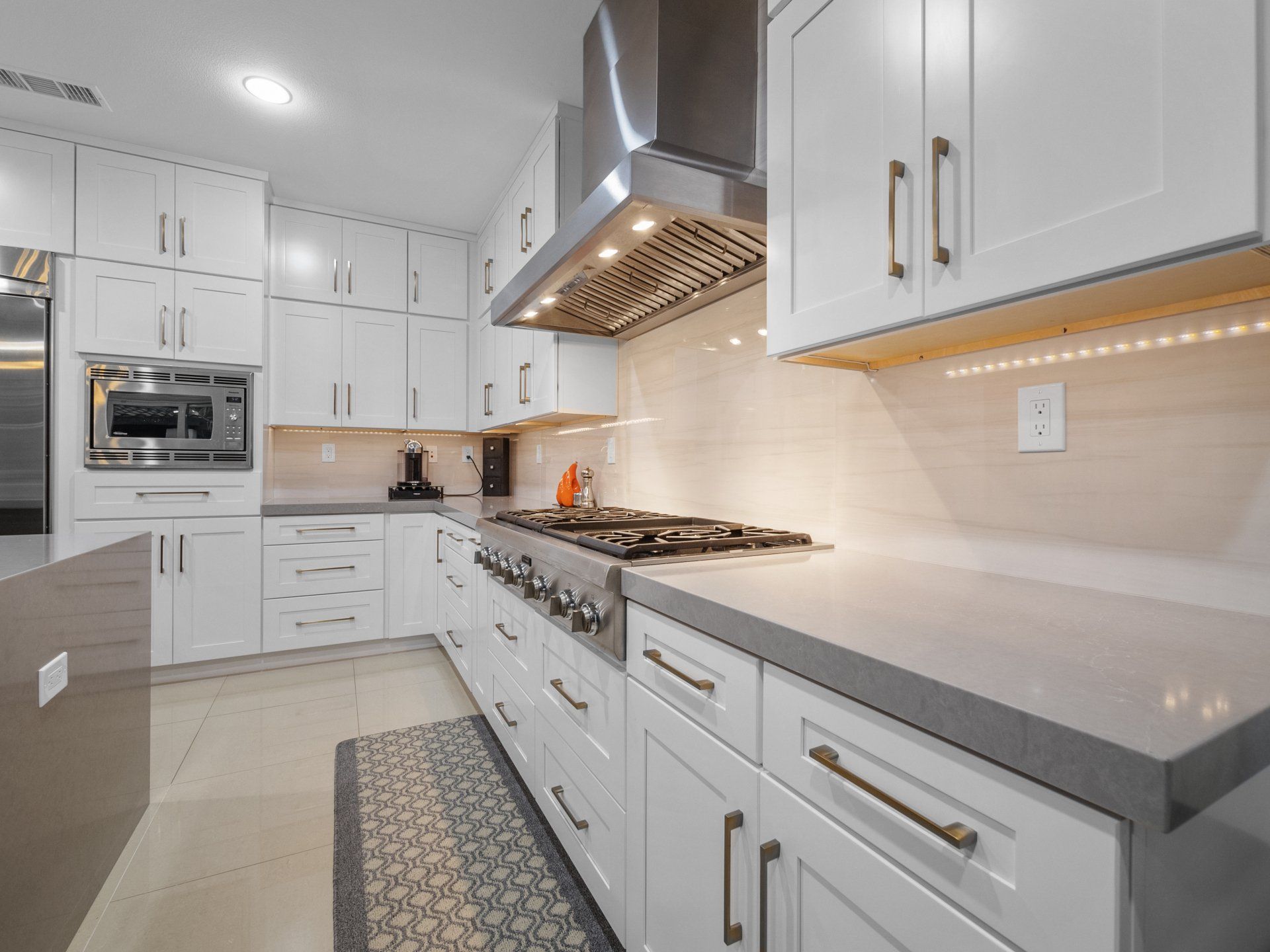 Glass Cabinet Doors
Glass cabinet doors add a contemporary and modern feel to any kitchen. For those who wish to display their kitchenware, glass is a great way to highlight your favorite kitchen pieces while also adding visual texture to your space. Glass panels can be frosted or clear, with a variety of textures to choose from.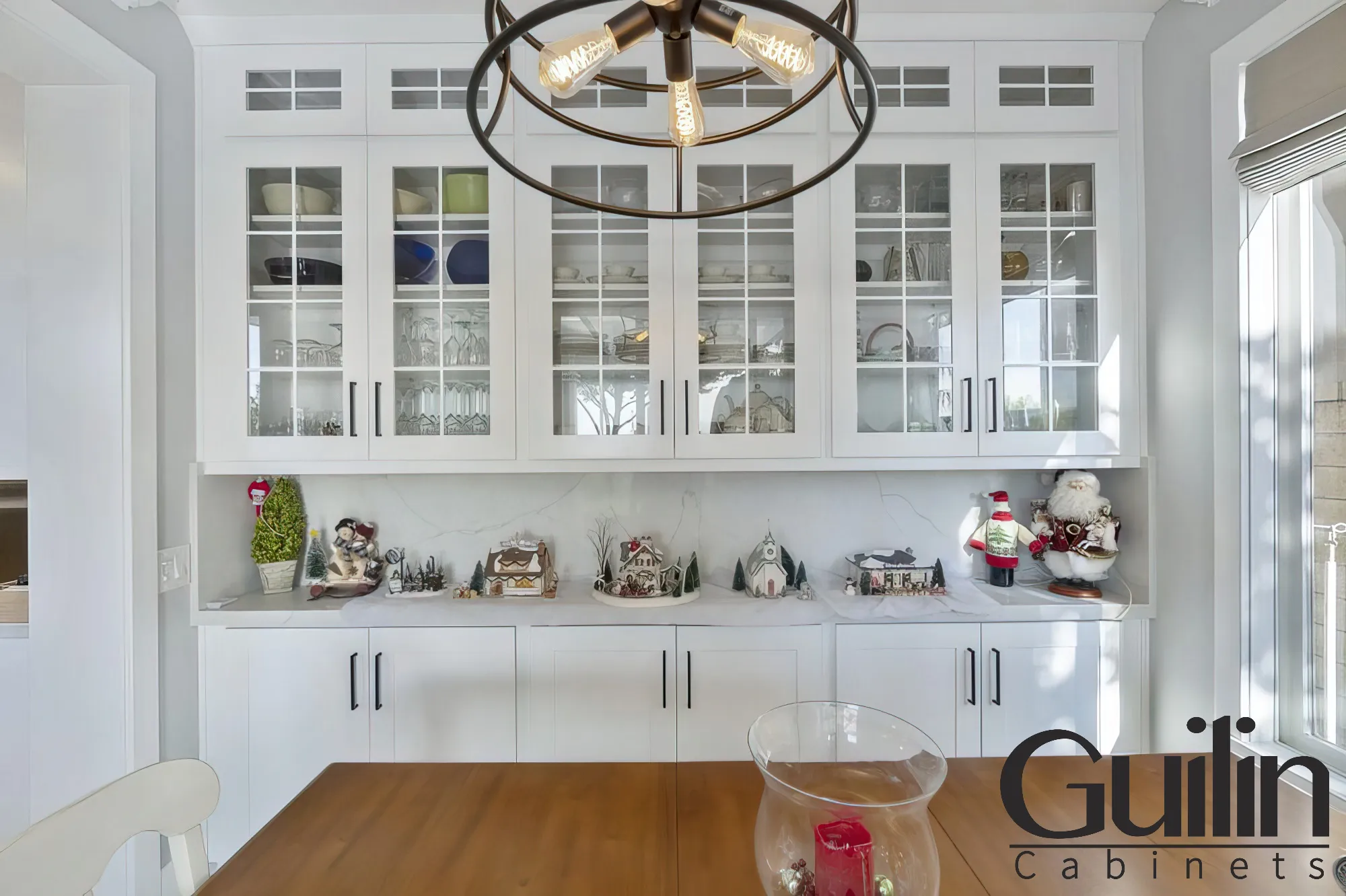 Solid Wood Cabinet Doors
Solid wood is one of the options for cabinet refacing. The warmth and elegance of natural wood add personality and depth to any space. Wood cabinets bring versatility and are a good option for any style of kitchen. Although, the cost of solid wood can be costly and will depend on the type of wood you choose.
=> Read more: Solid Wood Cabinets: Pros and Cons to Consider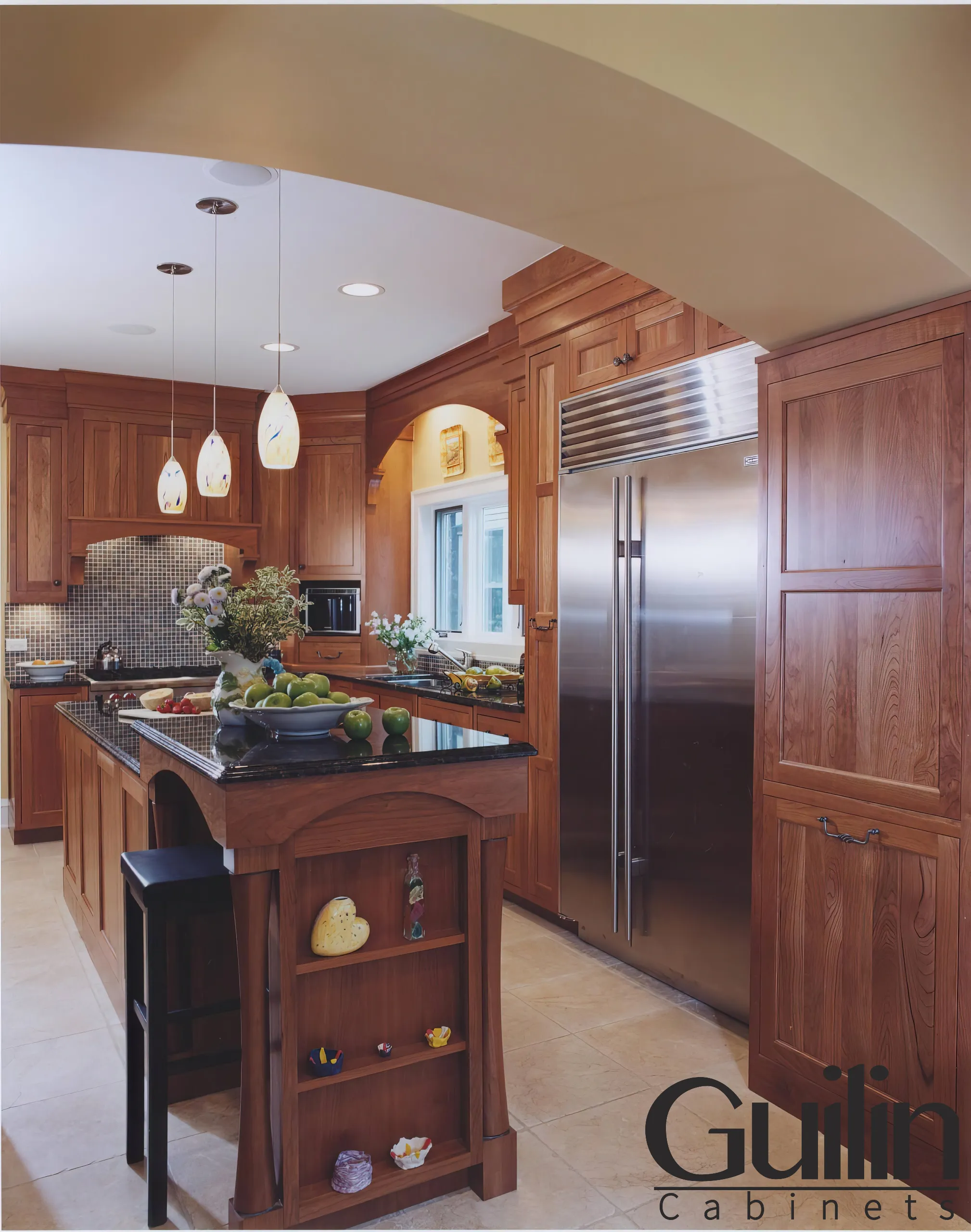 Average Cost of Cabinet Refacing? ~ $2,500 – $12,000
Cabinet refacing is becoming an increasingly popular alternative to full cabinet replacement, and for good reason. Let's explore various cabinet refacing options and highlight their average costs to help you make an informed decision. Cabinet refacing how much does it cost? For short answer: The normal range is $2,500 – $12,000 Depending on the size of your kitchen.
Wood veneers: ~ $2,000-$6,000
First up, wood veneers are a favorite for those who love the look and feel of real wood. With a wide range of colors and finishes to choose from, wood veneers can give your cabinets a natural, warm, and inviting look that can't be beaten. But with an average cost of around $2,000-$6,000 for a standard-sized kitchen, wood veneers might not be the most budget-friendly option.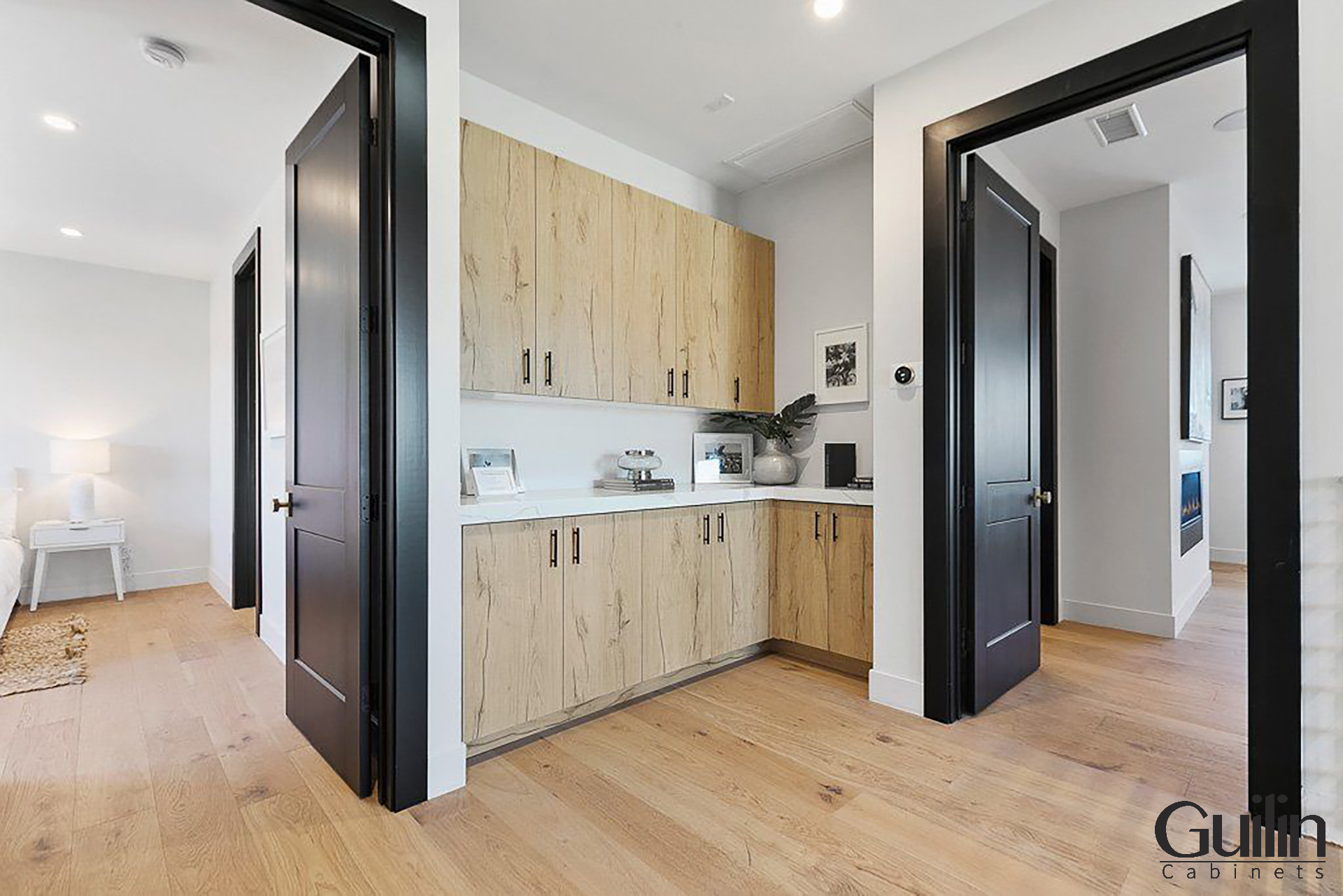 Laminate wood: ~ $1,000-$4,000
on the other hand, is a more affordable alternative to wood veneers. Made from thin layers of paper or fabric that are fused together with resin and particleboard, laminate wood can mimic the look of real wood at a fraction of the cost. Expect to pay around $1,000-$4,000 for a standard-sized kitchen with laminate wood refacing. This is the cheapest cabinet refacing option you can choice with a low budget.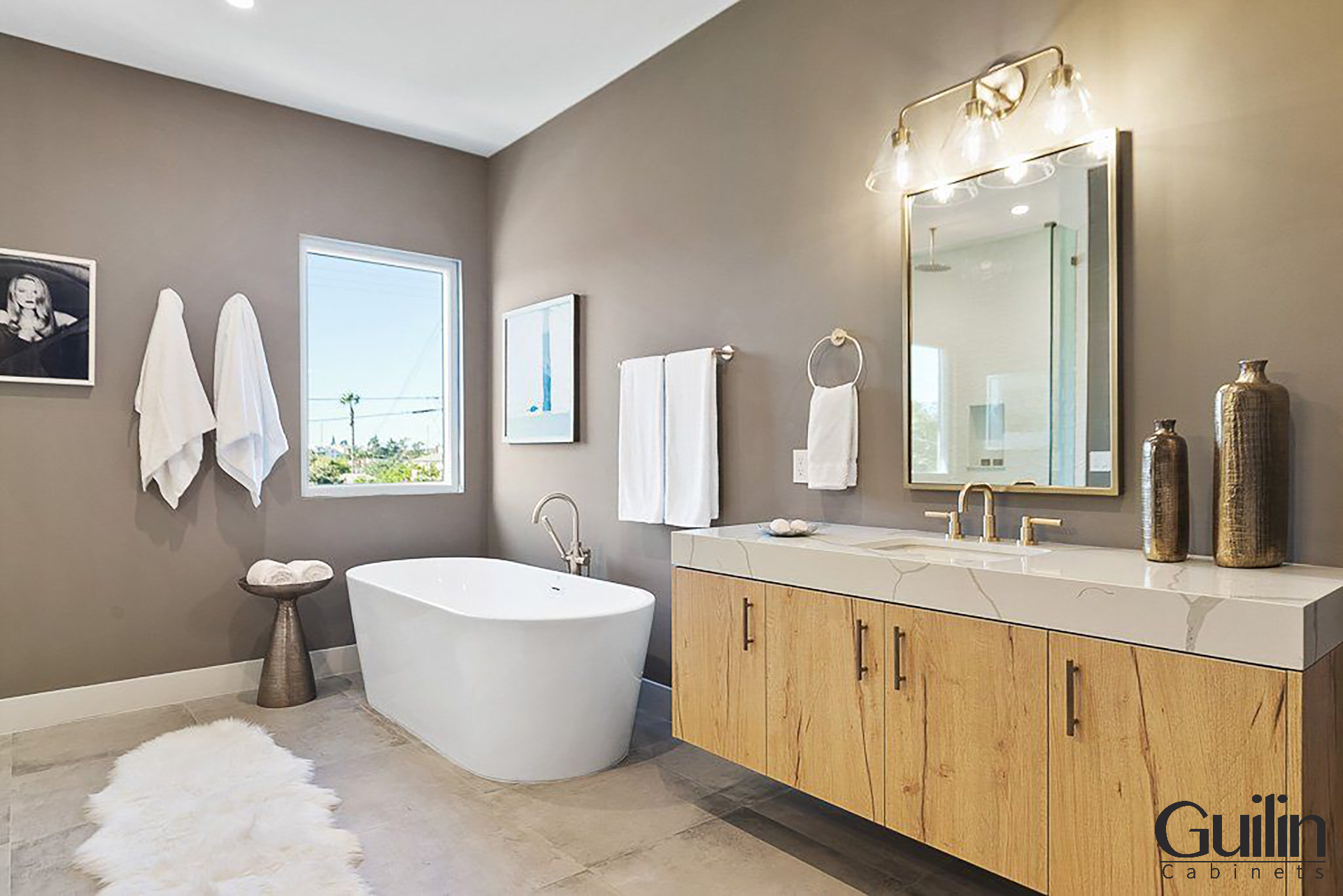 Thermofoil Wood: ~ $1,500 to $3,500
Thermofoil wood is another choice for those who want the look of a natural wood cabinet but with fewer maintenance requirements. Thermofoil cabinets are resistant to moisture and easy to clean and they offer realistic wood patterns and tons of style options. The cost of thermofoil wood refacing can range from $2,500 to $4,000.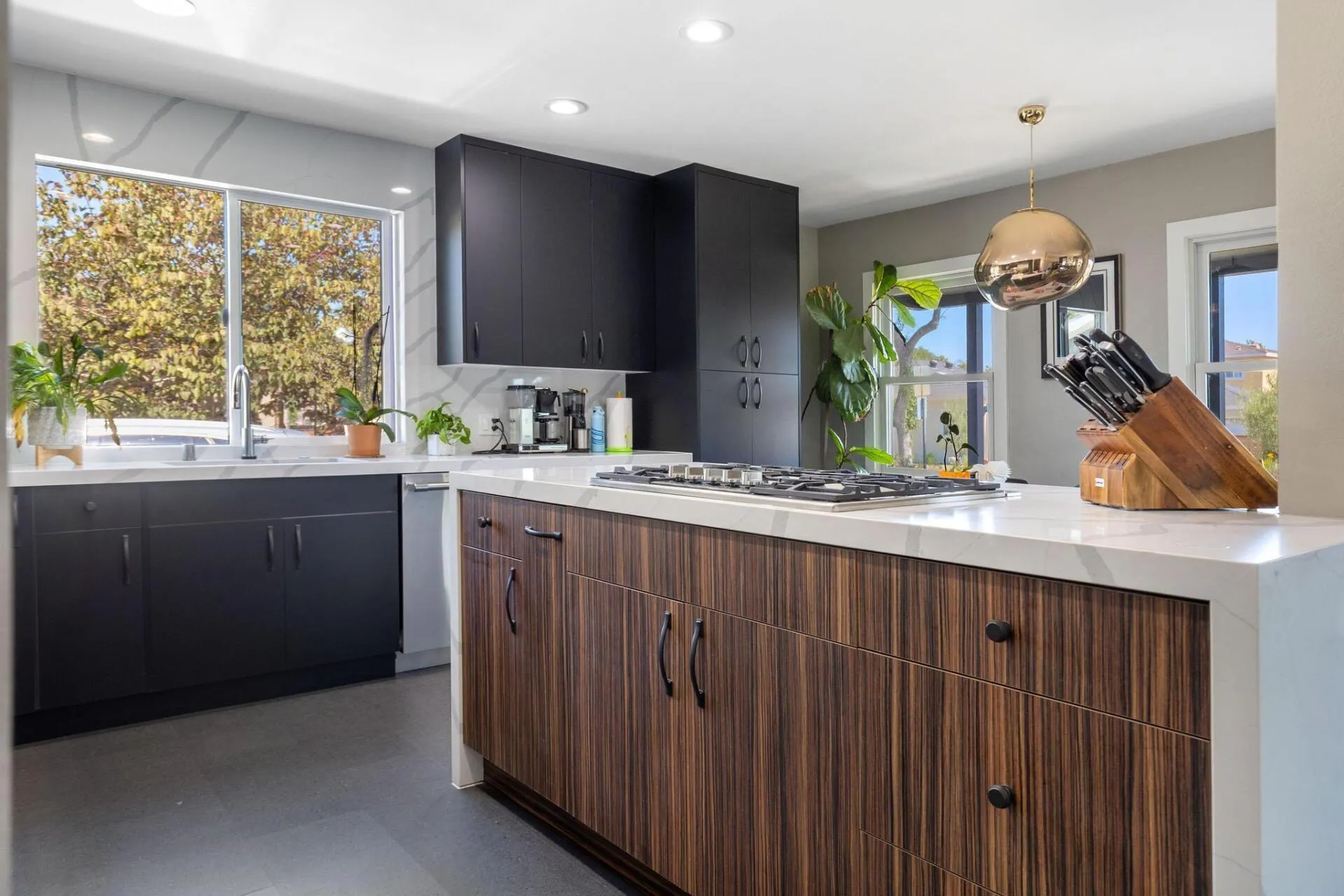 Solid Wood: ~$6,500 to $12,000
Solid wood cabinets are a high-end option that can add elegance and sophistication to your kitchen. These cabinets are made entirely of wood, and refacing them can be expensive. The cost of solid wood cabinet refacing can range from $6,500 to $12,000.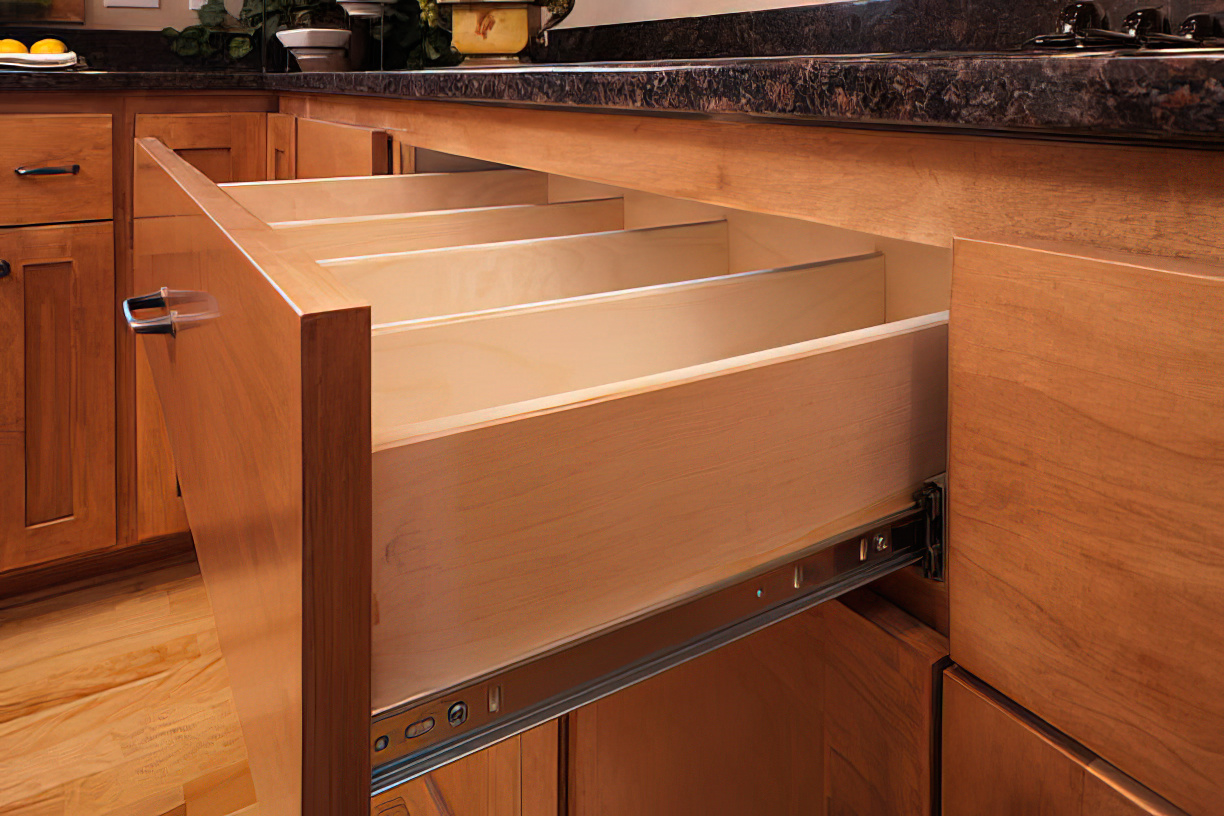 Finding Pro Cabinet Refacing Services Near You?
To ensure the best results for your cabinet refacing project, it's essential to work with a professional cabinet refacing service. Here are some tips for finding a reputable and experienced cabinet refacing service: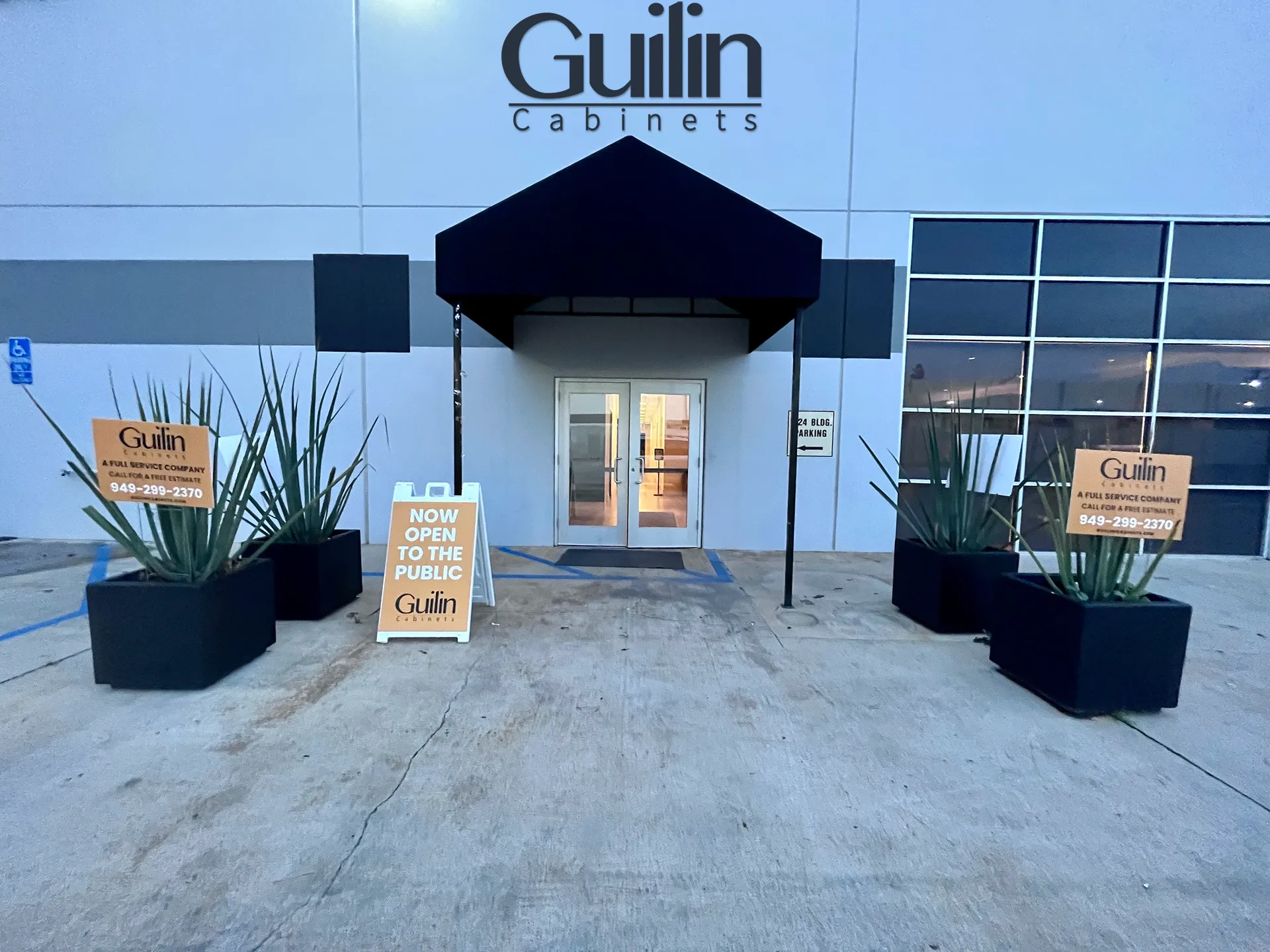 Step 1: Research
Search for reputable cabinet refacing services near your area. Check their website, read customer reviews, and look at their portfolio or Physical Showroom to see if their work aligns with your vision. A professional cabinet refacing service provider should have the relevant experience, and qualifications to undertake your project.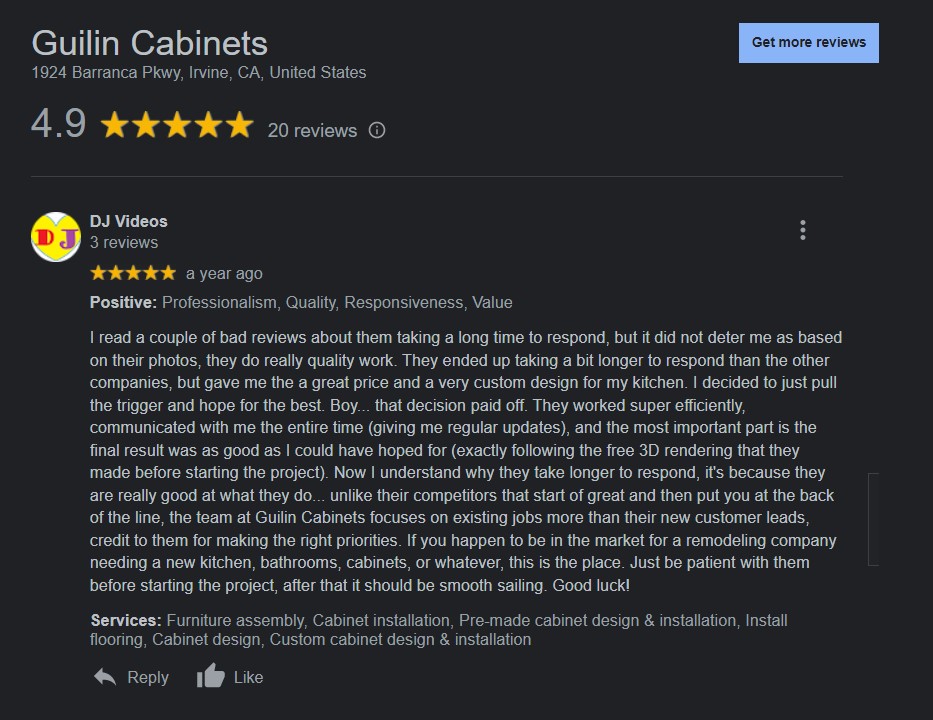 Step 2: Consultation
Schedule a consultation with the cabinet refacing company. Discuss the scope of the project, budget, and timeline. -> Click here to Free Schedule a consultation – Guilin Cabinets. Any reputable cabinet refacing service provider should offer an itemized estimate outlining all the costs involved. You should also ask about their warranty and guarantees before hiring their services.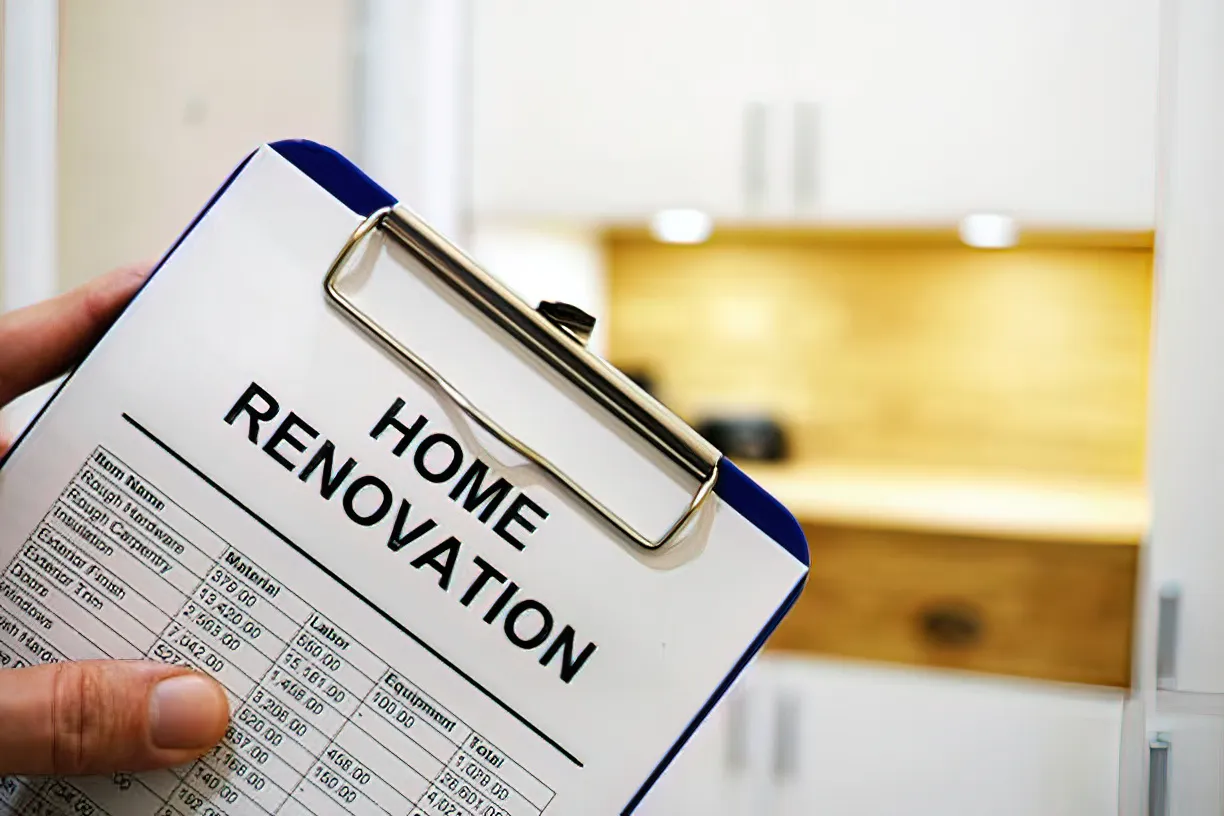 Step 3: Discuss the Design, Price…
Work closely with the company to determine the design that suits your needs. Ensure that they offer custom solutions that cater to your specific requirements. A professional cabinet refacing service provider will offer you a variety of options to choose from, including door styles, colors, hardware, and accessories.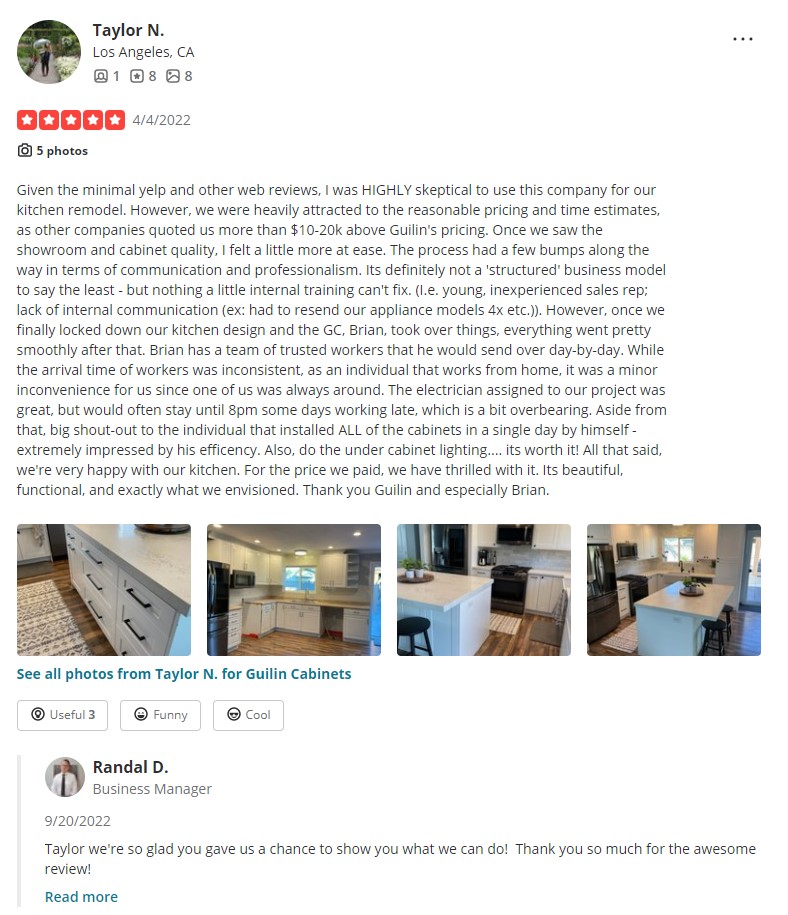 Step 4: Quality Materials
Ensure that the company uses high-quality materials, such as hardwood or plywood, to guarantee durability.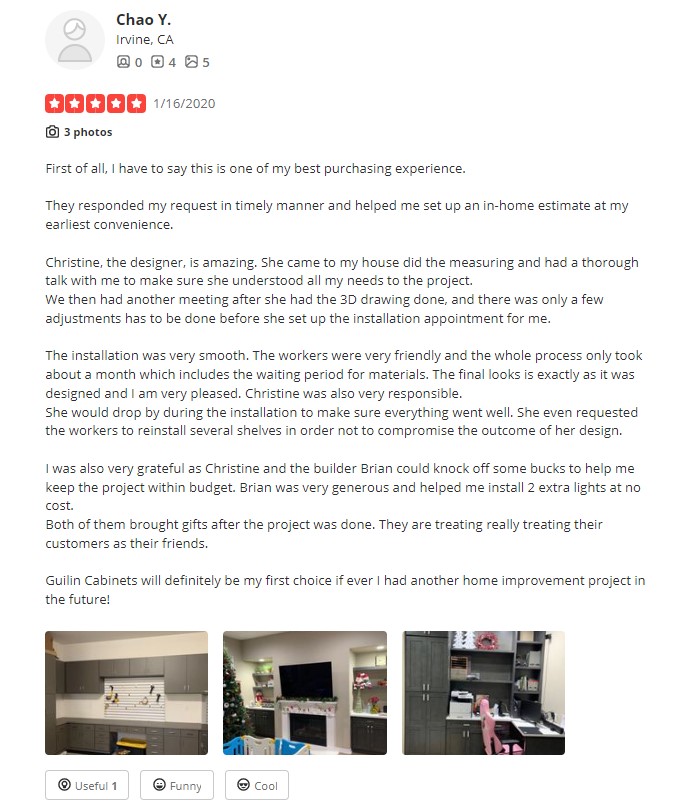 Step 5: Installation
Confirm that the company has professional installers to ensure that the cabinets are installed correctly.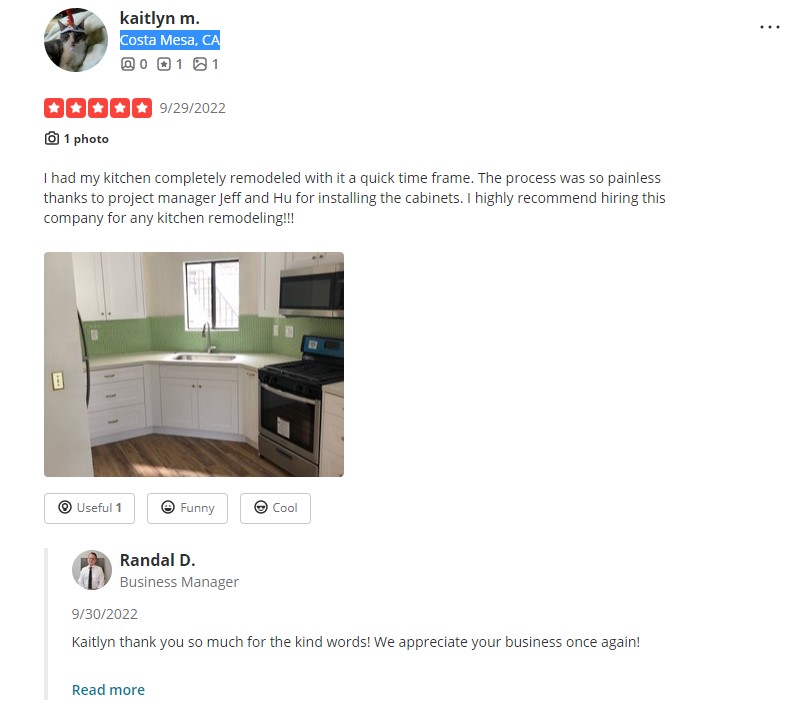 FAQs About What is Cabinet Refacing: Understanding and Where to Get Start?
Is cabinet refacing suitable for all types of cabinets?
Cabinet refacing is typically suitable for most types of cabinets, including solid wood, plywood, laminate, and MDF. However, cabinets that are structurally unsound or have significant water damage, curved, or warped may not be suitable for refacing.
Is cabinet refacing a good idea?
Yes, cabinet refacing is a good idea as it can transform the look of your kitchen, save your money compared to replacing your cabinets entirely, and be completed in a shorter amount of time. It also has a smaller impact on the environment compared to replacing cabinets. Contact => Guilin Cabinets Irvine, California Reviews
Different between replacement vs refacing kitchen cabinets?
Replacement involves removing and replacing the entire cabinet structure, while refacing involves updating the exterior of the existing cabinets by replacing the doors, drawers, and hardware, and adding a veneer to the front of the cabinets. Refacing is generally less expensive and less time-consuming than replacement. => Read More: Refacing vs Replacing Cabinets: Which is Better for Your Kitchen?
How long does cabinet refacing take?
The cabinet refacing process typically takes anywhere from 3 days – 2 weeks to complete, depending on the size and complexity of your project. However, this timeline can vary depending on several factors, so it's important to discuss your specific needs and expectations with your contractor to get a more accurate estimate of how long your project will take.
Can I change the layout of my kitchen during the refacing process?
No! You Can't Change your Kitchen Layout. Because cabinet refacing service only involves replacing the exterior components of the cabinets, you won't be able to change the layout. However, you can opt for additional features like new cabinet hardware, pull-out shelves, or other organizational elements to enhance the functionality of your kitchen.
Is cabinet refacing a messy process?
Cabinet refacing is a relatively clean process compared to a full cabinet replacement. Since the existing cabinets are not removed, there is less dust and debris generated. However, there may still be some dust and debris generated during the removal and installation of the cabinet components.
Can I refinish my cabinets instead of refacing them?
Refinishing (known as resurfacing cabinets) involves stripping and sanding the existing cabinet surfaces and applying a new finish. This process can be less expensive than refacing, but it may not be suitable for cabinets with severe damage or structural issues. Refinishing can also be a more time-consuming process and may not last as long as cabinet refacing. => Related Article: Can Laminate Countertops be Painted? What Need to Know
Is cabinet refacing DO it yourself project? – DIY
You Can Cabinet refacing By yourself – DIY cabinet refacing. However, This is not recommended as a DIY project unless you have experience with woodworking and cabinetry. It's best to leave this task to professionals who have the necessary skills, tools, and materials to complete the job safely and efficiently.
The lifespan of cabinet refacing: How long last?
The answer to this question depends on several factors. The most significant determinant is the quality of the original materials and condition of cabinets before refacing and the quality of materials used in the refacing process. For instance, cabinets refaced using high-quality wood veneers or laminate materials may last up to 20 years or more. => You need More info Read Here: How Long Do Refaced Kitchen Cabinets Last?
How Find Affordable cabinet refacing Contractor near my home?
One of the best ways to find an affordable cabinet refacing contractor near your home is to ask for referrals from friends, family, and neighbors. If someone you know recently had their cabinets refaced and they were happy with the results, they may be able to recommend a reputable and affordable contractor. => Read Full Article: How to Find Affordable Cabinet Refacing Contactor Near My Home?