Refacing Cabinets – Imagine walking into your kitchen every day and feeling dissatisfied with the look of your cabinets. They are outdated and dull, but you aren't ready to completely replace them. If that sounds familiar, then you're in luck. Refacing cabinets with veneer is the perfect compromise to give your kitchen a fresh and modern look without breaking the bank. In this post, we will explore the benefits of veneer, the process of refacing cabinets, and why this option may be the perfect solution for your dated cabinets. So sit back, relax, and get ready to transform your kitchen with just a few simple changes!
=> The Quick Answer: Yes, Veneer cabinets can be refaced as long as the cabinet boxes are in good condition. And refacing your Veneer cabinets is a good option to save money. That will help you control the price when you remodel your kitchen. If your cabinet boxes are curved or damaged by water you may need to replace all of them. 
=> Read more: Refacing Cabinets vs Replacing: Which is Better
What is Cabinet Refacing With Veneer?
The Wood Veneer is a thin layer of wood that is applied to the surface of existing cabinets to give them a fresh new look. it's a real wood that is sliced or peeled from logs and then glued onto a substrate material, such as particleboard or MDF. Veneer can be made from a variety of woods, including oak, maple, cherry, and walnut,… and can come in a variety of styles and finishes. This process can be done by a professional or as a DIY project, a cost-effective and environmentally friendly way to update the look of your home, as it avoids the need to completely replace perfectly functional cabinets
=> Read more: What is Veneer: Understanding, Pros, and Cons!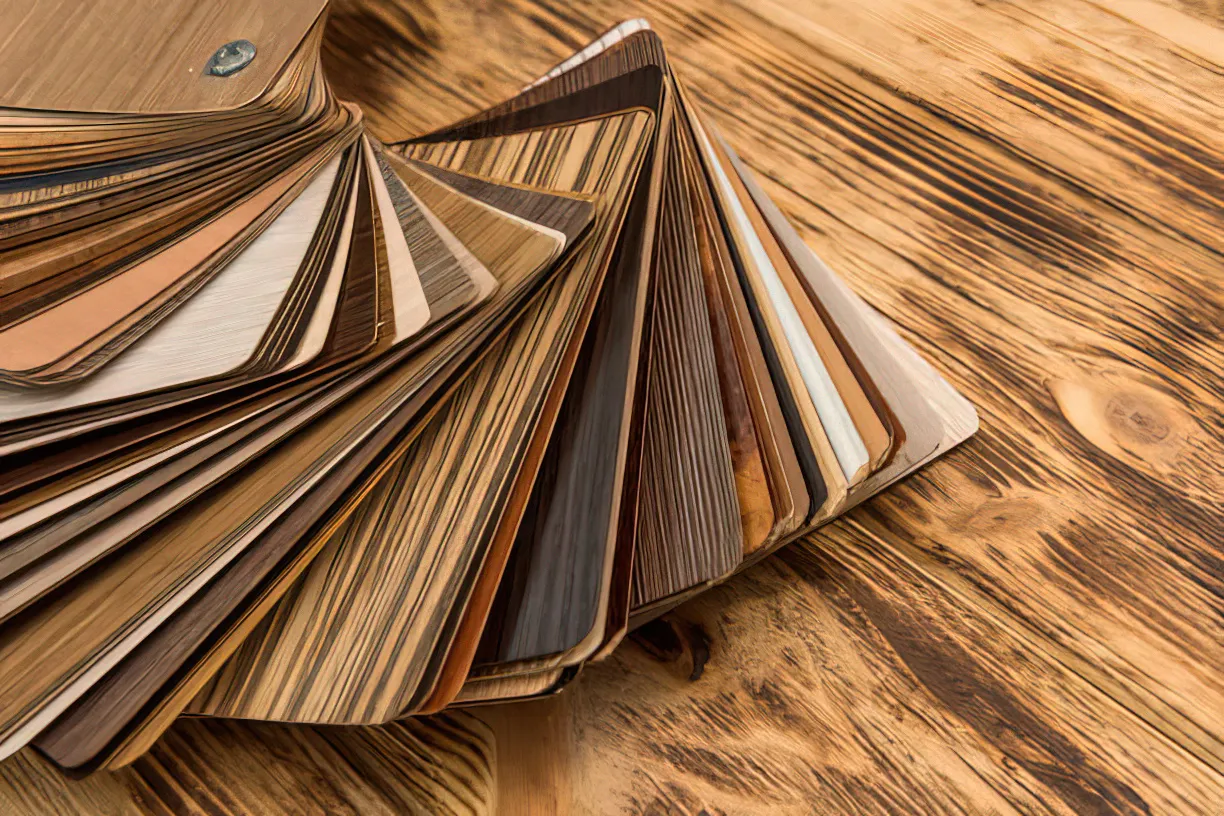 Why Cabinet Refacing With Veneer Help Your Remodel Projects?
First and foremost, cabinet refacing with veneer is a cost-effective, eco-friendly solution. Most homeowners spend a considerable amount of money on a full cabinet remodel, which can run into thousands of dollars. However, with cabinet refacing, you only spend a fraction of the cost, and you still achieve a dramatic transformation, giving your cabinets a fresh and updated look.
=> Related Service: Refacing Cabinet Services Irvine California | Guilin Cabinets
The Major Benefits of Venner Refacing:
Cost-effectiveness: Rather than tearing out and replacing your entire kitchen, you can get a new look simply by replacing the cabinet doors and drawer fronts with new veneer material. This can significantly reduce the cost of your kitchen renovation.
Quick & Easy: Cabinet refacing is a quick and easy process that can be completed in a matter of days. In contrast, a full kitchen renovation can take several weeks or even months. Refacing your cabinets with veneer material is a non-invasive process, which means you don't have to remove or disrupt your existing kitchen appliances, countertops, or flooring.
Increase the Value of Your Home: A newly refaced cabinet can increase the value of your home. An updated kitchen with warm natural wood cabinets can make a big difference to potential buyers. Veneer cabinet refacing is one of the best ways to achieve this transformation. Refaced cabinets look like new ones without the high cost of replacing them.
Sustainable, friendly solution: Cabinet refacing is a more sustainable option than replacing cabinets entirely. Refacing saves the existing cabinet frame and limits the amount of waste that goes into landfills. Veneer material is also an eco-friendly option, as it is made from renewable resources such as wood.
=> Read more: Can Reface Cabinets with Laminate For Remodel Project?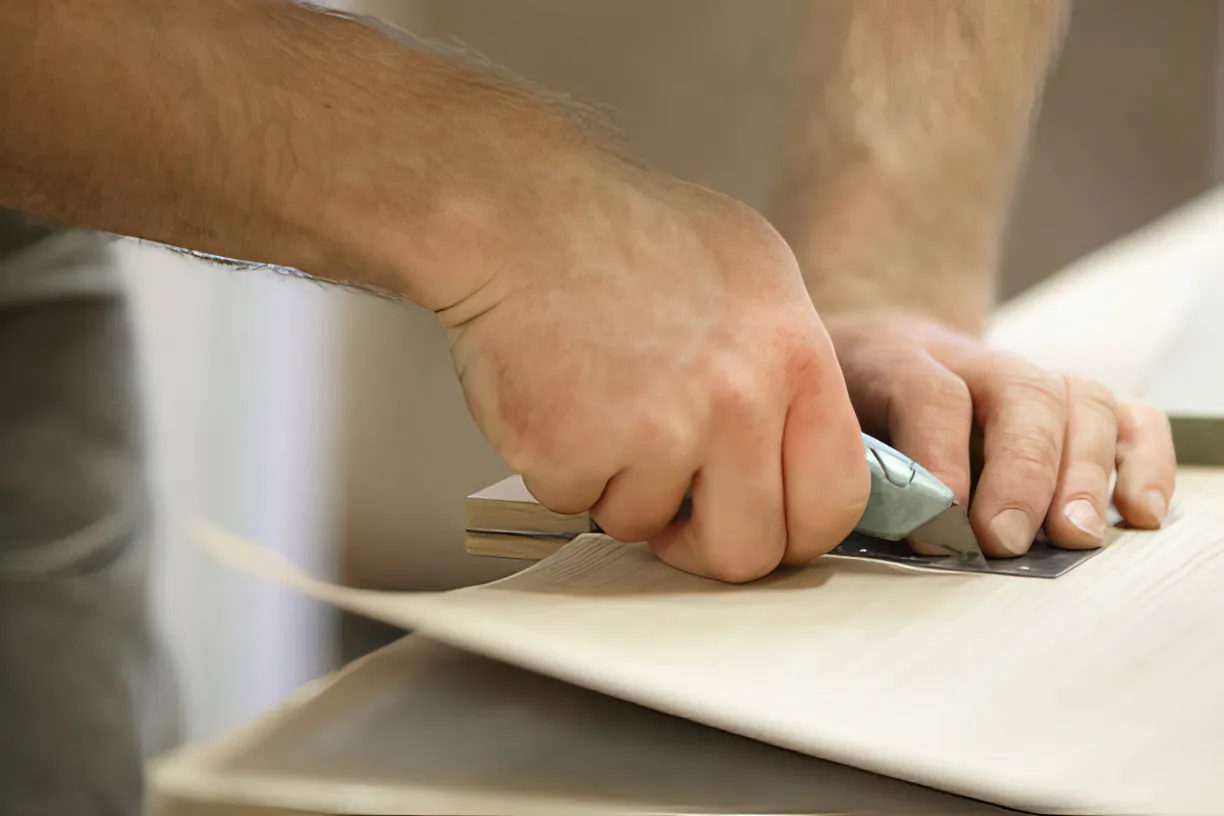 The Process of Refacing Cabinets with Veneer
Refacing cabinets is a process of adding a new layer of material, like veneer, to the existing surface of your cabinets. This can give your cabinets a completely new look without the need to replace them entirely. Here's a step-by-step guide to the process of refacing cabinets with veneer
Preparation: The first step is to remove all the cabinet doors, drawers, and hardware. the cabinet contractor will clean the surfaces of your cabinets thoroughly to ensure the veneer adheres properly. Make sure to sand and prime the cabinets before applying any veneer, the dimensions of the cabinets and cut the veneer to size accordingly.
Applying the Veneer: Once your cabinets are clean and primed, the cabinets contractor begin applying the veneer. Start at the top of the cabinets and work your way down. They will use an adhesive to apply the veneer. Be sure to use a roller to press the veneer securely onto the surface of the cabinets. Once they've applied the veneer to the main cabinet surfaces, cut it to size for the doors and drawers.
Finishing Touches: Once applied the veneer to all the surfaces and drawers, it's time to add finishing touches. Fill any gaps or holes with wood filler and sand down any rough spots. They can then paint, stain, or varnish the cabinets to give them the perfect finishing look. You can also replace the hardware with something new to complement the new look of your refaced cabinets.
Reinstall: After the veneer is applied and the finishing touches are complete, it's time to reinstall the cabinet doors and drawers. Be sure to take your time and make sure the hardware is installed correctly.
=> Read more: What Cabinet Refacing: Understanding, Where to Get Start?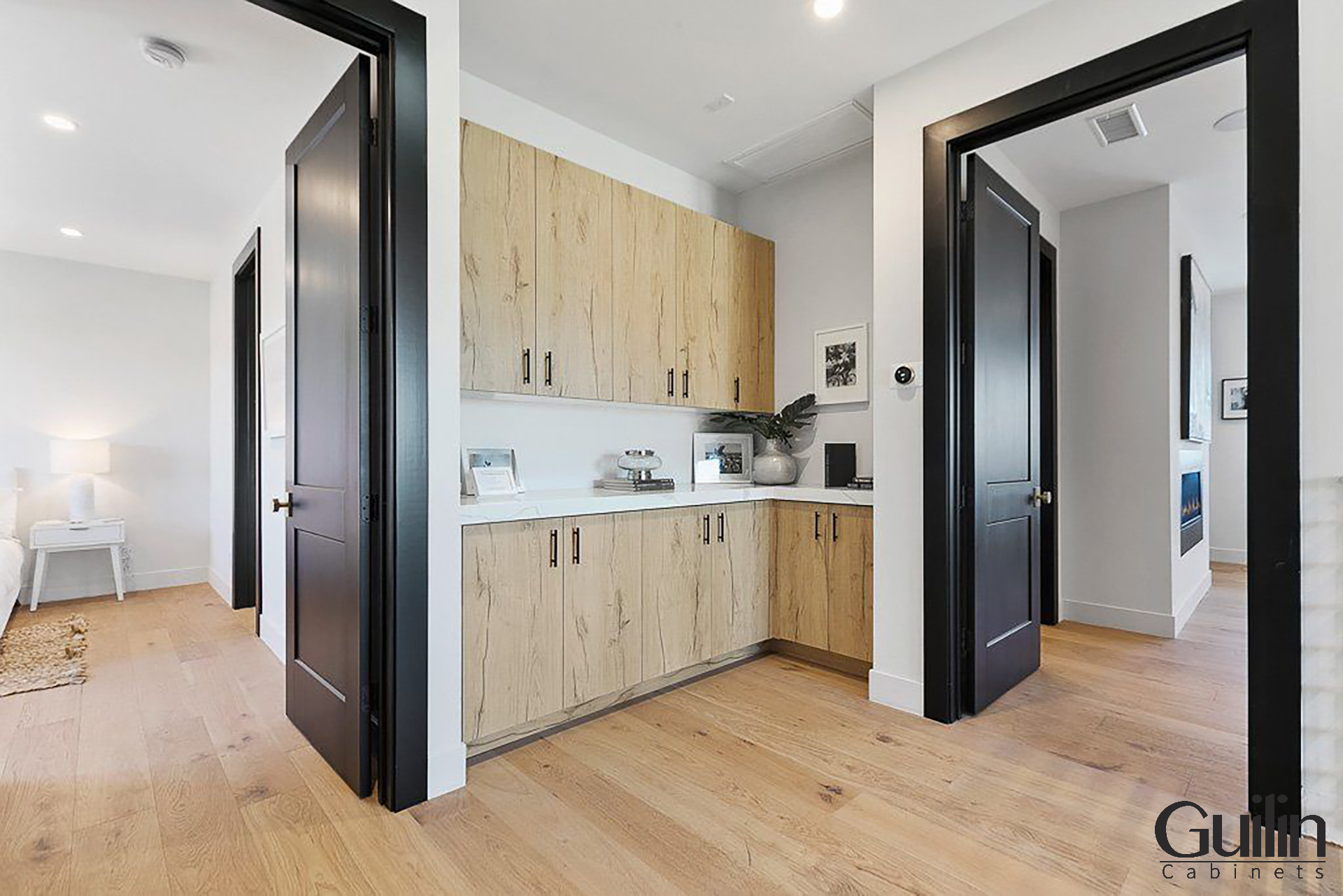 FAQs about – Can Cabinet Refacing With Veneer?