The laundry room is often forgotten about when it comes to home renovation. However, it is essential that the appropriate flooring material be selected for this room. Due to the high humidity and potential for spillage, a long-lasting and effective solution is required. To answer the question, "Which flooring material is best for a laundry room?" we'll be looking at a variety of options. To help you make a wise choice, we will share our knowledge, our expertise, and some helpful hints.
Laundry Room Flooring Material Options:
Ceramic Tile
Vinyl Flooring
Porcelain Tile
Laminate Flooring
Rubber Flooring
Ceramic Tile
The most popular tile choice for laundry rooms is ceramic tile. It's moisture-resistant, easy to clean, and available in a variety of styles. This versatile option can mimic the look of stone, wood, or even brick, providing endless design possibilities. Ceramic tile is also very durable and can withstand heavy foot traffic and frequent use. It also holds up well under high temperatures, so it is ideal for rooms like laundry rooms that generate a lot of moisture and heat.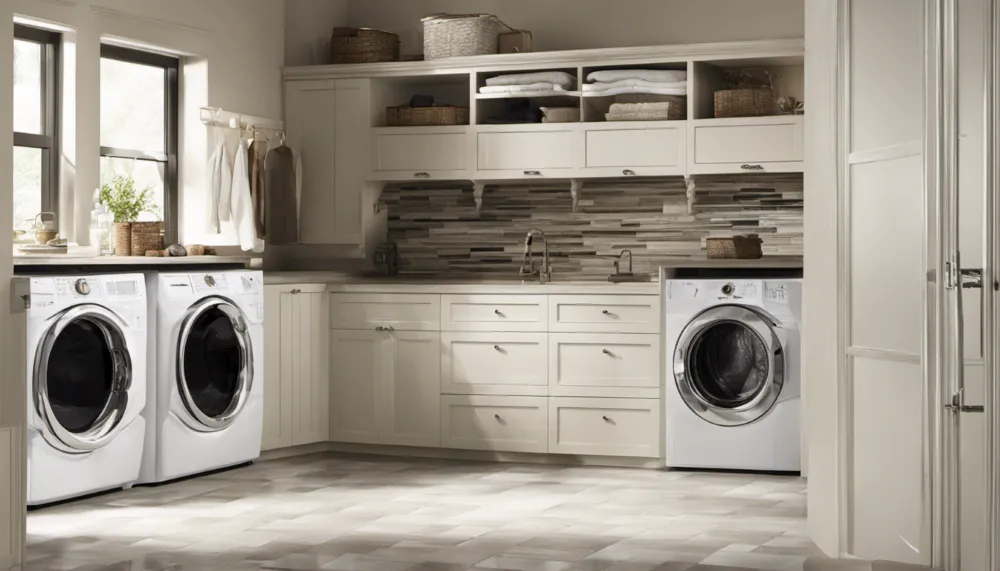 Vinyl
Flooring
Vinyl flooring is a budget-friendly and resilient choice. It's water-resistant and highly durable, making it perfect for laundry rooms. Additionally, it's available in numerous patterns and colors, allowing you to achieve the desired aesthetic. Vinyl flooring is also easy to maintain, requiring only regular sweeping and mopping in order to keep it looking its best. It's resistant to scratches and stains, making it ideal for high traffic areas, and it's also relatively inexpensive compared to other types of flooring.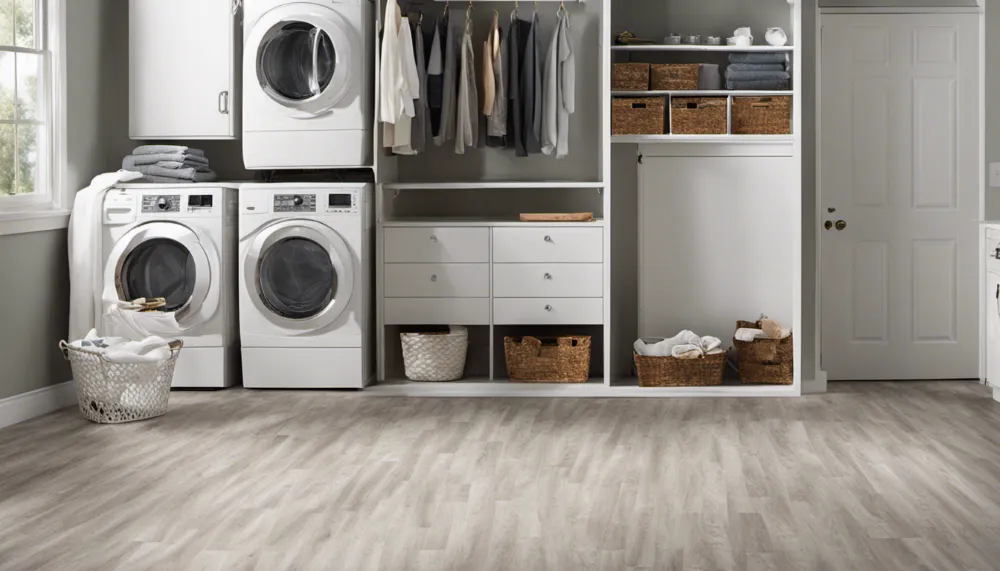 Porcelain Tile
Porcelain tile is similar to ceramic tile but is even more durable and resistant to water. It's an excellent choice if you want a long-lasting laundry room floor that can withstand heavy traffic. Porcelain tile is fired at a higher temperature than ceramic tile, which makes it stronger and less porous. This makes it more resistant to water, stains, and scratches, making it an ideal choice for laundry rooms and other high-traffic areas.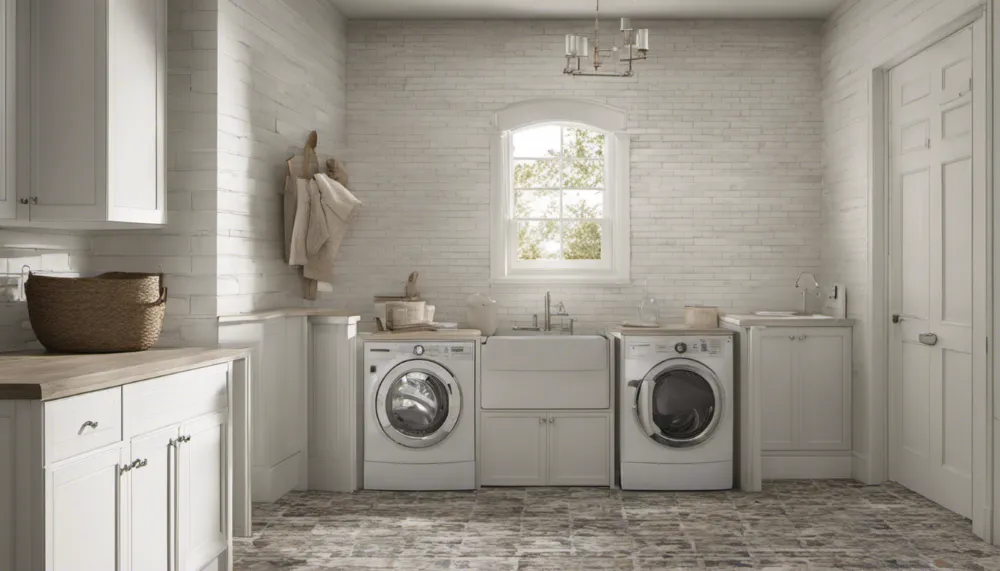 Laminate
Flooring
Laminate flooring offers the appearance of hardwood without the high maintenance. It's resistant to moisture and easy to clean, making it suitable for laundry rooms. However, be cautious with standing water, as it can damage the seams. Laminate flooring is designed in layers that are not water-resistant, so if standing water seeps into the seams it can cause the adhesive to break down and the planks to come apart.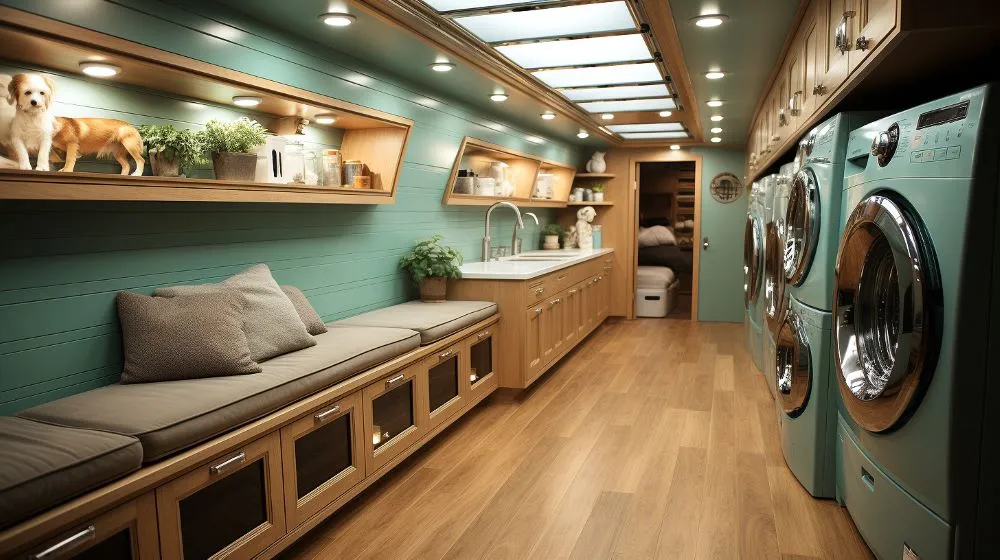 Rubber
Flooring
Rubber flooring is a non-slip, shock-absorbent option that's perfect for laundry rooms where safety is a concern. It's water-resistant and easy to clean, making it a practical choice. It also has sound-deadening properties, which helps to reduce noise levels and echoes in the laundry room. Additionally, rubber flooring is long-lasting and will not be damaged by water, making it a great option for high-traffic areas.
FAQs About Flooring Material Options For Laundry Room
Can I use hardwood flooring in my laundry room?
Yes, you can use hardwood, but it's essential to apply a water-resistant sealant to protect it from moisture. Additionally, you should make sure to use hardwood flooring that is suitable for humid environments. You should also avoid using excessive water when cleaning the floor, as this will increase the risk of damage. Regularly cleaning and sealing the hardwood floor will help ensure its longevity. => Read More: 7 Wood Options for Solid Kitchen Cabinets
Is ceramic tile a practical choice for a laundry room?
Absolutely! Ceramic tile is moisture-resistant, easy to clean, and offers various design options. Ceramic tile is an ideal material for a laundry room since it won't be affected by moisture and spills, and it won't easily harbor bacteria or mold. It is also highly durable and can withstand frequent use and cleaning. Plus, it comes in a variety of colors, styles, and patterns, so you can easily find a tile that fits your style and decor.
Which flooring material is the most budget-friendly?
Vinyl flooring is a cost-effective choice that provides durability and water resistance without breaking the bank. Vinyl flooring is cheaper than other materials such as hardwood or tile. It is also easy to install and maintain, and it comes in a variety of styles and colors. Plus, it is waterproof, making it a great choice for areas with high moisture levels.
Can I install the flooring myself, or should I hire a professional?
Installation difficulty varies depending on the flooring material. Some, like peel-and-stick tiles, are DIY-friendly, while others may require professional installation for best results. For example, ceramic or porcelain tiles are best installed by a professional, as it requires precise measurement and even spacing of the tiles. On the other hand, peel-and-stick tiles require no additional tools and can be easily installed by the homeowner.