Though it's not the most exciting renovation, getting your laundry room in order may have a major impact on your quality of life. A laundry room that is well-designed can help you save time and effort on household tasks, as well as increase the value of your property. In this detailed manual, we'll discuss everything from laundry room layout and storage to appliance choice and laundry room design. Let's go to work making your laundry area more practical and aesthetically pleasing.
Tips to Design and Organize Your Laundry Room
Assess Your Needs and Space
Before diving into the design process, take a close look at your laundry room's existing layout and your specific needs. Consider factors such as the size of the room, the number of family members, and the types of laundry you typically do. Are you looking to create a multi-purpose laundry room that also serves as a mudroom or powder room?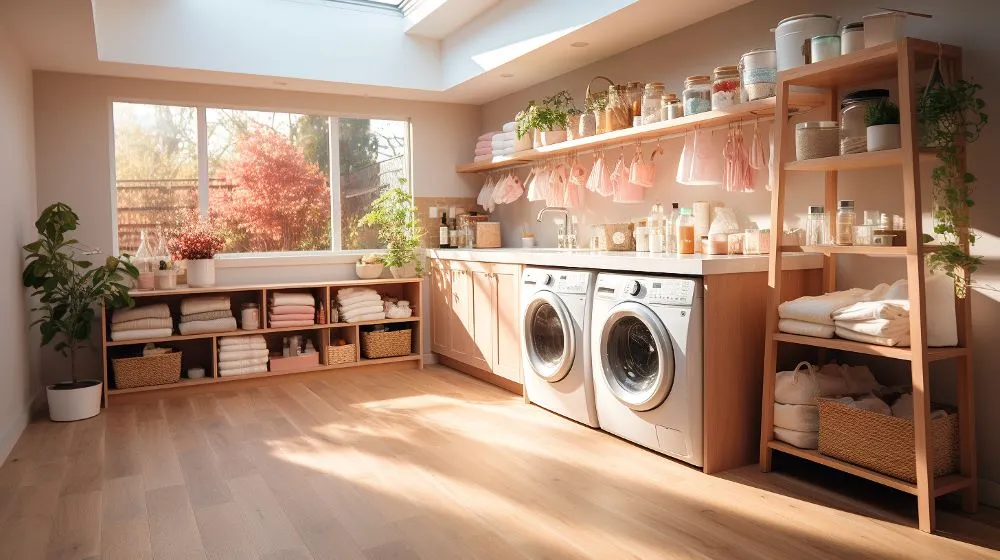 Understanding your requirements is the first step towards an efficient design. Once you have assessed your needs, create a plan for the layout. Think about where the washer and dryer should be placed, as well as any other storage or organizational solutions you may want to incorporate. Finally, make sure to measure the space before you start shopping for any new fixtures or supplies.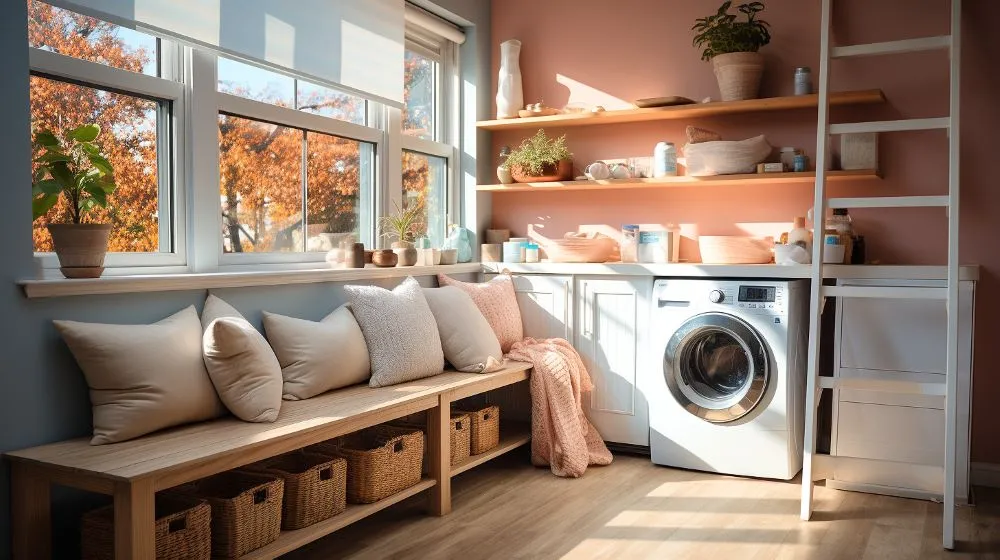 Optimize Layout and Flow
Efficiency is the name of the game when it comes to laundry room design. Plan for a logical flow that minimizes unnecessary steps. Ensure that your washer and dryer are easily accessible, and leave ample counter space for folding clothes. If space allows, consider adding a utility sink for hand-washing or other household tasks.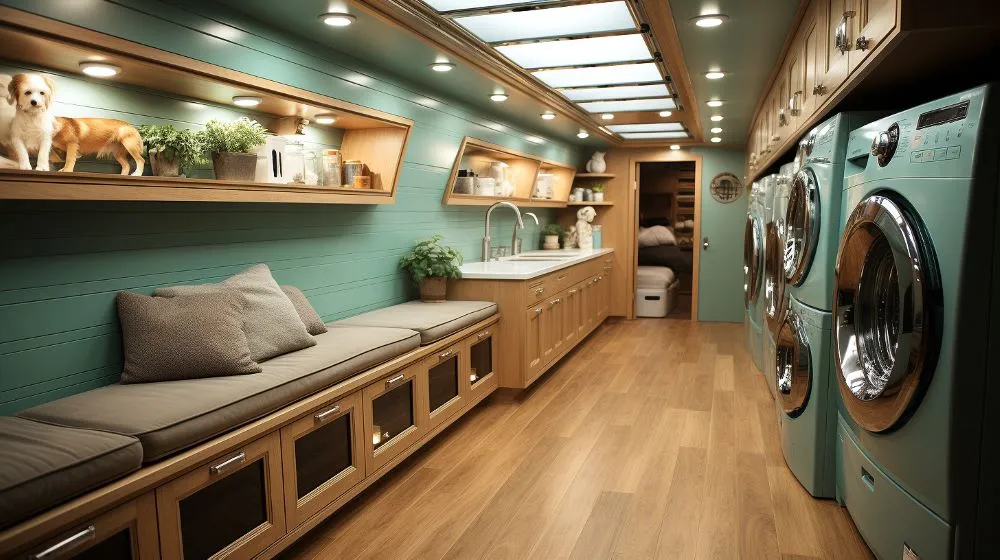 For example, you might install a deep sink and add pull-out shelves for a folding station, or tuck a cabinet over the washer and dryer for storing detergents and other supplies. This will make it easier to move between tasks without having to move items out of the way or take unnecessary steps. It will also create a more efficient workflow and help to maximize the available space.
Choose the Right Appliances
Investing in energy-efficient and space-saving appliances can make a world of difference. Front-loading washers and dryers not only save space but also consume less water and energy. Look for appliances with advanced features like steam cleaning and smartphone connectivity for added convenience.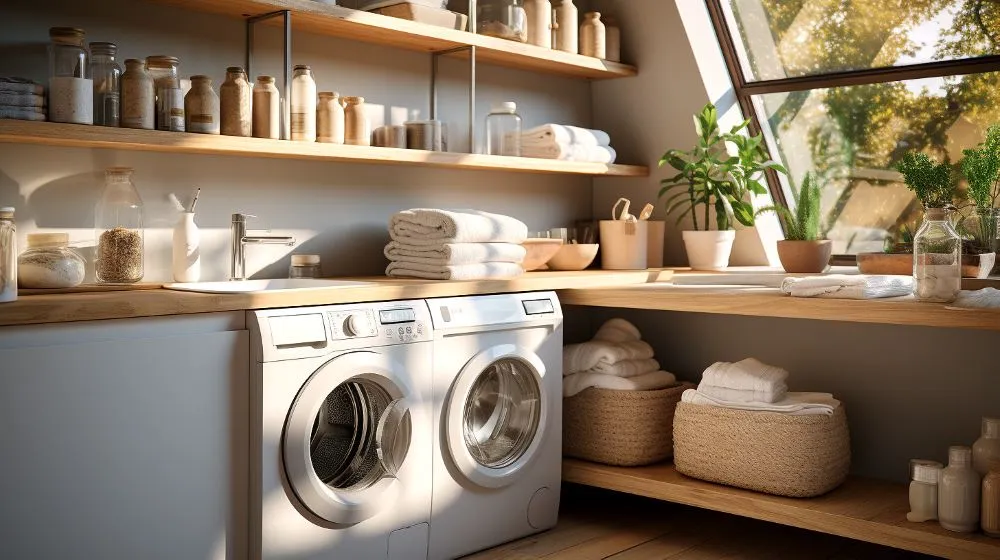 For example, a steam cleaning washer can reduce the need for hot water and harsh detergents while a dryer with Wi-Fi connectivity can help optimize drying cycles for maximum efficiency. Smart appliances can also be used to save energy and reduce utility costs. in Addition, appliances with motion sensors can also turn on and off automatically when people enter or leave a room.
Maximize Storage
Storage is crucial in a laundry room. Install shelves, cabinets, and hanging rods to keep detergents, cleaning supplies, and clothing well-organized. Consider pull-out baskets for dirty laundry and built-in ironing boards to save even more space. Add labels to the shelves or baskets to easily identify the contents. Install a countertop near the washing machine for folding clothes. Finally, add additional hooks or bars to hang ironed clothes, will maximize your laundry room storage space.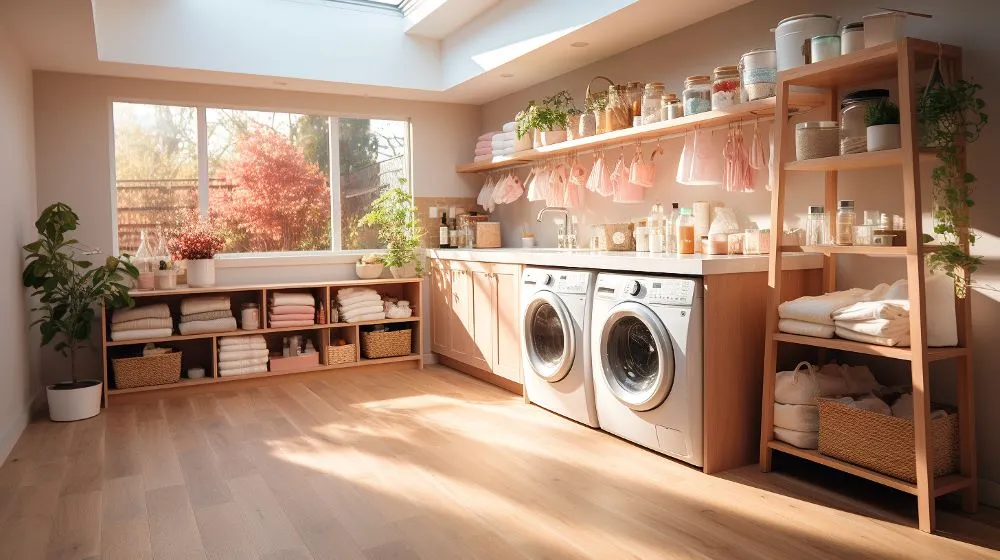 Proper Lighting
Good lighting is essential for a functional laundry room. Ensure that the room is well-lit to spot stains, sort clothes, and avoid accidents. Overhead and task lighting are both important for various laundry-related activities. Natural light is also beneficial for laundry rooms as it provides better visibility and can be used to save energy. Additionally, it's important to choose the right type of lighting based on the size of the room and the activities that will be performed in the space.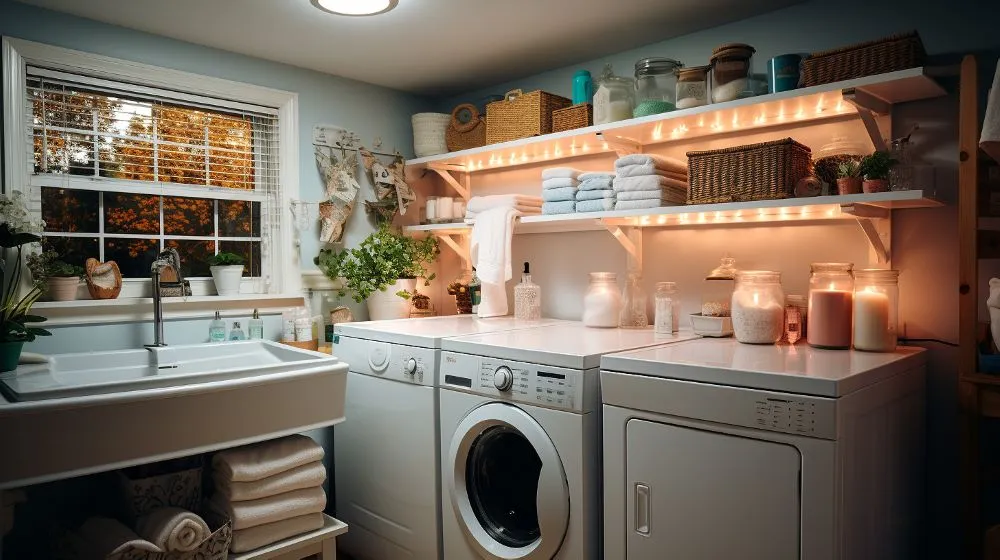 Need To Find Professional Laundry Room Remodels?
Have issues with your laundry room layout? Need some innovative ideas? Creating contemporary laundry rooms that are also warm and inviting is a fundamental component of our objective. Creating the ideal environment for you and your family that you can be proud of is our main goal. In order to discuss your requirements and ideas, get in touch with us and schedule a design consultation. We guarantee that we'll pay close attention to every little thing and realize your idea!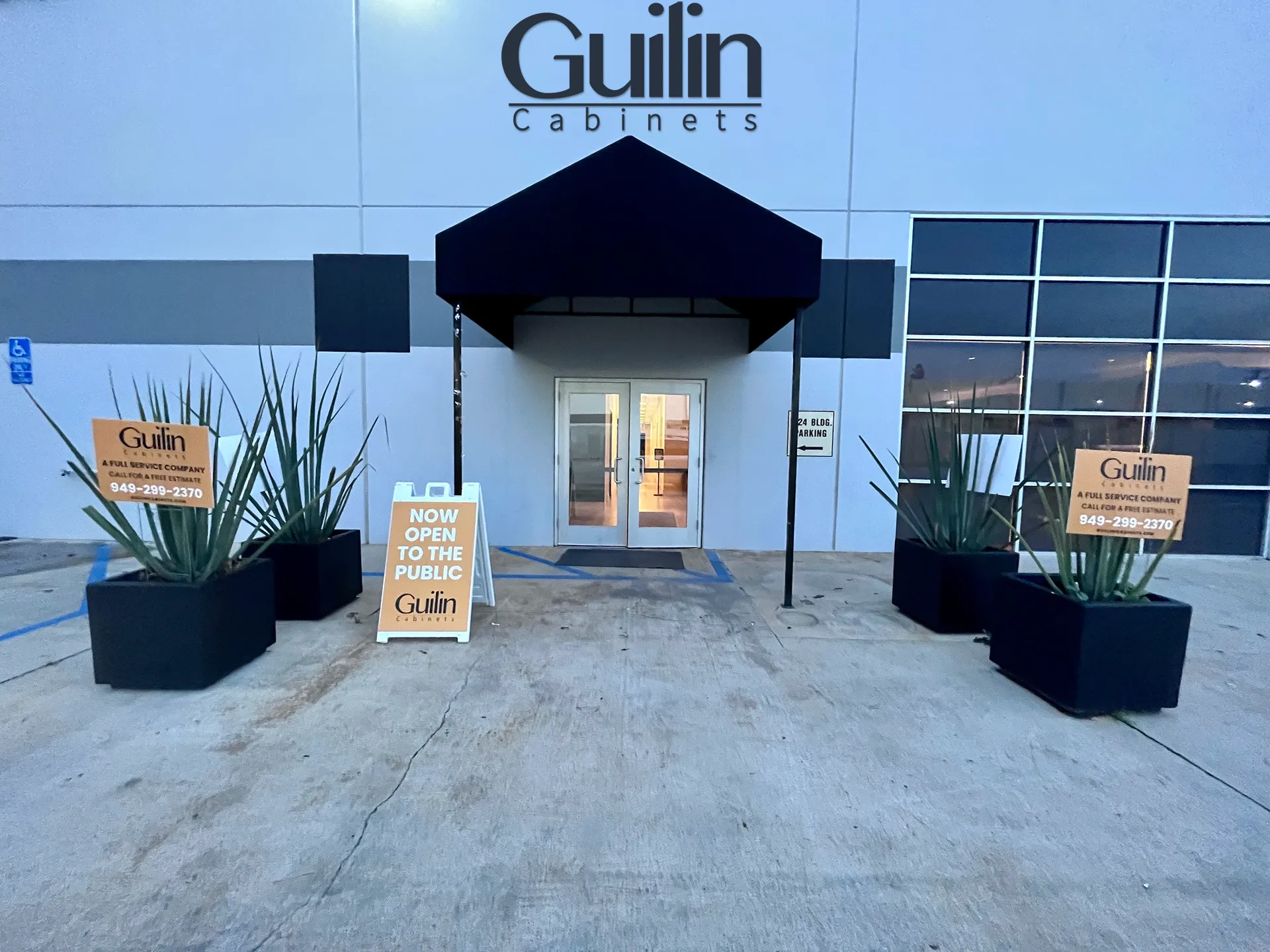 FAQs About Design and Organize Laundry Room
Can I turn my laundry room into a multi-purpose space?
Yes, you can maximize the utility of your laundry room by incorporating it into a multi-purpose space. Consider adding storage for pantry items, a utility sink, or a mudroom bench, depending on your needs.
How can I make my laundry room more energy-efficient?
To make your laundry room more energy-efficient, choose Energy Star-rated appliances, use LED lighting, and ensure proper insulation. Additionally, wash full loads and clean dryer vents regularly to improve efficiency
What flooring material is best for a laundry room?
Durable and easy-to-clean flooring materials like ceramic tile, vinyl, or sealed concrete are ideal for laundry rooms. These options can withstand spills and heavy foot traffic. Laminate is another cheaper option that is more affordable and looks like wood. However, it is not as durable as the other options. Natural stone tile is also a great choice, but it can be more expensive than the other materials