Are you looking to create a luxurious and timeless look in your home, marble countertops are the way to go. Not only are they beautiful, but they're also incredibly durable and can last for decades. From the classic white Carrara marble to the unique swirls of Calacatta, marble countertops bring a unique touch of elegance to any kitchen or bathroom. But, before you invest in this stunning and timeless material, it's important to understand the range of prices associated with marble countertops. In this blog post, we'll explore the cost of marble countertops, what to consider when selecting a marble countertop, and the benefits of choosing marble for your home. So, read on to learn more about the most expensive stone countertops on the market.
=> Read more: The Average Price of Different Countertops
What Makes Marble Countertops So Expensive?
Marble is a luxurious natural stone that is highly sought after for its aesthetic beauty and unique veining patterns. However, marble is also one of the most high-maintenance stone materials, requiring regular sealing and specific cleaning methods to avoid staining and scratches. Additionally, the cost of extraction and transportation of marble is significantly higher due to its fragile nature, making it a pricey choice for any homeowner.
Factors Effect on Marble Countertops: 
Type of Marble Stone.
Marble Countertops Edge Design.
The thickness of the Marble Countertops.
Type of Marble Stone:
Marble is a beautiful natural stone, and with its many varieties, it can be used to create stunning interior and exterior designs. Carrara marble and Statuary marble are two of the most popular types of marble due to their fine quality and attractive aesthetic. They are relatively easy to come by and are reasonably priced. Calacatta marble, however, is a bit harder to find and is therefore more expensive on average. Nero Marquina marble is the rarest of the marbles, and it is characterized by its black color with white veining. It is highly sought after and commands a higher price due to its scarcity.
=>Read more: Marble Countertop: Clean, Maintain, Remove Stains
When choosing a type of marble, it is important to keep in mind the intended application. Different types of marble are better suited to certain purposes, so it is important to do research and consider the specific needs of the project. For instance, Carrara marble is great for use in flooring, wall coverings, and countertops, while Statuary marble is ideal for accents, sculptures, and other decorative pieces. Calacatta marble is often used for its bold look, whereas Nero Marquina marble is more suitable for subtle accents, due to its dark tone.
Options for Marble Countertops:
Carrara marble:
Statuary marble:
Calacatta marble:
Crema Marfil marble:
Nero Marquina marble:
Carrara marble
Carrara marble is a classic, luxurious stone that has been around for centuries. Originating from the Italian region of Tuscany, this stunning white marble has become one of the most popular choices for kitchen countertops, backsplashes, and other design elements. But Carrara marble isn't limited to just white – you can also find this beautiful stone in grey and blue-grey varieties as well.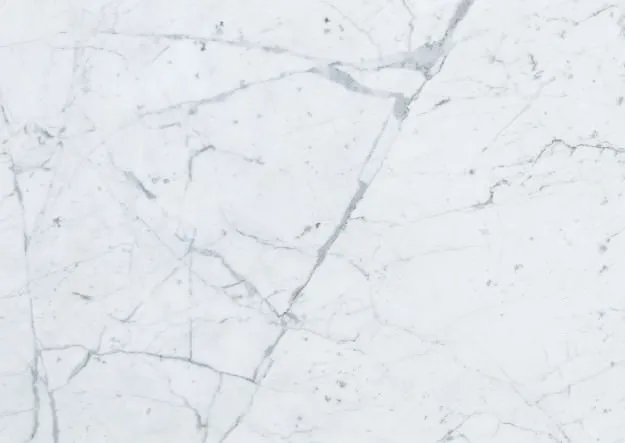 Statuary marble:
Statuary marble is a highly sought-after type of marble that is quarried from the same region as Carrara marble in the city of Carrara in the Italian region of Tuscany. Its distinct white color and translucent finish add a dramatic flair to any project, while its glossy surface adds a touch of sophistication. Statuary marble is also renowned for its purity, as it contains a high white background and traditional thunderbolt veins, making it ideal for sculpture, and countertop making. With its beauty, durability, and classic look, Statuary marble is a popular choice for residential and commercial projects alike. Whether you're looking to add a touch of elegance to a bathroom countertop or a grand statement piece in a lobby, Statuary marble is sure to make an impact.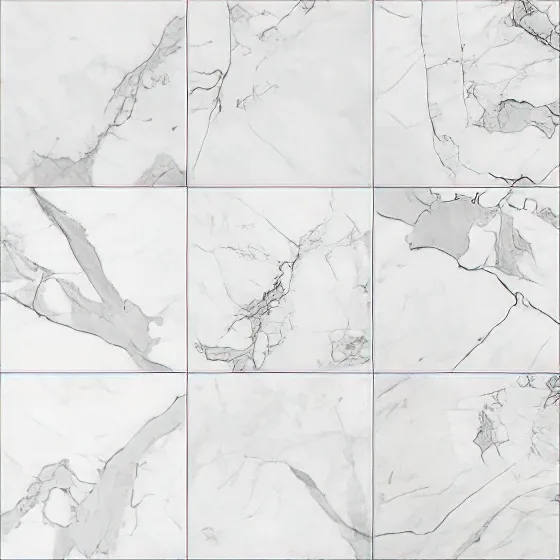 Calacatta marble:
Calacatta marble is one of the most luxurious countertops materials in the world, making it highly coveted and expensive. This exquisite marble is quarried from the Apuan Mountains in Carrara, Italy, and is renowned for its striking beauty. Its white background is accented with bold veins, giving it an unmistakable elegance and grandeur. Comparable to Carrara Marble, Calacatta Marble differs in that it features a more striking pattern with a darker grey to the gold vein. Due to the rarity of this material, production is tightly controlled and limited. In the winter months, quarrying becomes particularly difficult due to the remote location of the mountain range, leading to seasonal variations in production. The Borghini Quarry is one of the most prestigious quarries in the region, with some of its cuts having been used since Roman times.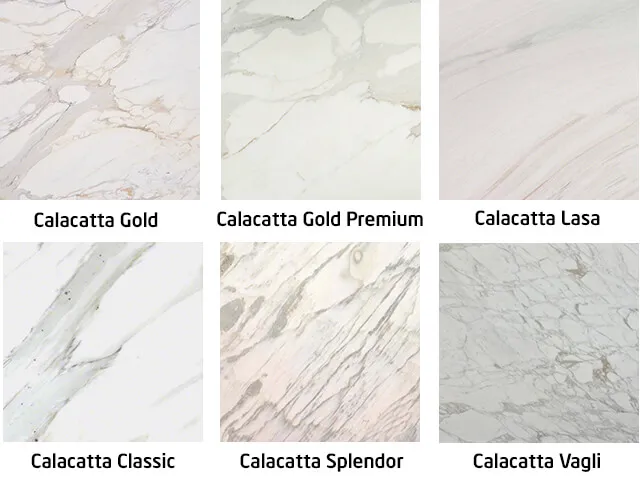 Crema Marfil marble:
Originating in Spain, Crema Marfil marble is a stunning stone with a creamy beige color and soft, subtle veins of colors like yellow, cinnamon, white, and even goldish beige. It's a much more neutral color than regular white marble, making it the perfect choice to pair with darker-colored cabinetry or furniture. Plus, it's quite common and more affordable than some of the other varieties.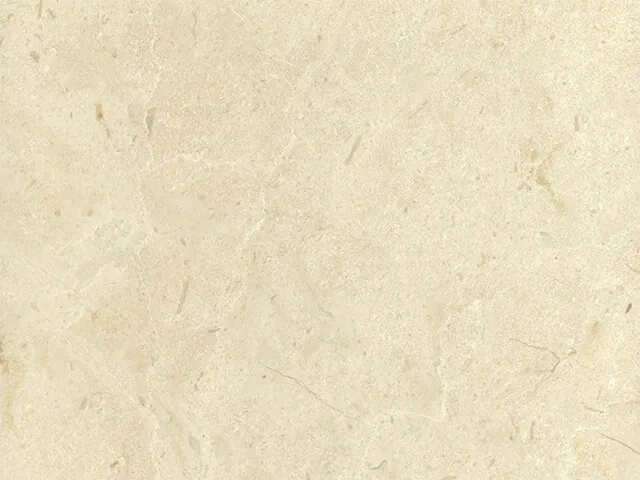 Nero Marquina marble:
Nero Marquina marble is an exquisite type of black marble that is quarried from the regions of Northern Spain, specifically Markina in the Basque Country. Its most distinctive characteristic is the white veining pattern that contrasts against the dark black base. It's this unique pattern that makes Nero Marquina marble eye-catching and one-of-a-kind, as no two pieces will ever have the same pattern. Its fine and compact grain brings to mind a starry night sky, with lightning-like veining that is sure to add a touch of sophistication to any room.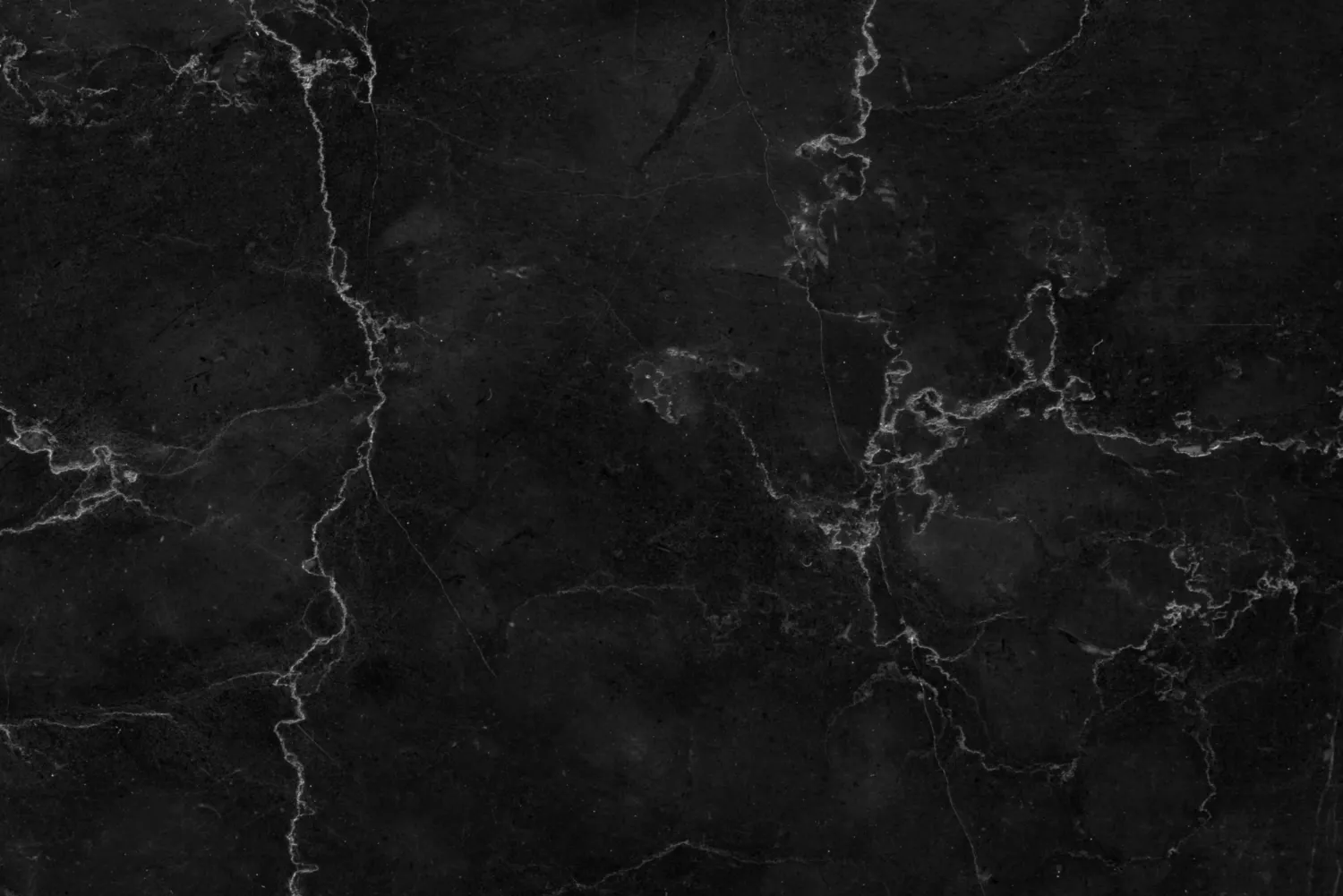 Marble Countertops Edge Design:
The quality of the Marble natural resource itself represents only part of the equation when it comes to marble pricing. Another aspect of marble value is defined by the level of detail and craftsmanship that goes into its manufacture and installation. Marble countertops are milled with specialty edges that enhance their finished appearance.
=> Read more: 5 Types of Countertop Edge | Which to Choose
Those edge bevels, ogee square, ogee bullnose, and waterfalls… can dramatically impact the price of the finished marble countertop since a craftsman must shape those edges, which takes time and results in an additional cost of the finished countertop slab. Also, the type of finish you select for your countertops can define the final price for the installed marble, as some finishes are more costly than others.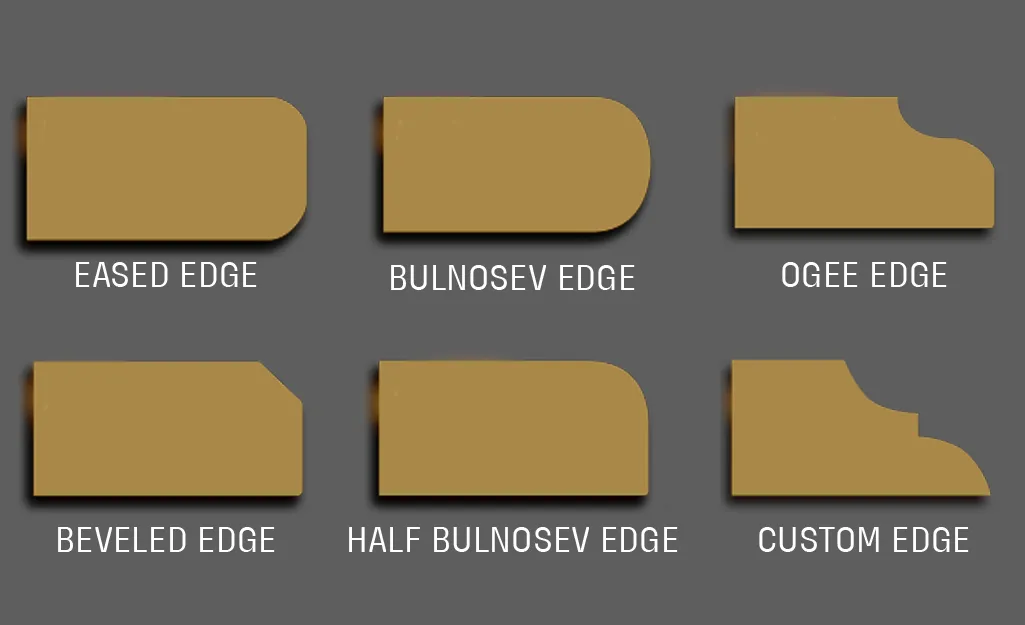 Bevels Edge:
The beveled edge countertops are an excellent option for you. Beveled edges feature a 45-degree cut across one end of each piece, which is then sanded down to create a smooth, sharply-defined edge. This gives your countertop a sophisticated look that will instantly elevate your kitchen space.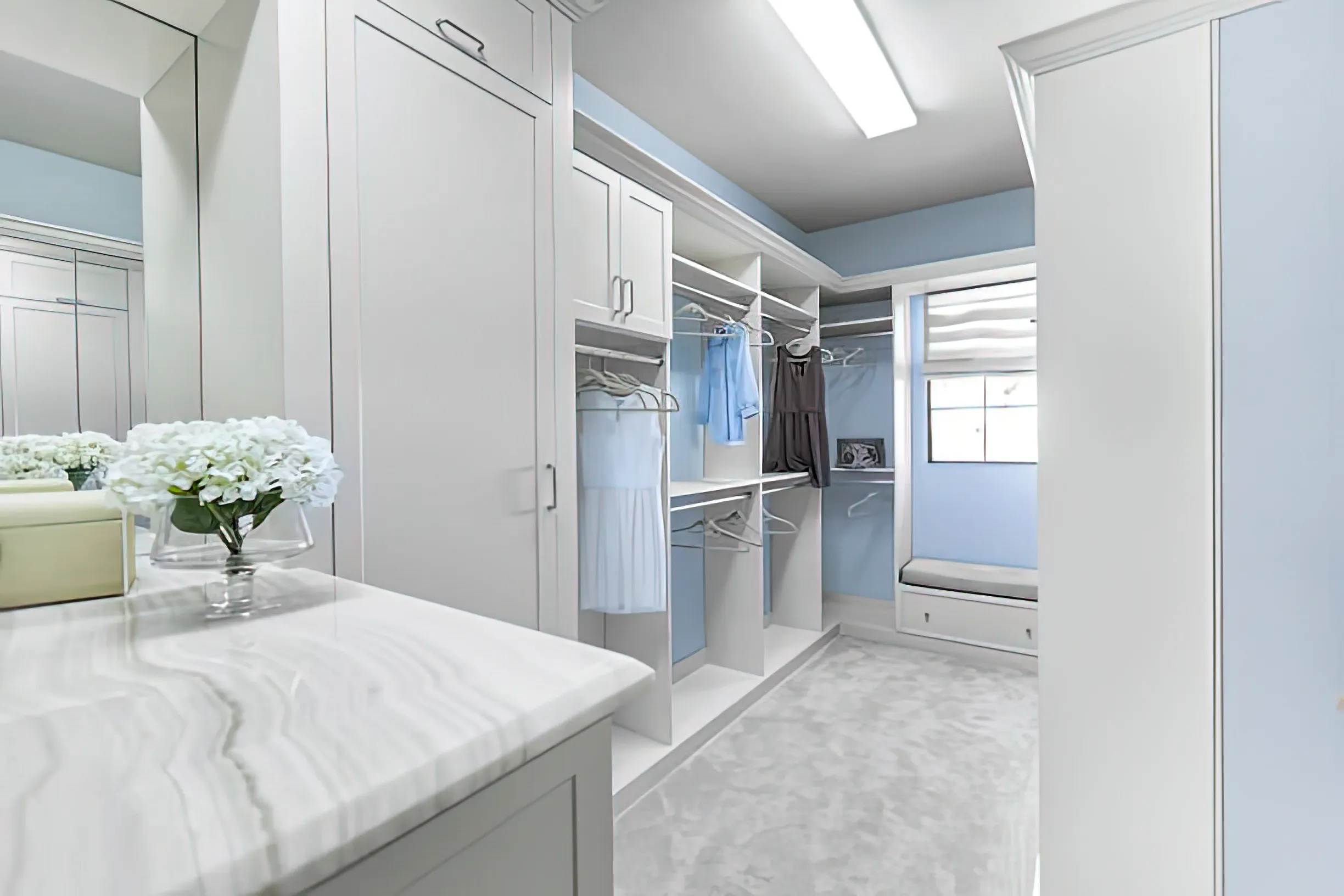 Custom Closets room with Natural Stone Beveled Edges Countertop from Guilin Cabinets
Ogee Edge:
An ogee edge is a curved, S-shaped edge that combines two curved elements along the top and bottom of the countertop. The upper curve is convex, while the lower curve is concave, creating an intricate shape that adds extra visual interest to any kitchen. Installing an ogee edge countertop can be a bit more expensive than other designs due to the extra skill and effort it requires.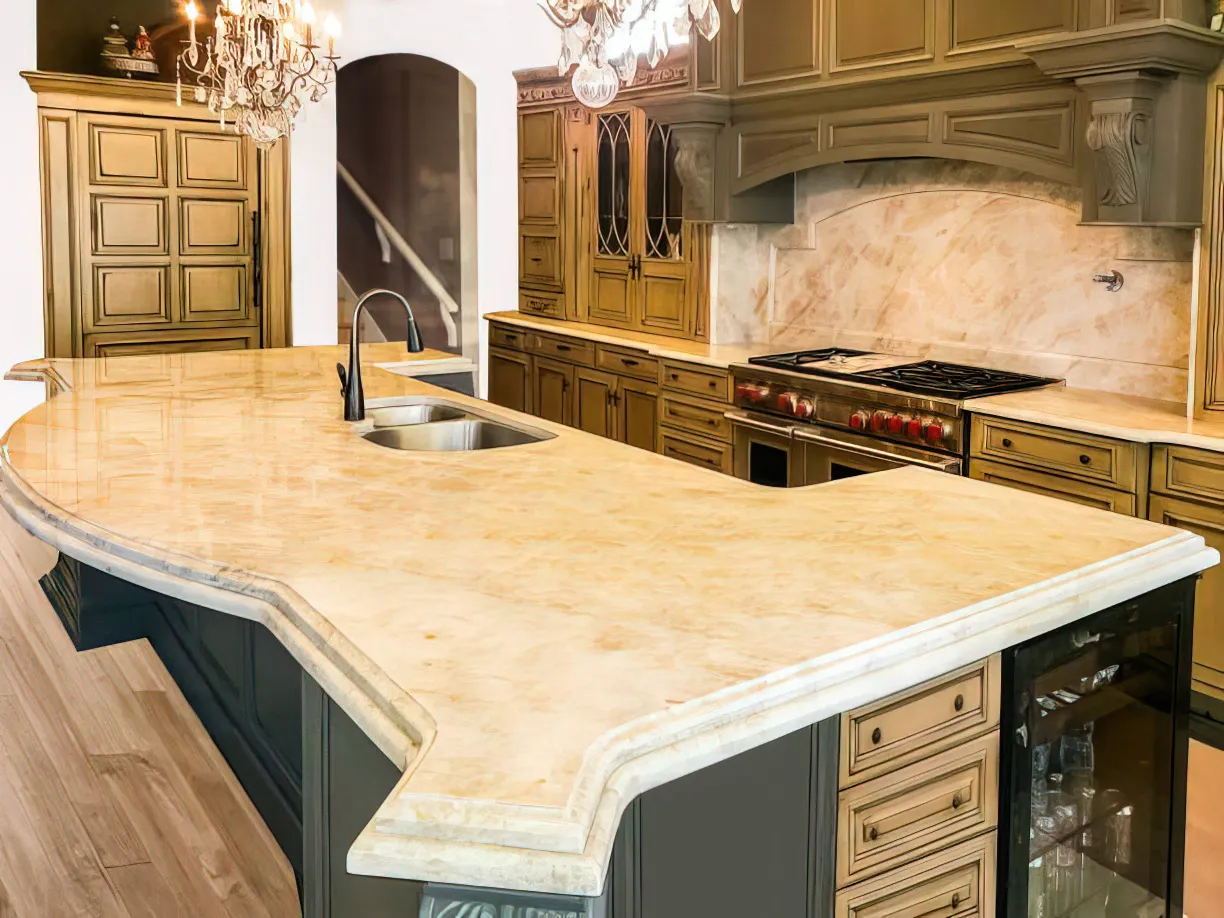 Ogee Square Edge:
The Ogee Square Edge is renowned for its exquisite beauty and intricate detailing. Its gentle S-shaped curve on the top edge creates a sense of movement and flow, adding depth and dimension to any surface. The squared-off top edge of the Ogee Square Edge adds a modern twist to the traditional Ogee design, making it a perfect choice for those who want to blend classic and modern styles in their home.
Ogee Bullnose Edge:
Ogee Bullnose Edge creates a unique and eye-catching edge profile that combines two distinct Ogee and the Bullnose, adding a sophisticated look to countertops. The Ogee portion of the profile adds depth and complexity with its flowing curves, while the Bullnose portion softens the edge and provides a comfortable feel to the touch.
Waterfalls Edge:
Waterfalls Edge countertops are a unique countertop style that adds a stunning waterfall effect to the edges of your countertops. This design feature creates a seamless flow from the countertop surface to the edge, resembling a cascading waterfall. With their sleek and modern appearance, Waterfalls Edge countertops can transform your kitchen into a luxurious space that exudes elegance and sophistication.
The Thickness of The Marble Countertops:
Size and thickness are two factors that have a major impact on the overall cost. Generally speaking, the larger the surface area, the higher the price of the marble will be. However, thickness is also something to consider when deciding on the best marble countertop for your space. The industry standard for marble kitchen countertops is typically 3 centimeters, while bathroom marble vanity tops are usually 2 centimeters thick. It's important to remember that the thickness of your marble countertop can have a major impact on its strength and durability. The thicker the slab, the more solid and reliable it will be, meaning that it can withstand wear and tear better over time. Additionally, some people prefer the look of thicker marble countertops, as they can add a more luxurious aesthetic to any space.
Common kitchen marble countertops: 3 centimeters (or 0.7874016-3/4 inches)
Common bathroom marble countertops: 2 centimeters (or 1.1811024-1-1/4 inches)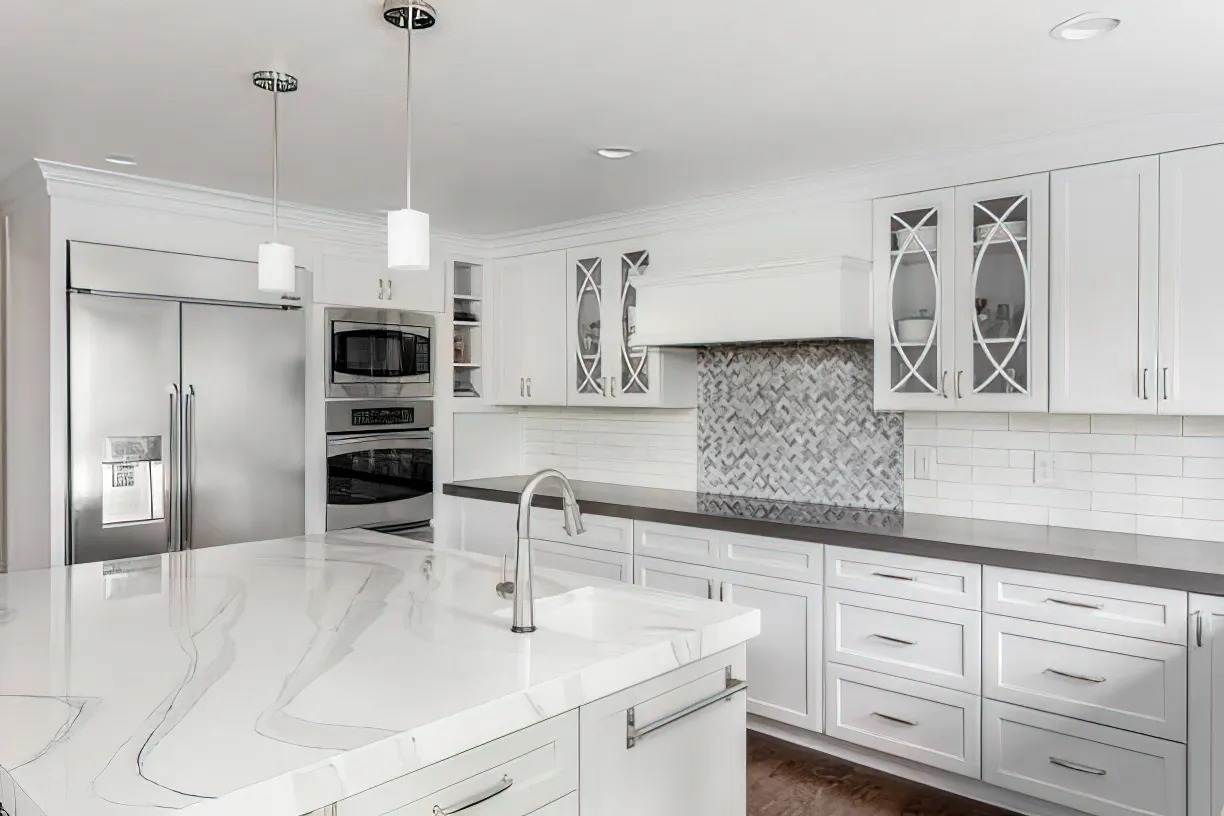 2 Centimeters marble countertops:
As a homeowner, there are many decisions that you'll need to make when it comes to updating your space. One of the most important decisions is choosing the right material for your countertops. While marble has been a longstanding favorite for homeowners, the thickness of the stone can have a huge impact on its durability and longevity.
About the cost:
While there is a 25% to 40% difference in material costs between a 2 cm and 3 cm thickness, it's important to consider the long-term investment you're making. While a 2 cm thickness may be initially cheaper, it may not have the same lifespan as a 3 cm thickness.
About practicality:
Next, let's discuss the practicality of a 2 cm thickness. Typically, 2 cm is used for backsplashes or surfaces that won't be placed under stress regularly, like a counter, bathroom vanity tops, fireplace surrounds, wall cladding, shower surrounds, and backsplashes… This doesn't mean that 2 cm marble countertops are always out of the question, but it's important to consider the job and make sure you work with an experienced fabricator who won't risk an installation that could potentially cause parts of the stone to break off or completely collapse.
Need Pro-installer:
Additionally, a pro-installer with knowledgeable marble stone would never install a 2 cm marble countertop without laying down a base of plywood or similar material as extra support. Overall, if it's in your budget, it's best to spring for the 3 cm countertop. This thickness is structurally sound enough to not require any backup support system, and will certainly have a longer lifespan than a 2 cm countertop.
3 Centimeters marble countertops: 
The 3cm thickness is the classic, luxurious profile for marble countertops and other horizontal applications. This extra thickness provides added strength and durability, making it well-suited for high-traffic areas like kitchens and bathrooms. It can withstand heavier weight, ensuring that your countertops stay intact for years to come. But the benefits of 3cm marble countertops don't end there. This added thickness also provides opportunities for elegant and ornate edge profiles.
You can choose from a variety of options, including bullnose, waterfall, and ogee, to add interest and personality to your countertops. Homeowners who truly want to make the most of their marble are more likely to opt for the 3cm thickness. It offers a high-end look and feels that elevates any room. Whether you're looking for a sleek and modern kitchen or a traditional and timeless bathroom, 3cm marble countertops are the perfect finishing touch.
FAQs About Marble Countertops