Counter Space=> Read more: Types Of Countertop Edges: 5 Most Popular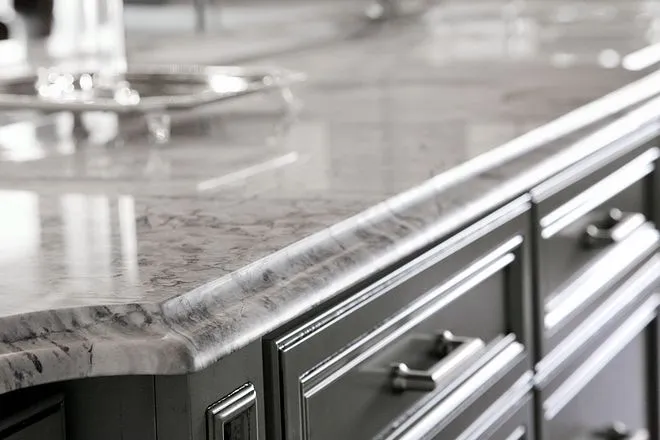 The ogee edge is a classy choice that will make your countertop look finished. If you seek to draw attention to the unique characteristics of your stone, this traditional edge profile is perfect. It draws the eyes to the counter and frames the beautiful stone. It is also a versatile option that works with every countertop style, which makes it a favorite of many homeowners. Investing in this type of countertop edge is a safe bet that will pay you in the long run.
Pros & Benefits of Ogee Countertop Edge
Safe for Everyone: Because the ogee edge has smooth curves, it is a great option for families with little children. Unlike sharp-cornered counters, the ogee edge avoids the chance of cuts and scrapes. This provides a safer atmosphere for young children to explore the kitchen.
Flexible: Ogee countertop edges are versatile and may be used in any kind of home, from modern to farmhouse to traditional. It's also an excellent choice for both kitchens and bathrooms.
Adds a luxurious, traditional, and elegant look: The ogee edge adds a classic and beautiful touch to any kitchen décor. With its timeless look, the ogee edge can easily become a focal point of any kitchen. If you looking for a timeless, classic countertop edge that is both stylish and practical, an ogee countertop edge is a perfect choice.
Cons of Ogee Countertop Edge
More Expensive: The cost of Ogee Edge countertops is often a major downside for homeowners that are considering them for their renovations. In comparison to other classical countertop edges, the Ogee Edge countertop tends to be more expensive, making them a less attractive option for those on a tight budget.
Hard to Install: Installing an Ogee Edge countertop can add a stunning, luxurious look to any kitchen or bathroom, but it's not without its drawbacks. While the intricate curves and ornamental detailing of an ogee edge can elevate the aesthetic of a space, this type of edge requires careful installation that can lead to higher installation costs than a straight edge. This is because it takes more time to correctly install an ogee edge, lining up the edges to maintain that smooth S-shape on every seam. If the countertop is installed incorrectly, the ogee edge can look disjointed, taking away from the aesthetic of the space. Never attempt to install any countertop on your own, especially one with detailed edges.