When developing your ideal cooking space, you can draw inspiration from a number of different kitchen layouts. The T-shaped kitchen is an example of such a layout. T-shaped kitchens are innovative and practical layouts that maximize large spaces and increase storage. In this post, we'll look at the advantages and disadvantages of a T-shaped kitchen so you can make a well-informed decision about your kitchen remodel or build.
More common kitchen layouts include:
What is a T-shaped Kitchen?
A T-shaped kitchen refers to a kitchen layout that resembles the letter "T" when viewed from above. It is a popular kitchen design that maximizes efficiency and functionality by utilizing two perpendicular walls and a central T-shaped workspace or island.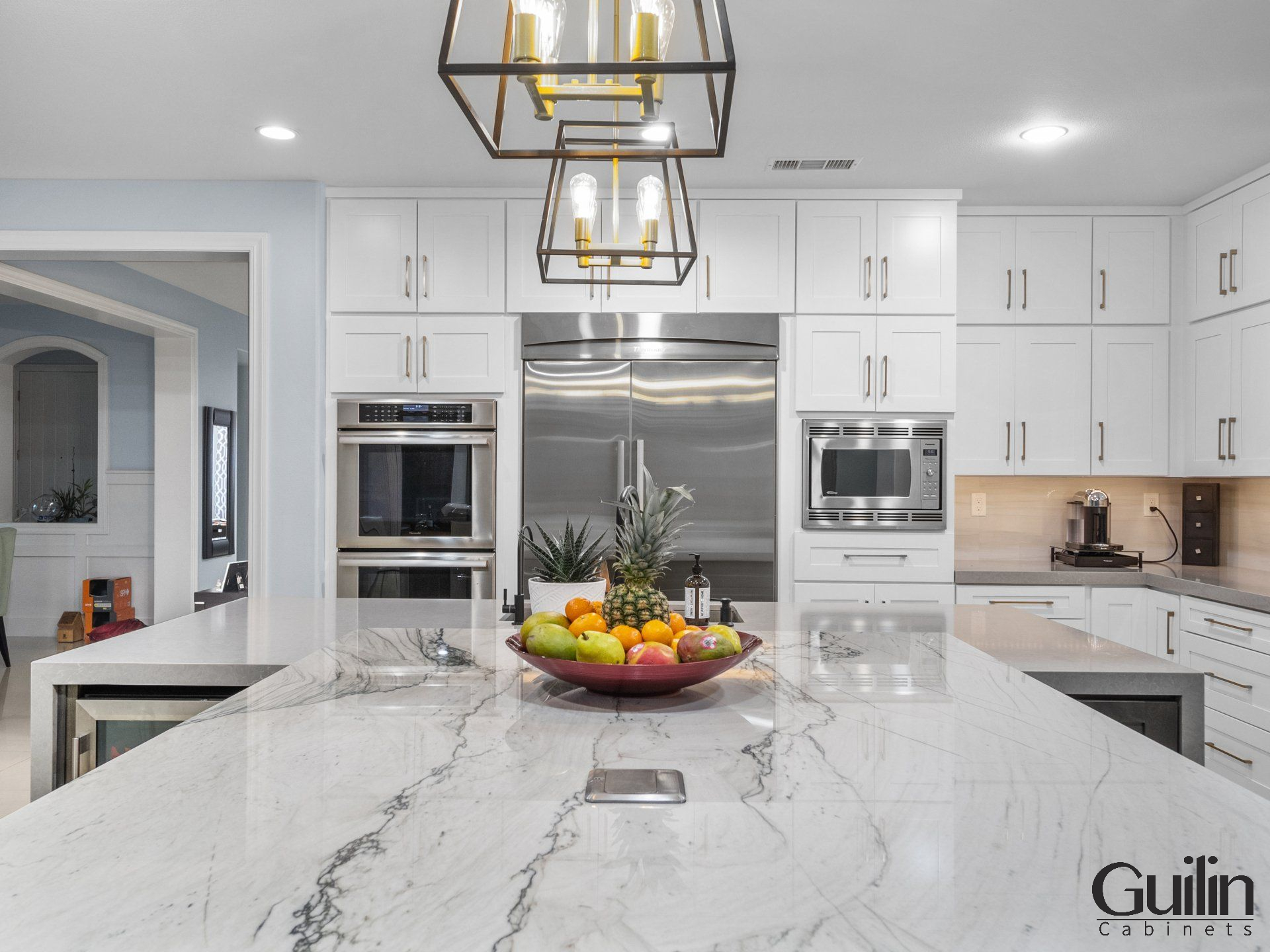 The primary countertop, or working area is often aligned perpendicular to a wall, and the secondary countertop, or peninsula, extends from the primary workspace area to create a T. This layout makes for a convenient transition between different stages of food preparation. The sink is typically located on the primary work surface, while the secondary countertop can be used for food preparation or dining.
How much space do you need for a T-shaped kitchen layout?
Before choosing this layout for your kitchen, you need to determine if a T-shaped island would fit in your kitchen. The standard separation between your island and your base counters is 36 inches. Make sure there's enough area to move about when cooking or just living. With a T-shaped island, things get much more complicated because you'll need that additional room to accommodate the 'T's base. A longer-than-average kitchen may be required, depending on the size of your kitchen island.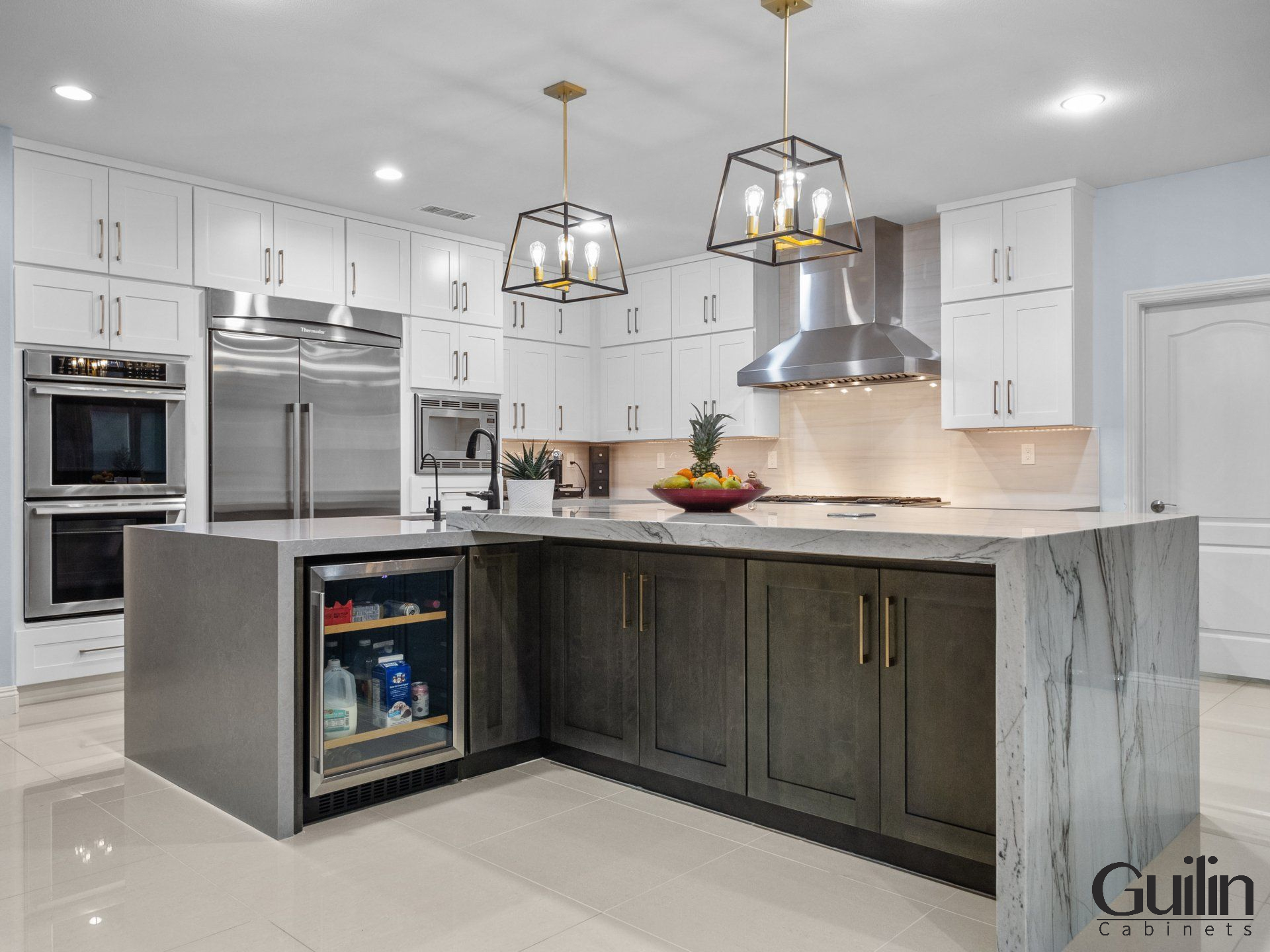 How much budget needs for a T-shaped kitchen layout?
As is the case with all kitchens, the price will vary depending on the size, materials, and appliances chosen for your project. A larger kitchen island like the T-shaped island will require more materials and will therefore be more expensive. Be sure you can afford the premium price tag of this one-of-a-kind creation. If you are looking to transform your kitchen into a T-shaped design, make an appointment with one of our professional kitchen designers for a free consultation and quote.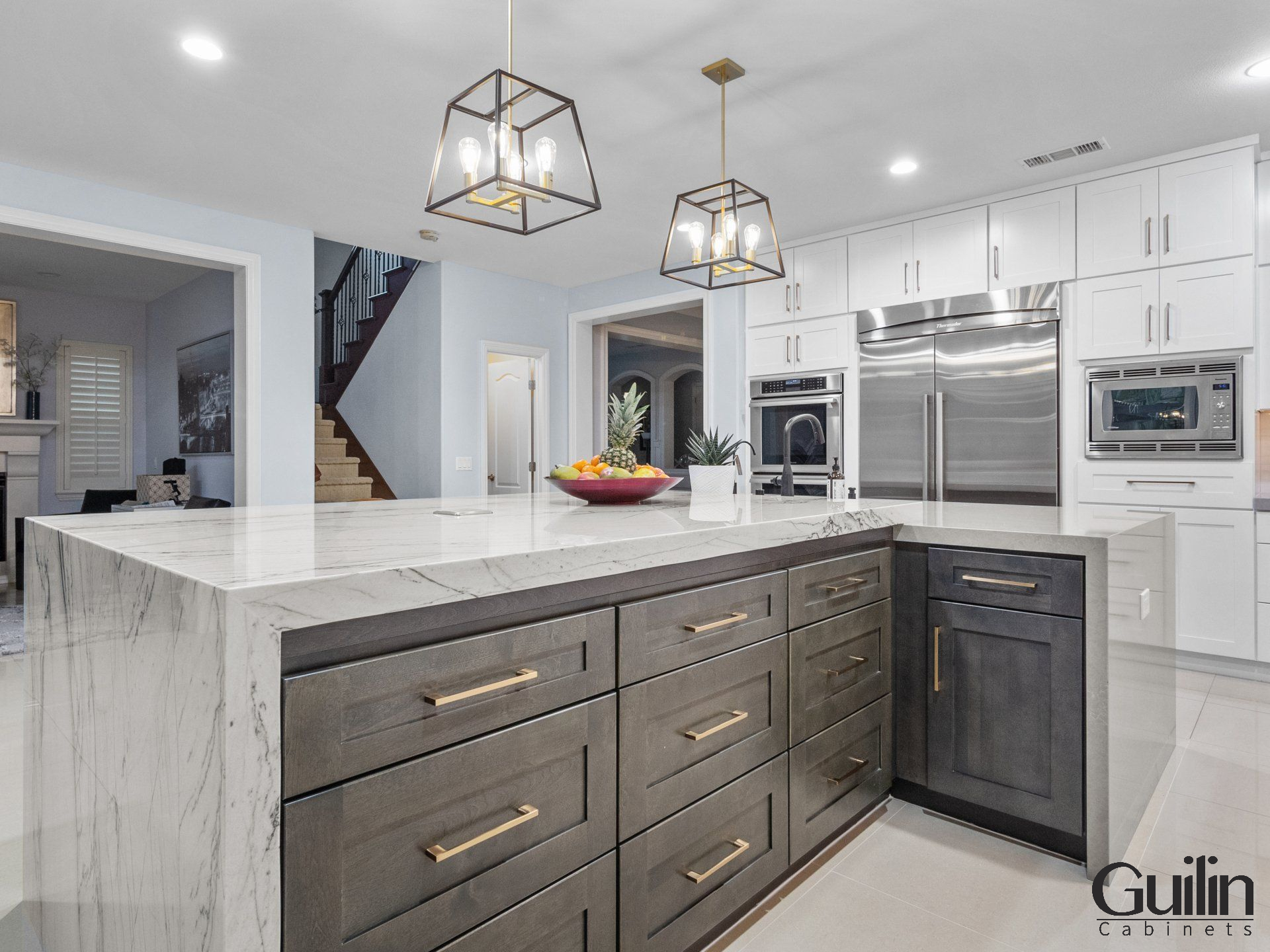 Pros of a T-Shaped Kitchen
More Workspace
An enormous amount of counter space is one of the primary benefits of a T-shaped kitchen layout. The primary countertop, which is perpendicular to the wall, provides plenty of space for chopping, prepping, and cooking. This design is ideal for entertaining large groups of people. The large workspace makes it easy for everyone to do their own task at the same time without feeling crowded.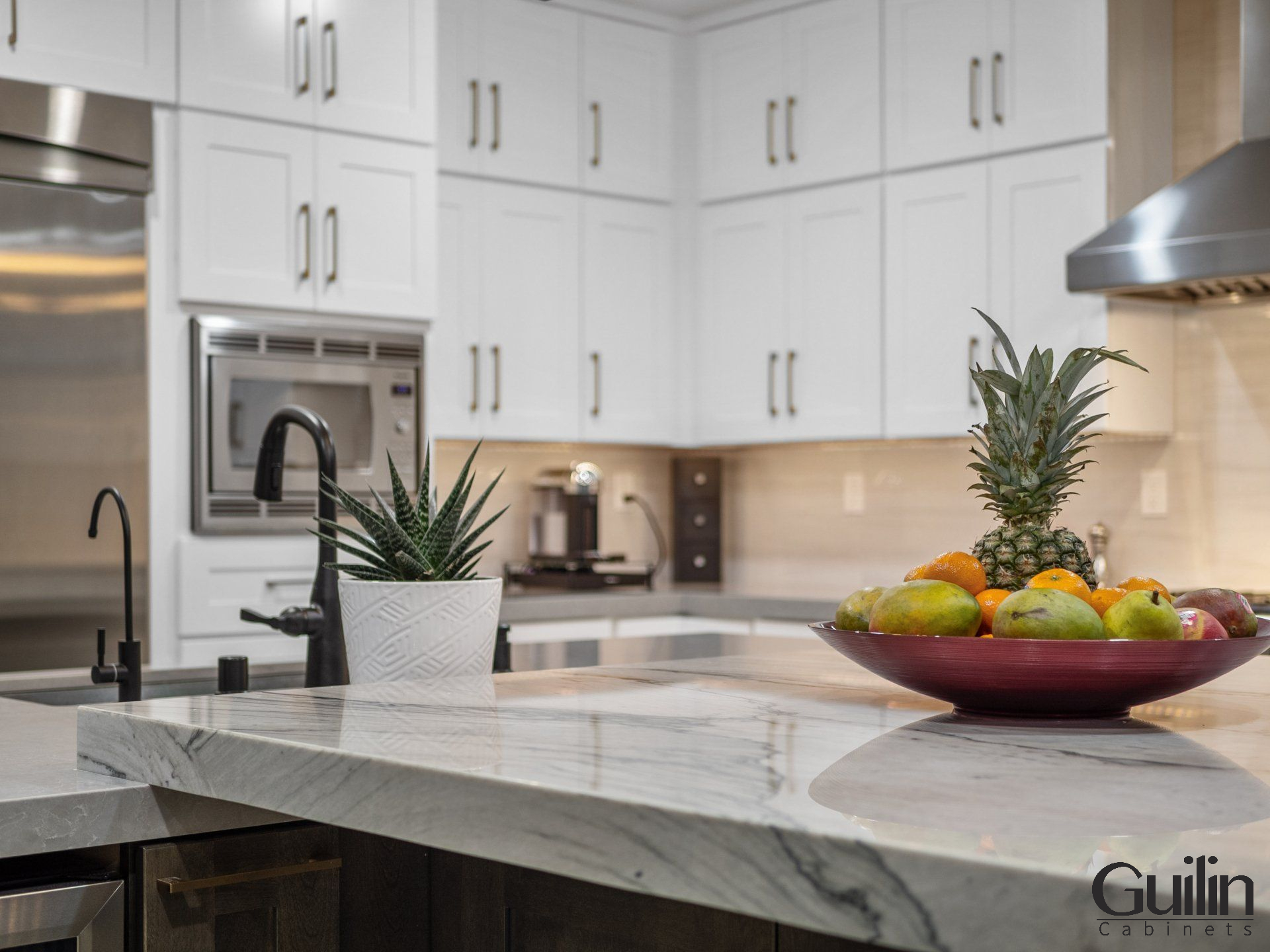 Efficient Workflow
The T-shaped kitchen prioritizes traffic flow between the three main areas of a kitchen: the sink, the oven, and the fridge. The convenience of having all the necessities within easy reach makes cooking a pleasure rather than a chore. This streamlined procedure increases output and efficiency in the kitchen.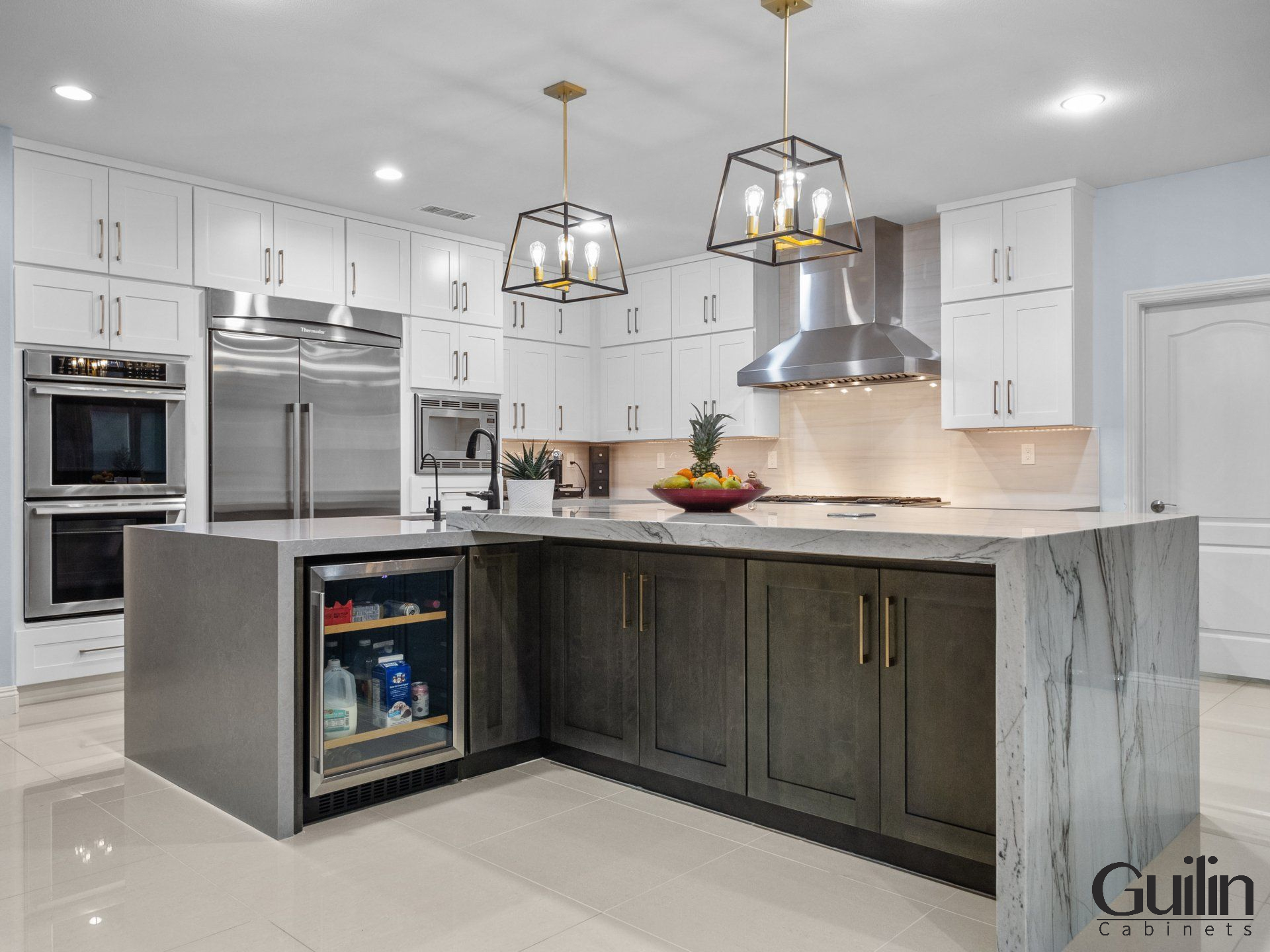 More Storage
The extra storage space provided by a T-shaped kitchen is yet another perk. Storage cabinets and drawers are a common addition to the space under the secondary countertop or peninsula, allowing for more room to store dishes, pots, pans, and other kitchen necessities. This extra storage space makes the kitchen easier to keep clean and tidy.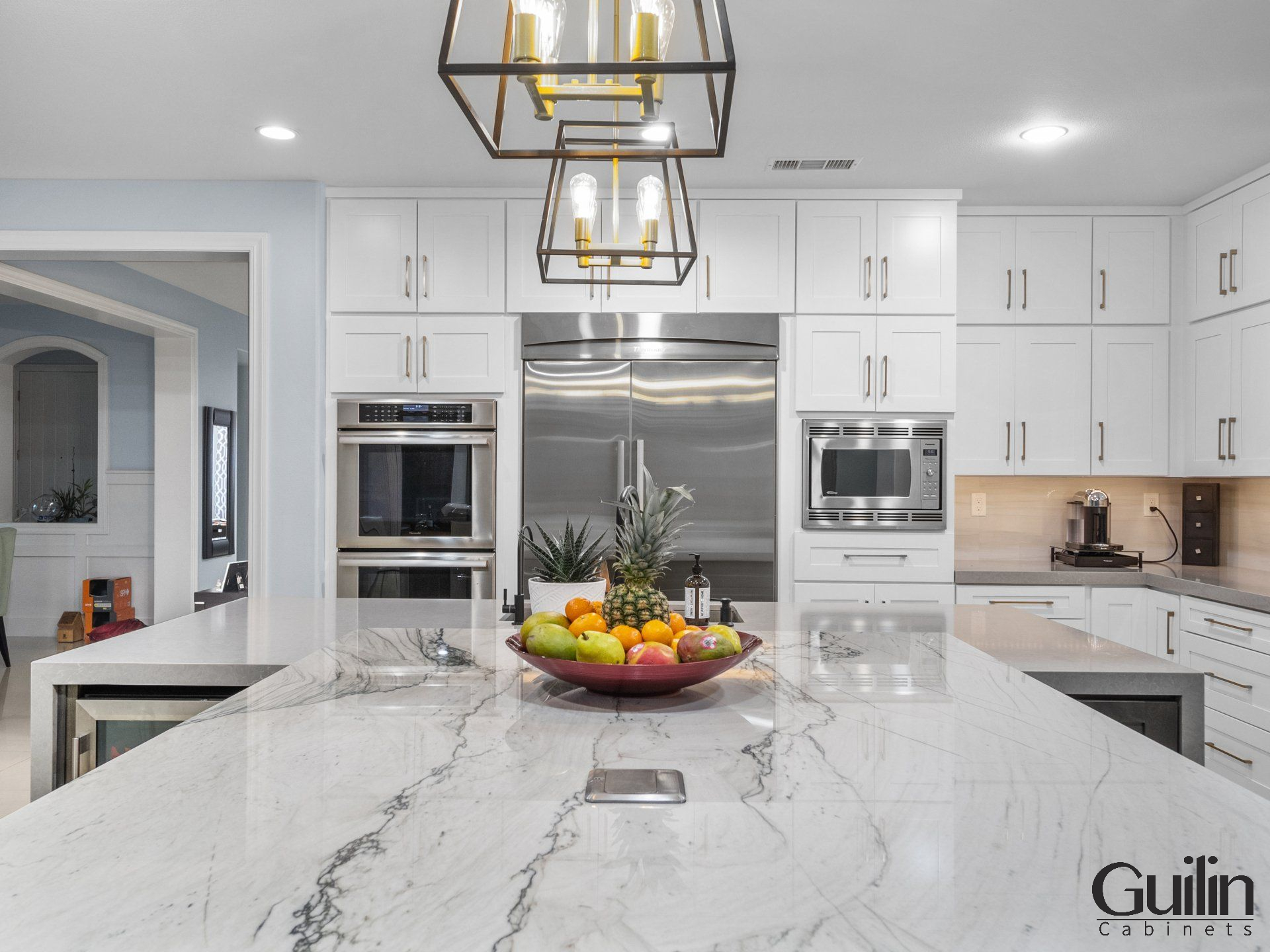 Engaging in Conversation
In a T-shaped kitchen, people can congregate comfortably on the secondary countertop. It can serve as either a breakfast bar or a casual dining area that accommodates guests while the main course is being prepared. This allows those preparing the meal to join in on the fun by chatting with visitors and watching what they are doing.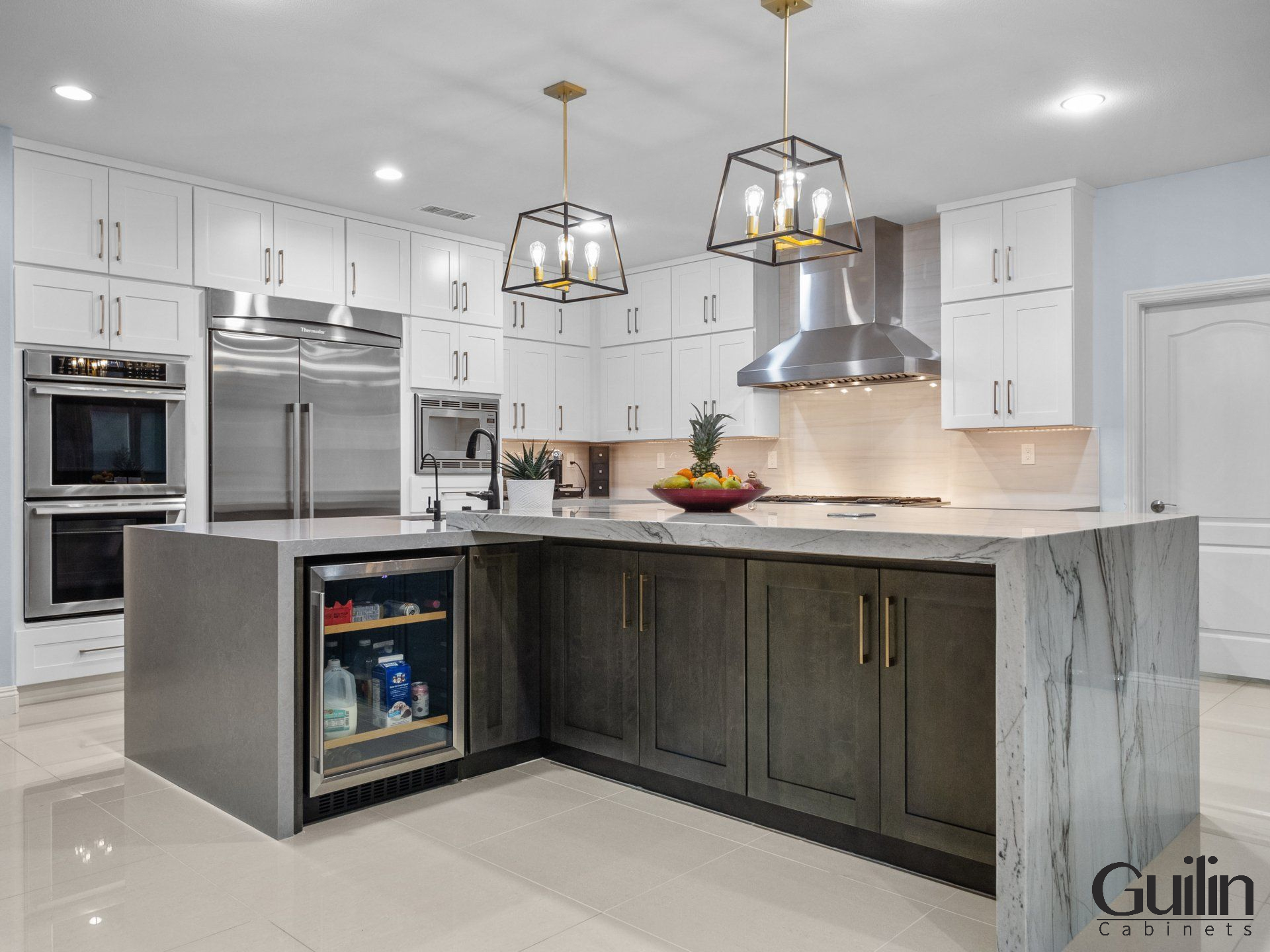 Cons of a T-Shaped Kitchen
Need More Space
The T-shaped kitchen layout has several benefits but requires more space than other kitchen layouts. In kitchens where every square inch counts, the peninsula or extended countertop may not be the best choice. Make sure the T-shaped arrangement can fit into your kitchen without making it too small or cramped by giving it a thorough evaluation.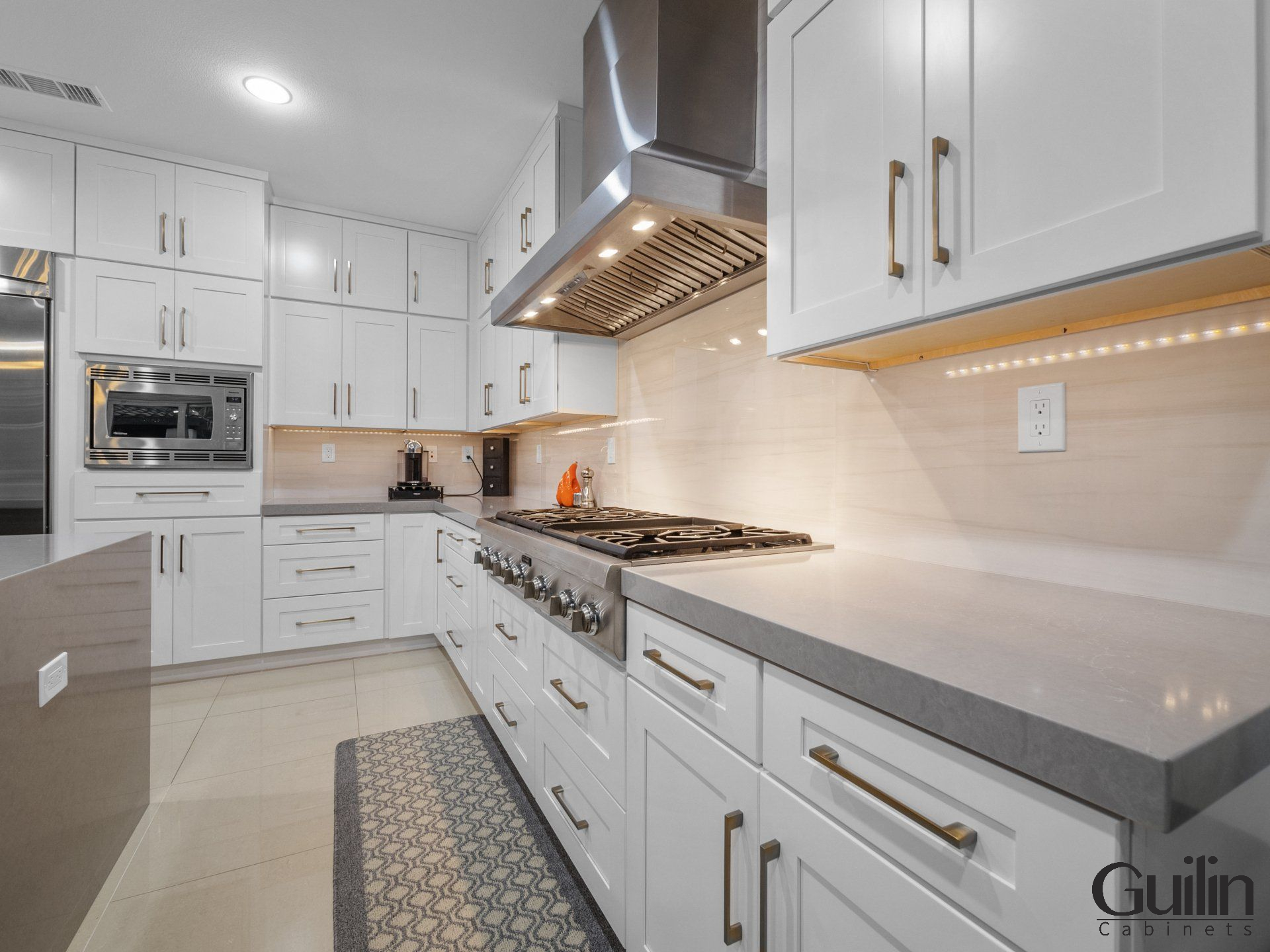 Higher Cost
Installation and remodeling expenses may be greater for a T-shaped kitchen than for a more conventional kitchen layout, especially a large island if custom cabinetry or structural adjustments are necessary. The potential benefits and costs of a T-shaped kitchen layout should be carefully considered before any renovations are made.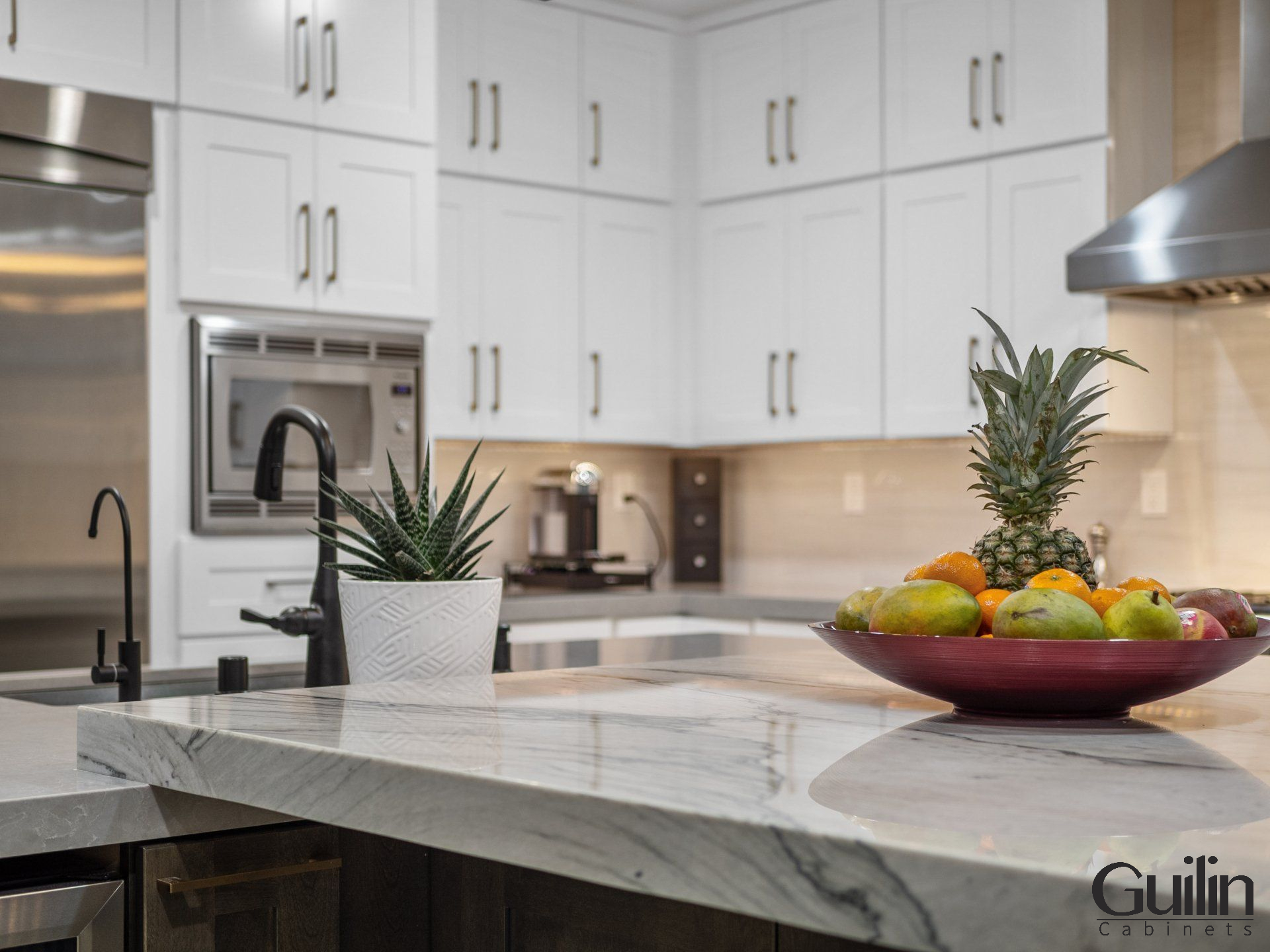 Need Help To Choose The Right Kitchen Layout in CA?
If you're thinking about remodeling your kitchen in California but aren't sure whether a T-shaped kitchen layout will work in your space and you need help right away. Please! Contact Guilin Cabinets Today for assistance!
Hotline: +1 949 299 2370
Email: info@guilincabinets.com
As a professional kitchen remodeling company, We know choosing the right kitchen layout can make all the difference, We can offer you advice on how to choose the right layout and assist you in creating dream kitchens that are both attractive and functional to suit your individual needs.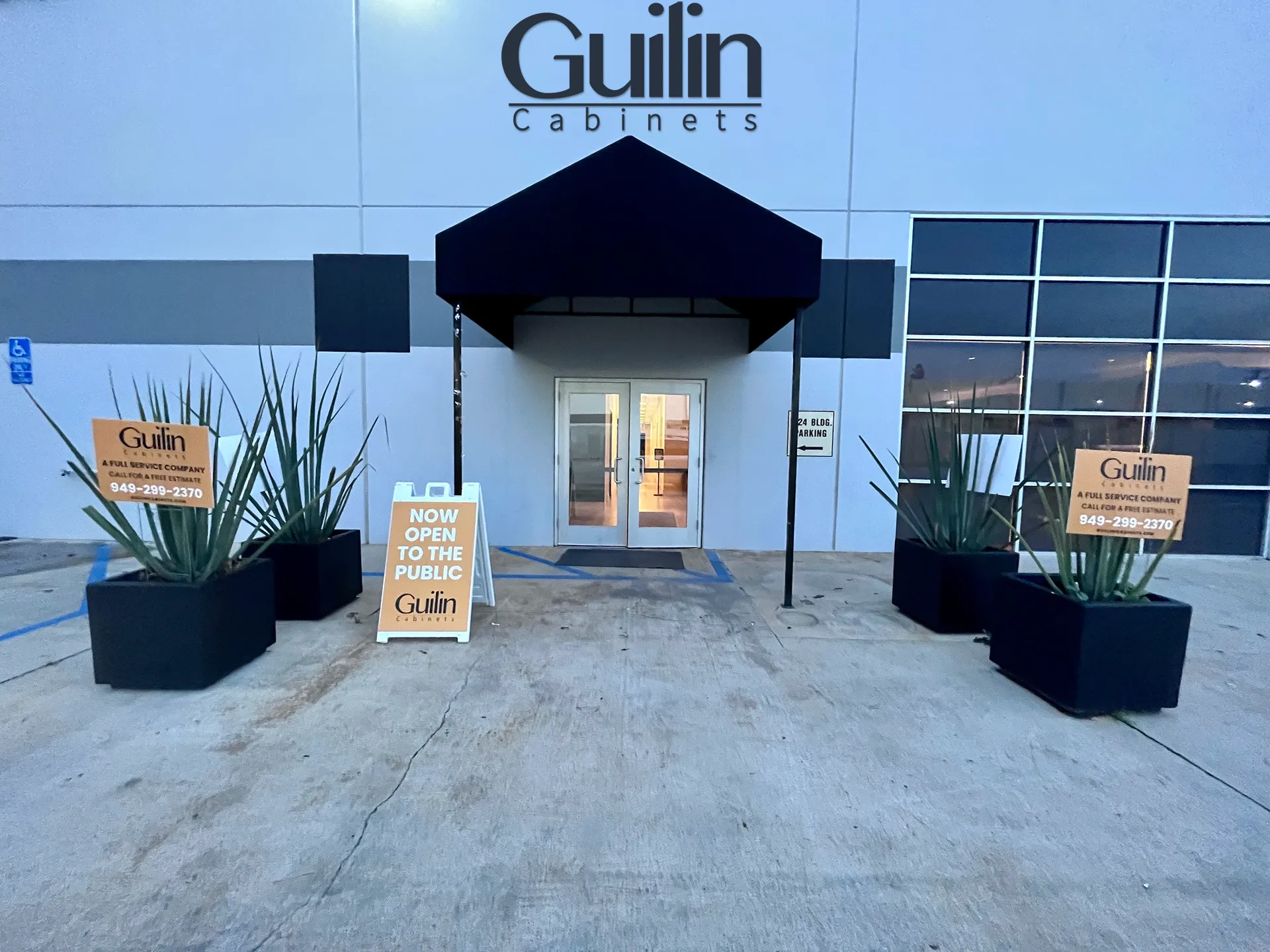 Guilin Cabinets is a home remodeling company and cabinet producer based In Irvine, California. Remodeling bathrooms, kitchens, closets, and custom cabinets are our areas of expertise. You can create the spaces of your dreams while staying within your budget with the assistance of our skilled designers.
How does the T-shaped kitchen layout differ from other kitchen layouts?
The T-shaped kitchen layout consists of two perpendicular counters, forming the letter "T." This design maximizes space and provides an efficient work triangle, making it distinct from other kitchen layouts like L-shaped or U-shaped kitchens.
Can I include a kitchen island in a T-shaped kitchen?
Absolutely! The additional leg of the "T" can be transformed into a kitchen island, offering extra workspace and storage.
Are T-shaped kitchens suitable for open floor plans?
Yes, the T-shaped kitchen seamlessly blends into open floor plans, creating a harmonious flow between the kitchen and the living area.