Knowing the maximum load that vanity can support is crucial for any bathroom makeover project. Whether you're looking at a classic sink cabinet or a sleek floating vanity, it's important to know how much weight each can support for bathroom safety. This article will help you make an informed purchase decision by discussing the relative strengths of traditional and floating vanities for the bathroom.
Standard Bathroom Vanity:
On average, Good quality vanities for the bathroom have a weight capacity of 200–500 pounds. It should be noted, however, that this load-bearing capability accounts for both static and dynamic loads. The countertop, sink, and other permanently installed components constitute static weights, whereas the additional weight of toiletries, cosmetics, and other bathroom necessities constitute dynamic loads.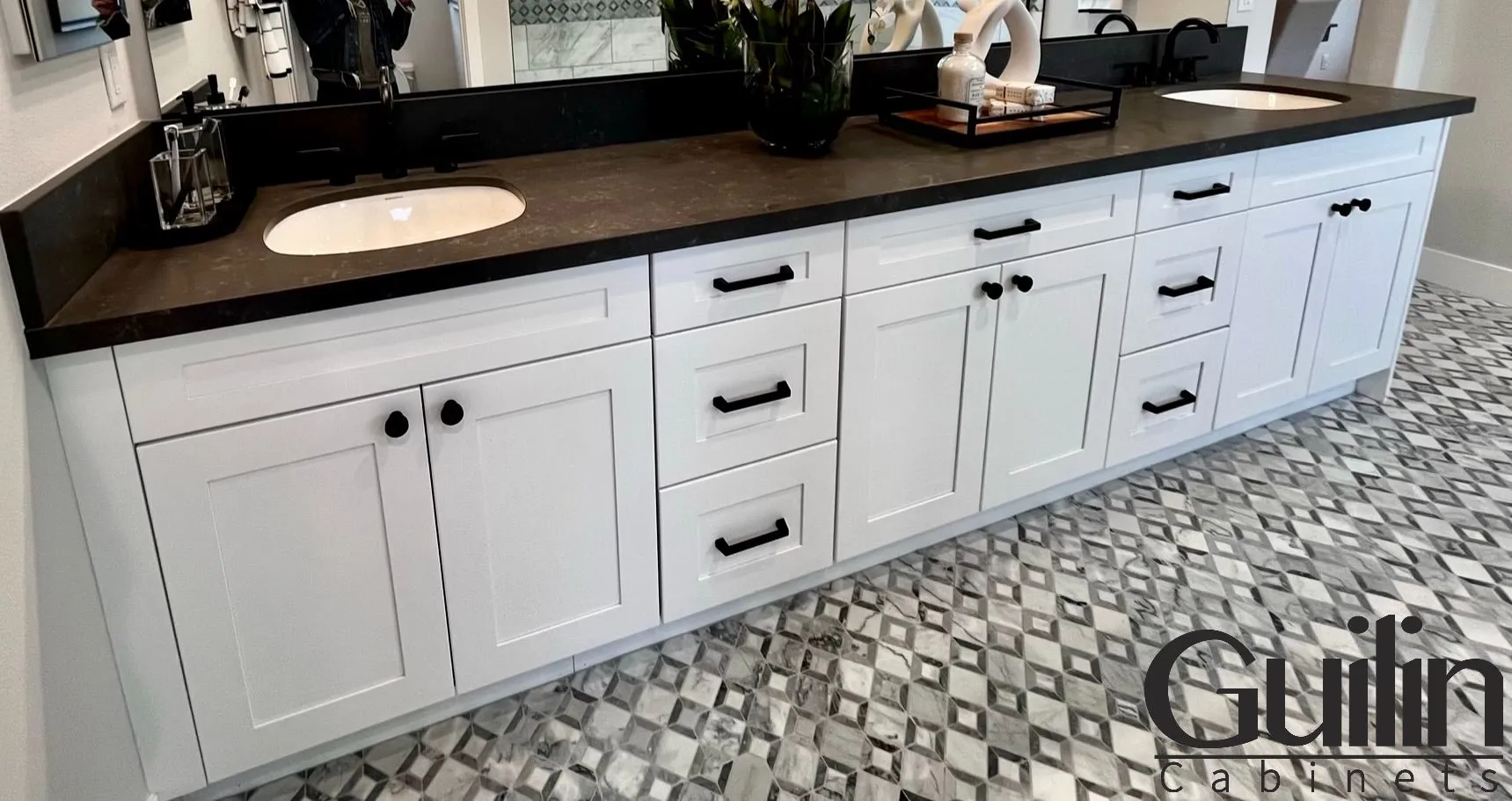 Floating Bath Vanity Hold:
The weight capacity of a good quality floating bathroom vanity is between 100 and 300 pounds. This capacity accounts for both static and dynamic loads, just like with Strandrad vanities. Factors such as mounting method, wall structure, and installation quality affect a floating bathroom vanity's weight-bearing capabilities.
=> Related Article: The Pros and Cons of Floating Vanity Cabinets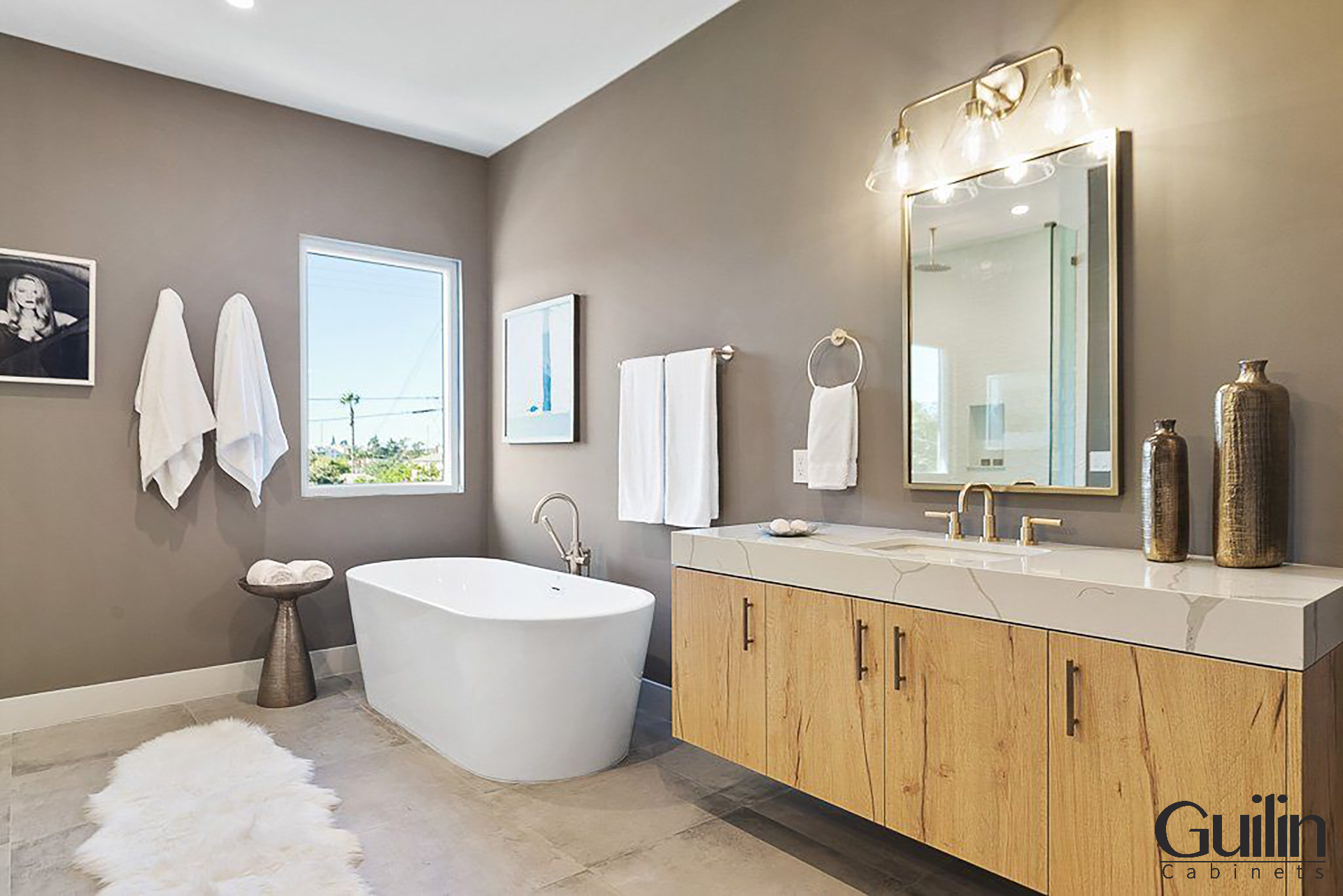 What Affects the Bathroom Vanity's Weight Capacity?
Vanity Material
The vanity's weight limit is largely determined by the material it's made with. The endurance and sturdiness of various materials vary. For instance, vanities manufactured from solid wood may support more weight than ones made from MDF or particleboard. MDF (medium-density fiberboard) is known to have weak structural integrity compared to solid wood, which has higher strength and durability, making it a better material to use for heavier items or in areas with higher levels of humidity.
For a Bath Vanity made of MDF: the weight limit is 100 kg (220 lbs).
For a Bath Vanity made of Solid Wood: the load weight capacity could go up to 150 kg (330 lbs).
=> Related Article: Common Cabinets Materials and Pros, Cons of Each.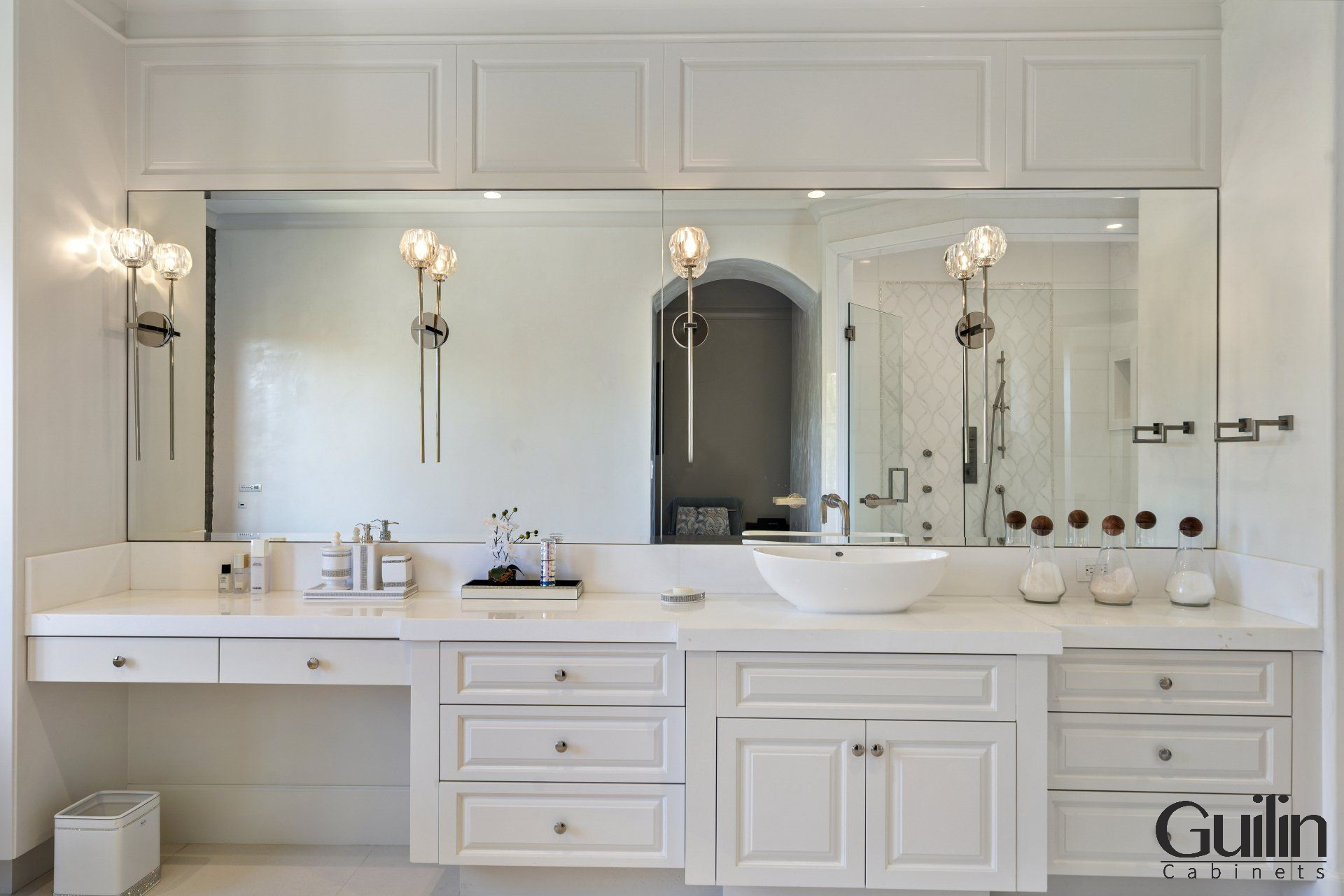 Construction and Design
The construction and design of a bathroom vanity significantly impact its weight capacity. Vanities with solid construction, such as dovetail joints and reinforced corners, tend to have higher weight capacities. The design of the vanity, including the placement of support beams and reinforcements, also affects its ability to bear weight. Properly designed vanities distribute weight evenly, reducing the risk of sagging or collapsing. Additionally, High-quality Bath vanity hardware can also help to reinforce the structure and make the vanity sturdier.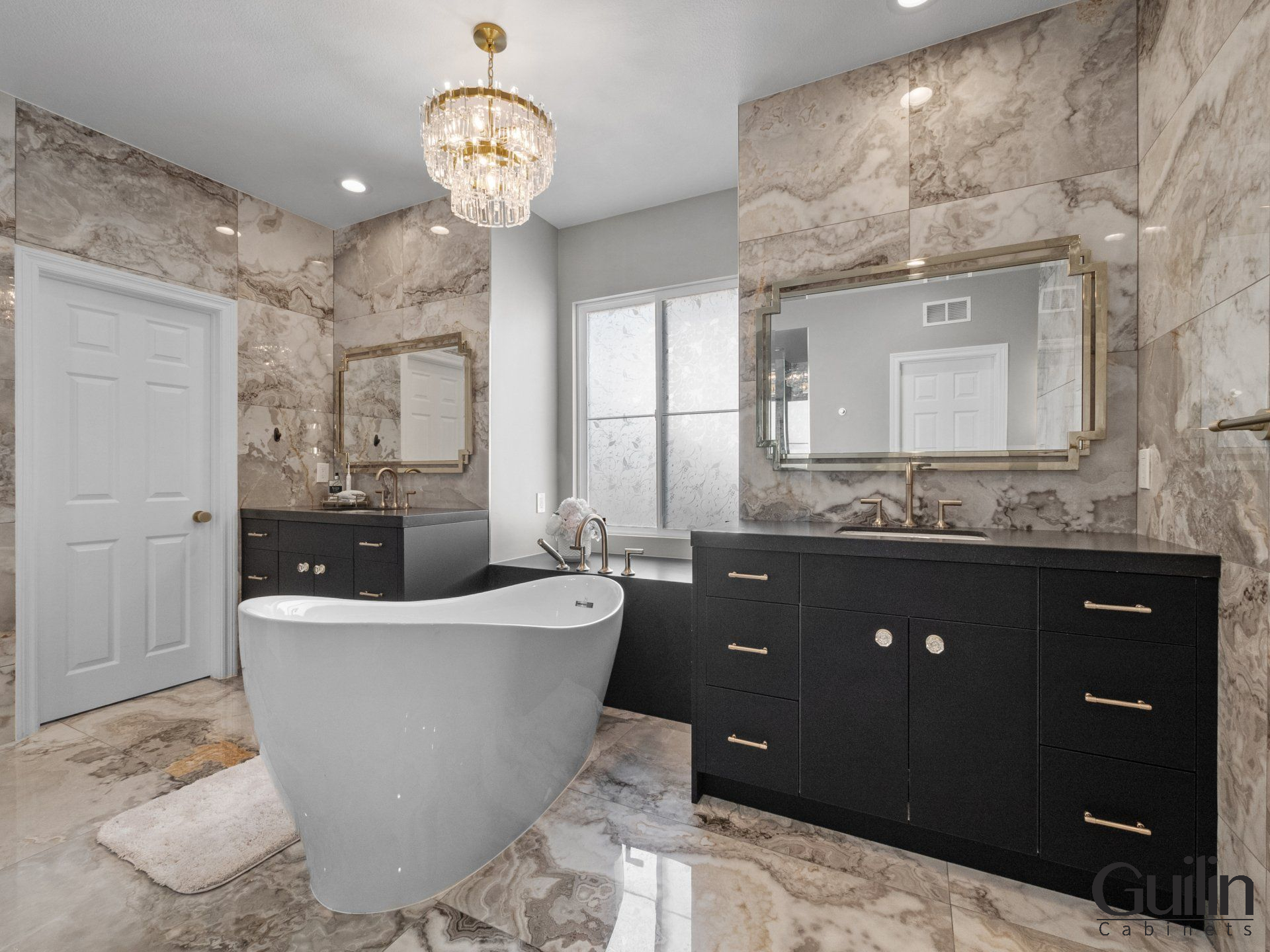 Mounting Method
The bathroom vanity's load capacity also depends on how you mount it. Vanity sinks that are installed on the wall must rely on the stability of the wall to bear their weight. The vanity's stability and capacity to support weight depends on its being installed correctly with sturdy mounting gear. In contrast, freestanding vanities' weight must be supported by a solid base and framework.
=> Related Article: Bathroom Accidents 5 Must-Know Safety Tips to Avoid Them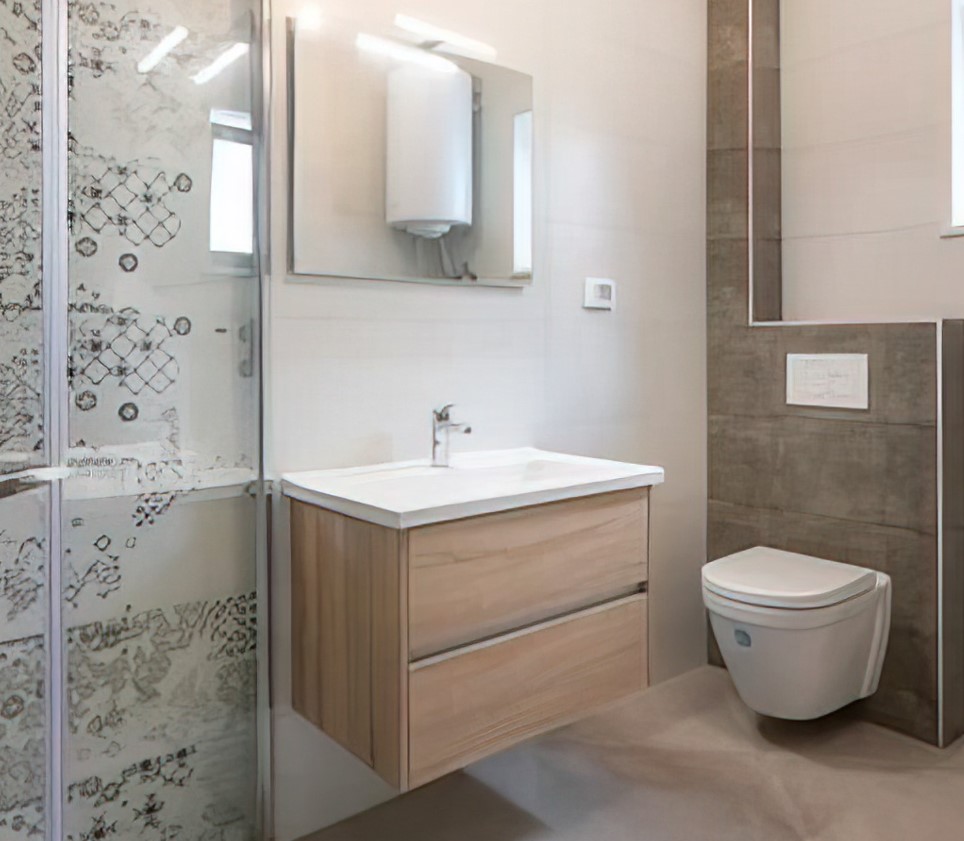 FAQs about Bathroom Vanity Weight Capacity
Can I exceed the weight capacity of a bathroom vanity?
Exceeding the weight capacity of a bathroom vanity or floating bath vanity is not recommended. Doing so can compromise the structural integrity of the vanity, potentially leading to damage or accidents. It is important to adhere to the weight limits specified by the manufacturer to ensure the longevity and safety of your chosen vanity.
Can I reinforce a bathroom vanity to increase its weight capacity?
Reinforcing a bathroom vanity or floating bath vanity to increase its weight capacity is possible in some cases. However, it is essential to consult with a professional contractor or carpenter who can assess the existing structure and recommend appropriate reinforcement methods. They can provide guidance on adding extra supports or modifying the installation to accommodate higher-weight loads.
How can I determine the weight capacity of a specific vanity?
To determine the weight capacity of a specific bathroom vanity or floating bath vanity, it is best to refer to the manufacturer's specifications. These specifications often provide information on weight limits and other relevant details. If the information is not readily available, consulting with a professional is recommended to assess the vanity's construction and provide an accurate weight capacity assessment.