Are you feeling overwhelmed by the sheer number of options when it comes to choosing a kitchen countertop? Do you find yourself scrolling endlessly through Pinterest, searching for inspiration on how to complement your cabinets? It's a common pain point amongst homeowners- spending excessive amounts of time and money on kitchen renovations, only to end up with an unsatisfactory outcome. But fear not- there is a way out of this agony. By following the right steps and considering your options carefully, you can achieve your dream kitchen. In this post, we'll dive into the nitty-gritty of choosing the perfect kitchen countertop to complement your cabinets. Get ready to transform your kitchen with the ultimate touch of sophistication and functionality!
How Kitchen Countertop Used?
Firstly, you need to recognize that kitchen countertops are not only used to cover base cabinets. They can be used on kitchen islands or peninsulas, which can vary in size. Furthermore, countertops can be used for a waterfall effect, which drops down vertically instead of stopping at the edge of the cabinet or island. By creating a flow that links the floor to the cabinetry, this technique adds visual appeal and elegance to any kitchen.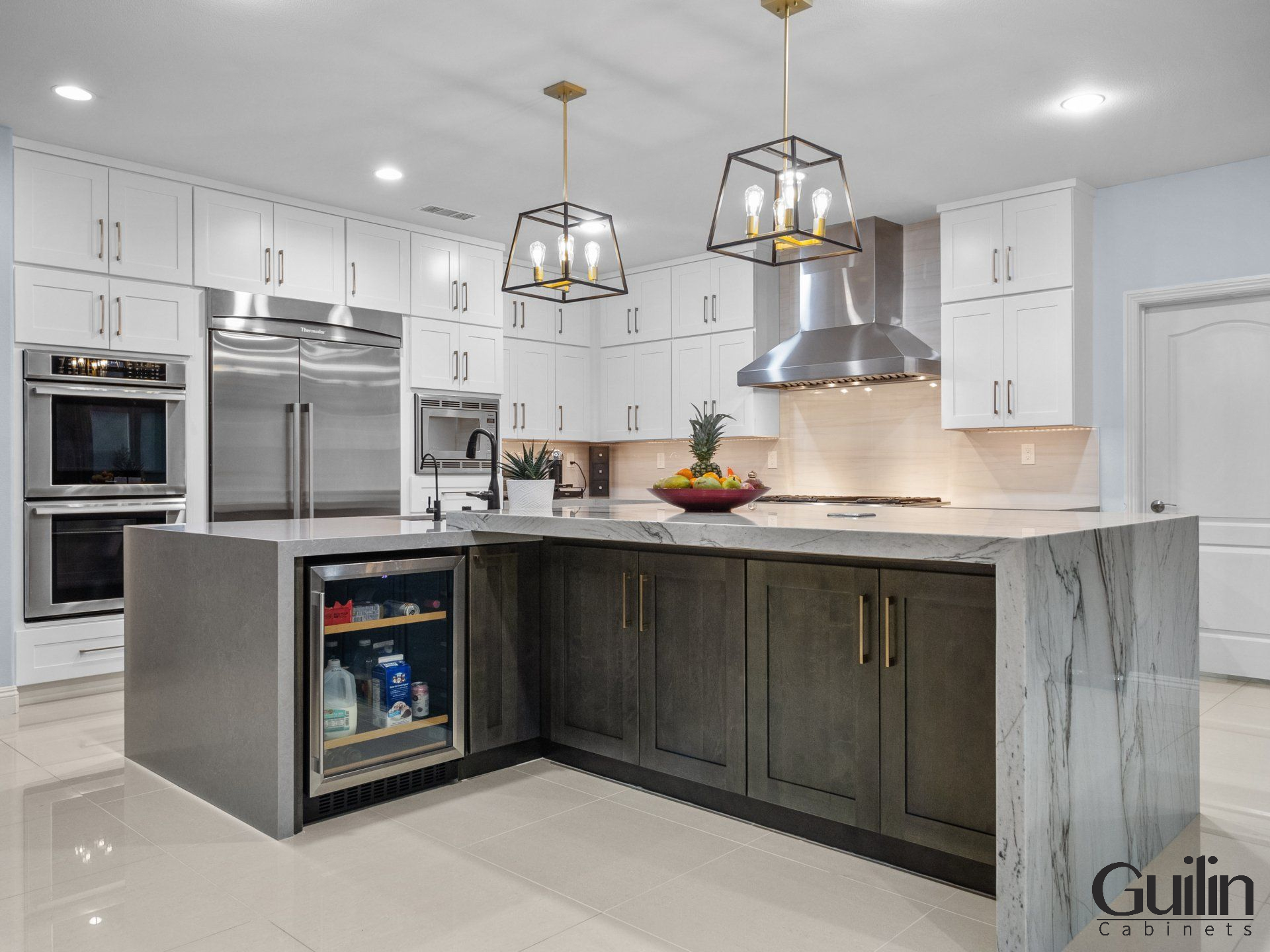 Material Kitchen Countertop Options for your Cabinets
The kitchen countertop is undoubtedly one of the most essential elements of your kitchen design. It not only adds elegance and sophistication to your cooking space but also serves as a functional surface that can withstand daily wear and tear. Therefore, it's vital to choose the right kitchen countertop that matches your style, budget, and needs. Here are some types of kitchen countertop options for your cabinets to consider when designing your dream kitchen.
=> Read more: The Average Price of Different Countertops – Guilin Cabinets
Granite Countertops:
Granite countertops are a popular choice due to their natural beauty, durability, and heat resistance. They come in different colors and patterns, making them the perfect choice for any kitchen design.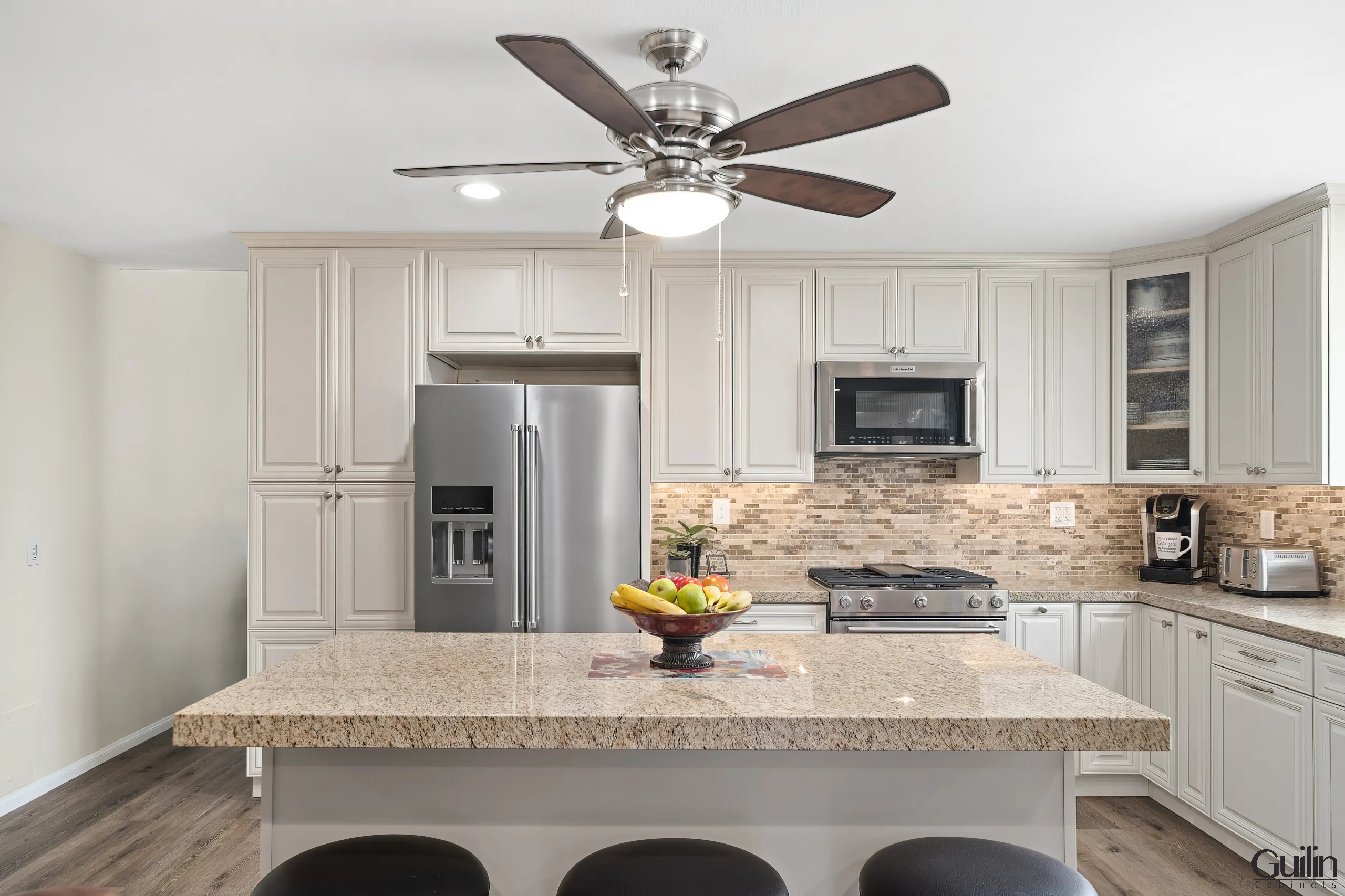 Quartz Countertops:
Quartz countertops are made by mixing about 93% quartz stone and 7% resin. They are non-porous, easy to clean, and scratch-resistant. Quartz countertops also come in different colors and patterns.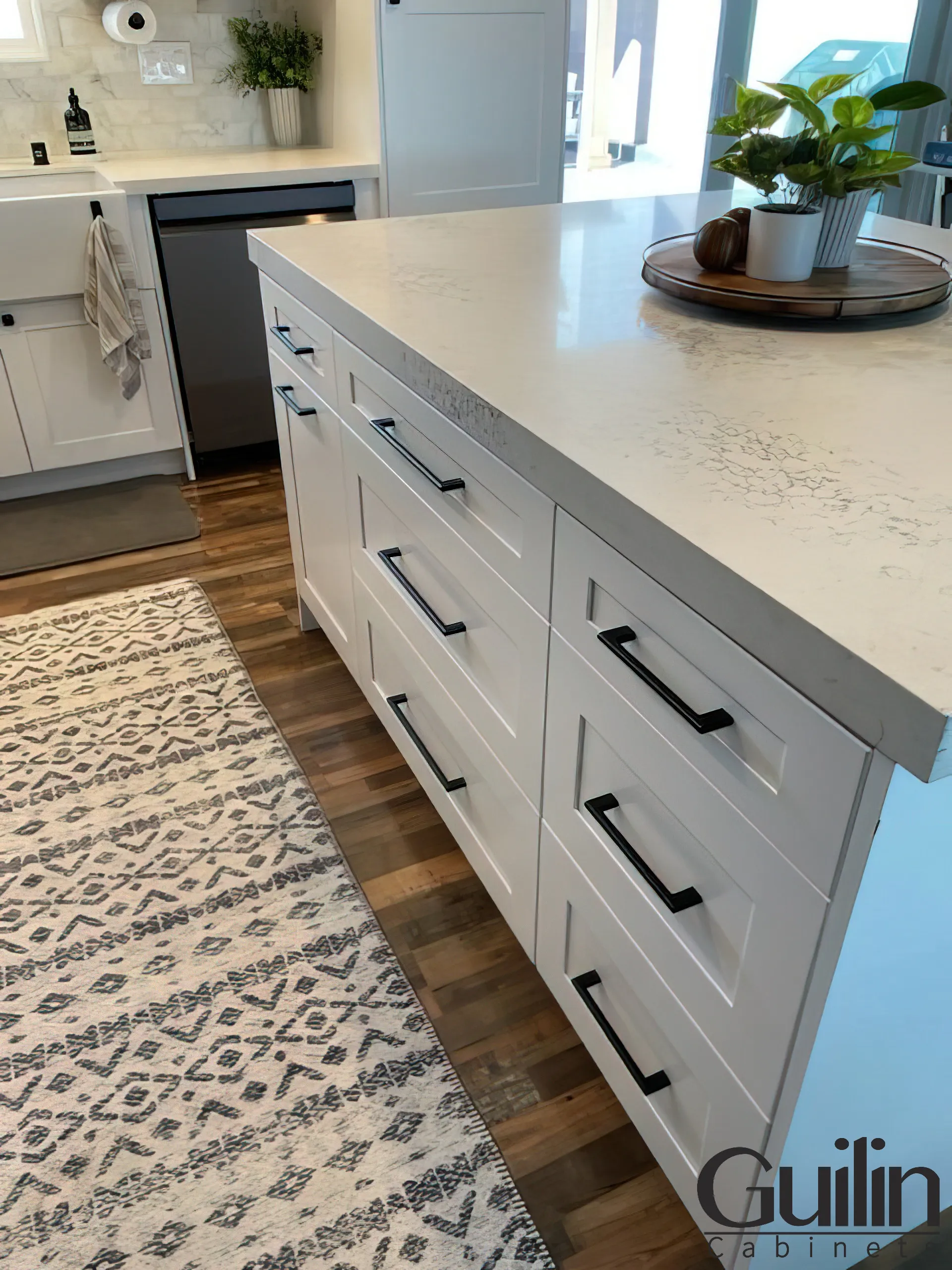 Marble Countertops:
Marble countertops are a luxurious option known for their natural beauty and veining patterns. The only downside to marble countertops is that they require frequent maintenance due to their porous nature.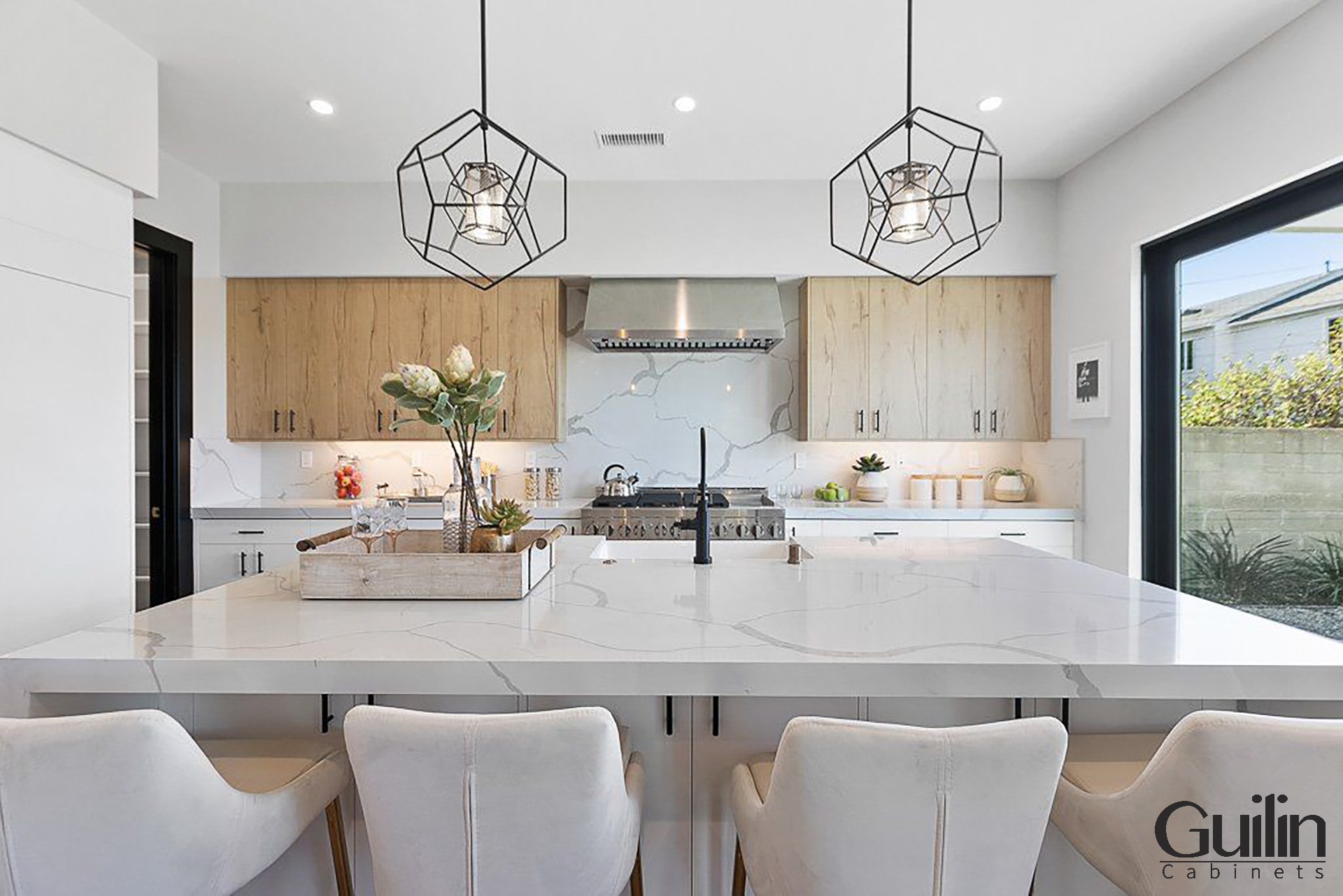 Solid Surface Countertops:
Solid surface countertops are made from synthetic materials and are gaining popularity due to their seamless appearance and durability.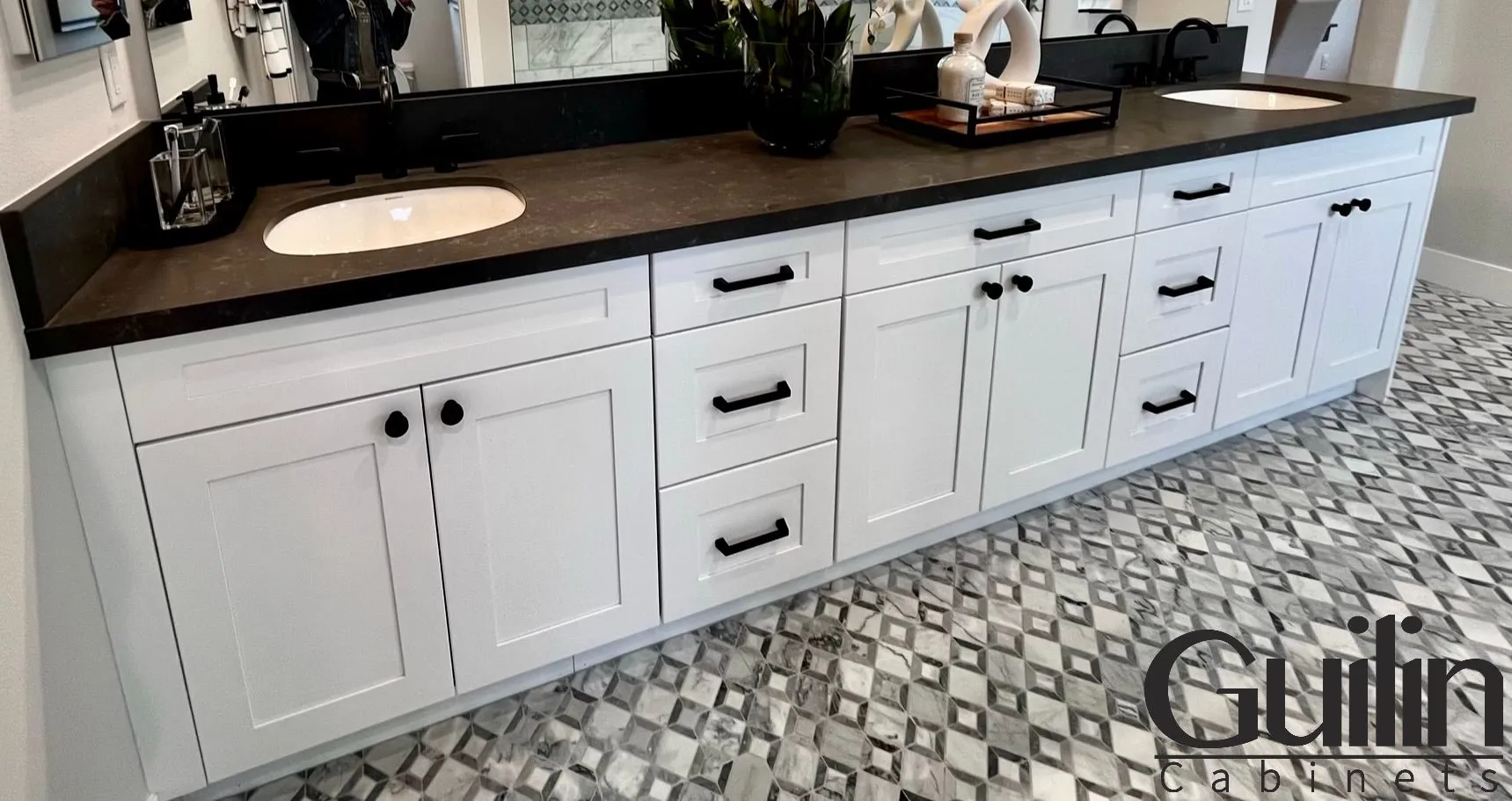 Concrete Countertops:
Concrete countertops are beautiful and durable, making them perfect for heavy-use kitchens. They are also customizable and can be tinted, etched, or stamped to match your unique design.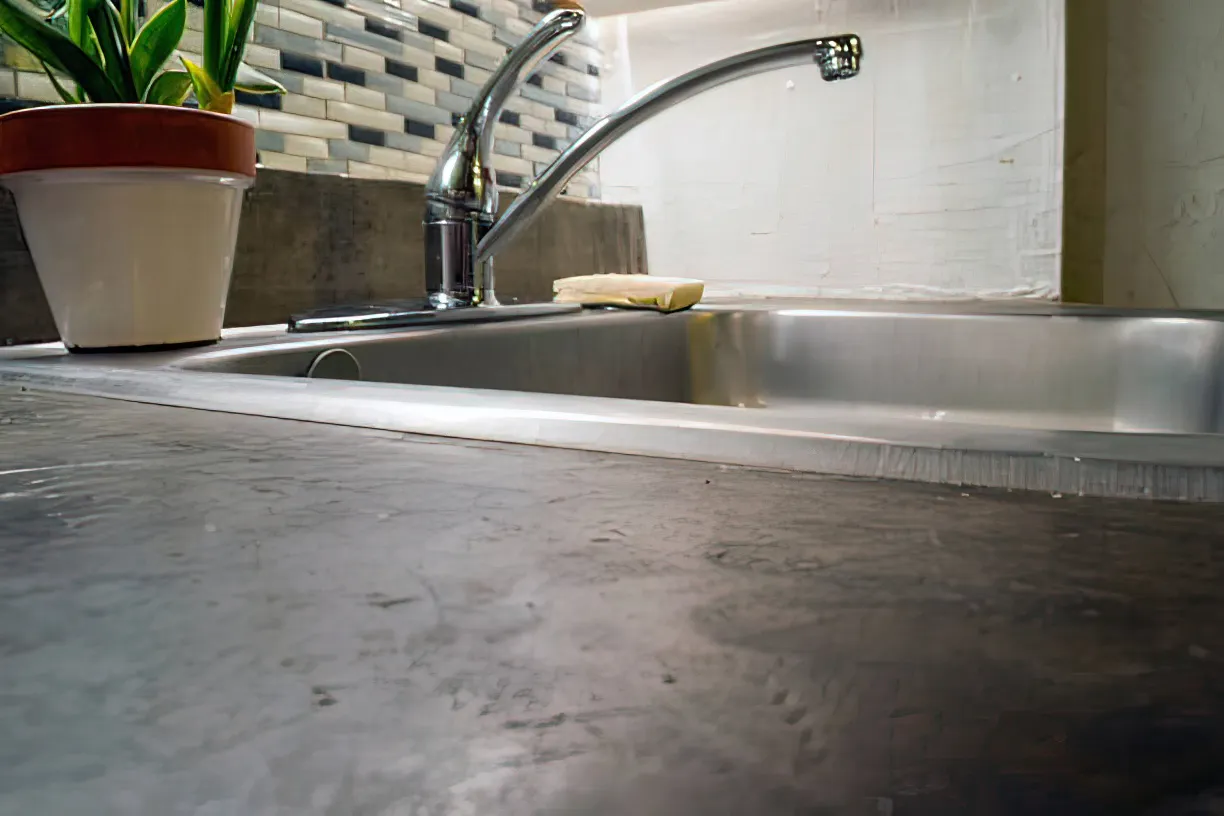 Butcher Block Countertops:
Butcher block countertops are made from wood and add warmth and charm to your kitchen. They are perfect for food preparation and can be sanded and resealed if they become scratched.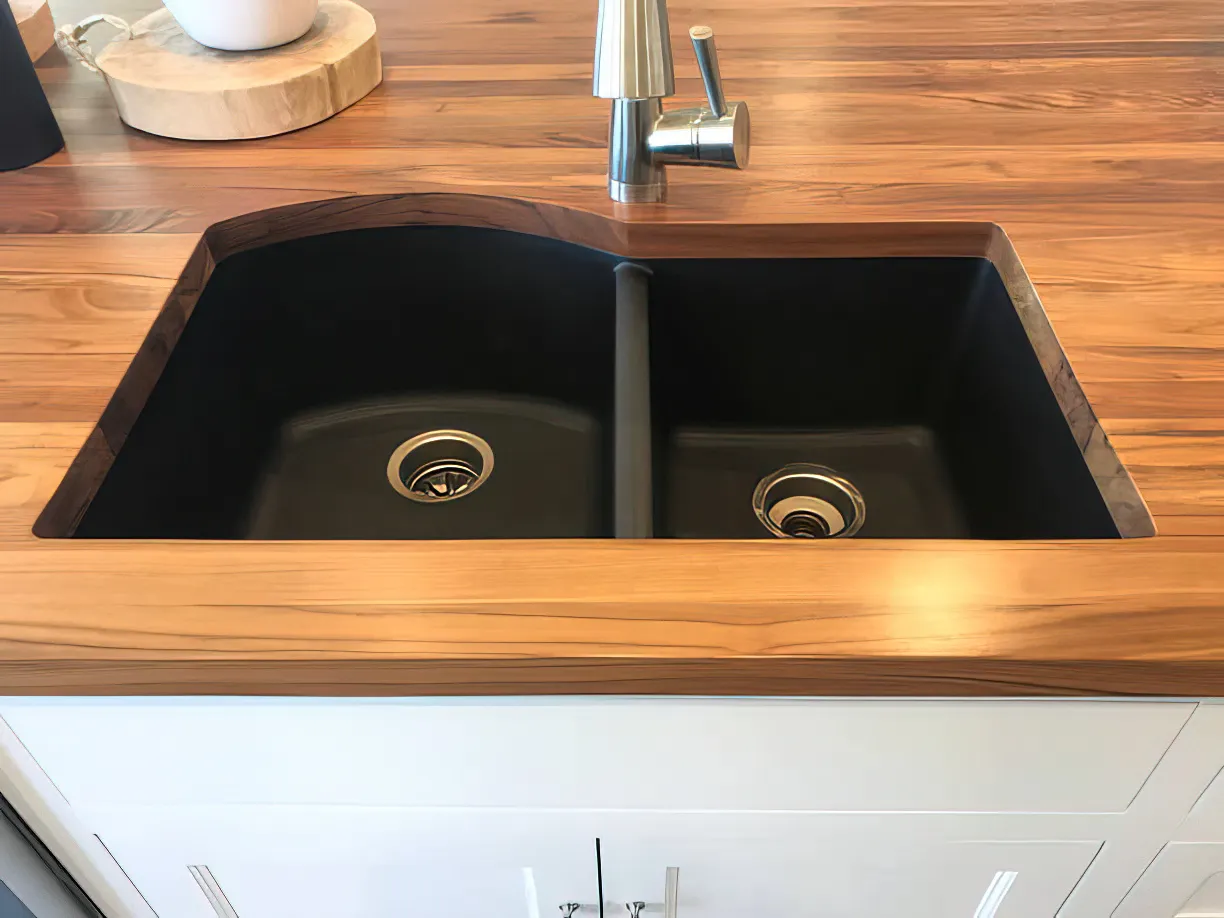 Stainless Steel Countertops:
Stainless steel countertops are sleek, modern, and easy to clean. They are perfect for modern and industrial kitchen designs.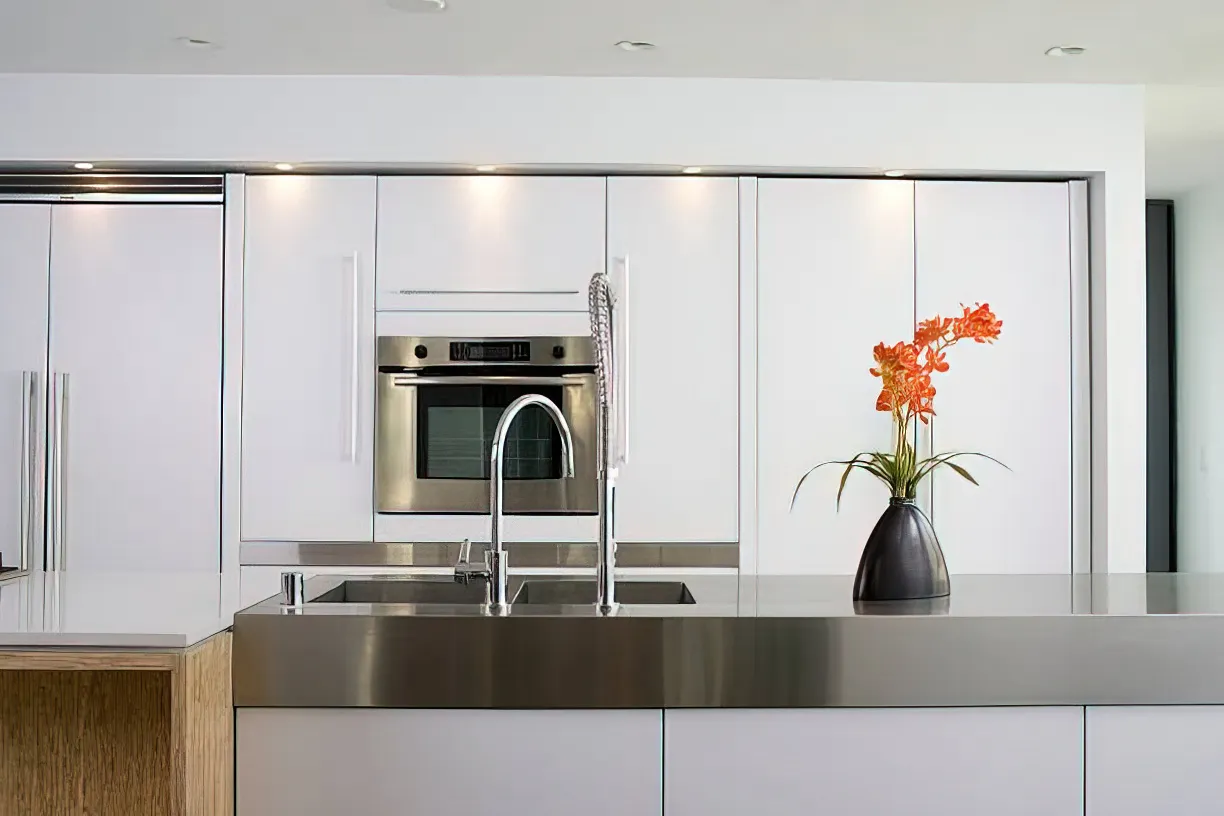 Factors Countertop Option that Complements Your Cabinets
Tips for Choosing a Kitchen Countertop – Choosing the perfect kitchen countertop option that complements your cabinets is not an easy task. When it comes to designing your kitchen, choosing the right combination of cabinets and countertops is crucial to create a seamless look. The wrong choice can ruin the entire aesthetic of the kitchen, making it less functional, less inviting, and less appealing. To choose the perfect countertop option, there are several factors you need to keep in mind.
The budget for kitchen countertops
Countertops are an important part of any kitchen design, and the cost can vary depending on the material you choose. Some materials, like Marble, and granite, are more expensive upfront, but they have a long lifespan and are very durable. Other materials, like laminate, are often less expensive, but they may not last as long. It's important to consider the cost upfront, but also the cost of maintenance and repairs over time. Additionally, the size of the countertop may also play a role in the cost. The larger the countertop, the more expensive it will be.
=> Read more: The Average Price of Different Countertops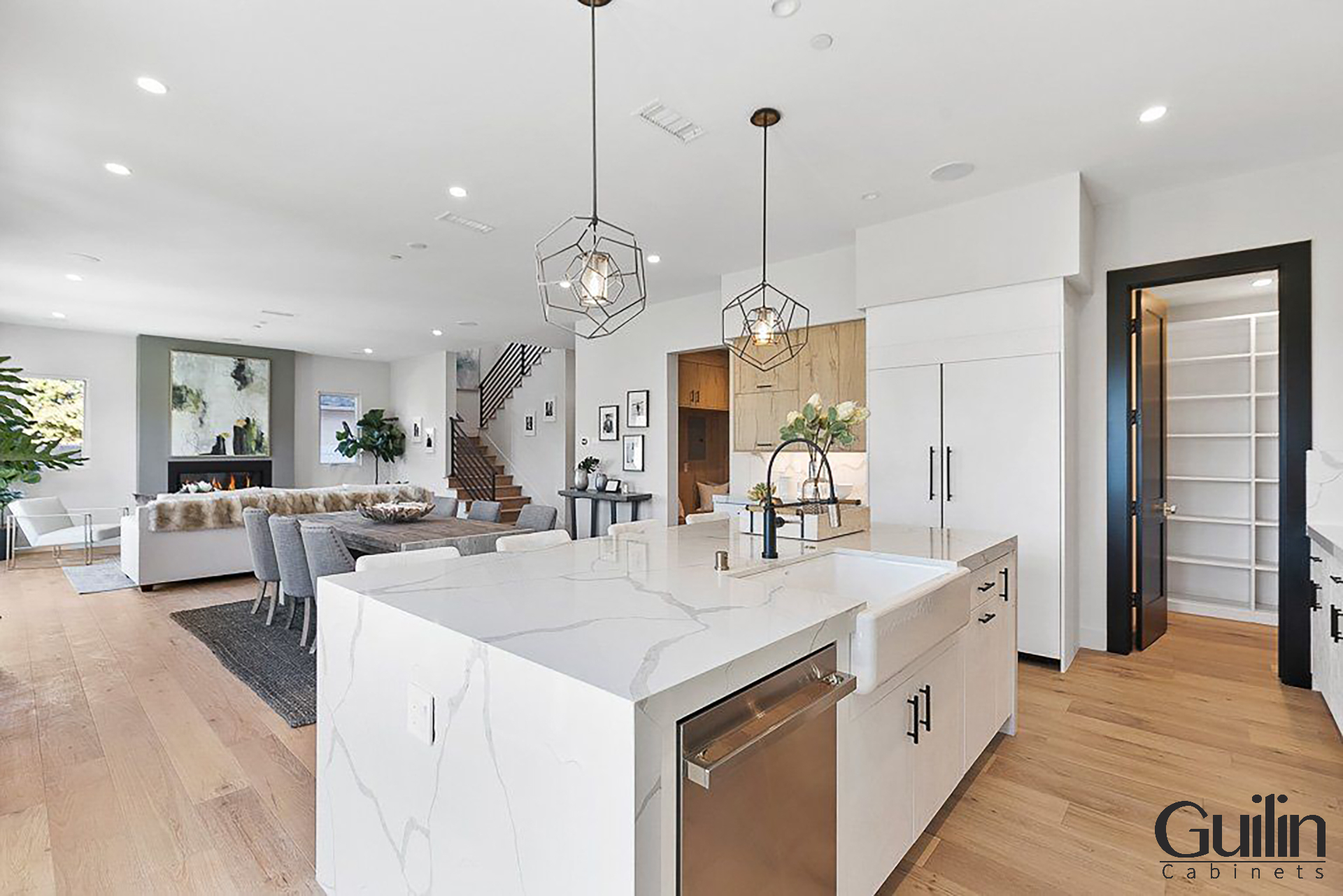 The durability of Kitchen countertops
The kitchen countertop is an essential element that plays a crucial role in your home's aesthetics and functionality. Hence, when choosing a countertop, it's important to consider several factors, and durability is one of them. Durability is imperative because it determines how well the countertop will hold up against wear and tear, heat, scratches, stains, and other daily activities. For instance, granite is an incredibly durable natural stone that is resistant to scratches, heat, and stains. This makes it an ideal choice for high-traffic kitchens where the countertop is often subjected to intense activity.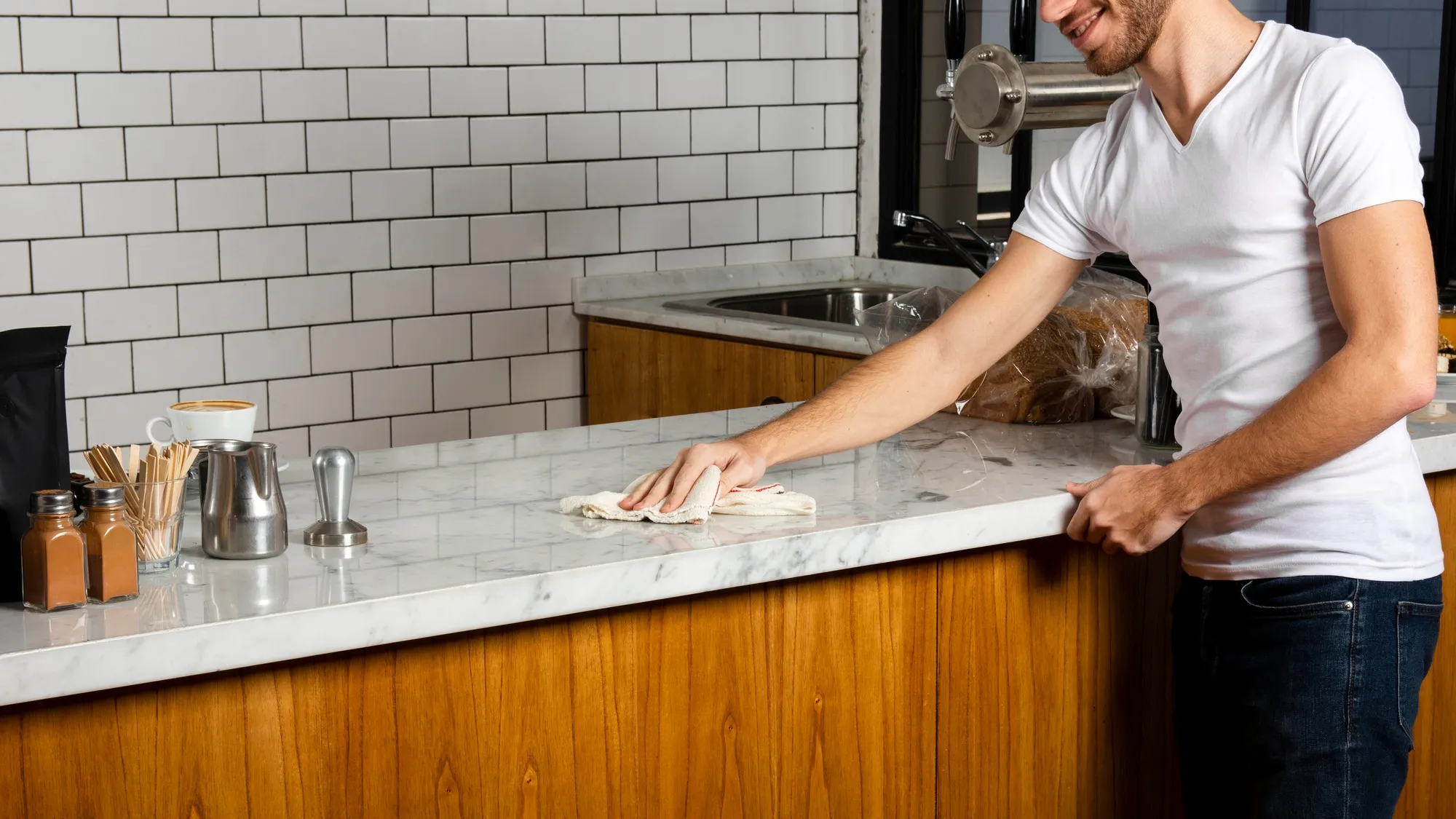 Color and pattern of the cabinets:
The color and pattern of the cabinets play a significant role when choosing the perfect countertop option that complements the overall look of your kitchen. This is because the countertops and cabinets are the two largest design elements in your kitchen and need to work harmoniously to create an aesthetically pleasing space. The color and pattern of your cabinets will influence the options you have when selecting your countertop.
For example, if you have white cabinets, you can choose almost any type of countertop that will complement the clean and classic look of the cabinets. However, if you have dark cabinets, a lighter-colored countertop like granite or quartz will provide a striking contrast that will add depth and character to your kitchen.
Additionally, you may want to consider the pattern and texture of your cabinets when selecting your countertop. A busy patterned countertop may clash with intricately designed cabinets, whereas a simple, solid color may provide a clean and modern look that complements sleek, contemporary cabinets. In conclusion, when choosing the perfect countertop option, it is vital to consider the color and pattern of your cabinets to ensure that they work together seamlessly and create the kitchen of your dreams.
Material of the kitchen cabinets:
The type of material used in your cabinets will play a significant role in the choice of countertop. When selecting the perfect countertop option for your kitchen, it's important to consider the material of your kitchen cabinets. The right countertop can effortlessly complement your cabinets, creating a cohesive and aesthetically pleasing look for your kitchen.
For instance, cabinets made of natural materials such as wood, the natural stone countertops perfectly fit. On the other hand, if your cabinets are painted in vibrant color, opt for a neutral countertop to balance out the boldness. Alternatively, if your cabinets are modern and sleek, consider a countertop with clean lines and minimal detailing to tie the design style together.
Ultimately, the material of your cabinets will set the tone for your kitchen's overall look and feel. By selecting a countertop that harmonizes with the cabinet material, you'll create a space that is both visually stunning and highly functional. So take your time and consider all your options carefully – your kitchen is the heart of your home, and you deserve the perfect countertops to complete it.
=> Read more: 10 Common Cabinet Materials: How To Choose Right!
Overall layout and style of your kitchen
A modern style kitchen could require a countertop material such as stainless steel, while a traditional theme kitchen could require copper countertops or granite. When it comes to renovating your kitchen or building a new one, the countertop is a crucial element that brings the whole design together. Your kitchen cabinets create a foundation for your countertop, and it is essential to choose the perfect option that complements the cabinets beautifully. The overall layout and style of your kitchen also play a significant role in the selection process, making it extra important to consider all factors before making a final decision.
For instance, a modern kitchen with sleek cabinets would pair well with a polished quartz or dark granite countertop. Meanwhile, a traditional kitchen with warm-toned wooden cabinets would look stunning with a classic marble or butcher block countertop. It is essential to consider the color, texture, and pattern of both the cabinets and countertop to ensure a harmonious and visually appealing design. By understanding the significance of a well-coordinated countertop and cabinet pairing, you can create a kitchen that not only looks great but also functions efficiently, making it a pleasure to cook and entertain in.
When Replace Kitchen Countertops?
Countertops are a significant investment in your kitchen, and with proper maintenance, they can last for many years. However, there may come a time when it's necessary to replace them, countertops are usually replaced during a kitchen renovation.
Here are some signs that it's time to replace your countertops:
Visible damage
Stains and discoloration
Outdated style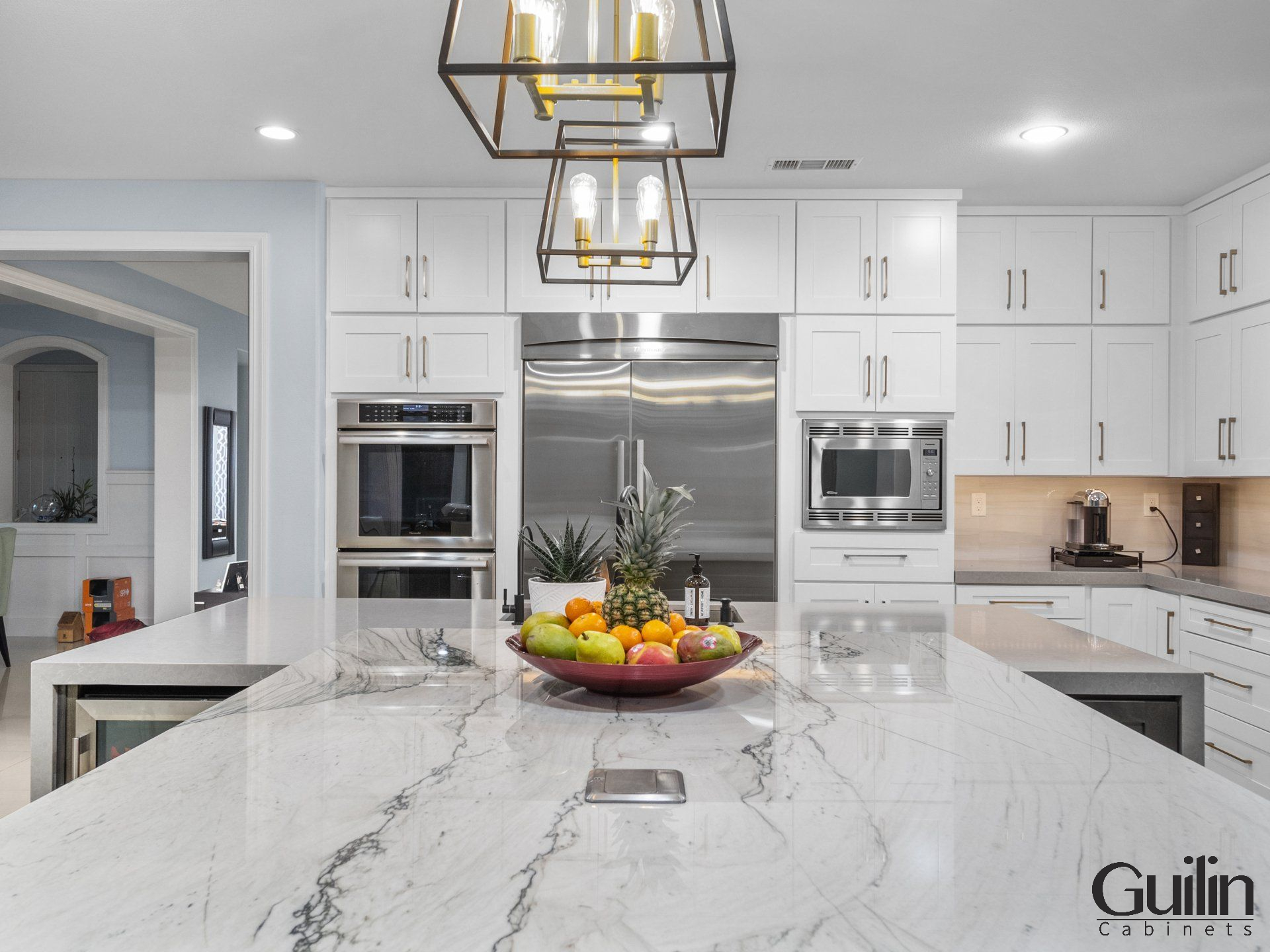 Visible damage:
If your countertop has cracks, chips, or deep scratches that cannot be repaired, it's time to consider replacing it. These damages can impact the durability and safety of your countertop and can make it harder to clean and maintain.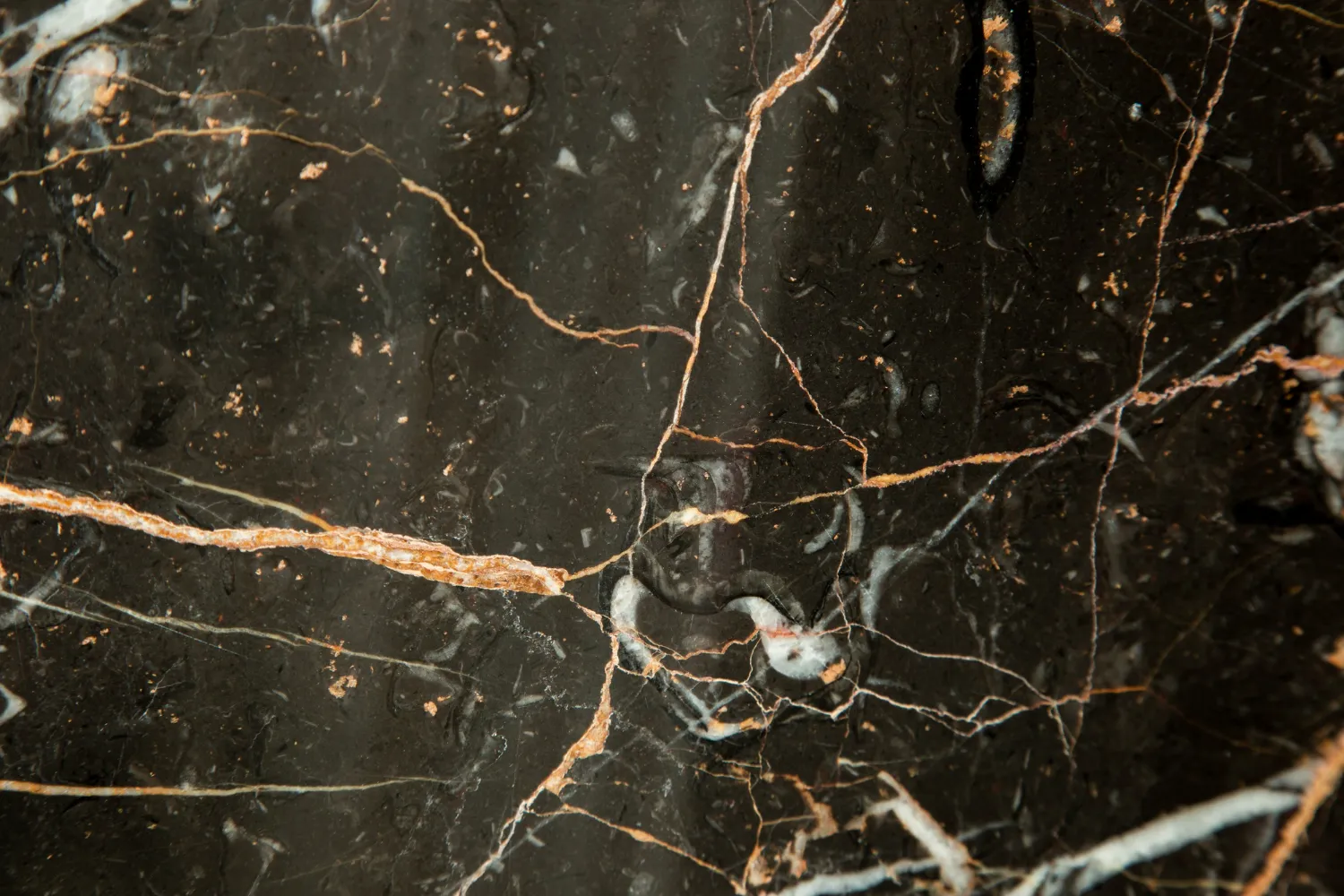 Stains and discoloration:
If your countertop has deep-set stains or discoloration that cannot be removed, it's time to consider replacing it. These can make your countertop look outdated and unattractive, even with regular cleaning.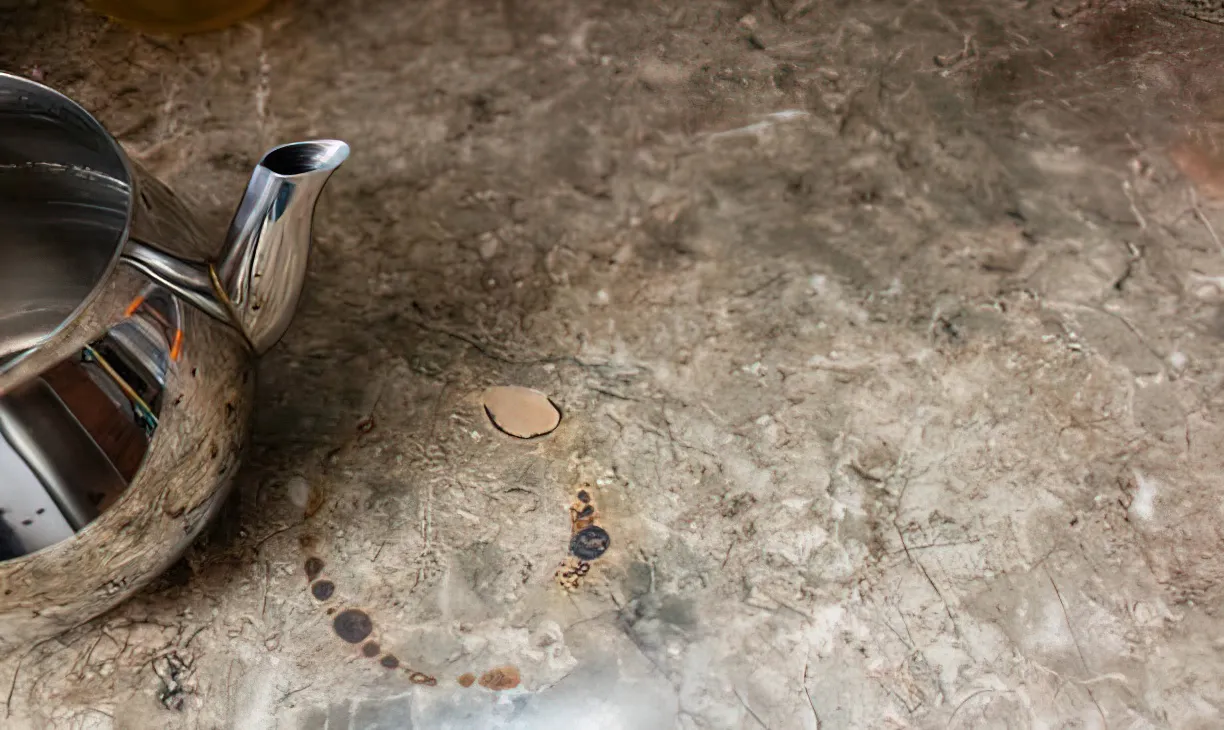 Outdated style:
If your countertop is no longer matching the aesthetic of your kitchen or if it looks outdated, it's time to consider replacing it. A new countertop can give your kitchen a fresh, updated look.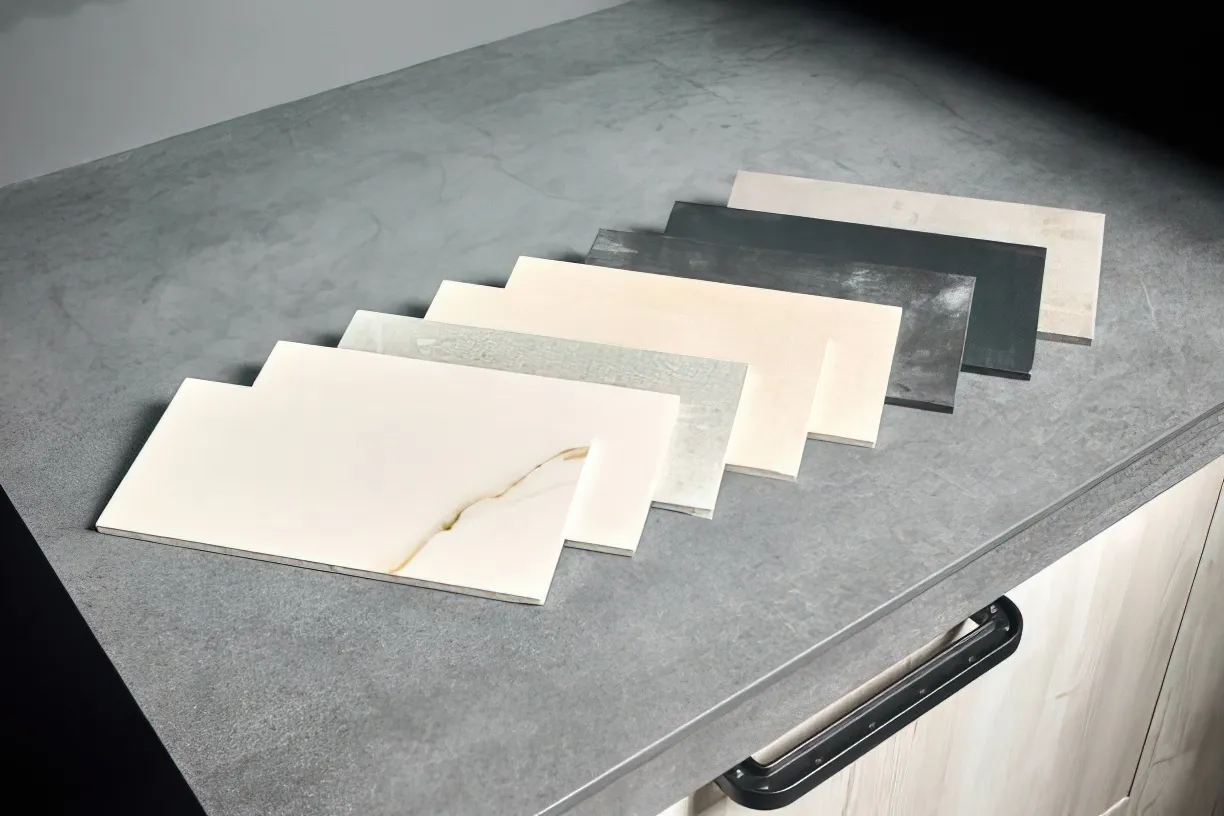 FAQs About Choose Kitchen Countertop For Your Cabinets
In the Short, How do I choose the right kitchen countertop to complement my cabinets?
The first thing you should consider is the color of your cabinets. If they are dark, you can go for a lighter color countertop, and vice versa. Additionally, you should consider the type of material used to make the cabinets. If they are made of wood, a natural stone countertop would complement them well. If they are made of metal or glass, a modern-looking countertop made of materials like stainless steel or quartz would be a better fit.
What are some popular materials used for kitchen countertops?
There are many materials to choose from when it comes to kitchen countertops. Some popular options include granite, marble, quartz, solid surface, and laminate. Each material has its pros and cons, so it's important to do research and choose one that fits your needs and budget. => Read more: The Average Price of Different Countertops
Can I mix and match countertop materials in my kitchen?
Yes, mixing and matching countertop materials is a popular trend in modern kitchens. For example, pairing a butcher block countertop with granite or quartz on an island or breakfast bar can create a stylish contrast.
What if I can't find a countertop that matches my cabinets?
If you're struggling to find a countertop that complements your cabinets, consider talking to a professional kitchen designer or contractor. They may be able to offer suggestions for materials and colors that will work well with your existing cabinets. => Contact us: Guilin Cabinets: Home Remodeling Contractor in California