Reface kitchen cabinets or Paint them? Simply put, painting your cabinets will freshen up their existing look, while refacing them will completely transform their appearance. And since both approaches are more budget-friendly than a full remodel kitchen, they're great choices for homeowners looking to save some money.
Painting is a cheaper option than Refacing Cabinet
YES, painting is generally the cheaper option than refacing cabinets. But Painted cabinets tend to attract more dust and grease buildup than refaced cabinets. This means that painted cabinets may require more maintenance over time. So, which option is right for you? That depends on your personal preferences, style, and budget.
About Painting: $200 to $600 DIY
Painting Cabinets is an easy and simple process you can DIY. If you decide to paint your kitchen cabinets yourself, you'll save money on labor costs, but you'll need to factor in the cost of paint, primer, paint tool, and any other supplies you'll need. If you want to Paint cabinets by yourself can save you money, but it's important to consider the costs involved in the process.
=> Related Article: How To Cover Laminate Countertops With Painted
For DIY: On average, expect to spend anywhere from $200 to $600, with an average cost of $400. However, this price can vary depending on the size of your kitchen, the quality and type of paint you choose, and the color you want.
Hire a professional painter: The cost of hiring a professional painter to paint your kitchen cabinets can range from $2,000-$5,000, depending on the size of your kitchen and the quality of the work required.
=> Note: Painting cabinets can be done by yourself, which helps you save money. But painted cabinets may require more maintenance over time than refacing cabinets.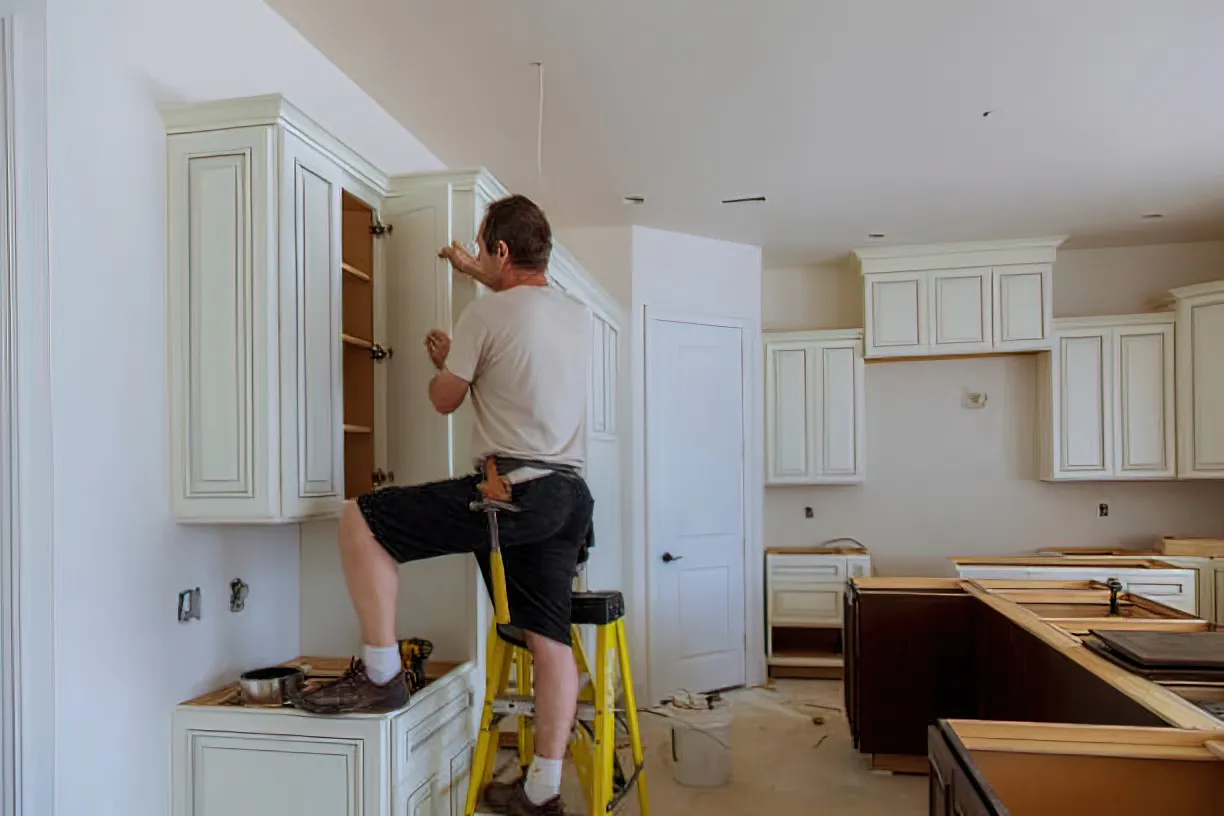 On the other hand, Refacing a cabinet can be a more challenging process that requires professional help. The process involves removing and replacing cabinet doors, drawers, and hardware with new materials. This means you need to hire a skilled Refacing Cabinet contractor to ensure your kitchen refacing project is done right. The cost of refacing your kitchen cabinets can vary depending on the materials used and the size of your kitchen. On average, they can cost between $4,000-$10,000.
=> Note: This option is more expensive than painting, but it can give your kitchen a complete makeover. And it requires professional contractors to do.