Are you tired of living with those boring, outdated laminate countertops in your home but can't afford to replace them entirely? Well, what if we told you that you could give them a fresh, new look without spending too much money? Yes, you read that right! Get ready to wave goodbye to your old, worn-out countertops and hello to resurfaced laminate countertops. How you ask? By painting them! That's right – painting your laminate countertops is an affordable, easy, and effective way to transform them into something beautiful and modern.
Can Laminate Countertops be Painted? YES! The Can!
But, we know you're thinking, "Can laminate countertops be painted?" The answer is YES! – That is great news laminate countertops can be painted, and it's a simple DIY project that could save you thousands of dollars. Painting laminate countertops is a cost-effective way to update the look of your kitchen or bathroom without having to remove and replace the entire countertop. but it's not as simple as putting on a coat of paint and calling it a day. There are a few essential steps to take to ensure that your newly updated countertops will look professional and last for many years to come. In this comprehensive blog post, With the right preparation and materials, WE will help you transform your old, outdated laminate countertops into a modern and stylish focal point in your kitchen or bathroom. It is also a great way to save money by avoiding the need to replace your countertops completely. Let's walk you through everything you need to know.
=> Read more: Can I refacing cabinets with laminate – Guilin Cabinets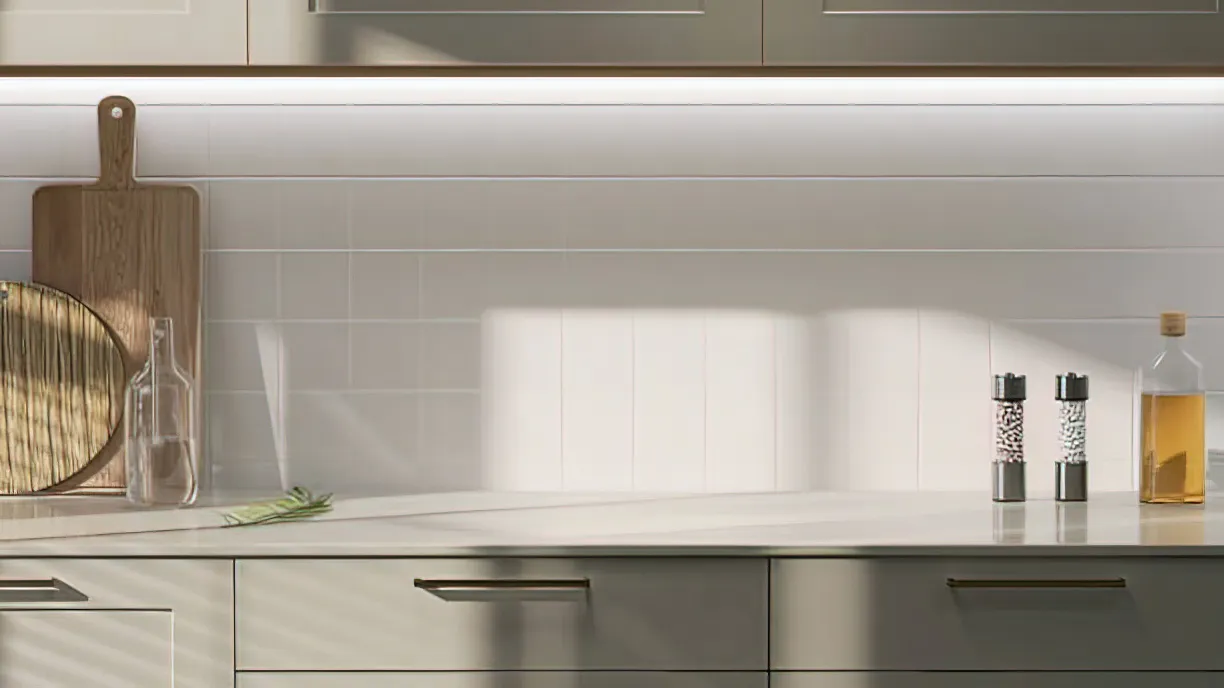 Preparing Laminate Countertops for Painting
Step 1: Preparing the work area
Preparing the work area before painting your laminate countertops is one of the most critical steps in achieving easy work. Taking the time to properly prep the space not only protects surrounding surfaces but also ensures your safety as some of the painting materials are quite potent and toxic.
In preparing your work area is to clear the space around your countertops. Remove all appliances, utensils, and electronics from the area. Cover all cabinets and floors with drop cloths or plastic sheeting. Painter tape is an excellent tool to secure the coverings in place to prevent any accidental spillage or splattering.
After that, you need to ensure you have adequate ventilation in the room. Painting materials emit a strong odor, which can be dangerous if inhaled in large quantities. Use fans and open all windows to create a cross-breeze and circulate the air. It is best to start the process when the weather is mild to ensure comfortable working conditions.
=> Related Article: What's Cabinet Refacing: Understanding, Where to Get Start?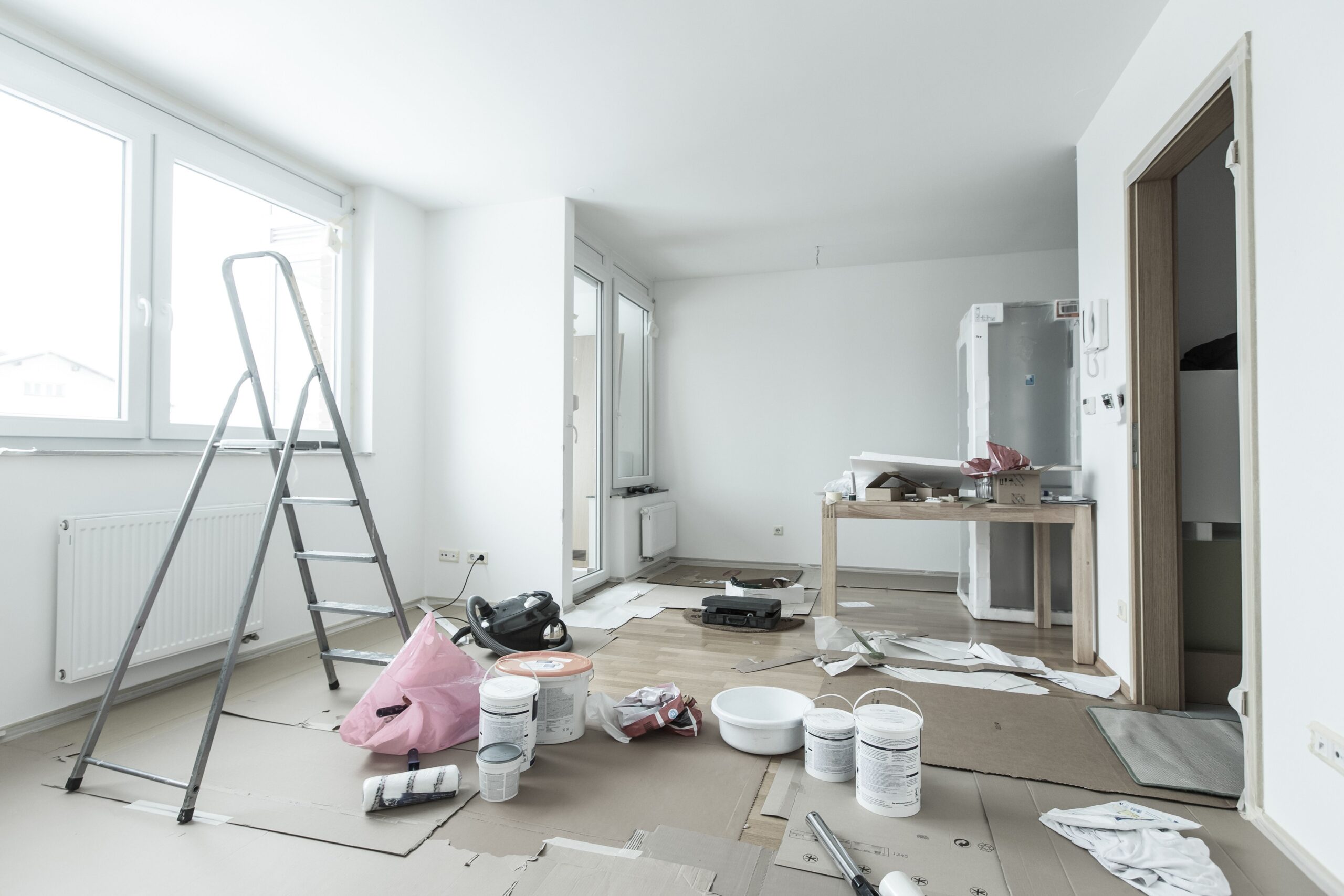 Step 2: Clean the laminate countertop
The next step in preparing your laminate countertop for painting is removing any dirt, grease, or other debris from the surface. This can be done with a mild detergent and warm water. Simply mix the detergent with the water, dampen a soft cloth, and wipe down the entire surface. Be sure to pay extra attention to any areas that may have accumulated more dirt or grime, such as around a cooking area.
=> Read more: Laminate Countertop: Clean, Maintain, Remove Stains
Once the initial cleaning is complete, it's important to scrub the surfaces you'll be painting thoroughly with a degreasing cleaner to ensure all dirt and grease are removed. This can be done with a commercial cleaner specifically designed for this purpose or with a homemade solution of equal parts water and vinegar. Apply the cleaner to a soft cloth and work it into the surface of the countertop, paying particular attention to any seams or edges.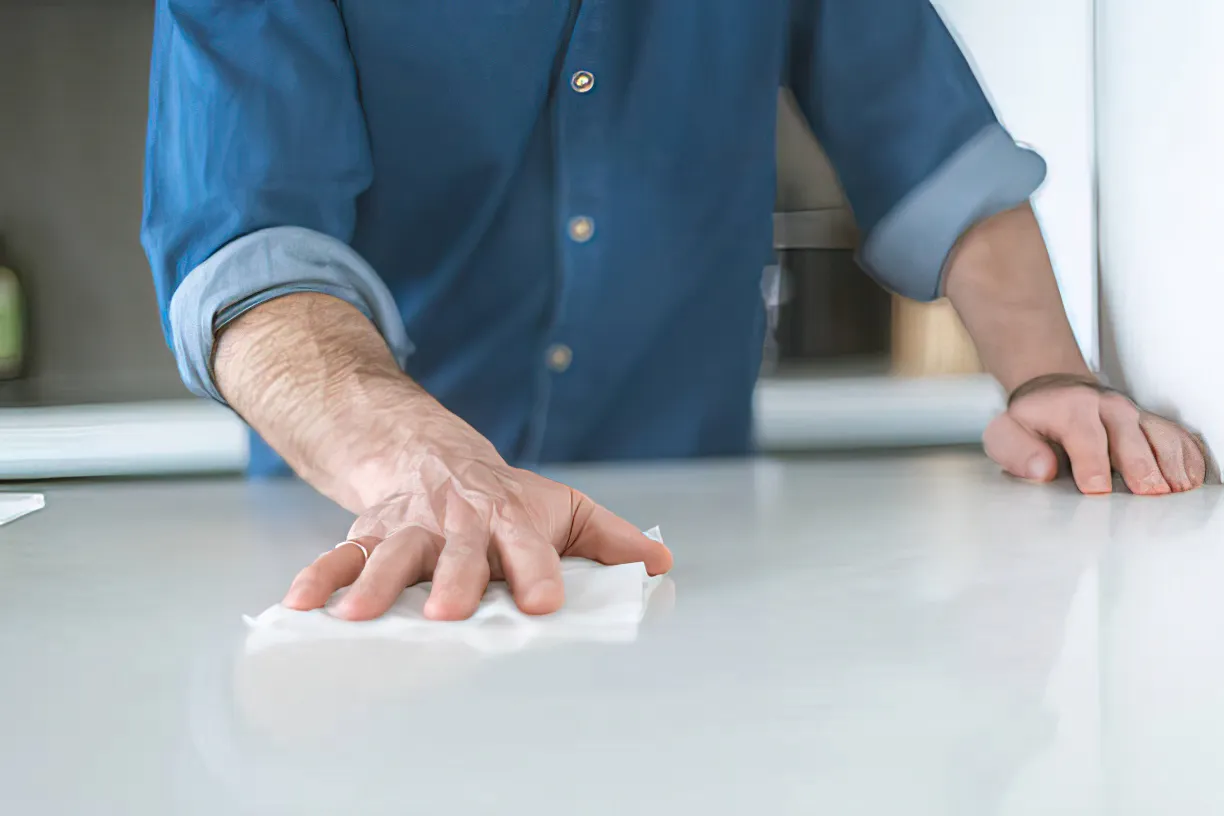 Step 3: Sanding the surface of the countertops
The next step on prepare stage is to sand the surface of the laminate countertops before painting to help the paint adhere better. Here's how to sand the surface of the laminate countertop for preparing laminate countertop painting.
First, you need to prepare and gather the necessary materials, which include 150-grit sandpaper, a sanding block, a cleaning solution, and a clean cloth. Before you begin sanding, make sure the countertop is clean and free of any debris or dirt.
After that, you use the sanding block and 150-grit sandpaper to lightly sand the entire surface of the laminate countertop. It's essential to use a light touch as sanding too aggressively can damage the surface of the countertop, causing it to lose its smooth finish.
The goal is to create a slightly roughened surface, rather than removing any layers of material from the countertop. Finally, When you sand done, wipe the countertop surface with a clean cloth to remove any dust or debris that may have accumulated. This step is crucial as any residue left behind could affect the adhesion of the paint.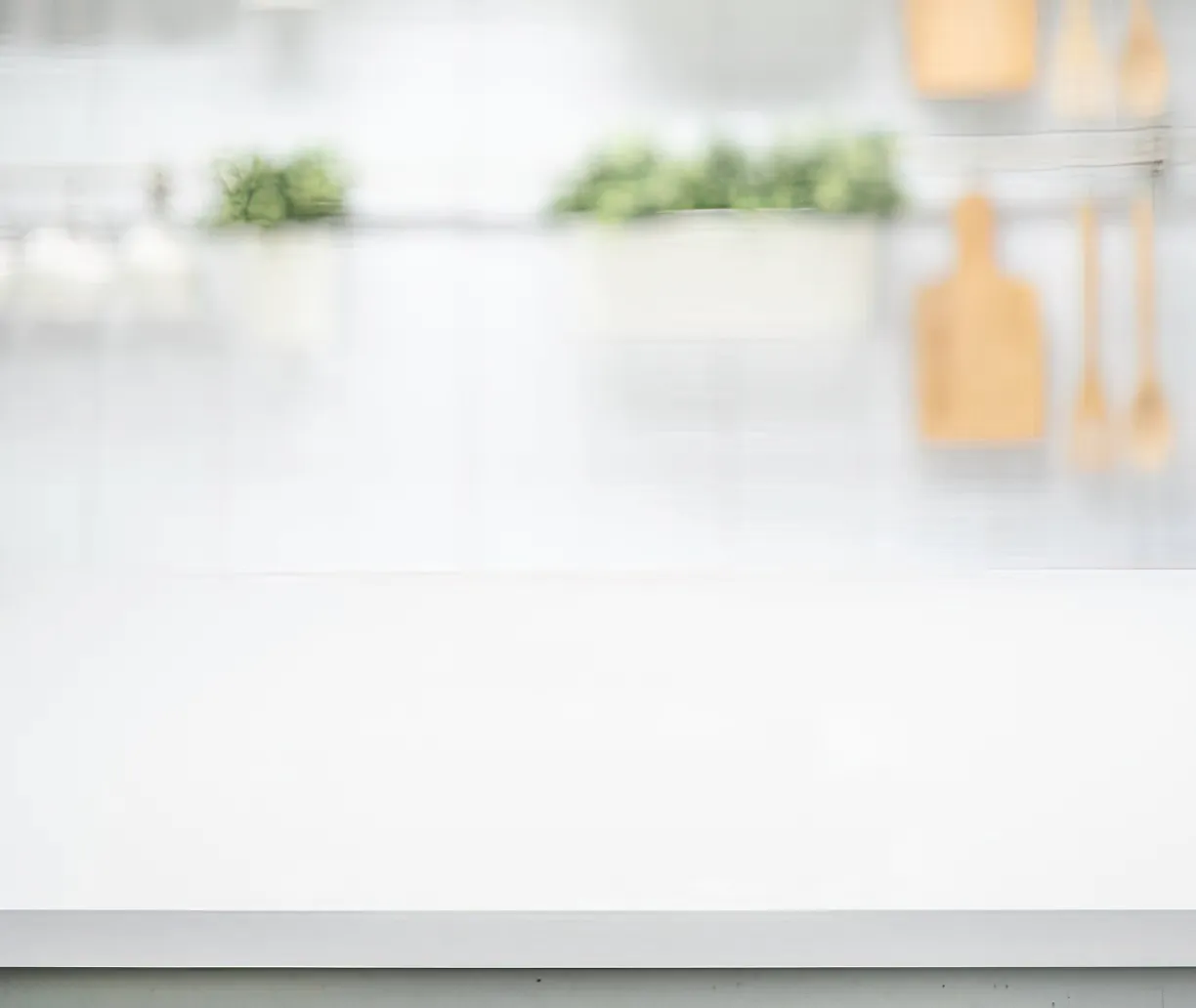 Painting Laminate Countertops: Step-by-Step Guide
Once the countertop is prepped, you can begin the painting process. It is important to use a high-quality, oil-based primer and paint that is suitable for laminate surfaces. When applying the primer and paint, use a roller or brush with synthetic bristles. => Note that: It is essential to apply several thin coats in order to achieve a smooth, even finish. Finally, after the paint is dry, you can apply a sealant to protect the countertop from water and wear.
=> Read more: Can Laminate Countertop Look Like Quartz?
Step 1: Apply The 1st Primer
Primer is a crucial step in any painting project, especially when it comes to laminated surfaces. Primer helps ensure that the paint adheres to the countertop material, creating a smooth, uniform finish. Without a primer, the paint will struggle to adhere to the countertop's surface, leading to peeling, cracking, or flaking over time.
Choose a primer specifically formulated for use on laminate surfaces. Most hardware stores carry a range of primers, so ask for recommendations if you are unsure which one to choose.
Apply a thin, even coat of primer with a paint roller or brush with synthetic bristles, following the primer manufacturer's directions. It's important not to apply the primer too thickly as this can result in drips or an uneven finish. Allow the primer to dry for the recommended amount of time before applying a second coat.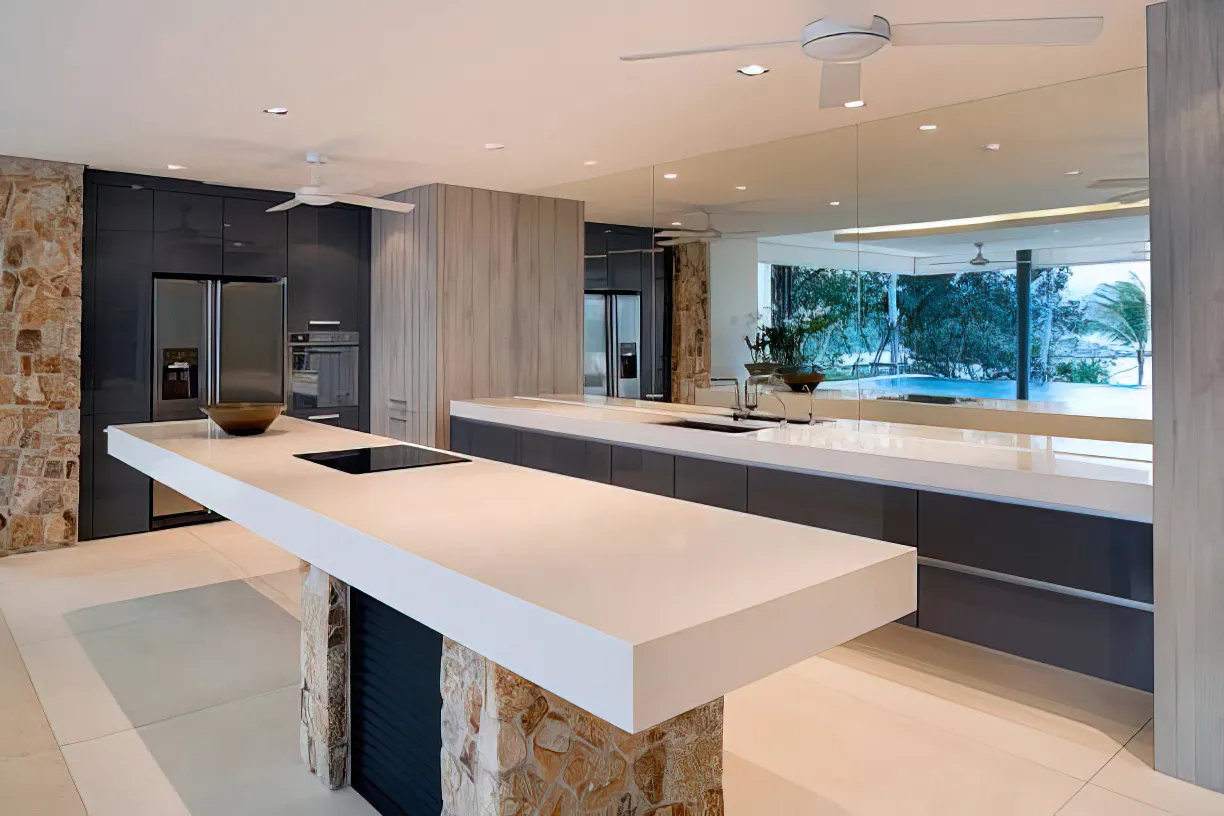 Step 2: Sand and Wipe Down
Once the first primer coat has dried, gently sand the surface with 220-grit sandpaper. This will help smooth out any imperfections and ensure good adhesion for the second coat. After sanding, wipe down the countertop with a damp cloth to remove any dust and debris, and prepare to apply the 2nd primer.
Step 3: Apply The 2nd Primer
Apply a second thin, even coat of primer, following the same process as the first coat. It's important to allow the primer to fully dry before beginning the painting process. This usually takes anywhere from four to eight hours, depending on the primer and the temperature of the room. When all things you have done correctly, applying 2 coats of primer to your laminate countertops will ensure that your next paint job is smooth, long-lasting, and professional-looking.
Step 4: Paint the Countertops
Once your countertops are completely primer to fully dry, you can begin painting. To do this, you will need good-quality, oil-based paint that has been specially formulated for laminate surfaces. it's better to apply multiple thin coats instead of one thick coat. Not only will this ensure a smoother finish, but it will also help prevent any unsightly bubbling, cracking, or peeling. Be sure to allow each coat to dry completely before applying the next coat.
Step 5: Apply a Protective Topcoat
After painting your laminate countertops, the final step is to apply a protective topcoat. This is a crucial step to ensure that your newly painted surface is sealed against water and other liquids, as well as protecting it from scratches and wear and tear. A sealer or topcoat will increase the longevity of your countertop and is key for ensuring that the paint adheres to the laminate. When selecting a topcoat, be sure to choose one that is specifically designed for laminate surfaces. These types of sealers generally contain urethane, acrylic, or polyurethane, which will provide a protective layer for your countertops. You'll also want to consider the sheen that you would like for your topcoat. A satin or semi-gloss finish will be easy to clean and provide a nice shine, while a matte finish will give your countertops a more understated look.
FAQs About Can I Laminate Countertops be Painted?
How long do painted laminate countertops last?
The lifespan of painted laminate countertops depends on several factors, such as the quality of the paint, the preparation process, and how well the surface is maintained. With proper care and maintenance, painting laminate countertops can last for 3 to 5 years. => Related Article: How Long Do Laminate Countertops Last?
Can you paint laminate countertops without sanding?
Yes, You can! But It is not recommended. While it is possible to paint laminate countertops without sanding. Sanding helps the paint adhere better and creates a more durable finish. That is why you need to take time to sand your countertops before painting to last longer.
How many coats of paint should I apply to my laminate countertops?
It's recommended to apply at least two coats of paint to ensure even coverage and a durable finish. Let each coat dry completely before applying the next. To achieve the best results when painting your laminate countertops, We recommended to apply multiple thin coats of paint rather than one thick coat. Typically, two to three coats of paint should be sufficient to provide full coverage and a smooth finish. It is important to allow each coat to dry fully before applying the next. Follow the paint manufacturer's instructions for drying times, and avoid rushing the process to ensure the best possible results.
Can I repaint my laminate countertops if I don't like the color?
Yes, you can repaint your laminate countertops if you decide you don't like the color or want to update the look again. However, you'll need to follow the same preparation and painting steps as before to ensure a smooth and long-lasting finish.