Update bathroom tiles without replacing them? If you're tired of the outdated tiles that drain the life out of your kitchen's aesthetics, replacing tiles can be an absolute nightmare. The good news is, updating kitchen tiles doesn't have to be a costly and time-consuming hassle. You can now breathe new life into your kitchen tiles without touching a single one. How? Simply by using tile stickers, tile paint, and contact paper! In this blog post, we'll show you how to revamp your kitchen tiles without removing them, giving your kitchen the makeover it deserves. So, if you're ready to update your kitchen tiles on a budget, read on!
=> Related Service: Full Kitchen Remodel Service in California | Guilin Cabinets
8 Easy Ways to Update Kitchen Tiles Without Removing Them:
Use Tile Stickers, Decals
Use Tile Paint
Grout Renewal
Use Contact Paper
Cover with a Wood or Metal Paneling
Use Of Concrete

Consider Using Brick Panels

Ask For Professional Help
Use Tile Stickers, Decals:
Using title decals (known as title stickers) is a good option, if you want to refresh your kitchen without having to go through the hassle of replacing your tiles, then you should definitely consider using tile decals. These nifty little additions allow you to easily and quickly update your kitchen tiles.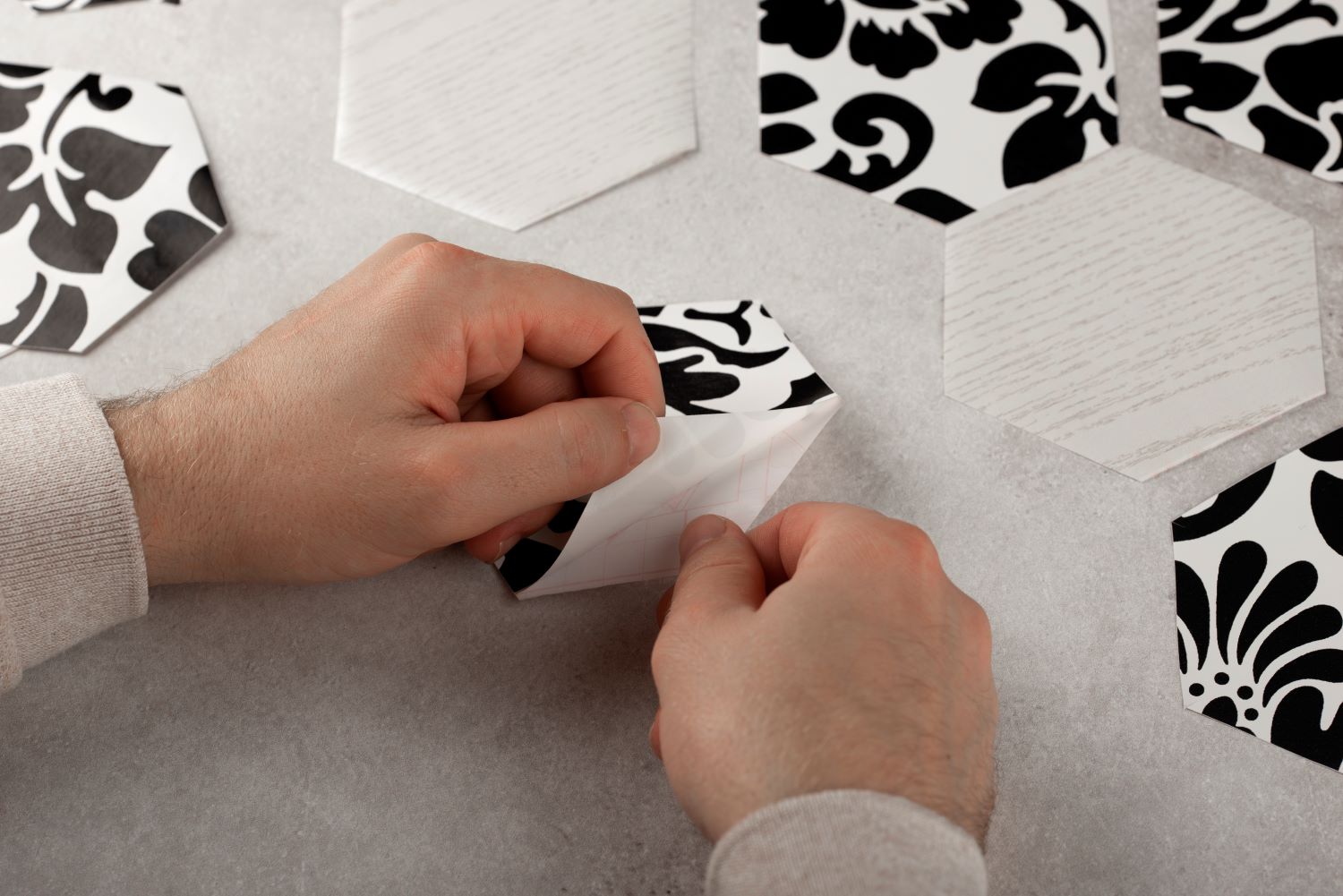 And the greatest about tile decals is that they're available in different sizes, and shapes so you can easily find one that fits your tiles perfectly. Applying them is really easy too. All you need to do is clean your tiles thoroughly to ensure that there's no dirt or grime present. Then, simply peel off the backing and stick the decal onto the tile. If there are any bubbles or wrinkles that have appeared, use a credit card or a squeegee to smooth them out.
=> Related Article: How To Make A Stylish Kitchen on a Small Budget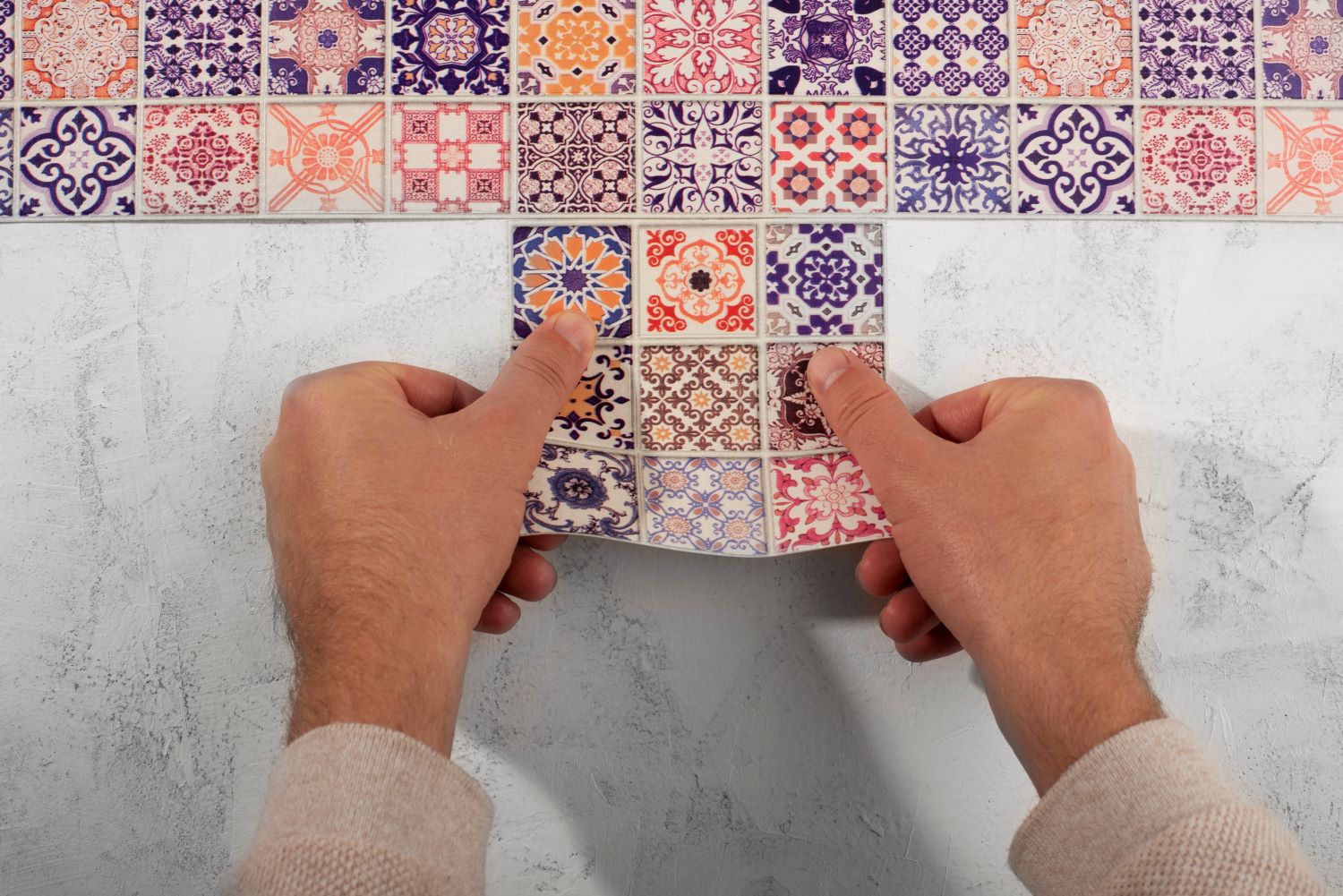 In addition, The tile decals are that they're removable. So, if you've had enough of the design you've chosen, or if it's starting to look a little worn, then you can easily remove the decal without any damage to your tiles. This means that you can swap out your decals as often as you like, giving you a constantly updated and fresh-looking kitchen.
Use Tile Paint:
Painting your kitchen tiles is a simple and affordable way to spruce up your home. Tile paint is specially formulated to adhere to ceramic and porcelain tiles. Choose a color that complements your kitchen decor and follow the manufacturer's instructions for application.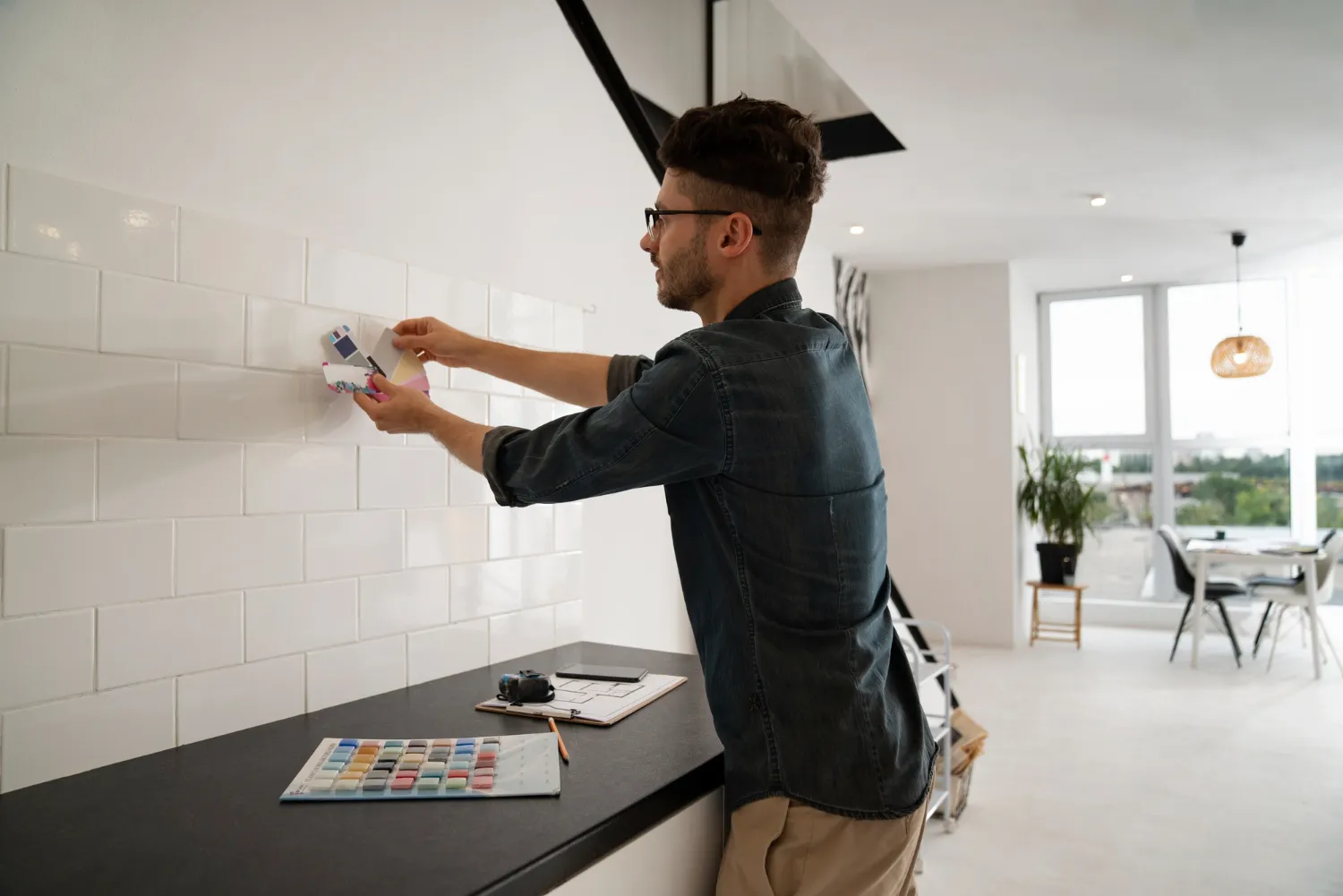 By applying at least two coats of paint and allowing each coat to dry completely before applying the next, you can achieve a vibrant and refreshed look. Not only is painting your kitchen tiles an excellent option for those on a budget, but it's also great for those who want to update their space without the hassle and cost of removing and installing new tiles. Plus, with a variety of paint colors available, the possibilities are endless for creating a customized look that fits your style.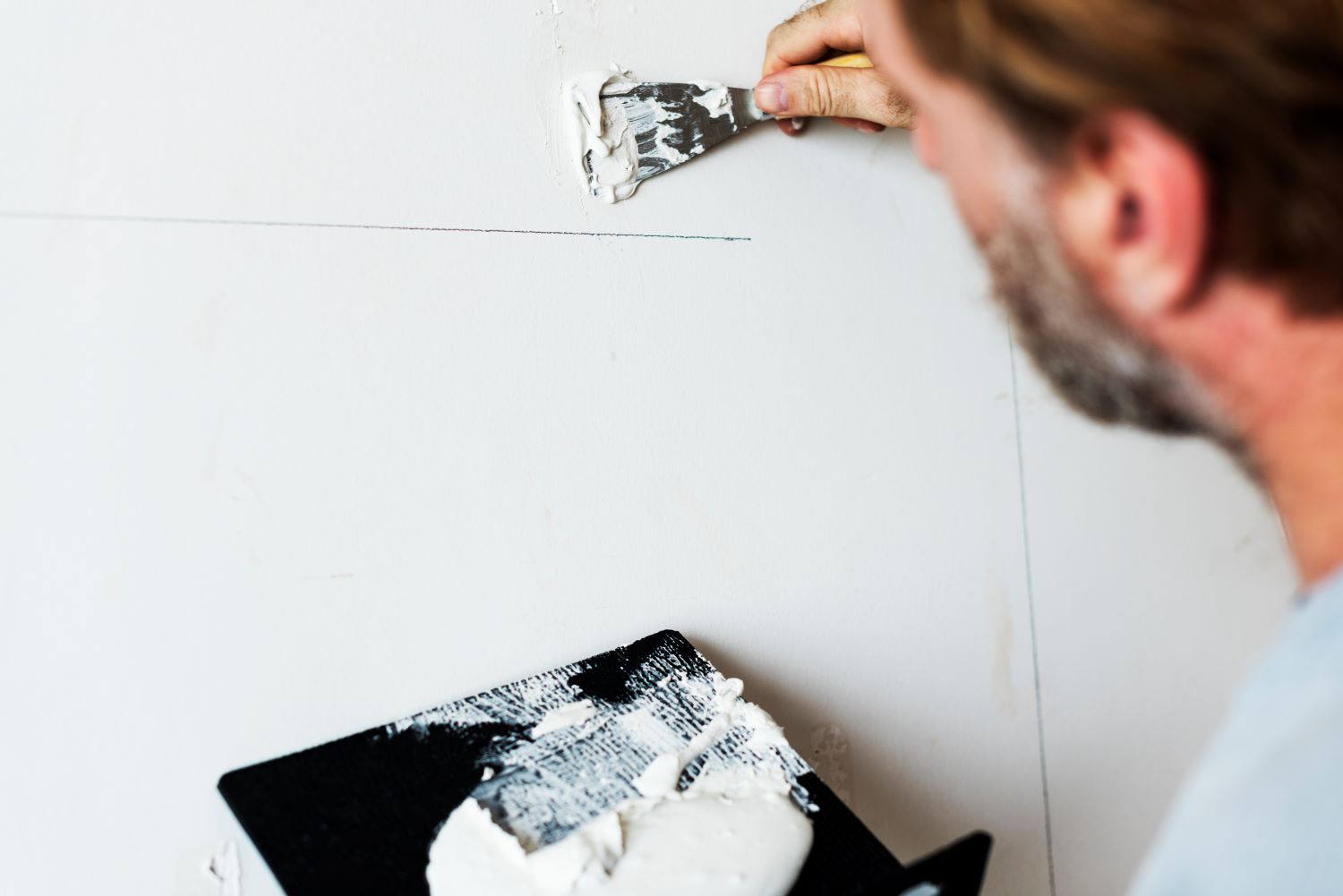 Grout Renewal
Cleaning and refreshing the grout lines between the tiles using a grout cleaner or a grout pen is an easy way to help you renew your kitchen tiles. This will help brighten and update the appearance of the grout without removing or replacing it. Regularly cleaning the grout lines will help maintain the grout's appearance and help it last longer. After cleaning, seal the grout lines with a grout sealant to further protect it.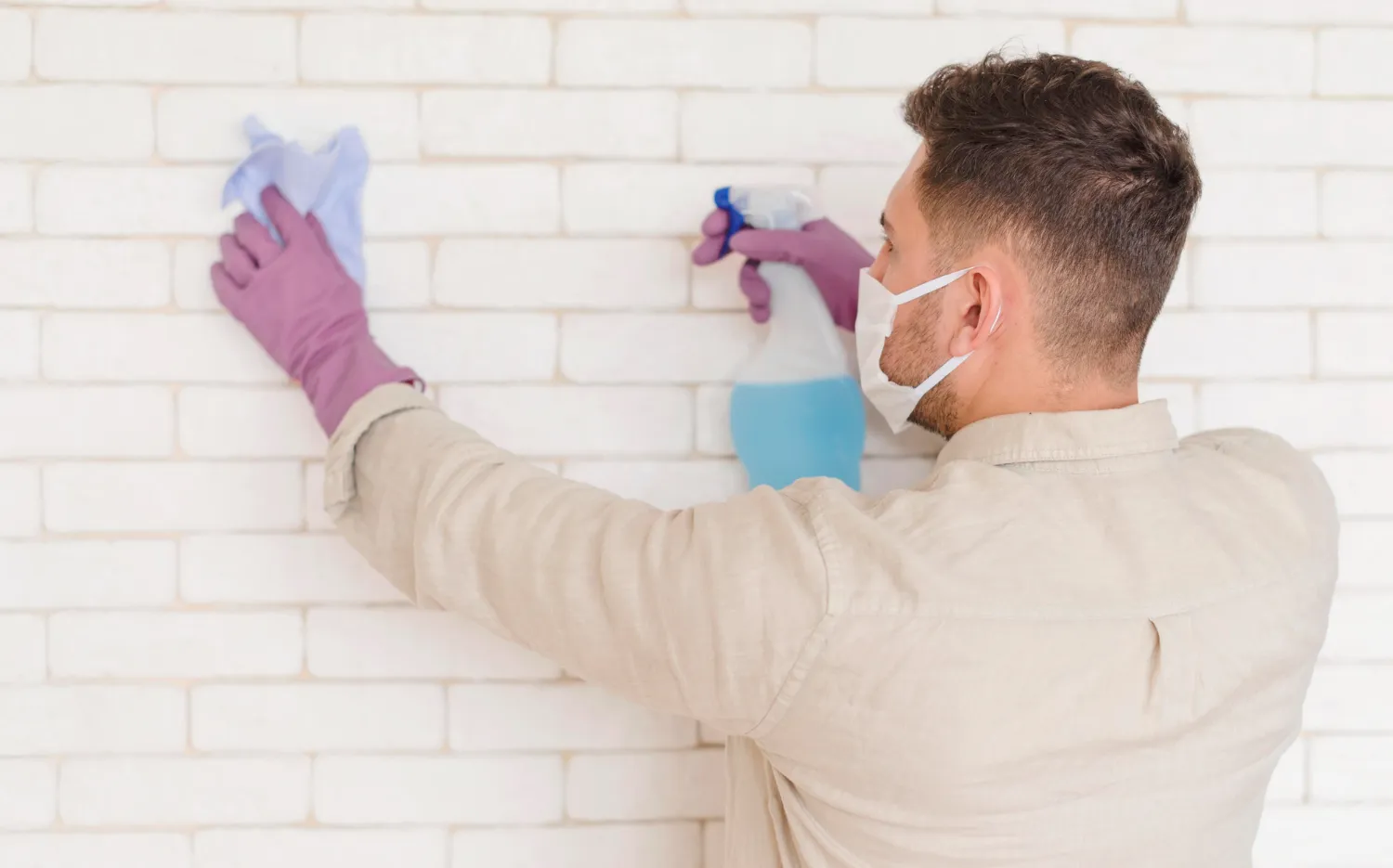 Use Contact Paper:
Contact paper comes in a range of colors and patterns to fit any style preference. Plus, it's easy to apply and remove without damaging your tiles. All you need to do is clean your tiles thoroughly and measure and cut the contact paper to fit. Then, simply apply it to your tiles, smoothing out any bubbles or wrinkles with a credit card or squeegee.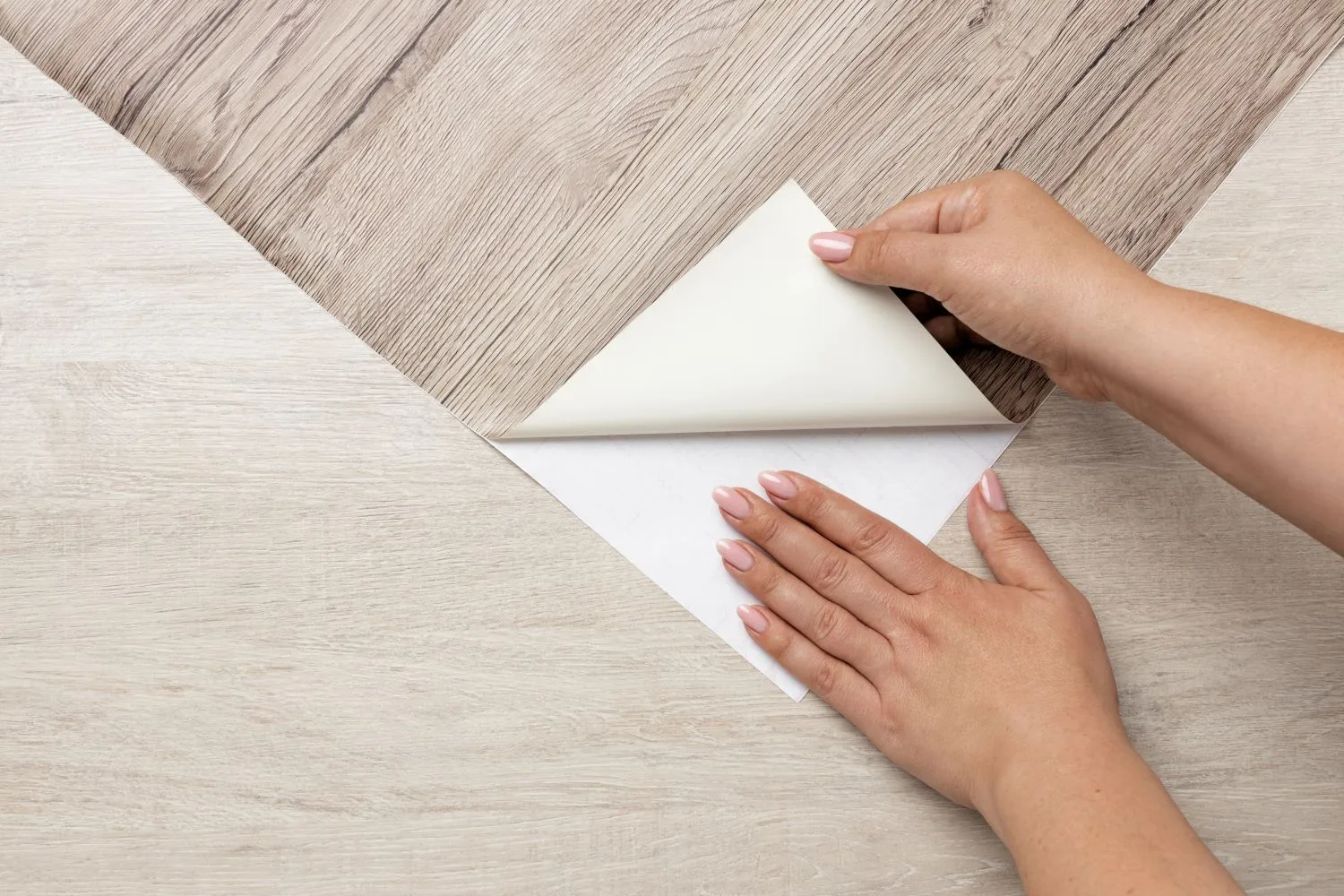 Cover with a Wood or Metal Paneling:
Another way to update kitchen tiles without removing them is possible by covering them with wood or metal paneling. This solution is perfect for achieving a modern and stylish kitchen design without undergoing a full remodel kitchen or spending too much money on replacing all your kitchen tiles.
To start, measure the area you want to cover with paneling and choose the appropriate size and style that matches your kitchen decor. It's important to select paneling that is simple to install and remove for future changes. Wood paneling provides a warm and natural aesthetic perfect for a cozy kitchen atmosphere, while metal paneling can give a sleek and contemporary look. The choice is yours!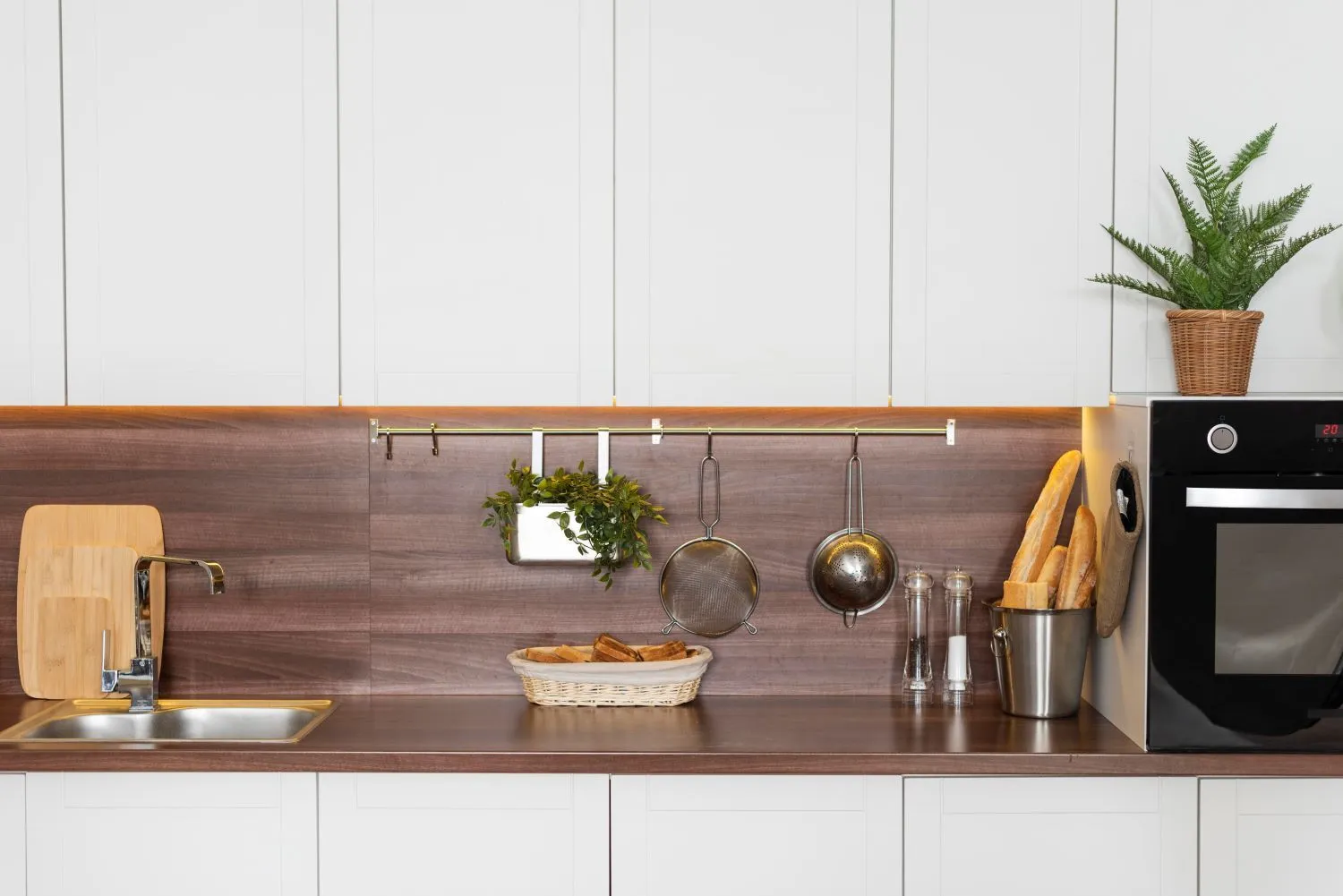 Use Concrete to Cover Your Kitchen Tiles
You can update the look of your kitchen by using concrete coatings or stone panels to cover your old kitchen tiles. These materials will give your kitchen backsplash a fresh, modern look that will make your kitchen pop.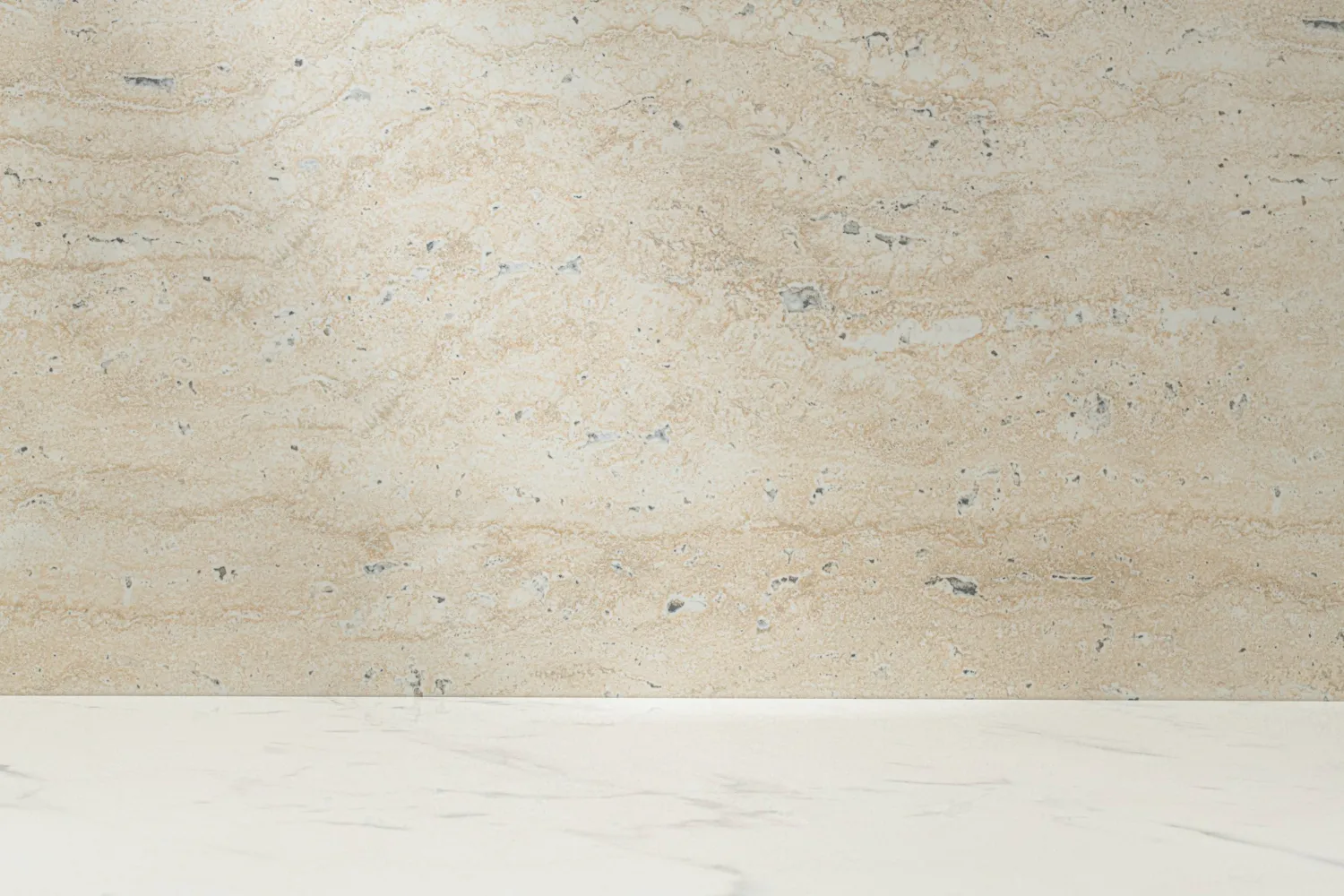 Consider Using Brick Panels
If you're worried about durability, consider using brick panels instead. They are incredibly resilient and won't be affected by frequent contact with wooden, or metal items in your kitchen. Plus, there are a variety of patterns available to choose from, so you can customize your kitchen to suit your unique personality.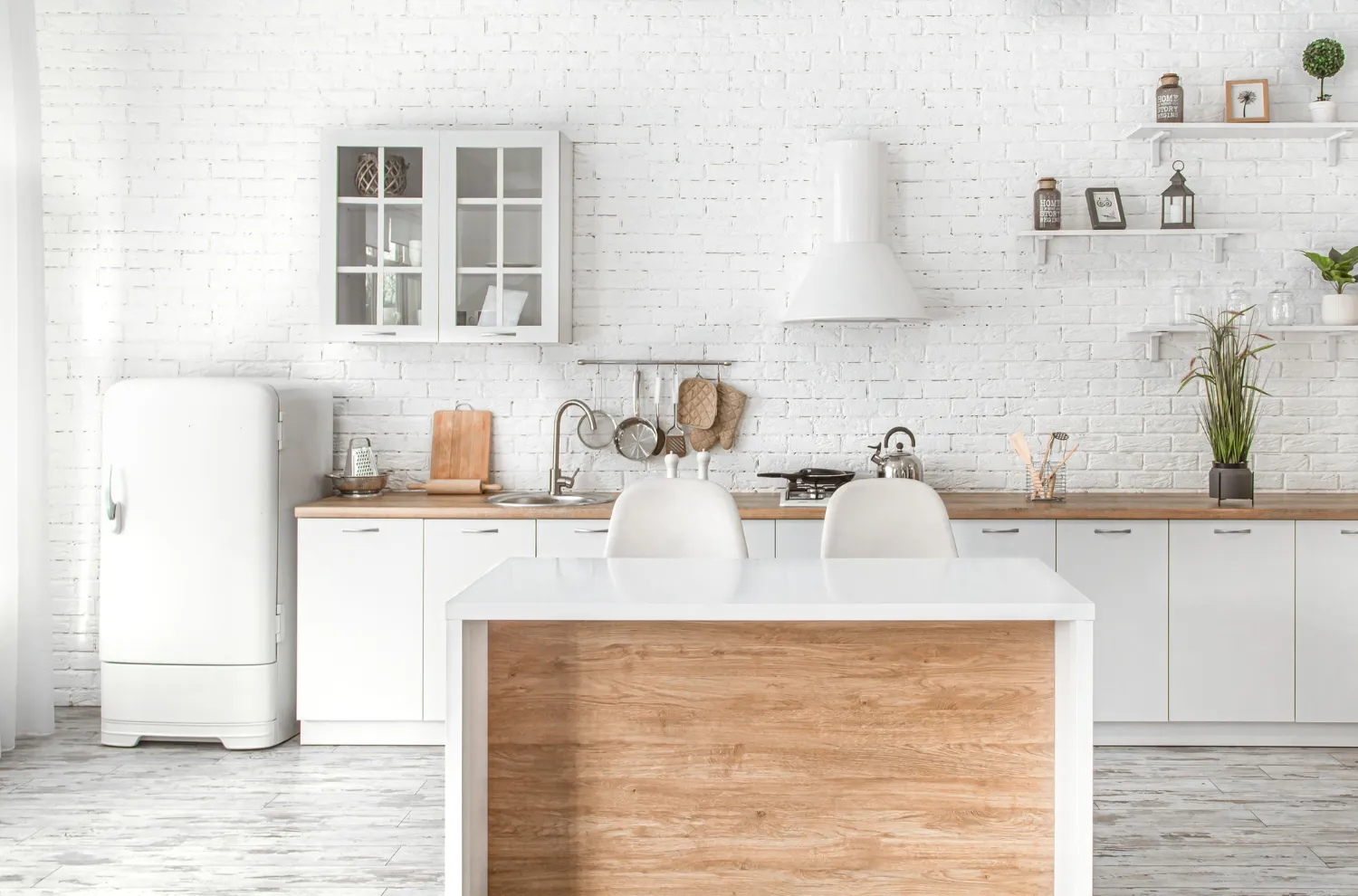 Ask For Professional Help
Updating kitchen tiles or trying to cover old tiles in your kitchen by yourself can be time-consuming, especially if you have limited experience in kitchen improvement or a busy schedule. Hiring a professional can save you time and ensure a professional-looking result. Professionals Home Remodel have the knowledge and experience to do the job quickly and efficiently.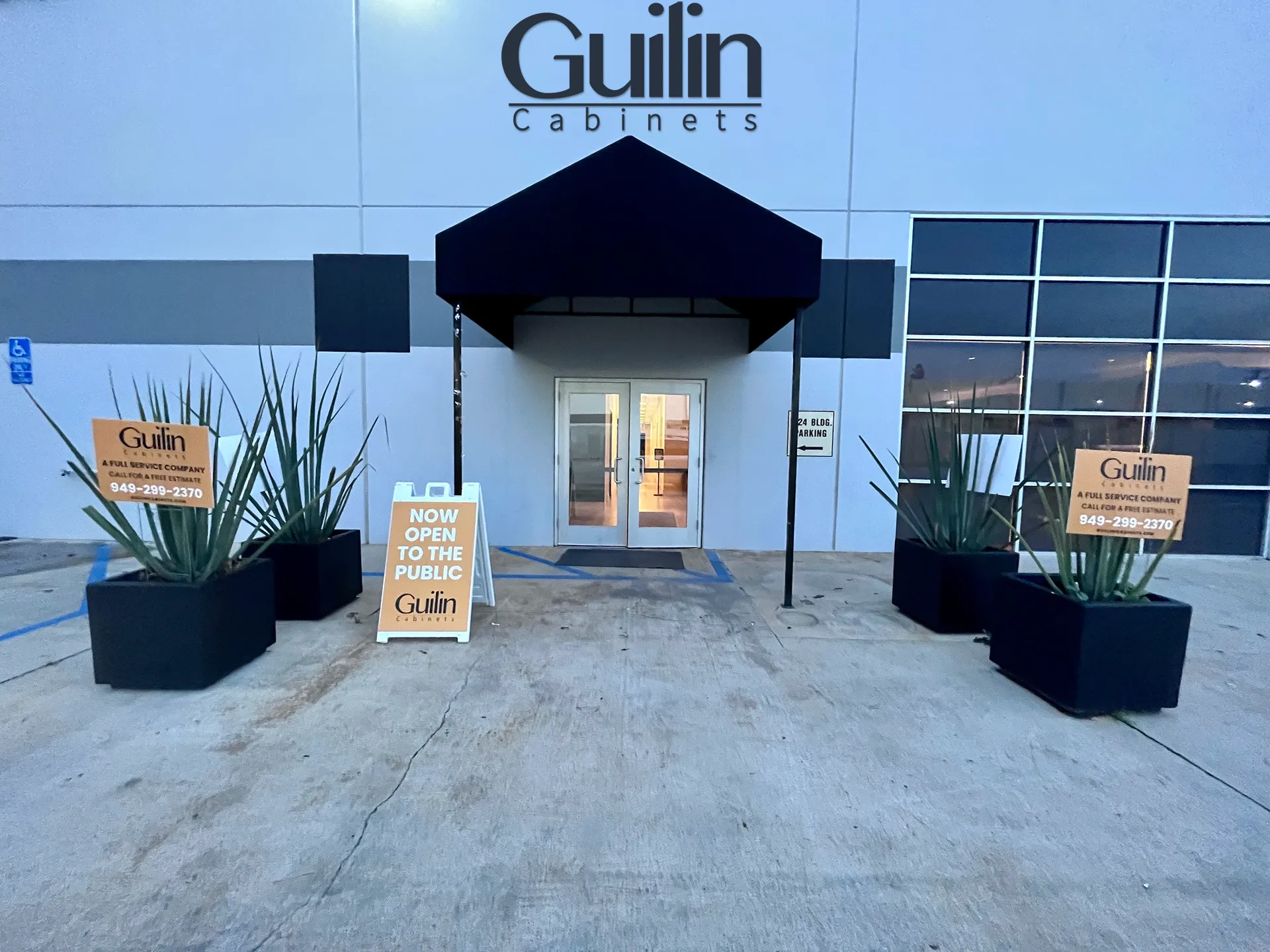 Guilin Cabinets is a professional home remodel based in Irvine California. We have the right tools and materials to get the job done properly. Furthermore, as a professional kitchen remodel company We will be able to offer advice on the best materials and designs for your kitchen and will be able to provide you with a warranty if something goes wrong. Contact Guilin Cabinets Today for assistance!
Hotline: +1 949 299 2370
Email: info@guilincabinets.com