Whether you're looking to give your kitchen a facelift or increase your home's resale value, updating your cabinets is an essential project to consider. But with so many options available, it can be overwhelming trying to decide between refacing, replacing or refinishing your cabinets. The good news is that each option has its unique benefits, costs, and drawbacks, which ultimately come down to personal preferences and circumstances. In this blog post, we'll take a closer look at each of these choices, exploring their differences, and helping you understand which option is best suited for you. So, are you ready to discover the perfect way to enhance the look and functionality of your kitchen? Let's dive in!
=> Related Article: Refacing vs Replacing Cabinets: Which is Better for Your Kitchen Remodel
A. Refinishing Cabinets
What Exactly is Refinishing Cabinet?
Refinishing cabinets is the process of repairing or rejuvenating worn-out, damaged, or outdated cabinets. It restores the look and feel of your existing cabinets to give them a fresh, new appearance. This method involves stripping off the existing finish, sanding the wood, and applying a new coat of stain, paint, or veneer. Refinishing your cabinets can give your home a new look and feel without having to completely replace the cabinetry.
Step-by-step process of refinishing cabinets:
Remove Cabinet Doors, drawers, and Hardware
Clean The Cabinets, Drawers
Sand the Cabinets, Drawers
Apply Stain, Paint, or Veneers
Apply a Protective Finish
Reinstall Cabinet Doors and Hardware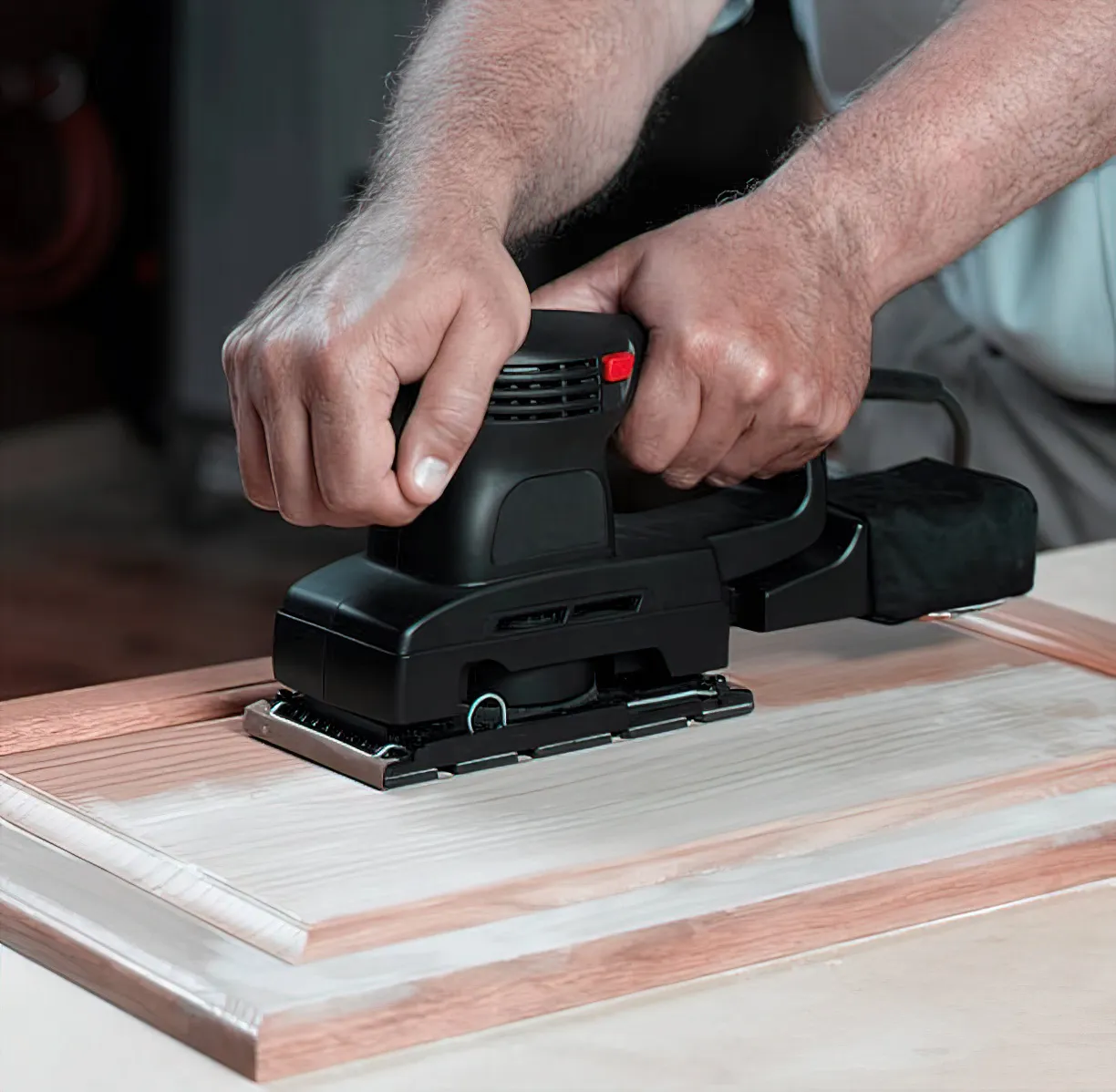 Advantages and disadvantages of refinishing cabinets?
Refinishing cabinets is a great way to transform the overall look of your kitchen or any other space in your home with cabinets. There are a lot of advantages to refinishing cabinets
The advantage of refinishing cabinets is an affordable way to gain a refreshed look without having to purchase new cabinets. Second, you can achieve a custom look by selecting your desired paint or stain color. Third, refinishing is a much quicker process compared to replacing cabinets, and you don't need to go through the painstaking process of uninstalling and reinstalling new cabinets.
However, there are also some disadvantages to consider. Refinishing may not be possible with certain types of cabinets or damage to them might make refinishing a less viable option.
When is refinishing a good option?
One of the most significant factors to consider is the age and condition of your cabinets. If they are relatively new and have not experienced much wear and tear, refinishing them may be all that is needed to give them a fresh look. Additionally, if you plan on selling your home, refinishing cabinets can increase their value at a low cost.
It's important you need note that refinishing cabinets is not a solution for cabinets that are severely damaged, extremely outdated, or have structural issues. It is also crucial to have a trained professional handle the refinishing process to ensure a seamless result. In conclusion, refinishing cabinets can be an excellent option for those looking to upgrade the look of their kitchen or bathroom with a low budget, but it's essential to evaluate the condition of your cabinets and seek professional help.
What Exactly is Cabinet refacing?
Cabinet refacing is the process of upgrading and transforming the appearance of your kitchen cabinets without replacing them entirely. Instead, the process involves replacing only the doors, drawer fronts, and hardware of the cabinets while keeping the cabinet boxes intact.
Step-by-step process of refacing cabinets:
Planning and Design
Removal and Preparation
Refacing Doors and Drawers
Installation of New Doors and Drawers
Final Touches to The New Refaced Cabinets
=> Read more: What's Cabinet Refacing: Understanding, Where to Get Start?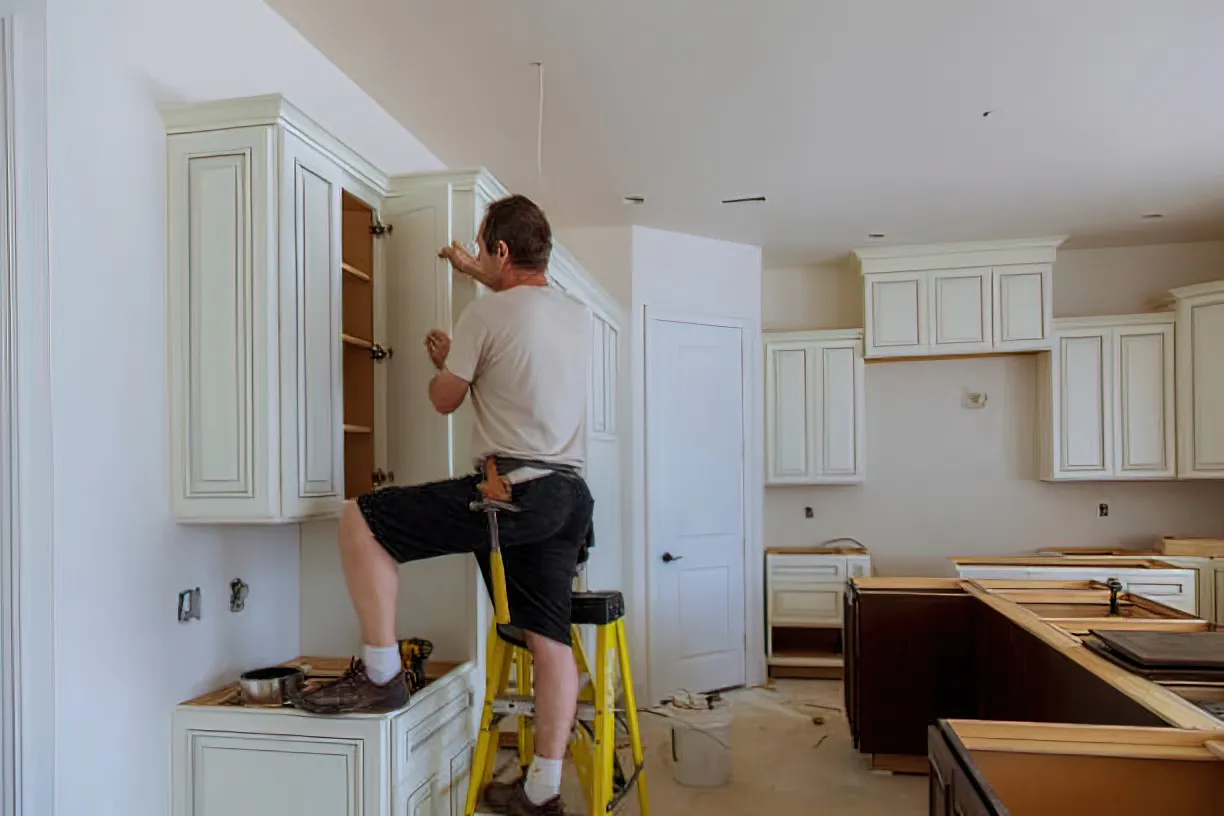 Advantages and disadvantages of refacing cabinets?
Cabinet refacing is an excellent way to give your kitchen a fresh, new look without breaking the bank. It involves removing the old cabinet doors and drawer fronts, covering the cabinet boxes with new veneer, and installing new hardware. Refacing cabinets can save you up to 50% of the cost of complete cabinet replacement. However, there are both advantages and disadvantages to this process.
One significant advantage is that refacing cabinets allows you to keep the layout of your kitchen intact. This means you don't have to deal with the hassle of tearing out your old cabinets, ripping up your flooring, and redoing your entire kitchen.
The downsides and disadvantages to cabinet refacing, the biggest being that it may not solve underlying structural issues, such as warped or water-damaged cabinet boxes, and it may not be as customizable as a total cabinet replacement.
When is refacing a good option?
Refacing Cabinets is a great option when you want to update your cabinets without tearing down your kitchen. If your cabinet is structurally sound, and the cabinet box is in good condition, refacing them can be a cost-effective way to give them a completely new look. Refacing also saves you the mess and hassle of a full renovation. Additionally, it is an eco-friendly alternative to replacing your cabinets, as it reduces waste and eliminates the need for new materials. Ultimately, cabinet refacing is a great way to give your kitchen a fresh, modern look that will impress your guests, without worrying about spending too much money.
C. Replacing Cabinets
What Exactly is replacing?
Replacing cabinets is the process of removing the existing cabinets or storage units in your kitchen or bathroom, and refitting them with new, updated versions. This may seem like a simple renovation but it can drastically change the look and feel of your home. Renovating your cabinets can provide an instant and significant upgrade to your living space without the expense of a full renovation.
The process typically of Replacing Cabinets involves:
Removing the old cabinets
Installing new cabinets
Installing new hardware
Adding trim or molding to complete the look
=> Related Service: Kitchen Remodel Contractor In Southern California
Advantages and disadvantages of replacing cabinets?
Replacing cabinets is a trending renovation project that has become popular in recent times due to various reasons. However, just like every other project, it comes with its advantages and disadvantages.
The advantages of replacing cabinets include giving your kitchen a fresh new look, better functionality and organization, increased home value, and the opportunity to improve energy efficiency by choosing more environmentally friendly materials.
On the other hand, some disadvantages of replacing cabinets include an increase in cost, possible damage to your kitchen walls, the need for professional expertise, and the inconvenience of not being able to use your kitchen during the renovation process.
When is replacing a good option?
If your kitchen cabinets are falling apart or are heavily damaged, replacing them is a no-brainer. You should also consider replacing cabinets if they're in good condition but extremely outdated, as this can modernize the space and add significant value to your home. Additionally, if you're remodeling your kitchen layout and need a different configuration, you'll probably have to replace the cabinets.
On the other hand, if your cabinets are structurally sound, and in good condition. They only require cosmetic changes, refacing or refinishing may be a better, more cost-effective solution. Ultimately, the decision to replace or keep your cabinets will depend on your goals, budget, and personal preferences.
Comparing Refacing, Replacing, and Refinishing Cabinets
Are you considering giving your kitchen an improvement? and You're likely weighing the options of refacing, replacing, and refinishing cabinets. It's important to keep in mind that the decision you make will have a significant impact on your budget, timeline, and overall look and feel of your kitchen.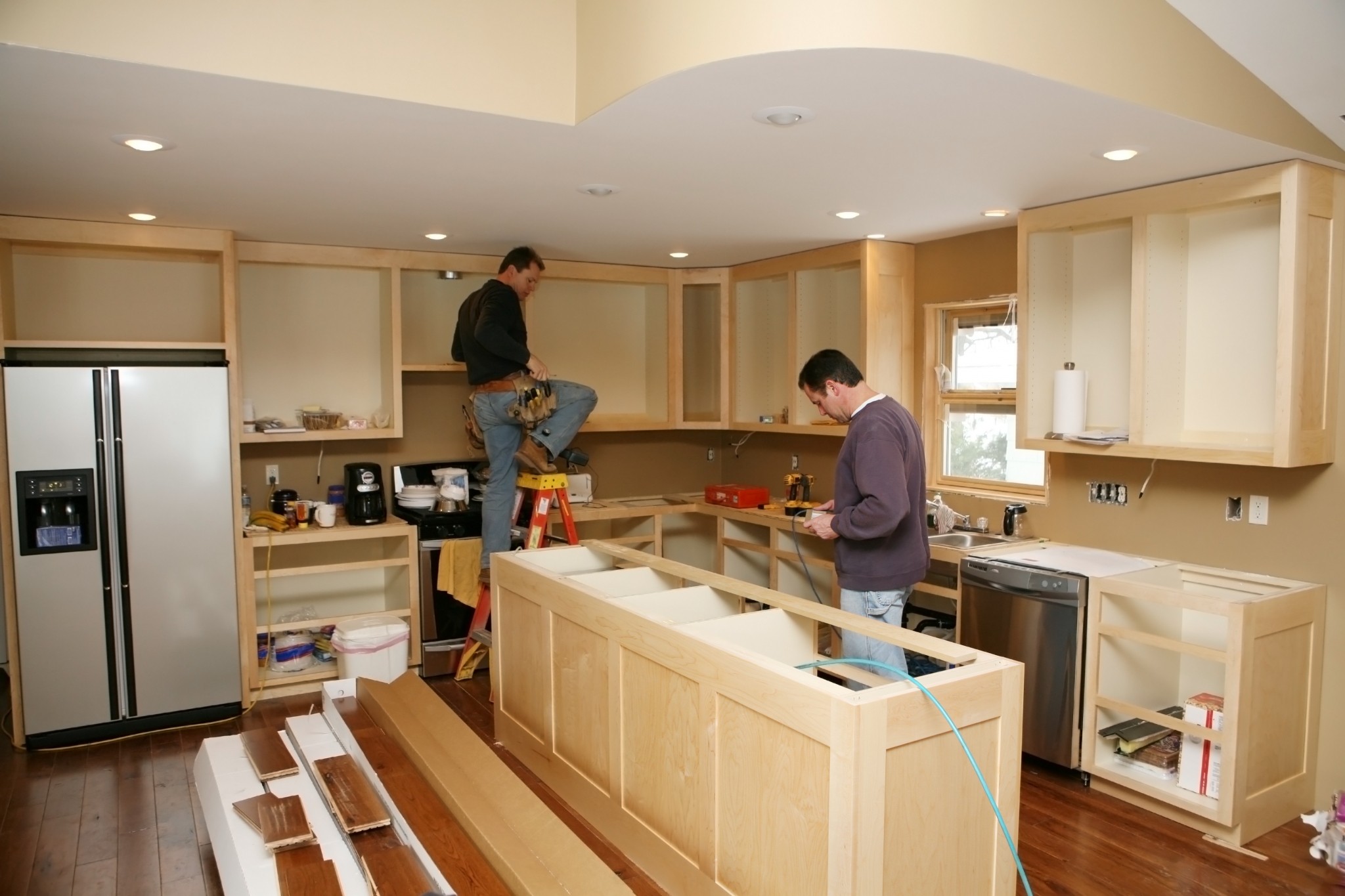 Here are some key factors to consider when making your decision:
Cost:
Firstly, cost is a crucial factor in the decision-making process. Refinishing cabinets is typically the least expensive option while replacing them can be the most expensive. And Refacing cabinets fall somewhere in between the two. The cost factor is especially important if you're on a tight budget and want to maximize your investment. Additionally, if you plan on selling your home, refinishing cabinets can increase their value at the lowest cost.
Timeframe:
Secondly, the timeframe is also a vital consideration. If you need a quick fix, the refinishing cabinet is the most ideal option, as it takes the least time to complete. Refacing cabinets can be completed in 3 days or a week, whereas replacing cabinets can take several weeks or more. If you're renovating on a tight timeline, then you'll want to choose an option that works with your schedule.
The condition of the cabinets:
Are they still in good condition and functional? If they are still in good condition and you want to update the new look for them. So, refinishing or refacing might be a better option than replacing them entirely. Refacing cabinets can save you up to 50% of the cost of complete cabinet replacement, and the refinishing cabinets may be lower.
Desired Outcome:
Consider what you want to achieve with your cabinets. If you simply want to update the look of your cabinets, then refinishing or refacing may be the way to go, that will help you save money for improvement projects. And on the other hand, If you want to change the layout, style, and functionality, or remodel the whole kitchen, then replacement cabinets may be necessary.
FAQs About Refacing, Replacing, and Refinishing Cabinets
Can any kind of cabinets be refaced, replaced, or refinished?
Generally, most cabinets can be refaced or refinished. Cabinet replacing is more complex and may require structural changes. The materials used in the existing cabinets may also determine which option is best for you.
Can I do cabinet refacing, replacing, or refinishing myself?
How long does each process take?
Cabinet refacing can typically be done in a few days to a week, cabinet replacing can take anywhere from a few days to a few weeks, and cabinet refinishing usually takes a few days.
Which option is the most cost-effective?
Cabinet refinishing, is typically the most cost-effective option, followed by cabinet refacing, with cabinet replacing being the most expensive option. The cost varies depending on the materials used and the size of the job.
Which option is the most environmentally friendly?
Refacing and refinishing are generally considered more environmentally friendly options as they involve less waste than completely replacing cabinets. If your cabinet box is still in good condition, refacing and refinishing is an Eco-friendly choice.