An open-plan kitchen is a popular type of kitchen design that involves removing walls or partitions between the kitchen and other areas of the home, such as the dining room or living room. This can create a more open and spacious living area that is perfect for modern lifestyles. Are you considering converting your kitchen to an open-plan kitchen design? Here is the article for you!
5 Ways to Convert a Kitchen Into an Open Plan Layout
Connect Kitchen and Living Space
In a closed-concept home, the cookers are often isolated in the kitchen while guests gather in the living area. However, with an open-plan kitchen, you can customize the layout to your preference. One way to achieve this is by facing the cooktop towards the living area. By doing this, the cook can enjoy their culinary skills while interacting with guests, making cooking a more enjoyable and shared experience.
=> Related Article: Different Types Of Kitchen Layouts, Ideas, Design
Moreover, connecting the kitchen to the living space helps to open up the layout, which makes the room look bigger and brighter. It also increases the flow of natural light in the room and creates a friendly and welcoming environment.
Adding an Island into Kitchen Layout
One popular feature to add to an open-plan kitchen layout is an island. This will provide more cooking and living space, and also offer a clear view into the living area, making hosting and entertainment easier than ever before. Converting your kitchen to an open-plan kitchen design is the solution for you to create a modern and functional space that seamlessly blends with your living area.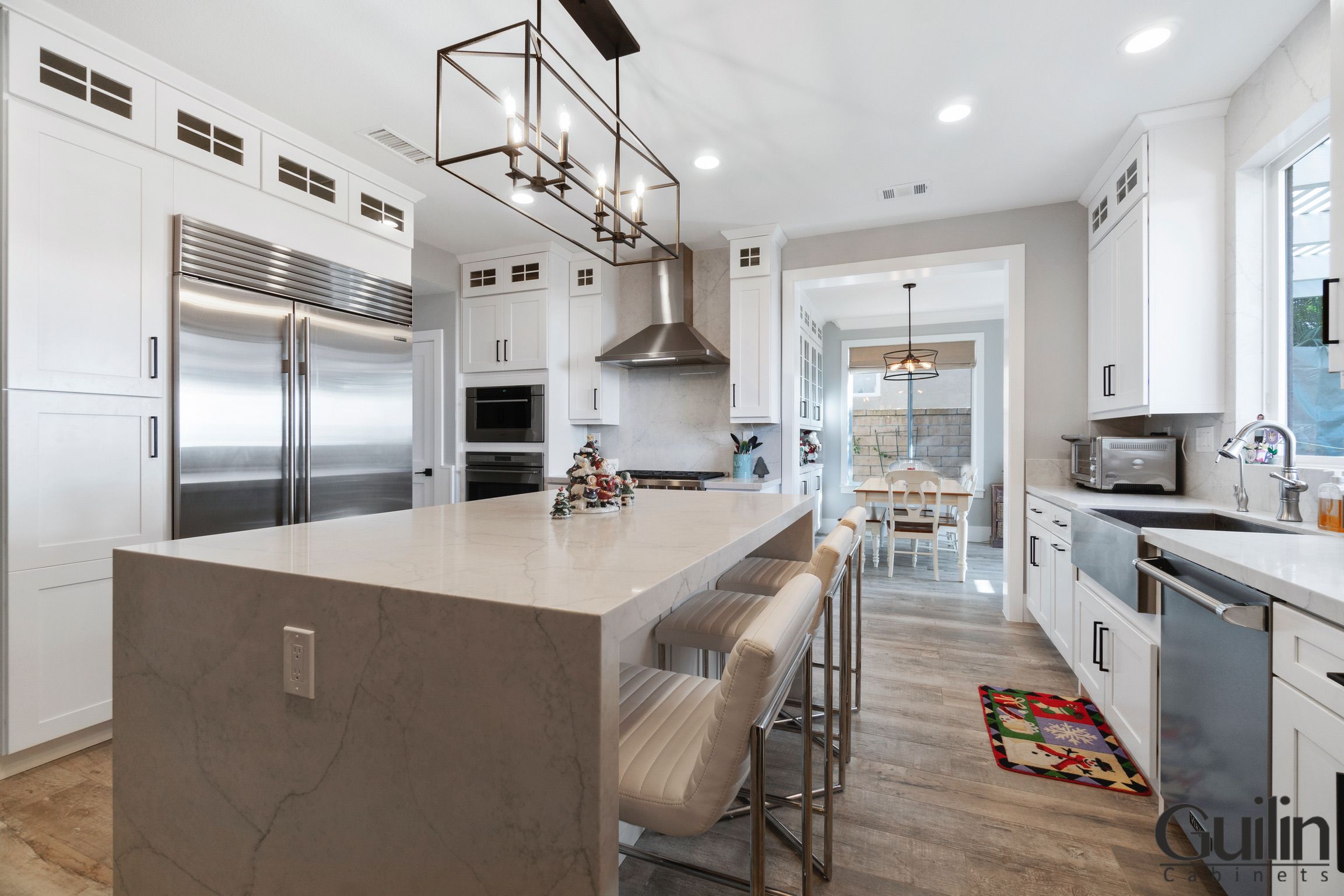 If you're worried that your current kitchen is too small for a spacious island, don't fret. Removing barriers, and walls and creating an open-plan layout can actually open up new possibilities for kitchen islands or even a peninsula. Consult with a designer or a kitchen remodel contractor to see if this is a viable option for your living space.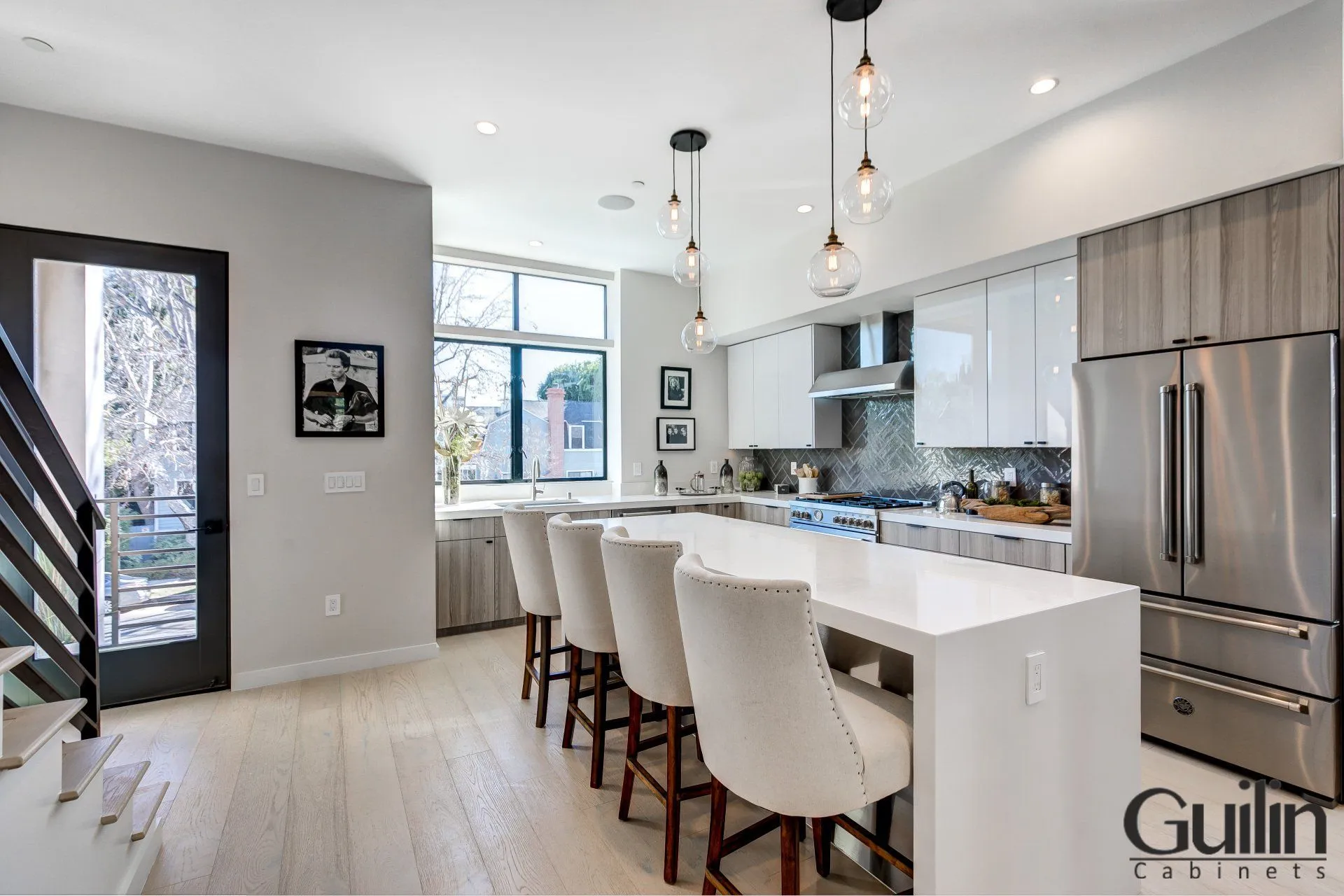 Use Tall Cabinets in the Kitchen
Adding tall cabinets will keep your kitchen looking tidy while providing extra space to store your supplies and cooking essentials. When everything has a designated place, it's easier to stay organized and keep your kitchen functional and user-friendly.
=> Related Article: How to Size Up Your Kitchen Storage Space?
With more free kitchen space, you'll also have more freedom to experiment with your kitchen's design and layout. Whether you decide to go for a sleek and modern look, a cozy and rustic vibe, or an open-plan kitchen layout, the possibilities are endless.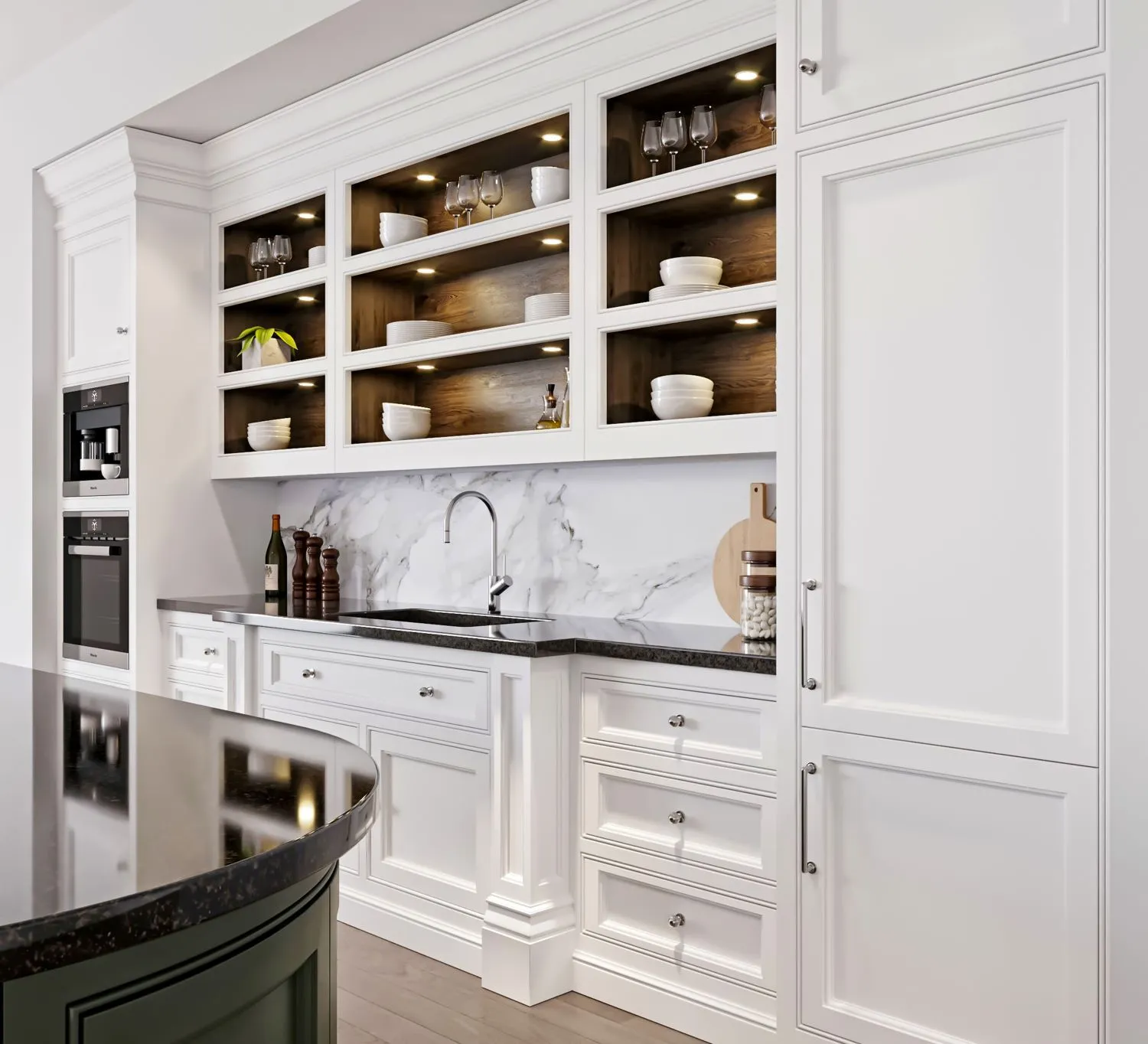 Extending Kitchen Into Dining Room
By removing walls and merging these two spaces, you can enjoy a seamless flow between the kitchen and the dining area. Extending the kitchen into the dining room is one of many creative ideas to inspire your own home improvement project to add more space and an give your kitchen an opening feeling.
=> Related Article: Bath & Kitchen Cabinet Showrooms in Irvine California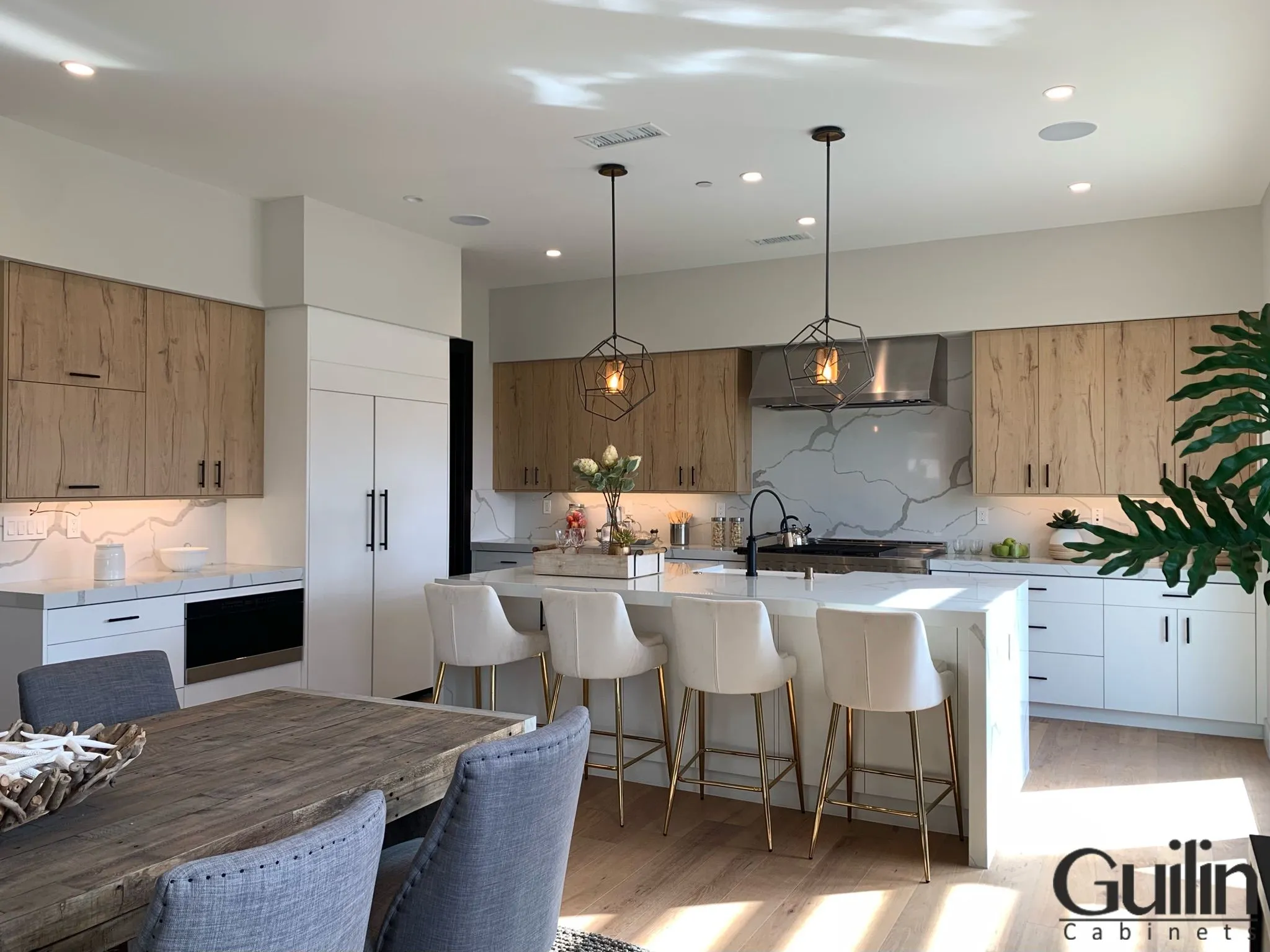 Are you looking for new kitchen cabinets? Try Guilin Cabinets! We are a locally-owned cabinet supplier that offers an incredible range of cabinet styles, from modern to traditional finishes. Our team of professionals is ready to assist you every step of the way, ensuring a stress-free renovation process. Discover more about our top-quality services and products by visiting our website at https://guilincabinets.com/. Alternatively, feel free to give us a call today and speak with one of our knowledgeable cabinet specialists. Trust us to make your dream kitchen a reality!
The Benefits of Open-Plan Kitchens
Converting your kitchen to an open-plan layout offers a plethora of benefits:
Enhanced Social Interaction: Open layouts encourage conversations and interactions between family members and guests, even while cooking or working in the kitchen.
Increased Natural Light: With fewer walls obstructing light, open-plan kitchens often feel brighter and more inviting.
Flexible Use of Space: The versatile design allows you to adapt the space for various activities, from cooking and dining to working and entertaining.
Modern Aesthetics: Open-plan layouts offer a contemporary and stylish look that suits various interior design themes.
Improved Resale Value: Homes with open-plan layouts are highly desirable in the real estate market, potentially increasing your property's resale value.
=> Read more: 6 Tips for Kitchen Remodeling That Increase Sale Value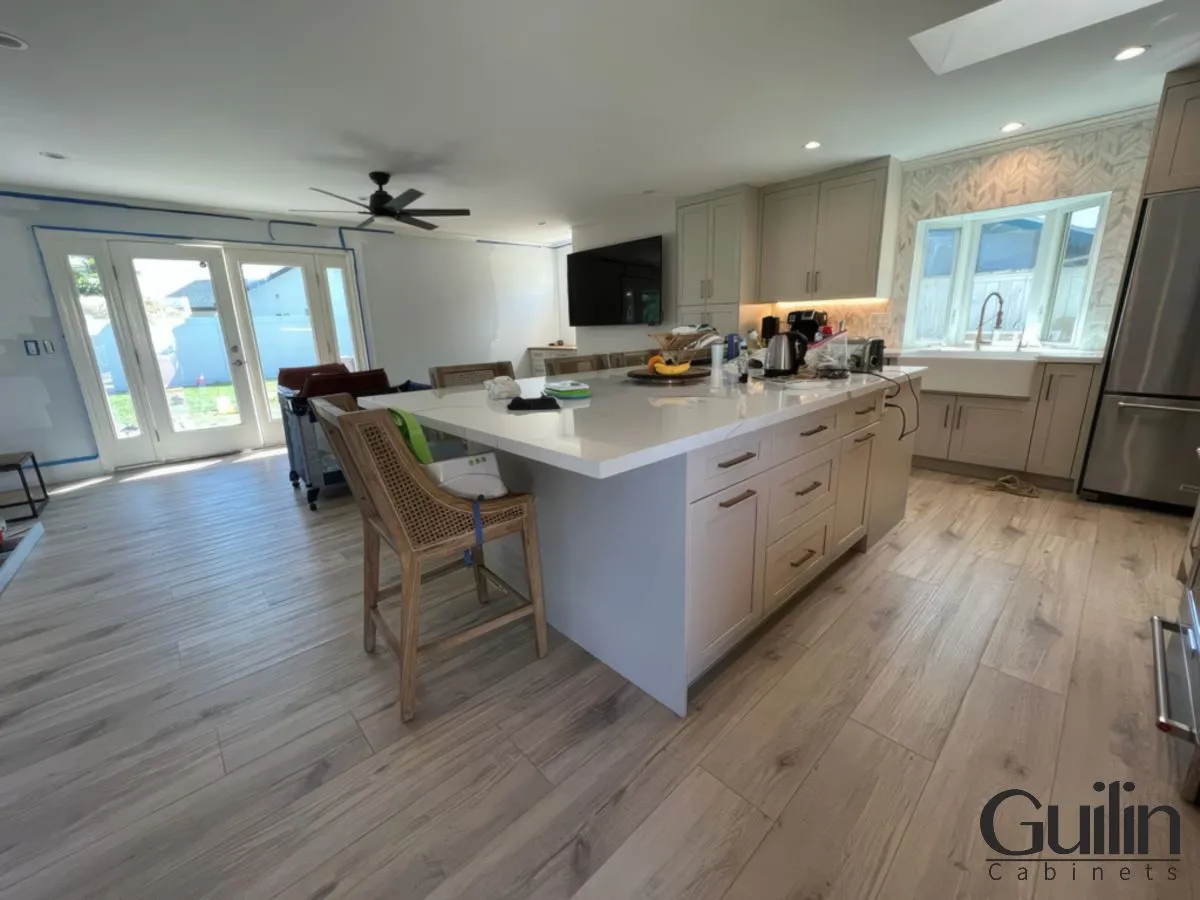 Open Plan Kitchen Layout Ideas Design From Guilin Cabinets