So, you've decided to convert your kitchen into a functional kitchen layout. This is an exciting prospect as there are many advantages to remodeling your kitchen, but first, you need to decide how you want to design it. In this blog post, we will discuss the pros and cons of a one-wall kitchen layout and give you some great inspiration to help you design your own!
=> Read More: Types Of Kitchen Layout: L-Shape, U-Shape, G-Shape, Galley, and More
List of common kitchen layouts include:
What is One Wall Kitchen Layout Design
A one-wall/straight kitchen plan (known as a single-wall kitchen) is a kitchen design that comprises all the required appliances, cupboards, and counters organized along one wall. It is a very basic and efficient design that allows for optimal utilization of space. Being especially ideal for compact, narrow locations, this layout is one of the most efficient and cost-effective designs, since it takes the least amount of floor space.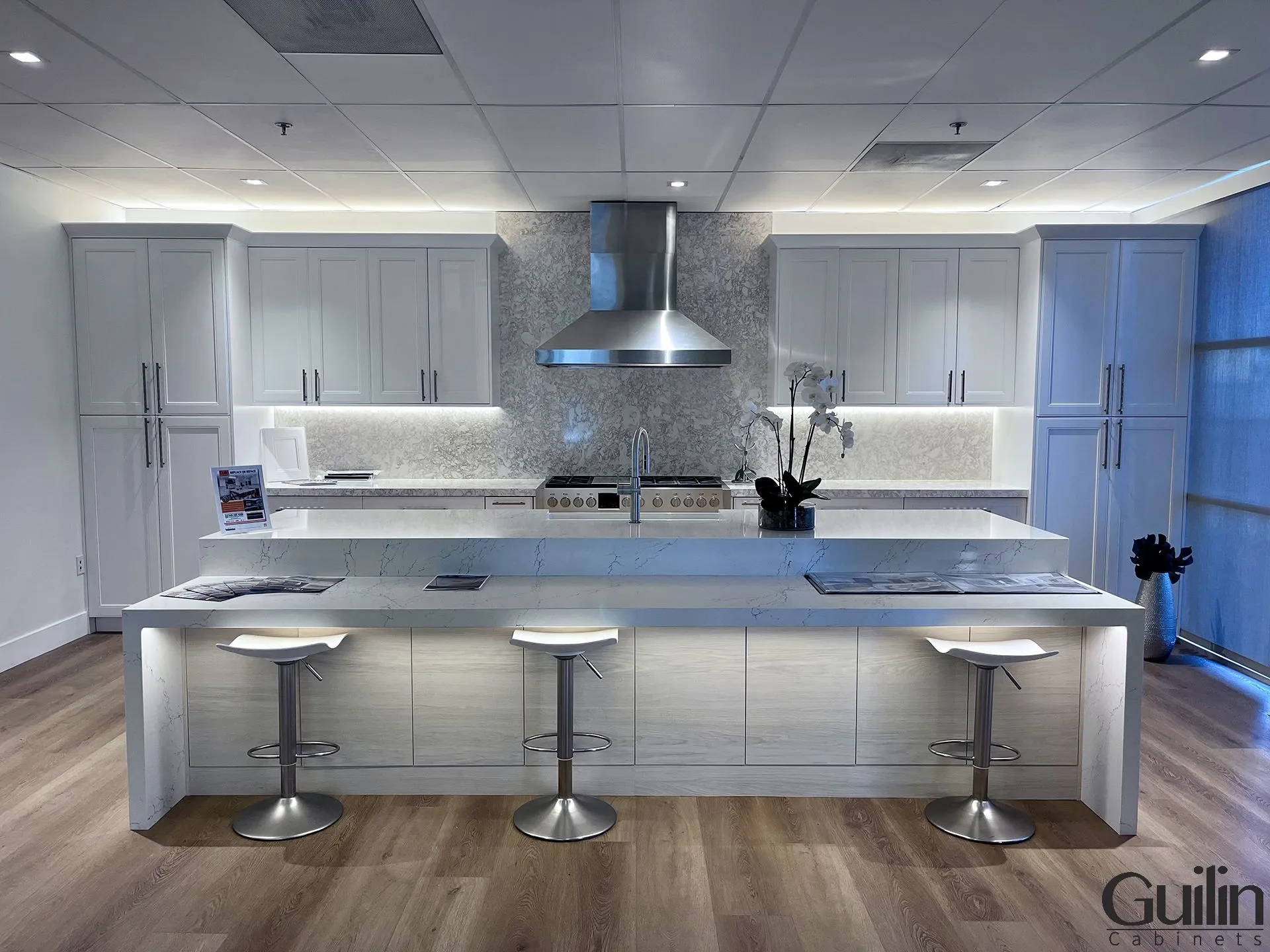 Moreover, it enables for great traffic flow, since all components are situated along one wall, leaving the remaining walls accessible for mobility. And it gives lots of natural light and can be modified to match every individual's requirements, making this layout a wonderful alternative for anyone searching for a practical and efficient kitchen design in a narrow space.
=> Check out: Visit our Showroom to See Sample & Our Quality Work – Guilin Cabinets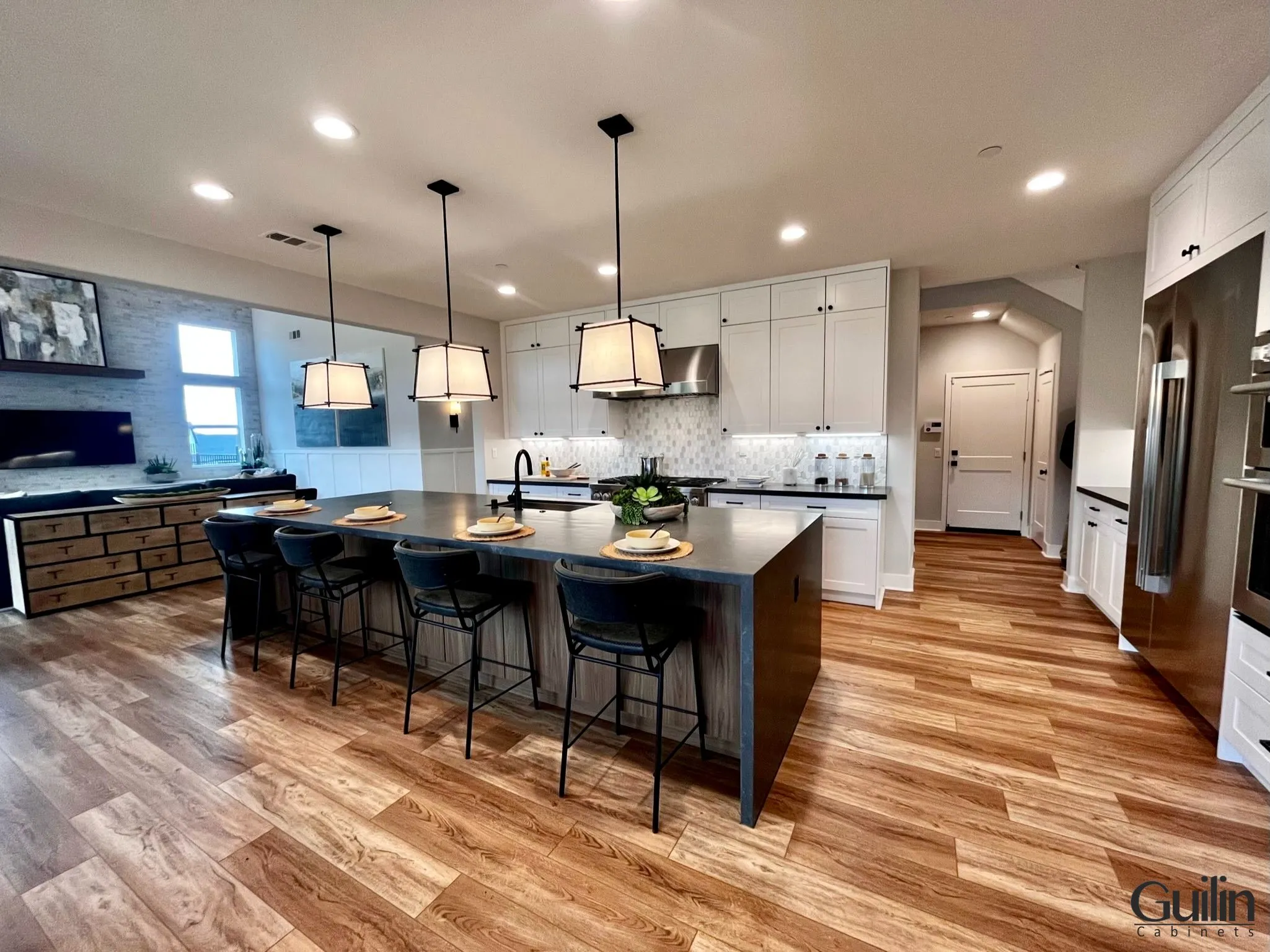 Pros of One Wall Straight Kitchen Layout:
Easier to clean:
The One Wall kitchen layout is a type of kitchen design where the kitchen appliances and cabinets are arranged along one wall of the kitchen. This layout is convenient and efficient for small kitchens as it provides more space for movement. It also has the advantage of being easier to clean than other kitchen layouts, as it only has one wall to clean. This means less time spent scrubbing and wiping down multiple surfaces, making it easier to keep the kitchen clean and tidy.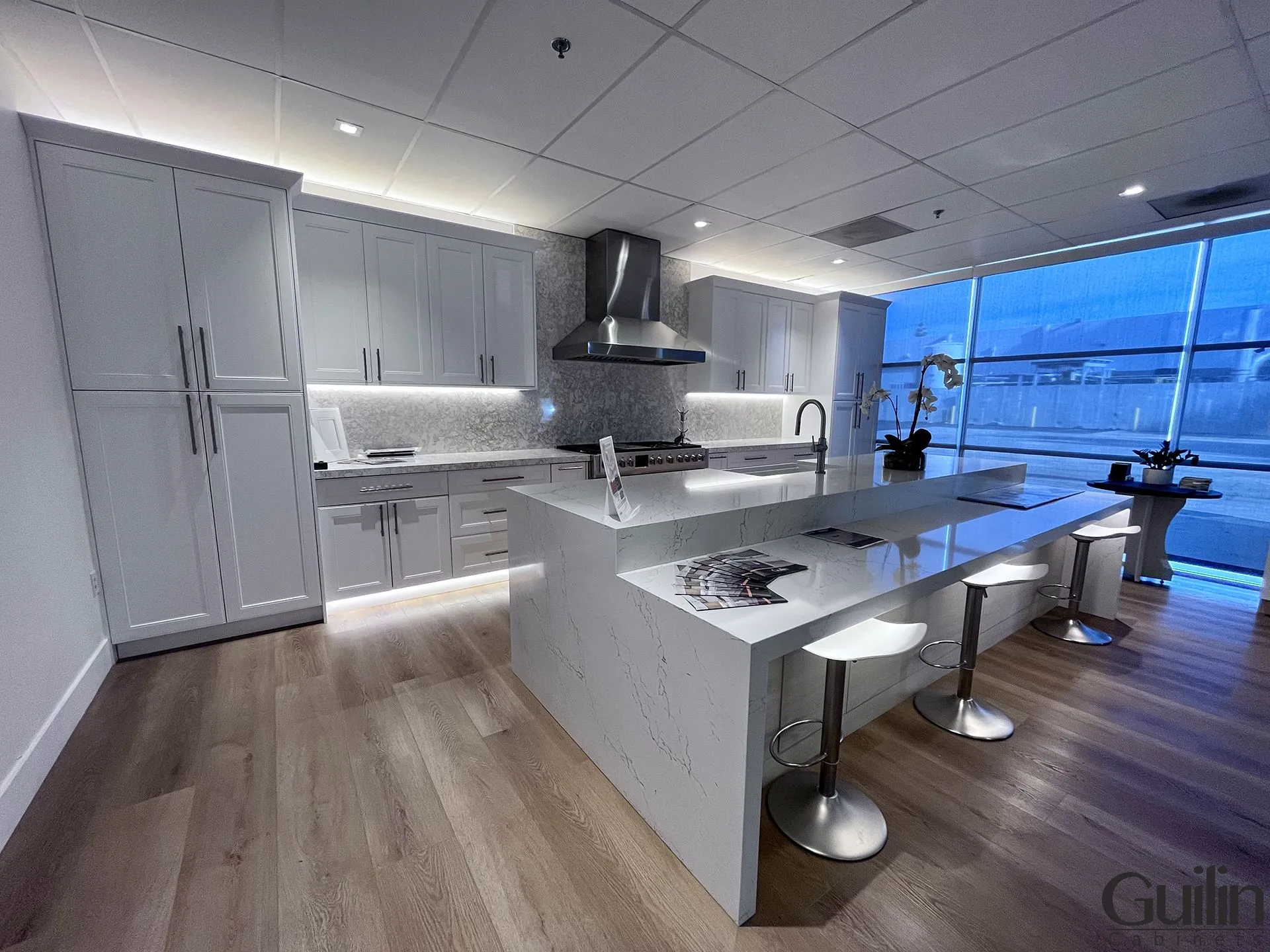 Cost-effective
This type of kitchen is a great option for those who are looking for a cost-effective kitchen solution on a budget. It is an efficient use of space, and it can be an affordable way to get a complete kitchen setup in a smaller space.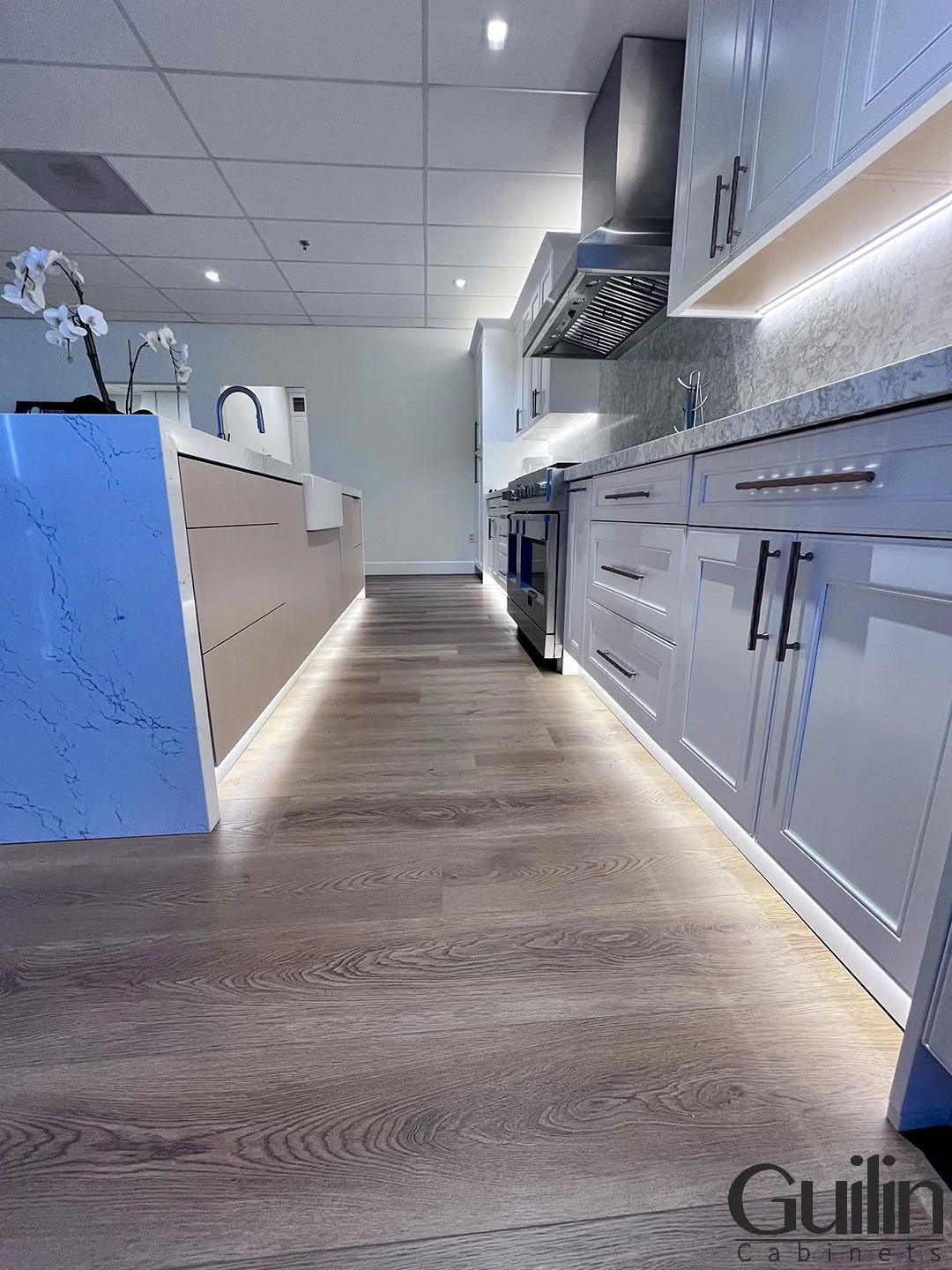 Easy to Access
The One Wall kitchen may be modest or more expansive, nevertheless, it will always be pretty ordered, that why it is extremely easy to reach. Usually, there will be an appliance zone, storage, and cooking zone. One wall kitchen arrangement might also feature an island.
Appliance Zone: The appliance zone can include all of the appliances that are used frequently in the kitchen, like a microwave, oven, or even a small refrigerator. Appliances such as these can be mounted on cabinets, or they can be put on the island.
Storage Zone: The storage zone is for dry food products, for example, flour, sugar, or canned goods. The storage zone can be slightly above the counter or under the counter.
Cooking Zone: The cooking zone is the chef's favorite, the zone for cooking, preparing food, plating, cooking, and serving. The cooking zone can be highly customized and can include many options.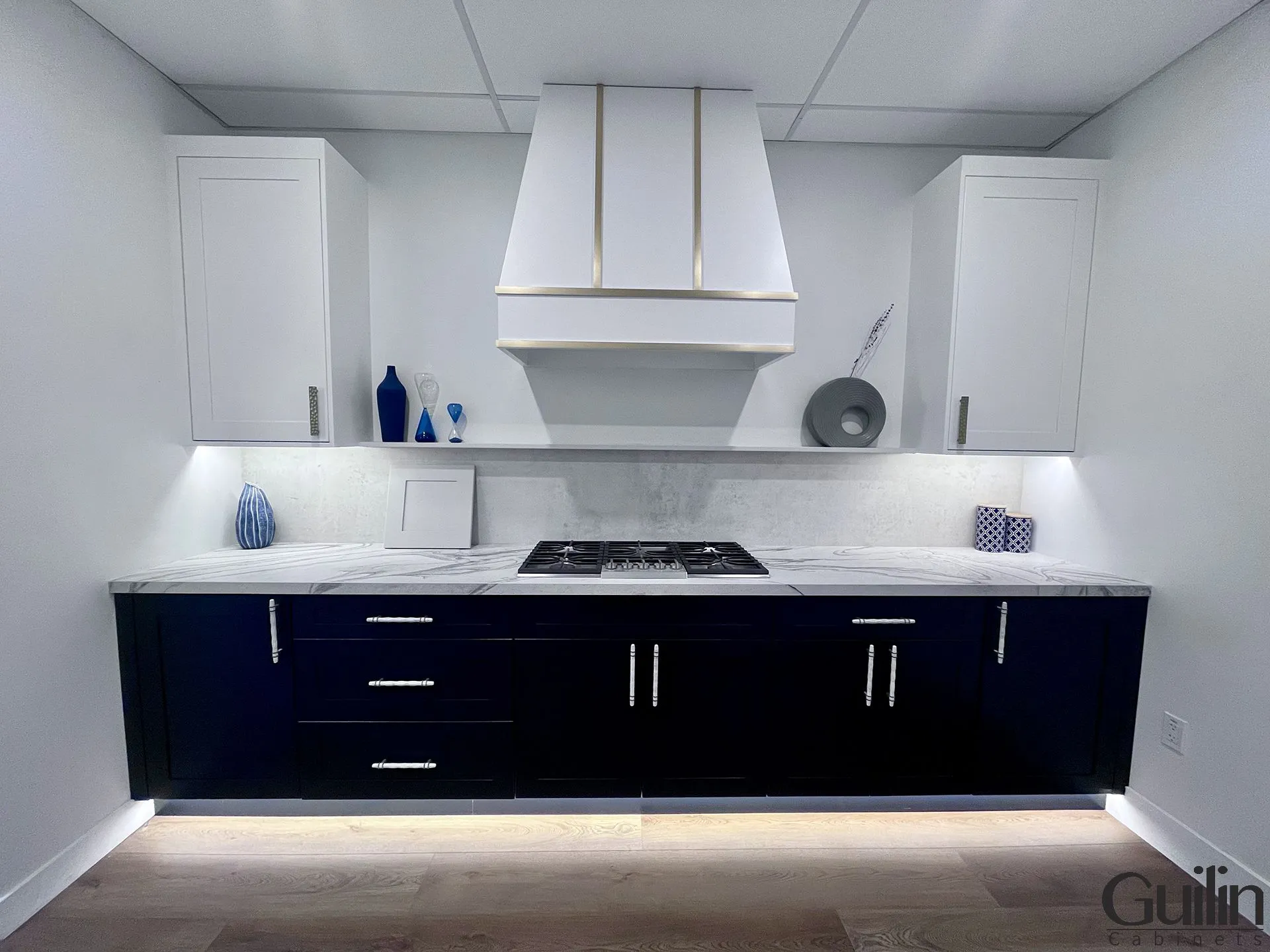 Cons of One Wall Straight Kitchen Layout:
Traffic and Workflow Issues
One of the biggest challenges with a One Wall kitchen is the inherent traffic and workflow issues that come with this layout. The lack of countertop and storage space, as well as the limited walking and standing areas, can impact the overall functionality and flow of the kitchen. This can create frustration, and inconvenience and limit productivity especially when cooking or entertaining guests.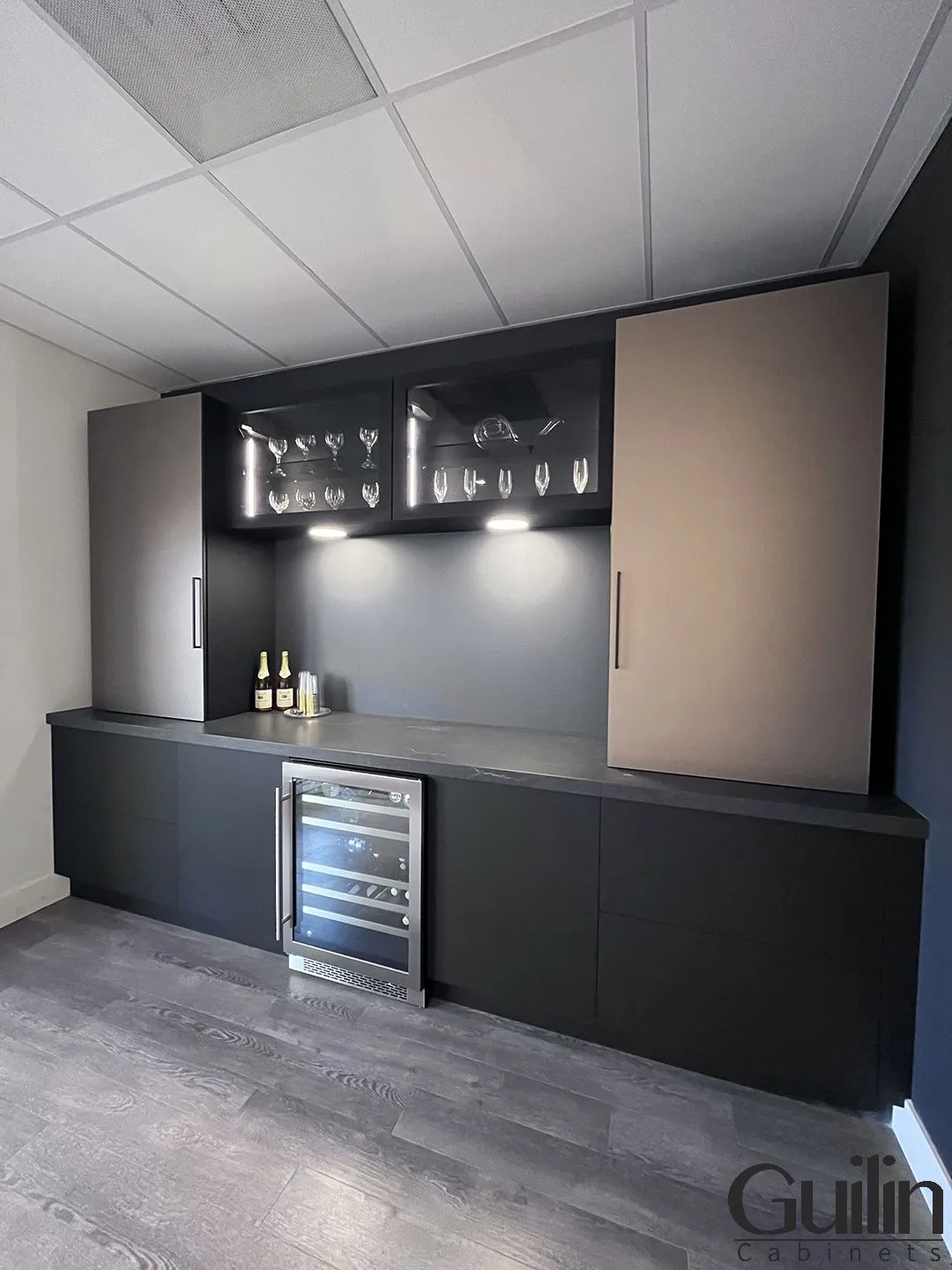 Less counter and storage space:
One Wall kitchen layout may be attractive and cost-effective, however, it is not the most suitable option for larger households or those who need more counter and storage space. This layout is great for small areas as it fits all appliances along one wall. Unfortunately, the limited counter and storage space can make it difficult to store items or prepare meals with ease. Additionally, accessing items stored at the back of the cabinets can be a hassle due to the lack of space.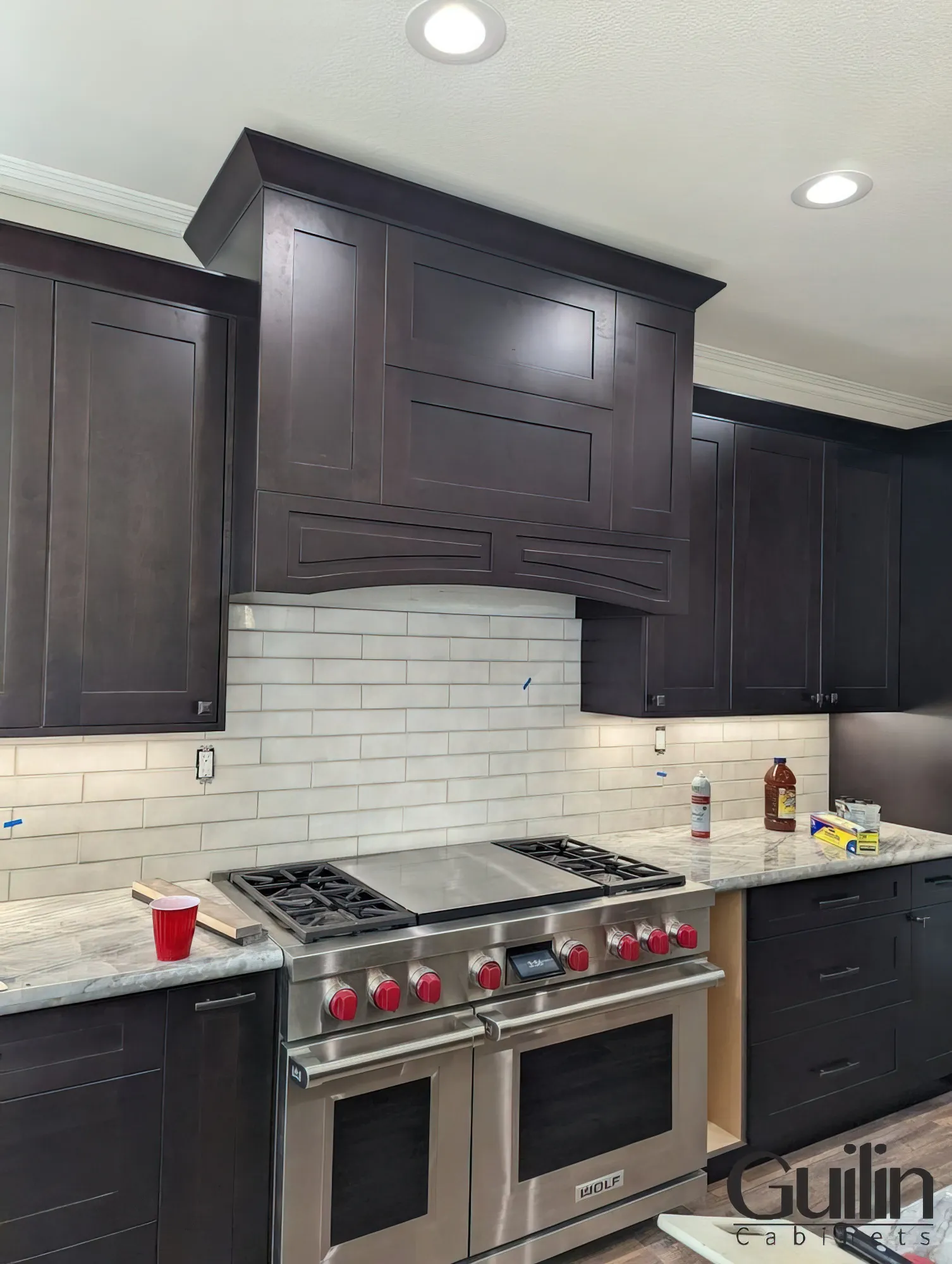 Limited space for appliances:
One of the advantages of a one-wall kitchen layout design is the limited space for appliance placement. Due to the limited space in this type of design, larger appliances such as refrigerators, stoves, or dishwashers may not be able to fit in the kitchen. This can create an uncomfortable, cramped, and cluttered space, as the appliances, may not be able to fit in the available area. Additionally, because of the limited space, there may not be enough room to install multiple appliances, thus limiting the kitchen's potential for storage and food preparation. This can make meal preparation more difficult, as the kitchen may not have the necessary appliances to perform a variety of tasks.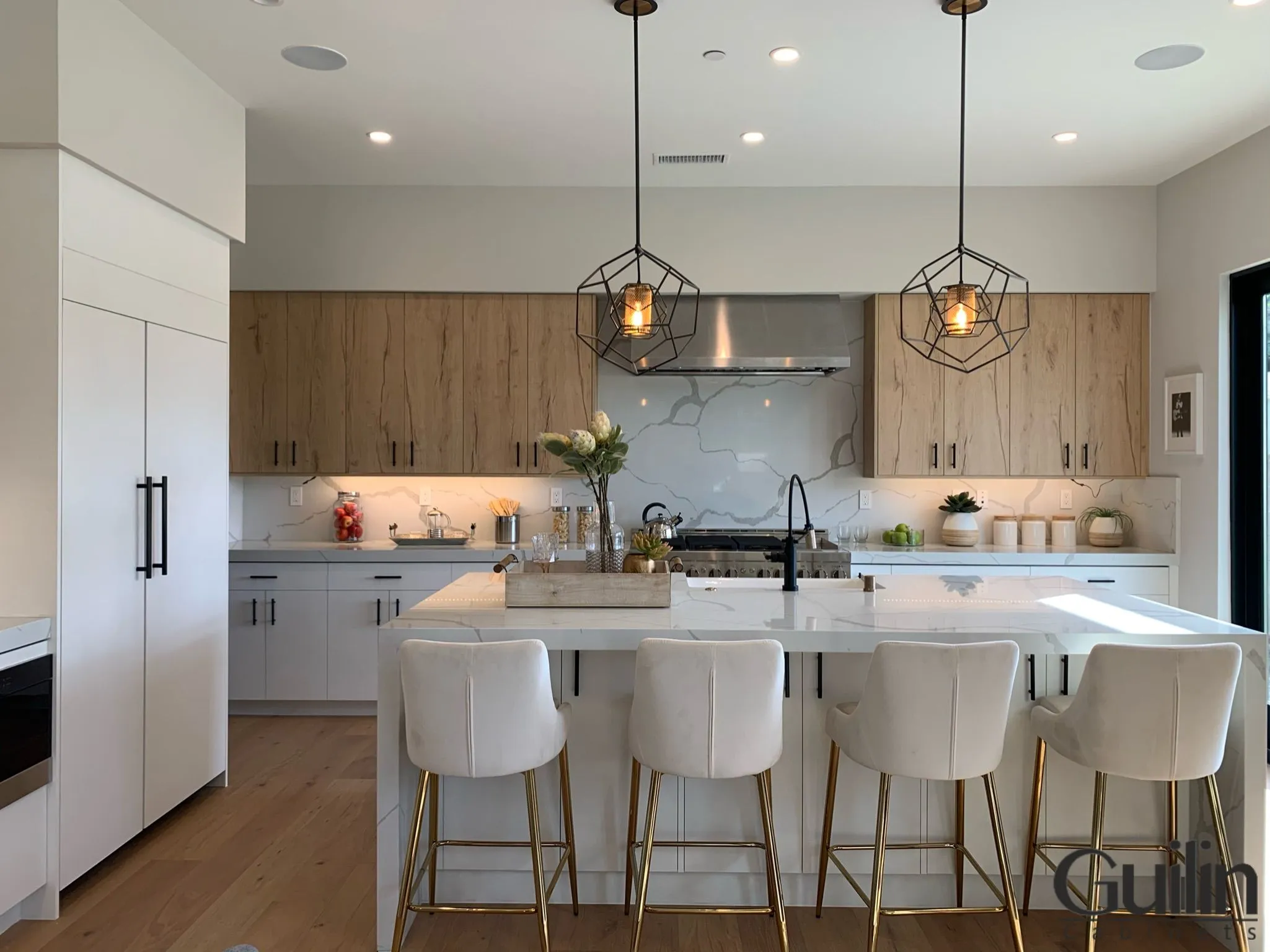 FAQs about One Wall Straight Kitchen Layout:
How much space do I need for One Wall Kitchen Layout?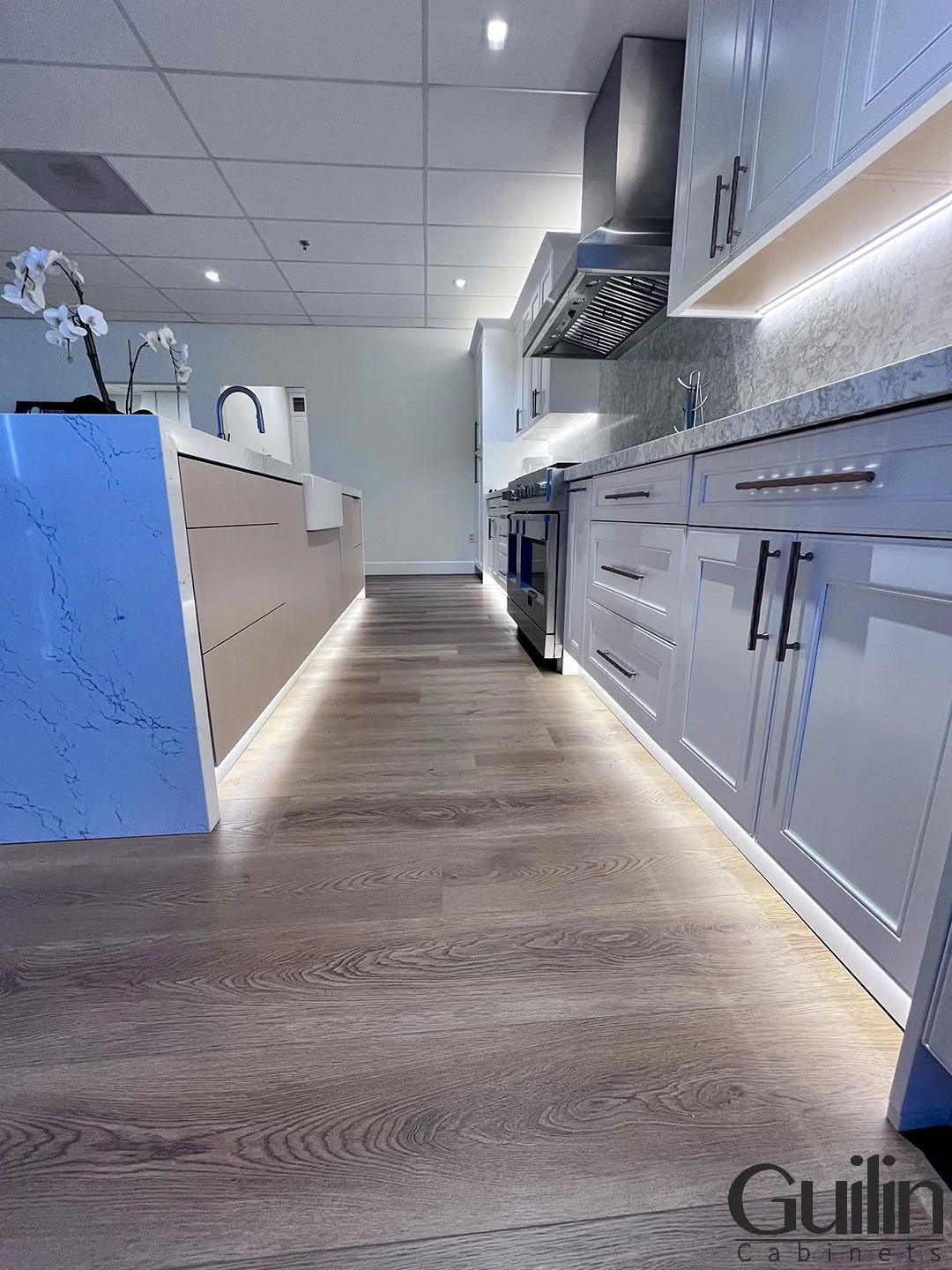 That being said, there's still a minimum amount of space you'll need for a functional one-wall kitchen. According to industry guidelines, a minimum of 42 – 48 inches of space is needed between opposite walls or appliances. This will allow room for opening cabinet doors and drawers, as well as enough space to move around and work comfortably. In terms of length, the ideal length for a one-wall kitchen is between 12 and 16 feet. This allows for enough counter space for prep work and cooking, as well as sufficient room for appliances and storage. If your kitchen is shorter than 12 feet, you can find that you don't have enough space to work effectively.
How to maximize storage space in One Wall Straight Kitchen?
YES! you can maximize storage space! With a few simple organizational tricks and a bit of creativity, you can make the most of this efficient layout. Tall cabinets, deep drawers, and open shelving are all great for maximizing storage capacity. Additionally, vertical storage solutions such as pot racks, hooks, and magnetic strips are a great way to keep your kitchen essentials within easy reach. Not only are these solutions practical and easy to access, but they also help to keep your space looking neat and tidy. With a bit of planning and some simple hacks, you can turn your One Wall Straight kitchen into a storage powerhouse.
Can install all the Major appliances in One Wall Straight Kitchen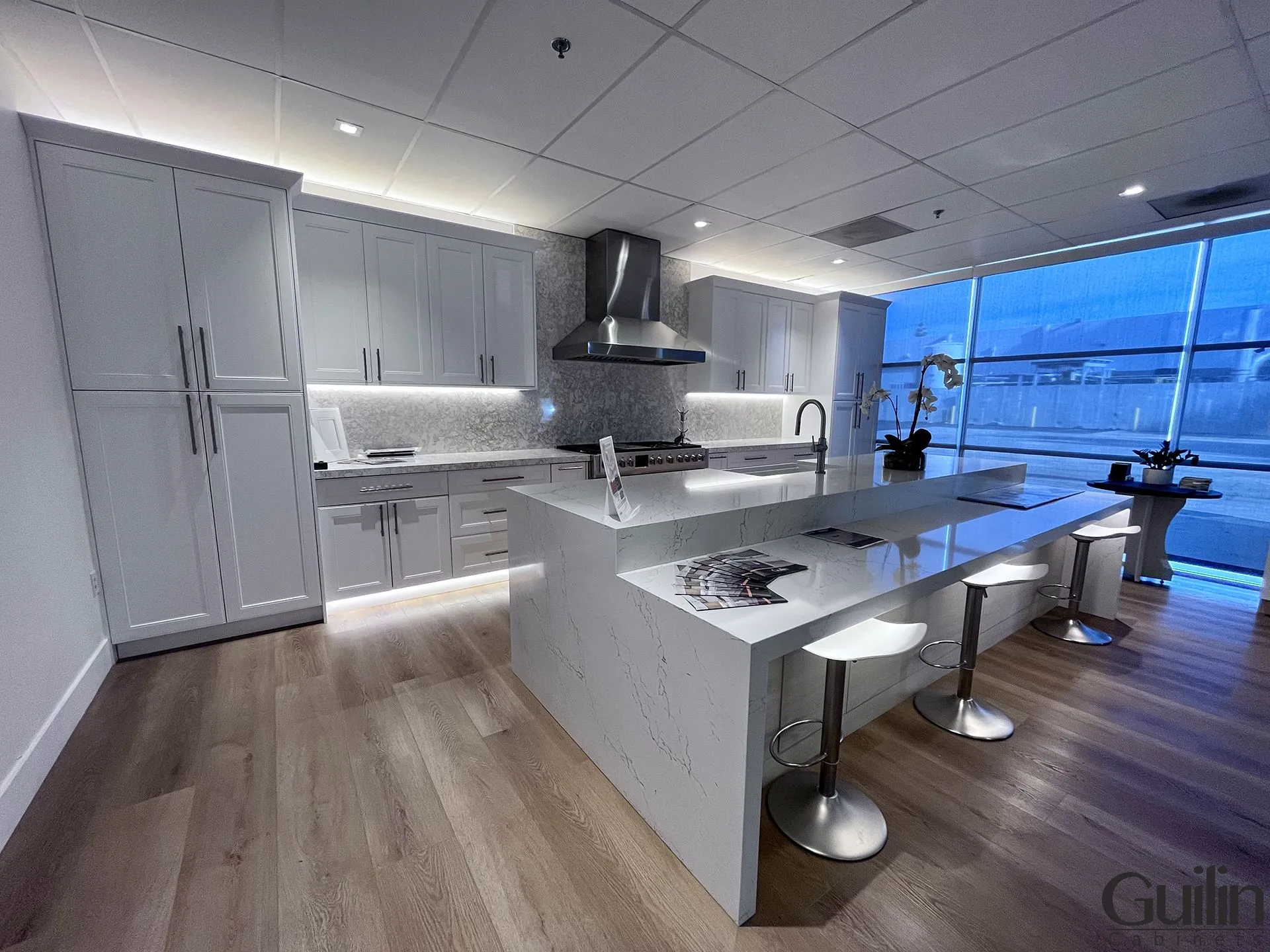 YES! Installing all of the necessary appliances in a One Wall Straight Kitchen Layout is totally possible! However, it's important to plan the layout carefully to ensure that there's enough space for each appliance and that they're arranged in an order that makes it easy to use them. For example, the refrigerator should be placed near the entrance, the oven should be placed near the countertop, and the cooktop should be placed near the sink. This way, it's easy to move ingredients from the refrigerator to the countertop to the cooktop to the sink.
Can One Wall Straight Kitchen Layout feel more spacious?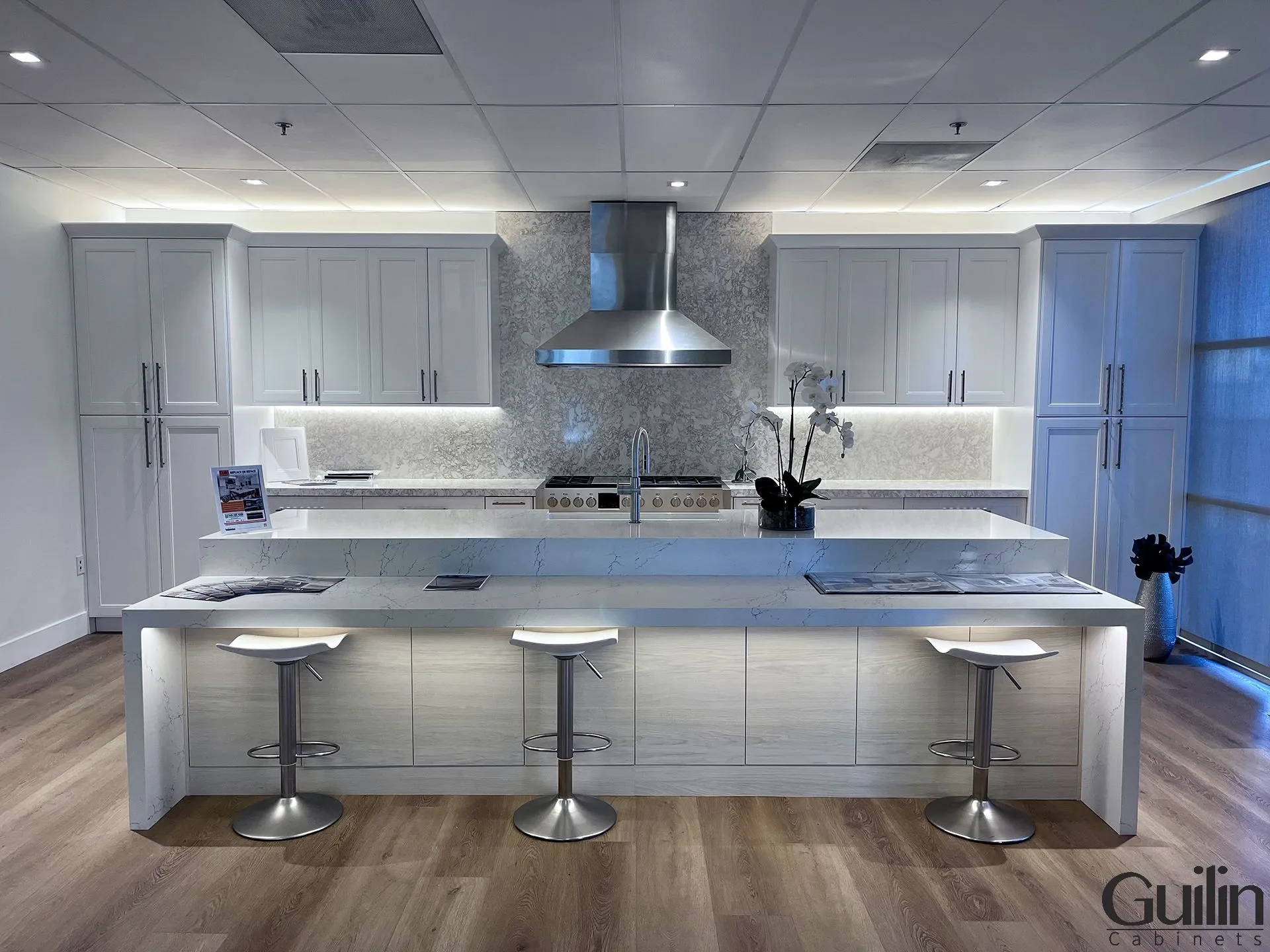 There are several things you can do to make your One Wall Straight Kitchen Layout feel more spacious and inviting. First and foremost, use light colors throughout the space. Lighter colors make a room feel more open and airy, so keep this in mind when selecting hues for your kitchen. Additionally, try to maximize natural light by utilizing windows and skylights, if available. Another great way to make a One Wall Straight Kitchen Layout feel more spacious is by creating visual interest with different textures and patterns. Try incorporating different materials such as wood, metal, and stone to add personality and dimension to the space. Additionally, you can open up the kitchen by using open shelving and glass-front cabinets. These features will create an airy atmosphere and make the space feel more open.
Can I add an island to a One Wall Straight Kitchen Layout?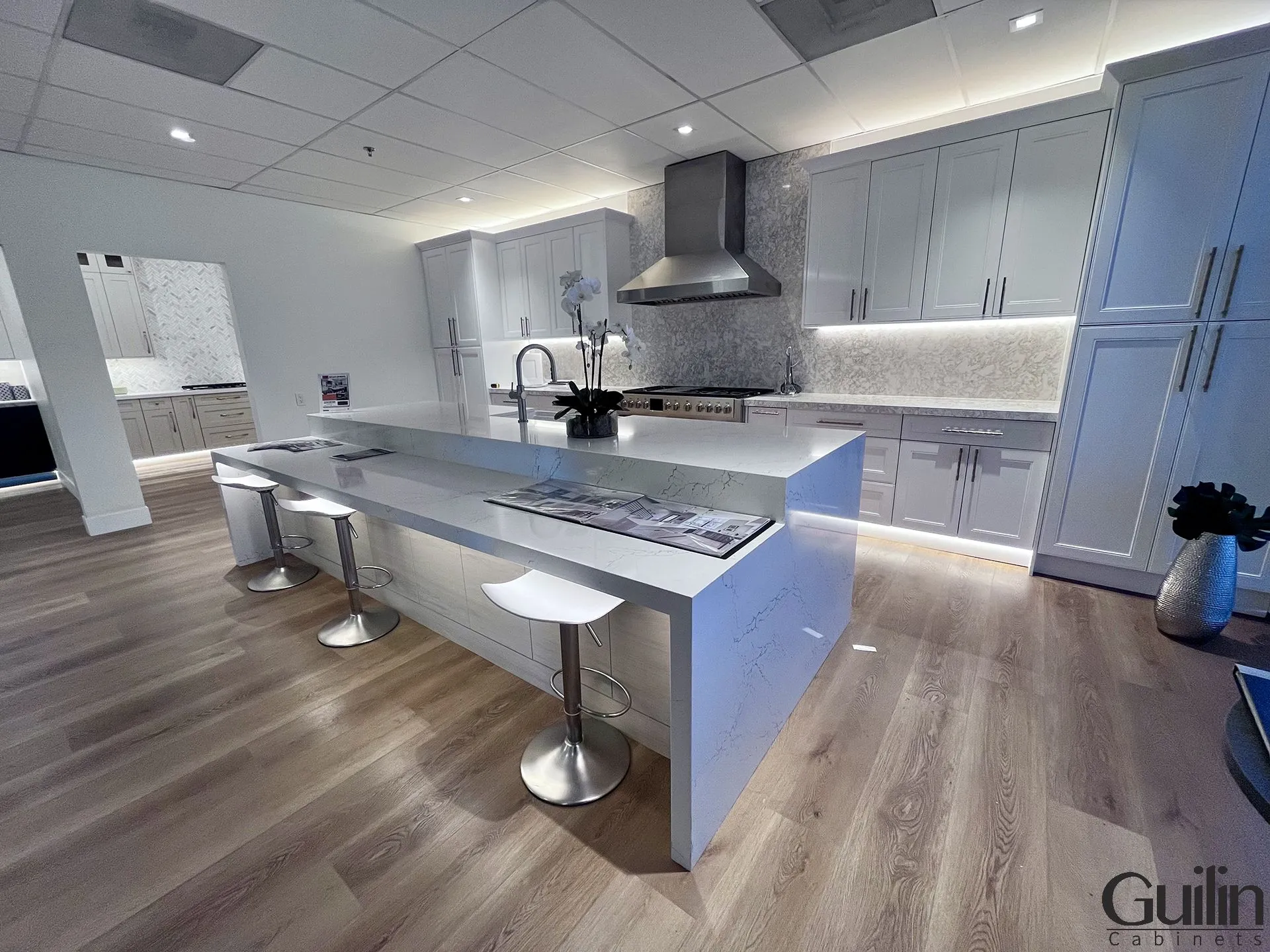 YES! you can Add an island to a One Wall Straight Kitchen Layout can be a great way to improve the functionality of your kitchen, but it's important to make sure that the space is large enough and laid out in such a way that an island won't impede movement or disrupt the overall flow of the kitchen.
Before adding an island, consider the size of your kitchen and how it is currently laid out. If you have a large kitchen, with enough space between the walls, appliances, and cabinetry, then an island might be a great addition. However, if your kitchen is on the smaller side, or you have a lot of walls, appliances, and cabinetry in the space, then an island may not be the best idea. Additionally, it's important to consider the overall flow of the kitchen and make sure that an island won't disrupt the functionality of the space. Ultimately, it's up to you to decide if an island is the right fit for your One Wall Straight Kitchen Layout, but with careful consideration and planning, an island can be a great way to enhance your kitchen.
Can add a window to a One Wall Straight Kitchen Layout?
Adding a window to a One Wall Straight Kitchen is a great way to bring in natural light and create a beautiful focal point in the space. Open shelving and glass-front cabinets are perfect for taking advantage of the window, as they allow the light to flow through the room while also showcasing your favorite dishes and decor. To make the kitchen even more inviting, consider adding plants and greenery to the space. This will give the kitchen an airy, outdoor feel and will be sure to make it a warm and inviting area. With a few simple updates, a One Wall Straight Kitchen can become a bright, beautiful, and comfortable space.