The kitchen's arrangement is crucial. They can have a major effect on the layout, appliances, and amenities you choose to include. A custom kitchen designer can assist you in considering all of these elements as you craft your ideal kitchen. When designing a kitchen layout, there are a lot of things to think about. Your lighting, kitchen, and storage habits all fall into this category.
-> In short: Open, Galley, T-Shape, G-Shape, L-Shape, U-Shape, Parallel, and Straight are the six most common kitchen layouts.
Some of the more common kitchen layouts include:
Different Types Of Kitchen Layouts
L-Shaped Kitchen Layout Design:
A typically preferred kitchen layout is L-shaped. It features stations on both adjacent walls that run perpendicular to one another. This design works well when there are two people in the kitchen because the workspace is roomy and pleasant. The L-Shape kitchen also allows for ideal placement of appliances, cabinets, and drawers, as well as easy access to counters and work surfaces. The common appliances included in an L-Shape kitchen are a refrigerator, stove, and sink. Additional features, such as an oven and microwave, can also be added to the layout.
=> Related Article: Kitchen Styles For Your Home Kitchen Remodel Ideas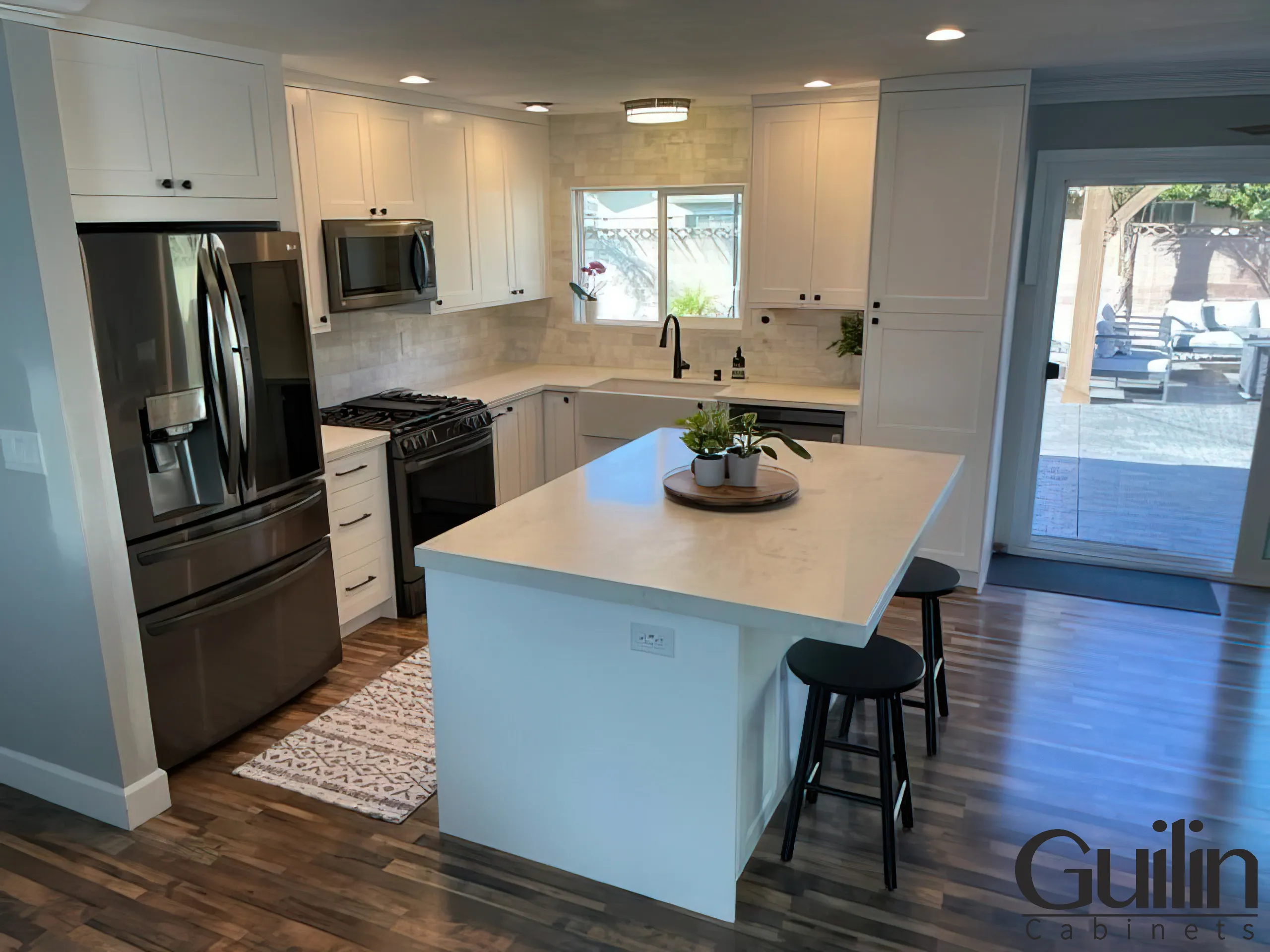 By making the most of the space available, the L-Shape kitchen layout allows for maximum efficiency and comfort. The square corners of the L-Shape kitchen create a natural work triangle that encourages movement between the sink, refrigerator, and stove, helping your cooking more effectively, with no large obstacles in the walkway. In Addition, The L-shaped design is also great for the home kitchen, as it allows for unobstructed views of the kitchen, and provides easy access to the dining and living areas, which stick family members together and makes feel as if they are part of the action as you are cooking for them. It allows you to remain involved in the conversation as well.
=> Related Article: What is a Contemporary Kitchens Style Design? Function over Form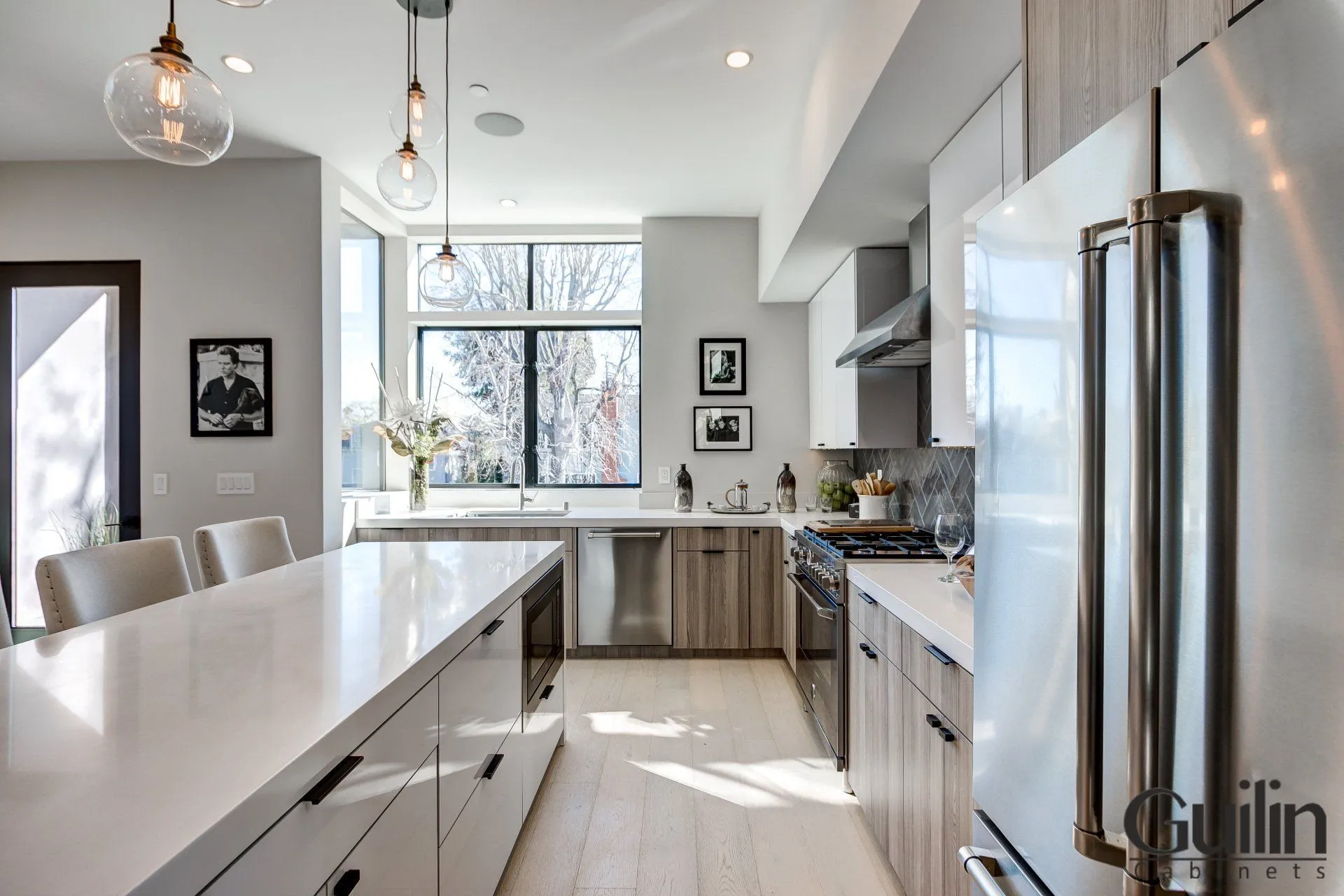 .=> Read More: L-Shaped Kitchen Design: Layout Pros and Cons
U-Shaped Kitchen Layout Design:
A U-shaped kitchen layout is a popular layout choice among homeowners and designers. It's a great way to make efficient use of space, allowing for a more organized and efficient kitchen. The U-shape kitchen is comprised of three walls of cabinetry and countertops, with the sink, stove, and refrigerator often placed along the middle wall. This layout is perfect for those who want to maximize their kitchen space and have plenty of countertops and storage space. It's also great for entertaining and allows for a spacious and uncluttered feel in the kitchen.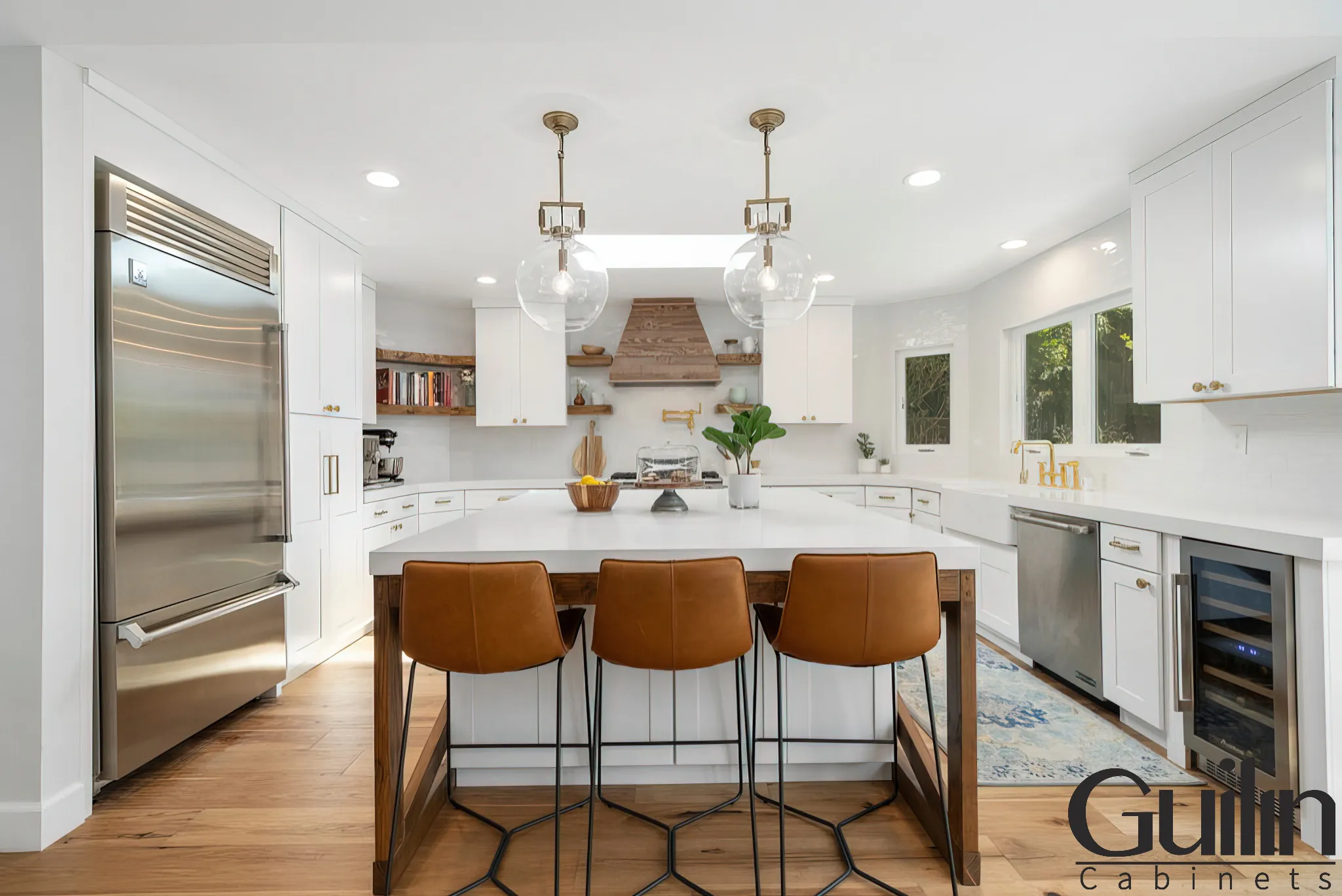 The U-shaped kitchen layout is ideal for those who love to cook. It allows for easy access to all of the appliances and countertop space, making it a great option for those who need plenty of space for cooking and prepping meals. Additionally, the U-shape layout helps to minimize the distance between the various elements of the kitchen, allowing for a more efficient workflow. This kitchen layout also allows for plenty of storage and organizational options, such as wall-mounted cabinets, pull-out drawers, and corner cabinets. This kitchen layout is a great choice for small or large spaces alike, a great option for those who want to maximize their kitchen space for cooking meals every for family
=> Read More: What is U-Shape Kitchen Layout Design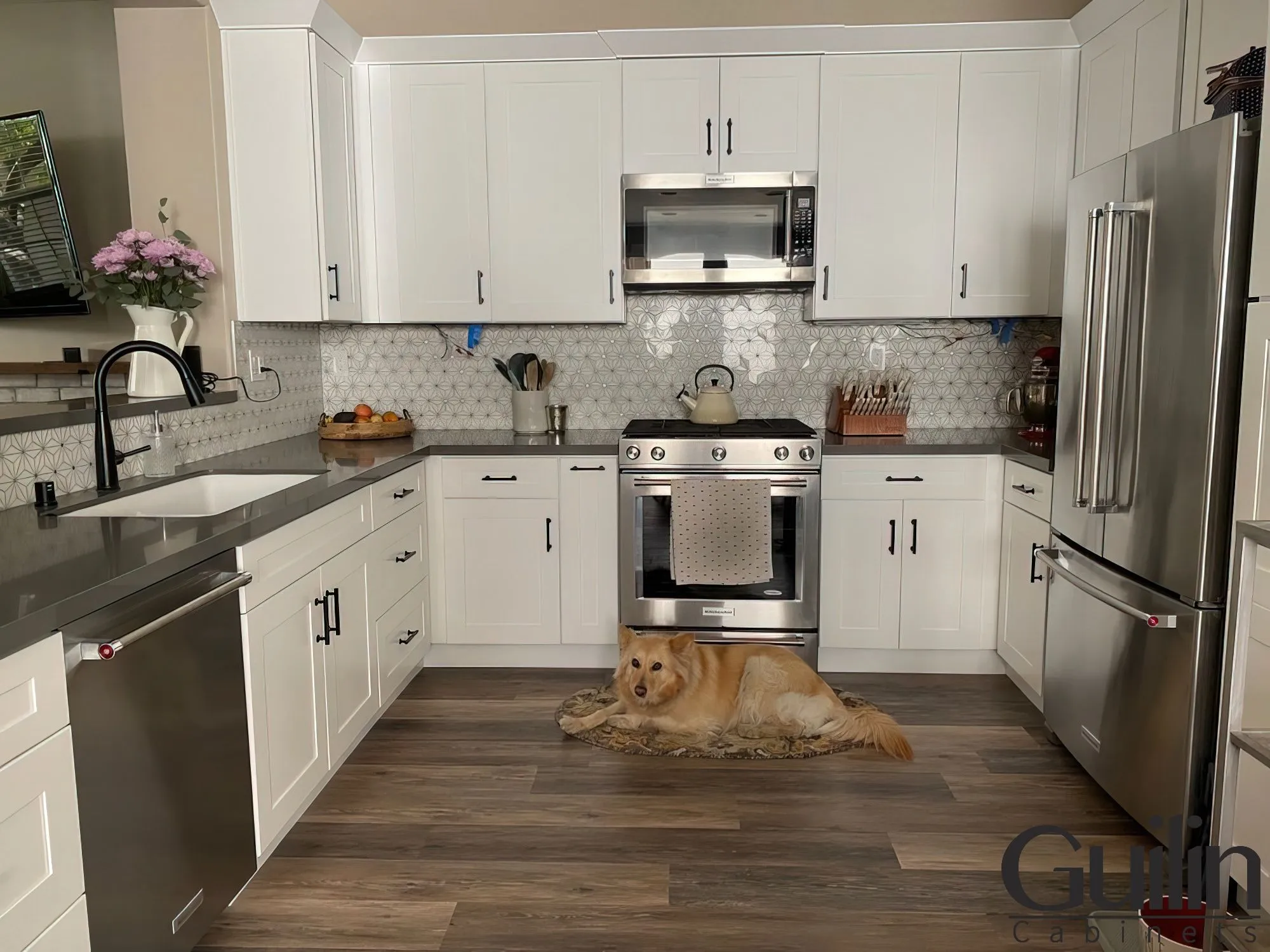 G-Shape Kitchen Layout Design:
This kitchen layout features a long, continuous counter that wraps around three walls of the kitchen, creating a "G" shape. This design allows for plenty of counter space, making it ideal for those who need more workspace for big meal preparation and other activities. This layout allows the installation of more appliances than L and U-shaped kitchens, such as a refrigerator, sink, and stove,… to be arranged in a triangle that is easily accessible from multiple points in the kitchen. Additionally, the "G" shape of the kitchen creates plenty of counter space and storage, making it ideal for larger kitchen spaces. The floor space is usually divided between a dining area, a kitchen area, and other areas for appliances or storage.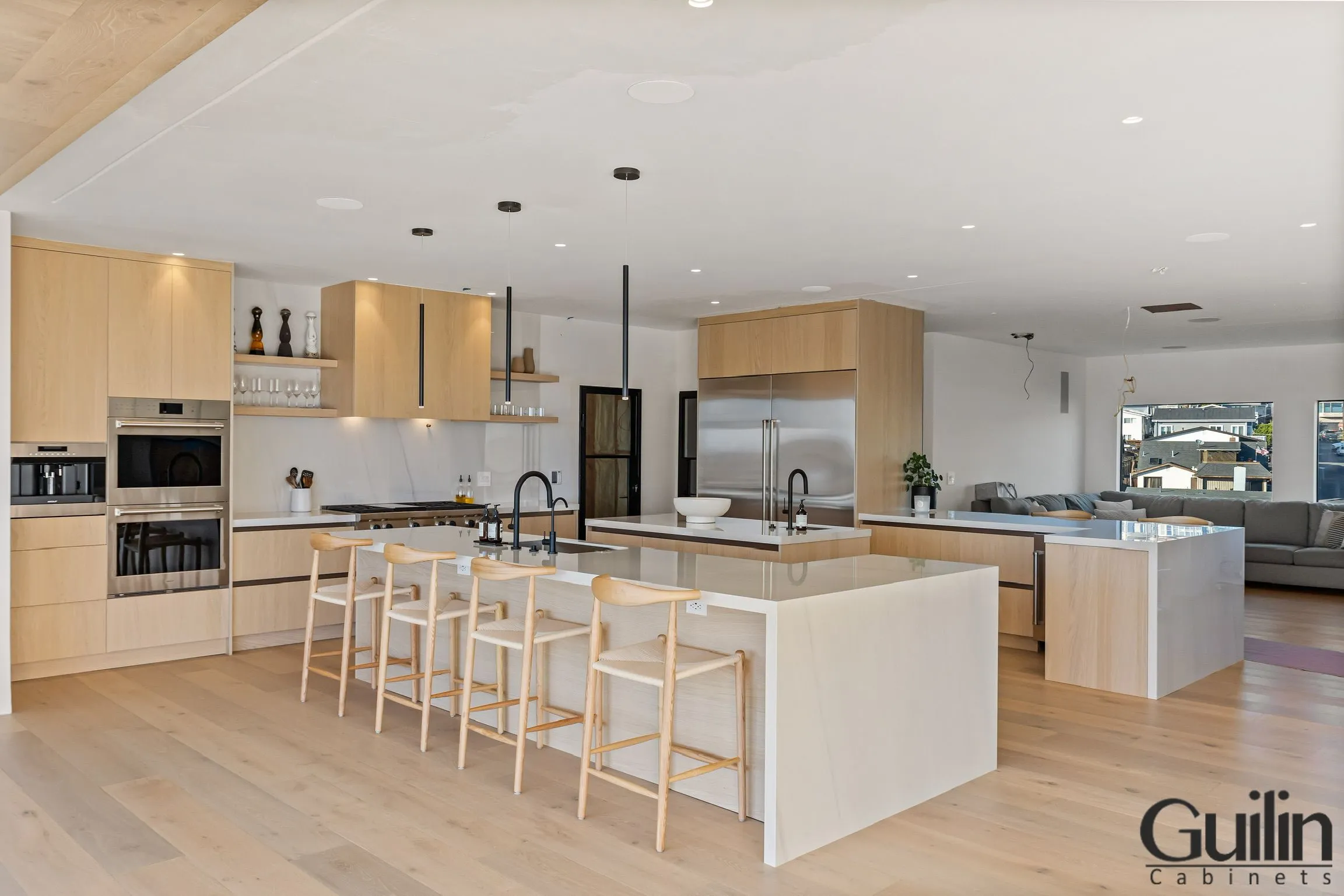 The G-Shape Kitchen layout is particularly helpful for those who frequently cook large meals, as it is designed to provide plenty of storage, counter space, and a kitchen work triangle. It also provides a great kitchen workflow, as the layout is designed to reduce traffic in the kitchen without compromising on storage or counter space. Additionally, the G-Shape layout can be used in any size kitchen, as the layout is highly adjustable and customizable. This allows homeowners to create the perfect kitchen space for their needs, whether it's a large, open kitchen or a smaller, more intimate space. You can even add a wine bar for extra entertainment space or a pass-through for entertaining. The possibilities are endless with this kitchen layout!
=> Read More: G-Shaped Kitchen Design Layout: Pros and Cons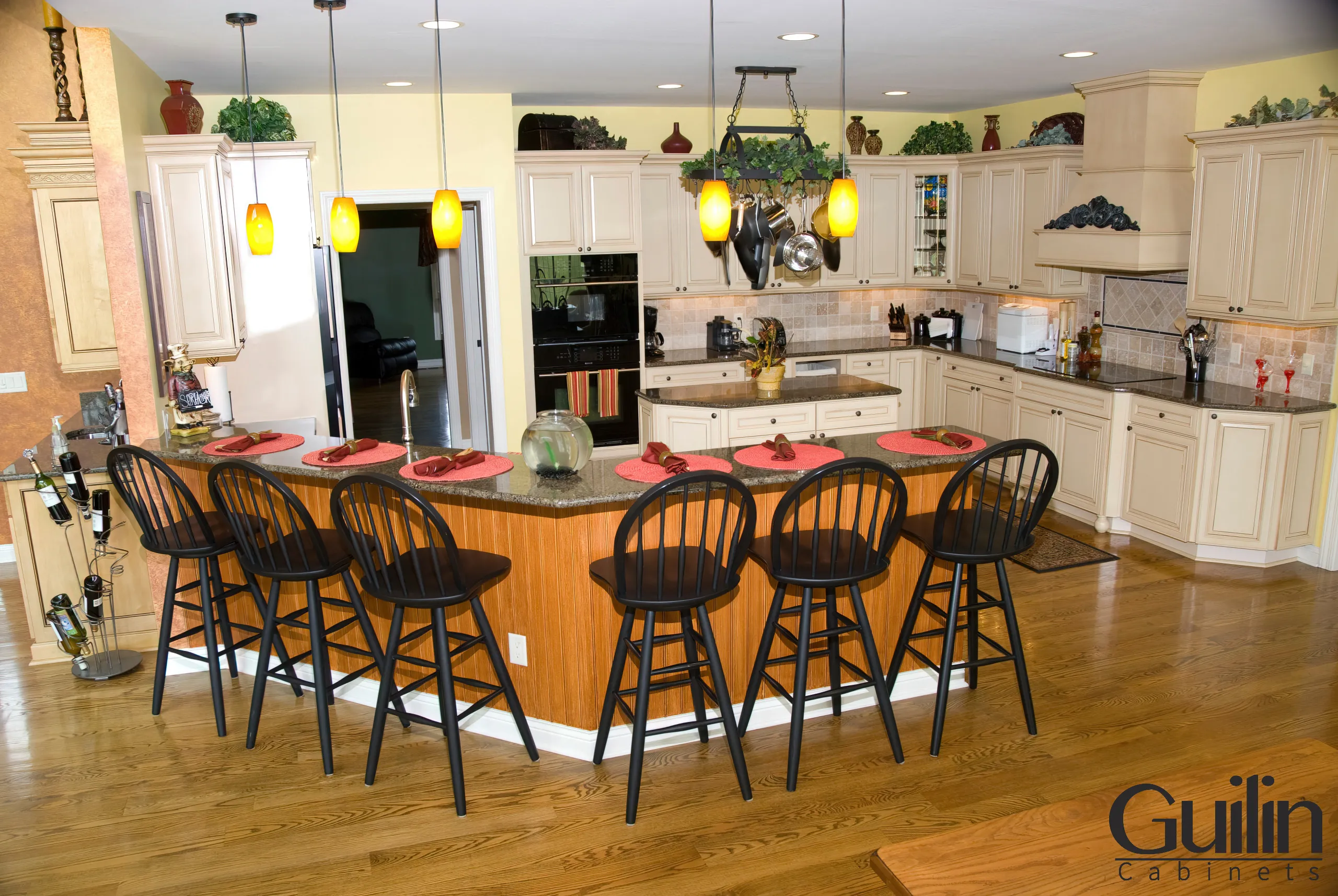 One Wall Kitchen Layout Design:
A one-wall kitchen layout is a popular choice among apartment dwellers and homeowners who are looking for an efficient and modern kitchen design. This kitchen layout is ideal for small spaces, as It does not require a lot of space for installation and operation. The layout is characterized by all of the major components, such as countertops, cabinets, and appliances, being arranged along one wall. It is also known as a straight-line kitchen since all of the elements are arranged in a single line. This kitchen layout is known for being space-saving and effective in terms of workflow.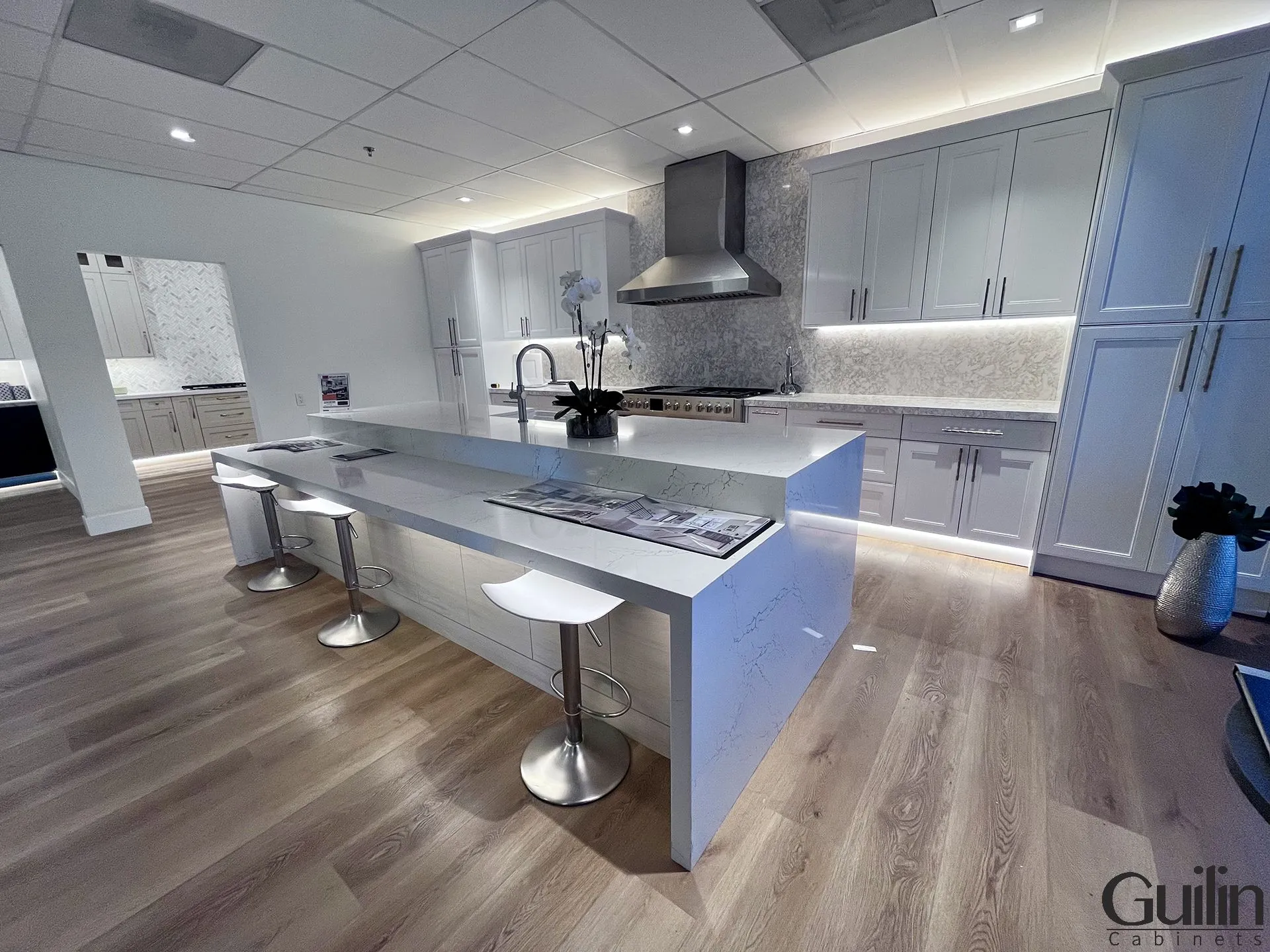 => Read more: One Wall Straight Kitchen Layout: Pros and Cons
A kitchen with a one-wall layout is streamlined and efficient. The main drawback is the limited counter space.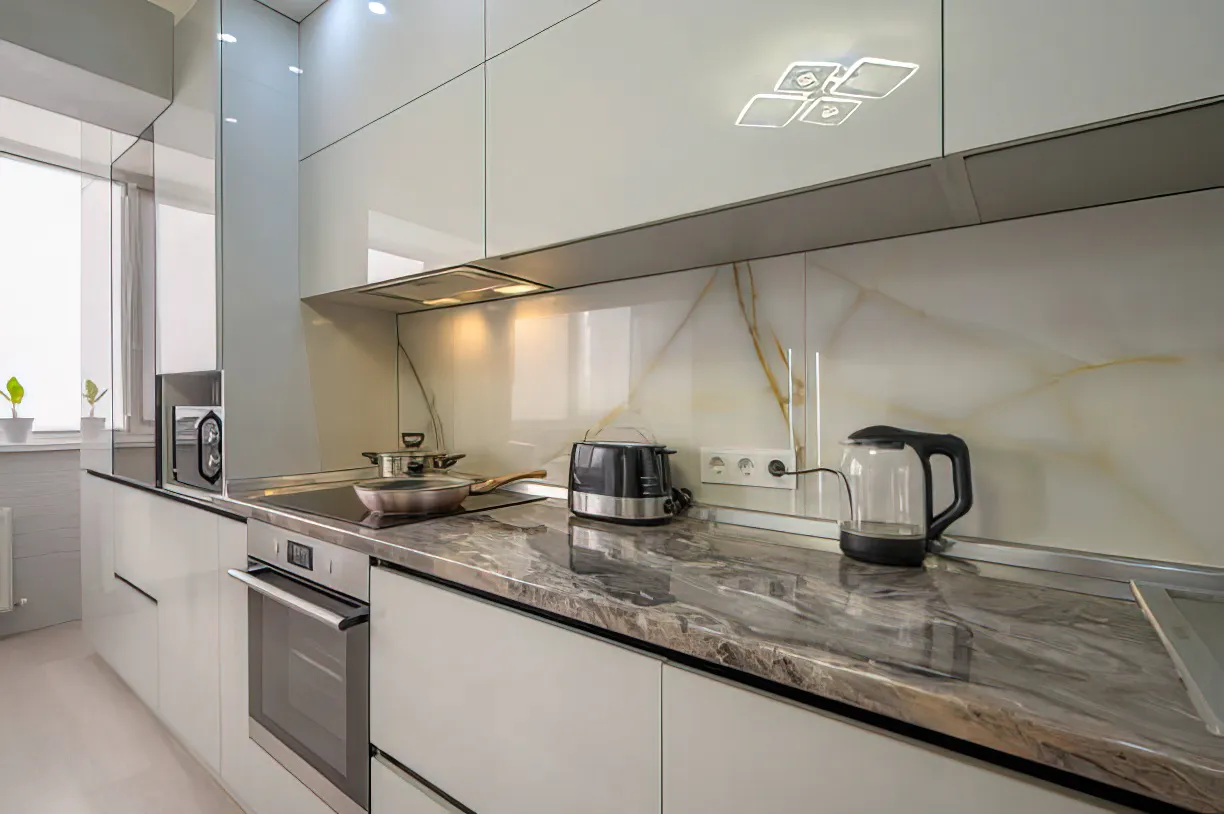 Galley Kitchen Layout Design:
A Galley Kitchen is a kitchen layout that is popular for its efficiency and practicality. This type of kitchen layout consists of two parallel walls that are joined together, creating a long, narrow space. The counters, appliances, and storage units are all placed along the walls, leaving the center of the kitchen open for movement. This design allows for maximum efficiency and is ideal for small spaces. For example, placing the cooktop on the left and the refrigerator on the right. This will allow for easy access to them and help prevent traffic jams when cooking meals. The galley kitchen is an optimal layout for a narrow space. This layout works well in a rectangular area, too. If you would like to maximize the space you have in your kitchen, you can also design a galley kitchen from a One-wall kitchen with an island. In addition to maximizing efficiency,
=> Related Article: What is Traditional Kitchens Design Style? Classic, Timelessness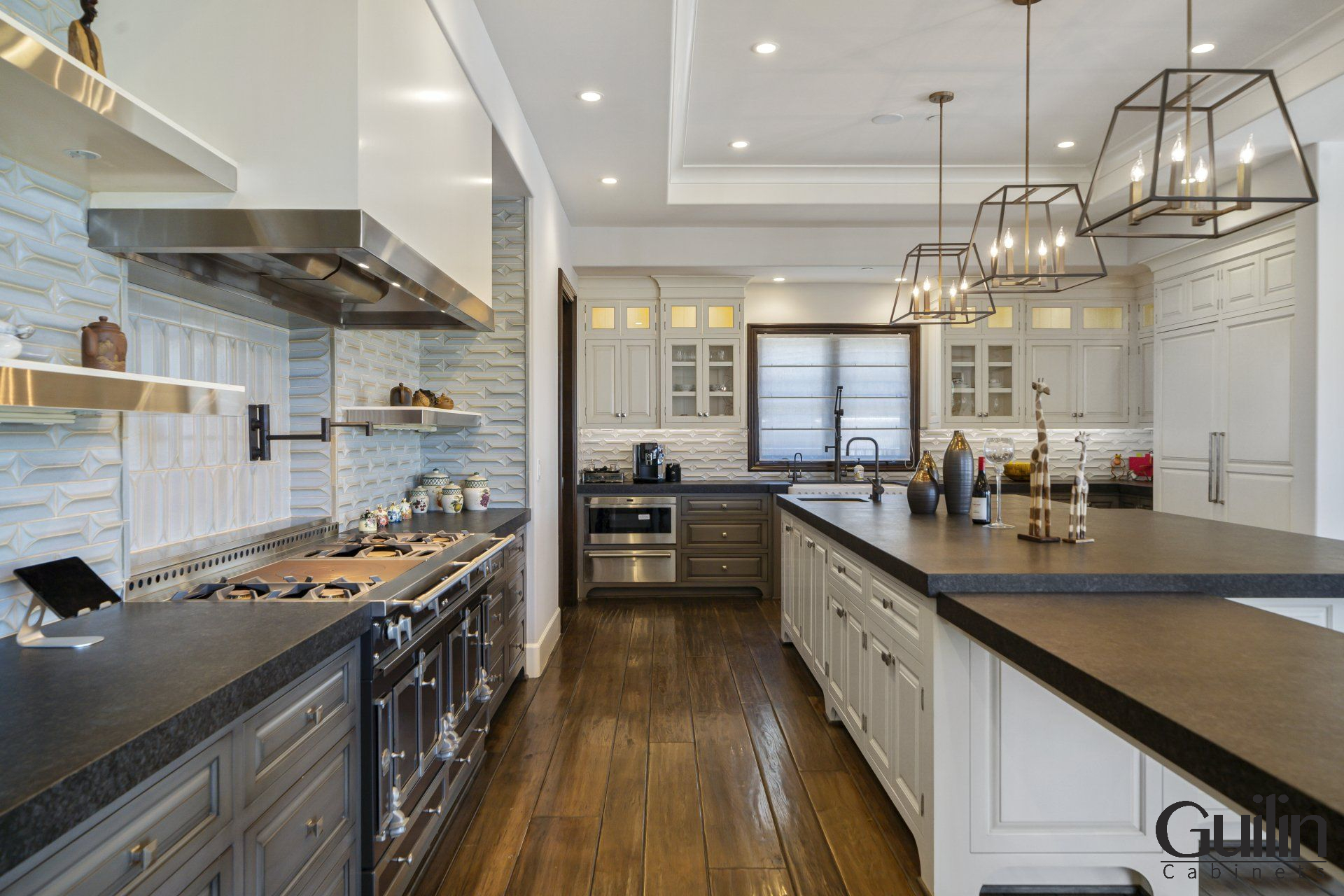 Kitchen Layouts Ideas, and Design From Guilin Cabinets Completed Projects