A galley kitchen layout is a good option for small kitchens. A galley kitchen is a narrow kitchen, which often runs parallel to the dining room. A galley kitchen layout comprises two parallel walls, with the sink and cooktop positioned on opposite walls. it's a popular choice for homeowners who want an attractive kitchen without taking up too much space. A galley kitchen layout is often best for small spaces, but there are some things you need to know as. Keep reading to learn more!
=> Read More: Types Of Kitchen Layout: L-Shape, U-Shape, G-Shape, Galley, and More
The list of common kitchen layouts include:
What is Galley Kitchen Layout?
Galley Kitchen Layout has a long, narrow shape, with two parallel countertops, appliances, and cabinets. It usually has a straight path from one end to the other. The layout can be modified to fit your individual preferences and needs. The galley kitchen layout is a highly efficient option for preparing food. It allows the user to move freely between the two walls while having the necessary items at their fingertips. Many galley kitchens also feature overhead cabinets and counters, providing additional storage space.
Depending on the size of the kitchen, appliances can also be tucked away for a more streamlined look. The key elements of a Galley Kitchen Layout are two runs of cabinets, counters, and appliances; a passageway between the two runs; and an open area for dining and entertaining. Additionally, This kitchen design makes it easy to clean up after meals, as the two walls give the user plenty of space to work. The basic features of the Galley Kitchen Layout include:
Small workspace
Two parallel countertops or workstations
Limited counter space
Minimal storage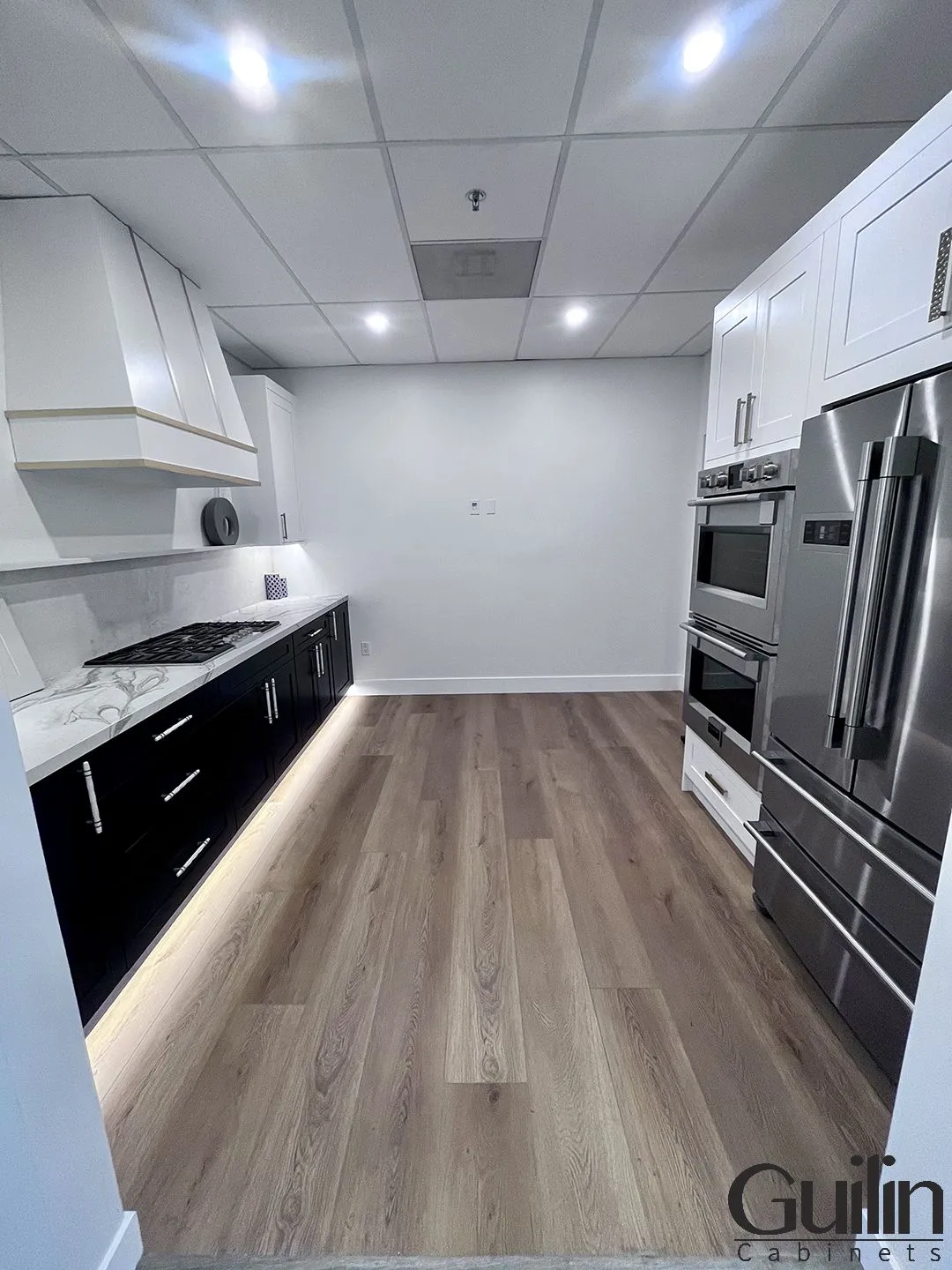 Pros of Galley Kitchen Layout Design
Efficient use of small space:
The Galley Kitchen is a great option for small spaces since it can maximize the use of the limited space available. Additionally, it is a great choice for those who want to create an open and airy kitchen. The two parallel countertops can create a visual separation between the kitchen and the living or dining areas, making it easier to maintain a sense of flow in the room. This layout also allows for an efficient workflow, as all necessary appliances and items can be easily accessed from the same area.
Minimal walking-distance:
A Galley Kitchen is a great solution for those who are looking for a minimal walking-distance kitchen layout. This type of kitchen layout offers several advantages, including the ability to keep all your kitchen tasks confined to one area, making it ideal for small spaces. In addition, its narrow design also allows for increased storage and counter space, while its efficient use of space makes it an excellent choice for those looking to maximize their kitchen functionality. What's more, it's also a great choice for those on a budget as it typically requires fewer cabinets and appliances. Additionally, the layout helps to separate food preparation and cooking areas and allows for a smooth transition between the kitchen and adjacent rooms.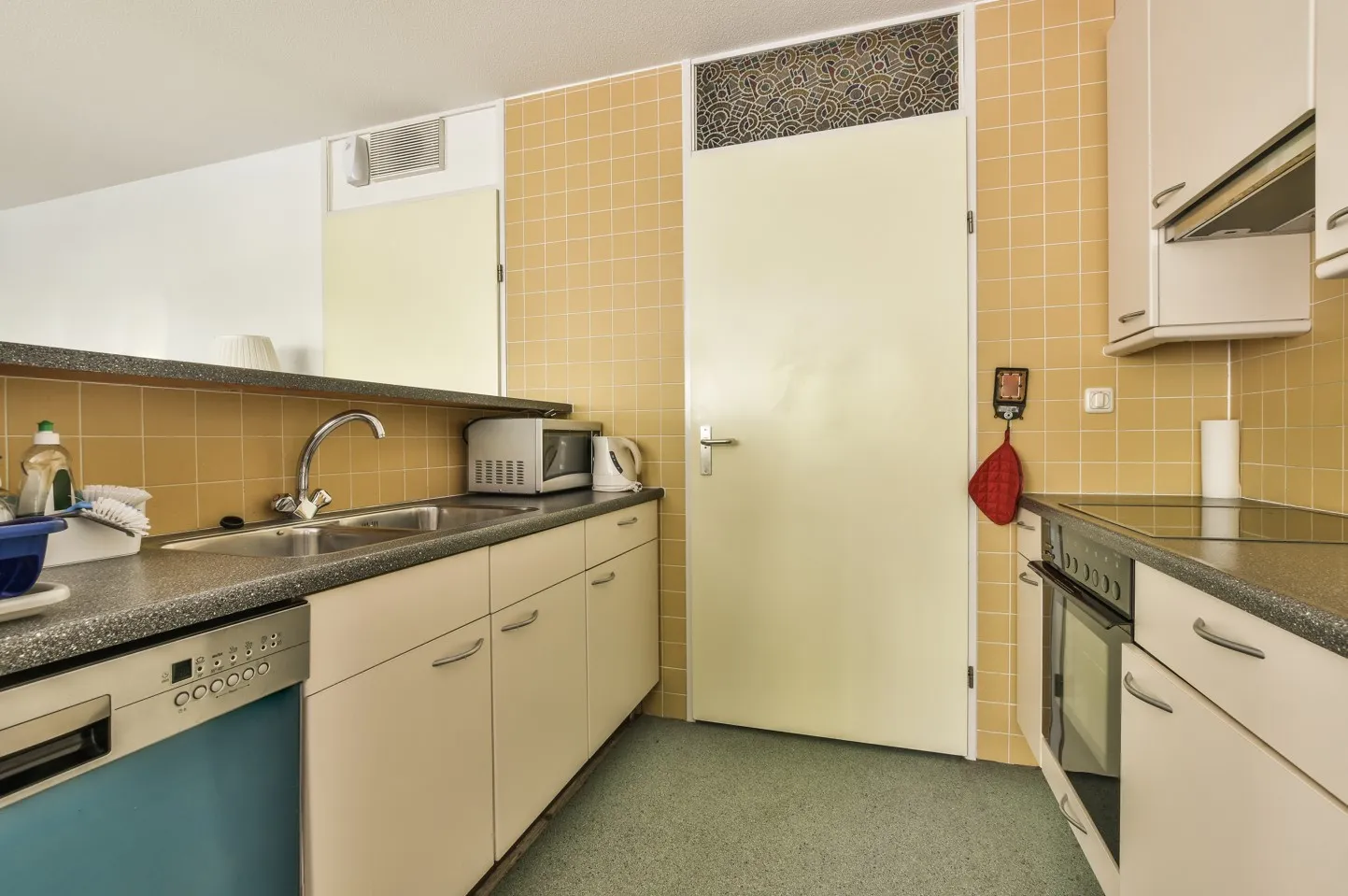 Cons of Galley Kitchen Layout Design
Only one entrance and exit to the kitchen:
A galley kitchen can be an efficient and practical way to maximize storage and counter space, however, it can also be challenging to navigate due to its narrow layout. It could be tough for multiple people to use the kitchen at once if there is just one door leading in and out. This might lead to a snarl-up in the kitchen, making it hard to move about and get things done. Having just one door leading into the kitchen also makes it difficult to carry on a discussion with someone standing on the opposite side. The kitchen's social aspect can be diminished, making it less inviting.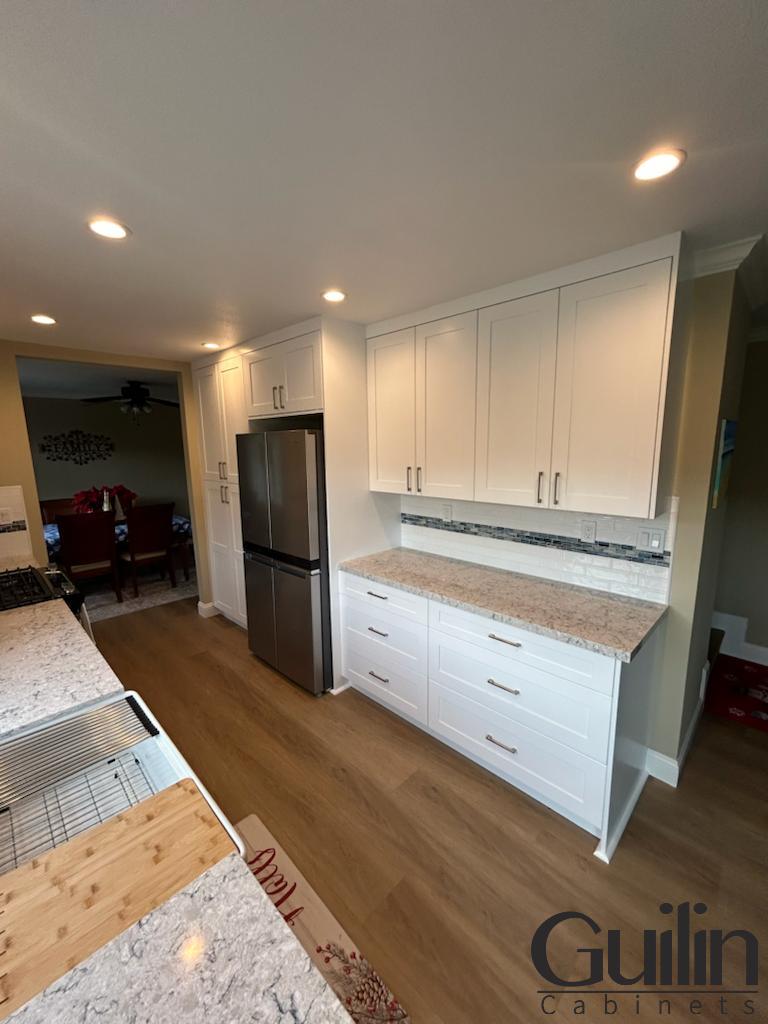 Quite small and narrow
Galley kitchens are typically quite small and narrow, which can be a bit of a challenge if you're trying to cook with multiple people in the space at once. This can also be limiting in terms of storage and counter space, as there is often not enough room for all the items you'll need to store or prep food. To make the most of the limited space, consider using vertical storage solutions like wall-mounted shelves and cabinets, as well as using creative storage solutions, like utilizing the space under the sink or above the fridge. Additionally, look for appliances and fixtures that are small in size, but still have all the features you need, in order to make the most of the space you have.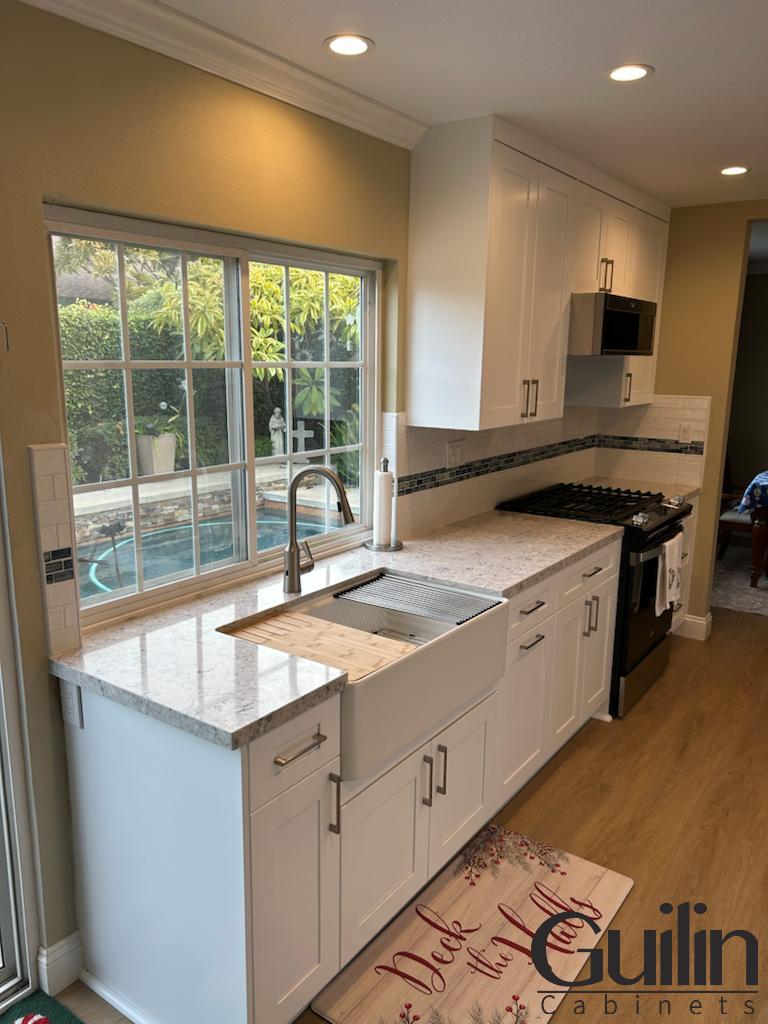 Need Help To Choose Kitchen Layouts?
Looking to renovate your kitchen in California but aren't sure if a galley layout would be a good fit? If so, we can assist. Could you please? Need help? Get in touch with Guilin Cabinets today!
Hotline: +1 949 299 2370
Email: info@guilincabinets.com
Knowing how important it is to get the kitchen's layout just right, our expert kitchen remodelers are here to help you design a space that is both beautiful and practical for your family's needs.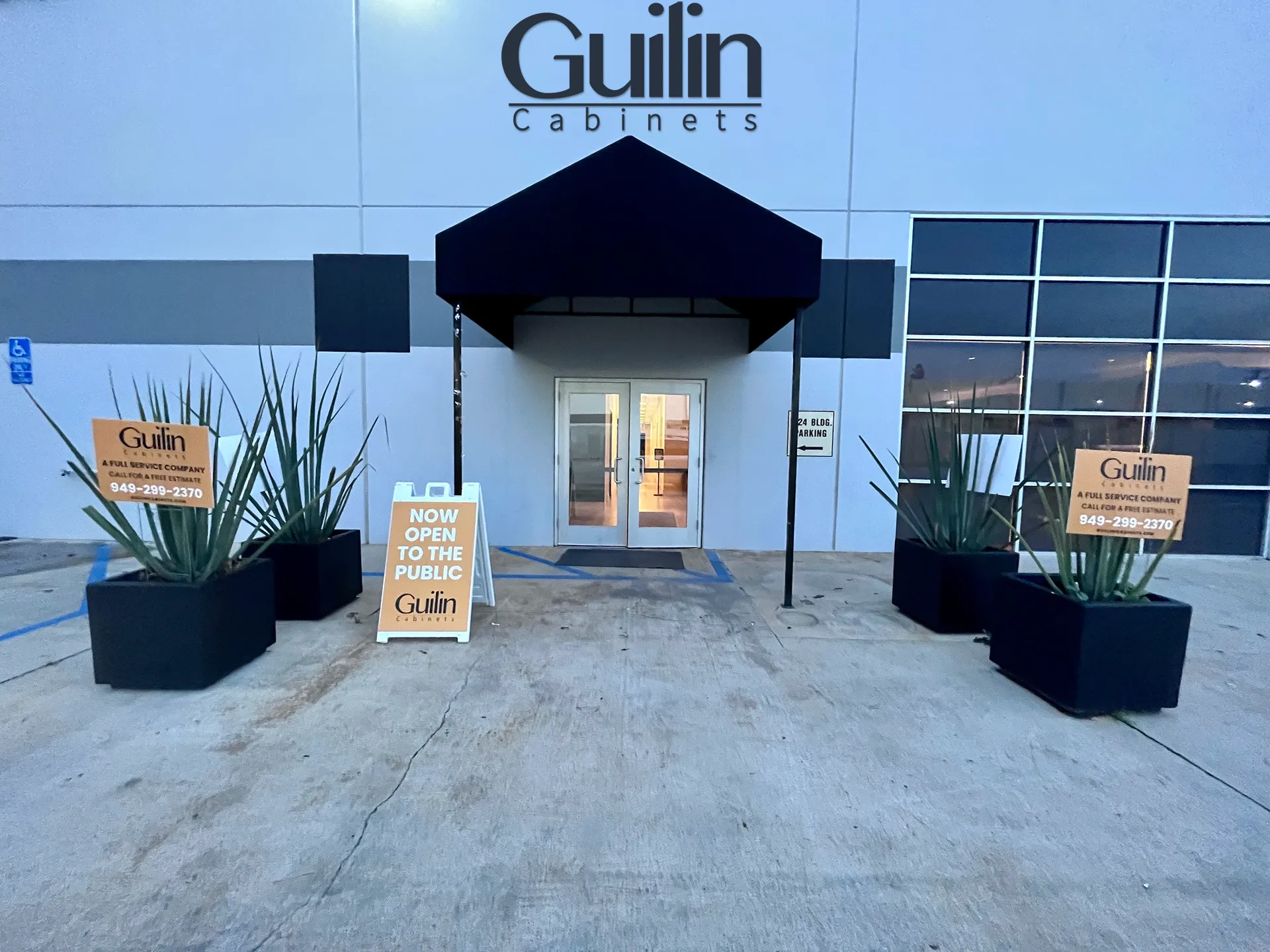 Cabinet makers and remodelers Guilin Cabinets is located in Irvine, California. We specialize in kitchen, bathroom, and closet remodeling as well as building custom cabinets. We have professional designers on staff that can help you construct the rooms of your dreams.
FAQs – About Galley Kitchen Layout: Pros and Cons
In the Short, What is a galley kitchen layout?
A galley kitchen layout is a kitchen design that is characterized by two parallel countertops with a walkway in between. This layout is commonly used in small kitchen spaces or apartment homes.
Can a galley kitchen be aesthetically appealing?
Yes, galley kitchen layouts have the potential to be aesthetically appealing with an appropriate design. By using reflective surfaces like glass backsplashes, mirrored doors, and under-cabinet lighting, you can create a sense of space that makes the kitchen feel brighter and larger. A well-designed galley kitchen may incorporate unique color schemes and well-chosen accessories.
Can I add an island in a galley kitchen?
Adding an island in a galley kitchen would depend on the size of the walkway in between. If space permits, a small mobile island or a narrow-sized one can be added to the design. It is crucial to consider people's flow and how it will impact working space and functionality.
Is the galley kitchen layout a trend or a timeless design?
Galley kitchen layouts are timeless designs that have been present for many years. They've been integrated into various styles, from the tiny apartments of the early 20th century to modern homes today. Despite new kitchen design trends coming and going, Galley layouts sustain because of their functionality and efficiency, especially in small spaces.