An L-shaped kitchen is a kitchen that is created in the shape of the letter L. This arrangement commonly contains the sink, range, and refrigerator all along the "L". The form of the kitchen allows a lot of space for cooking, eating, and storing. This arrangement is typically found in small or medium-sized homes and apartments, although it may be adapted for larger residences as well.
=> Read More: Types Of Kitchen Layout: L-Shape, U-Shape, G-Shape, Galley, and More
In this blog post, we will analyze the characteristics of an L-shaped kitchen and the pros and cons of this kitchen style.
The List of common kitchen layouts includes:
What is an L-Shaped Kitchen Layout?
An L-shaped kitchen, also known as a corner kitchen, consists of the range, refrigerator, and sink, which lie along a line at right angles to make the L shape of the room with everything easy to reach. This convenient design is often seen in modern kitchens and is a popular design because it offers more counter space, more storage, and more cooking and dining area. The cooking area is on one side of the kitchen, and the dining area or living room is on the other side, maximizing the space in the kitchen, and making it perfect for family members that cook and eat together.
=> Related Service: Full Kitchen Remodel Service in California | Guilin Cabinets Contractor in Irvine
Type of L-shaped Kitchen Layout:
Classic L-shaped kitchen layout:
This layout is common for a kitchen with four enclosing walls. Two of the four walls are occupied by an entrance, a passage door, windows, or a seating area, with the kitchen constructed in the corner with the other two walls.
=> Image of Guilin Cabinets Project: Sleek Kitchen Design in Orange County Aliso Viejo, California
The Apartment-sized L- shaped Kitchen Layout:
The apartment-sized L-shaped kitchen layout is a kitchen design that is ideal for smaller homes and apartments. The layout consists of two small walls that form an "L" shape, with countertops and cabinetry along each wall. This layout is a great way to make the most of a small apartment kitchen, allowing you to maximize the limited space of a small kitchen, while still allowing you to have all of the amenities of a full-sized kitchen.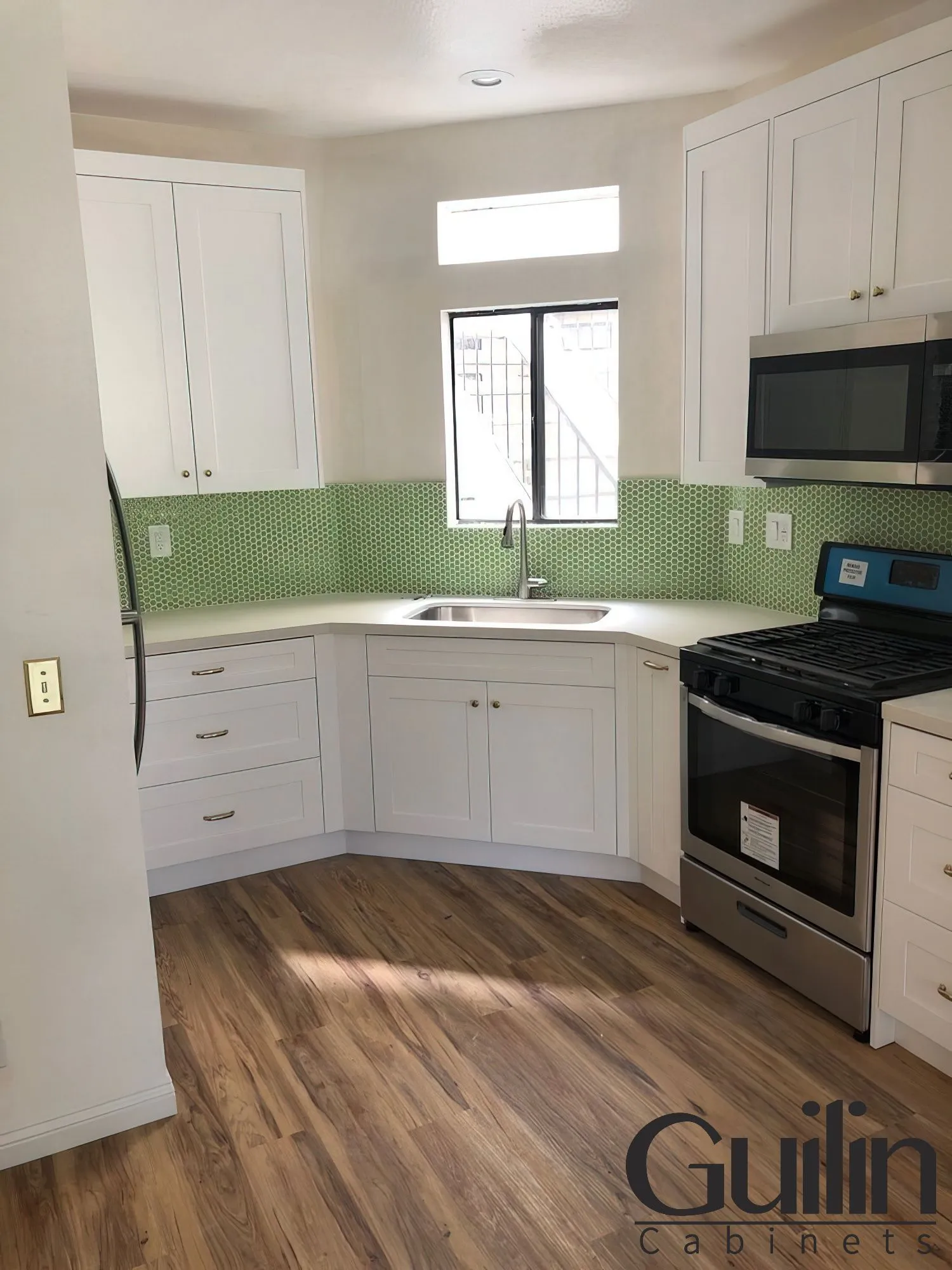 Open L-kitchen with a Large Dining Area:
The open L-kitchen with a large dining area is a kitchen layout that features an open design with an L-shaped countertop and a large designated dining area. This type of kitchen layout is great for entertaining and allows for an ideal flow between the kitchen and the dining area.
=> Read More: Kitchen Remodel Contractor in Irvine – Guilin Cabinets
Open L-kitchen with a Small Dining Area:
An open L-kitchen with a small dining area is the type of kitchen often integrated into an open-concept small living room or living area, which means that the living room and kitchen are not separated by walls. Depending on the size of the space, the kitchen may include an island for additional counter and/or storage space.
=> Read more: How to Converting Kitchen to Open Plan Kitchen Layout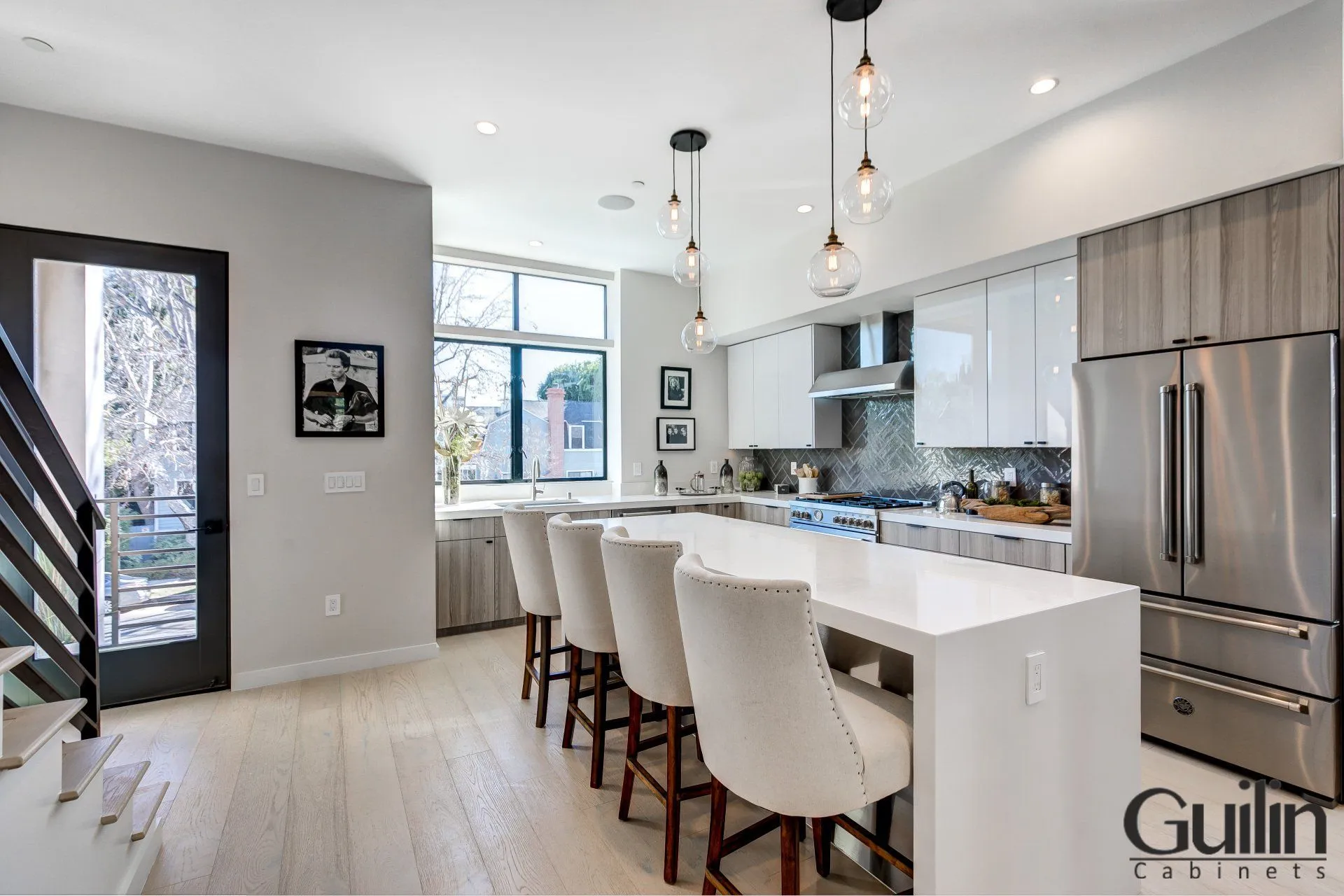 L-shaped kitchen with Island open to the Living Room:
The L-shaped kitchen with an island is a perfect choice for those who want to maximize their kitchen space and open space in the living room. This layout provides ample counter space for meal preparation, cooking, and serving. With the kitchen island, you can create a centralized area for food prep, entertaining, and dining.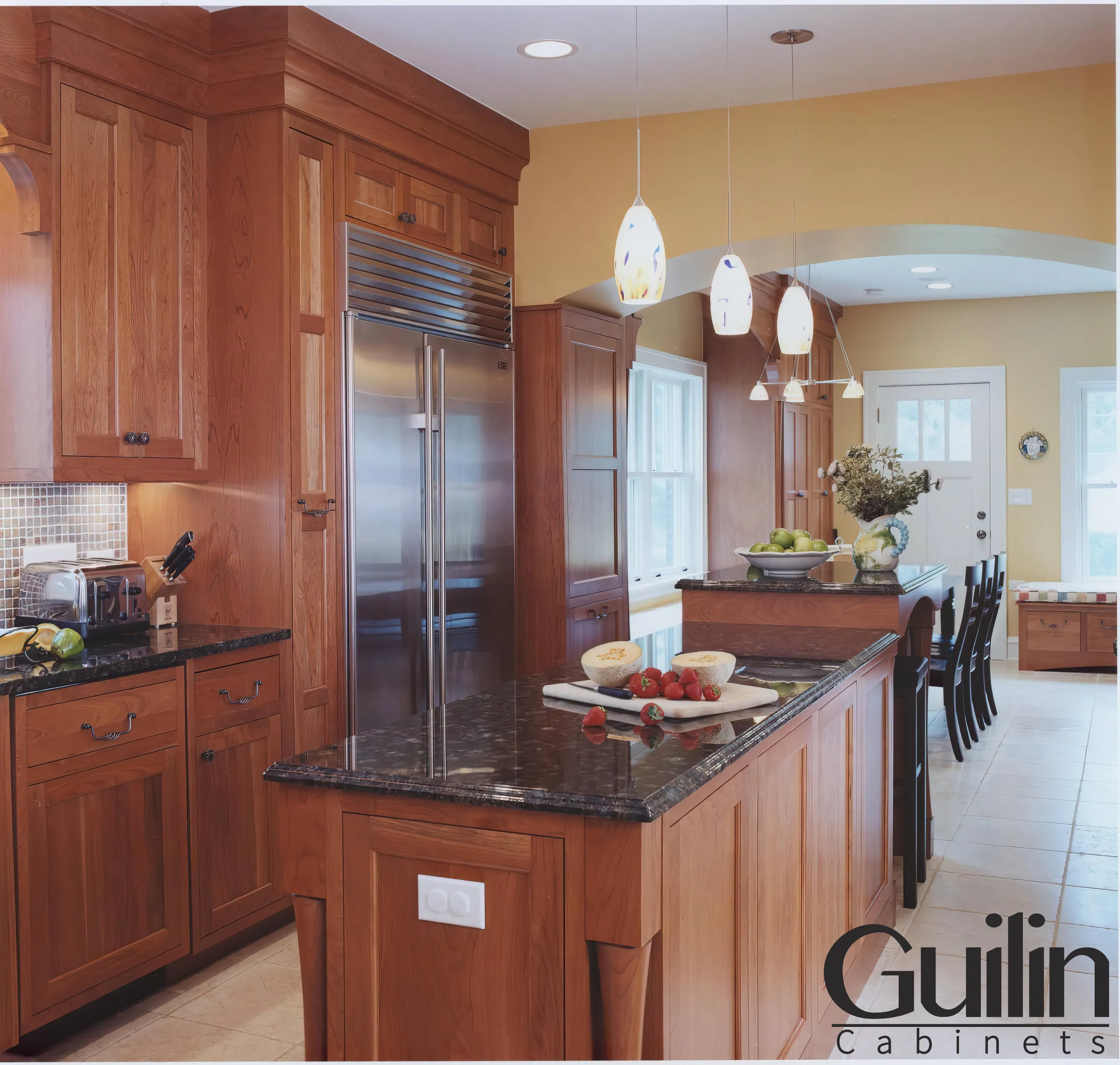 This design is also customizable to fit your specific needs. You can adjust the size of the island depending on your desired space and add seating to make it a gathering spot for your family and friends.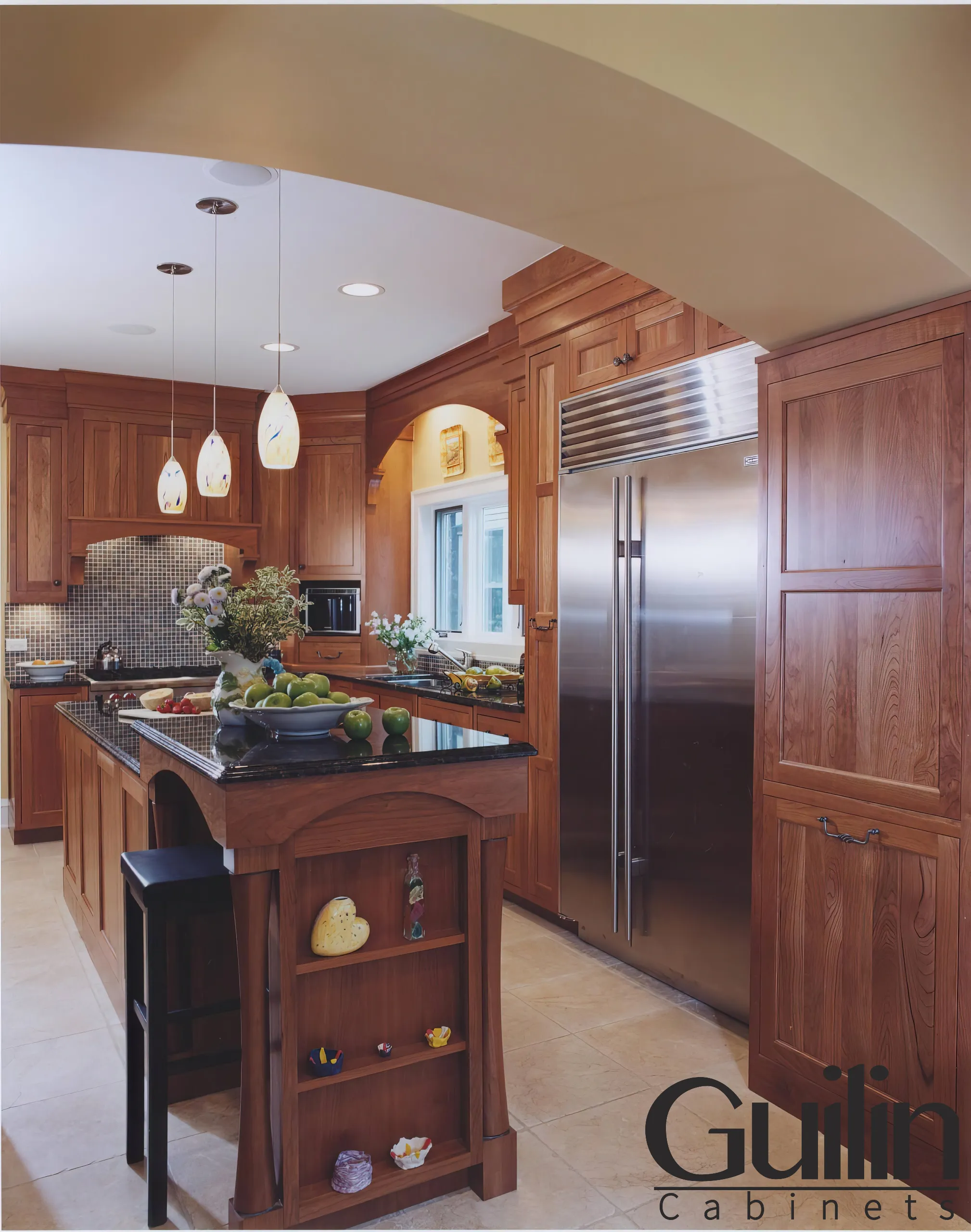 Pros of L-Shaped Kitchen Layout:
Maximizes The L Space:
The L-shaped kitchen layout can help you maximizes space to allow you to open up the kitchen to other living areas, such as the living room and dining room, thereby creating a sense of welcome with the open space and making your home look bigger. It is ideal for small to medium-sized kitchens, as it maximizes the use of available space.
Not only that, the L shape of the kitchen design allows you to have a variety of functional spaces such as a work area, small dining area, and storage area, but it also provides plenty of countertops and storage space, making it easy to keep everything close to hand. With everything conveniently placed, it enables you to prepare larger and more complex meals for your family.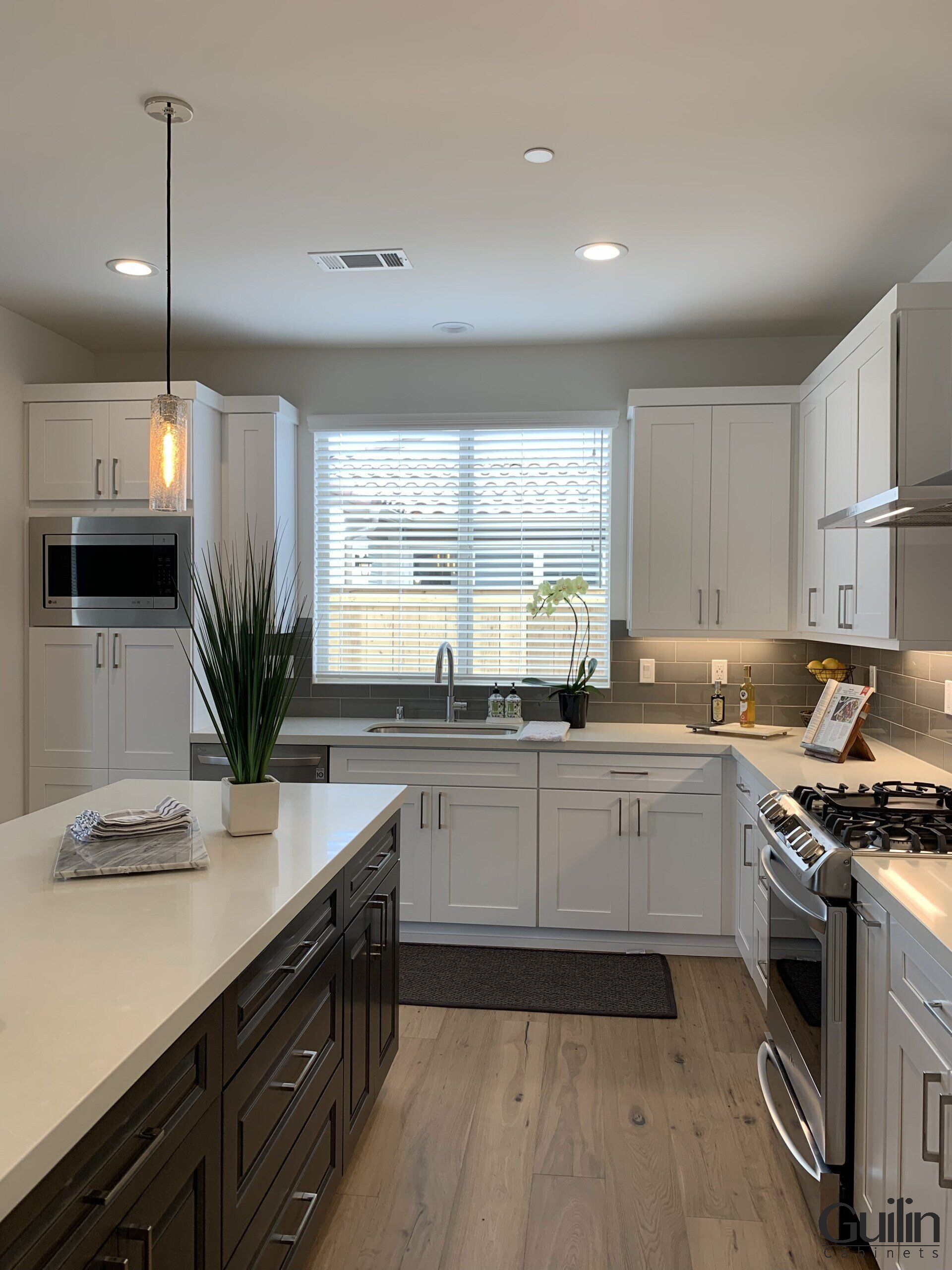 => Image of Guilin Cabinets Project: Transitional L Kitchen Remodel San Luis Obispo, California
Flexibility:
The L-shaped kitchen setup is adaptable and can be changed to match any kind of kitchen. This makes it simple to switch up the design to U kitchen or G kitchen and decorate the kitchen without entirely remodeling the whole area. The kitchen with L-shape may be arranged into several unique designs, ranging from those that are more family-friendly with open-plan layouts to those that are great for entertaining. You may also have multiple styles in your kitchen, depending on your cabinets, backsplash, appliances, and hardware. From sleek and contemporary, to warm and traditional, you can make your kitchen's interior design your own by picking the colors, textures, and patterns that appeal to you.
=> Related Article: Kitchen Design Ideas Themes Styles Trending In 2023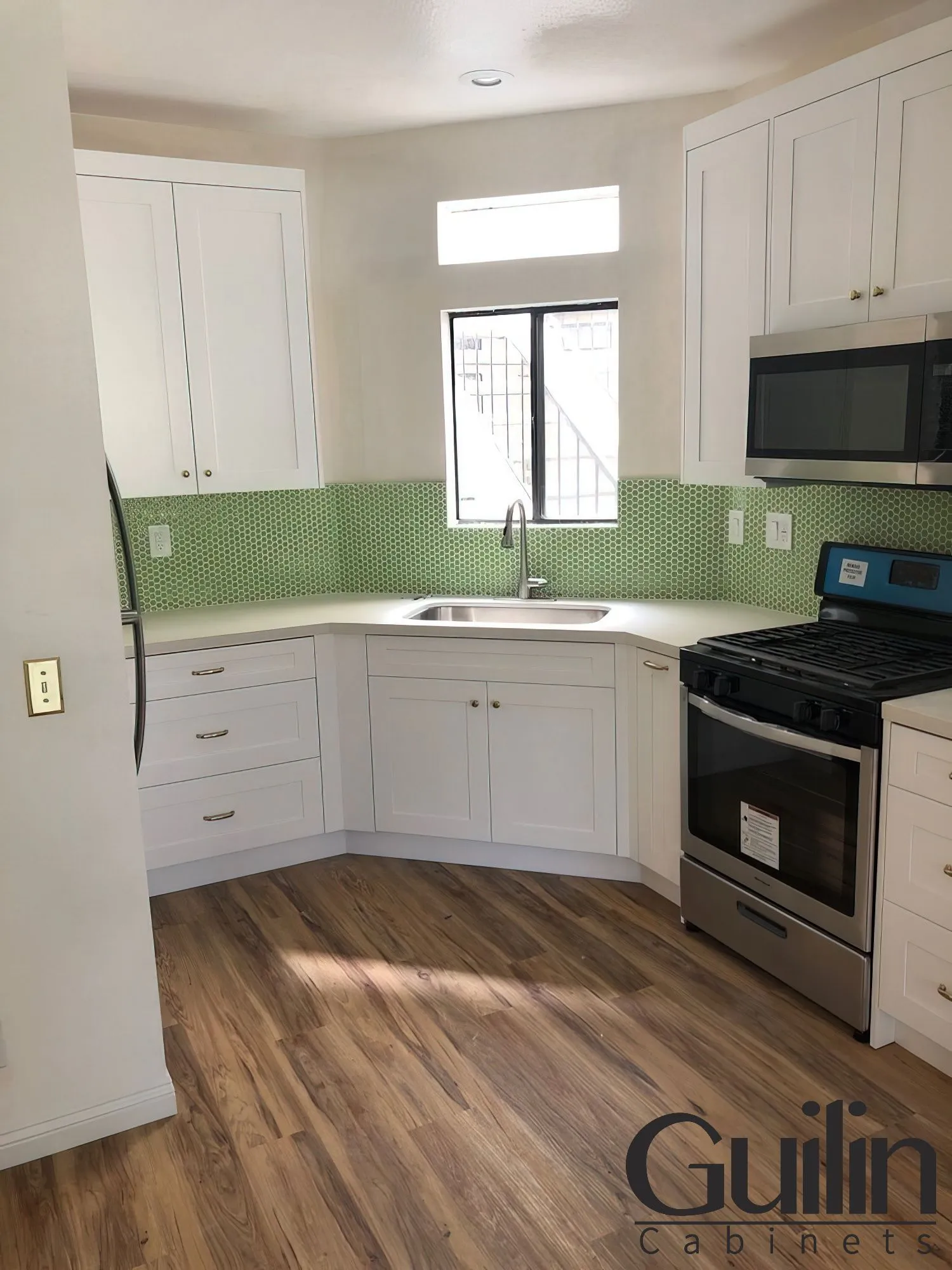 => Image of Guilin Cabinets Project: Completely Remodel an L Kitchen in Costa Mesa, California
Easy to Create a Work Triangle:
The kitchen area work triangle (also known as the kitchen golden triangle) is a simple idea that states that the refrigerator, stove, and sink should form a triangle in the layout of your kitchen. The greatest advantage of the L-shaped layout of this kitchen makes it easy to create a kitchen work triangle. This is a setup that makes it easy to access the refrigerator, stove, and sink without having to cross the room. This design helps to maximize workflow and efficiency in the kitchen and is ideal for busy households.
Also, the L-shaped kitchen layout works well with a variety of cabinets and small, and medium appliance sizes, making it easy to customize your particular setup. It creates an efficient workflow, allowing the cook to move between the sink, stove, and refrigerator more easily. This layout offers the ability to arrange the workspace and cabinetry in a variety of ways, making it easier to customize the kitchen to fit the needs of the user. Additionally, the L-shape of this kitchen layout allows for a more open and inviting feel, with less congestion than other layouts.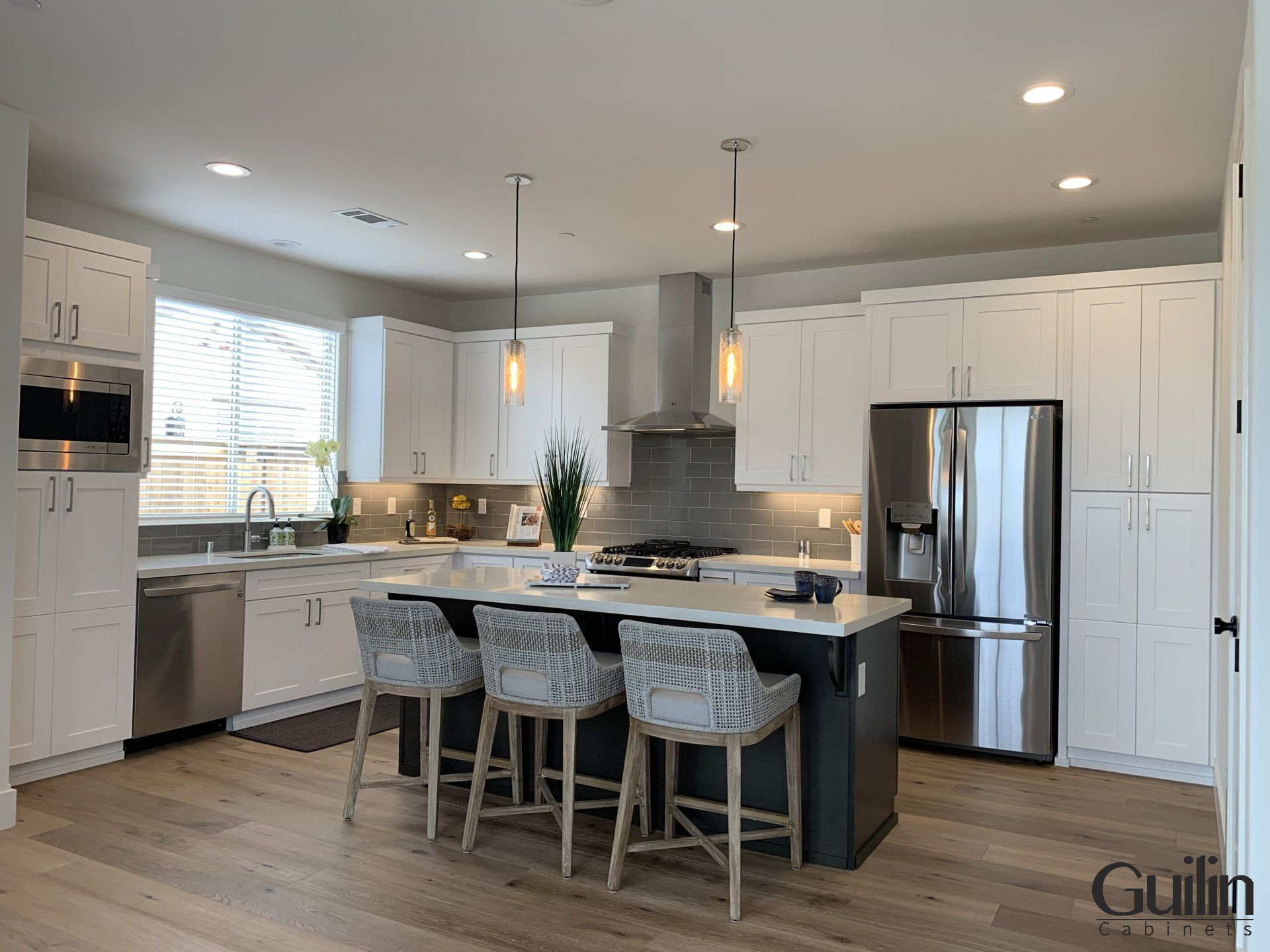 Easy to Create a Focal Point:
With The L-shape kitchen layout, you can create a natural focal point in the kitchen with a kitchen island, a beautiful backsplash, or a piece of artwork. This is a great solution for those who love kitchen islands or breakfast bars. By Adding a kitchen island into the kitchen area, you will have an extra counter space that is great for meal prep, as well as socializing with family and friends. It is also great for entertaining, as it allows for an open-concept layout that can accommodate multiple people. In addition, the kitchen island provides ample storage space, which makes it great to reduce clutter in the kitchen.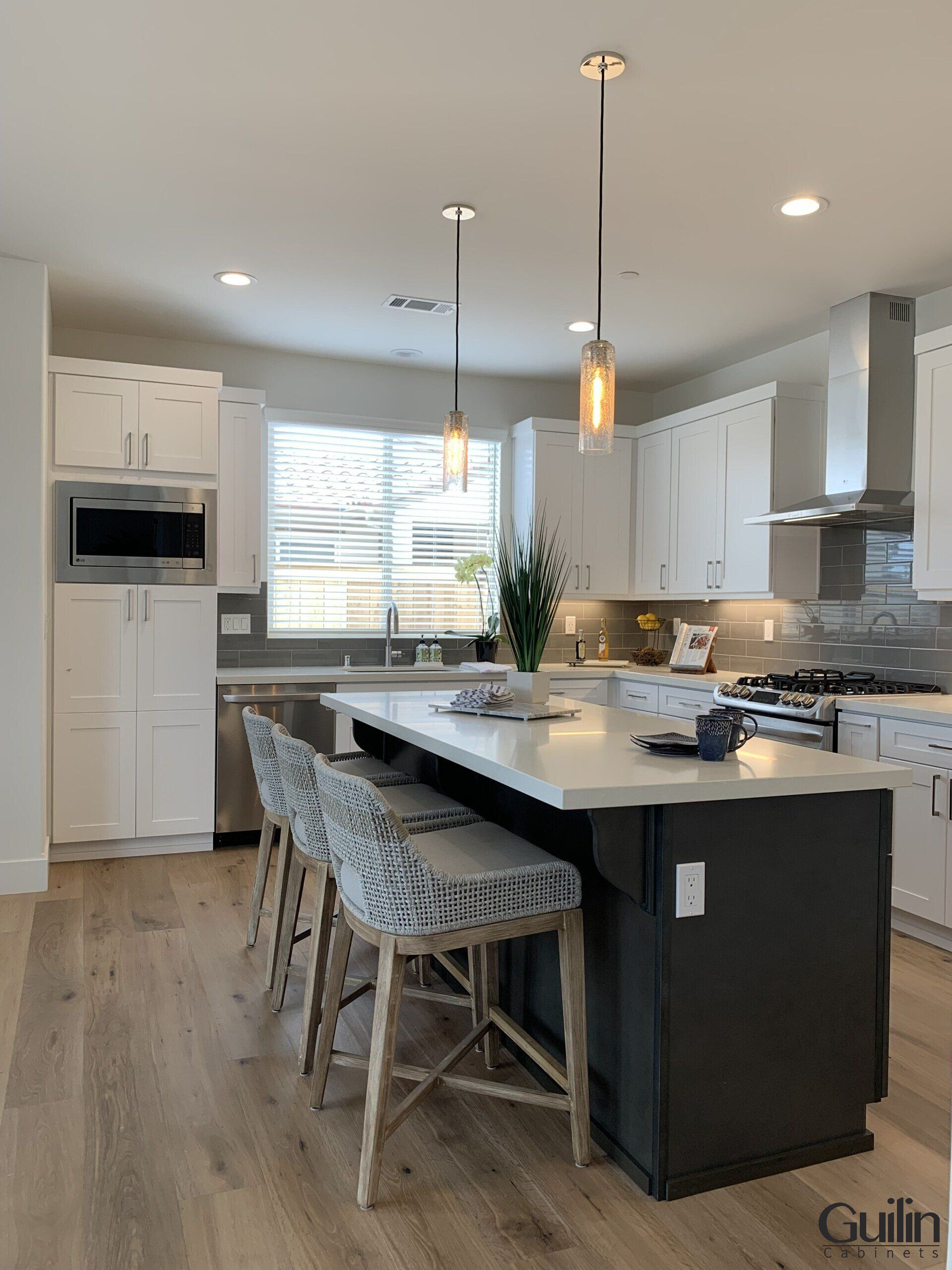 The Pros of an L-shaped kitchen are plentiful. The flexibility of the layout allows for greater customization, while the efficient use of space and efficient workflow make cooking and cleaning more efficient.
Cons of L-Shaped Kitchen Layout:
Difficult to Fit Large Appliances Size
One of the biggest drawbacks of an L-shaped kitchen is that it can be difficult to fit large appliances size into the limited space between the two walls. An L-shaped kitchen typically has two walls that are perpendicular to each other, which can make it hard to find space for a big refrigerator, ovens, and dishwashers.
Not Ideal for Large Parties
Another issue with a small L-shaped kitchen is that it is not ideal for entertaining. Since the design is common in small or medium-sized kitchens, there is naturally less room for guests to move around and not enough space for multiple people to be in the kitchen at once. Additionally, the narrow counter space can cause people to bump into each other while trying to prepare food or clean up.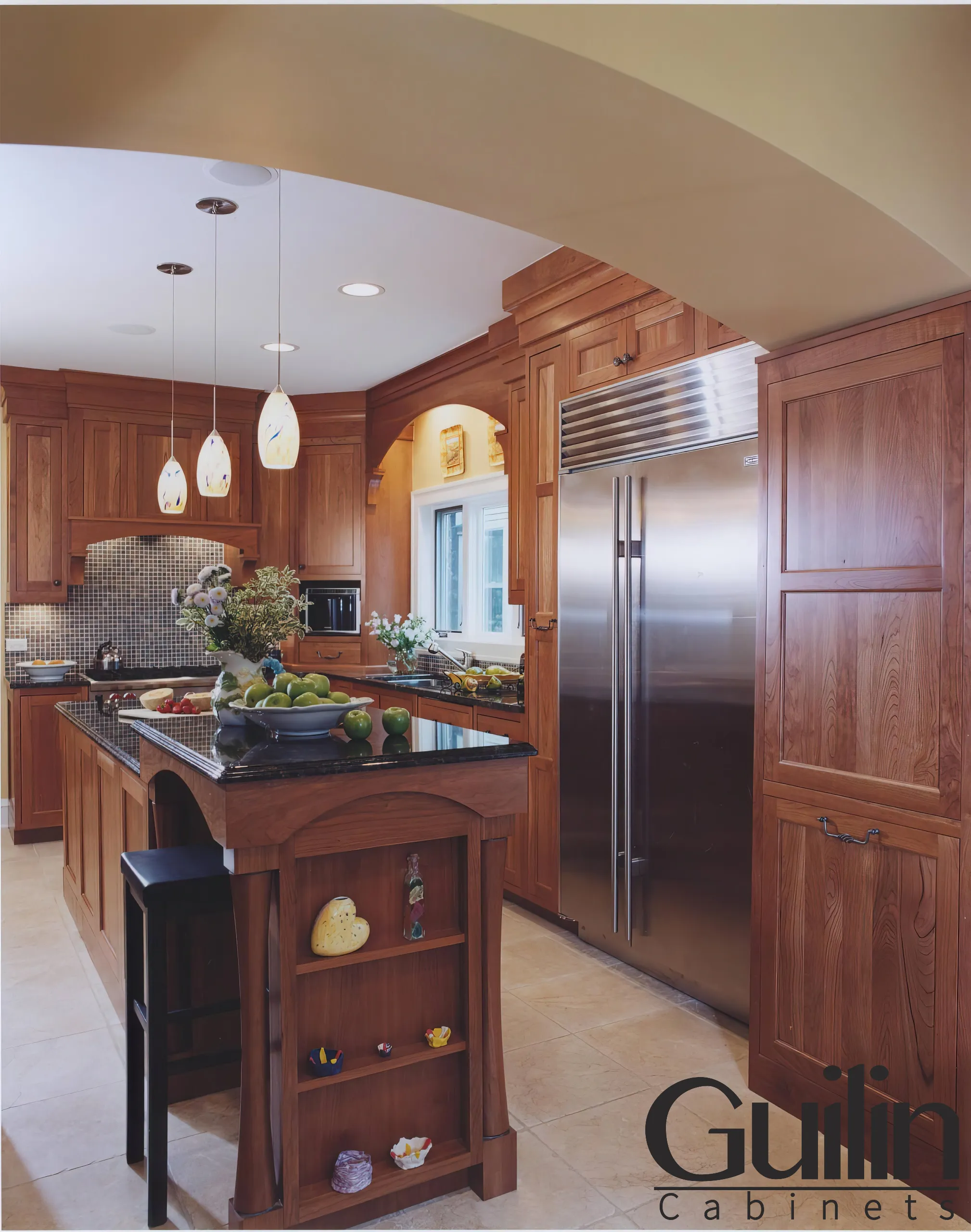 Less Storage from Limited Wall Space
L-shaped kitchens are generally limited in terms of wall space, which can make it difficult to find enough room to store all of your kitchen items. This type of layout can sometimes lack the storage space that is needed to keep your kitchen well-organized and efficient. To compensate for the lack of storage, you may need to purchase additional storage solutions such as upper cabinets, pantries, storage drawers, corner cabinets, and kitchen islands. You may also need to get creative with how you organize your kitchen items to maximize the limited storage space.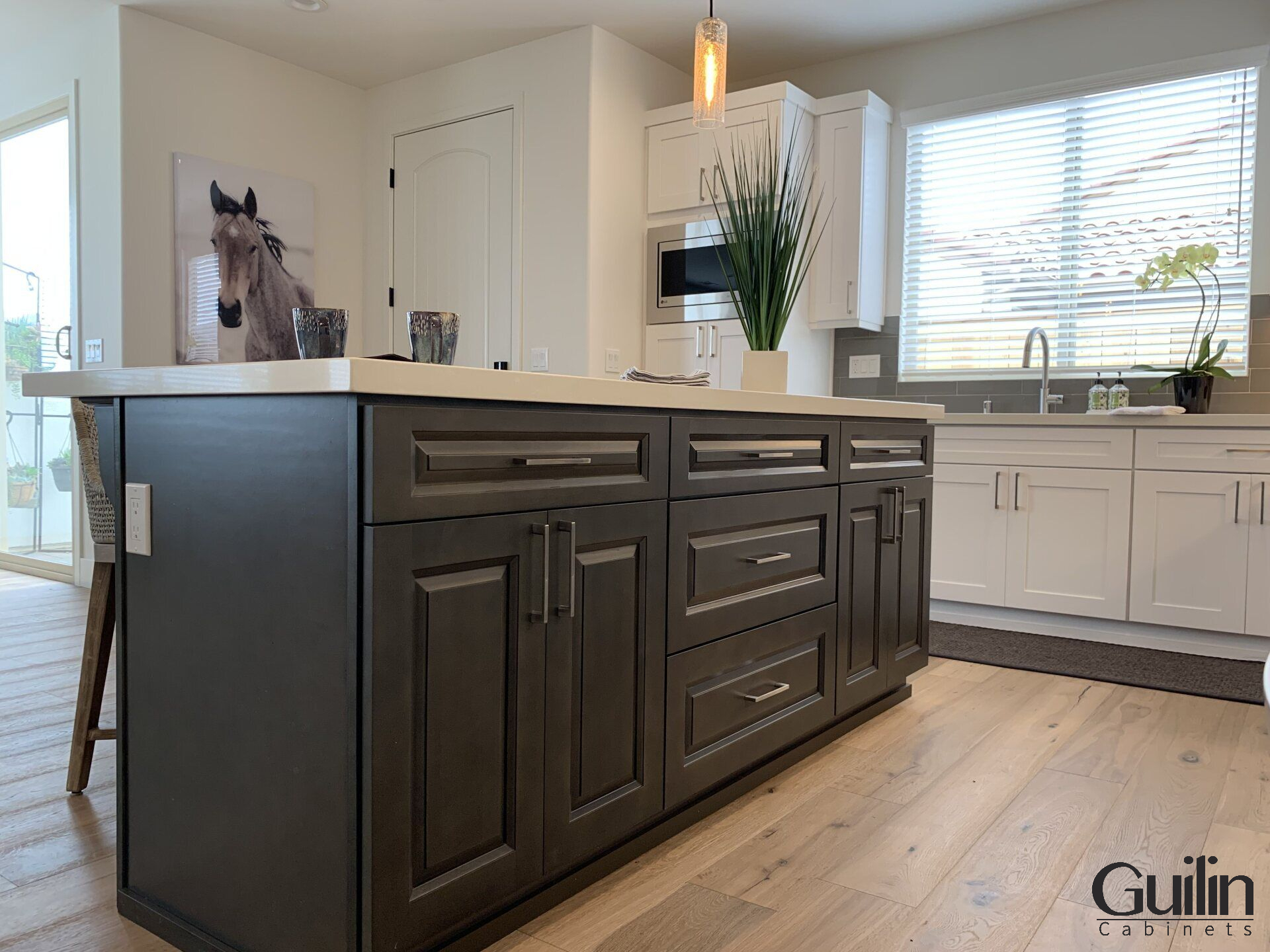 An L-shaped is not as efficient as a U-shaped kitchen
One of the big cons of an L-shaped kitchen is that it is often not as efficient as a U-shaped kitchen. This is because the walls restrict the amount of counter space and storage that can be included in the design, making it difficult to accommodate all of the necessary items. Additionally, while an L-shaped kitchen may provide a good amount of counter space, it lacks the wraparound counter that is often found in a U-shaped kitchen, which can add a great deal of convenience and efficiency.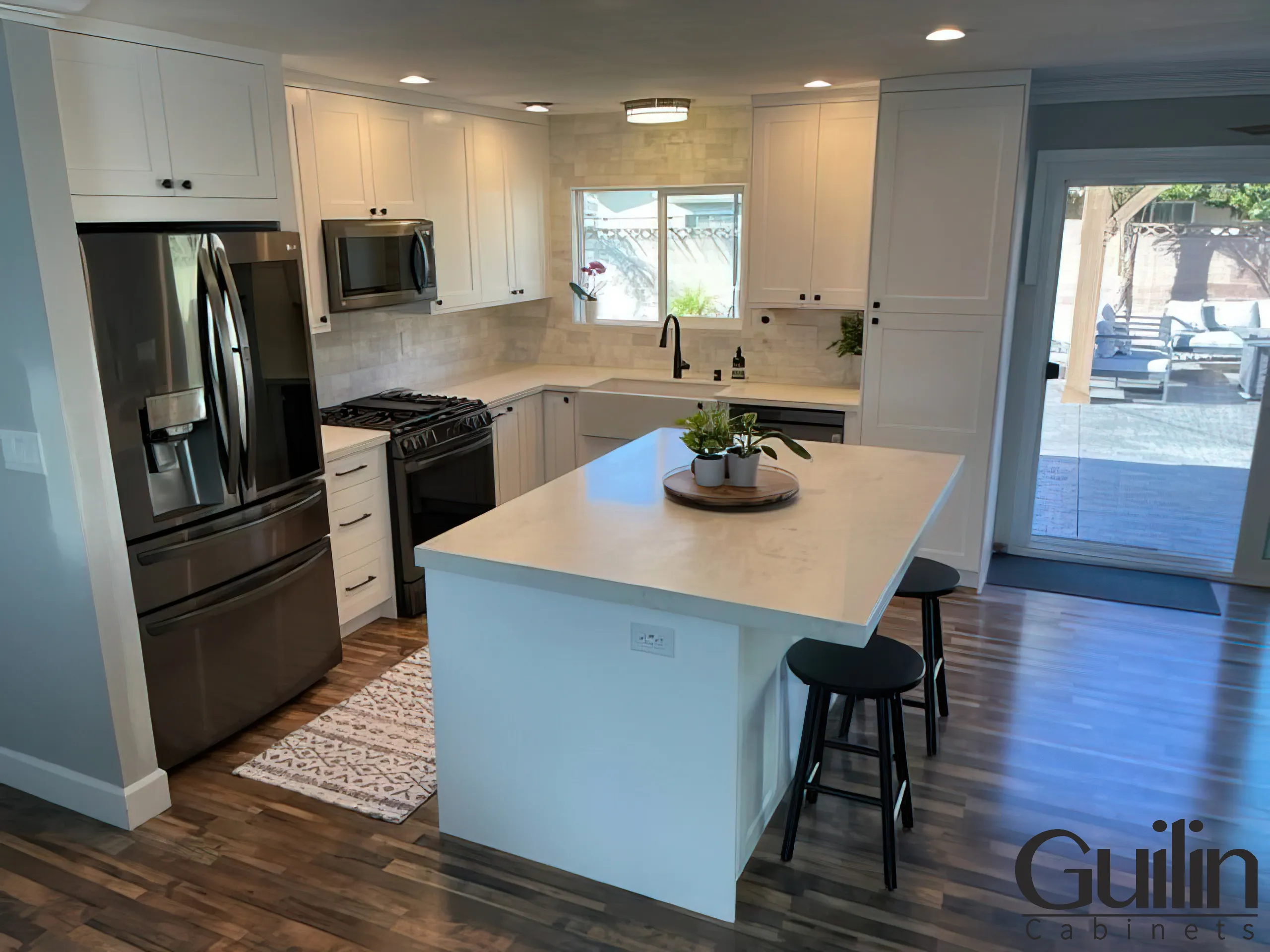 L Kitchen Layout Design Ideas From Guilin Cabinets Projects
Tradition Kitchen Remodel in Orange County CA by Guilin Cabinets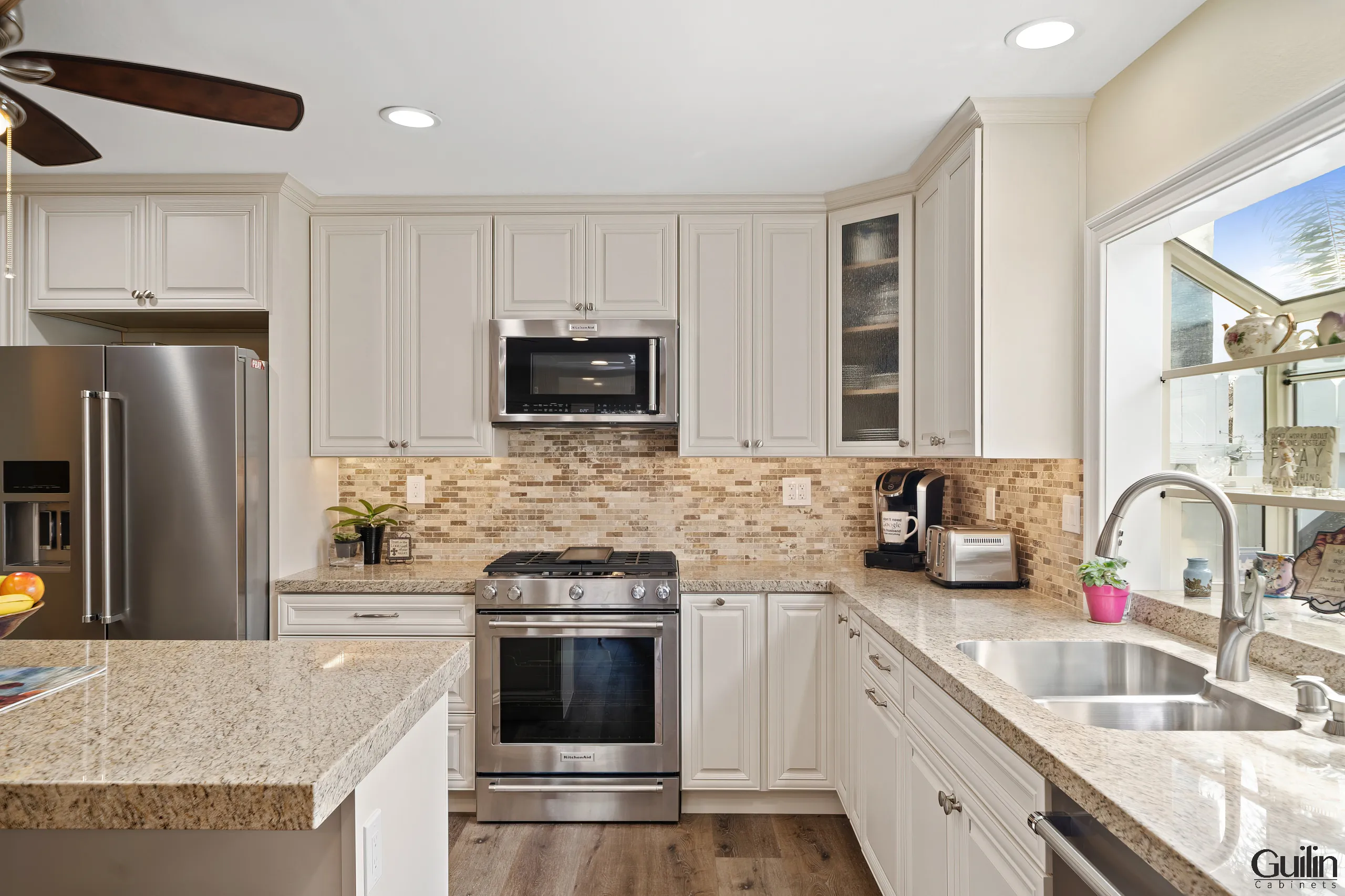 A Stunning L-Shaped Kitchen Remodel in Los Angeles, CA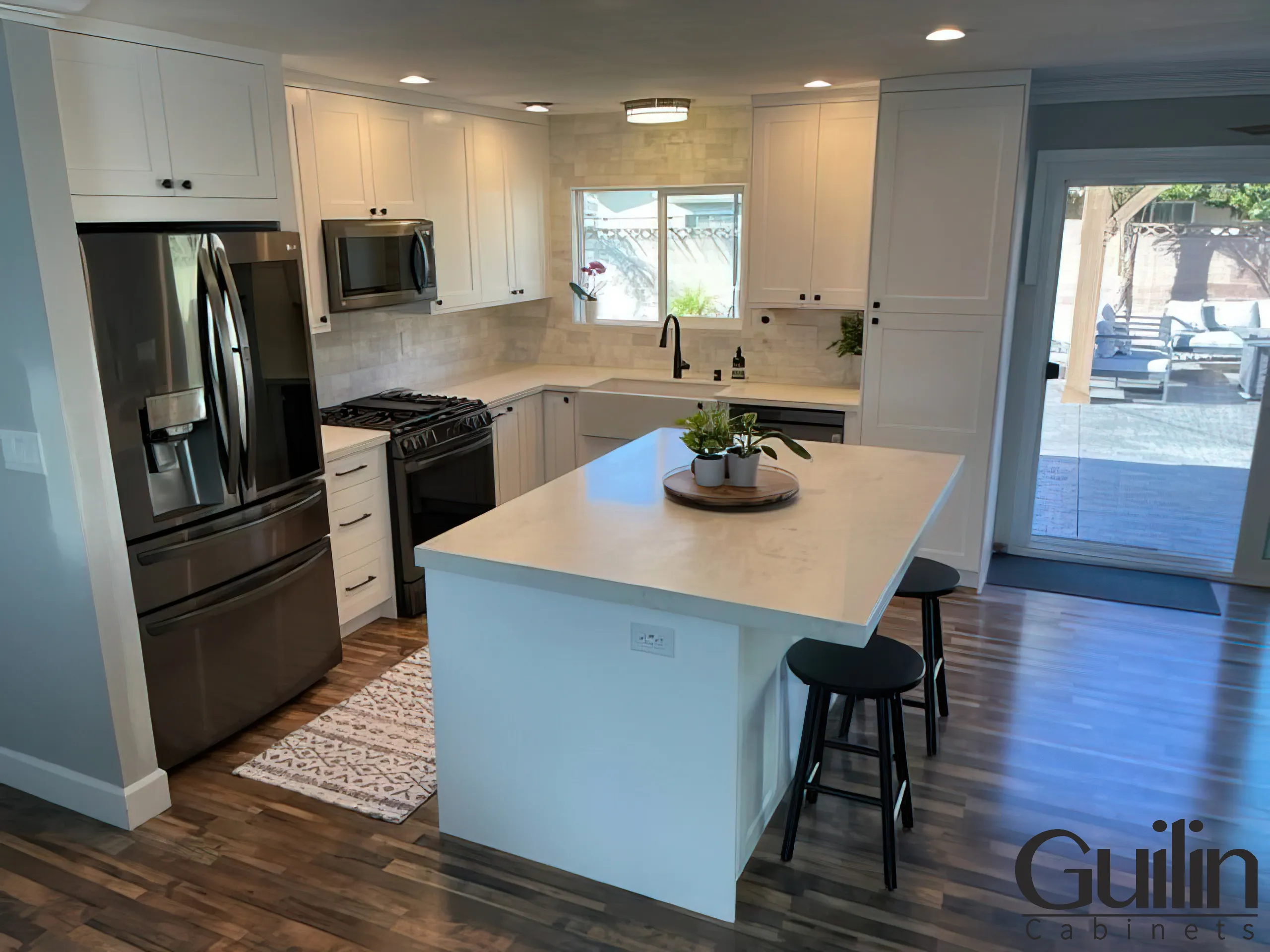 Remodel Whole Kitchen Sleek, Cleancline Style Huntington Beach, CA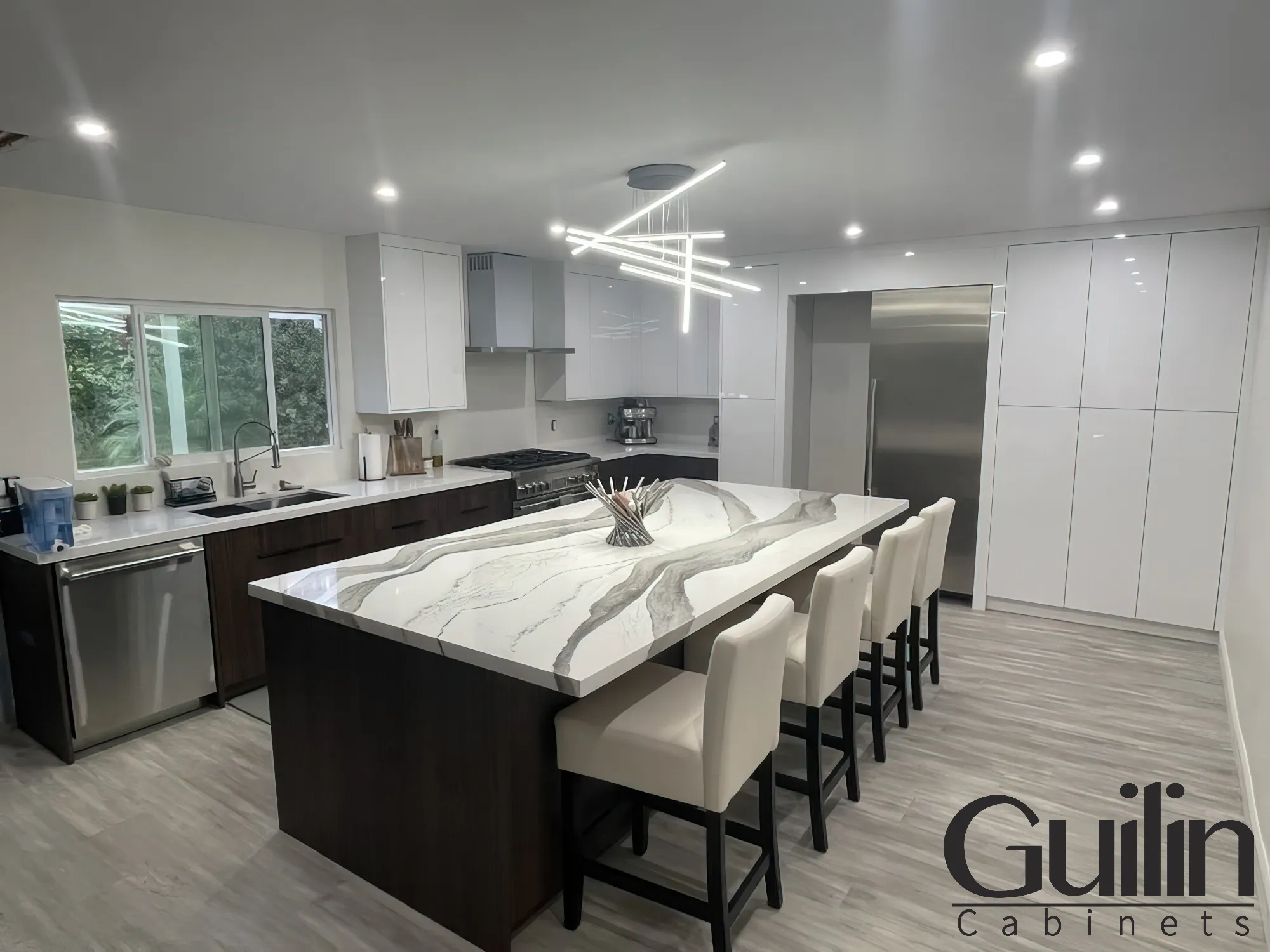 Sleek L Kitchen Design in Orange County Aliso Viejo, CA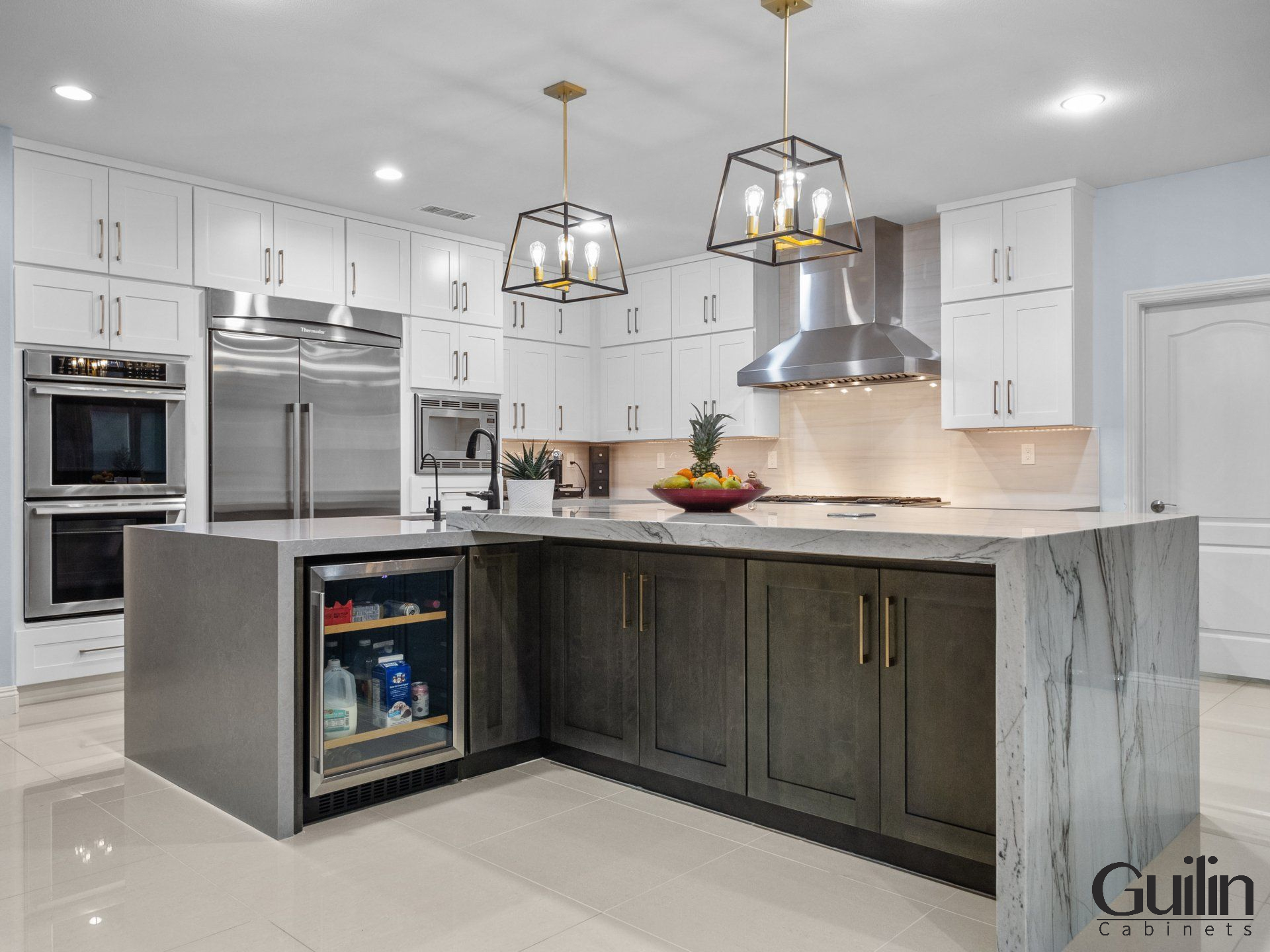 Completely Remodel an L Kitchen in Costa Mesa, California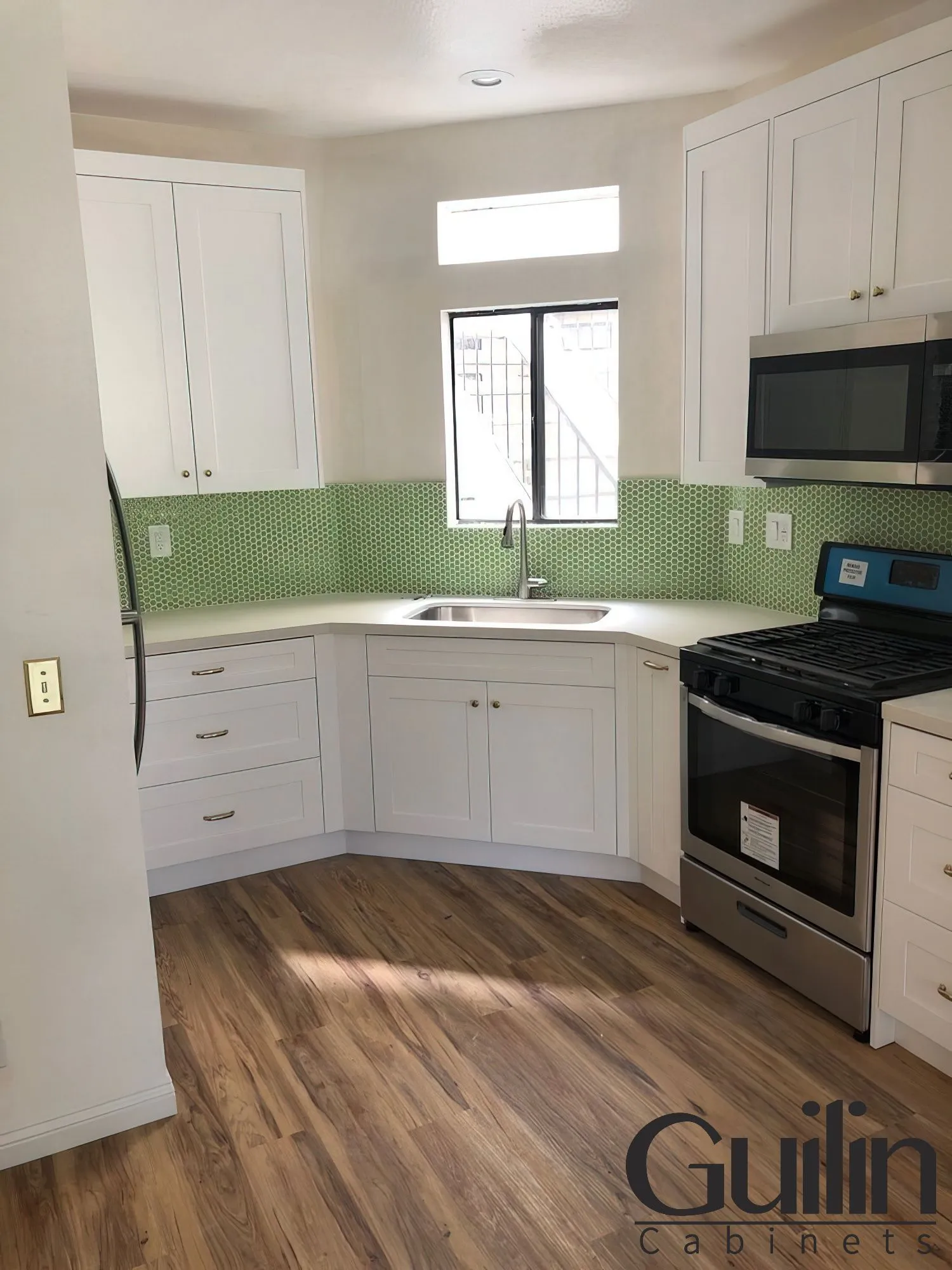 Modern Rustic Kitchen Remodel In Mission Viejo, CA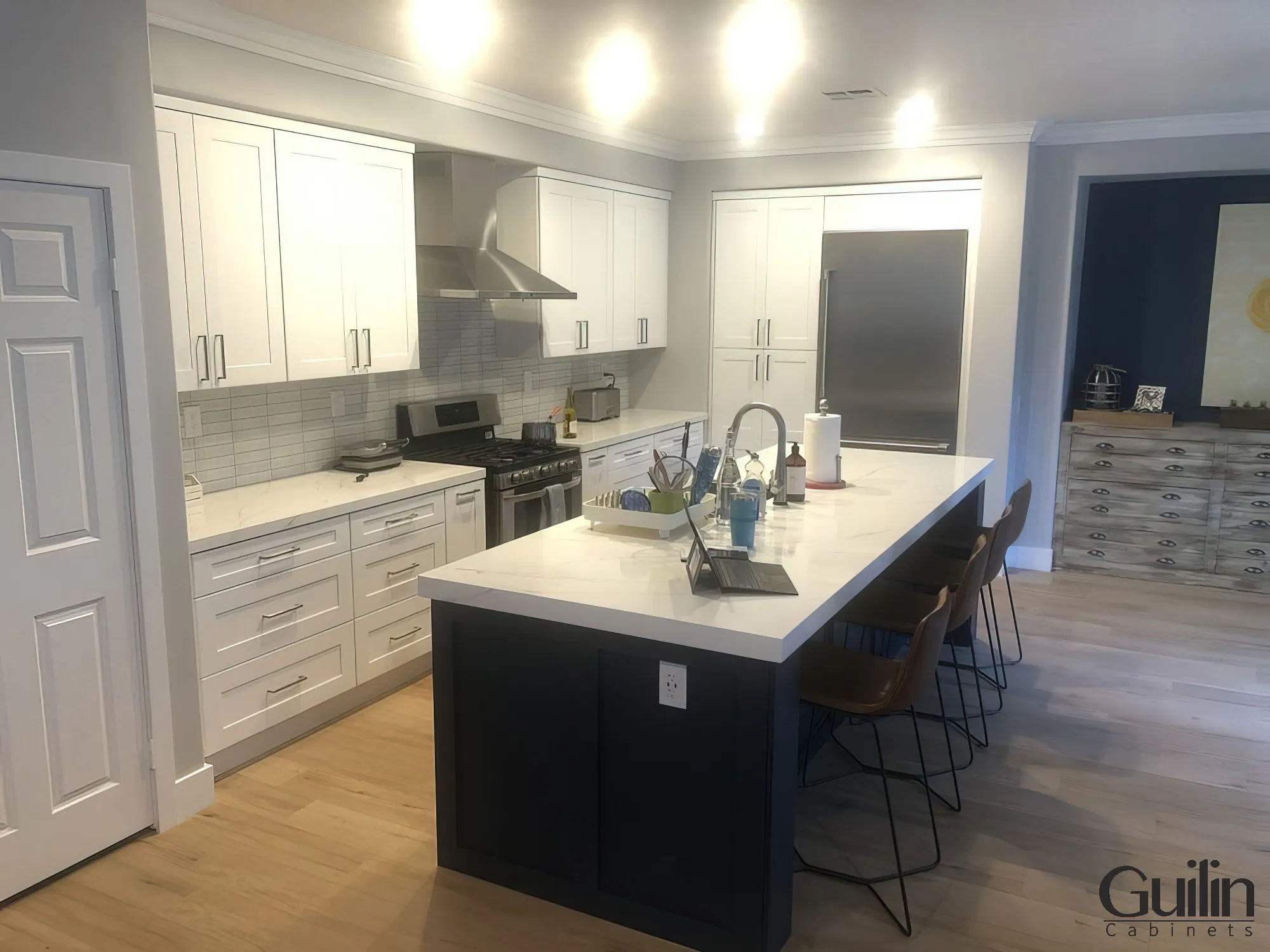 Modern Sleek Kitchen Remodel in Irvine, California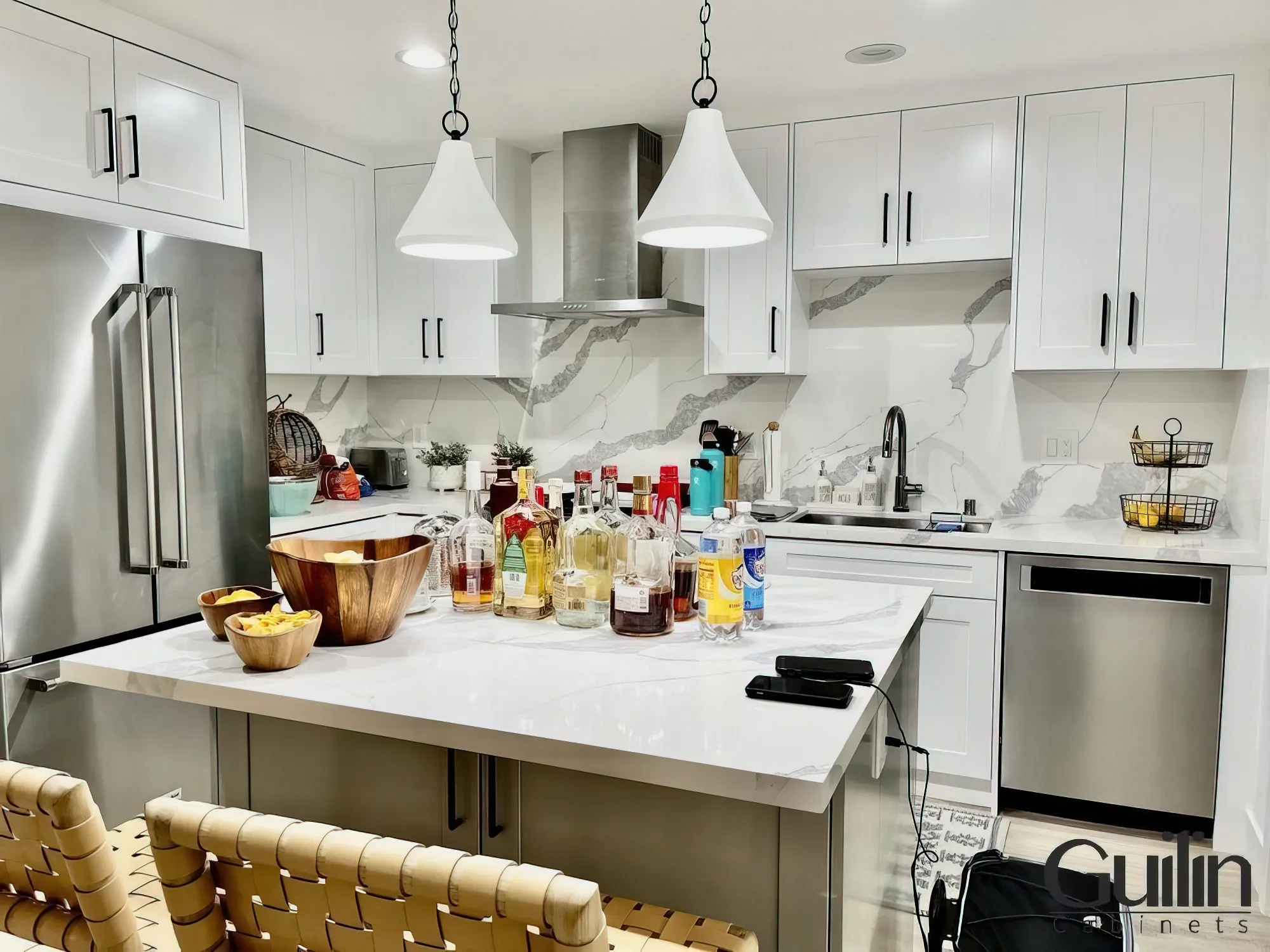 Remodel Coastal-inspired Home Kitchen in Los Angeles, California
Need Help To Choose Kitchen Layouts in CA?
If you're thinking about remodeling your kitchen in California but aren't sure whether an L-shaped kitchen layout will work in your space and you need help right away. Please! Contact Guilin Cabinets Today for assistance!
Hotline: +1 949 299 2370
Email: info@guilincabinets.com
Knowing how important it is to get the kitchen's layout just right, our expert kitchen remodelers are here to help you design a space that is both beautiful and practical for your family's needs.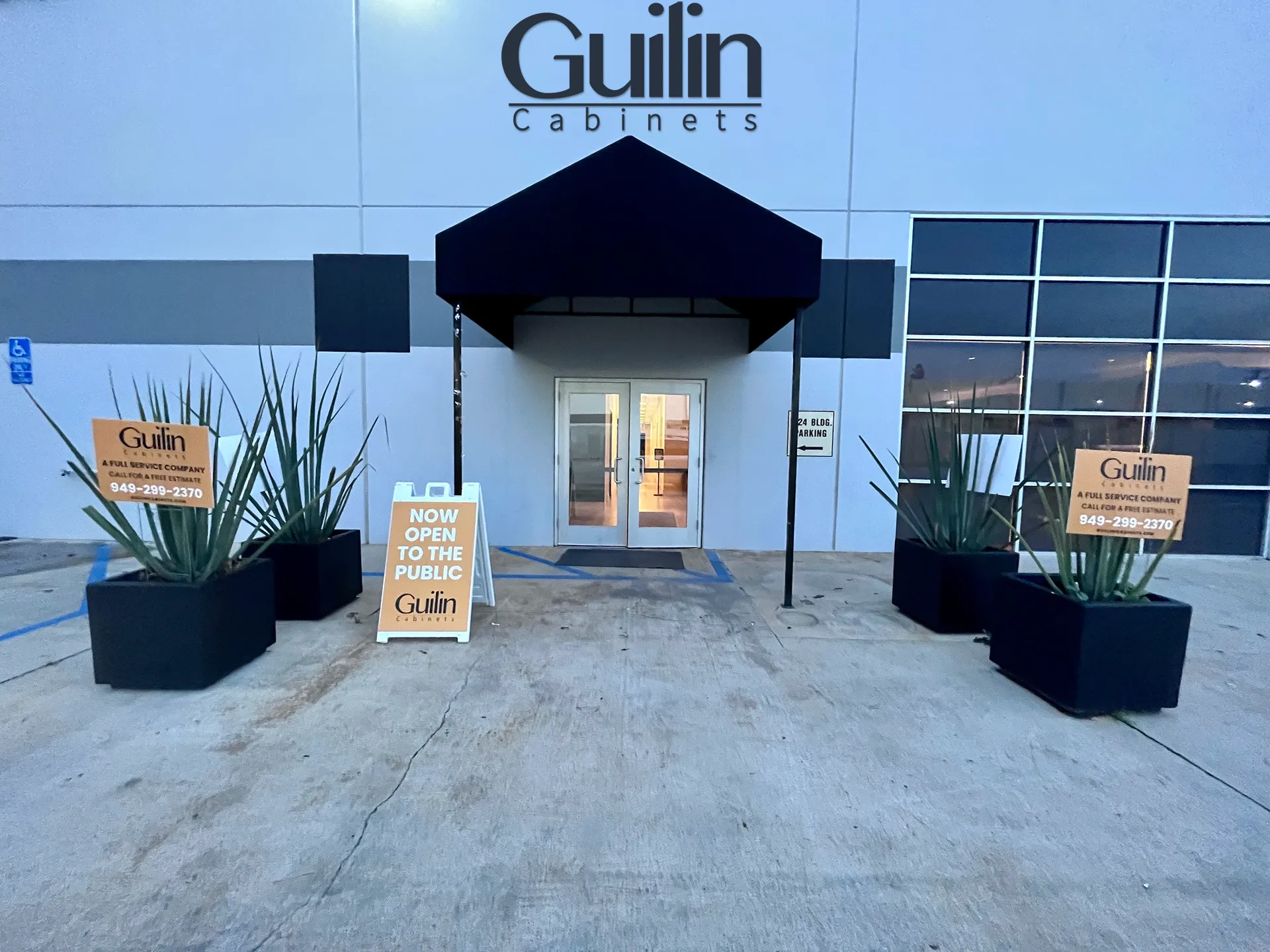 Cabinet makers and remodelers Guilin Cabinets is located in Irvine, California. We specialize in kitchen, bathroom, and closet remodeling as well as building custom cabinets. We have professional designers on staff that can help you construct the rooms of your dreams.
FAQs about L-Kitchen Layout:
Can an L-shaped kitchen design layout work in a small kitchen?
Yes! An L-shaped layout is a fantastic option for small kitchens as it optimizes the limited space available. By utilizing the corner area of the kitchen, the L-shaped layout creates a comfortable and efficient workspace. Not only does it create a larger working triangle between the refrigerator, stove, and sink, but it also allows you to add additional kitchen features such as an island or additional counter space. Not only is an L-shaped layout ideal for small kitchens, but it also looks great and adds a modern touch to the overall design. It is an excellent way to maximize your kitchen's potential and create a space that works for you and your family.
Can fit larger appliances into an L-shaped kitchen layout?
L-shaped kitchen design and you are wondering whether larger appliances such as refrigerators and ovens can fit in, then the answer is a resounding yes! But need to go with careful planning and a pro-kitchen remodel, you can make the most of the space you have and incorporate larger appliances into your design. By taking into account the size of your kitchen, the size of the appliances, and their placement in the room, you can make sure they are positioned correctly and don't take up too much space. By making use of the L-shape of your kitchen, you can also create an efficient and stylish kitchen that has all the necessary appliances. So don't be afraid to think outside the box and explore the possibilities of larger appliances in your L-shaped kitchen design.
Can I customize the L-shaped kitchen to suit my personal style?
Yes, an L-shaped kitchen is an incredibly versatile layout for anyone looking to customize their kitchen to suit their personal style. This layout allows for plenty of flexibility when it comes to designing your ideal kitchen. From modern to traditional, you can make the L-shaped kitchen work for your space. With the use of clever design techniques, and kitchen remodel service, you can easily customize the L-shaped kitchen to G-shaped, or U-shaped kitchen,… and that reflects your personal style.
Can I have a dining area in an L-shaped kitchen design layout?
YES! and Adding a kitchen island can be a great option for a dining area in an L-shaped kitchen design. Moreover, depending on the size of the kitchen, there may be room for a dining area within the L-shaped layout. Alternatively, you can create a separate dining area in an adjacent room as a dining space.
How can I maximize storage at the corner L-shaped design?
To make the most of the corner space of the L-shaped design, you can install a lazy Susan or a pull-out corner cabinet. After that, you can pull-out shelves are a great way to create additional storage without taking up too much room. You can also take advantage of the vertical space by installing overhead cabinets and wall-mounted shelves. With these clever storage solutions, you can ensure that you have plenty of room to store all of your kitchen essentials without overcrowding the space.