Imagine stepping into your bathroom and feeling like you're in a luxurious hotel suite. It's possible, and it all starts with your vanity countertops. Bathroom countertops (known as Bathroom vanity tops) are an important part of any bathroom design. They not only serve the practical purpose of providing somewhere for toiletries, but they are also a major design element of your bathroom. When selecting a bathroom vanity countertop, many factors should be taken into consideration. it's important to consider the appearance, cost, and durability of your vanity and the layout of your bathroom. In this blog post, we'll take a look at how to choose your bathroom countertop. Keep reading to learn more!
Choose Vanity Countertop For a Home Bathroom?
When Selecting the best vanity countertop for your bathroom, there is no one-fits-all solution. The best choice for you depends on a variety of factors, including your budget, lifestyle, and personal preferences. There are a number of materials to choose from, each with its own advantages and disadvantages. Popular vanity countertop materials include laminate, granite, marble, quartz, and solid surface…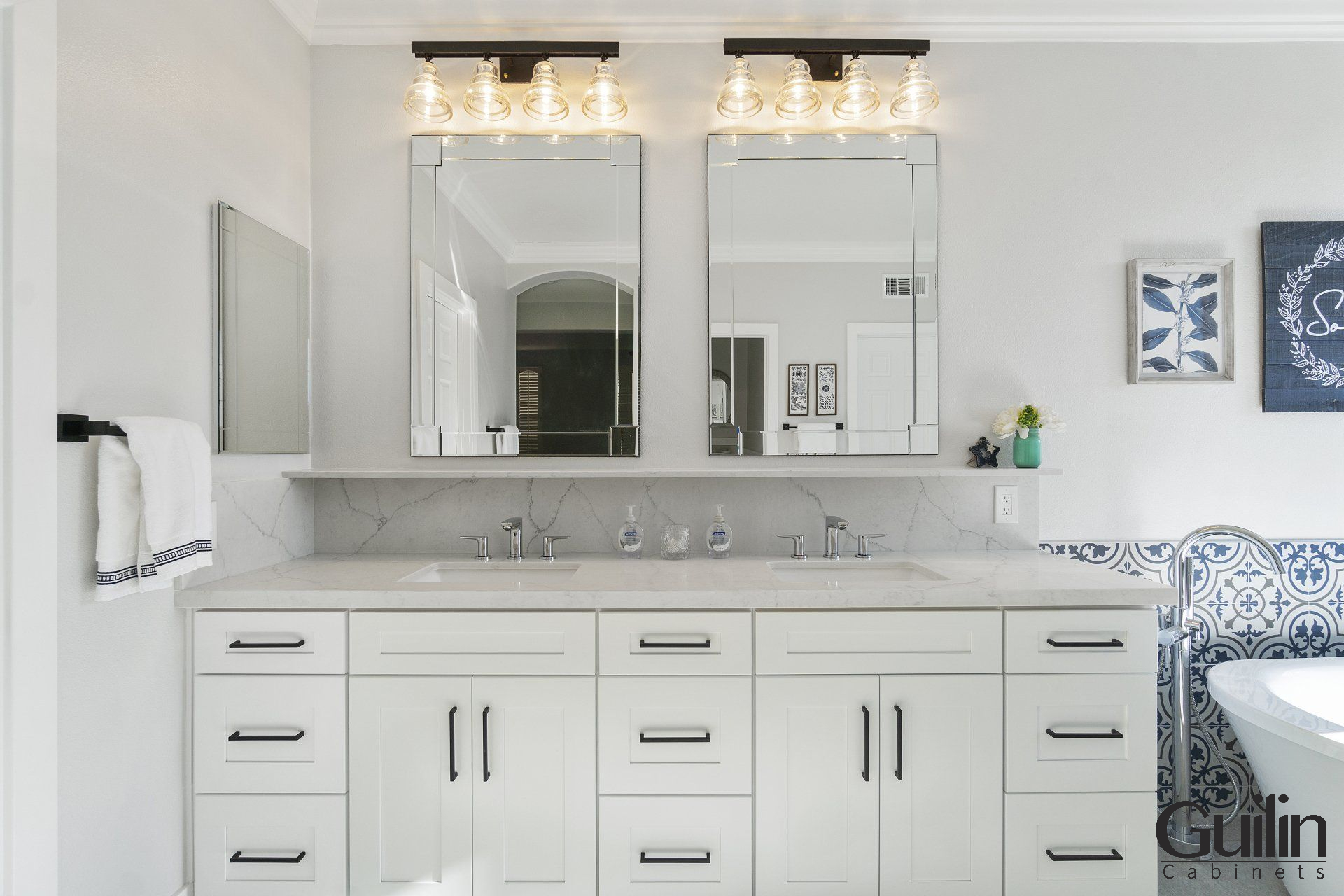 Types of Bathroom Vanity Countertops:
Bathroom vanity countertops come in a variety of styles, Sizes, Shaps, and materials, but two main types are pre-fabricated (known as Ready-made countertops) and custom-made options. While both offer unique advantages, it's essential to understand the differences between them before making a purchase. Here's a closer look at pre-fabricated and custom-made bathroom vanity countertops:
Pre-fabricated countertops:
Ready-made countertops, usually made from granite or quartz, are pre-cut and polished to specific sizes
This is the great Ideal for homeowners who want a quick and budget-friendly solution for their bathroom remodeling project.
They are Only Available in a limited range of colors and styles, which may not match the homeowners' aesthetic preferences.
The Price of Pre-fabricated countertops is very affordable but may have lower quality than custom-made options.
Custom-made countertops:
Tailored countertops made of materials such as marble, porcelain, and concrete,… created according to homeowner's preferences.
Offers the flexibility to create unique sizes and shapes, making it the perfect choice for unconventional bathroom designs.
Available in a vast range of colors, styles, and textures, which makes it easier to match your design vision.
More expensive than pre-fabricated options, but it provides high-quality, hand-made craftsmanship and adds value to your home.
Common Material Used for Bathroom Vanity Countertops:
Granite: Granite is a popular choice for bathroom vanity countertops because of its durability and low maintenance. It is available in various colors and patterns, making it easy to match with your bathroom decor.
Marble: Marble is a luxurious material that adds elegance to your bathroom. It is available in various shades of white and gray, and its unique veining makes each slab unique.
Quartz: Quartz is a non-porous material that is resistant to stains and scratches. It is available in a wide range of colors and patterns, and its uniform texture makes it easy to maintain.
Solid Surface: Solid surface countertops are made from a mixture of polyester and acrylic materials. They are non-porous, easy to clean, and available in a wide range of colors and patterns.
Laminate: Laminate countertops are made of paper or fabric that is coated with resin. They are affordable, easy to maintain, and available in various colors and patterns.
=> Read more: The Average Price of Different Countertops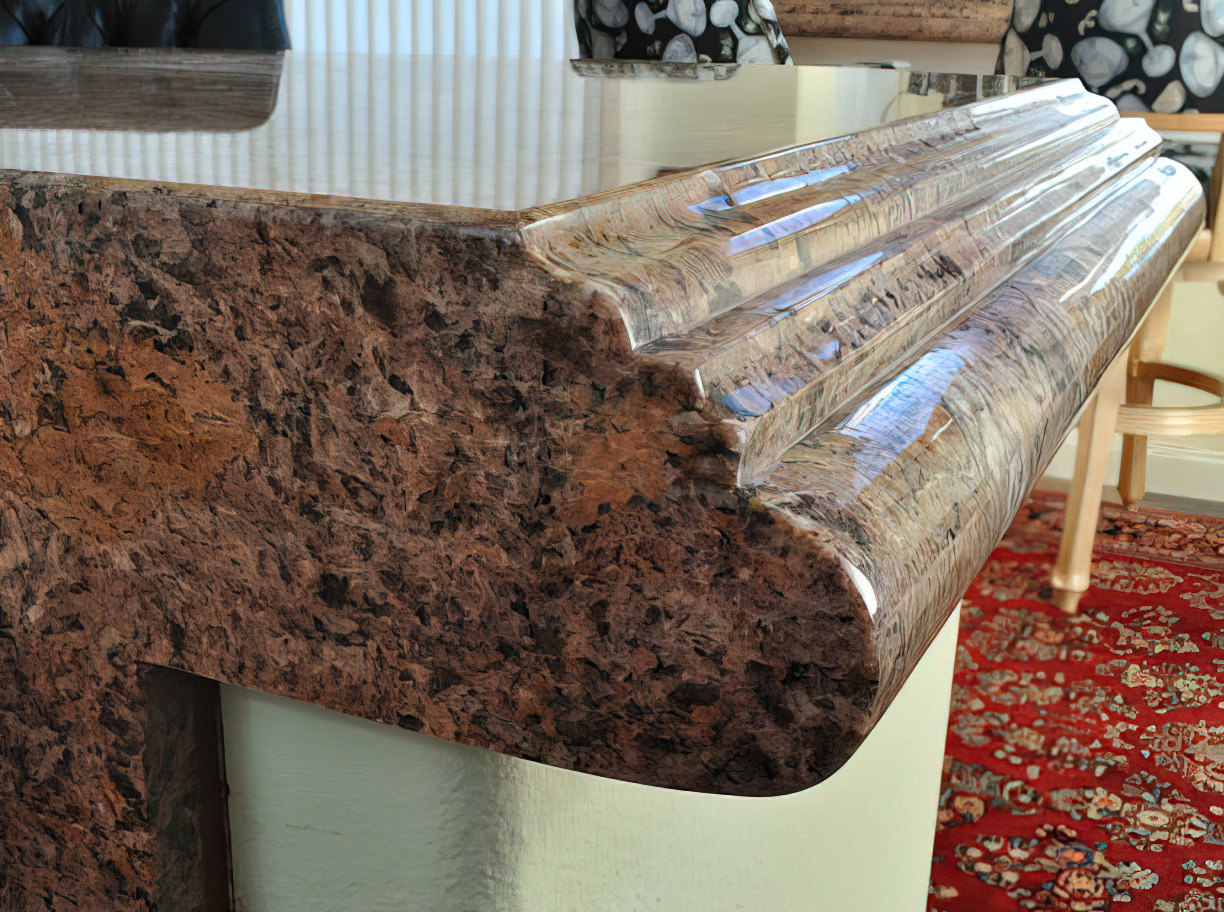 8 Factors Need To Consider When Choosing Vanity Countertops
Your Budget:
Budget is a major factor you need to consider, Before you look for another factor for your vanity countertops, discuss with your contractor to get an idea of the various options that are available to you and can fit into your budget.
The cost of a vanity countertop largely depends on its material, shape, and size, so you'll want to keep all of these factors in mind when deciding what type of countertop is best for you. Your contractor can help you find a vanity countertop that meets your budget and other requirements, so don't hesitate to ask for their expertise when making your decision!
=> Contact us: Guilin Cabinets: Bathroom Remodel Contractor Irvine CA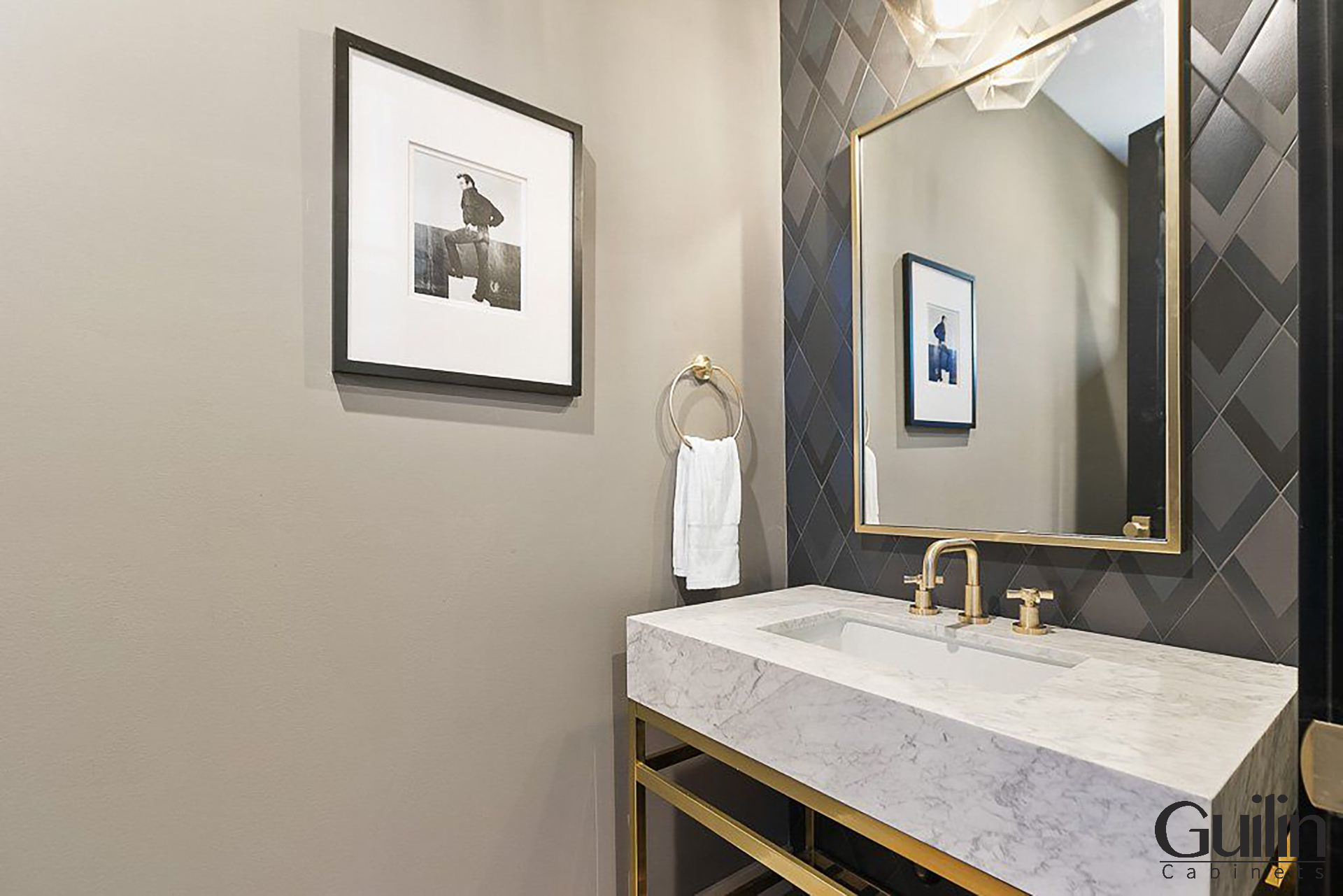 About Size:
The next step is to measure your current countertop. Vanity tops don't come in standard sizes and shapes but they can be cut to fit any standard vanity. To get the most accurate measurement, measure the front and back pieces, then measure from the front to the back of your current vanity to determine its depth. This will help you pick the right vanity countertop for your bathroom. Once you have the measurements, you can choose the type of countertop material that best suits your needs and budget.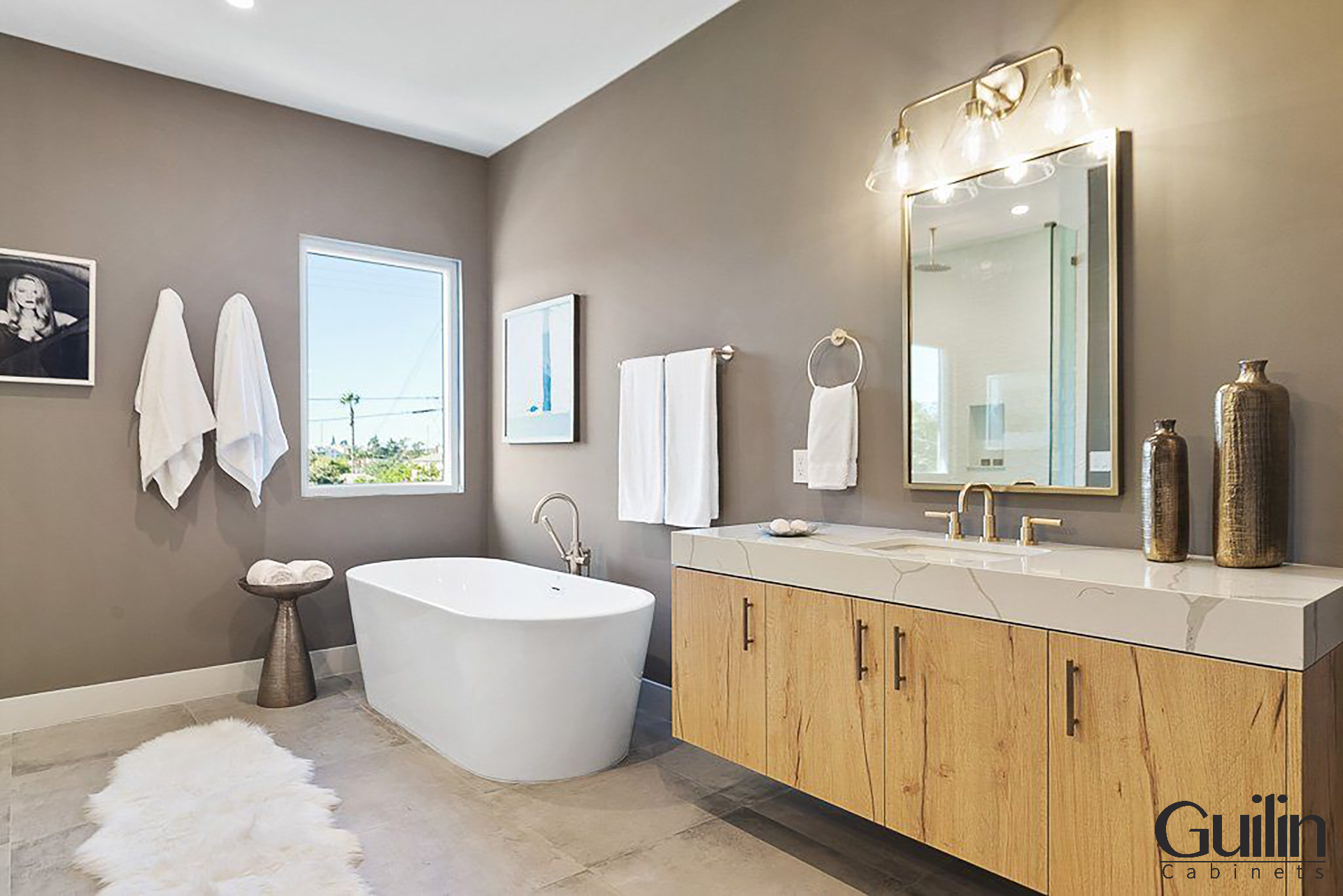 About Shapes:
For bathroom vanity countertops, the options are seemingly endless! Depending on the vanity design and overall style of the bathroom, vanity countertops can come in many shapes, including rectangular, oval, round, square, and even custom shapes. Additionally, The tip to choose the shape of the vanity countertop should be selected based on the shape of the sink that will be installed, as well as the placement of other bathroom fixtures such as mirrors and lighting. This will ensure that the vanity countertop complements the overall design and style of the bathroom while providing a functional workspace. In the end, the shape of the vanity countertop is just one of the many important factors that go into creating the perfect bathroom.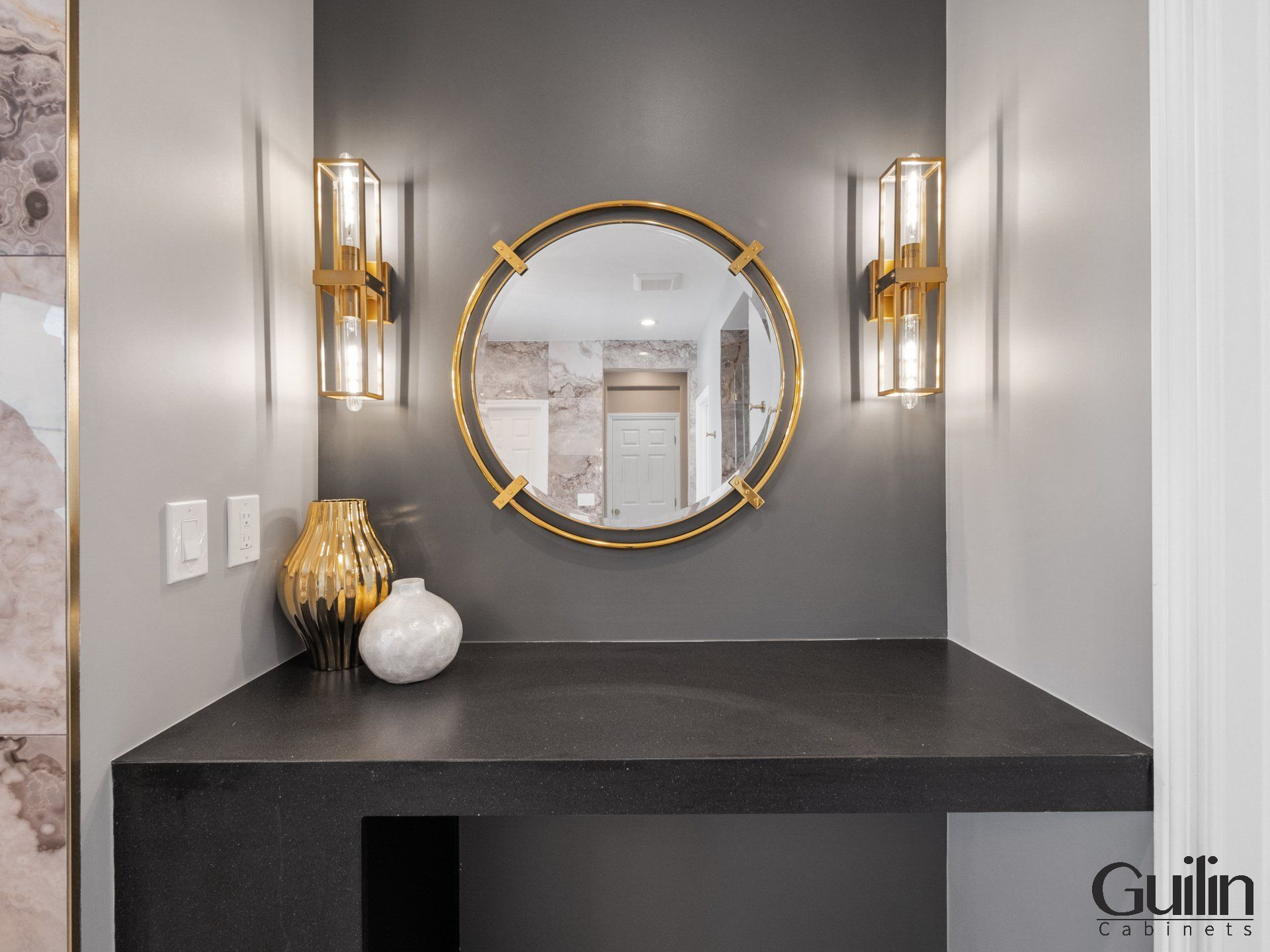 About Edge:
One of the most important elements, when you choose the perfect countertop for your vanity bathroom, is the edge. The edge of your countertop will have an impact on the overall look and feel of your space, and there are many different types of edges to choose from.
=> Read Full: 5 Types of Countertop Edge | Which to Choose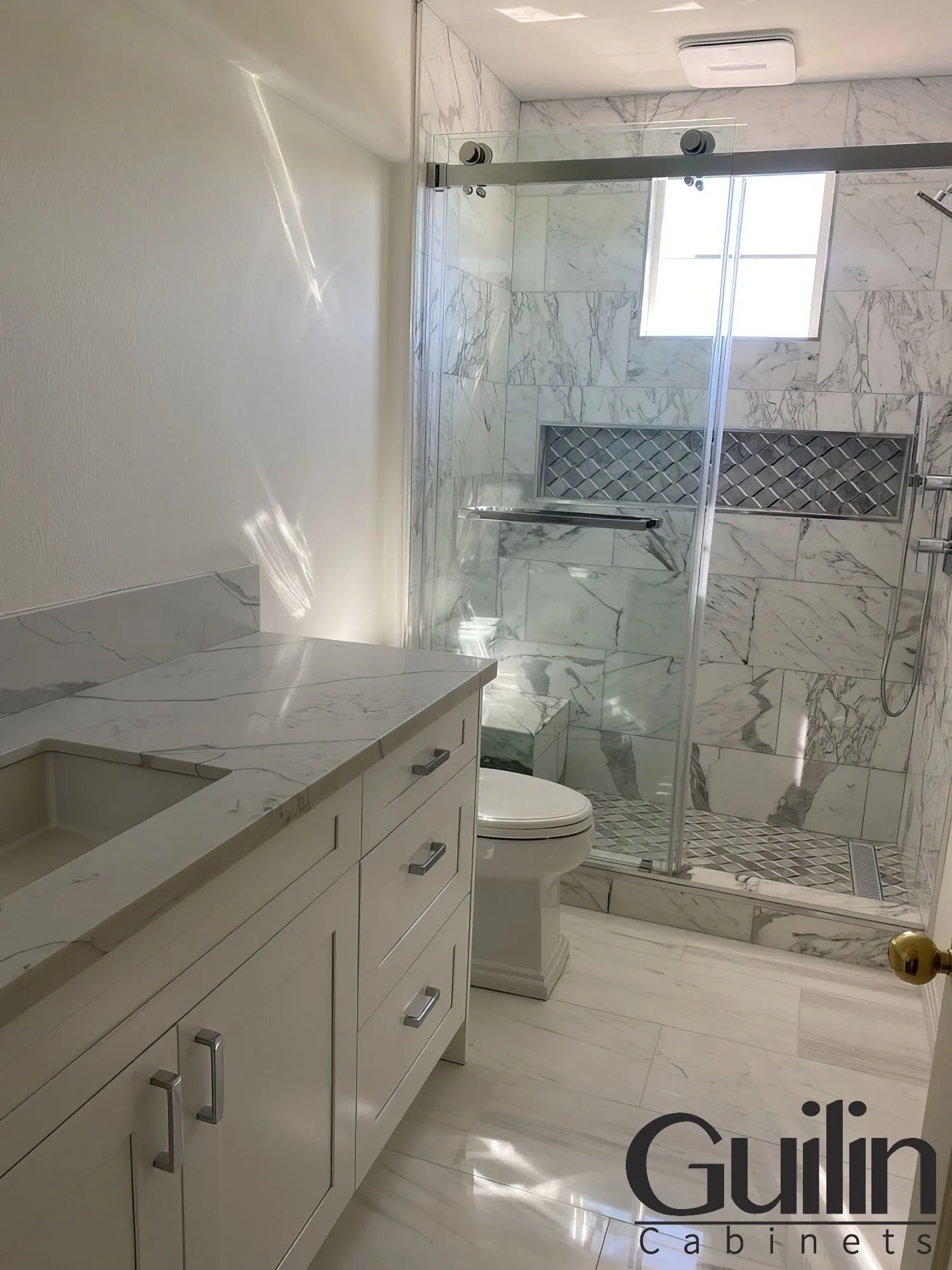 About Materials:
Picking the ideal bathroom vanity top can be a hard task due to the wide selection of materials available, including natural stone, wood, laminate, vinyl, and solid surface… Each option offers its own unique style and advantages, allowing you to find the perfect vanity for your bathroom. Whether you're looking for a luxurious natural stone finish or a more budget-friendly laminate option, you're sure to find something that fits your individual style and needs.
Natural stone: granite, marble, quartz, soapstone, quartzite…
Wood vanity tops: oak and mahogany, can also be used in a bathroom
Laminate or Vinyl tops are also an option for a bathroom vanity top.
=> Related article: Top 5 Kitchen Countertop Materials Ranked by Popular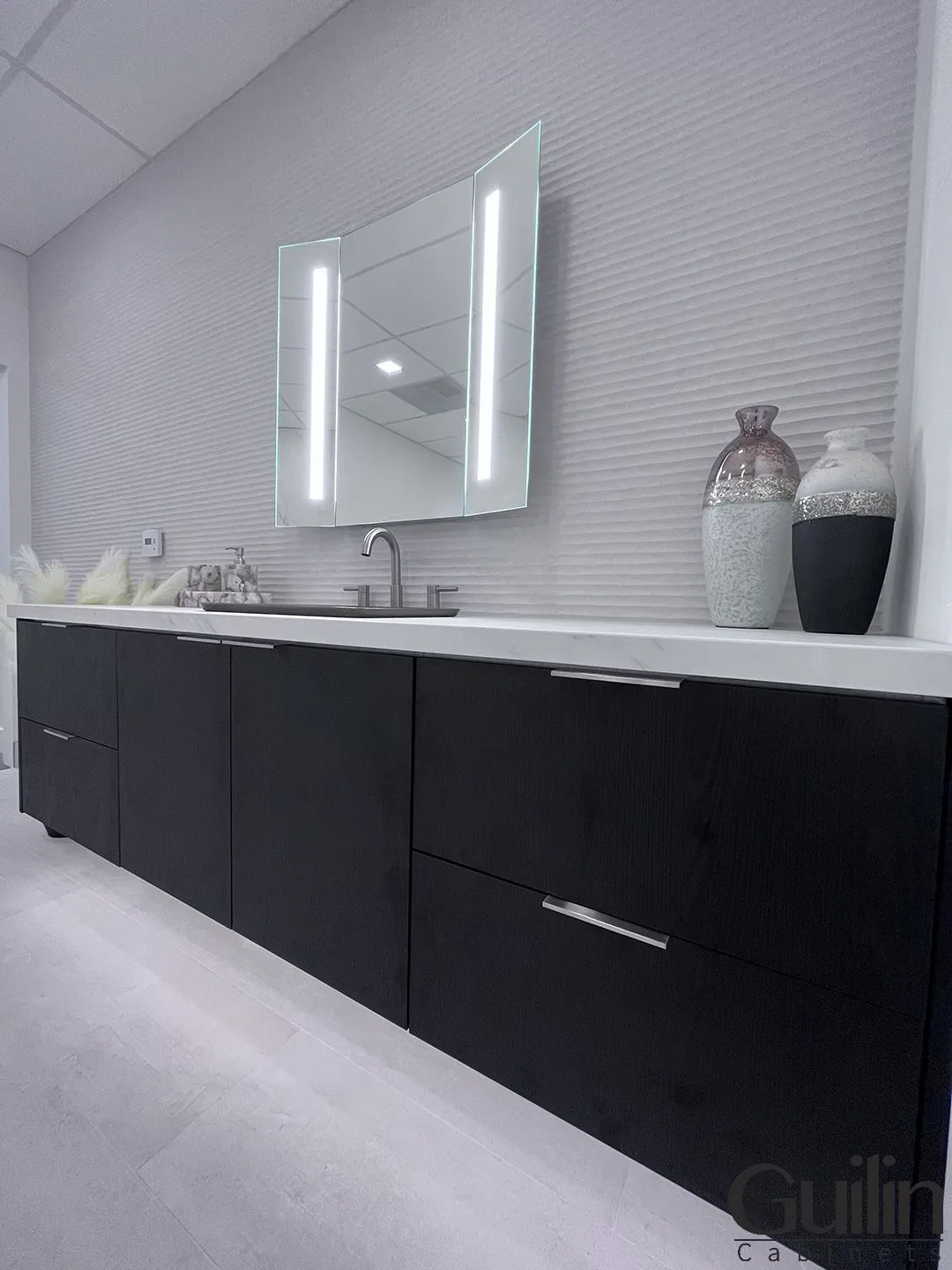 About Appearance:
The appearance is important, as this will be the most visible portion of the bathroom vanity. That is why one of the major factors to consider when choosing a countertop for your bathroom vanity is the overall look you are trying to achieve. The vanity tops and countertops should be chosen based on your overall Bathroom Style.
Natural Stones Vanity Counter Tops: Natural stones, such as granite and marble, are among the most popular countertops for bathroom vanities. A bathroom vanity top made of granite, and marble will be more durable and visually striking than other types of vanity tops. If you're looking for a classic, timeless look, granite or marble might be the best option. They are durable and easy to maintain, and they come in a variety of colors and patterns, so you're sure to find something that fits your style.
Maple, Oak, or Cherry Vanity Counter Tops: If you're looking for a more natural look, maple, oak, or cherry is also a good option. It's made of hardwood and will be more natural.
Laminate or Vinyl Vanity Counter Tops: A vanity top made of laminate or vinyl will be more affordable, and more modern look than other vanity tops.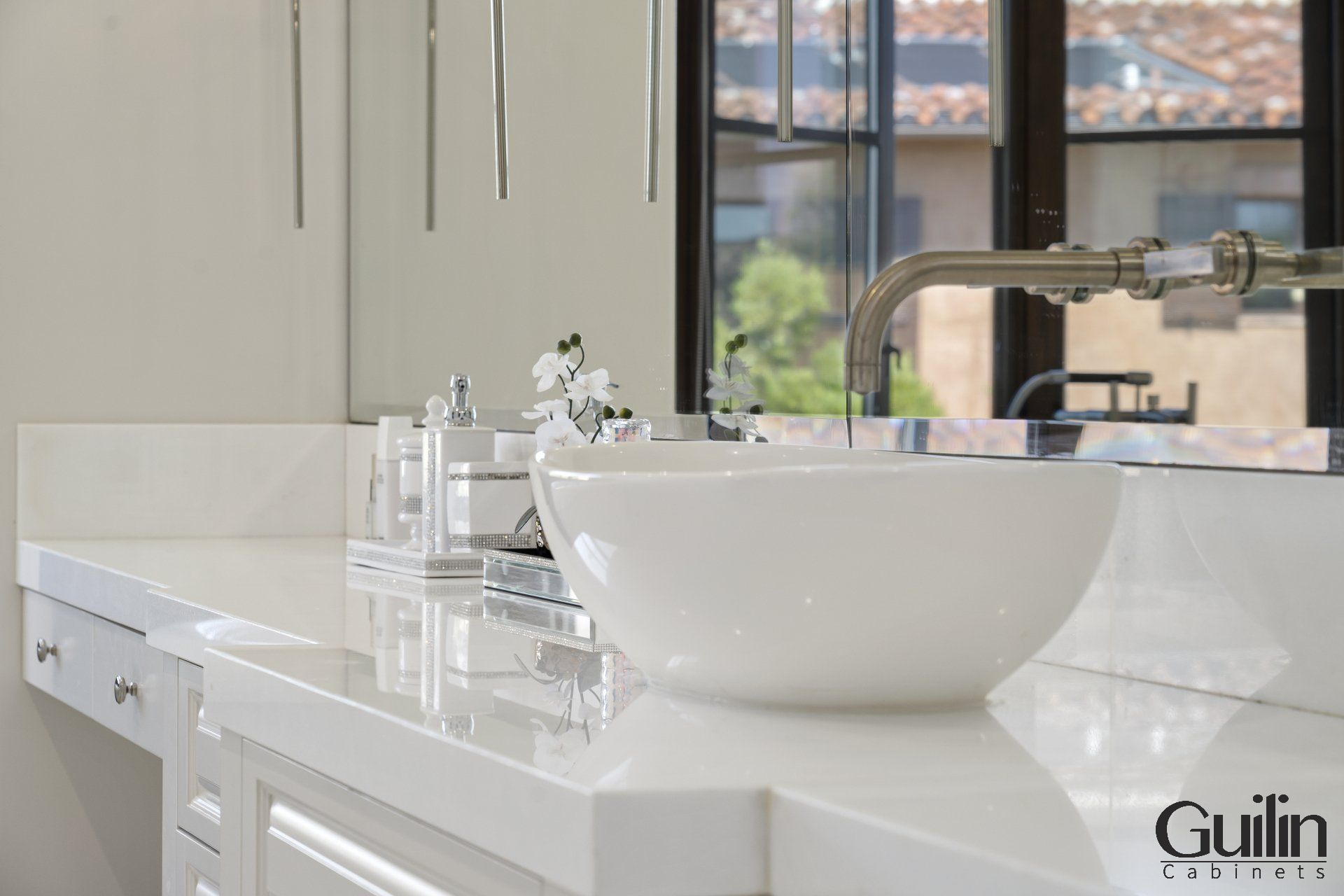 About Cost:
Of course, the cost is always an important factor when choosing a remodeling project. Carefully consider your overall budget and the size of the countertops you're replacing. This should make it easier for you to select a material that matches the overall quality of the finished work. Popular materials for vanity countertops include marble, quartz, laminate, and solid surface…
For example,
Marble countertops are expensive but are extremely durable and hard to maintain
Quartz countertops are more affordable and offer a nice balance between cost and durability.
Granite countertops offer a classic look that is both beautiful and easy to maintain.
Solid surface is usually the most affordable, and they are available in a wide range of colors, styles, and textures.
Laminate countertops are a great budget-friendly option that is available in a wide range of colors, styles, and textures.
The benchmark price of vanity countertop:
Quartz cost: $55 to $130 per square foot
Marble cost: $45 to $110 per square foot
Granite cost: $37 to $83 per square foot
Soapstone cost: $62 to $108 per square foot
Quartzite cost: $67 to $130 per square foot
Wood: $40 to $70 per square foot.
Laminate: $25 to $60 per square foot
Solid surface: $45 to $95 per square foot
Stainless steel: $80 to $225 per square foot
…
=> Read more: How Much Do Countertops Cost? The Average Price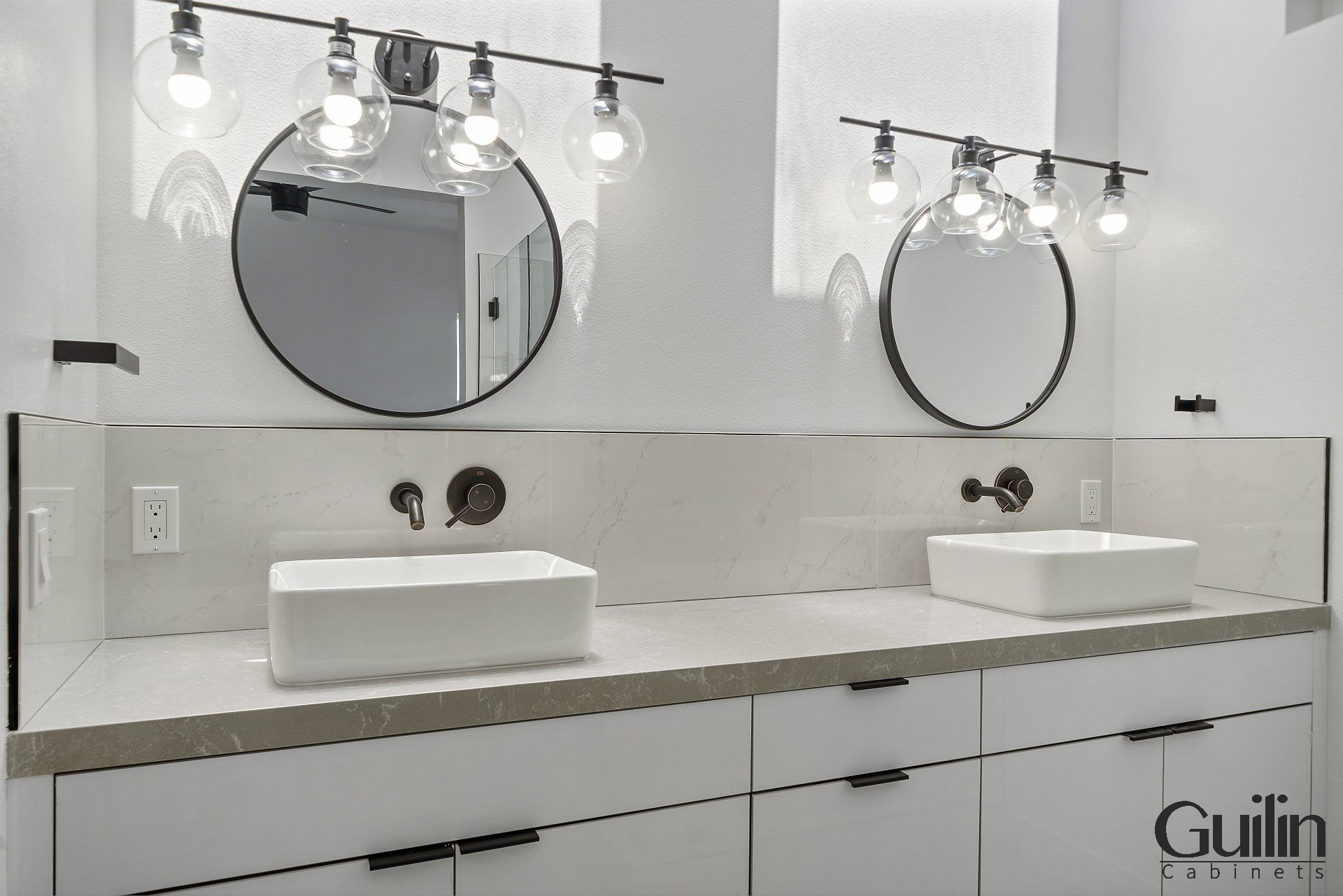 No matter which material you choose, make sure to do your research and find a reputable supplier who can provide you with a quality product at a reasonable price. Additionally, consider the color and texture of the countertop material to ensure it coordinates with the vanity and the rest of the bathroom.
About Durability:
Each type of vanity countertop material has its own durability advantages and disadvantages. Make sure you choose a product that is strong enough to meet the demands of your lifestyle and that you are ready to maintain. For bathroom vanity countertops, materials such as granite, quartz, and laminate are highly recommended.
Granite is a popular choice due to its luxurious look and high durability. Granite countertops are resistant to heat, scratches, and stains, making them an ideal choice for a bathroom surface.
Quartz is also another great option, as it is a highly durable material and can resist scratches and heat.
Laminate countertops are a more affordable option, and they are easy to clean and maintain.
Solid surface is a new material available in a wide range of colors, styles, and textures.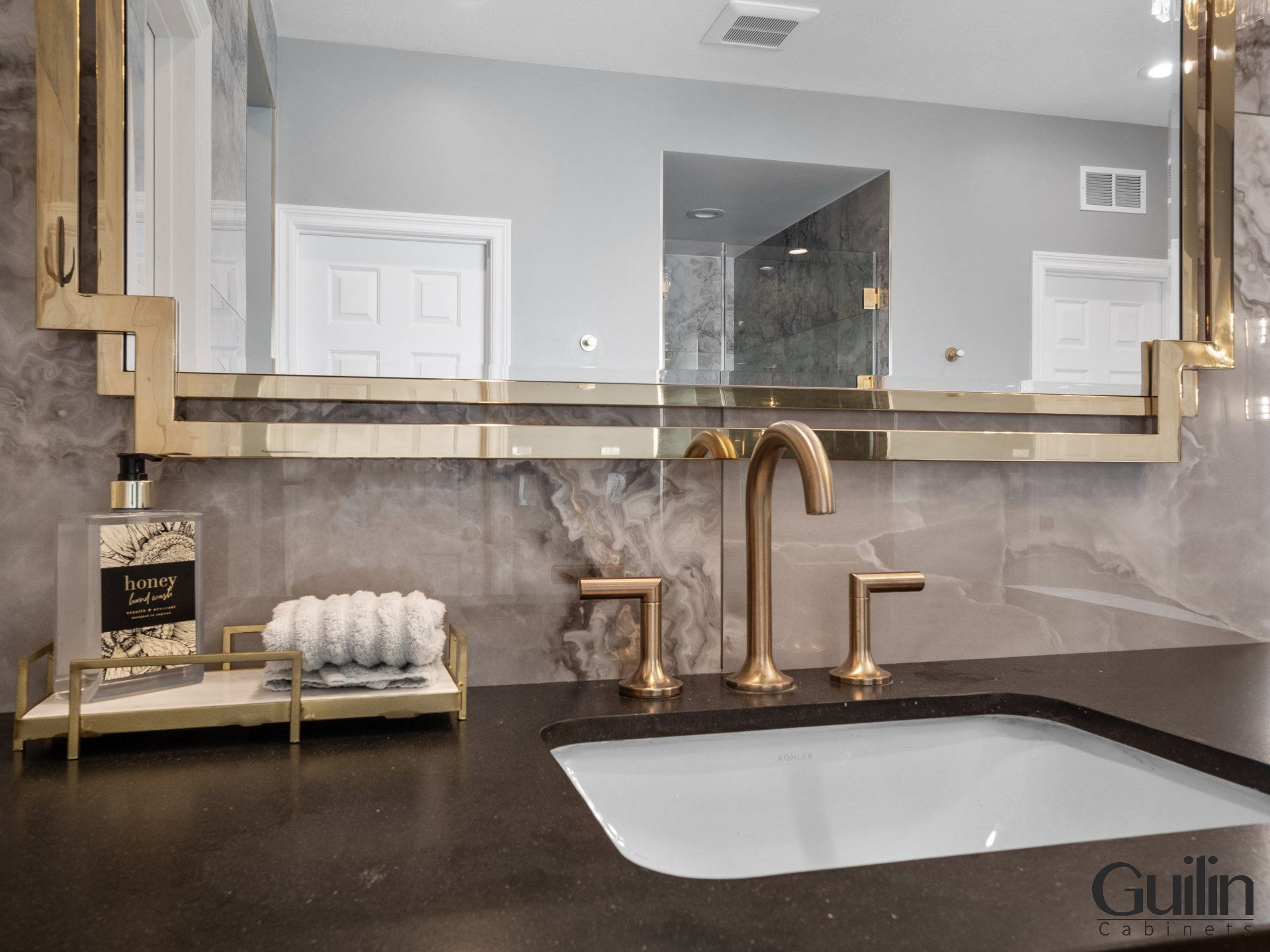 About Maintain:
Cleaning your bathroom vanity countertops doesn't have to be a difficult, time-consuming task. In fact, cleaning your bathroom vanity countertops can be quick and easy! Cleaning and Maintaining regularly your bathroom's stone vanity top is a simple way to ensure it remains beautiful and functional for a long time.
=> Read more: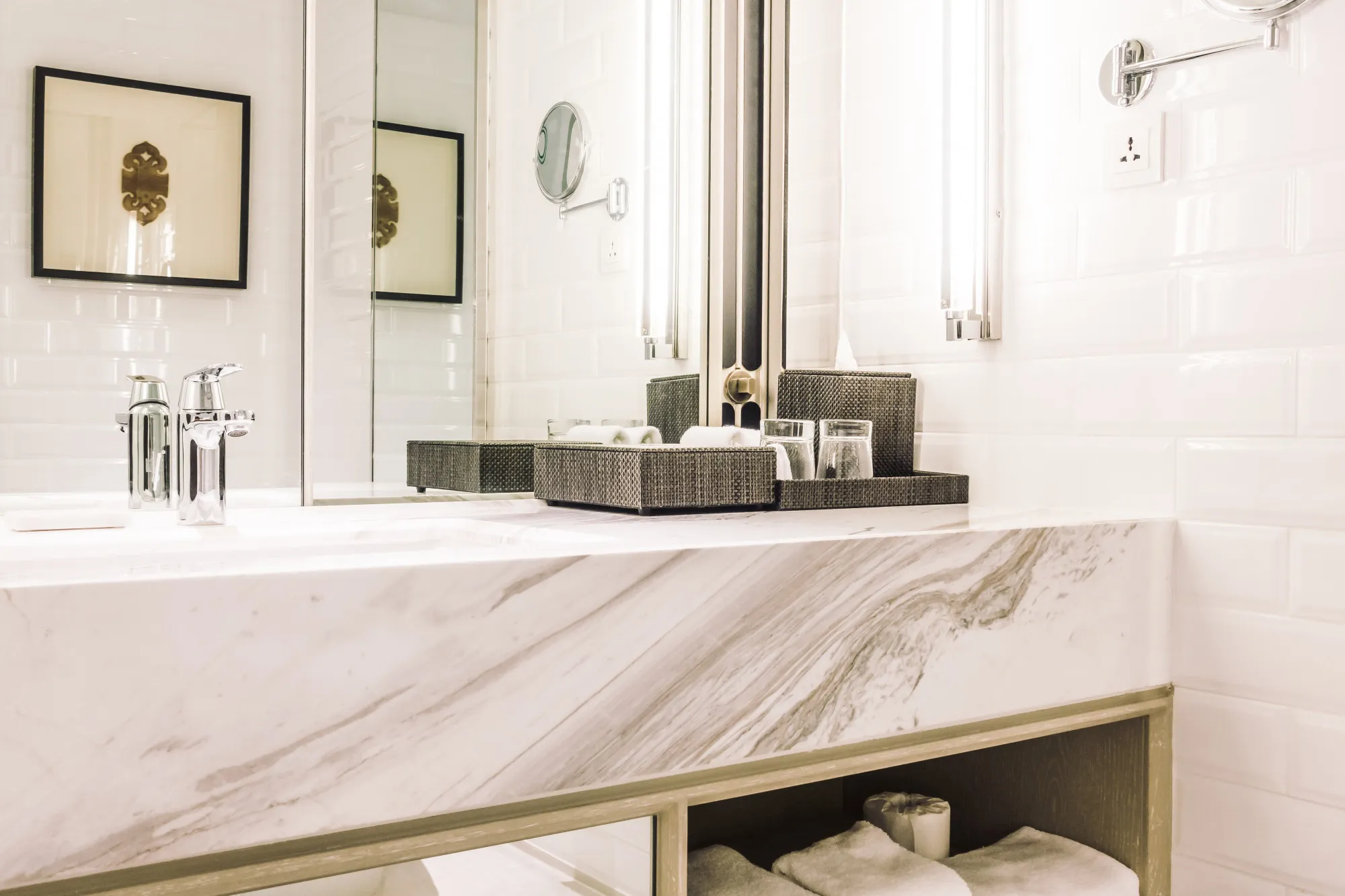 About Custom
If you can't find what you're looking for, don't forget that you can go with a custom bathroom vanity. Guilin Cabinets Professional Custom Bathroom Vanity Services in Irvine is the perfect solution for anyone in California looking to remodel a bathroom with a custom design. Our experienced and knowledgeable team of remodel, vanity, and cabinet experts specializes in quick turn-around times, no tear-out, and budget-friendly countertop redos. With our custom bathroom vanity service, you can trust that you'll get the best possible results at a fraction of the cost and with minimal effort on your part
=> Our Service For Bathroom: Guilin Cabinets – Remodeling Contractor in Irvine CA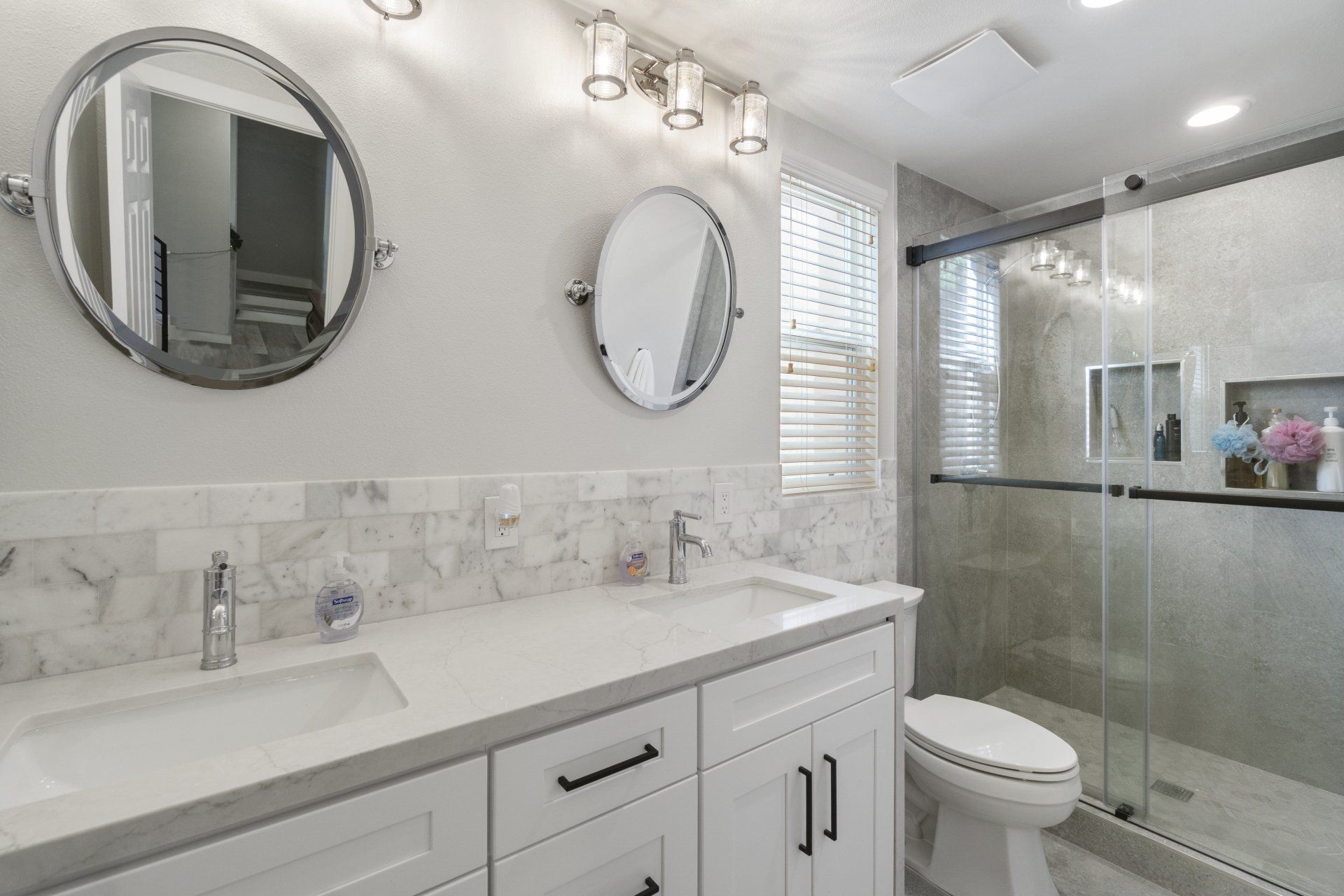 Conclusion: There is No The Best To Fits-all Solution
Choosing the right bathroom vanity top for your home bathroom is a crucial decision. With so many different factors and options to choose from, it can be difficult to decide which one is the best for you. Ultimately, it is up to you to decide which vanity top is the best fit for your home and lifestyle. Consider carefully your budget, and your needs, and you will be sure to find the good vanity countertops to complete your bathroom.
=> Read more: 10 Common Problems Of Bathroom Vanity You Can Avoid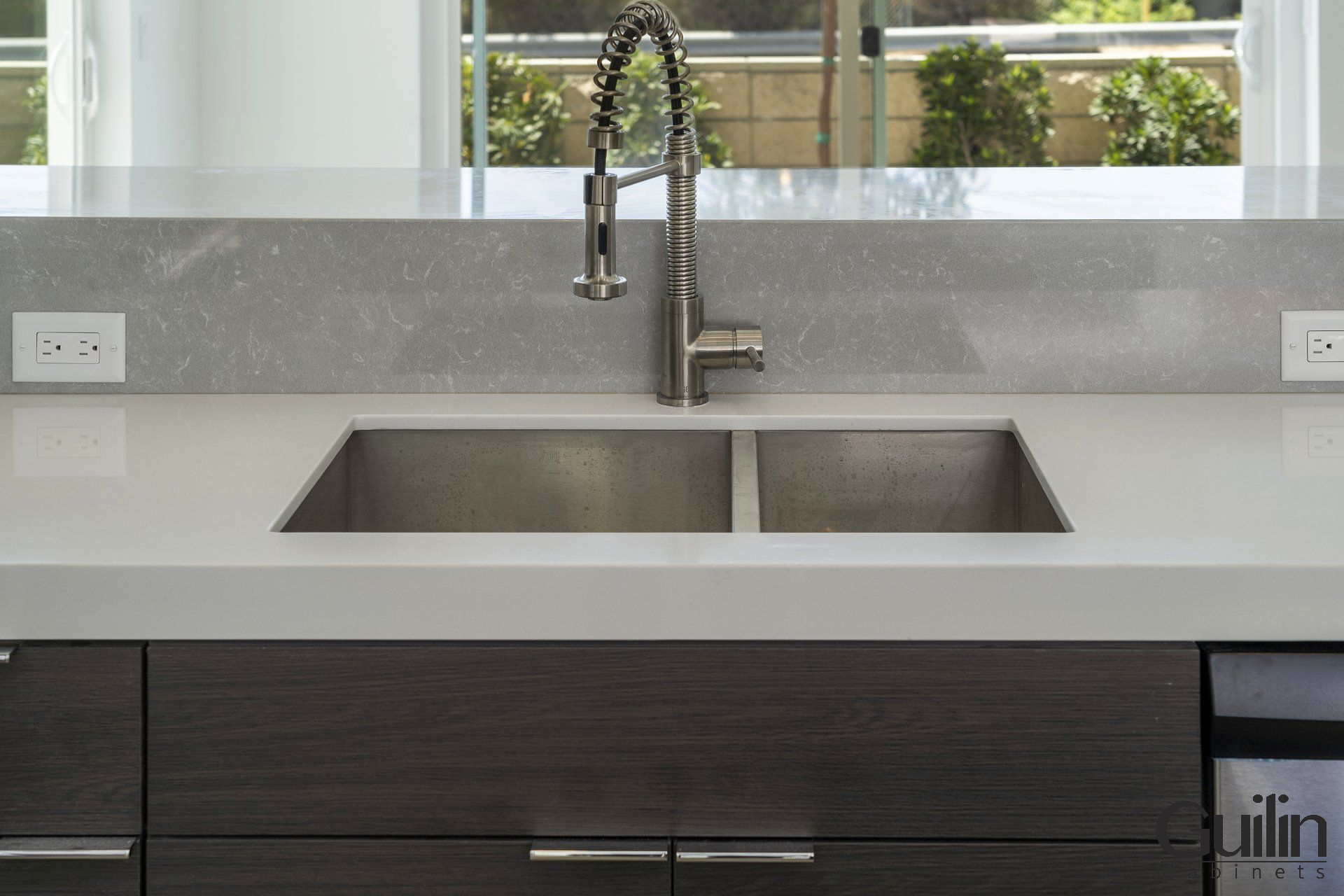 Faqs About How To Choose Bathroom Vanity Countertops?
What common materials are bathroom vanity countertops made of?
Bathroom vanity countertops can be made from a variety of materials that have unique characteristics and advantages. Among the most commonly used materials are granite, marble, quartz, solid surface, concrete, and tile.
What factors should I consider when choosing a material for my bathroom vanity countertop?
Consider factors such as durability, maintenance, cost, style, and functionality. For example, granite and quartz are very durable and low-maintenance but can be more expensive than other materials. Tile can be a more cost-effective option, but may require more maintenance.
What edge styles are available for bathroom vanity countertops?
How do I maintain my bathroom vanity countertop?
Regular cleaning is essential. Look for materials that are easy to clean and do not require special care. For example, quartz and granite countertops are easy to clean with a soft cloth and mild soap, while natural stone requires regular sealing. => Read more: How to Clean Bathroom Vanity Countertops
How much should I expect to pay for a bathroom vanity countertop?
That depends on your need! The cost of bathroom vanity countertops varies depending on the material, size, and style. For example, solid surface countertops are typically less expensive than natural stone. Expect to pay anywhere from a few hundred dollars to several thousand dollars for a high-end countertop. => Read more: The Average Price of Different Countertops
The Biggest Difference Is Dimensions! Kitchen cabinets are typically between 30 and 42 inches in height, while bathroom cabinets are usually between 24 and 30 inches in height. The depth of kitchen cabinets can also vary, with some as shallow as 20 inches and some as deep as 24 inches or more, depending on the model and the space available. Bathroom cabinets tend to have a much shallower depth, usually between 12 and 21 inches, to fit within the smaller space. => Read more: Difference Between Kitchen Cabinets And Bathroom Cabinets
How often do I need to replace my bathroom vanity countertop?
The lifespan of your bathroom vanity countertop will depend on the material and how well it is maintained. For example, on average, a laminate countertop can last anywhere from 10 to 20 years. Granite countertops can last about 40 to 70 years. => Read more: How Long Do Laminate Countertops Last?