When it comes to kitchen design, there is definitely no shortage of options. From traditional designs to layouts that maximize space, there is something for everyone. However, one of the most popular design trends is the G-shape kitchen. In this blog post, we will explore what this kitchen design is all about, as well as the pros and cons of this type of layout. Let's dive right in!
=> Read More: Types Of Kitchen Layout: L-Shape, U-Shape, G-Shape, Galley, and More
Some of the more common kitchen layouts include:
What is a G-shaped Kitchen Design?
The G-shaped kitchen is aptly named for its resemblance to the letter 'G' in its design. It offers four sides of kitchen counter space, making it similar to a U-shaped kitchen which has three sides. A G-shaped kitchen layout is a kitchen design that features a breakfast bar or peninsula attached to the kitchen's main work area. This type of kitchen layout is a variation of the popular U-shaped kitchen layout, and it provides extra counter space and storage. The G-shaped kitchen layout also helps to create a more efficient workflow, as the extra counter space makes it easier to move from one kitchen task to the next.
Type of G-shaped Kitchen Design?
Peninsula G-Shaped Kitchen
The G-shape of the kitchen refers to the overall layout, which consists of three walls of cabinets and appliances that are arranged in a U-shape, with the fourth wall being the peninsula. This layout allows for plenty of counter and storage space, as well as a centralized location for the cook to work. Additionally, having a peninsula in the kitchen provides an extra surface for food preparation or a place for guests to sit and chat while the cook prepares the meal.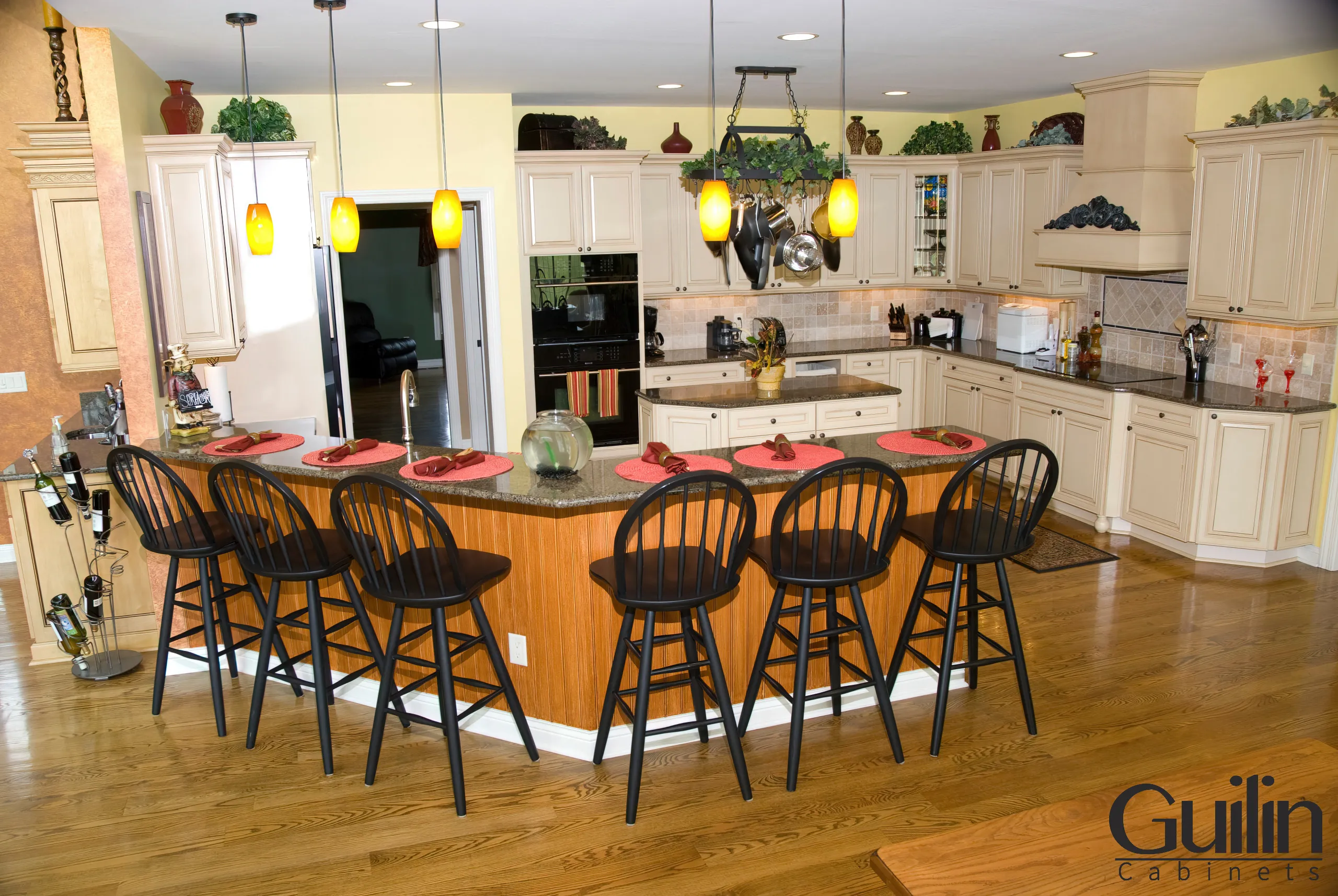 Island G-Shaped Kitchen
An Island G-Shaped Kitchen is an innovative kitchen design that combines the benefits of G-shaped designs with the added convenience of a central island. In this layout, the kitchen is designed in a G-shape, with ample counter and storage space, and the island is placed in the center. This significantly improves functionality by providing you with additional working and leisure space that can be used for cooking, meal prep, and dining.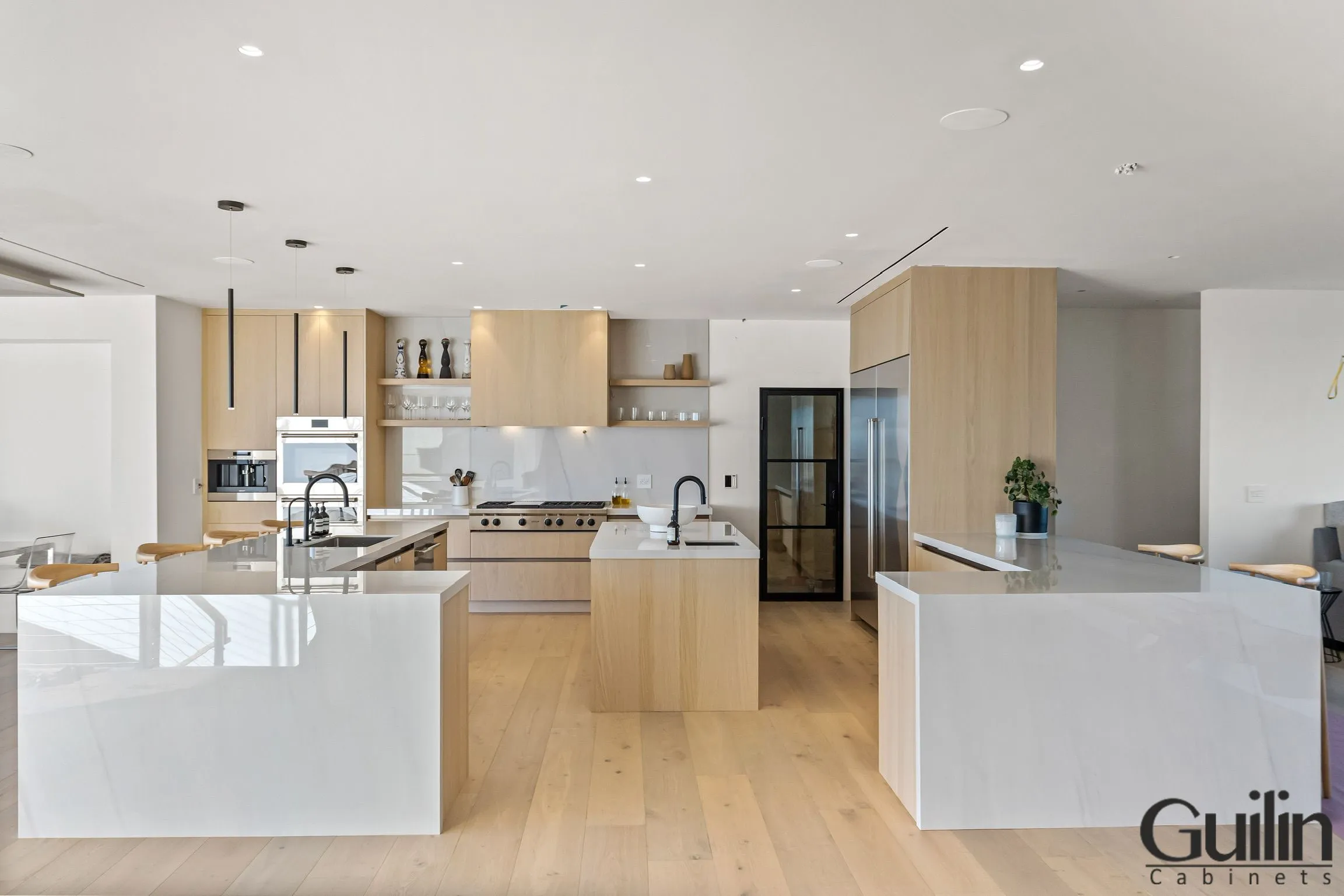 Open G-Shaped Kitchen
One of the other benefits of an open G-shaped kitchen is that it creates a natural gathering space for family and friends. With the open-concept design, the kitchen becomes a hub for the home, encouraging socializing and mingling between different areas. This makes it ideal for entertaining, as guests can easily flow from the living room or dining area to the kitchen.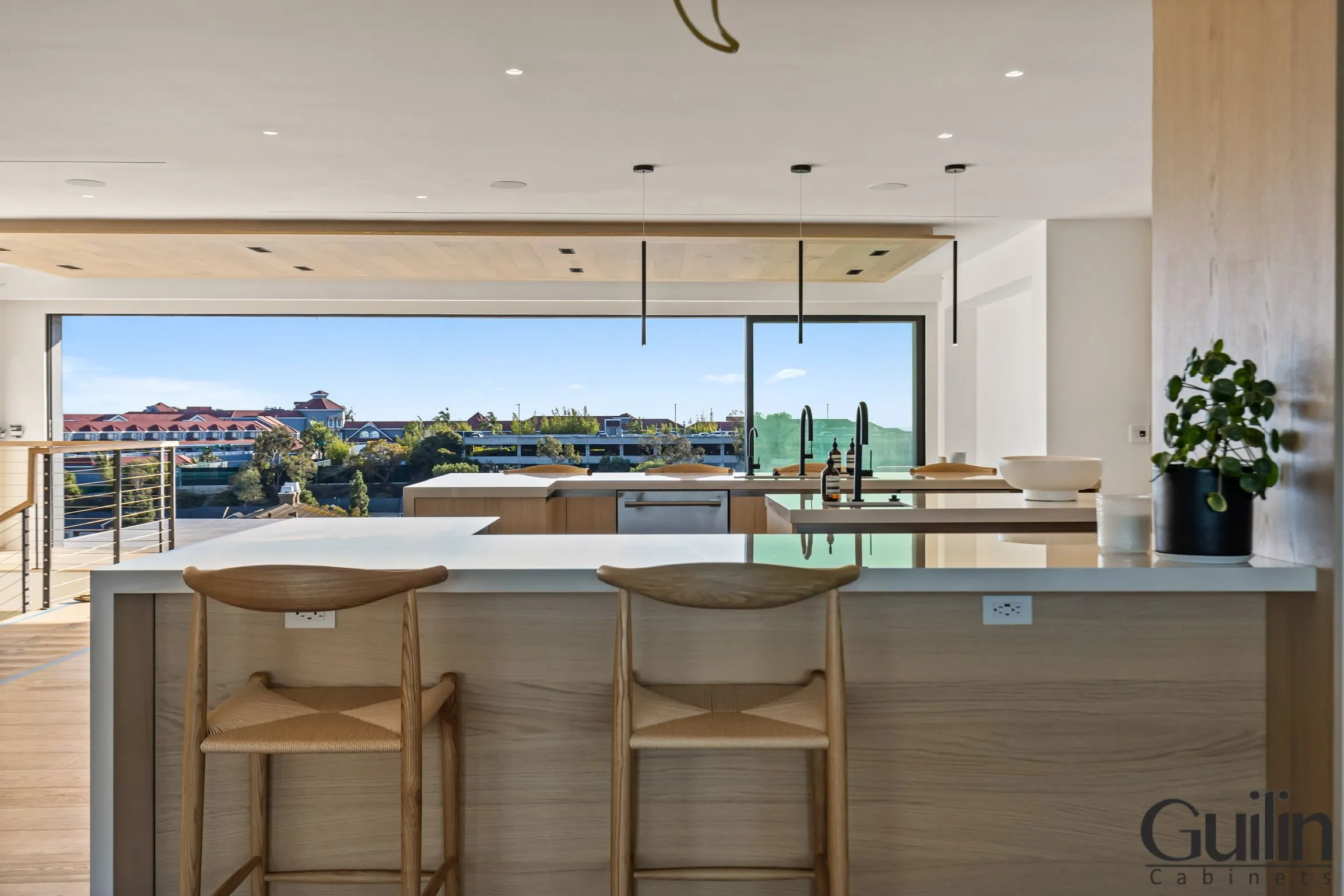 Parallel G-Shaped Kitchen
A Parallel G-Shaped Kitchen is a popular kitchen layout amongst homeowners and chefs. It features a G-shaped design, with three walls of cabinets and appliances forming the shape of the letter G. However, the defining feature of this layout is the addition of a parallel wall that runs opposite to one of the walls that forms the G-shape.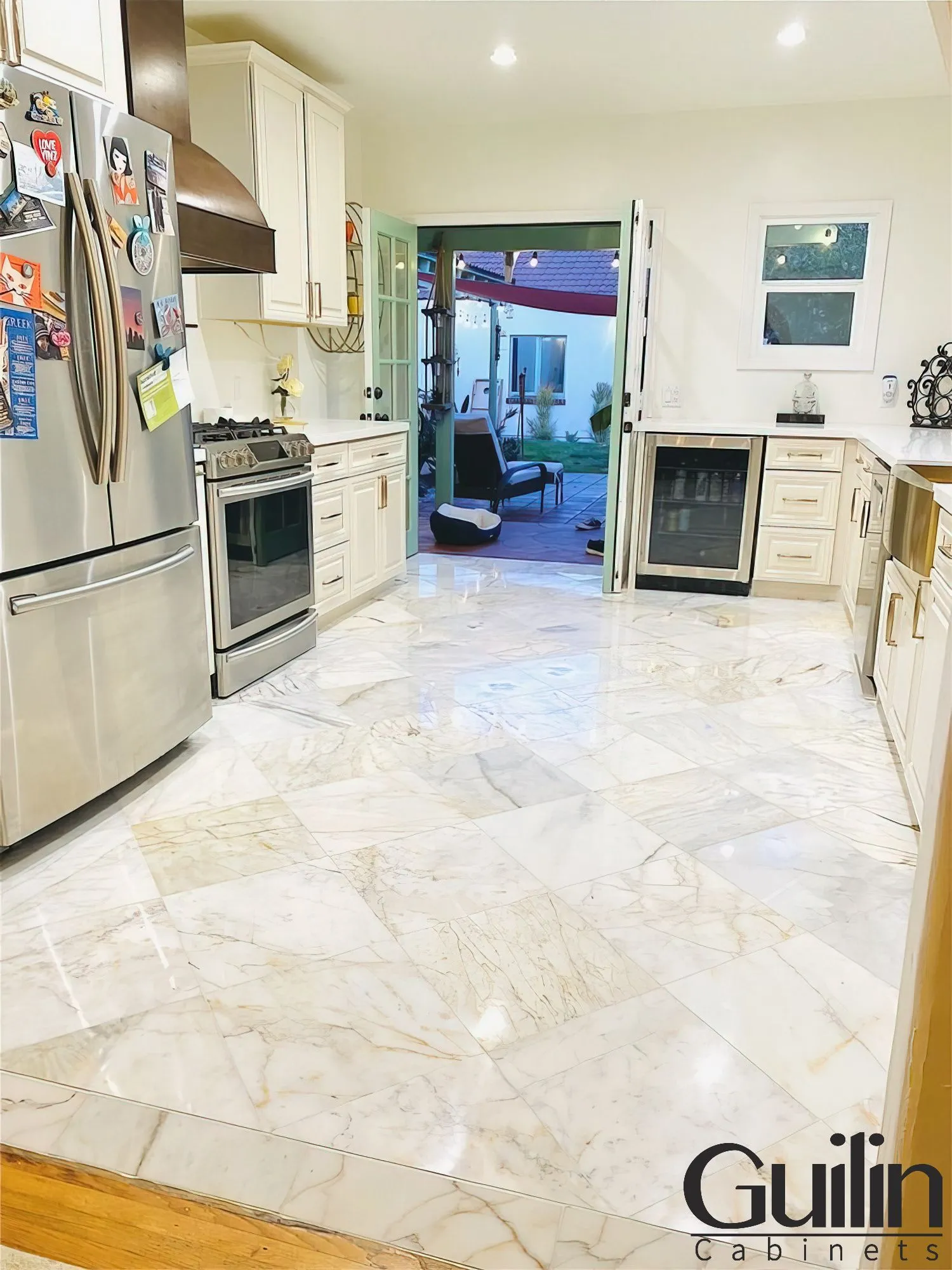 Pros of a G-shaped Kitchen Design
The G-shaped kitchen is a great choice for homeowners looking for a functional, efficient, and spacious kitchen. With its unique layout, it offers a variety of benefits that other kitchen designs can't match.
More storage space:
The G-shaped kitchen is a great choice for those who need more storage space in their kitchen. It is designed in a U-shape with a peninsula that juts out from the top of the U, creating a G-shape. This layout allows for plenty of countertop space and storage that is usually not found in other kitchen designs. The extra countertop space allows for more workspace for meal preparation, while the additional cabinets and drawers provide ample storage for kitchen items.
G-shaped kitchens can also be used to create a semi-open plan kitchen, giving the kitchen a spacious and open feel. The peninsula can be used to create a casual dining area or breakfast bar. Additionally, G-shaped kitchens provide more accessibility to each side of the kitchen, making it easier to reach items on the other side. This type of kitchen also offers flexibility in terms of furniture, appliances, and accessories as the layout can be customized to meet the specific needs of the homeowner.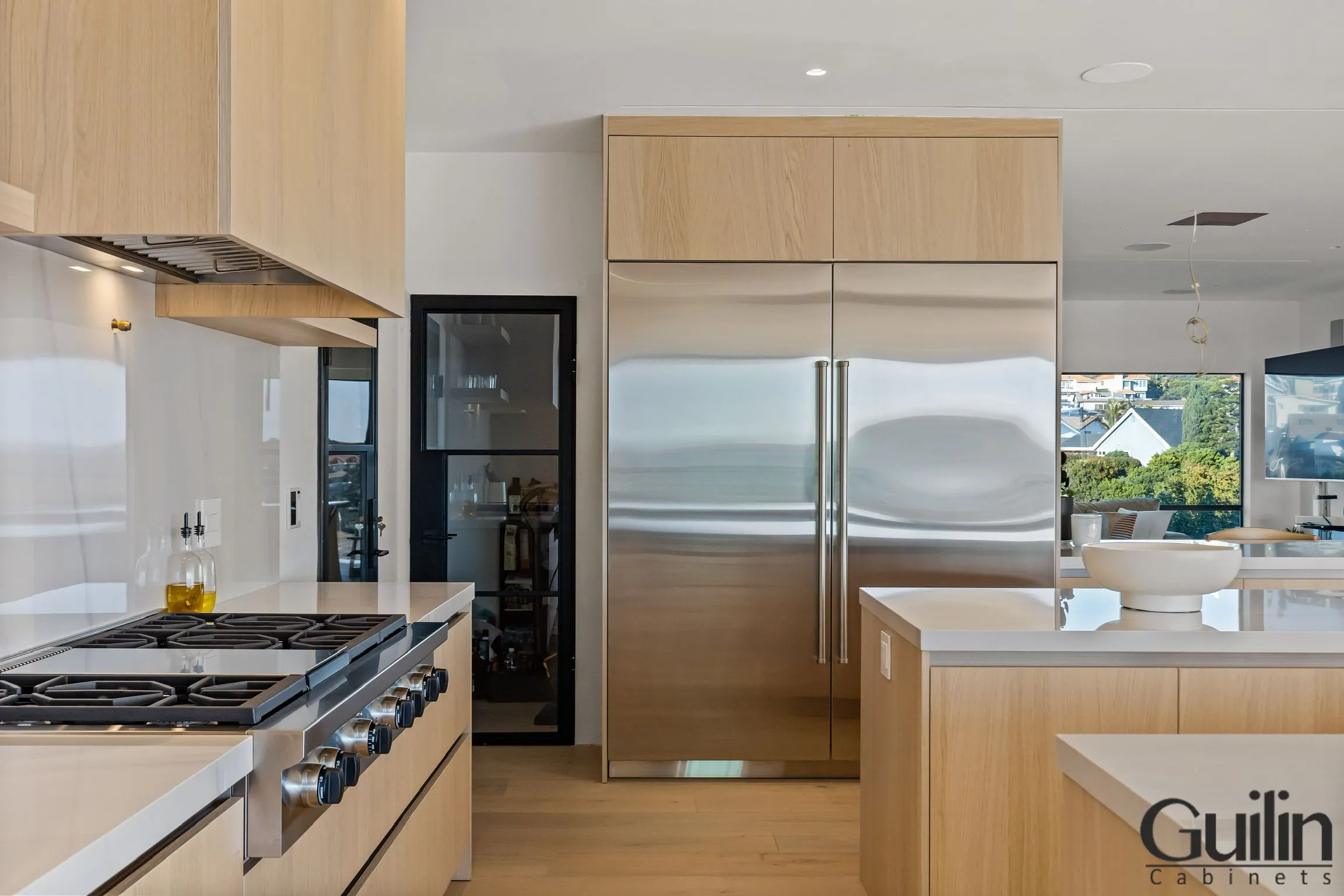 Easy to Customs:
The versatility of the G-shaped kitchen allows it to be tailored to individual needs and preferences. Unlike other kitchen layouts, the G-shaped kitchen allows you to easily incorporate an island into the design. This gives you more room to work, store and entertain in your kitchen. Additionally, the G-shaped kitchen can be modified to fit into any space, whether it be a small galley kitchen or a larger open-plan living space. The G-shaped kitchen is also well-suited to larger households, as it allows for plenty of storage and counter space.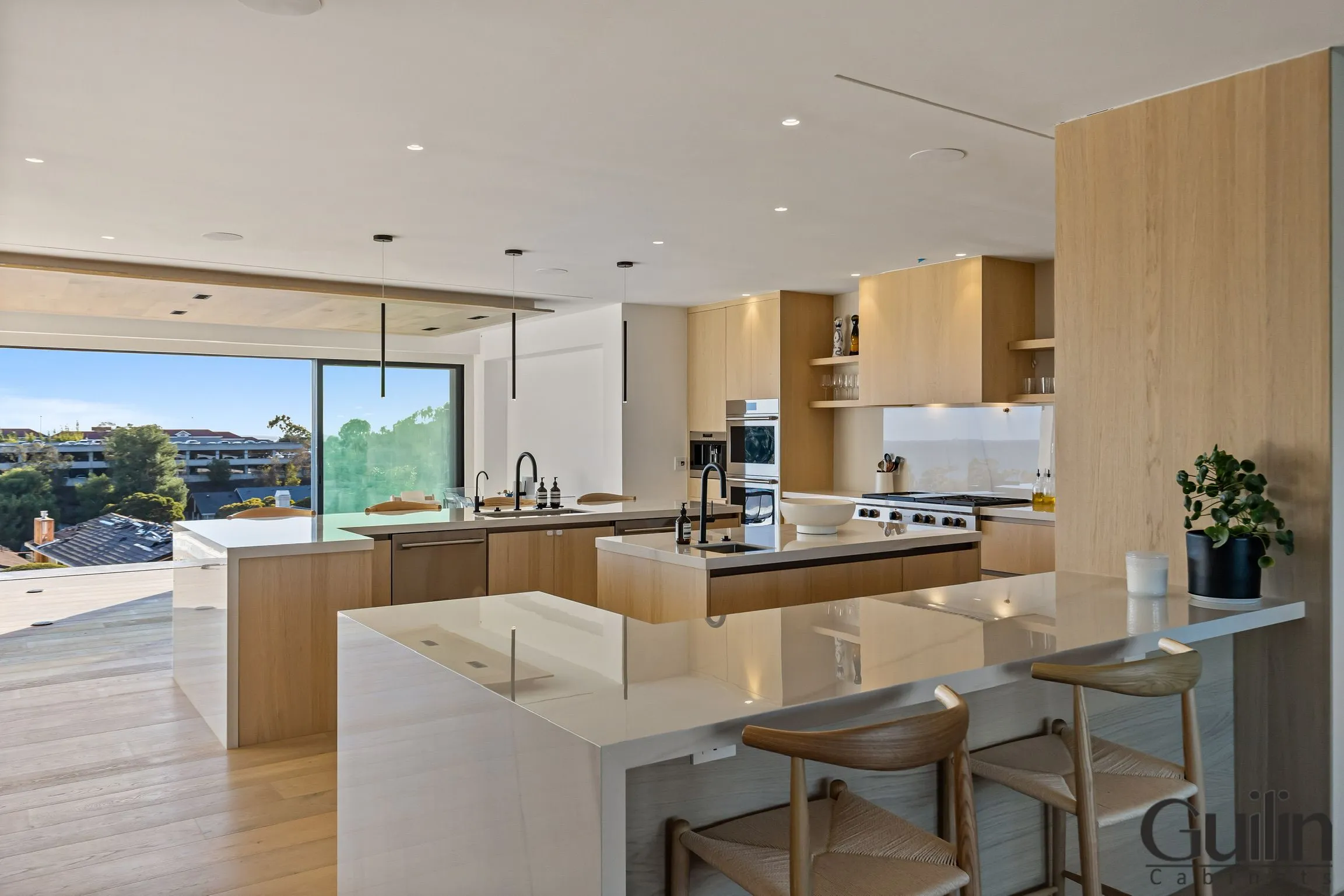 Extra seating:
This type of kitchen provides ample storage and workspace for a variety of activities, but it also has an additional benefit: extra seating. The "G" shape of the kitchen creates an area where a breakfast bar or additional seating can be easily added. This additional seating can be used for a variety of activities, from casual conversations to multi-course meals.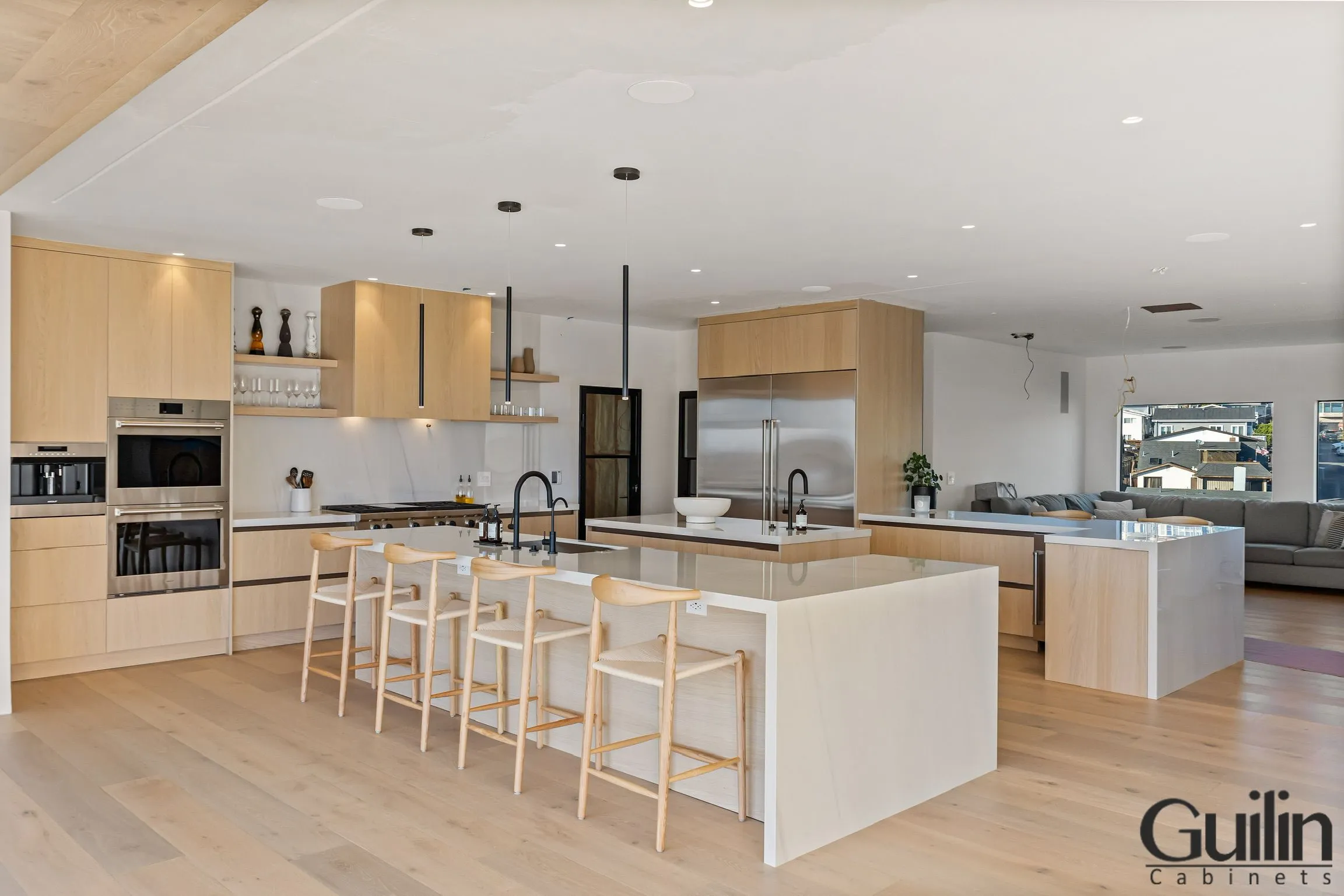 Cons of a G-shaped Kitchen Design
Request lots of space:
The G-shaped layout is an extension of the U-shaped layout. It offers an extra counter extension that curves out to create a "G" shape. This extra space is excellent for adding more counter space, appliances, or even a sink. However, this design takes up a lot of floor space, which can reduce the overall functionality of your kitchen. G-shaped kitchen space is perfect for large families or those who love to entertain guests while cooking. This layout typically requires a minimum of 10′ x 10′ space to achieve a functional design that maximizes your kitchen's potential. The key to creating a functional, and access point into the kitchen should be at least 36″ wide. In Addition, it's not advisable to stop there as having a wider access point, around 42″-48″, is recommended to reduce disruptions in the traffic flow going in and out of the kitchen area. Notably, this is particularly important when you have guests over, making it easier for them to move around freely.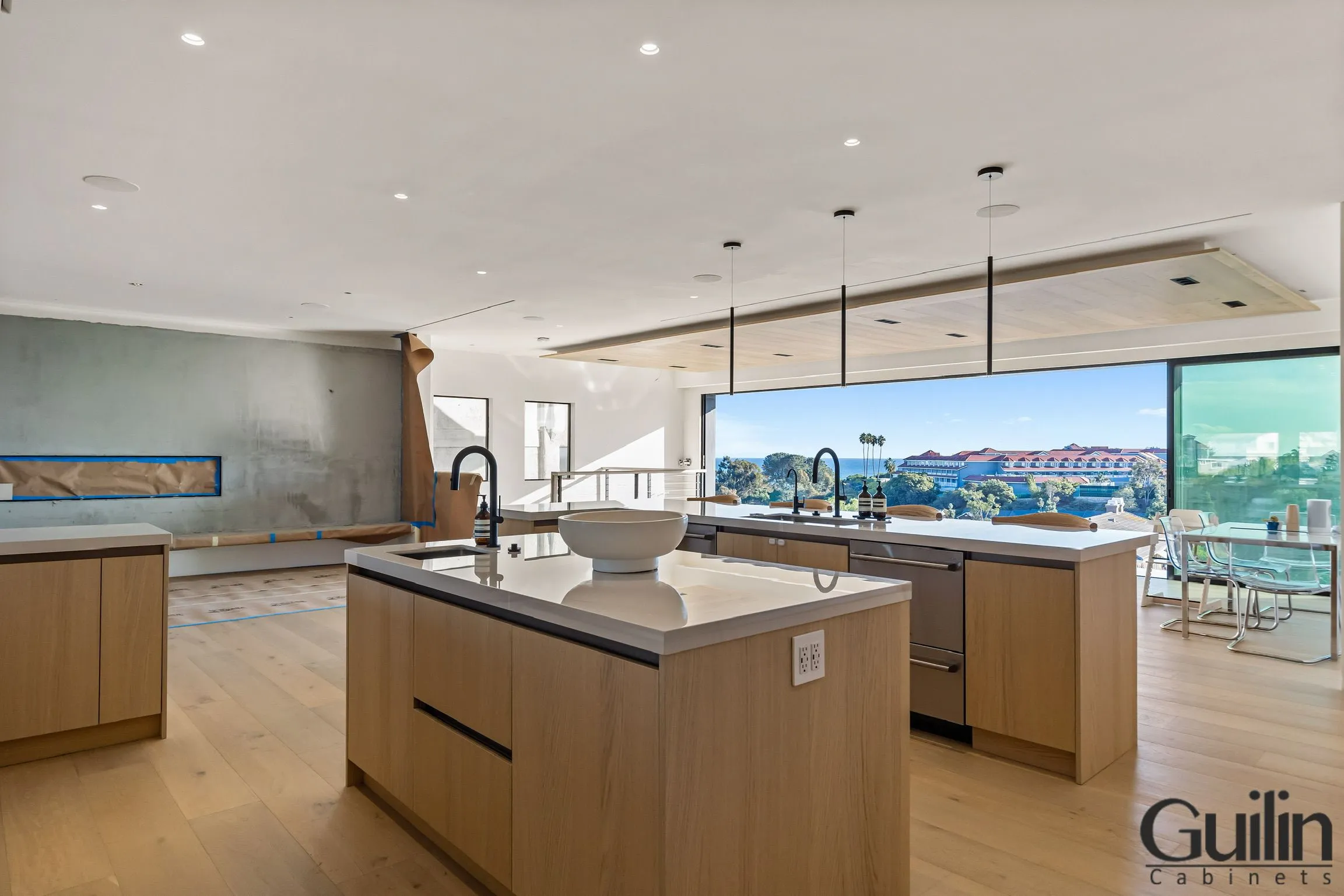 Difficult to access the corner:
The corner of your G-kitchen is an important storage area, so it's essential to ensure that it remains easily accessible. To overcome this issue, consider installing pull-out shelves or lazy susans in the corner cabinets. These solutions can help you maximize the space and ensure that you can easily reach everything you need. Another option is to incorporate an island into your G-shaped kitchen. This can create a more open space and make accessing the corner cabinets easier. Additionally, an island can provide extra counter space and storage, making your kitchen even more functional.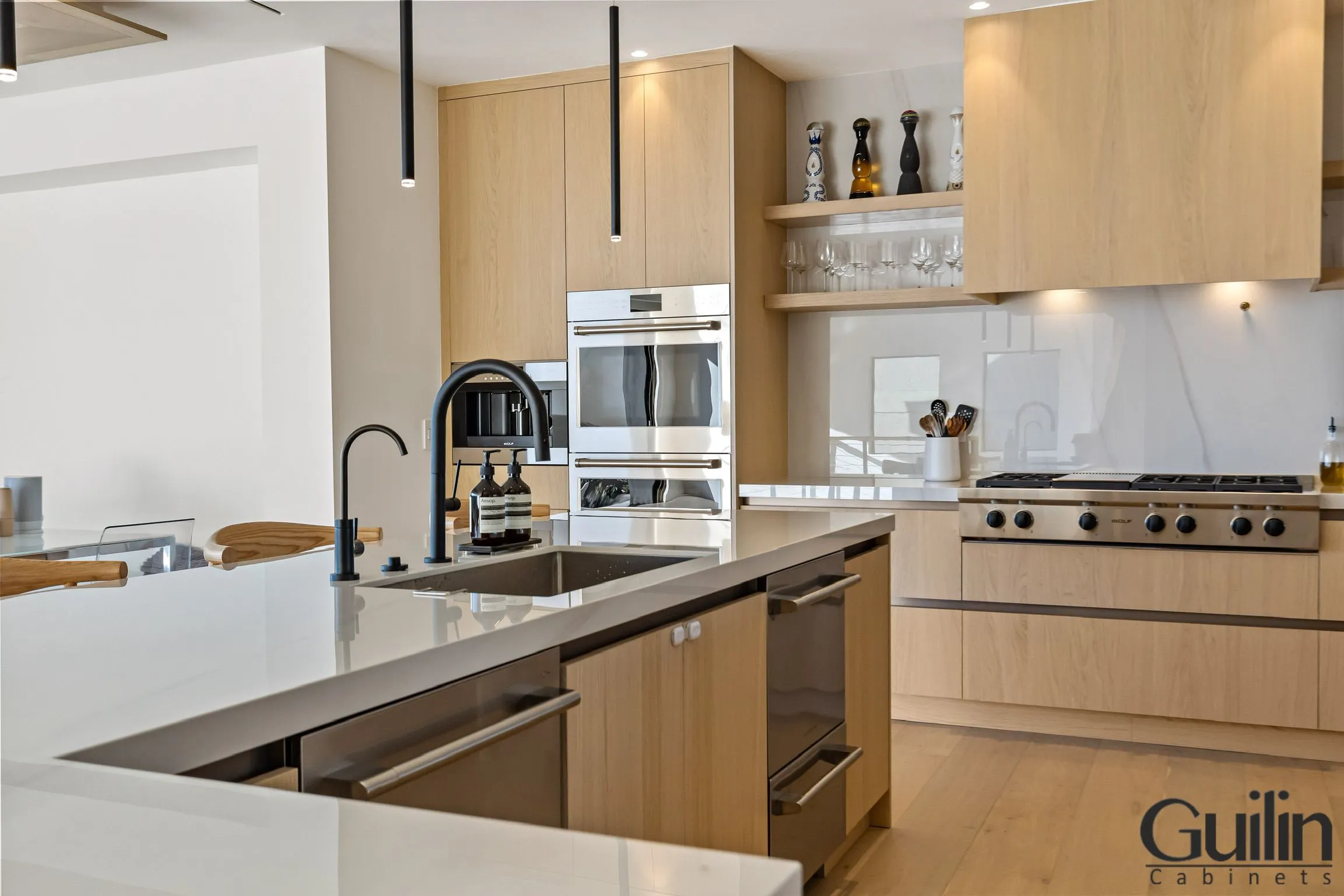 High-Cost:
G-shaped kitchens are considered to be one of the most luxurious and spacious kitchen layouts, boasting ample counter space, plenty of storage, and a convenient flow. However, all these benefits come at a price – literally. The high cost of G-shaped kitchen layouts is primarily attributed to its complexities in terms of design, construction, and materials.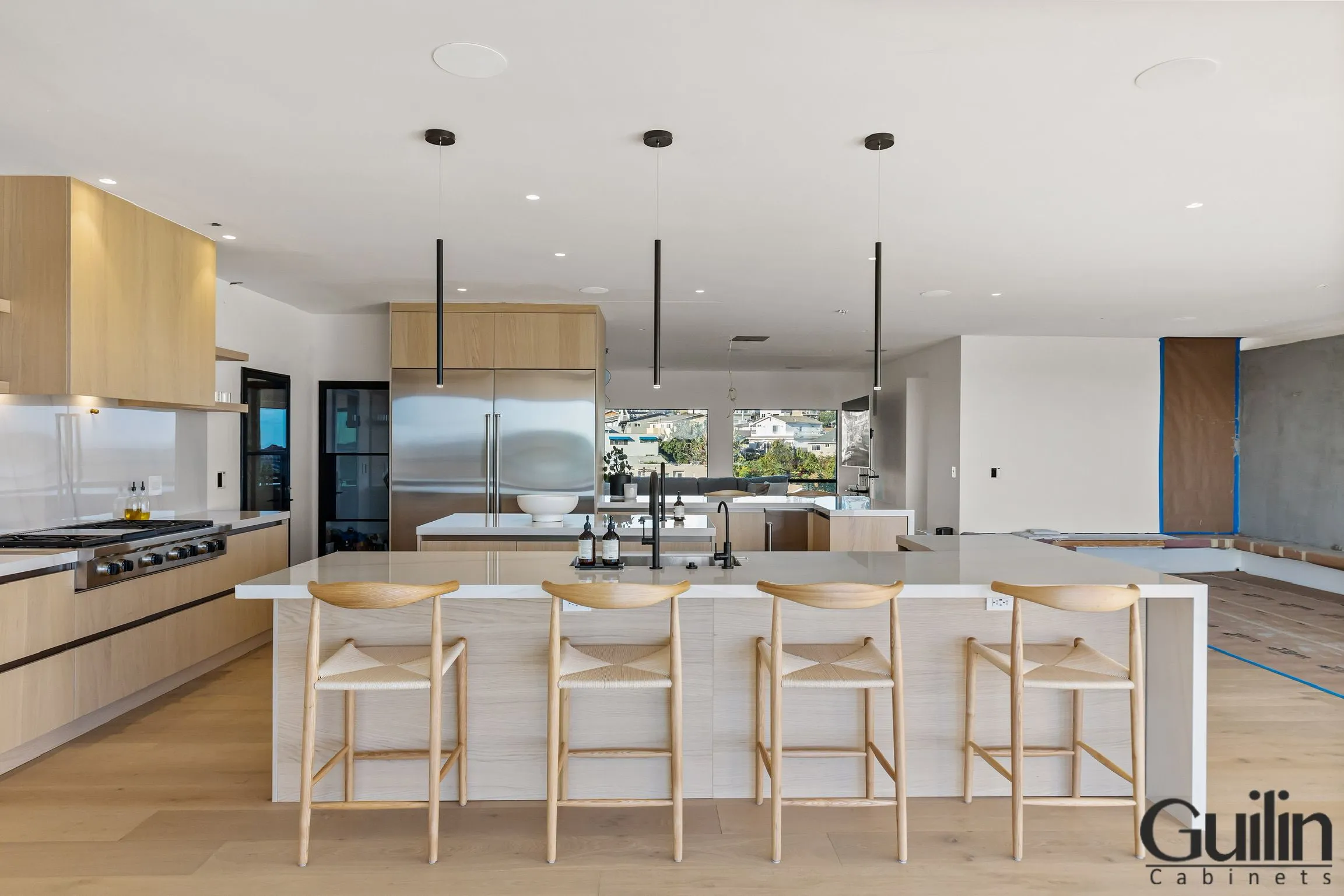 G Kitchen Layout Design Ideas From Guilin Cabinets Projects
Whole Home Remodel For a New Family Irvine California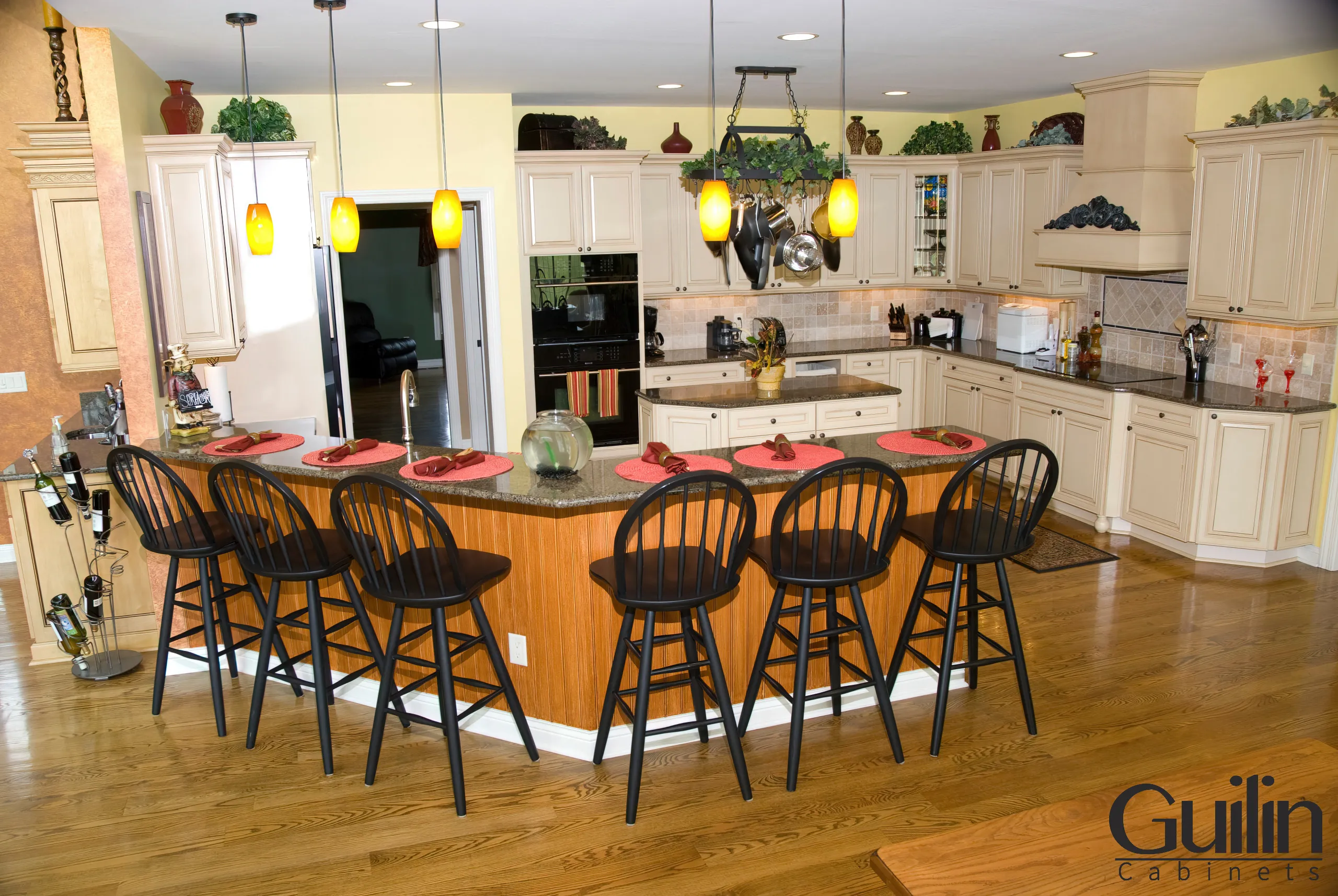 Scandinavian Kitchen Remodel and Refresh in San Luis Obispo, CA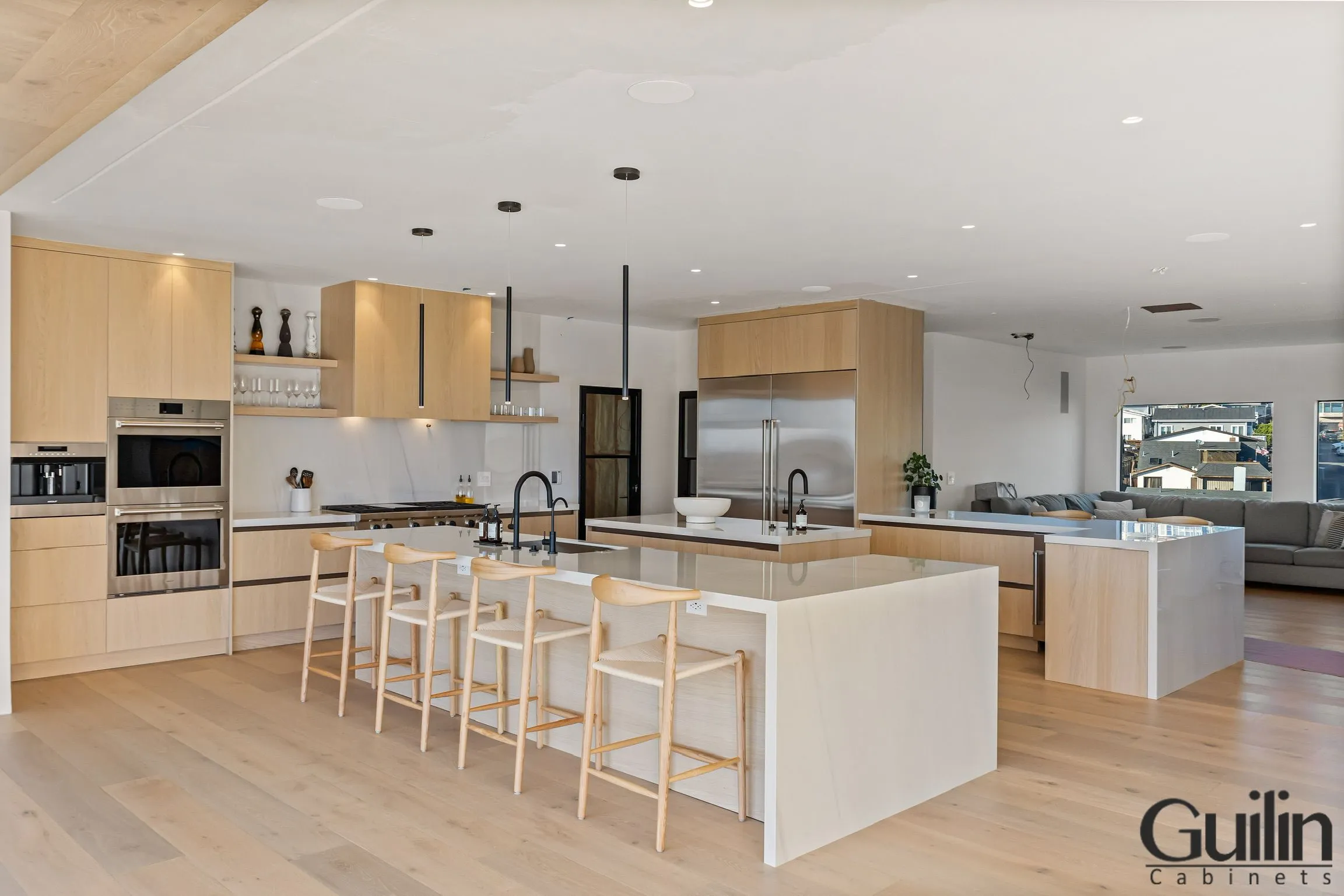 Contemporary, Rustic Kitchen Remodel in Chino Hills, California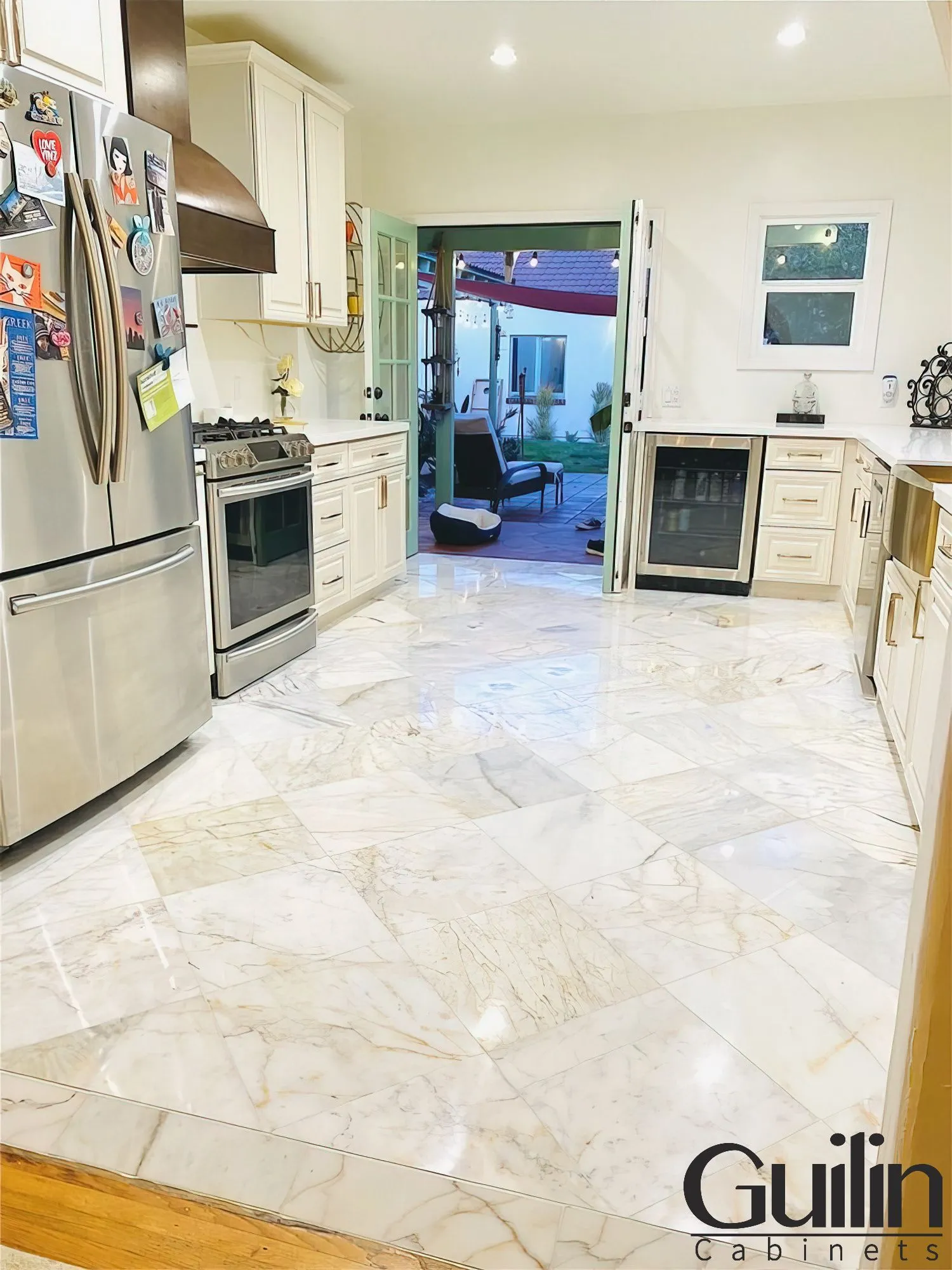 FAQs about G-Kitchen Layout:
What are the Best advantages of using a G-Kitchen layout?
One of the most significant advantages of a G-Kitchen layout is that it allows for better traffic flow within the kitchen. The peninsula creates a natural barrier between the kitchen and other areas of the home, making it easier for people to move around without obstructing the cooking or working areas. Additionally, the additional counter space and storage offered by the peninsula can be used for meal preparation or entertaining guests.
What are the Biggest disadvantages of using a G-Kitchen layout?
One of the biggest disadvantages of a G-Kitchen layout is that it requires more space than other kitchen layouts. The peninsula may consume a significant amount of floor space, making it challenging to create a functional and comfortable kitchen if the space is limited. Additionally, the peninsula may block access to certain areas of the kitchen or make it more difficult to move large appliances or furniture.
How can I make the most of my G-Kitchen layout?
To make the most of your G-Kitchen layout, consider incorporating smart storage solutions such as pull-out drawers or shelves under the peninsula. It's also essential to have good lighting in the kitchen, particularly around the peninsula, as it will be used frequently for food prep and socializing. Finally, be mindful of the traffic flow in the kitchen and ensure that there are clear pathways for people to move around without disrupting the cooking or working areas.
Can I customize my G-Kitchen layout?
 Yes, you can customize your G-Kitchen layout to fit your specific needs and preferences. For example, you may choose to add a sink or a cooktop to the peninsula for added functionality. Alternatively, you could extend the countertop to create a bar or breakfast nook for additional seating. The possibilities are virtually limitless, so don't be afraid to get creative and think outside the box when designing your G-Kitchen layout.