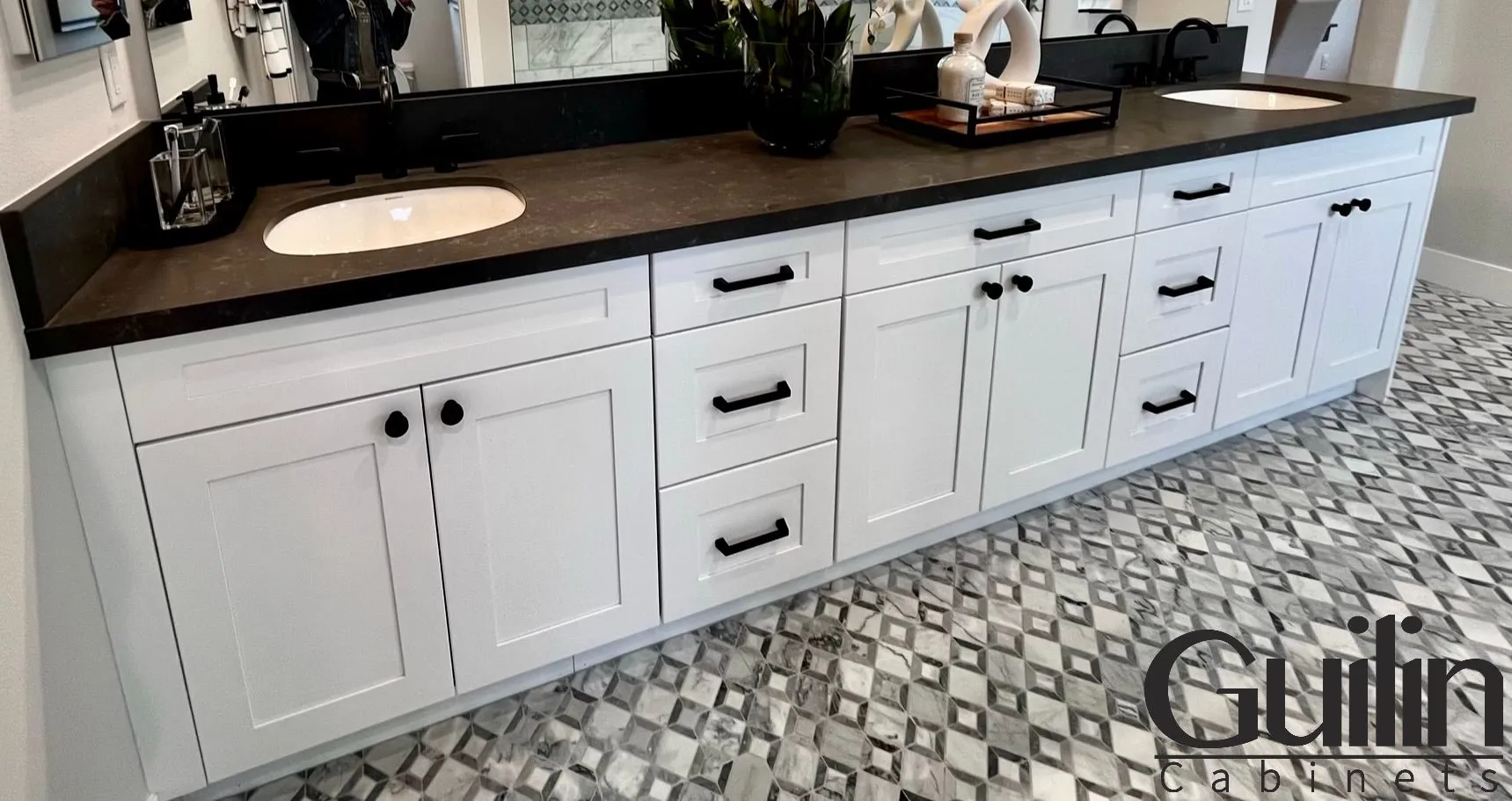 Powder room dimensions – The ideal powder room size is an essential consideration when designing or renovating a bathroom. Whether you are building a new home, buying a property, or looking to upgrade your current home, the powder room size has a significant impact on the bathroom's overall functionality and aesthetics. When opting for a powder room, determining the most common dimensions for small and medium-sized homes is essential.
=> Read more: The Benefits of Having a Powder Room in Your Home
The Standard Powder Room Sizes
For small homes, a standard powder room size is about 20 to 30 square feet, while for medium-sized homes, a standard size ranges from 35 to 50 square feet.
=> Related Service: Bathroom Remodel Company In Southern California – Guilin Cabinets
Small Powder Rooms: 20 to 30 square feet
The main advantage of a small powder room is that it takes up less room, which can be useful in tiny homes or city apartments. Small powder rooms also require less maintenance and cleaning, which might be preferable for those with busy schedules. On the other hand, a disadvantage is that a small powder room may feel cramped and uncomfortable to use, and it may not be ideal if you are hosting large events or have family members staying over.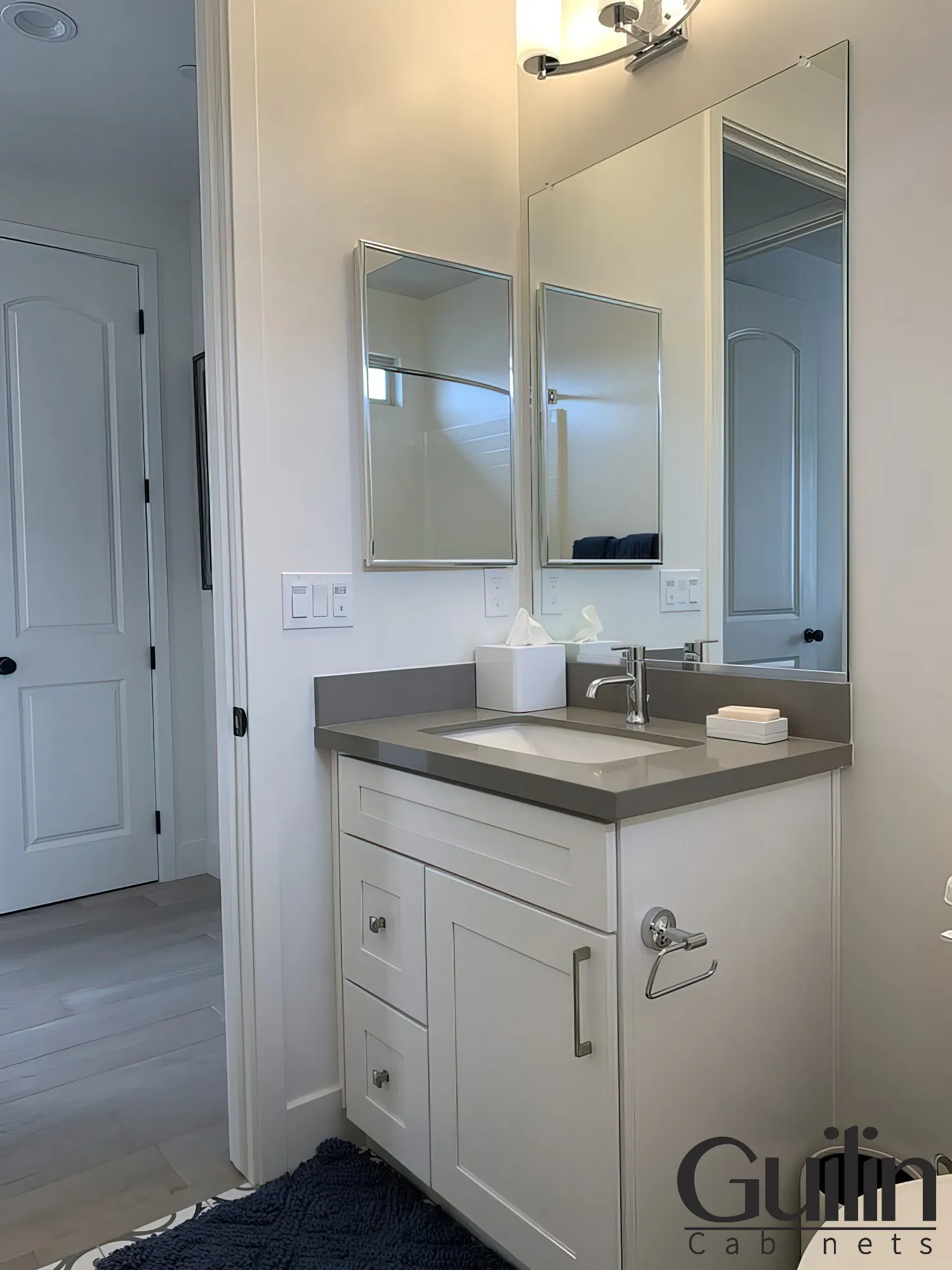 Medium-sized Powder Rooms: 35 to 50 square feet
For medium-sized homes, a larger powder room is more suitable, as it provides ample space for storage, fixtures, and other decorative accents. The main advantage of a larger powder room is that it allows for more functionality and versatility, and it can be used as a guest bathroom. It's also easier to manoeuver in a larger powder room, making it ideal for those with mobility issues or who require more space. However, the disadvantage of a larger powder room is that it may require more cleaning and maintenance, as well as more significant renovation costs.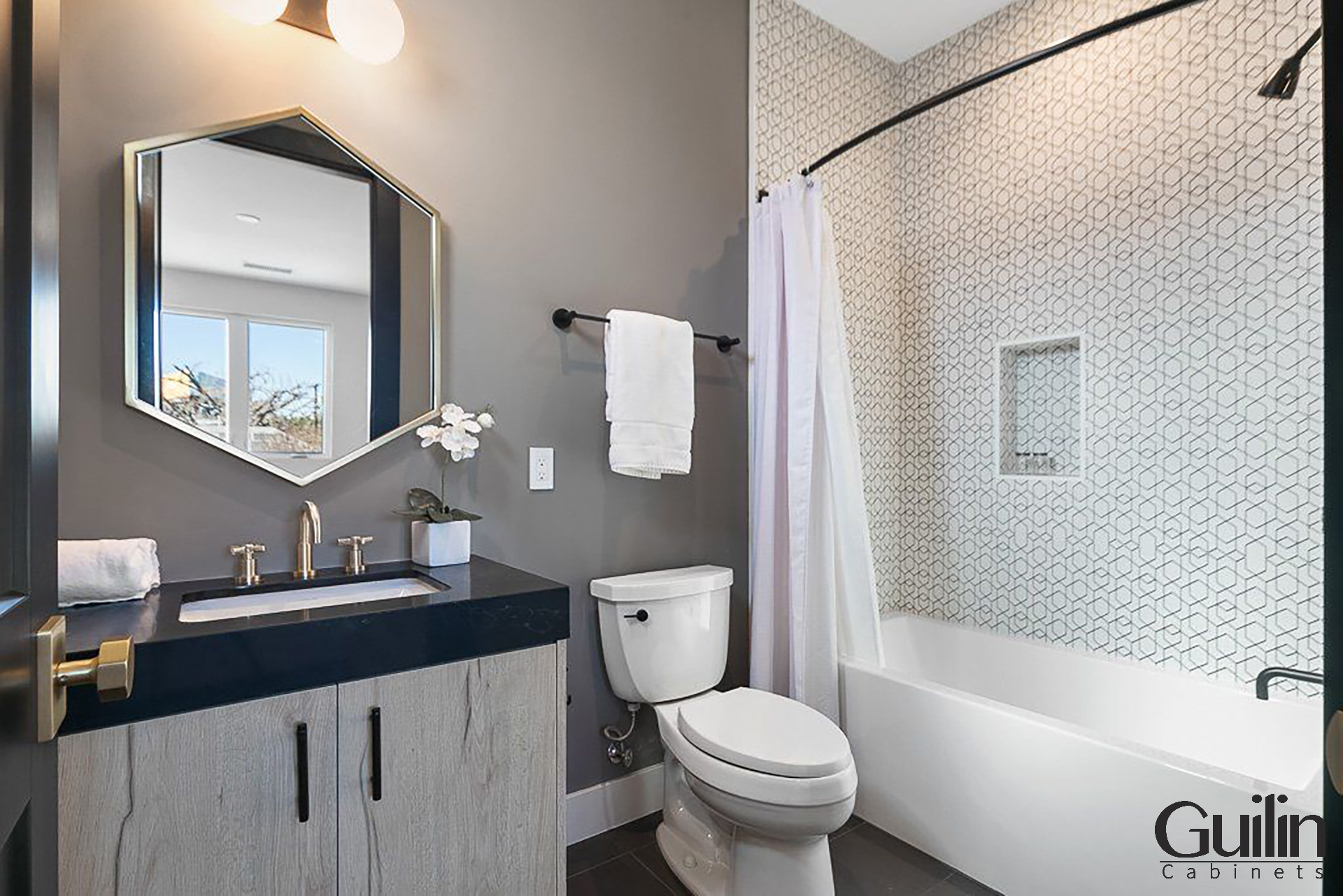 How to Choose the Right Powder Room Size
When you design a powder room, how to choose the right size is crucial. Not only does it determine how much space you will have for your fixtures and accessories, but it also affects the overall functionality and aesthetic of your space. So, what factors should you consider when selecting the appropriate size for your powder room?
Factors to Consider When Choosing Powder Room Size:
Available space
What you need
Style preferences
Your Budget
=> Read more: Where to Put a Powder Room in Your Home?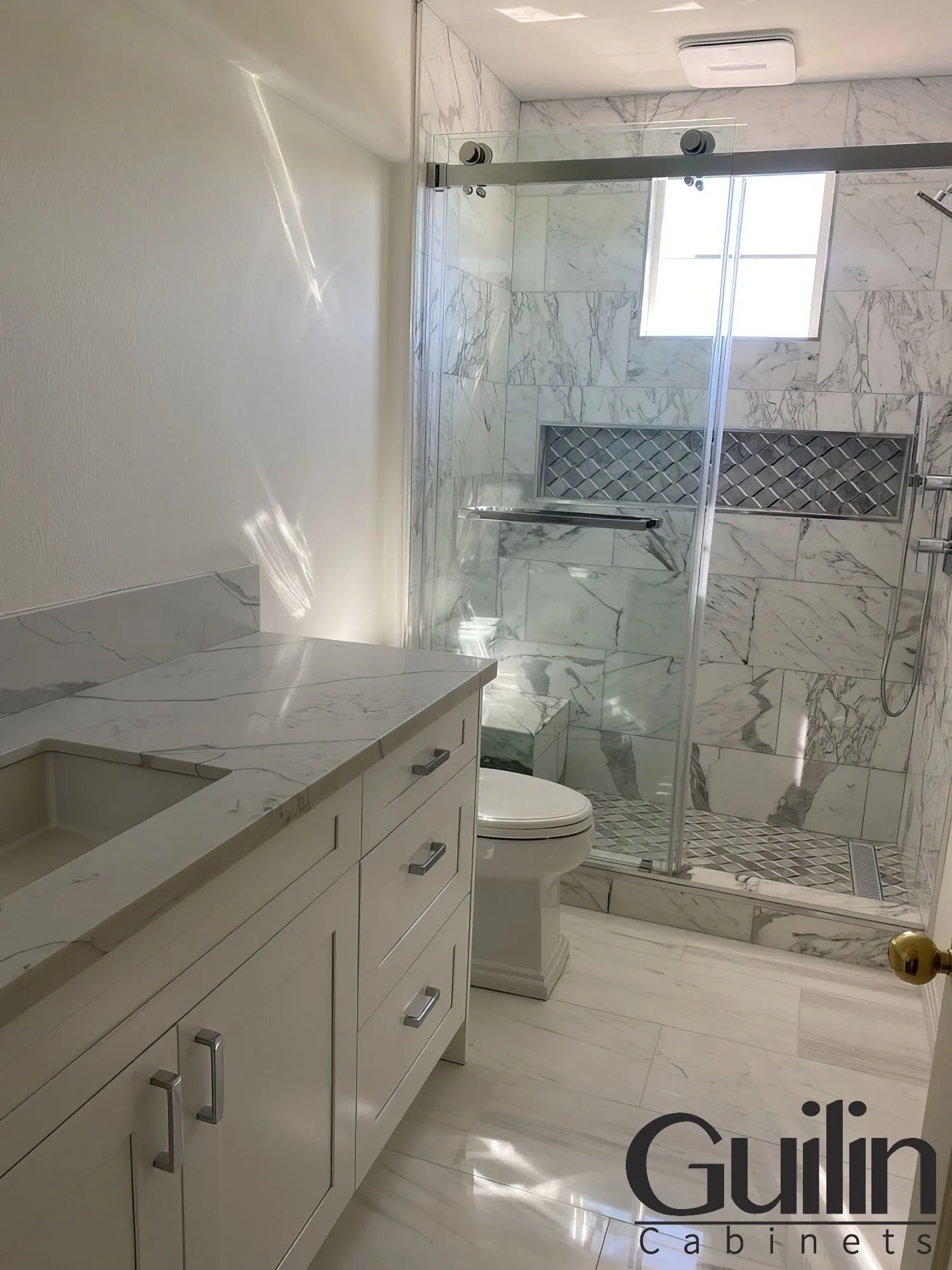 Available space in your home:
Available space plays a significant role in choosing the size of your powder room. It's essential to determine the exact dimensions of your available space before making any design plans. This will help you determine the maximum size of your powder room and how much space you should allocate to each element.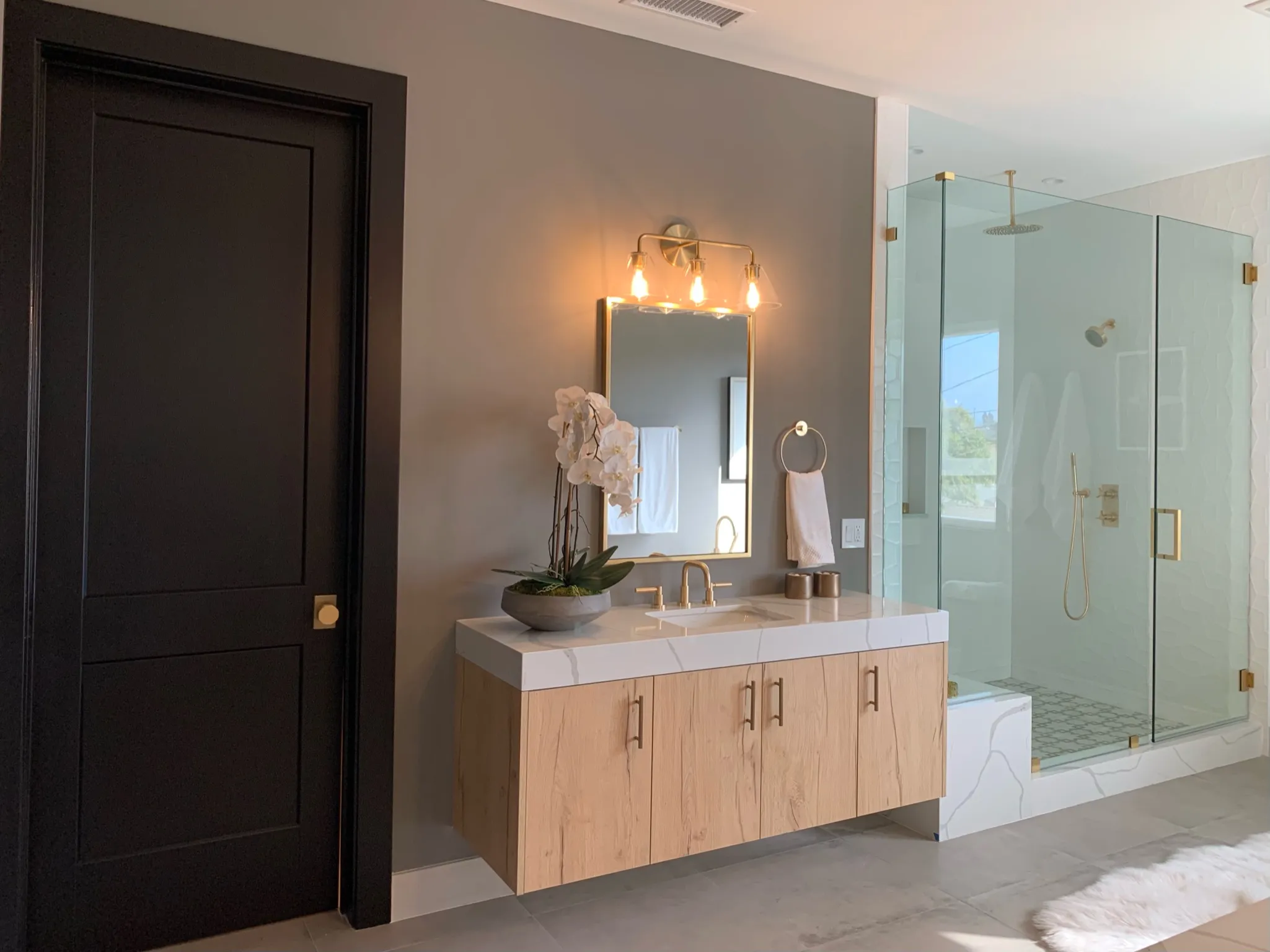 Depending on What you need:
Secondly, understanding your needs is also crucial in choosing the right powder room size. Factors like the number of people who will be using the powder room, their age, and accessibility requirements should be taken into consideration. You need to make sure that the size of the powder room can provide enough space for comfortable movement and use, considering the specific needs of your and maybe your guests.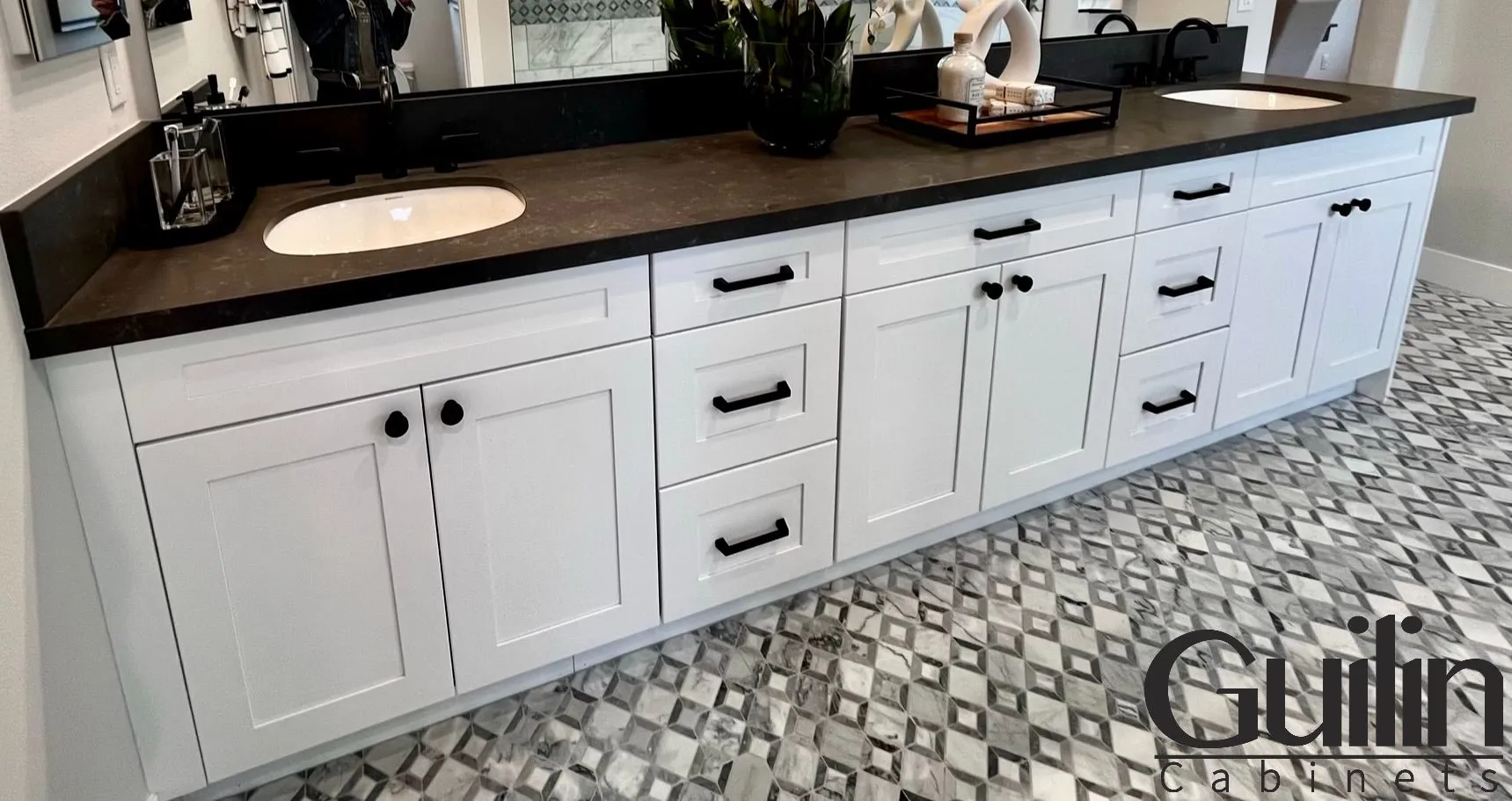 Your Style preferences:
Thirdly, your style preference is another essential factor in choosing the right powder room size. If you have a specific design style in mind, it's essential to consider how it will affect the size of the powder room. For instance, if you prefer a minimalist design, you may want to choose a smaller size to create a sleek and less cluttered look. On the other hand, if you prefer a more luxurious and grand design, a larger powder room size may be needed to meet your design goals.
=> Read more: Guest Bathrooms Ideas, Trends, Tips to Make It Better?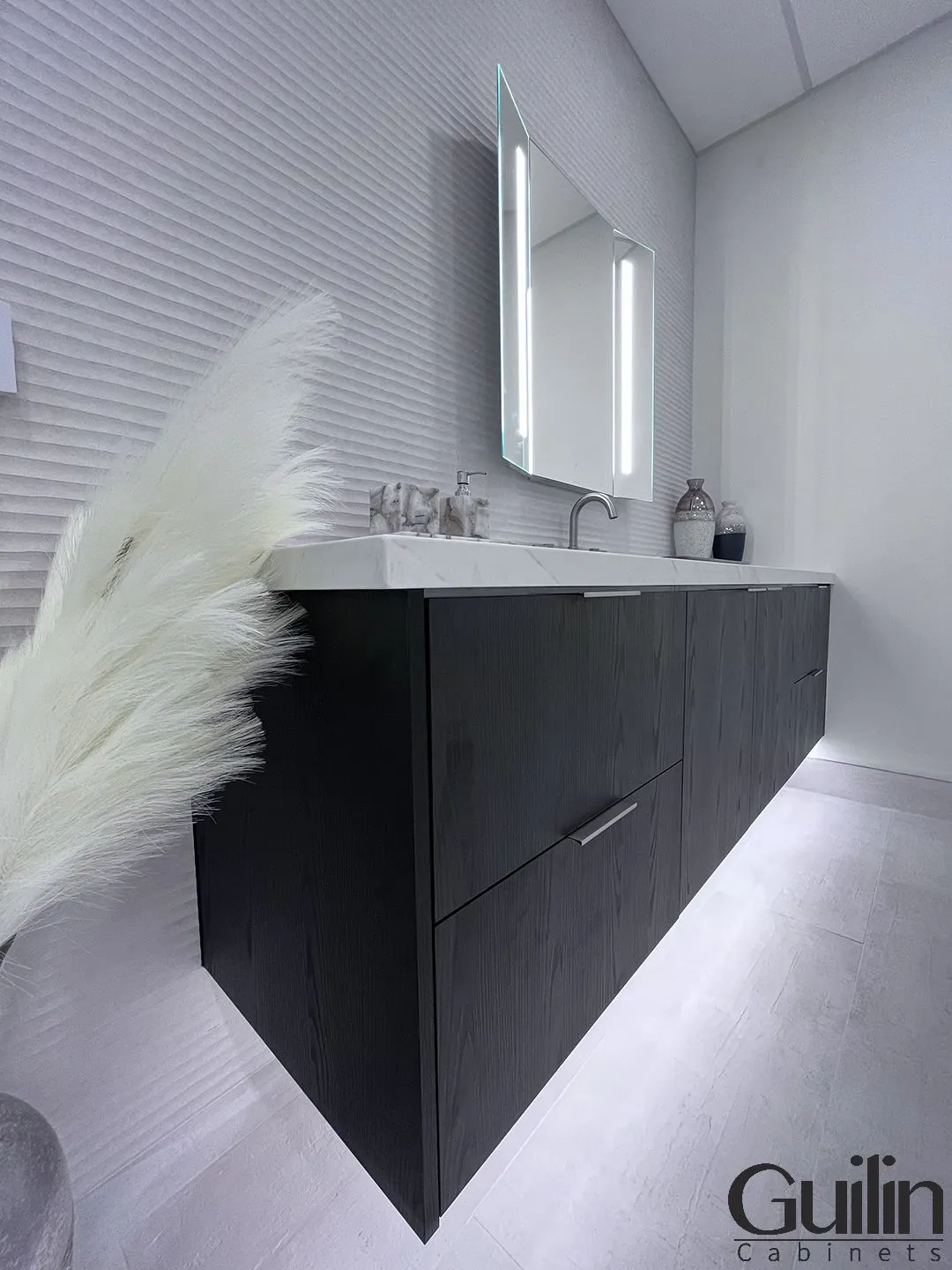 Depending on Your Budget:
Lastly, your budget is a critical factor when choosing the right powder room size. The cost to build and outfit a powder room increases with its size, and it's essential to strike a balance between functionality and cost according to your budget. It's important to determine what you can afford, and then plan accordingly, to ensure that you get the most value for your investment.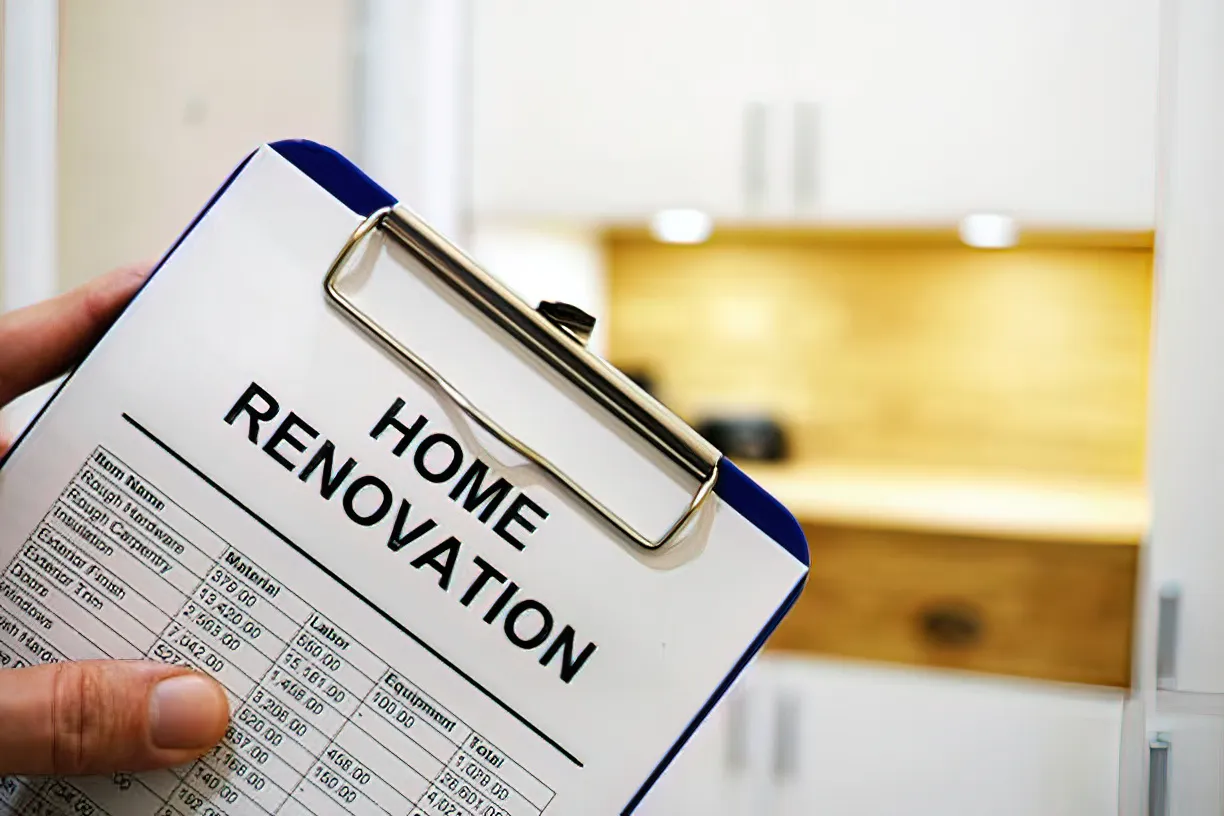 Powder Room Design Ideas
Minimalistic Designs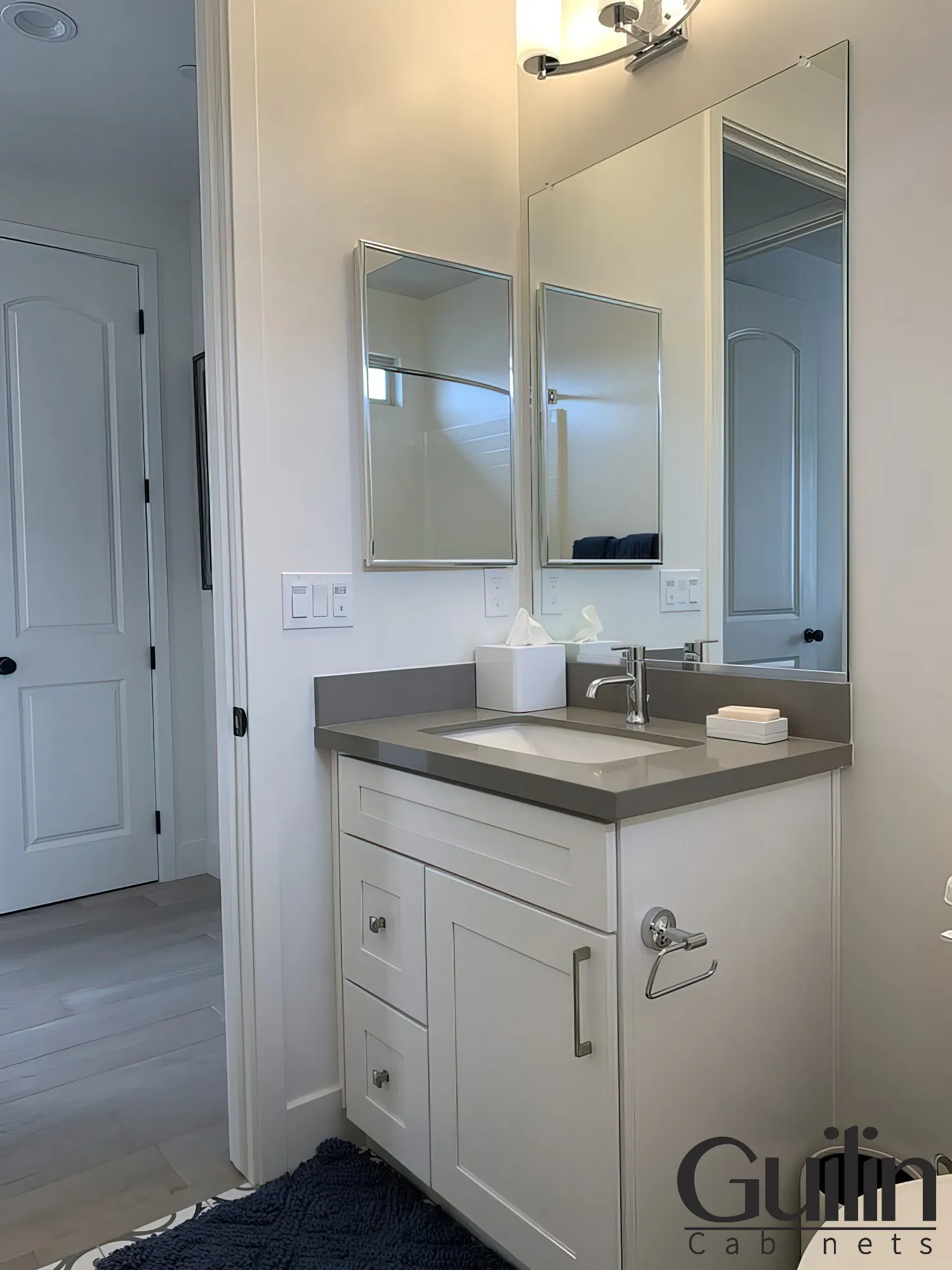 High-Tech Smart Technology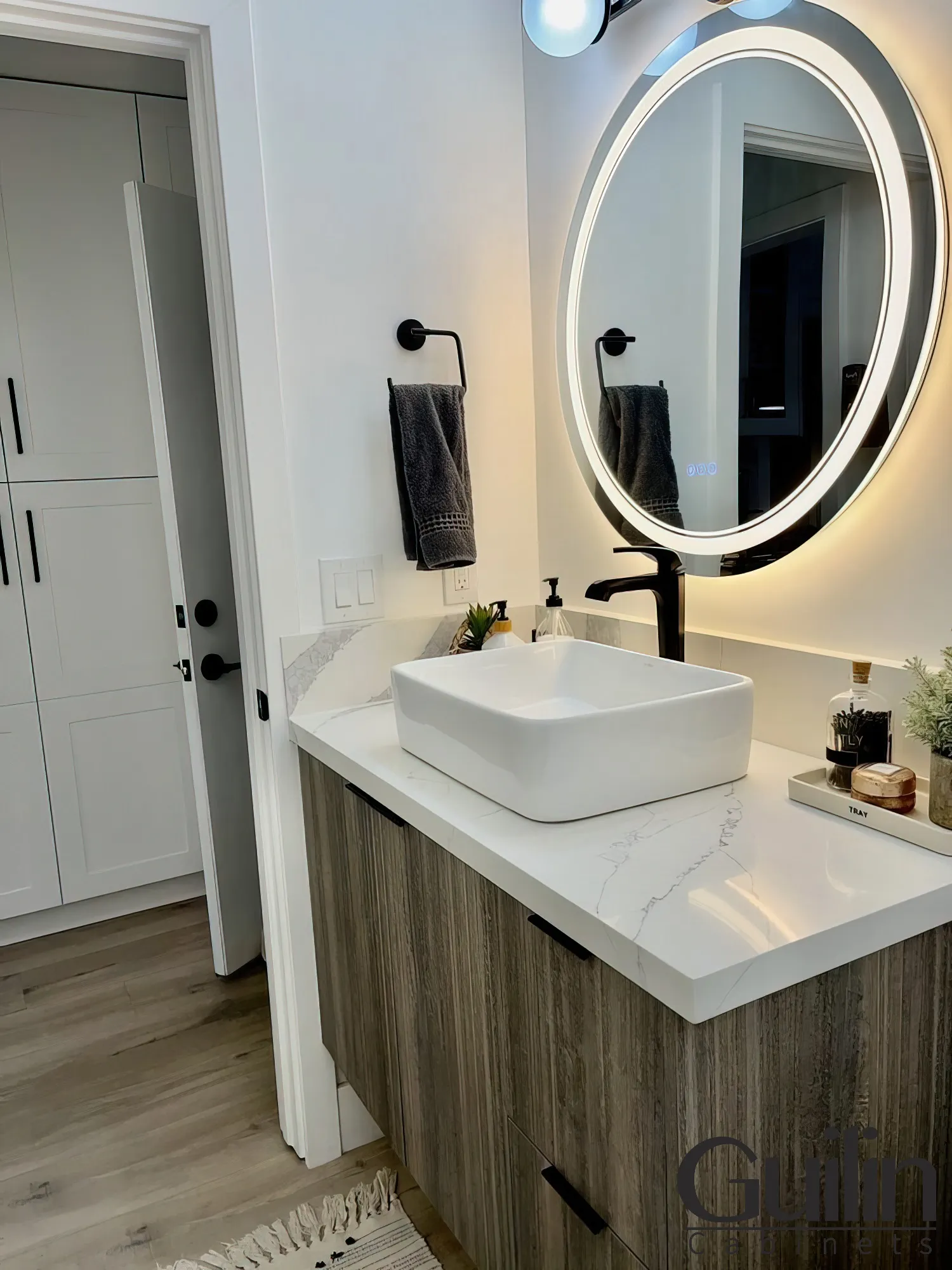 Natural Materials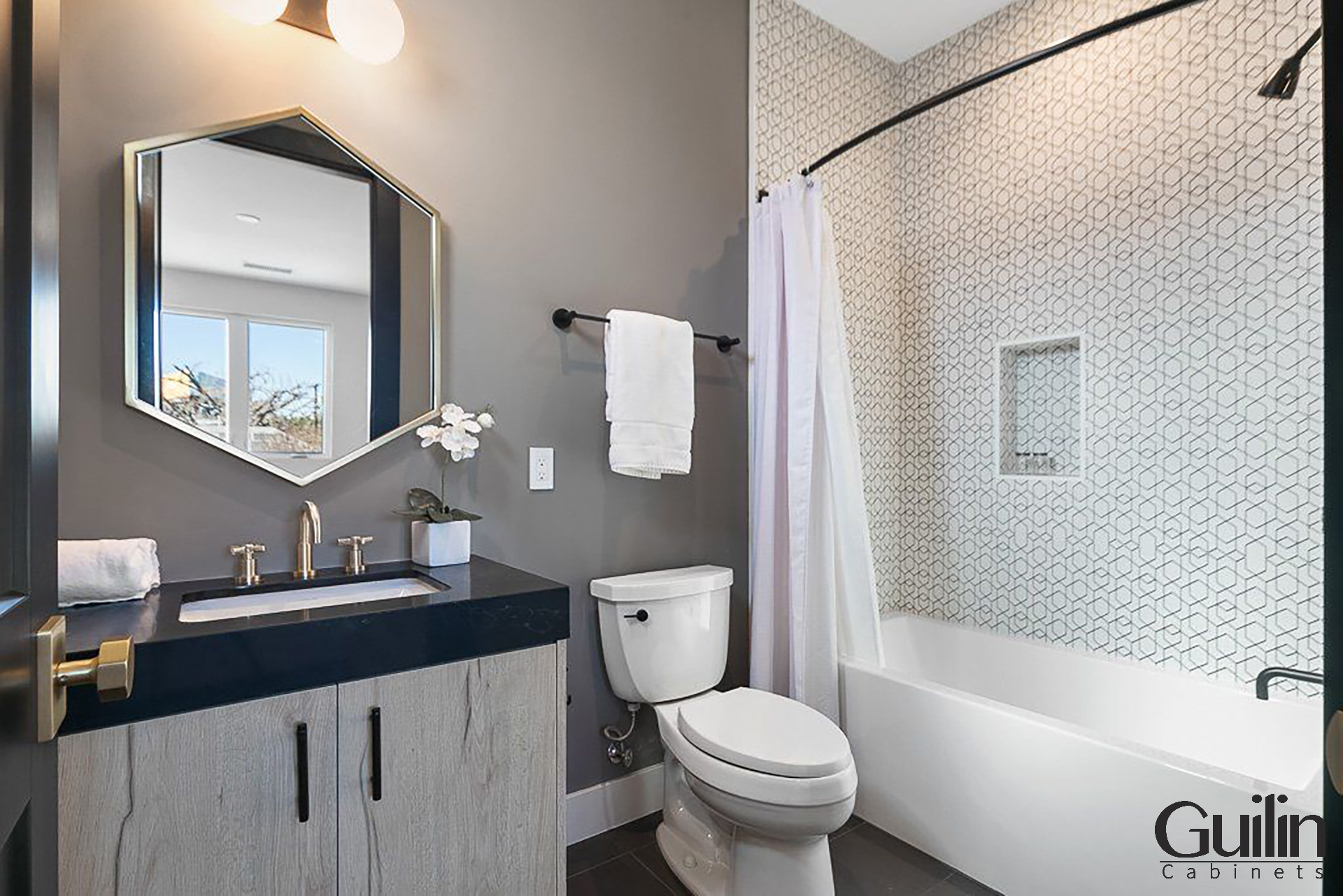 Walk-in Shower Design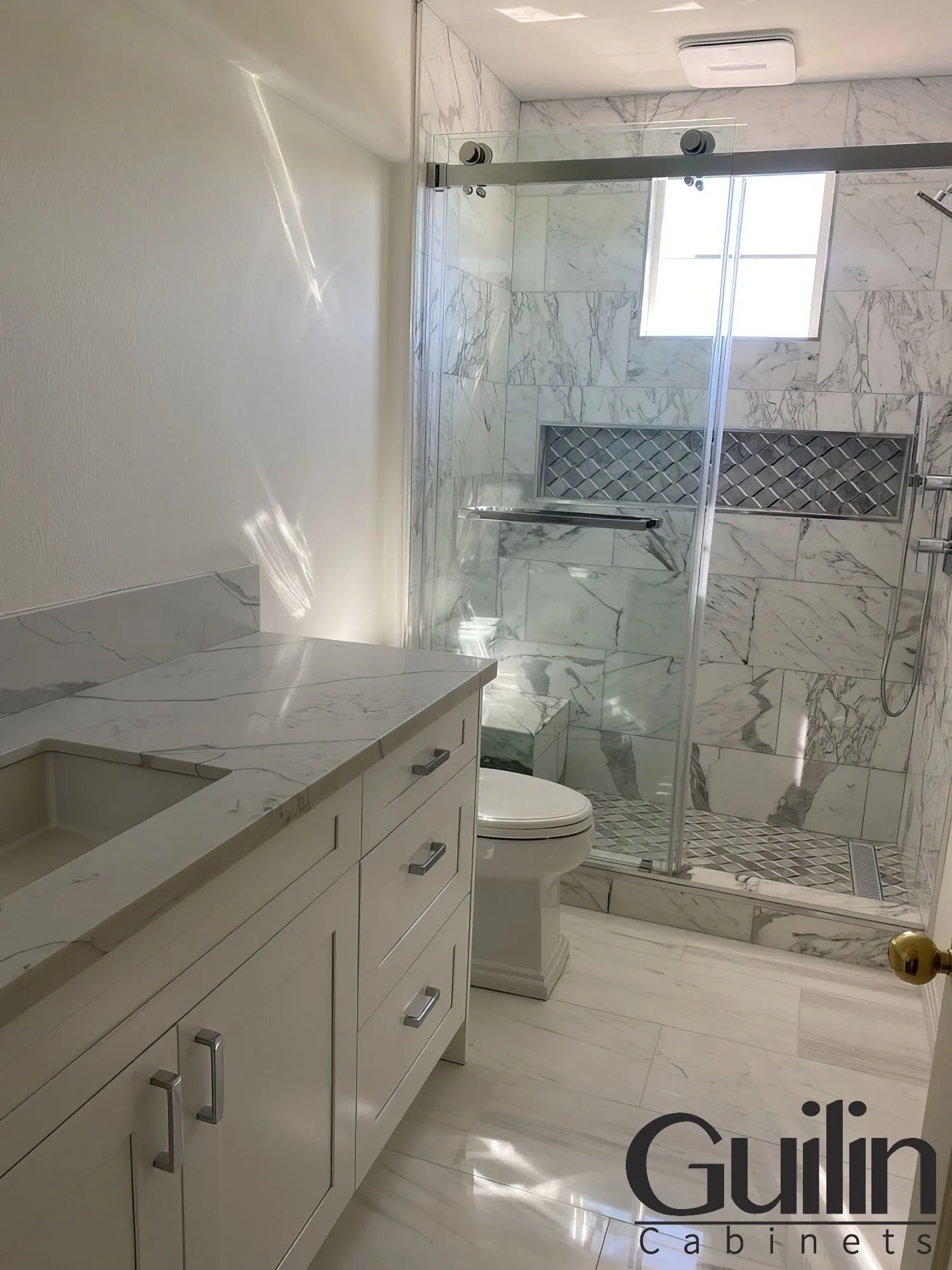 Floating Vanity Design
A floating bathroom vanity is a cabinet or storage unit for a bathroom that is mounted on the wall instead of resting on the floor. These modern sinks and mirrors don't actually touch the ground, but rather provide the illusion of floating, hence the name. The smooth and clean look of the design makes it a great fit for contemporary, minimalist bathrooms.
=> Read more: How Much Weight Can Floating Vanity Hold?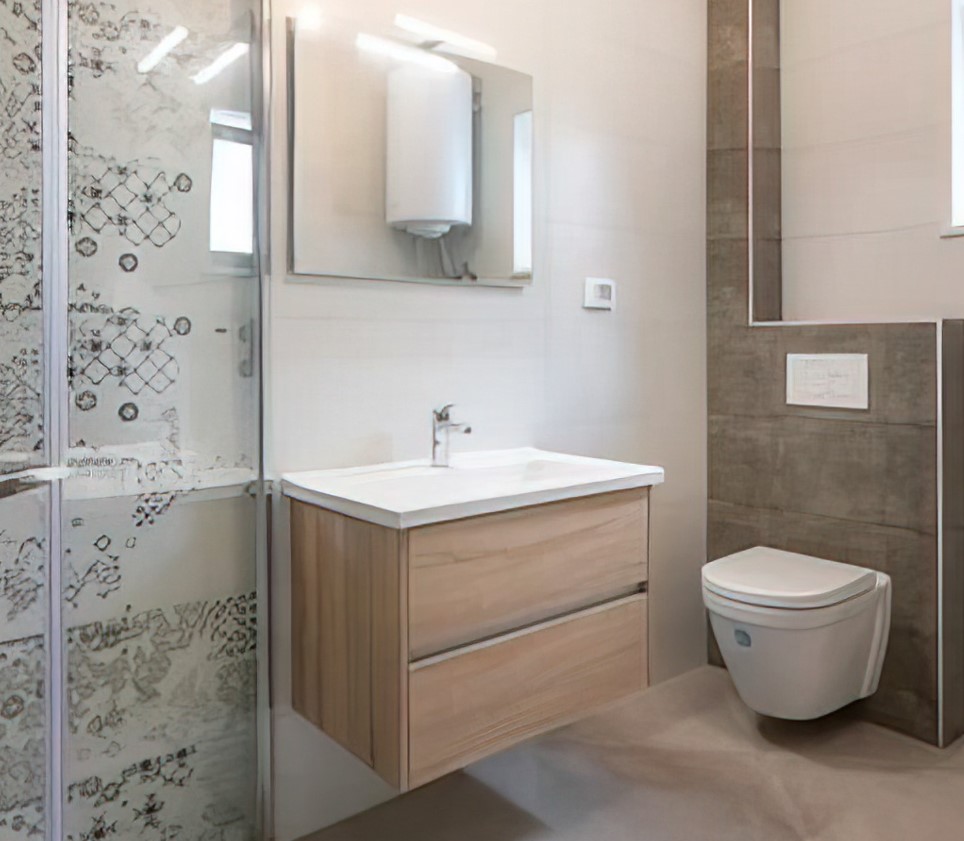 Bold Accents Design
Want to Add a Powder room To an existing Floor plan?
Adding a powder room to an existing floor plan can be a challenging home improvement project. Nevertheless, it's a great investment in your property and a convenient upgrade for your guests. If you're thinking of remodeling your home in Orange County, California, there's no better place to start than Guilin Cabinets in Irvine.
=> Related Article: Full Kitchen Remodel Service in California | Guilin Cabinets
We offer top-quality remodeling services that are sure to impress. Our skilled designers and contractors will work with you to create a functional and gorgeous new powder room. We understand that every home is unique, which is why we take a personalized approach to each of our projects. Whether you have a small or large area to work with, we'll find a solution that fits your needs and budget. We'll walk you through the entire process, from design to installation, ensuring that everything is up to code and professionally done. We use only the best materials, equipment, and tools to deliver a top-quality powder room that will match your home's décor and style. Our team is committed to providing you with a stress-free remodeling experience, and we're always available to answer any questions you may have.
At Guilin Cabinets, we specialize in bathroom remodeling and have years of experience in creating unique powder rooms. We understand what it takes to make your guests feel comfortable and welcome in your home, and with our decorative touches and exceptional design, your new powder room will be the talk of the town. So, if you're ready to add a powder room to your existing floor plan, contact us today for a consultation. We're excited to help you transform your home into a luxurious haven that you'll love.