Are you tired of your outdated and mundane bathroom design, but don't know where to start with a remodel? Look no further than the latest design trends in bathroom renovations. From bold color choices to sustainable materials, the possibilities are endless. Remodeling your bathroom not only enhances your daily routine but can also add value to your home. In this blog post, we'll explore the latest bathroom remodel designs and why you should consider them for your home. Get ready to be inspired and transform your bathroom into a stunning oasis.
=> Related Article: Top Bathroom Design Trend in 2023
Design Trend for Your Bathroom Remodel
Walk-in Showers
The walk-in shower is a bathroom design trending in recent years. With an array of faucet options, including hand-held and overhead fixtures, walk-in showers are the perfect addition to a master or guest bathrooms. If you're remodeling your home bathroom, a spacious curbless walk-in shower that comes with built-in seating is an ideal investment. Another trending option is the frameless glass door, which not only creates a sleek and modern look but is also easier to clean.
=> Related Article: Master Bathroom Ideas, Tips, How to Create the Good One
You may also want to consider stylish floor or wall tiling when designing a walk-in shower. The walk-in shower design will ensure you have a luxurious and practical shower space that will help you relax after a long day's work.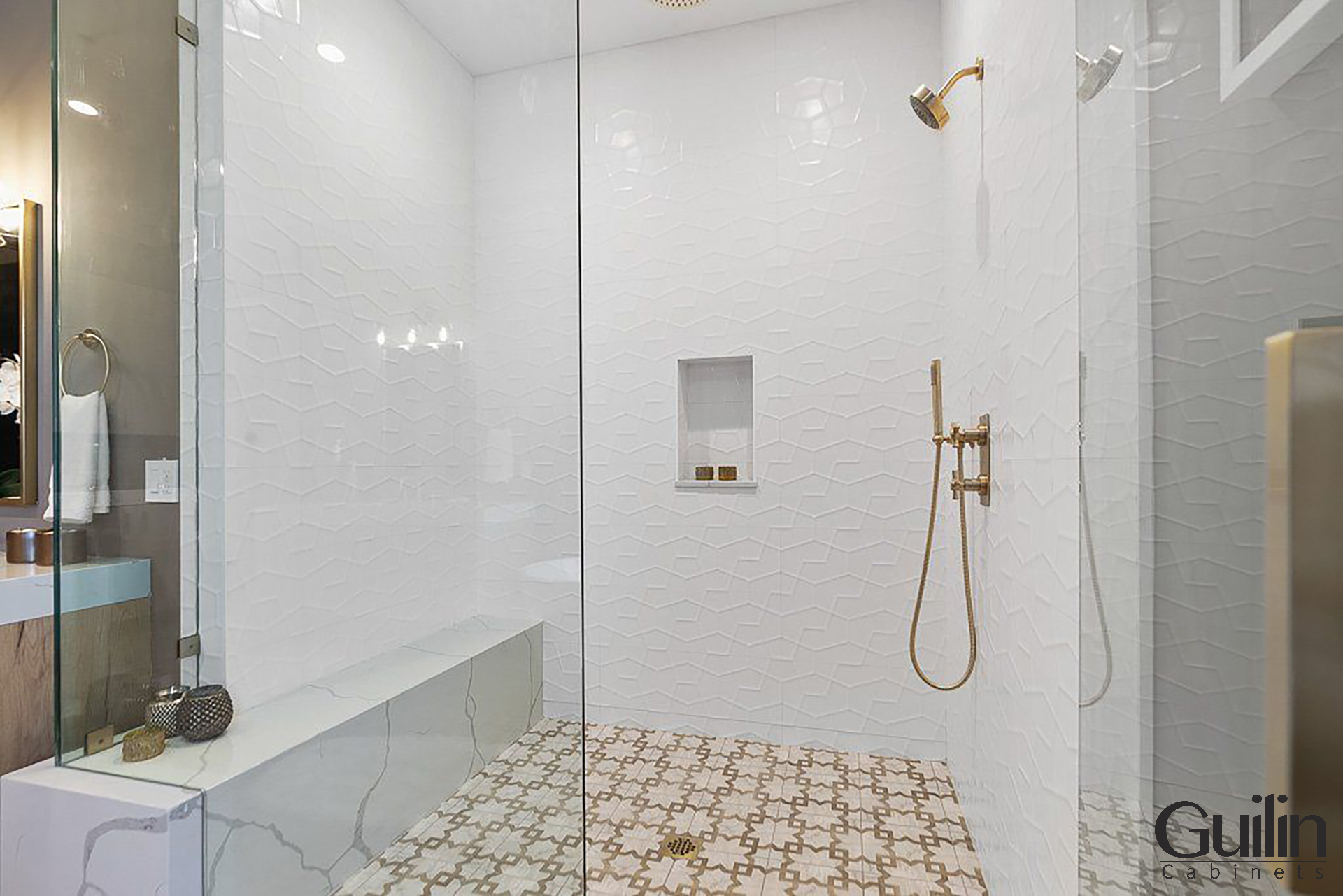 Floating Vanities
Floating vanity, also known as the suspended sink or Wall-mounted vanities, is the next bathrooms remodel trend you can consider. By keeping the vanity off the floor, you'll have more room to move around and clean, making it easier to keep your bathroom looking its best.
=> Related Article: Bathroom Walk-in Tub or Walk-in Shower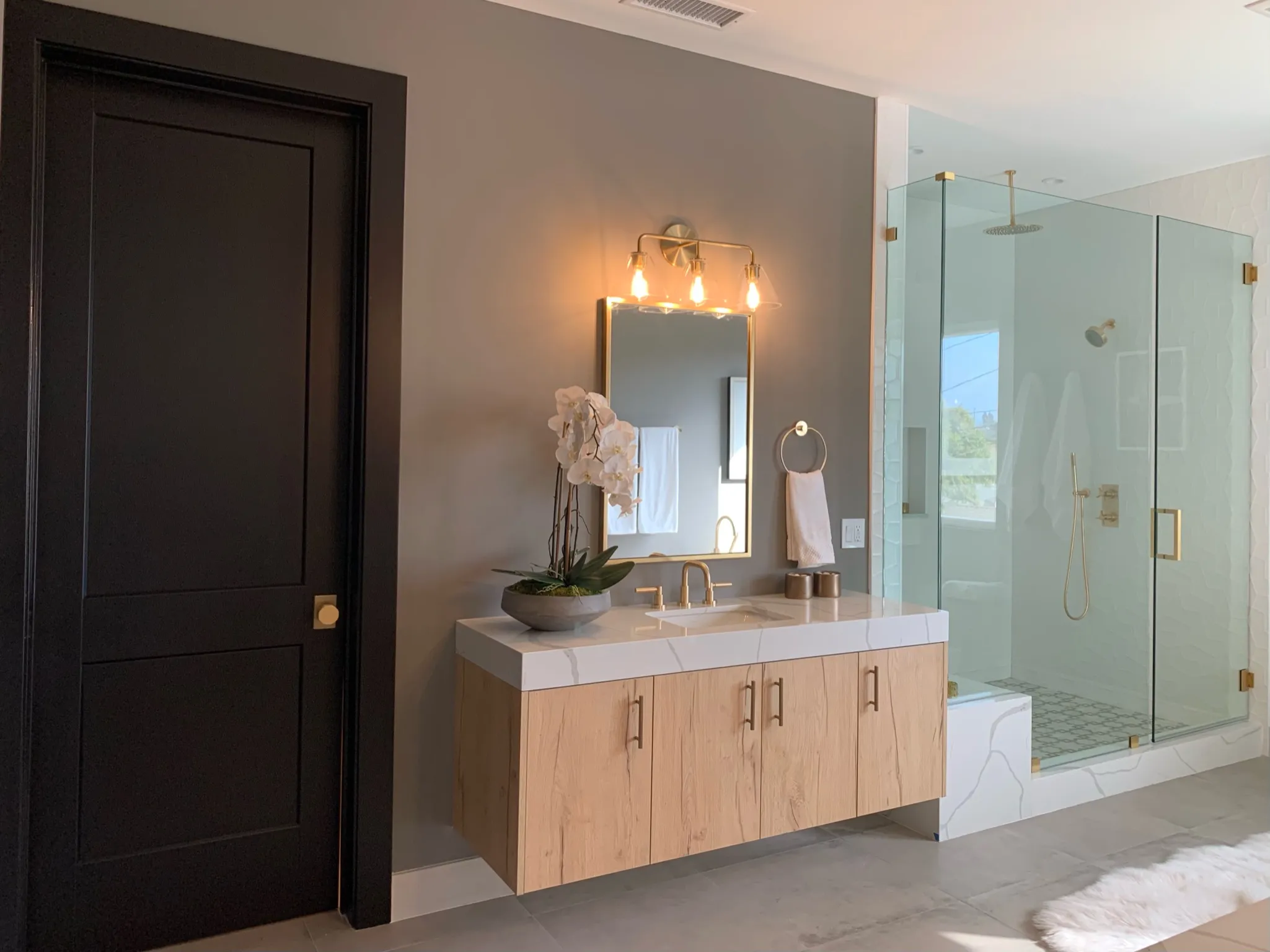 Whether you're going for a modern, minimalist look or a more traditional style, the floating vanity adds a versatility that suits your needs. There are plenty of colors and finishes to choose from, including natural stone, wood, solid surfaces, and metal that make a floating vanity a great choice for adding function and style to your bathroom remodel. So why not give it a try and see how much space you can save?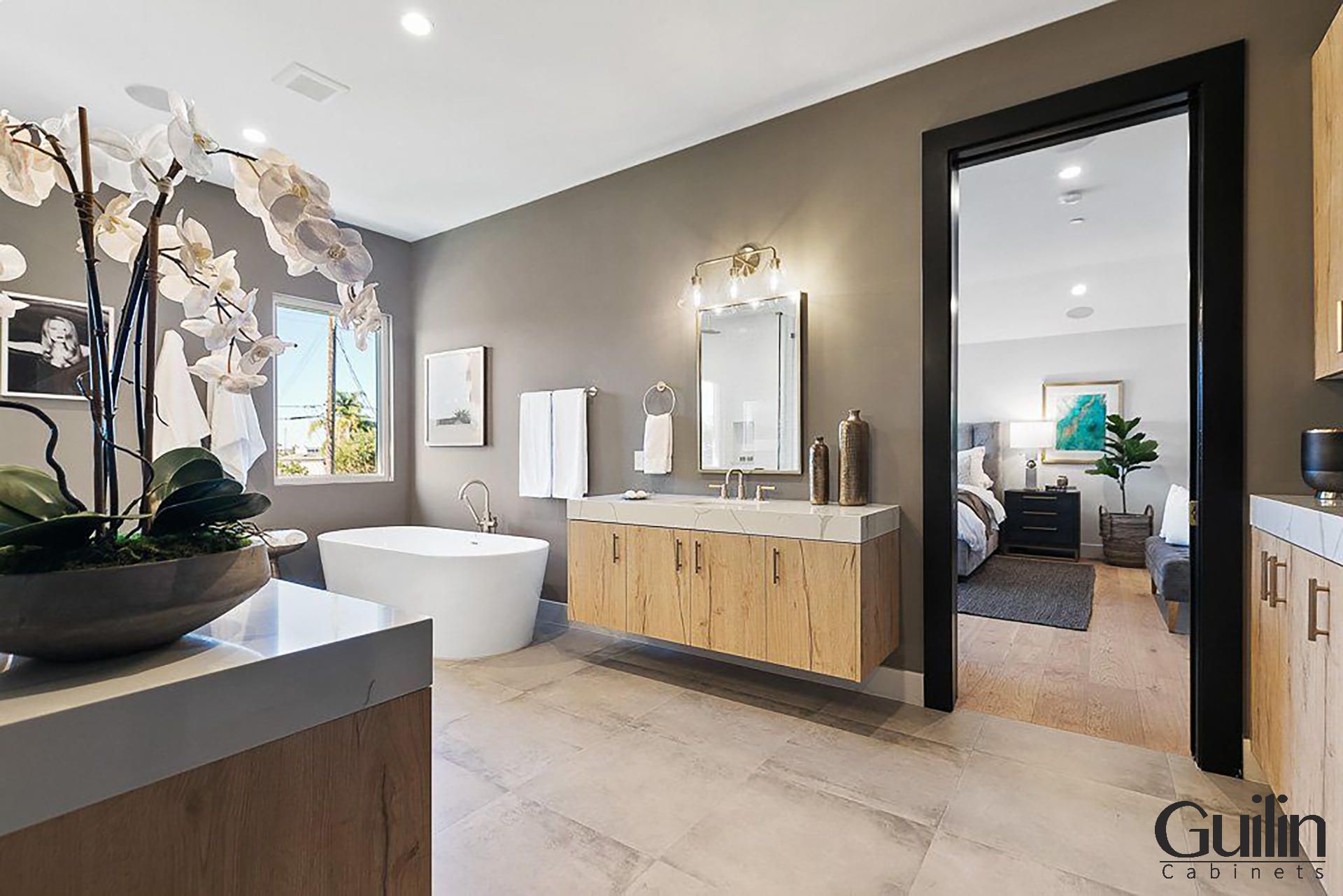 Using Smart Technology
Technology has rewritten almost every aspect of our daily lives, and our bathrooms are no exception. Using technology in the bathroom has become a trend that has come to stay. The addition of smart mirrors with LED lighting, high-tech toilets with bidet features, voice-activated controls, smart showers, and programmable thermostats offer impressive innovations that make your bathroom experience not only convenient but luxurious and practical. Smart technology enhances your bathroom with many conveniences including programmable voice-activated controls, smart showers, heated toilet seats and more. Installing smart technology in your bathroom is the future of remodeling.
Here are 5 smart technologies used in bathrooms:
Smart Shower Systems: These systems help you control water temperature and flow rate, and even preset shower preferences using voice commands or smartphone apps.

Smart Toilets: These toilets offer features such as heated seats, built-in bidets with adjustable water temperature and pressure, self-cleaning functions, automatic flushing, and air dryers.

Smart Mirrors: These mirrors come equipped with built-in displays that can provide information like weather updates, news, or personal notifications. Some smart mirrors also have integrated voice assistants for hands-free control.

Smart Faucets: These faucets use motion sensors to detect hand movements and automatically turn the water on and off, helping to conserve water. Some models also offer temperature control and voice activation.

Smart Bathtubs: These high-tech tubs offer features like integrated speakers, LED lighting, temperature control, and even aromatherapy options. Some models have built-in water jets and massaging functions.
=> Related Article: Guest Bathroom Ideas, Trends, Tips to Make It Better?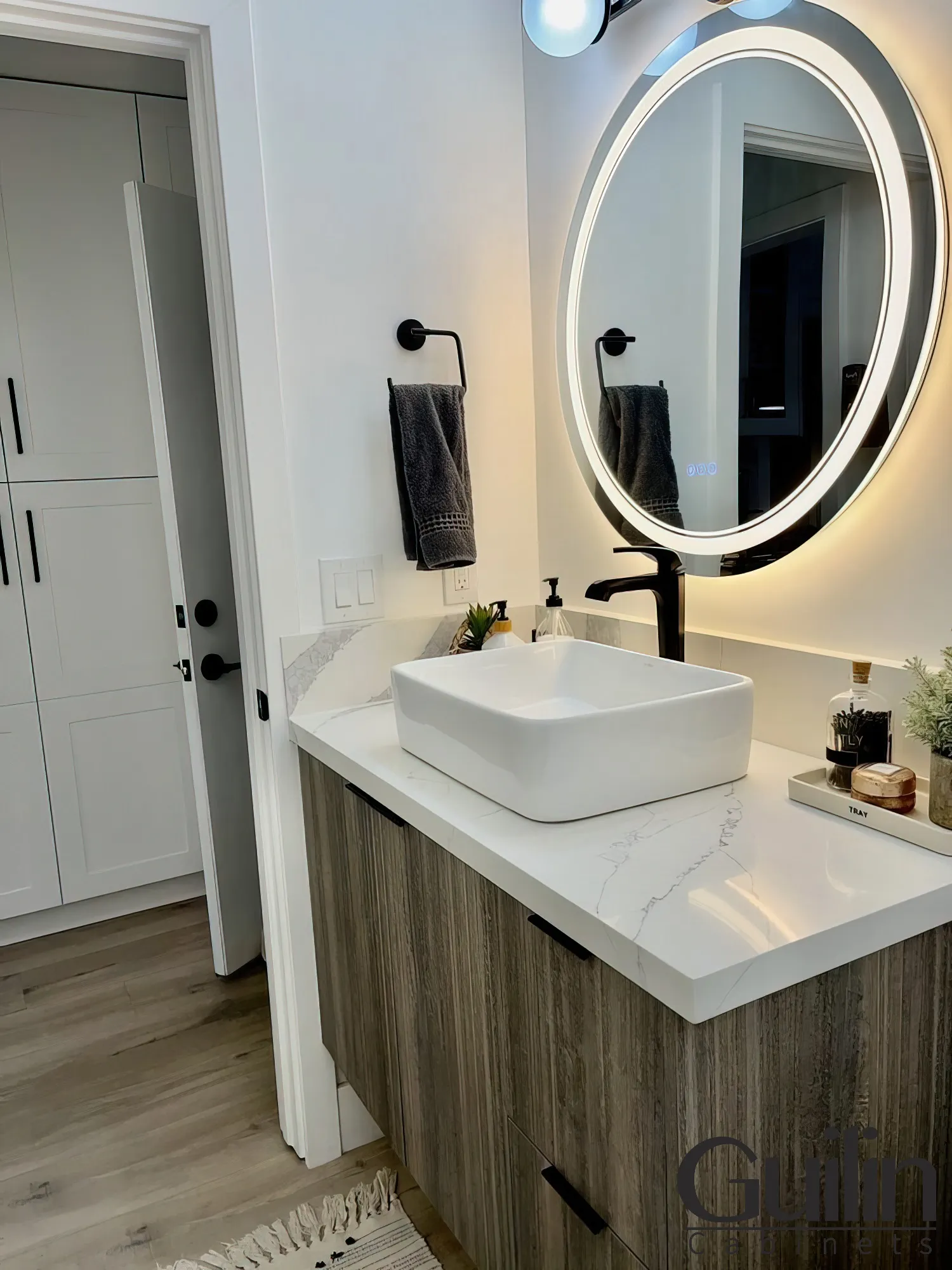 Sustainable LED Lighting
Upgrading your vanity lighting can significantly enhance the overall aesthetic of your bathroom. Not only does it create a beautiful and inviting atmosphere, but it can also boost your mood and energy levels. Sustainable LED Lighting is the new bathroom trend that helps you to save your money on your electrical bill. Many homeowners are choosing to switch up their light fixtures for a brighter and more stylish bathroom.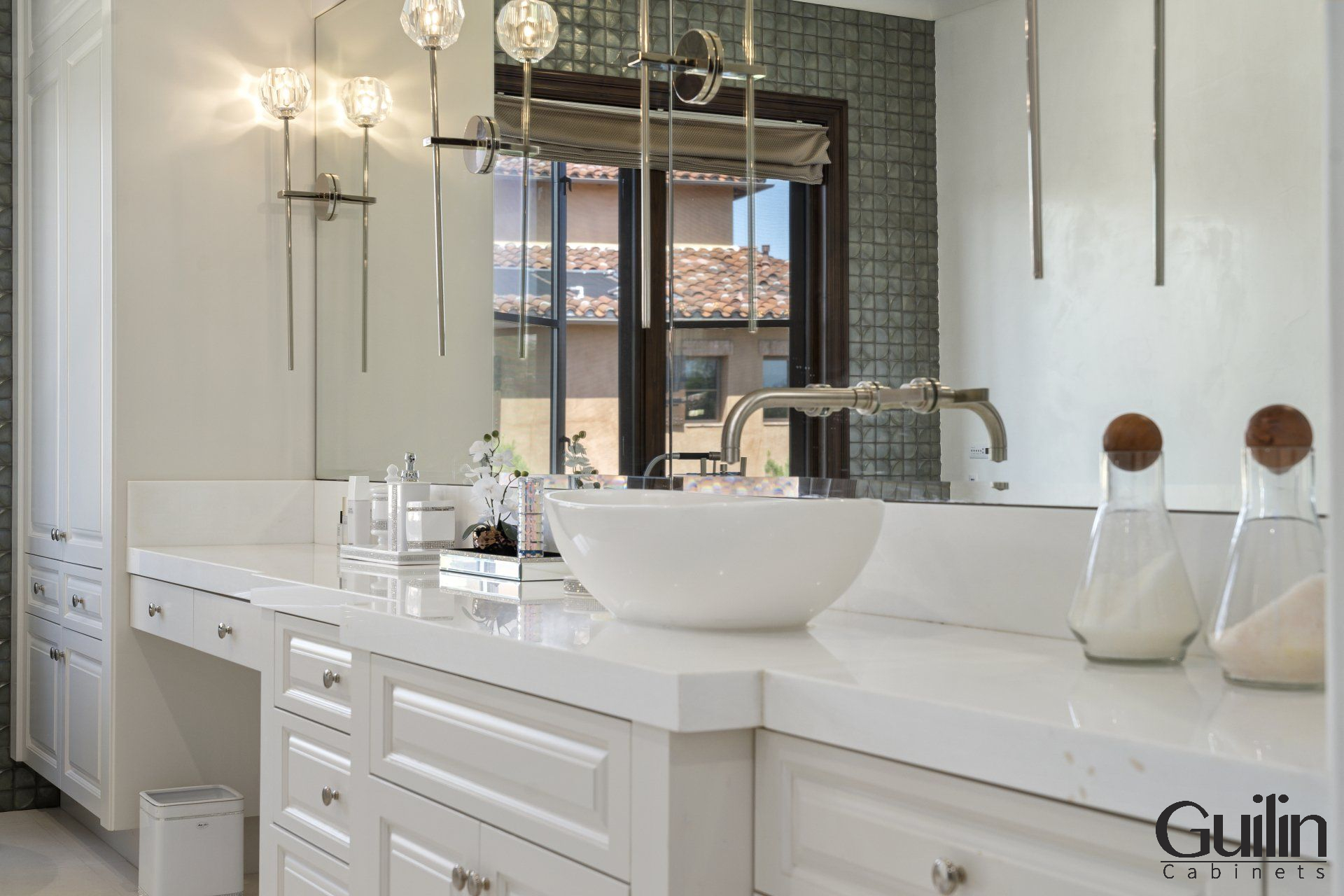 For those who want to emphasize the brightness of their space, self-lit vanity mirrors are still the way to go. If you're environmentally conscious, look no further than switching to sustainable LED lighting. This is a clear trend that has been noted in the National Kitchen and Bath Association report.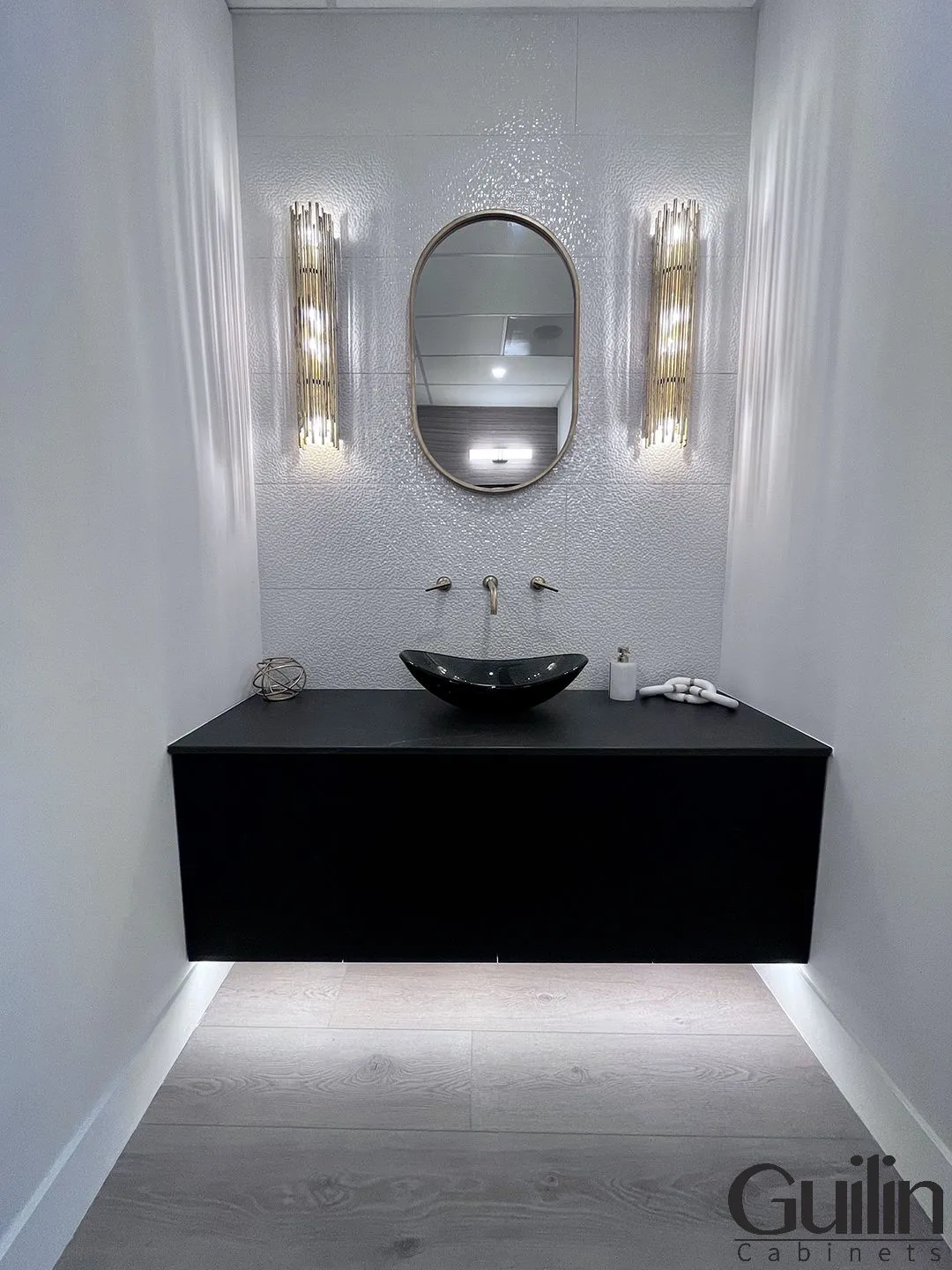 Freestanding Bathtub
Adding a freestanding bathtub to your space is the master bathroom trend in recent years. They're a timeless addition that will make any bathroom feel more luxurious, and instantly creates a luxurious and relaxing ambiance that you'll want to soak in.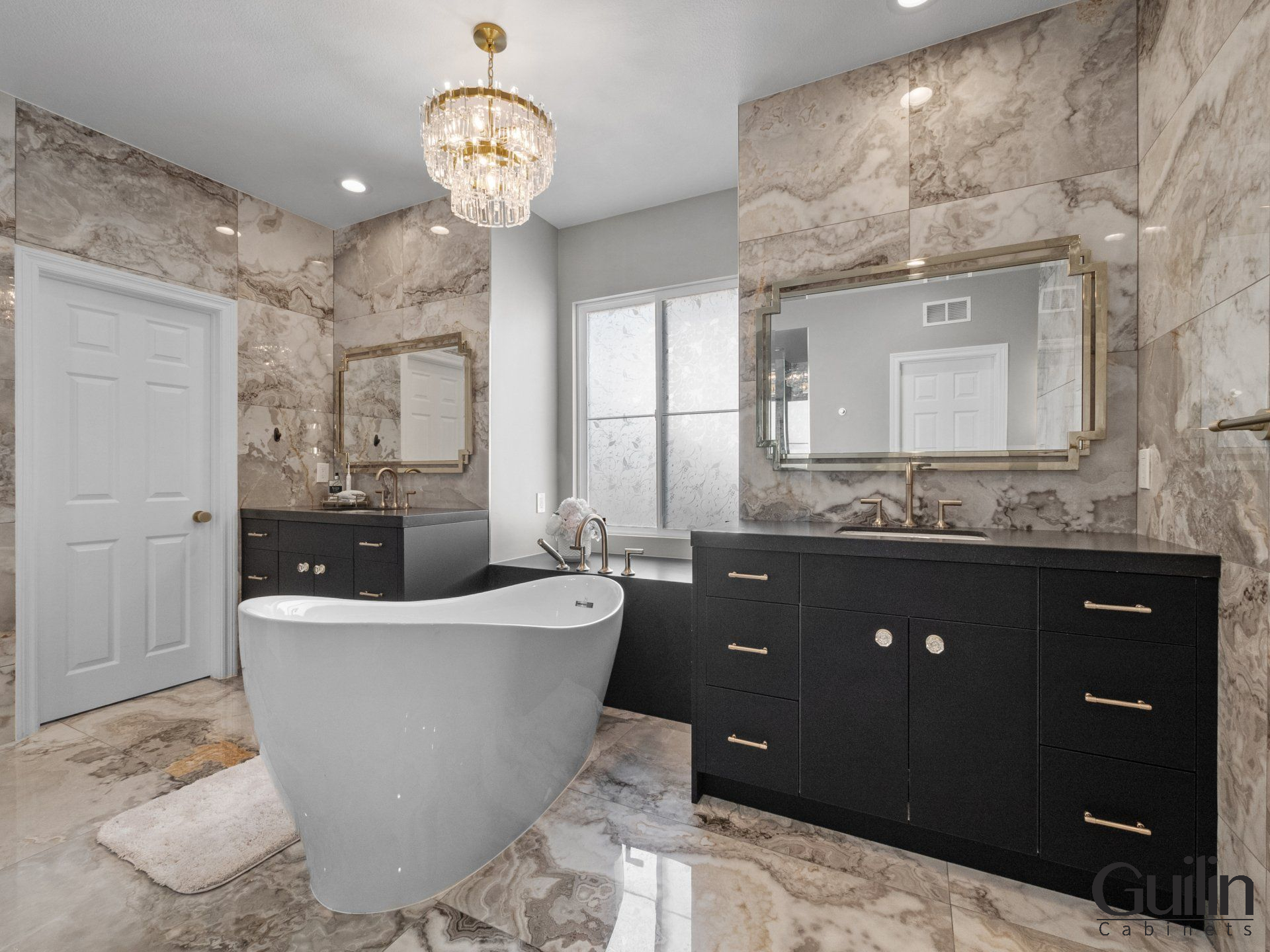 One of the best things you need to consider about freestanding bathtubs is the variety of styles available. You can choose from classic clawfoot designs or more modern and sculptural options. The best part is finding one that fits your space and personal taste. Not only do freestanding bathtubs add elegance to your bathroom, but they also create a spa-like atmosphere, making your bathroom feel like a cozy retreat. They also make for a great focal point in the space.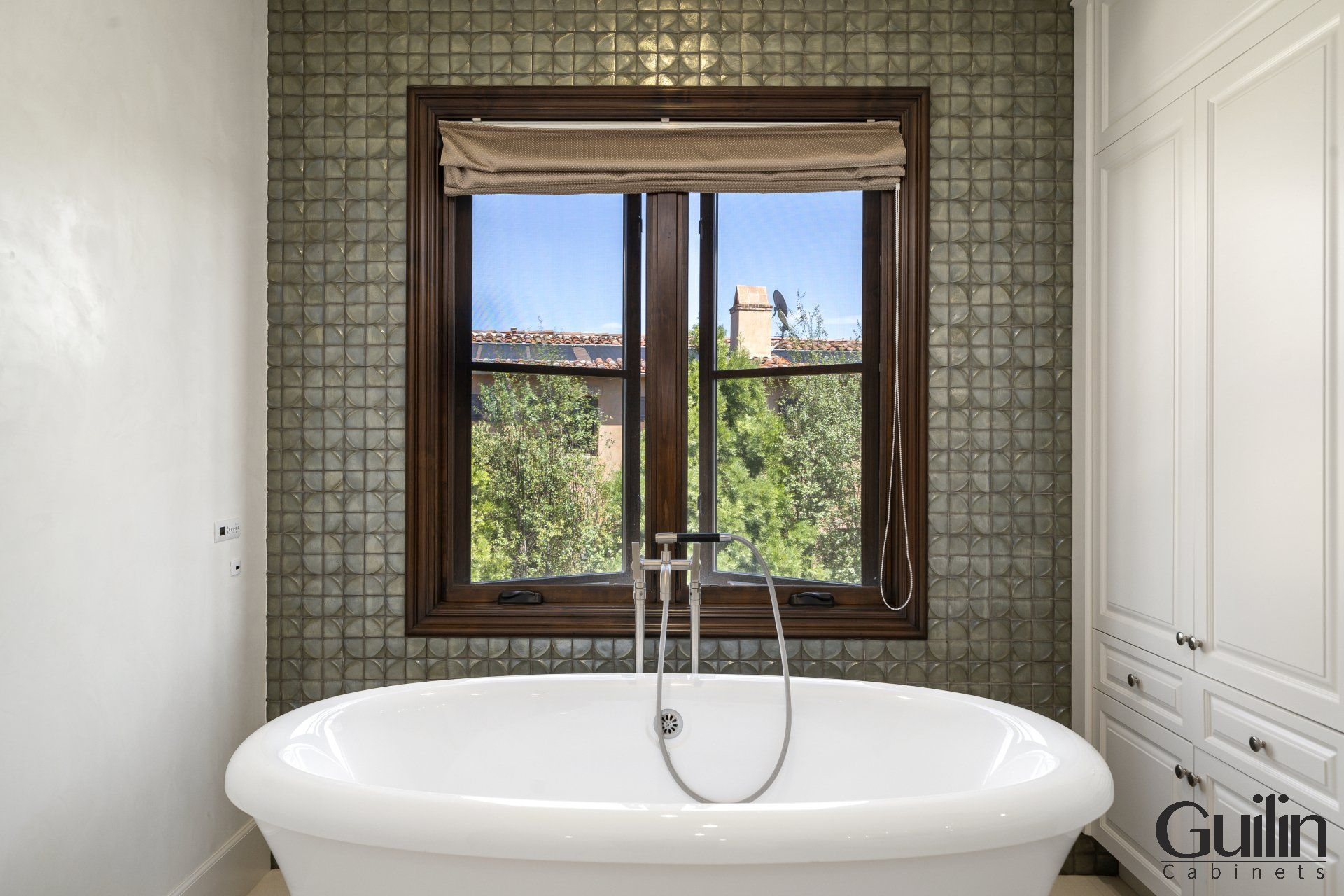 Double Sink
With so many trendy designs and styles available, you can easily customize your vanity to complement your aesthetic preferences. Adding a double sink to your bathroom remodel and seeing how it can make a significant improvement in both convenience and value is definitely worth considering.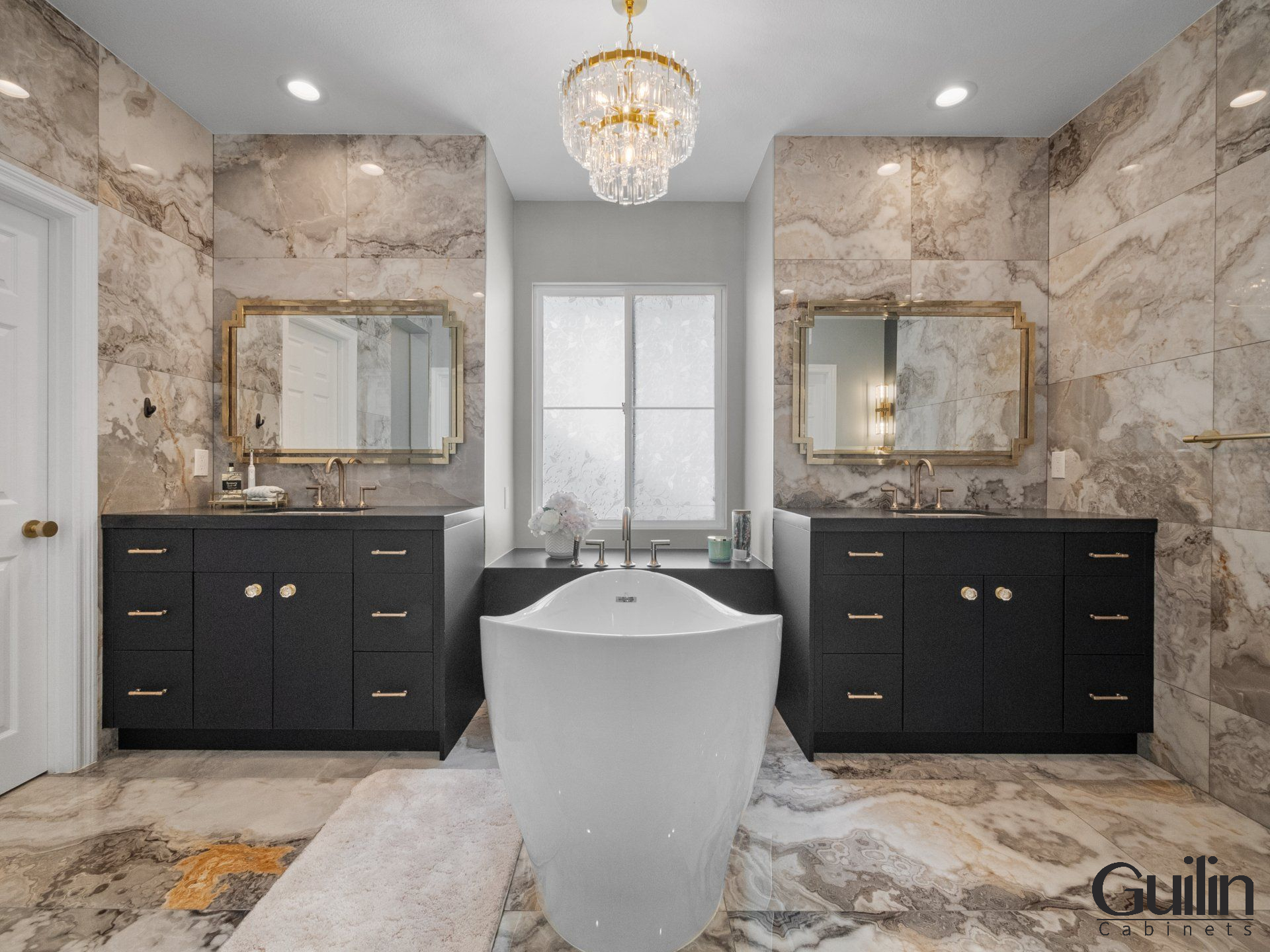 Don't limit your bathroom's functionality by just opting for a single sink vanity. Today, homebuyers are looking for the convenience of having two sinks in the bathroom. It's a practical feature that adds value to your home, especially if you have the space for it. This addition can turn your once cramped and cluttered bathroom into a functional and stylish oasis.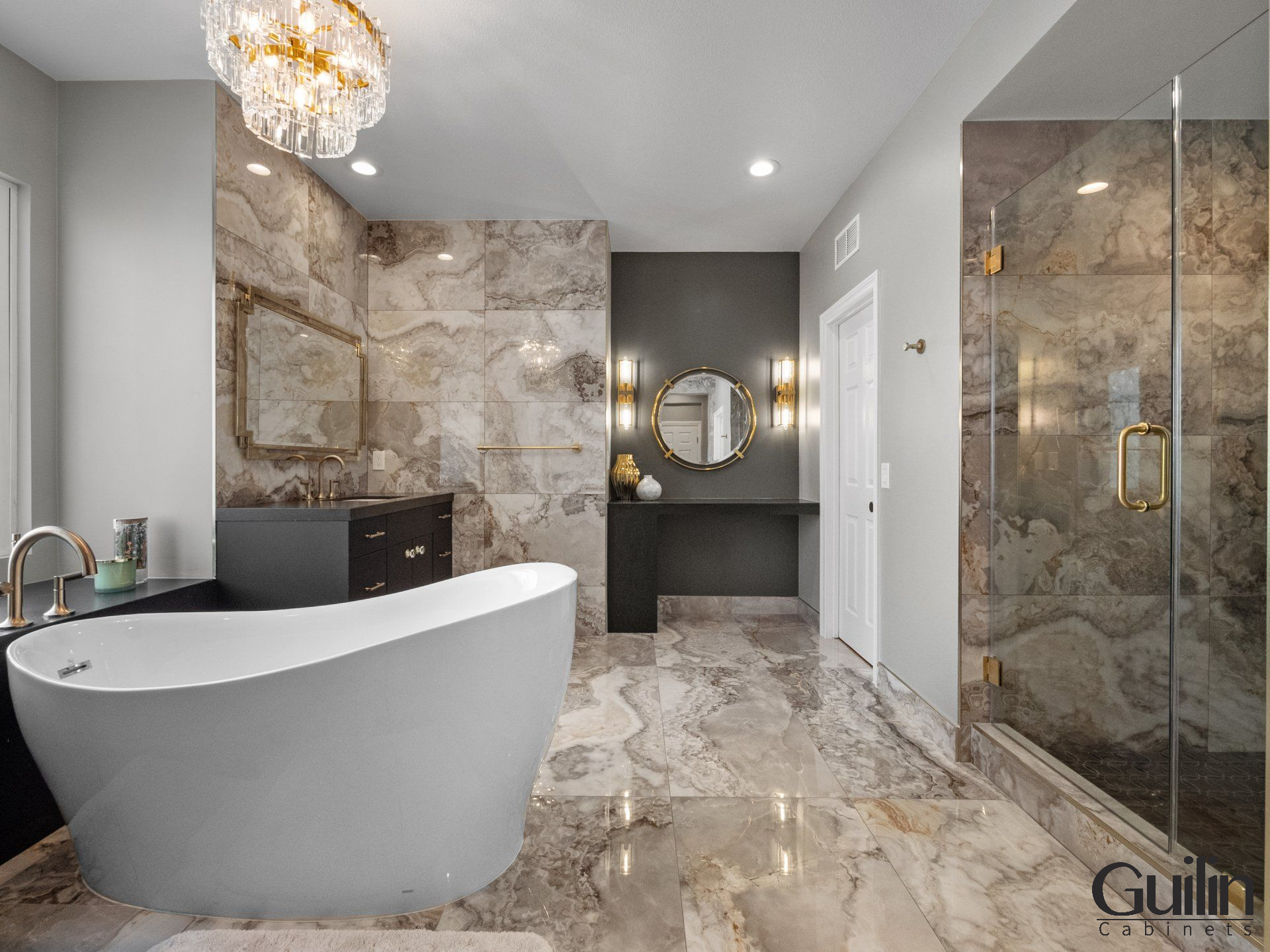 Guilin Cabinets, situated in Southern California, is here to provide a comprehensive range of design-build services to simplify your project and give you a seamless and satisfying remodeling journey, whether it's a master suite bathroom, three-quarter bathroom, half-bathroom, or any other type of bathroom. Trust us to guide you through every aspect of the project and make it a reality with ease.
FAQs About Bathroom Remodel Design Trending
What are some space-saving tips for small bathrooms?
To maximize space in your small bathroom, consider using wall-mounted fixtures, such as toilets and vanities. Opt for a sliding or pocket door instead of a swinging one. Use vertical storage solutions like tall cabinets or shelves, and choose light colors to create an illusion of space.
Are there any eco-friendly options for a bathroom remodel?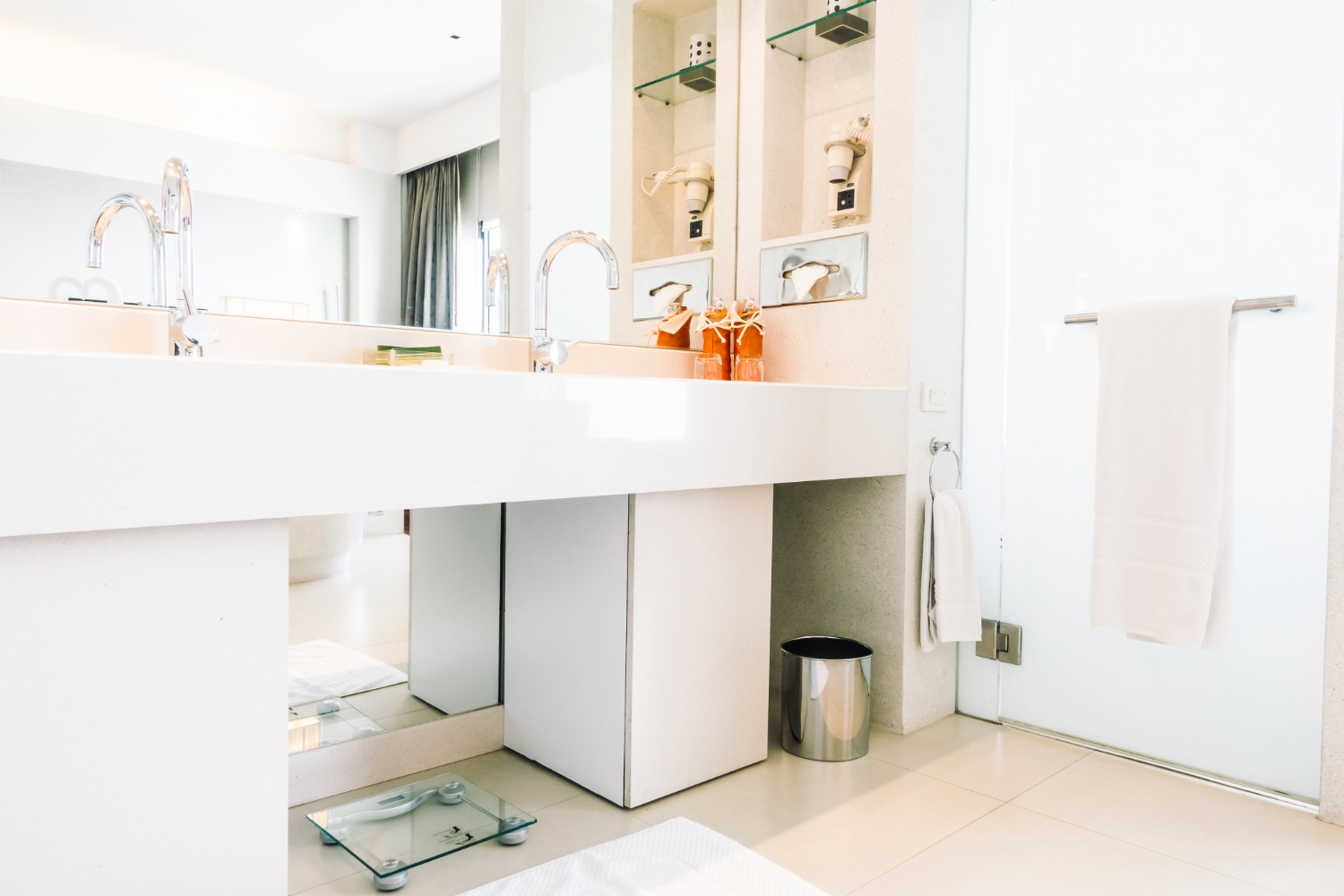 Yes, there are plenty of eco-friendly options for a bathroom remodel. You can install low-flow smart toilets and faucets to conserve water, choose sustainable materials like bamboo or recycled glass for countertops, and use energy-efficient LED lighting.
Can I undertake a bathroom remodel project myself, or should I hire professionals?
The complexity of a bathroom remodel project will determine whether it is suitable for a DIY approach or requires professional assistance. Simple tasks like repainting or replacing fixtures can be done by homeowners, but for major renovations involving plumbing and electrical work, it is advisable to hire experienced professionals. => Contact us: Guilin Cabinets Bathroom contactor in Irvine CA