What does a Scandinavian kitchen look like? Scandinavian kitchen style is synonymous with elegance, simplicity, and functionality. In this post, we'll look at the most popular characteristics of Scandinavian kitchens and discuss what makes them trending and why they are so special. Keep reading to learn more!
What is Scandinavian Kitchen Style?
The Scandinavian style design comes from a Nordic tradition where eco-friendly, efficiency, and functionality are a priority in the home kitchen. That is why, Scandinavian Kitchen Style is focused on a sleek, clean, and minimalist approach to kitchen design. It is special in light, airy, and minimalistic details that create a modern yet inviting atmosphere. Common elements of Scandinavian kitchen design include white and light neutrals, wooden surfaces, and natural elements.
This style emphasizes function and simplicity and often features open shelves and integrated lighting. It is designed to provide an efficient use of space, allowing for maximum storage and organization. Additionally, the use of muted colors and clean lines creates a calming and relaxing atmosphere. Scandinavian Kitchen Style is the perfect blend of modern, simple, and timeless, making it a great choice for any kitchen.
=> Read More: List Of Kitchen Styles For Your Home Kitchen Remodel Ideas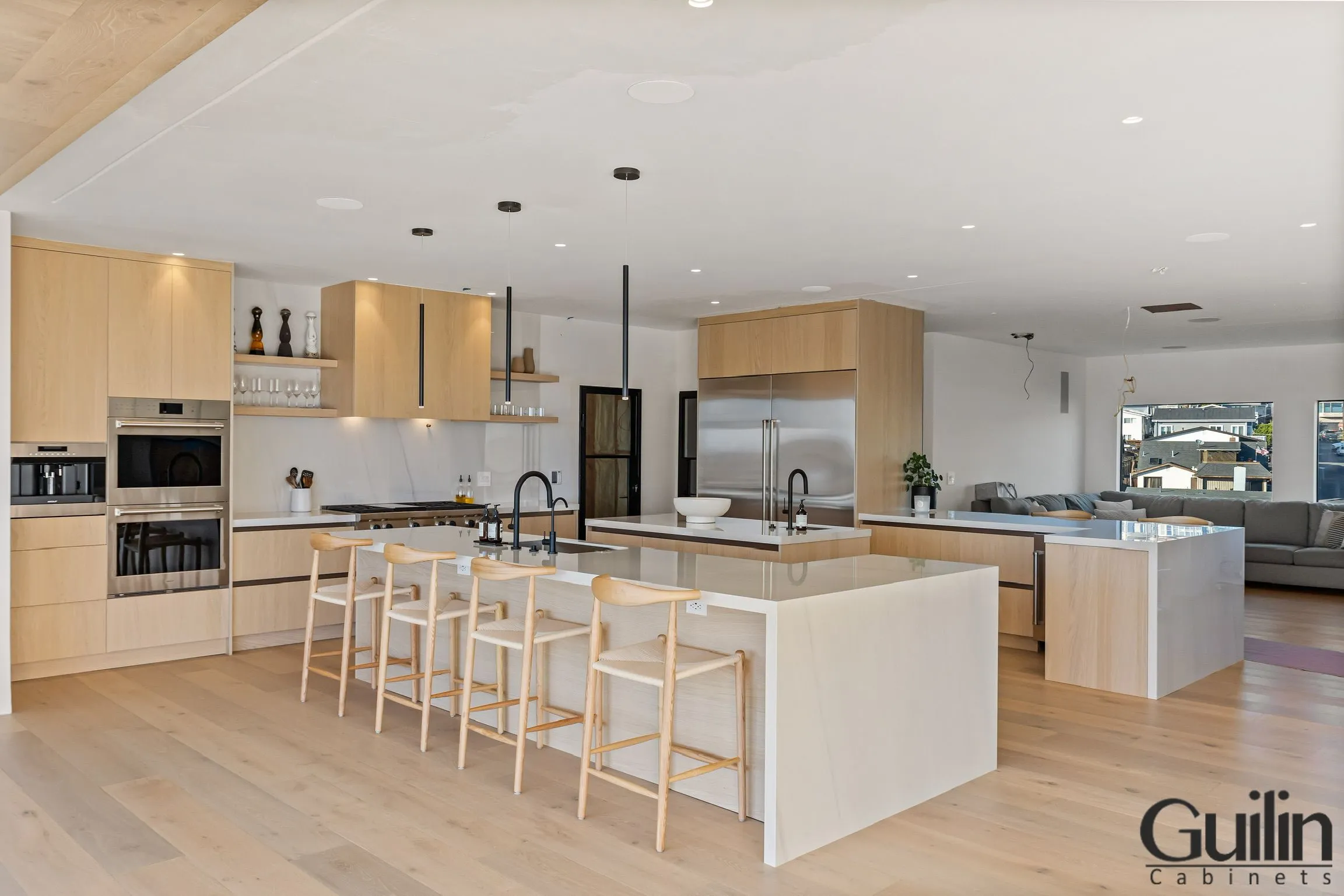 The Scandinavian kitchen style is renowned for its distinctive blend of clean lines, simple design, and focus on the use of natural bright with an airy feel. The key features of this style include light-colored cabinets, stainless steel appliances, natural stone countertops, and wooden floors, all of which come together to create a sense of open, airy, spaciousness.
=> Check Our Completed Projects: Scandinavian Kitchen Remodel and Refresh in San Luis Obispo, CA
Moreover, Furniture pieces tend to be minimal in their structure, with organic shapes and curved lines that add to the calming atmosphere. The uses of light colors and the absence of clutter contribute to the overall serenity of the space. Overall, the Scandinavian design style is a solution for simple living that has become a popular movement in simple and healthy lifestyles, and it can work well for homeowners on a low budget since the minimalist look can be achieved for less than other styles
Scandinavian design is characterized by the following:
Clean lines
White-washed finishes
Clutter-free
Abundant natural light
Neutral color palette
Wood Furniture and Accents
Design that follows balance with natural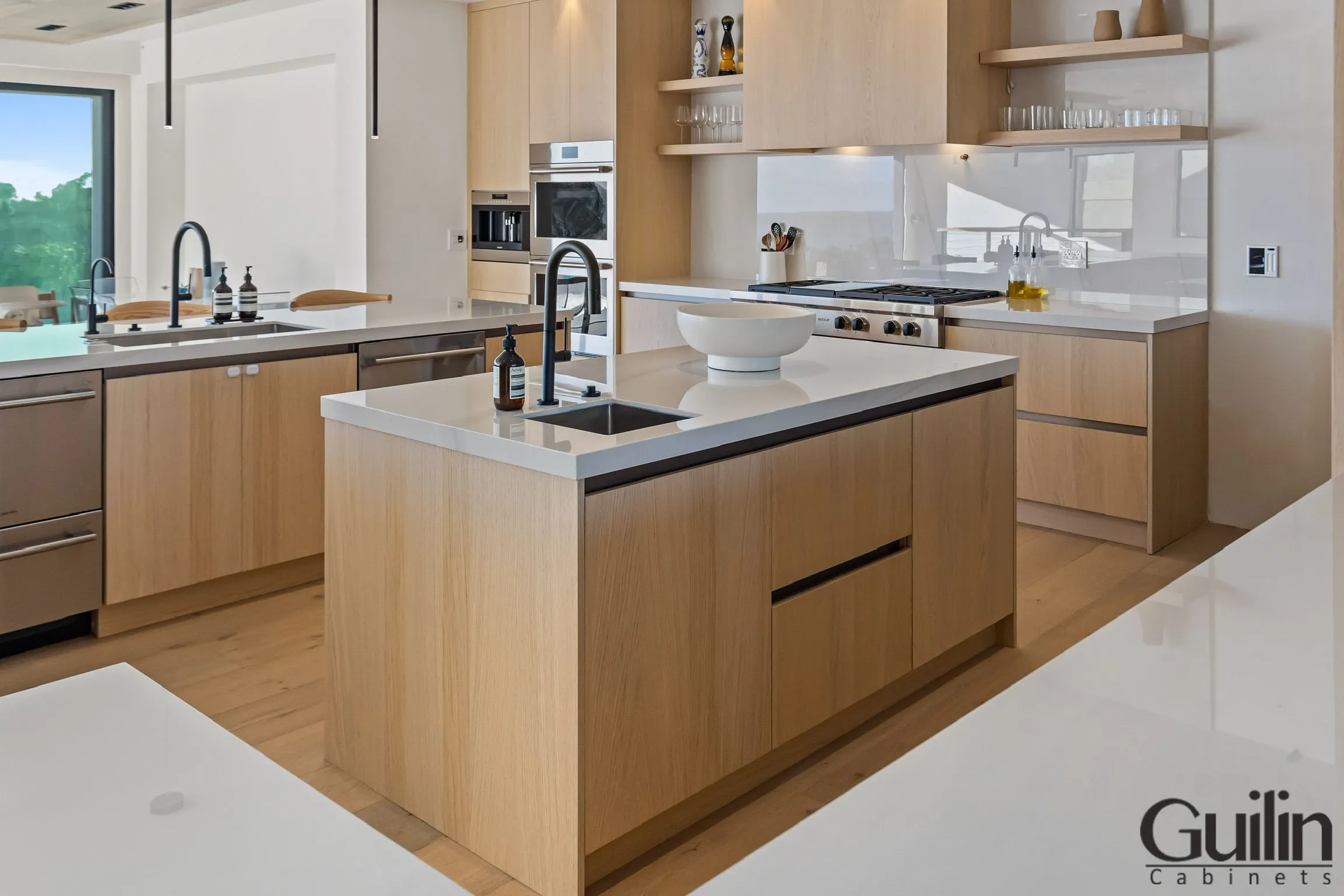 Color Palette: bright, warm, and airy atmosphere
The Scandinavian kitchen style is known for its clean, minimalistic aesthetic and is characterized by a simplistic and natural color palette. The design style incorporates natural wood, which is the natural bright wood of colors. The style of design is not too bright but delicate, natural, and humble. Popular colors for this style include soft shades of white and grey, shades of beige, soft blues and greens, and muted yellow tones. These light colors balance the warmth of natural wood to create a bright, warm, and airy atmosphere, perfect for a modern kitchen with a healthy lifestyle.
=> Check out: Scandinavian Kitchen Remodel and Refresh in San Luis Obispo, CA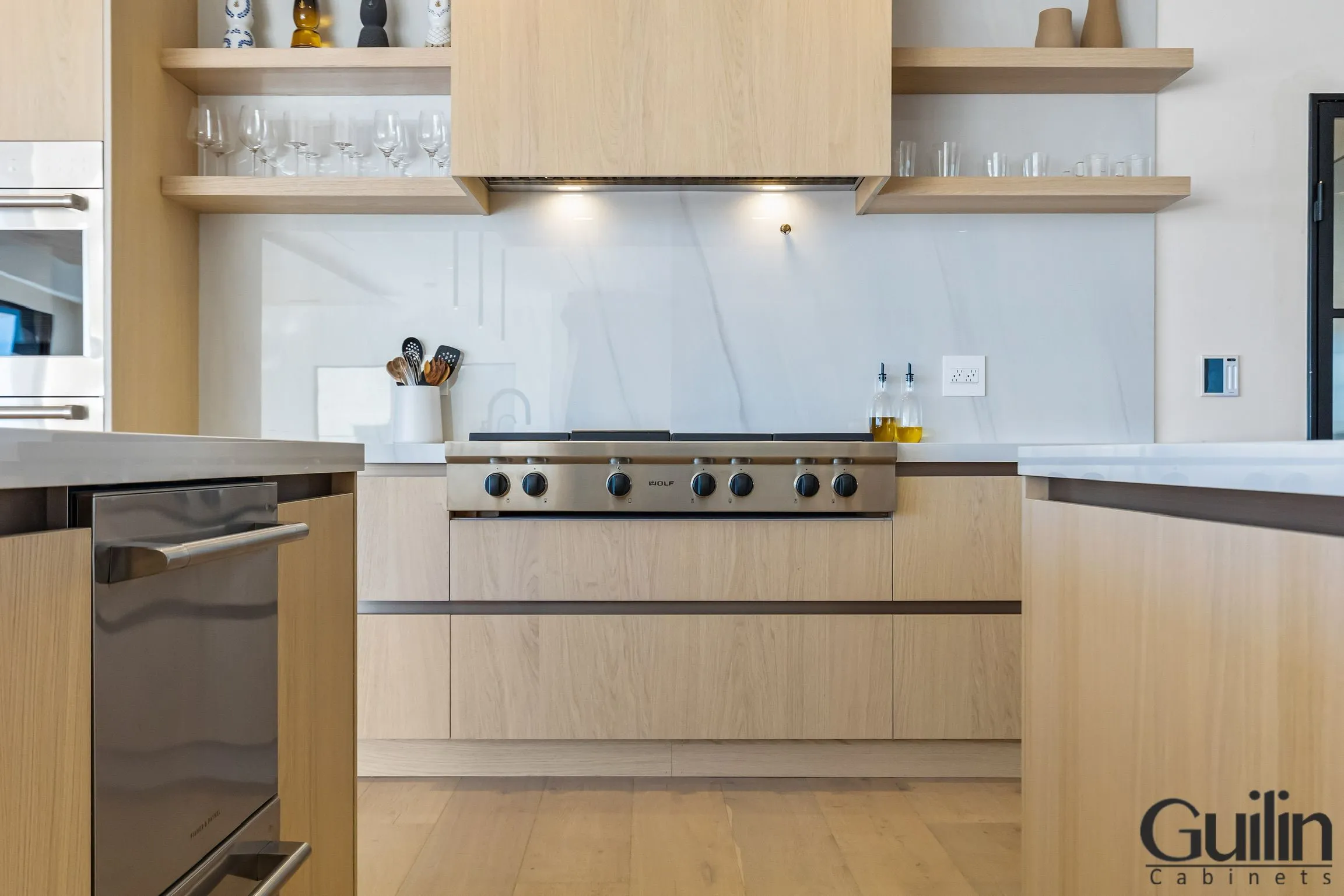 Materials and Texture: focus on natural
The fewer accessories there are in the kitchen, the better the design will be. Only the furnishings are chosen with respect to one another. Even the space itself is kept simple and balanced. An open floor plan lets in an abundance of natural light and does not create rooms closed off from one another. The furniture of the Scandinavian kitchen style is light-colored and usually made of wood. Chairs, cupboards, shelves, beds, and tables in these styles are clean and simple without a lot of decoration. Furniture is usually placed against the walls, which means the kitchen is not cluttered with furniture.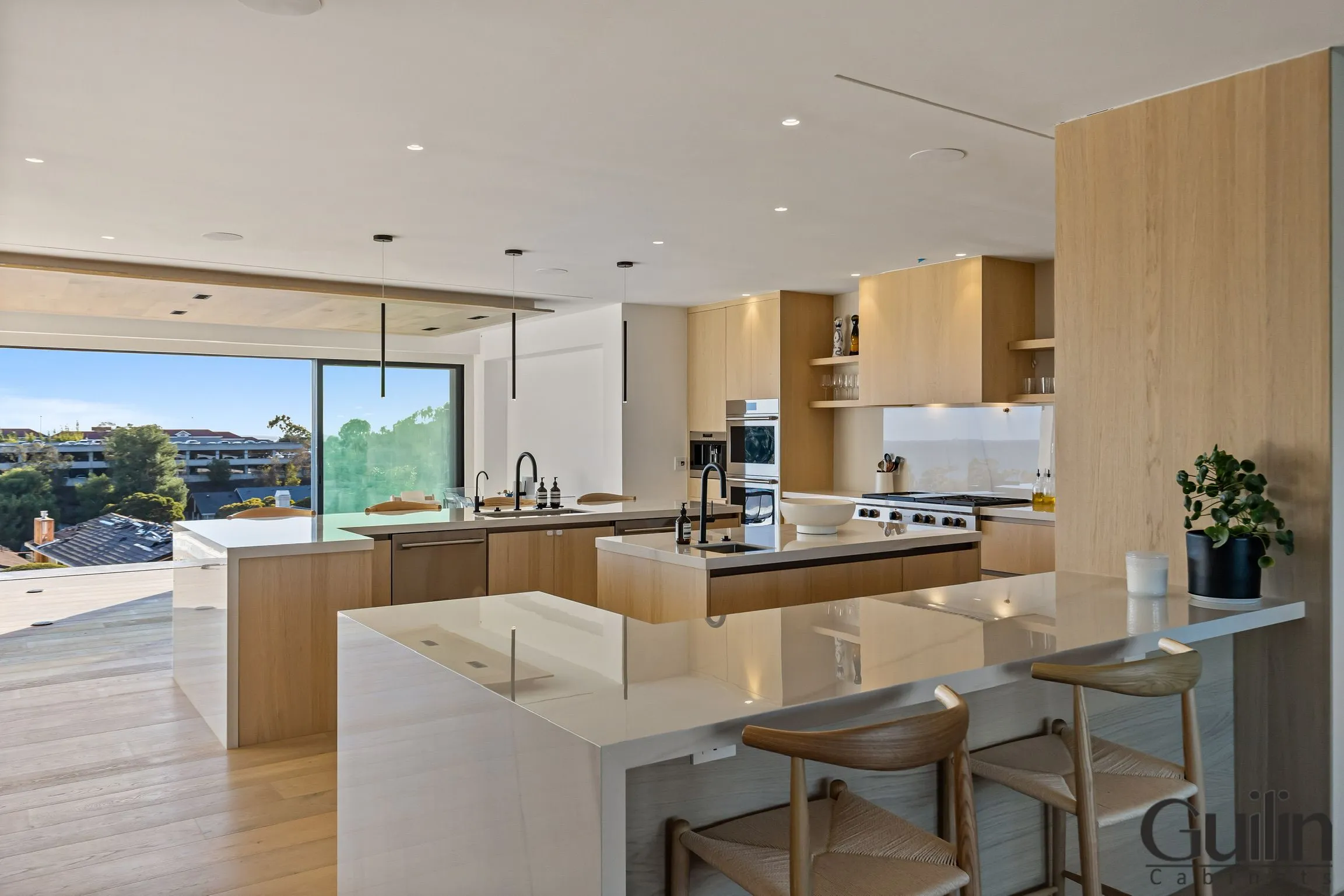 Lighting: advantage of natural light
Lighting is a very important key in the Scandinavian Kitchen style. They help to create an open, airy, and inviting atmosphere. The use of natural light when possible is a special key element of the style. That is why Scandinavian kitchen often features large windows to take advantage of the natural light help to brighten up the area.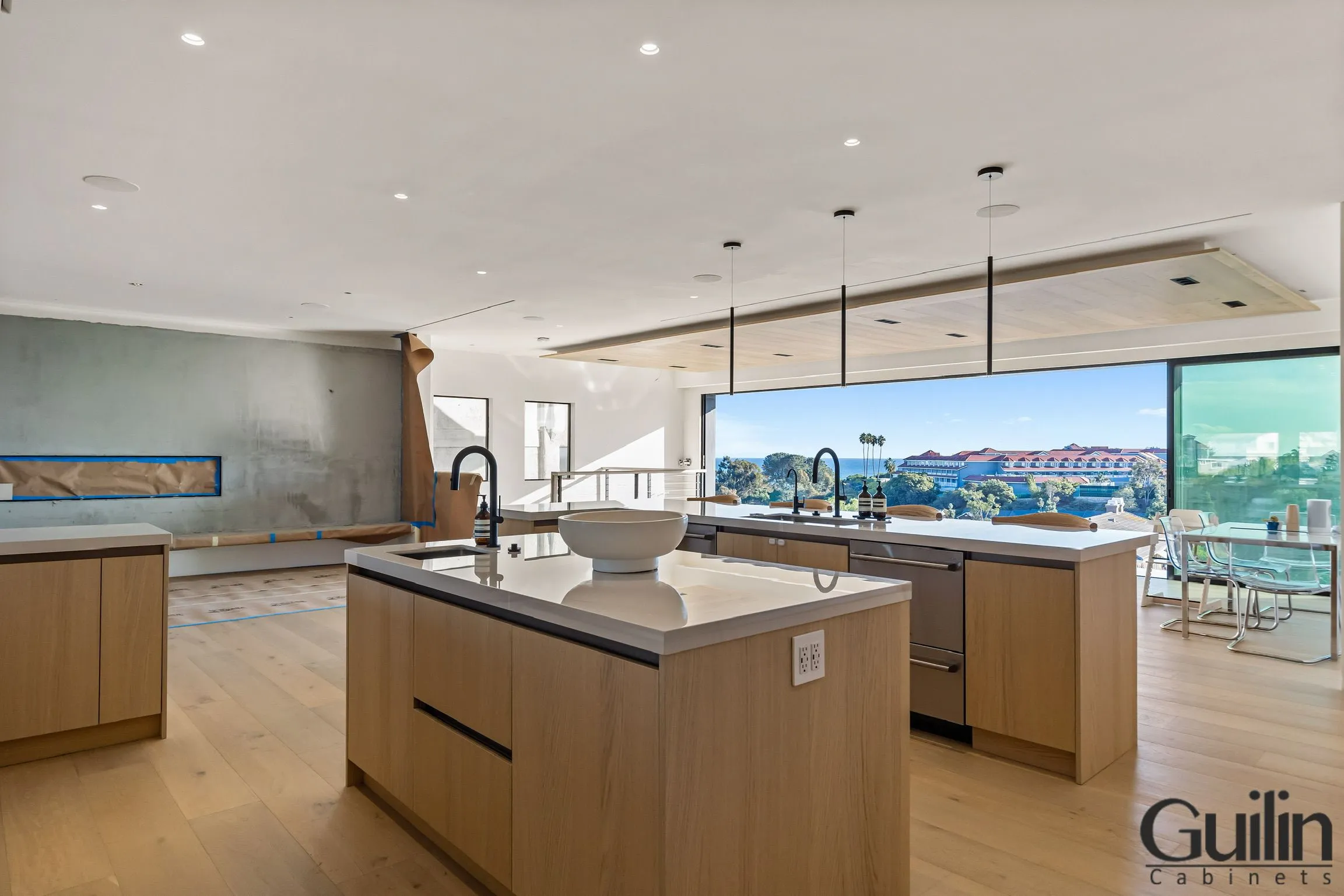 Cabinets: simple lines, light color
Scandinavian Kitchen Cabinets have simple lines and are made of wood. The feature of Scandinavian-style cabinets is often: sleek, minimalist handles, and the cabinets themselves are often suspended from the ceiling. For a more modern look, the cabinets of the Scandinavian Kitchen style are enhanced by their lack of ornamentation and by their natural light color, which allows for a sense of open space in the kitchen. The cabinets of a Scandinavian kitchen style are a great option for those looking for a modern and contemporary look in the kitchen. With their simple lines, neutral colors, and lack of ornamentation, these cabinets offer a clean and minimalistic look.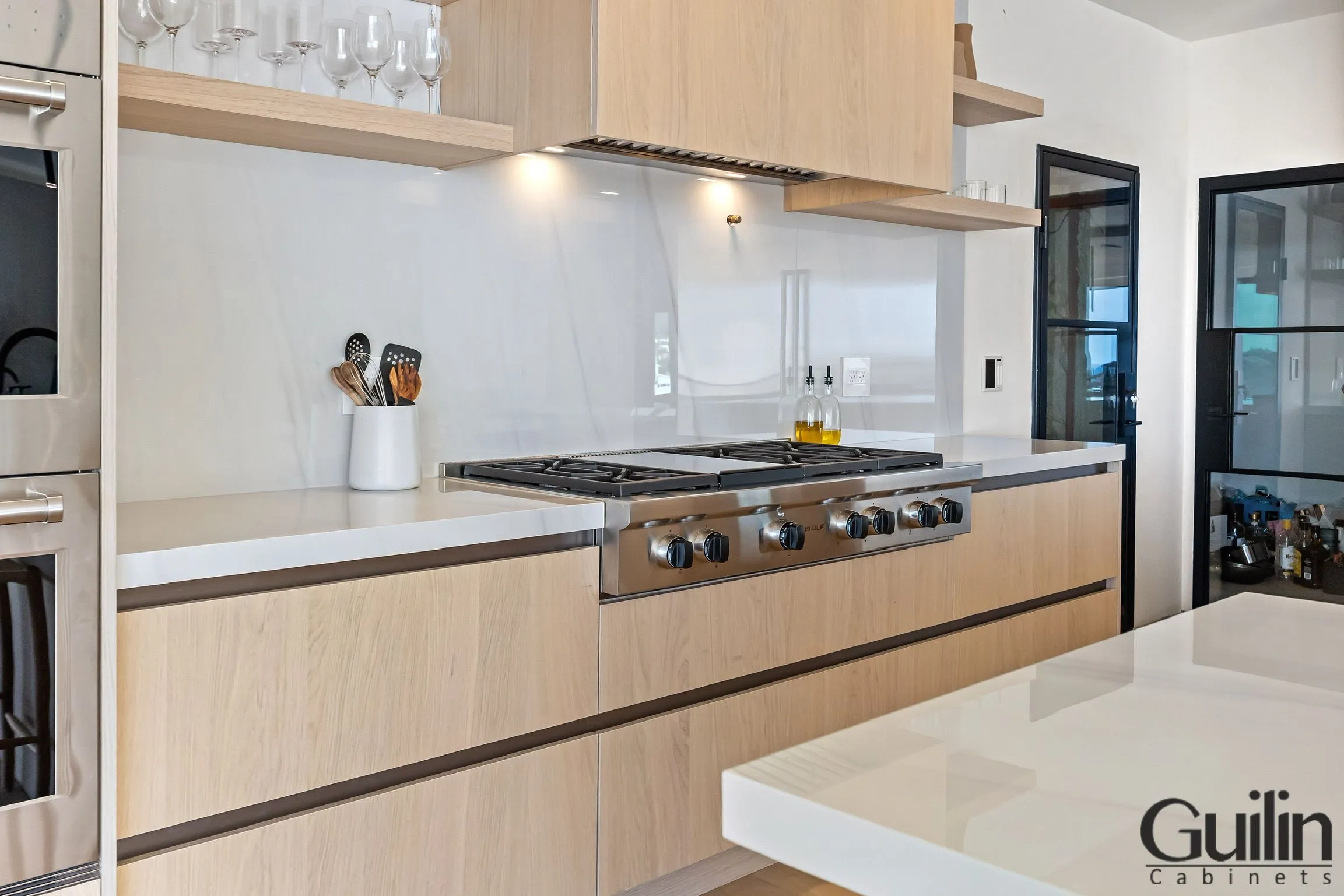 Scandinavian-style windows: Large, simple with straight lines
In Scandinavian style, The windows are usually large and they range from 2 to 3 meters in width, providing ample natural light, ventilation, and excellent views. Large windows make the rooms feel open and roomy, making the space appear larger than it is. Scandinavian-style windows are modern and provide a fresh, healthy, airy look and feel to any room. This style of window offers practicality and style to any home and is a great way to bring a little bit of the Scandinavian lifestyle into your home.
=> Read more:8 Easy Ways to Increase Natural Lighting in Your Kitchen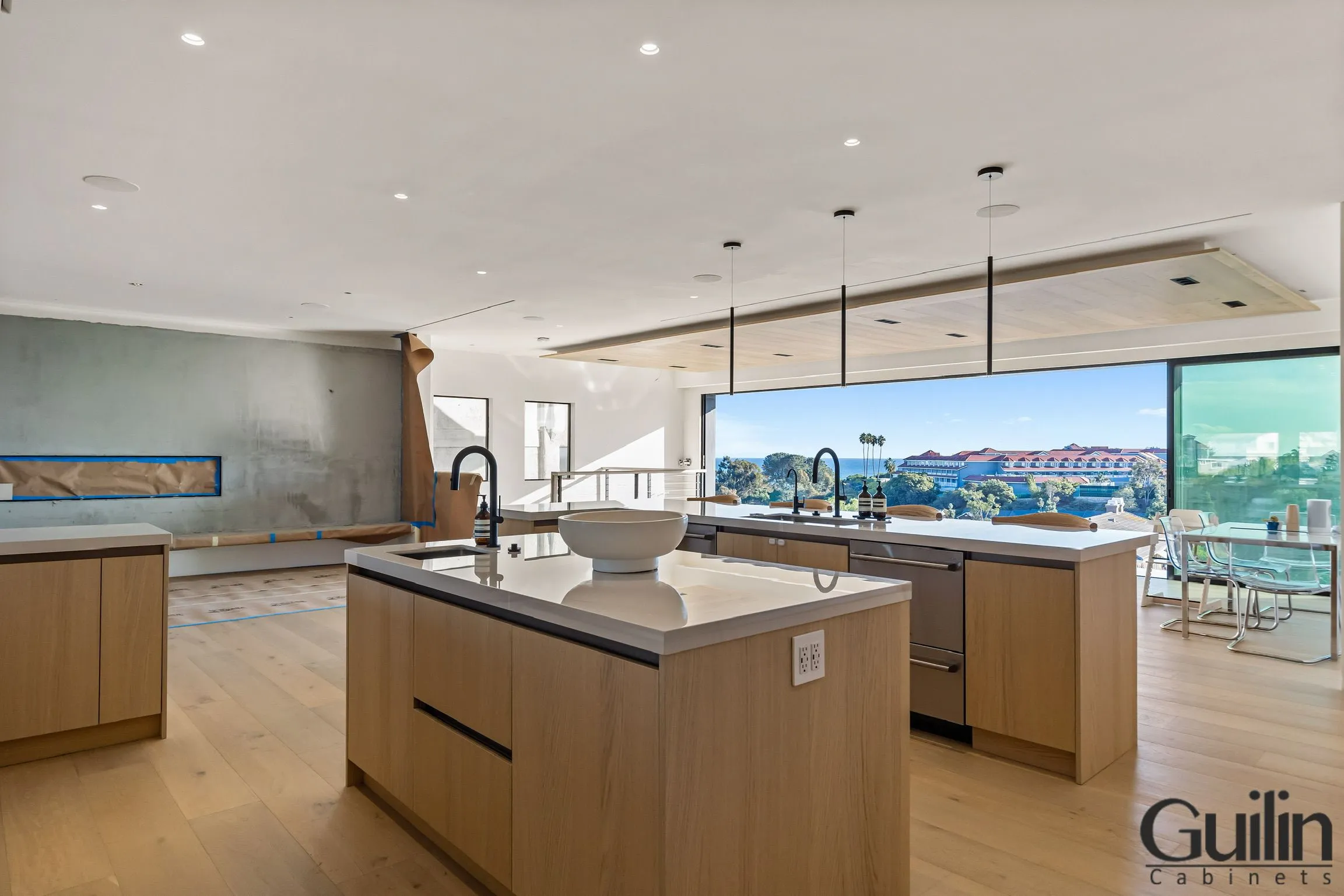 Appliances: durable, versatile, eco-friendly
Appliances in the Scandinavian Kitchen Style feature a sleek and modern look, as well as being energy-efficient and technologically advanced. From stainless steel ovens and refrigerators to induction cooktops and range hoods, these appliances provide a versatile, clean aesthetic that is sure to make any kitchen look stunning.
Durable
Versatile
Sleek, Simple
Easy to clean
Resistant to stains
Eco-friendly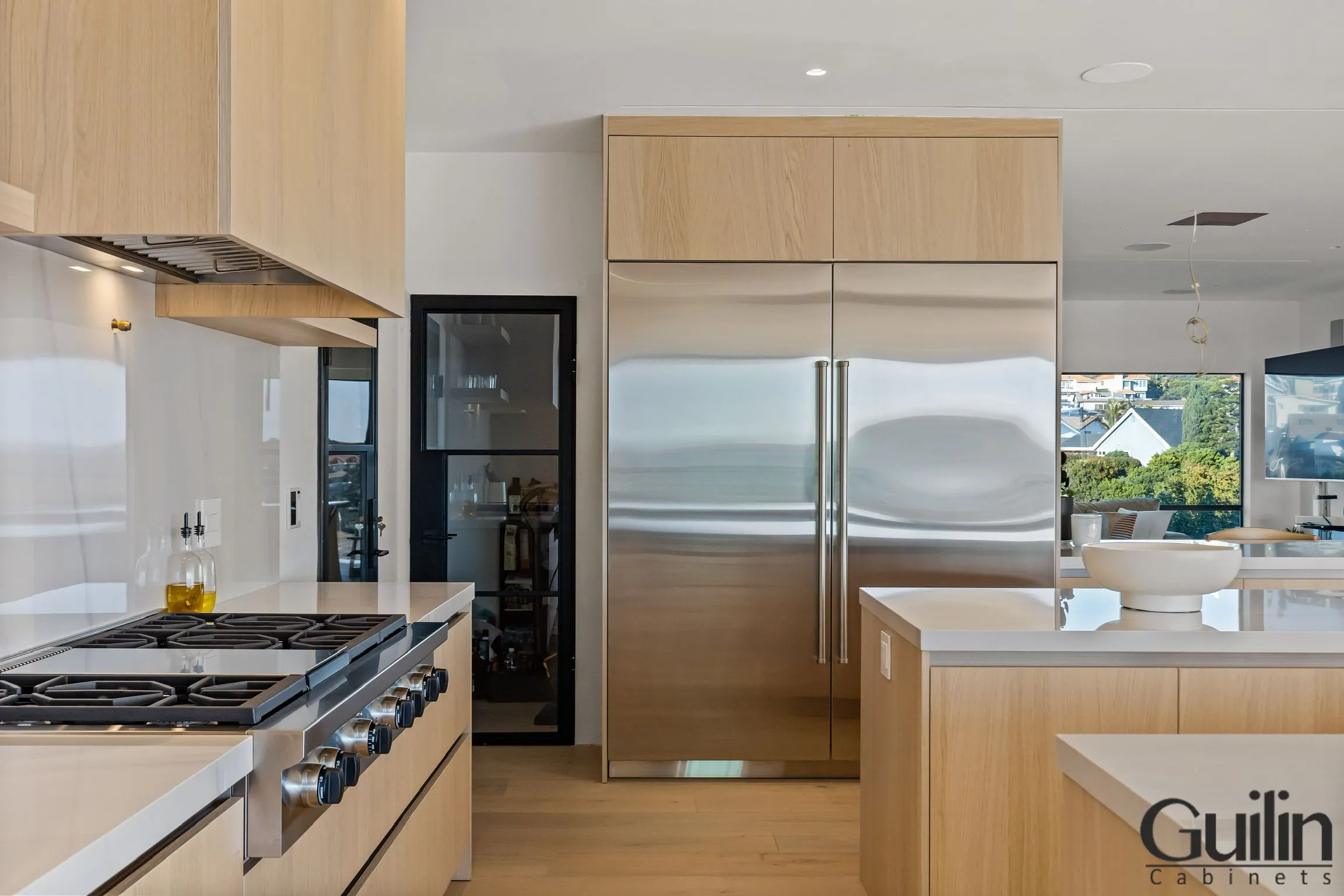 The Pros of Scandinavian Kitchen Style
The Scandinavian Kitchen Style offers many benefits to those looking to Remodel home kitchens. The Scandinavian kitchen style of minimalism is a popular trend that has been gaining momentum in recent years. Because the style focuses on the idea of keeping things simple and uncluttered and emphasizes minimalism and functionality, with open space advantage of natural light for healthy lifestyles. It features light colors to create an airy and open atmosphere and emphasizes natural light. Its materials, such as wood and metal, are designed to be durable and easy to clean. The style also encourages the use of custom cabinets for clever storage solutions to maximize space.
=> Check Out – Our Service: Custom Cabinets Craftsmanship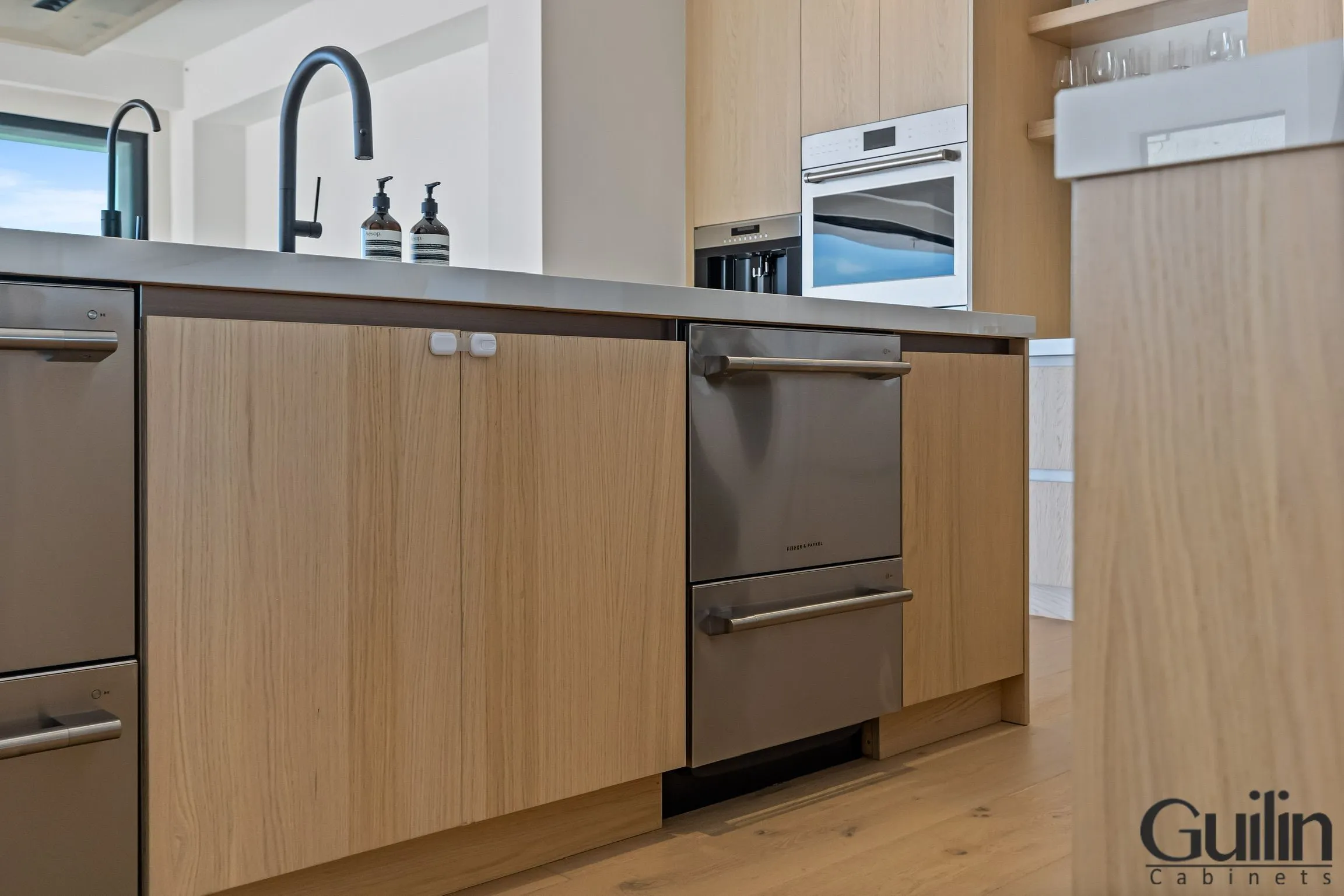 About Minimalism: Less is more
The minimalist kitchen style is a popular trend that has been gaining momentum in recent years and is made with sleek and efficient designs. This style focuses on the idea of keeping things simple, streamlined aesthetic of natural materials, neutral colors, and clutter-free surfaces for creating a calming and inviting atmosphere without the distraction of too many decorative elements. The Scandinavian kitchen style of minimalism is a great option for those who love minimalism but still looking to create a modern, yet practical and functional kitchen.
About Functionality: Simple, clean, easy reach
Scandinavian kitchens are designed to be practical and efficient. They use natural materials like wood and stone and are usually laid out with the appliances and furniture on one side. This makes them easy to use and clean, and ensures that everything is within easy reach. The open space in the kitchen allows for efficient cooking and movement, and the simple design gives the kitchen a clean and modern look.
How to Add Scandinavian-Style into My Home Kitchen
Adding Scandinavian-style features to your home kitchen does not have to be expensive. Simple touches such as using more wood elements, sleek colors, and a large door or window can add a sense of beauty.
Use More Wood Elements
One of the best ways to do this is by using more wood elements, particularly wood cabinets. Scandinavian kitchens also use lots of natural wood, typically in lighter shades like beech or pine, they add texture, and balance with nature which can be difficult to achieve with other materials. in Addition, They also provide a clean, simple look that will never go out of style. In addition to wood cabinets, adding other wood elements, such as shelves and furniture, will help to make the room look more unified. The contrast of light and dark woods also adds to the overall Scandinavian Style look.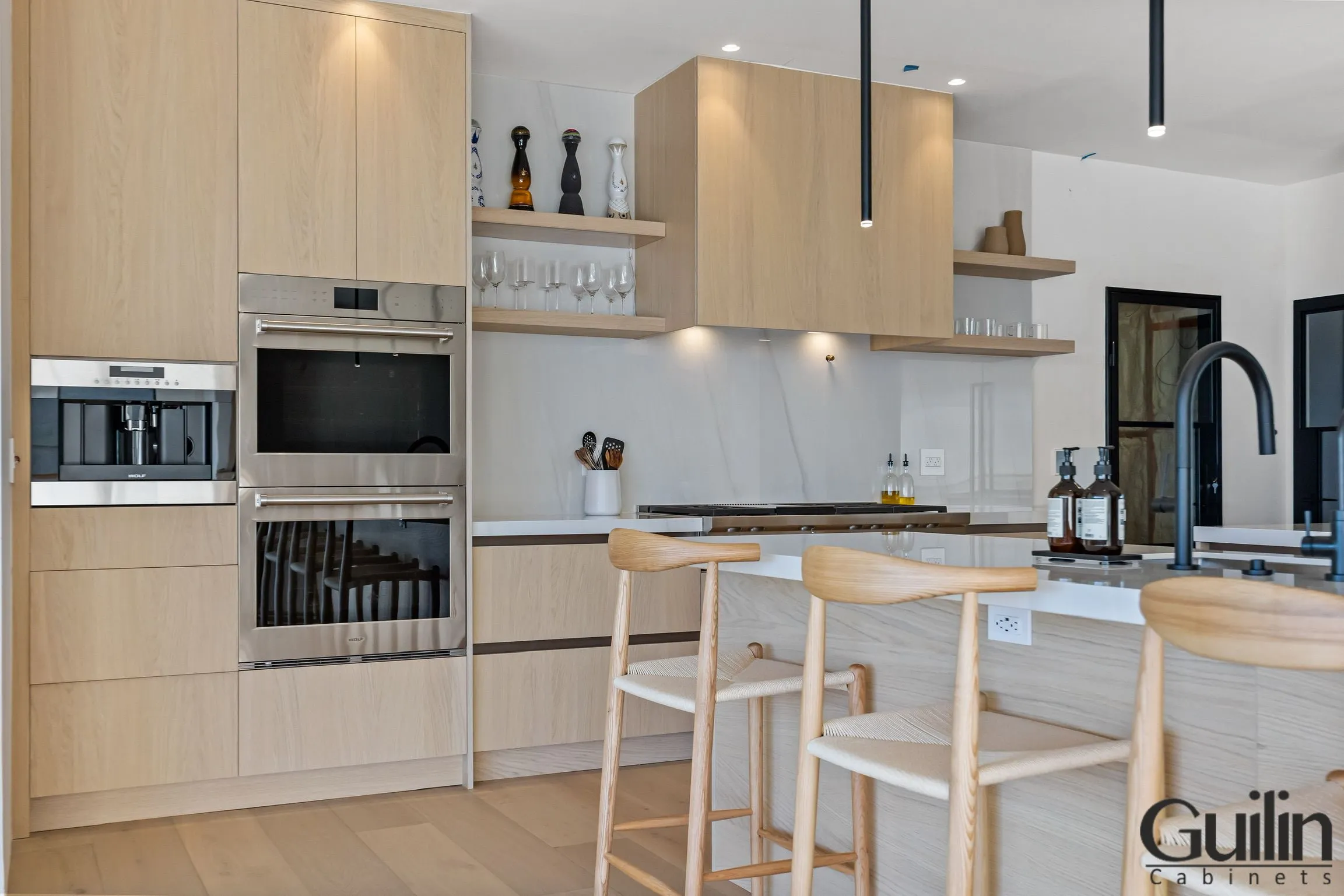 Refacing Your Kitchen Cabinets
The Scandinavian style is a popular interior design trend that is known for its minimalistic design and neutral colors. To add this style to your kitchen, one of the easiest ways is to reface your kitchen cabinets. This involves changing out the cabinet doors for something that is sleek, modern, and hands-free. This can be a relatively easy and inexpensive way to transform the look and feel of your kitchen and bring a Scandinavian atmosphere to the room.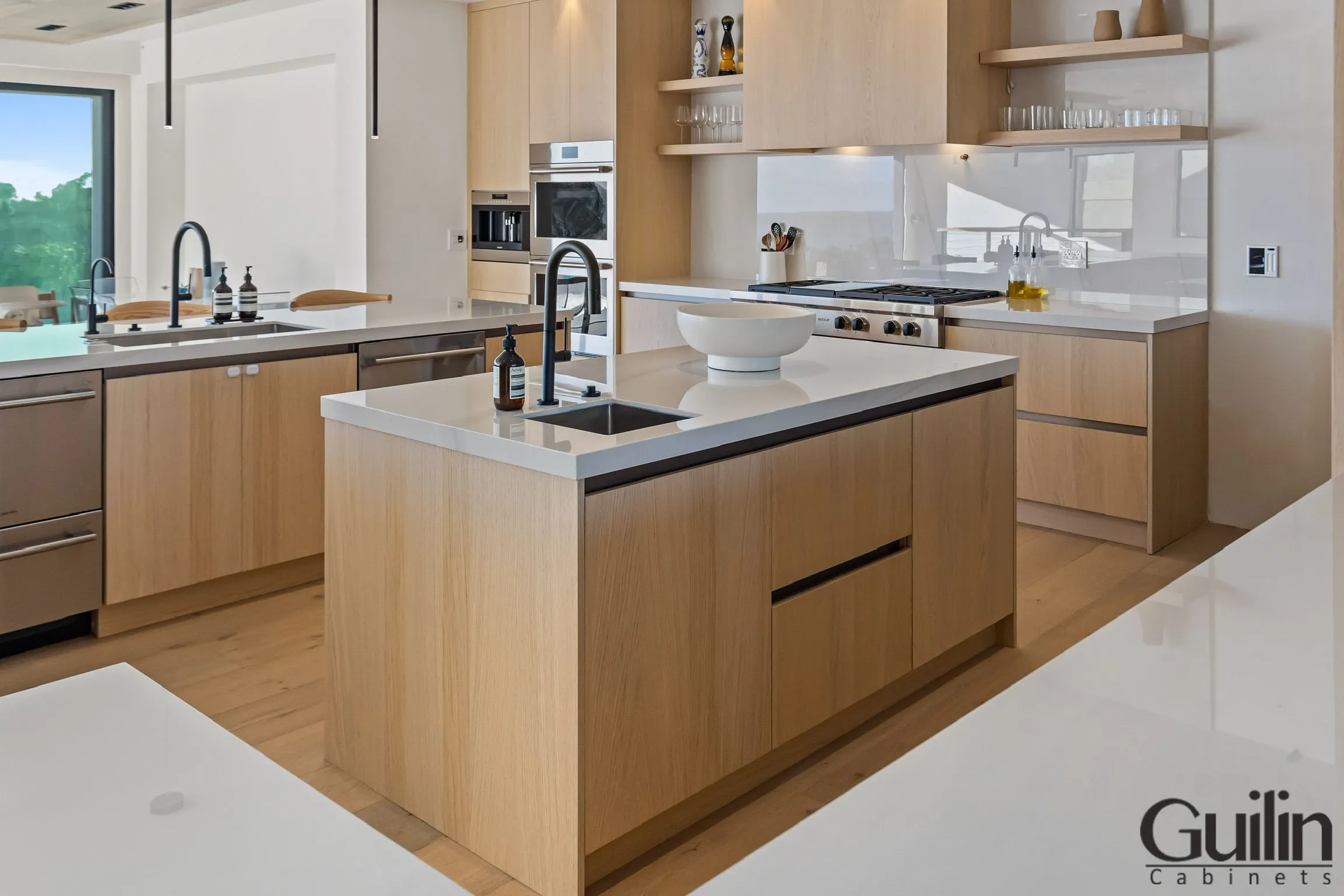 Installing a large door, large window, skylight
Installing a large door or Large window in your kitchen can be a great way to brighten up the area and let in more natural light which is a very important key in the Scandinavian Kitchen style. Natural light helps to create an open, add airier, and more inviting atmosphere in your kitchen. A door with a large panel would visually be more appealing than a small one.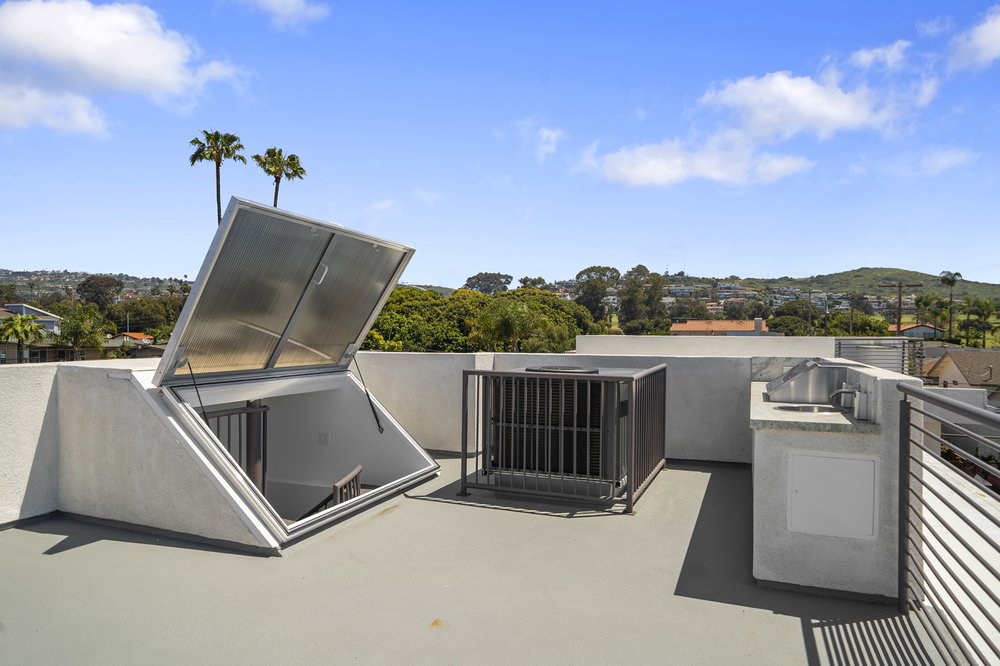 Keep Things Minimal
If you're looking to add a touch of Scandinavian style to your home kitchen, the best way to do this is to keep things minimal. The Scandinavian style is about living simply and balanced with nature. Keeping things in a minimalist curated way is key!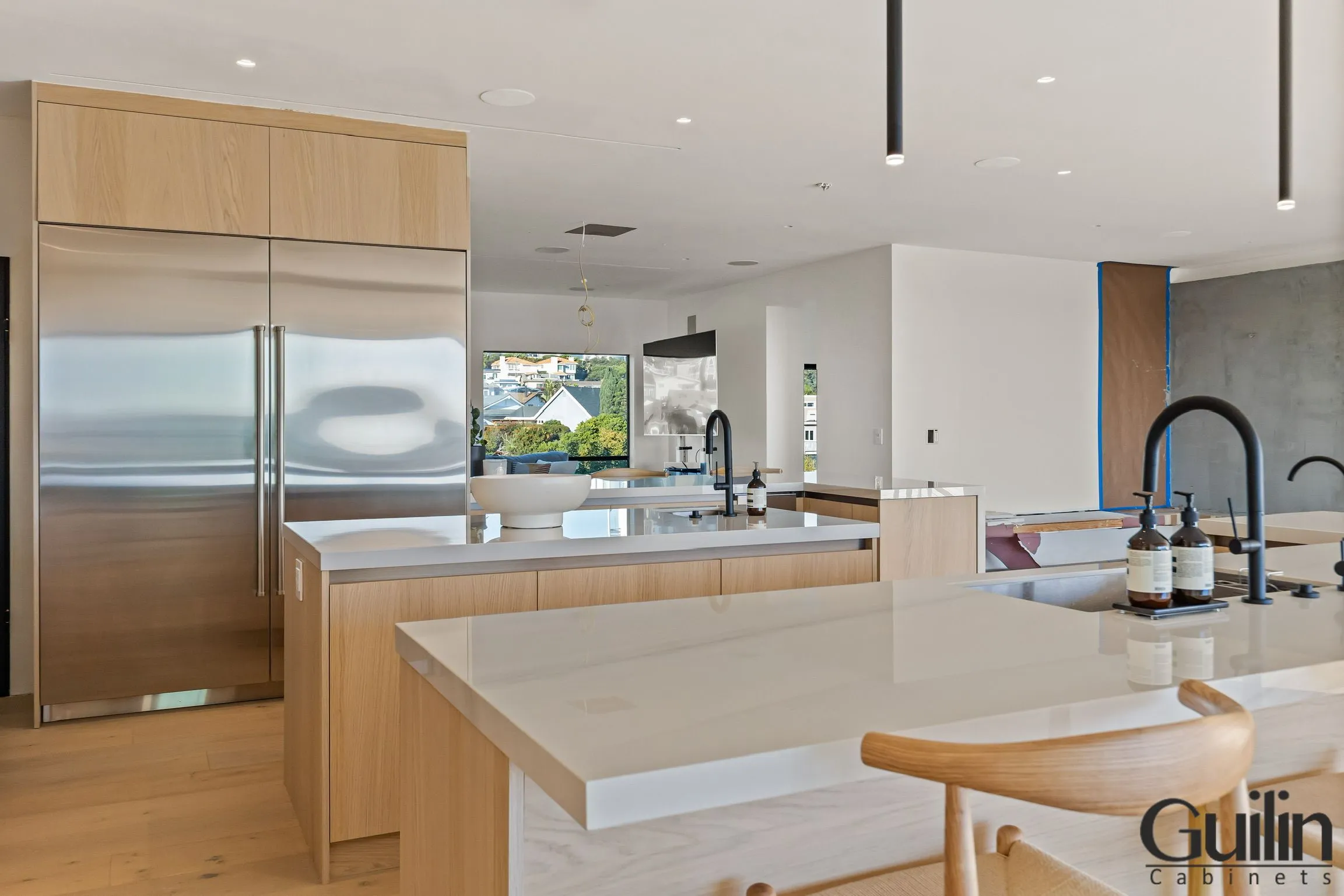 Similar Styles of Scandinavian Kitchen Design
This style is all about function over form. Gone are the days of ornate cabinetry and gaudy knickknacks. In place are sleek, simple lines and natural materials. In Addition, This style of kitchen frequently features contemporary materials like stainless steel, concrete, and fingerprint-free glass table, with the high-end appliance,… Contemporary kitchens also have an expansive feel that's usually the result of high ceilings, large windows, and the use of natural light, which is the same as Scandinavian Kitchen Design.
=> Read More: What is a Contemporary Kitchens Style Design? Function over Form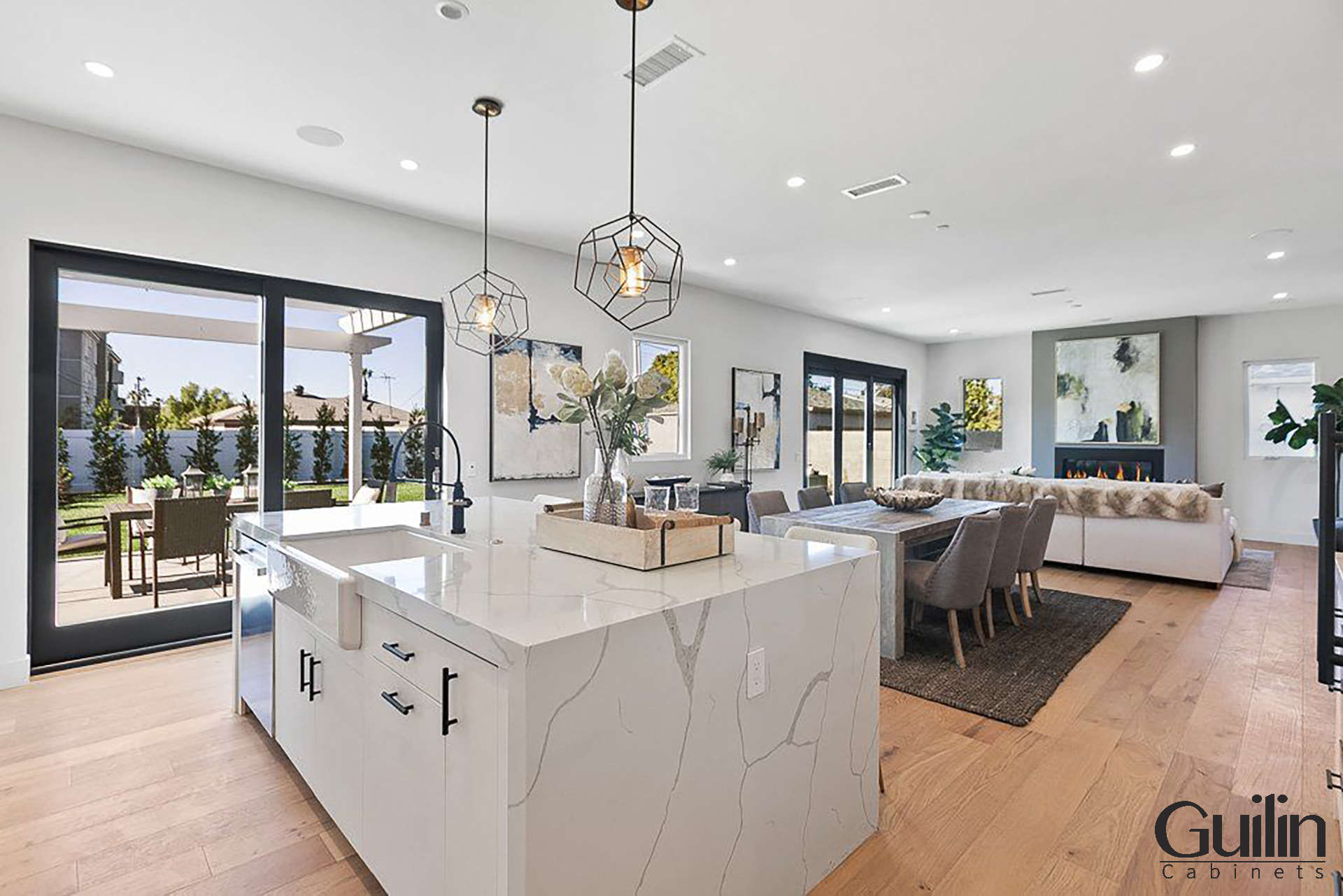 Modern Kitchen Style
Modern kitchen style is a popular design trend made by focusing on a balance between form and function. This style features clean, minimalistic lines, sleekness, simplicity, and neutral colors. Kitchen cabinets used in modern kitchen style often have thin, flat panel designs and come in neutral tones such as white, gray, or black. This creates crisp lines and helps to create a more modern look.
=> Read More: List Of Kitchen Styles For Your Home Kitchen Remodel Ideas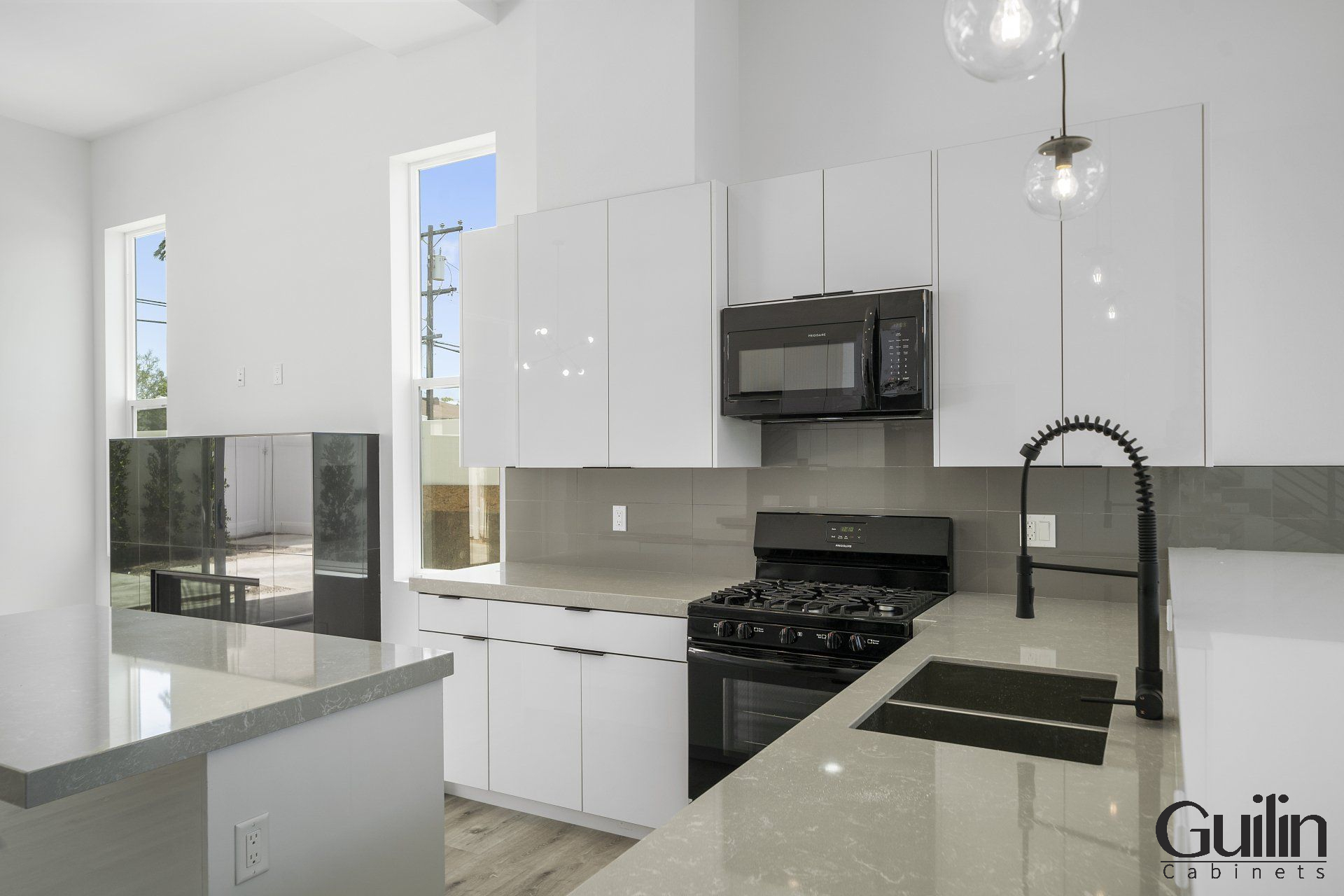 A coastal kitchen style incorporates many features that are design ideas focused on those who want to live a healthy life in fresh air places, open floor plans, and abundant light. The Coastal Kitchen design style is created by light, airy colors, and comfort, they are also known for their rustic and unpolished look.
=> Read more: What is Coastal Kitchen Style? Fresh air, Natural light, Healthy lifestyle.