When it comes to kitchen design many people prefer industrial-style kitchens. However, traditional-style kitchens are trending right now, and many people are choosing them over industrial-style kitchens. If you're considering an industrial-style kitchen, you may wonder if it's right for you. In this blog post, we'll take a look at the pros and cons of traditional kitchens versus industrial kitchens. Keep reading to learn more!
The Traditional kitchen design has design elements that create a timeless aesthetic appeal. These architectural styles resemble those from Europe and the United States of the 1700s, 1800s, and early 1900s. These kitchens are typically adorned with ornate details such as carved molding, elegant hardware, and intricate trim work, that made them elegant and a touch luxurious.
The color combinations in typically traditional kitchens styles are commonly warm and neutral, with splashes of colors added through decorations or accents. For example, a traditional white or cream kitchen with a classic feel may be accentuated with red or blue tiles in a subway pattern.
In Addition, Colors like beige, cream, and light brown are commonly used in traditional kitchen design, as they help to create a warm and welcoming environment. And The furniture-like cabinetry that is commonly found in traditional kitchens creates a warm, inviting atmosphere.
These cabinets are often made out of fine, warm woods like cherry or mahogany, and they frequently feature raised panel doors and distinguished hardware.
=> Read More: What is Traditional Kitchens Design Style?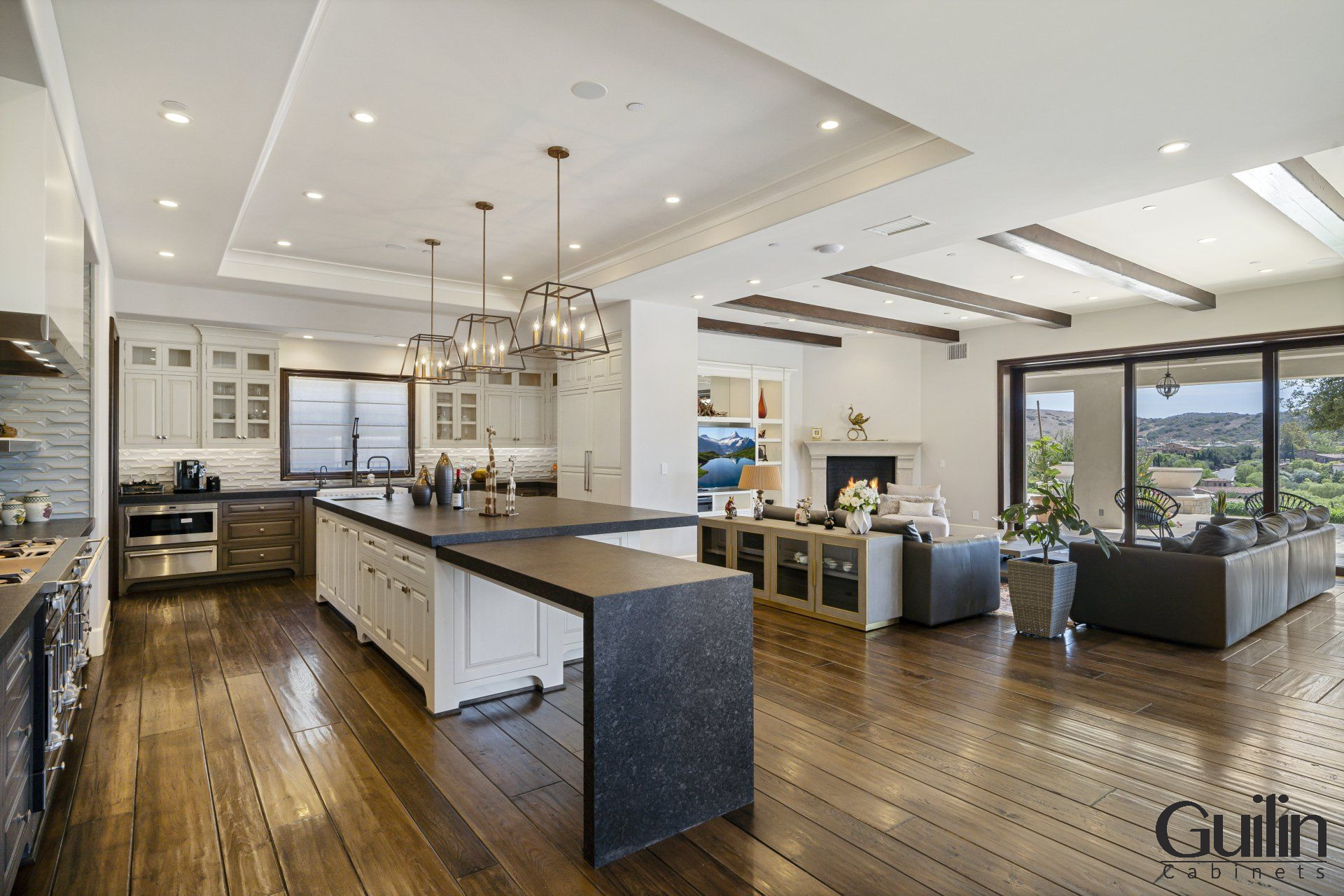 Traditional kitchens are commonly characterized by:
Granite or marble countertops
Subway tile backsplashes
Farmhouse-style sinks
Chandeliers or pendant lighting
Hardwood or stone flooring
Built-in pantries or hutches
Decorative plate racks or open shelving
Crown molding or wainscoting
Traditional-style cabinets with antique finishes
Warm, neutral color palette with pops of color in accessories or accents.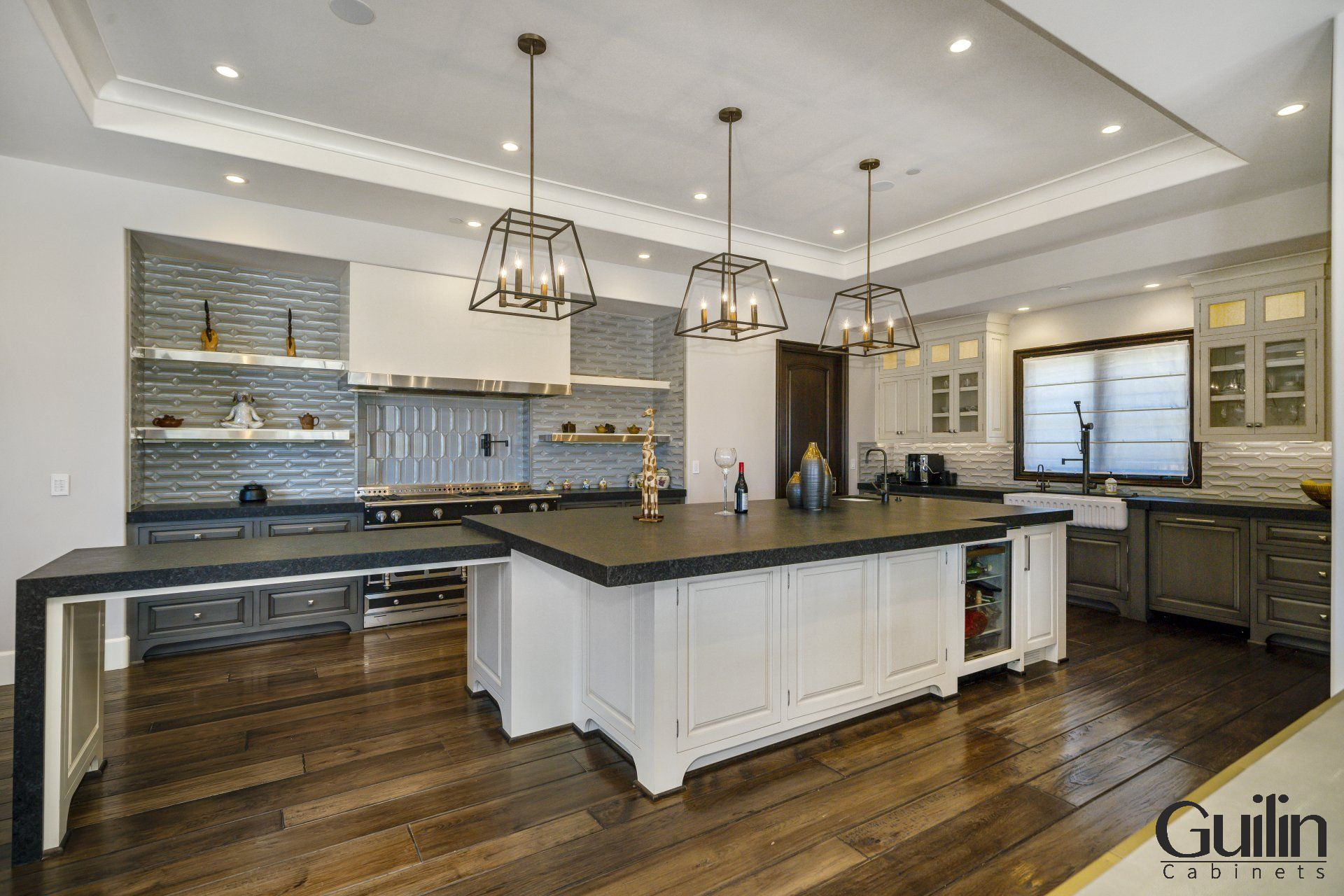 Overall, traditional kitchen designs provide a sophisticated, ornate design that is both warm and inviting. Regardless of whether you want a kitchen with a historical feel or a space that feels comfortable and welcoming, a traditional kitchen design is an excellent choice.
What is Industrial Kitchens Style?
Industrial kitchen styles are becoming increasingly popular for commercial and residential kitchens alike. The home kitchen with Industrial styles is simple but bold space where raw materials and tough appliances and fixtures with minimalist finishes take center stage. Industrial-style kitchens are modeled after the factories, warehouses, and of the early 1900s, with a raw, utilitarian appearance that is emphasized by the bare wood elements used in the kitchens.
Nowadays, Industrial design is usually found in a commercial establishment, such as a restaurant, Industrial coffee shop style,… The benefits of industrial kitchen styles include easy maintenance, improved sanitation, and a sleek, modern look. These kitchens often feature large workspaces and can be customized to fit any budget.
Additionally, industrial kitchens are designed to be energy-efficient and can help reduce energy costs. Furthermore, industrial kitchens are designed with safety in mind, making them a great choice for both residential and commercial kitchens.
The Features of Industrial kitchens are commonly characterized by:
Exposed brick or concrete
Heavy-duty appliances are a key feature of industrial kitchens
Metal finishes, such as stainless steel or galvanized steel
Open shelving or metal wire storage baskets
Minimal cabinetry with clean lines and metal hardware
Concrete, stone, or raw wood countertops
Unfinished or intentionally distressed surfaces
Industrial-style appliances, such as range hoods with metal ductwork
The dark color palette, often with pops of metallic shine or industrial elements like exposed pipes
Functional, space-saving design elements, such as a large island or dining table with metal legs.
Factory-style lighting fixtures, such as metal pendants or track lighting with retro lighting
Overall, The industrial style is an excellent choice for people who prefer a kitchen that is both stylish and functional, and who are drawn to the raw, unpolished appearance of an urban industrial area. If you're looking to upgrade your kitchen, an industrial kitchen is a great choice.
With its modern aesthetic and efficient design, an industrial kitchen can help make your kitchen a showpiece. Whether in a commercial or residential setting, the industrial kitchen design is a Good way to create a unique, contemporary appearance in your home kitchen.
Difference Between Traditional Kitchen Style VS Industrial Kitchen Style?
Traditional Style: Traditional kitchen styles provide a classic, elegant look that has endured the test of time. Their design features, such as raised-panel cabinetry, elegant hardware, and warm and inviting color palettes, create a timeless visual appeal that will never go out of style. This kitchen style is great for homeowners who want a kitchen area that is inviting, warm, beautiful, and functional.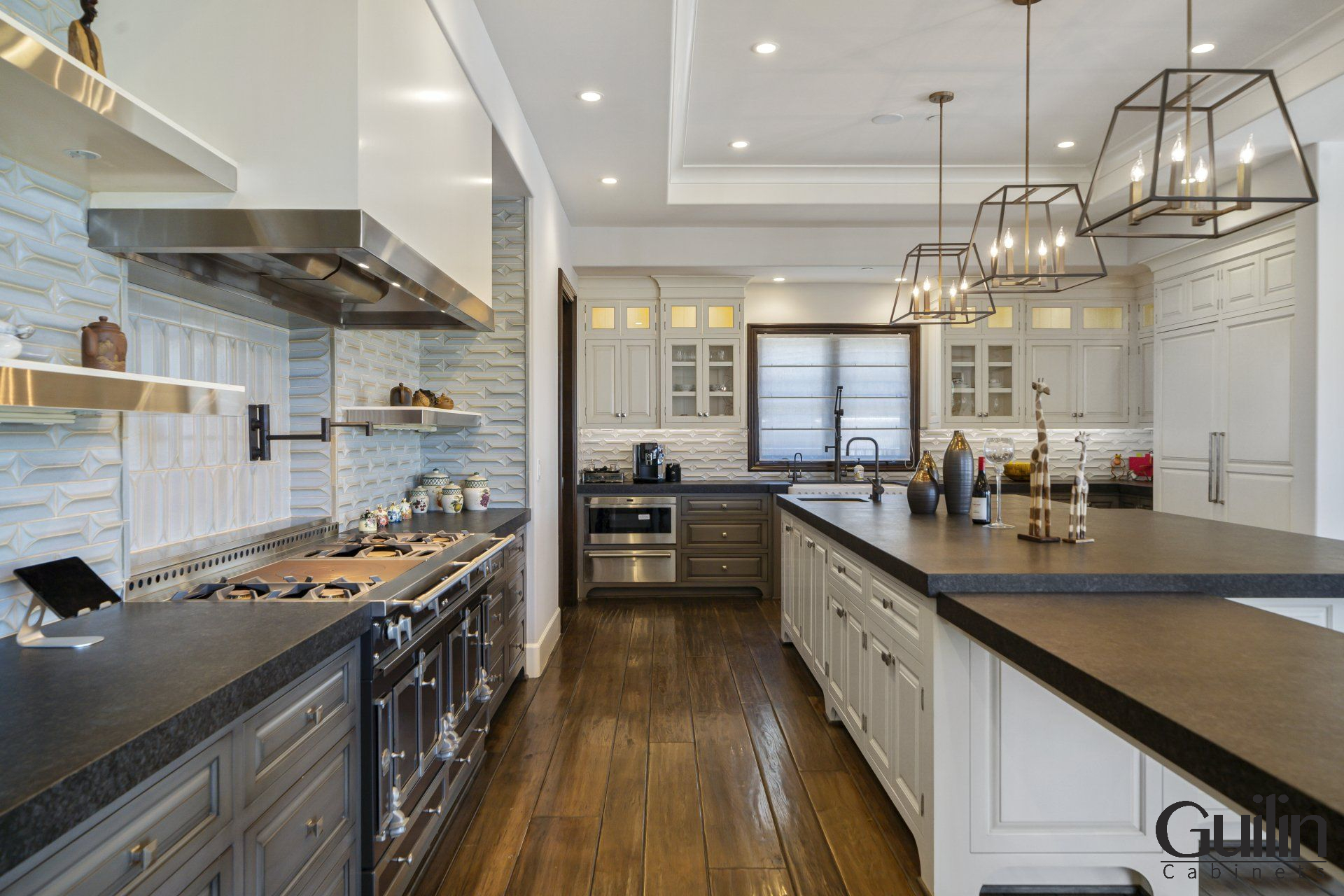 Industrial Style: On the other hand, industrial kitchen styles provide a raw, urban aesthetic that is both functional and efficient. This style is characterized by its use of raw, untreated materials such as exposed brick or concrete, and the use of metal finishes, such as stainless steel or galvanized steel. The focus of the style is designing a home that is both stylish and functional, and which will make the best use of its functional components.
The Difference Features Between them:
Aesthetic: The main difference between traditional and industrial kitchens is the overall aesthetic. Traditional kitchens have a classic, elegant look that is modeled after classic European and American architecture from the 18th century to the early 19th. Industrial kitchens, on the other hand, have a utilitarian, raw look inspired by early 20th-century factories and warehouses.
Palettes: Traditional kitchens have warm, neutral color palettes with pops of color provided by accessories or accents. Industrial kitchens have a dark, monochrome palette, typically with flashes of metallic shine.
Materials: Kitchens in traditional styles often contain furniture-style cabinetry made from rich, warm woods with raised-panel doors and luxurious hardware. Industrial kitchen styles often use metal finishes, such as stainless steel or galvanized steel, and unfinished materials, such as exposed brick or concrete.
Atmosphere: Kitchens strive to generate a warm, welcoming atmosphere, while industrial kitchens aim for a raw, functional feel.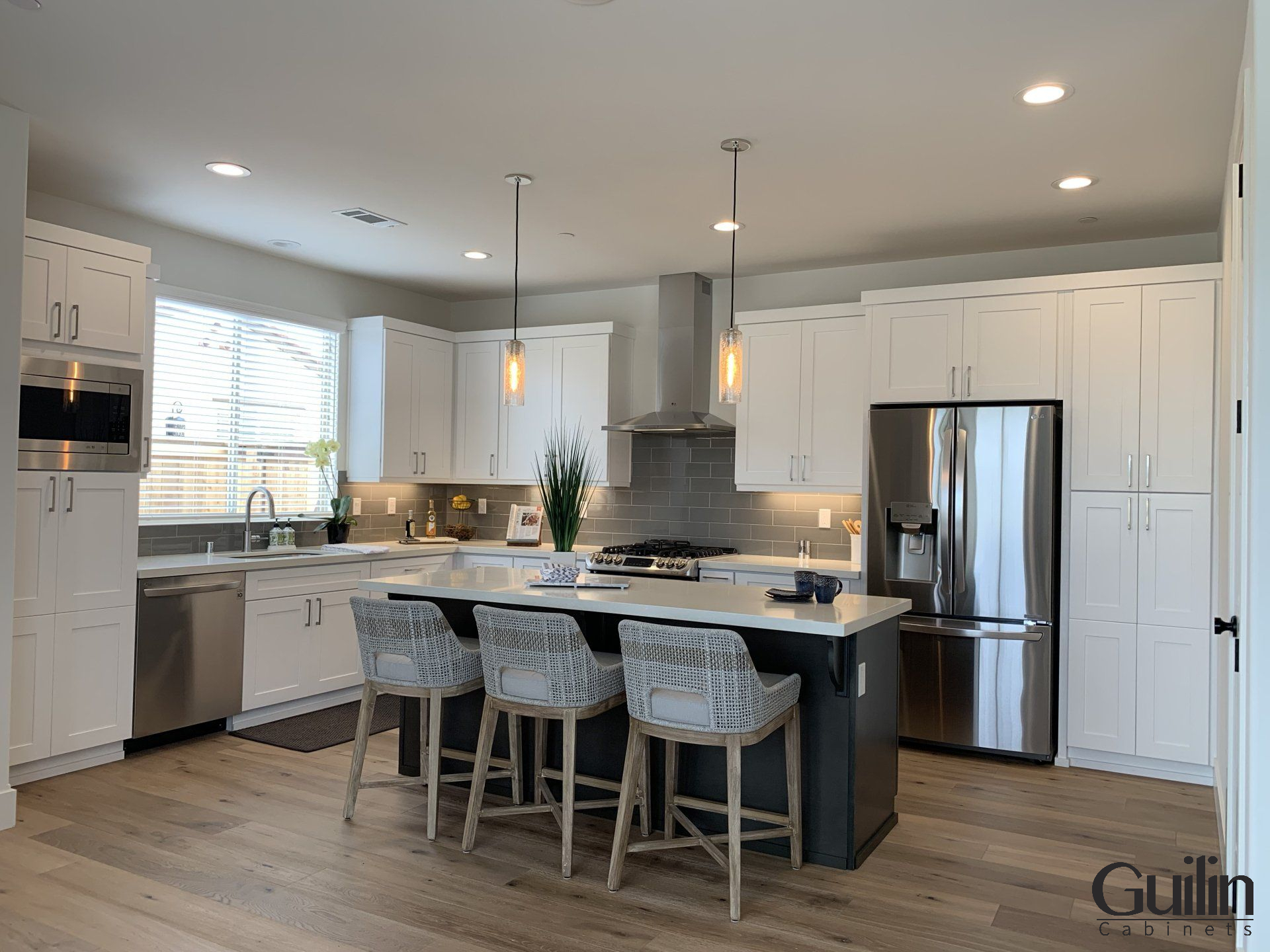 Ultimately, the decision should come down to personal preference and the overall look and feel that the homeowner is looking to achieve.
How to Choose Between Traditional or Industrial Style For Your Home Kitchen
Ultimately, the decision should come down to personal preference and the overall look and feel that the homeowner is looking to achieve. When making a selection between a Traditional style or industrial style kitchen for your home, consider these important details below.
Personal style: What is your unique style and preference? Do you like a warm and inviting environment or a bold and dramatic appearance? Do you like traditional, classic styles, or a more modern aesthetic? Your personal style will play a large part in determining which kitchen design is right for you. Consider your own personal style and preferences when you choose between traditional and industrial for a Remodeling home kitchen projects.
Homestyle: Think about the architectural style of your own home and the layout of your kitchen. An old-fashioned house will benefit from a traditional kitchen, while a modern or homey residence will work well with an industrial-style kitchen.
Functionality: How you will use your kitchen? Are you looking for a modern, efficient, and hospitable space for cooking and dining or a warm place for family meals? This will help determine which kind of kitchen is appropriate for your needs.
Your Budget: Considering the budget, the Traditional kitchen style may require more money due to the use of high-quality and luxury materials, while the Industrial kitchen style often requires less money due to the utilization of more common materials, more affordable.
Maintenance: Consider both kitchen style and materials when assessing upkeep. Traditional kitchens style often need more care and maintenance due to the often use of more intricate details, while industrial kitchens style often require less maintenance because of the use of durable materials.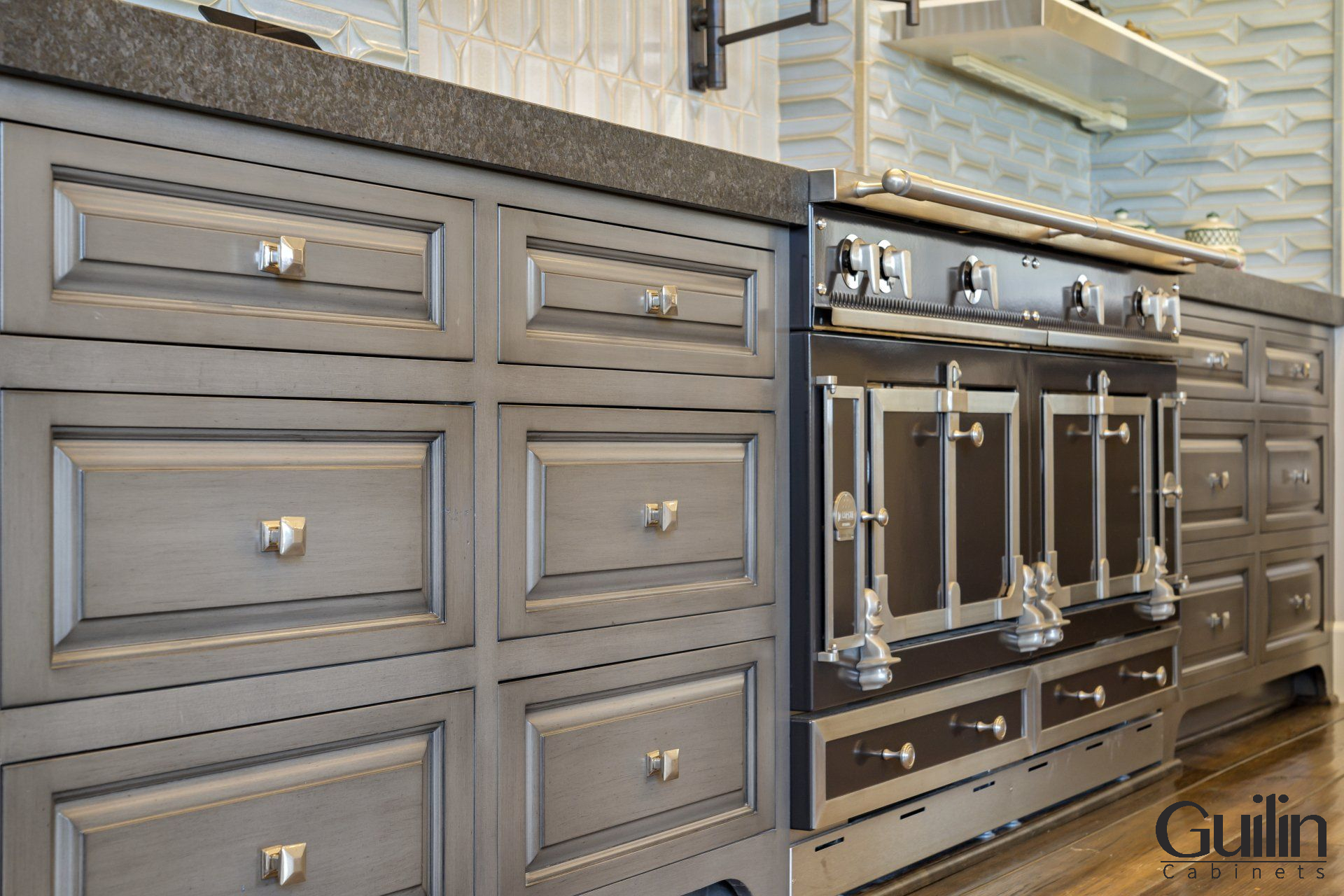 Looking to update or renovate your kitchen, look no further than Guilin Cabinets, Based in Irvine, California, we are a premier remodeling contractor specializing in kitchen remodeling services. Our team of skilled professionals has the expertise and experience to help you transform your kitchen into a more functional, stylish, and comfortable space. From replacing doors and refinishing cabinets to changing cabinet colors, installing new flooring, new countertops, and adding new appliances, we offer a full range of services to help you create the kitchen of your dreams.