A kitchen has become much more than simply a place to cook and enjoy meals. A kitchen is the space of the house, where your friends with family meet and memories are built. A well-designed kitchen can set the tone for the whole house. If you're considering upgrading your kitchen, then you undoubtedly have a lot of questions regarding modern design. In this blog article, we'll take a look at some of the current trends in kitchen design and offer you some advice for designing a modern kitchen of your own.
=> Read More: List Of Different Kitchen Styles For Your Home Kitchen Remodel Ideas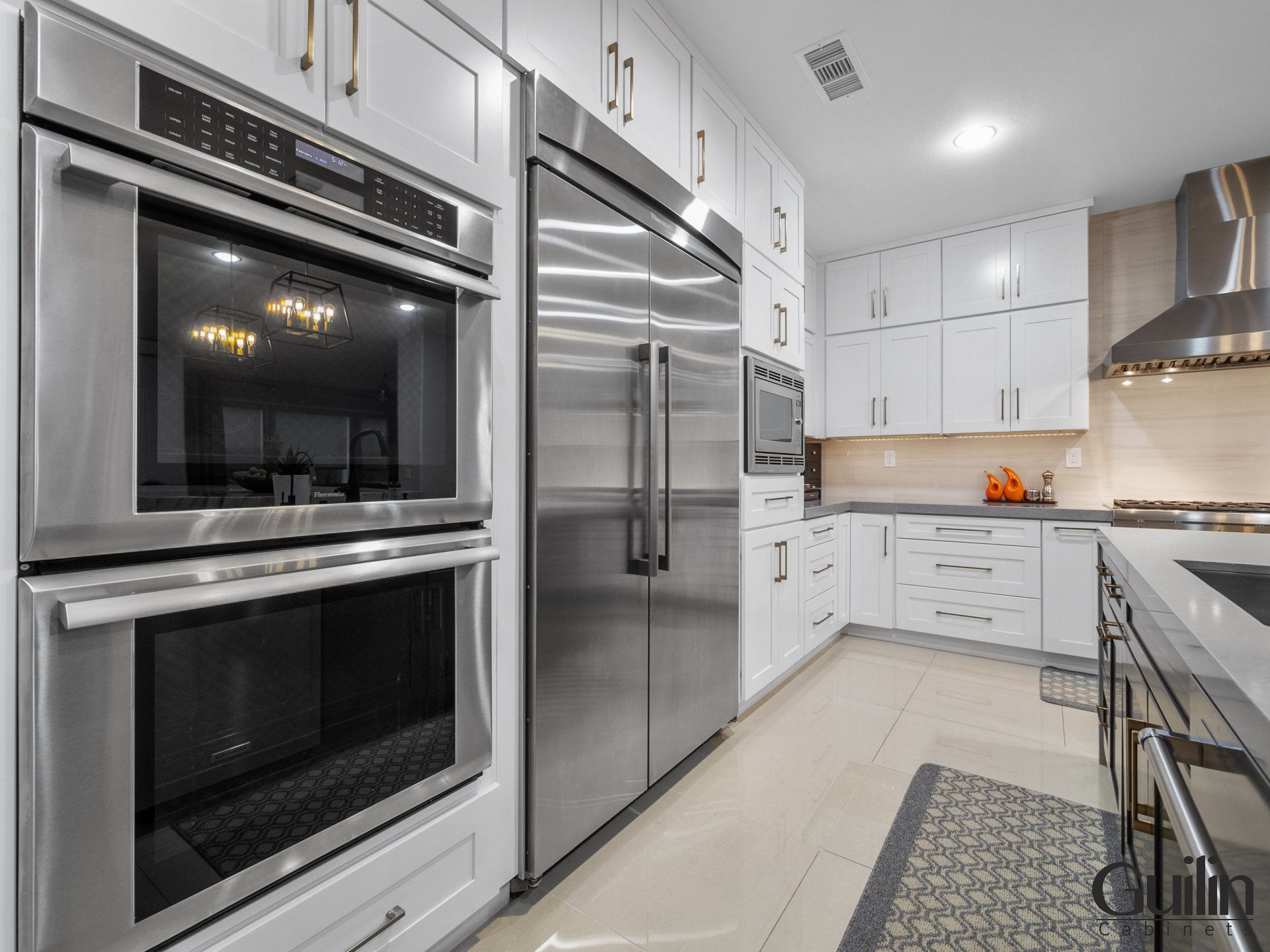 What is a Contemporary Kitchen Style Design?
Clean, simple, and function over form are the underlying philosophy for contemporary design! A contemporary kitchen style design is a modern, updated version of your old-fashion home kitchen. It typically features sleek lines and minimalist decor. This type of kitchen design style is very popular in modern homes and is often used to create a sleek and sophisticated look but clean and simple.
Contemporary kitchens usually feature flat-panel cabinets, stainless steel appliances, and modern hardware. Other features that are often included in contemporary kitchen designs are geometric shapes, neutral colors, and natural materials. In addition, contemporary kitchen designs often include modern lighting fixtures, open shelving, and smart storage solutions. In terms of furniture, contemporary kitchen designs typically feature clean-lined chairs and tables, as well as modern bar stools. These design elements combine to create a contemporary kitchen that is both stylish and functional.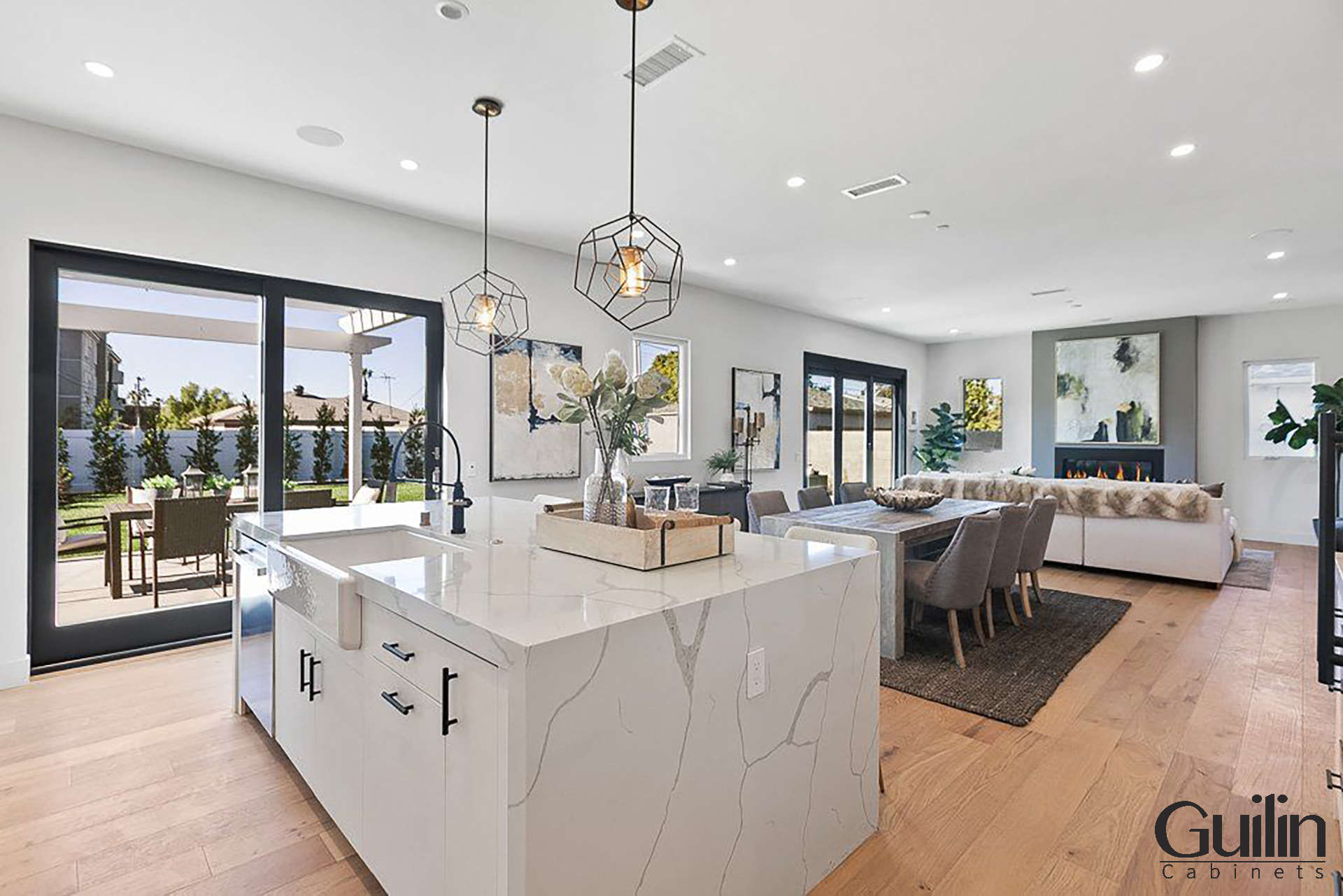 Key Characteristics that Define a Contemporary Kitchen Design
The contemporary kitchen style is an architectural style that emerged in the early twentieth century. A contemporary kitchen is one of the kitchen designs that incorporate modern design elements and is constantly evolving to keep up with the latest modern trends. Characteristics of a contemporary kitchen include simple and clean lines, a minimalistic approach to design, and the use of modern materials such as stainless steel, glass, marble, granite, or quartz… which are low-maintenance and durable. Additionally, a contemporary kitchen often makes use of open floor plans, allowing for a more spacious and inviting environment.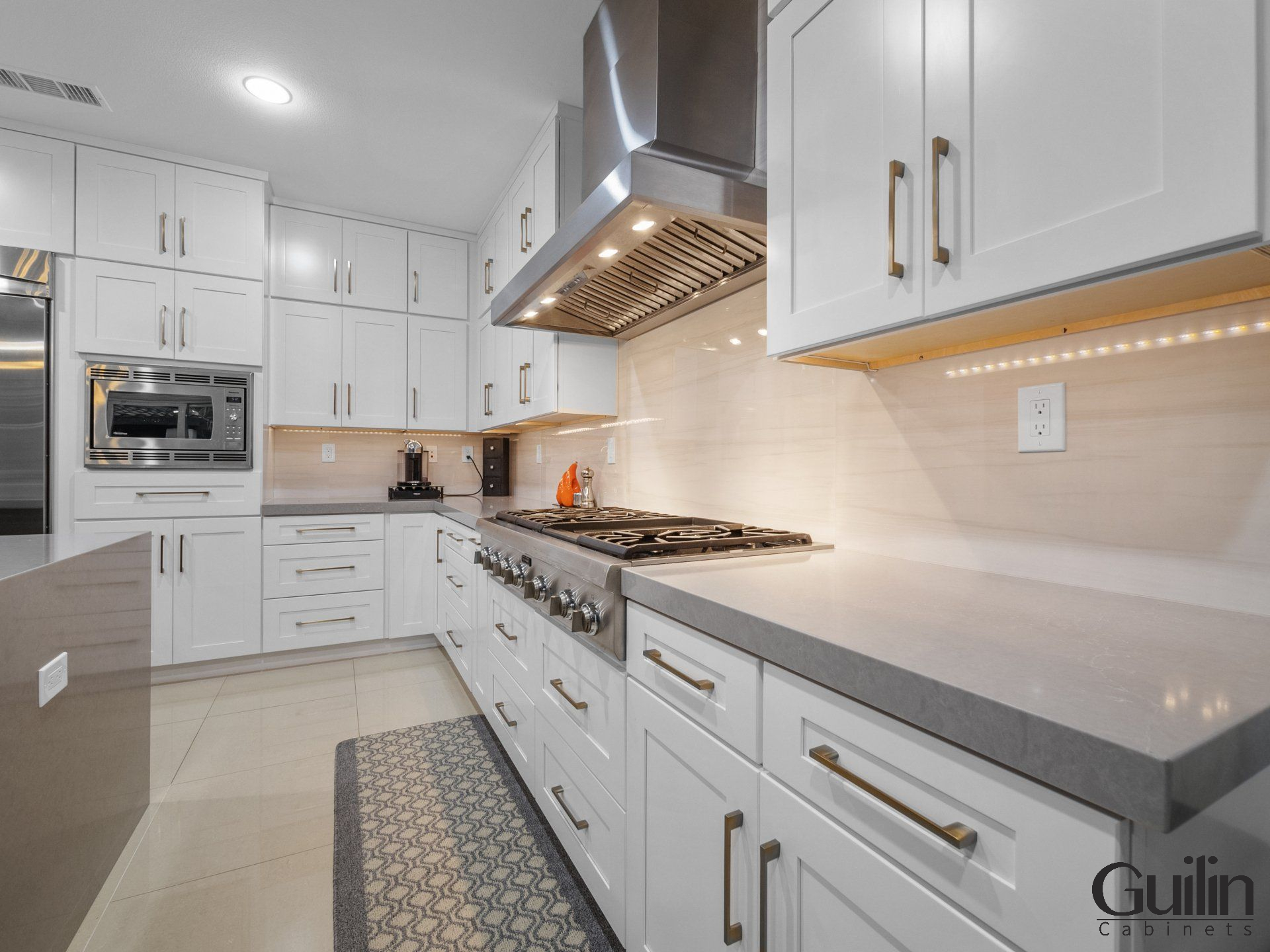 Color palette: neutral and bright & vibrant colors
The first key to contemporary kitchen design styles you need to explore is the color palette. A contemporary kitchen is often defined by its use of modern colors typically based on a neutral foundation, such as white, gray, or black, and often involves the use of bold and colorful pops of color.
However, We can also incorporate pops of bright colors, such as yellow, blue, or green, to add visual interest and serve as an eye-catching focal point, bright and vibrant colors can be used to bring a sense of energy and life to your space. While neutral tones can be used to create a sense of serenity and balance, the combination of neutral and bright & vibrant colors creates a sophisticated and visually striking look in a contemporary kitchen.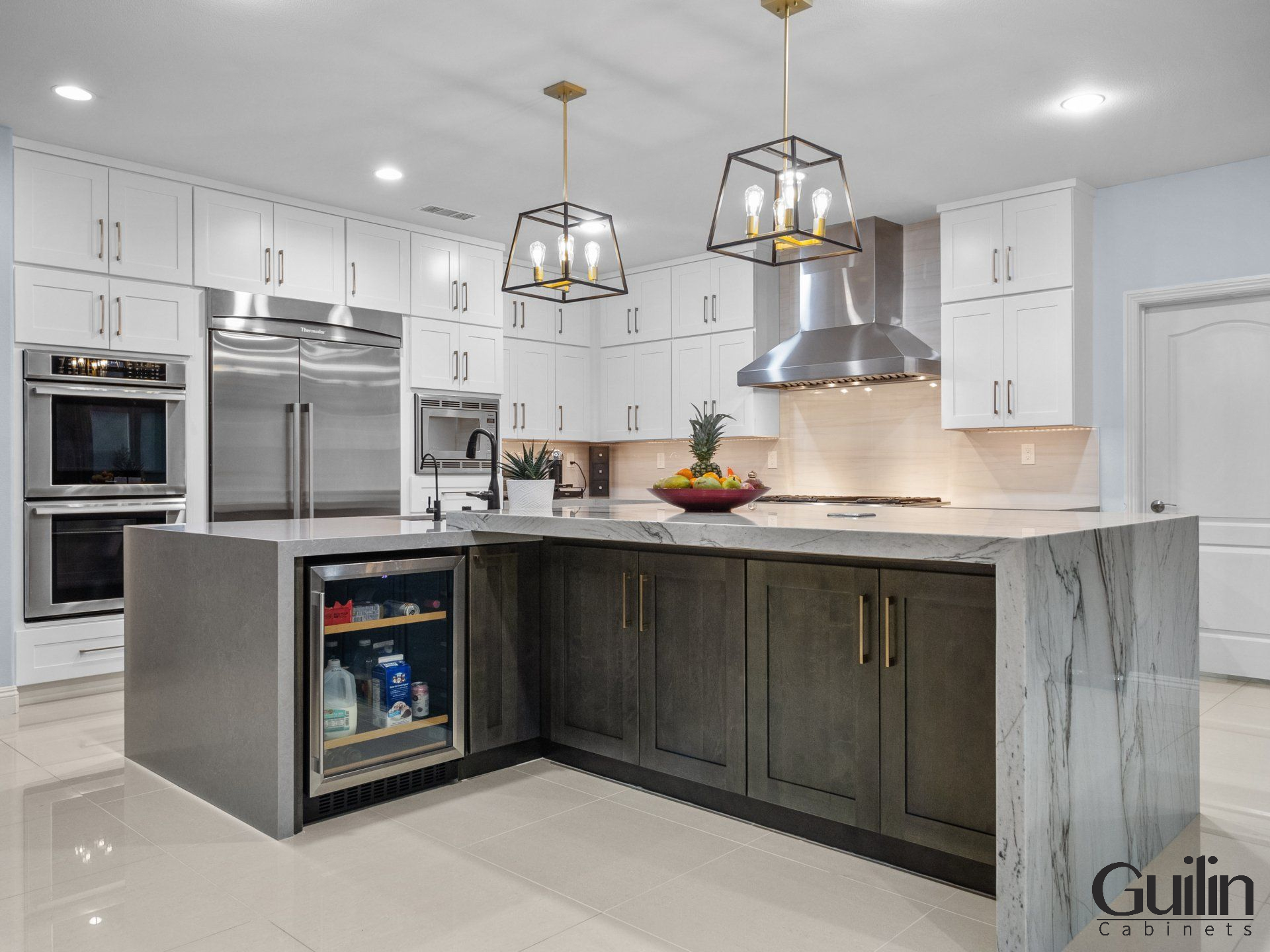 Materials and textures of contemporary kitchen
The Second key of contemporary kitchen design styles is Materials and Textures, which provide a unique aesthetic to the space.
About Materials: The use of stainless steel, glass, wood, tile, quartz, granite, and marble all combine to create a stylish, contemporary look that is perfect for today's contemporary kitchen home. With the right materials and textures, contemporary kitchens can provide a unique, modern space that will be enjoyed for years to come.
About Textures: Textures in contemporary kitchens range from matte to glossy finishes. Matte finishes provide a subtle, sophisticated look, while glossy finishes give the kitchen a modern look. Flooring, walls, and countertops… Each presents an opportunity to incorporate various textures, such as tile or marble, granite, or quartz… Each material offers its own unique texture, which contributes to the custom and individualistic feel of the contemporary kitchen space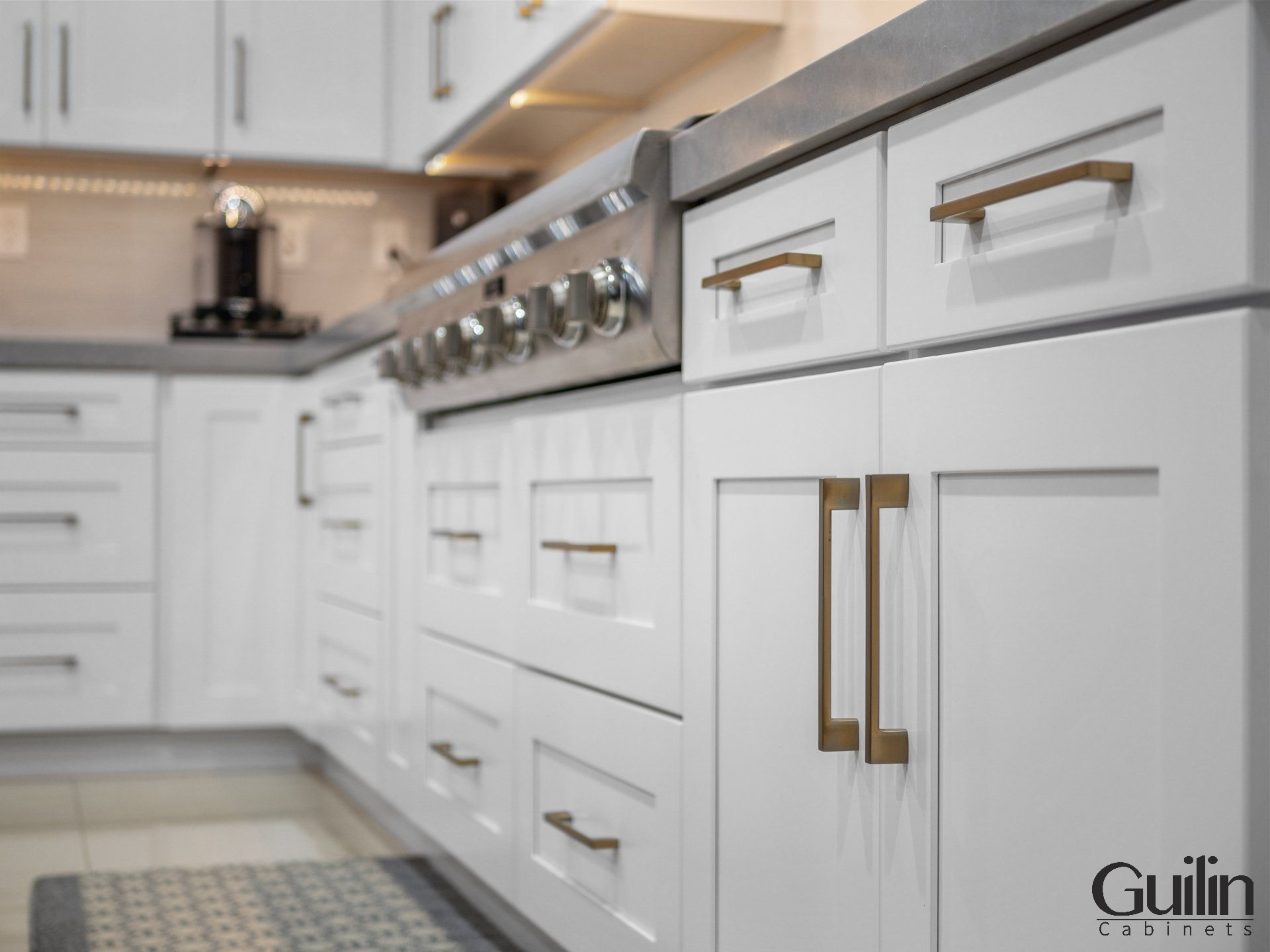 About Lighting System
Lighting is another crucial aspect of the design of contemporary kitchens. In a Contemporary kitchen design LED, lighting is a popular choice due to its energy efficiency, long-lasting bulbs, and low maintenance. Pendants and spotlights can be used to provide directional lighting, while ceiling lights provide more general light. Task lightings such as under-cabinet, strip, and recessed lights ensure that all areas have illuminated work surfaces. When selecting lighting for a contemporary kitchen, the style and design should complement the aesthetics of the room. For example, a traditional-style kitchen may benefit from larger pendant lights and wall sconces, while a modern contemporary kitchen may opt for a more streamlined look with spotlights and track lighting.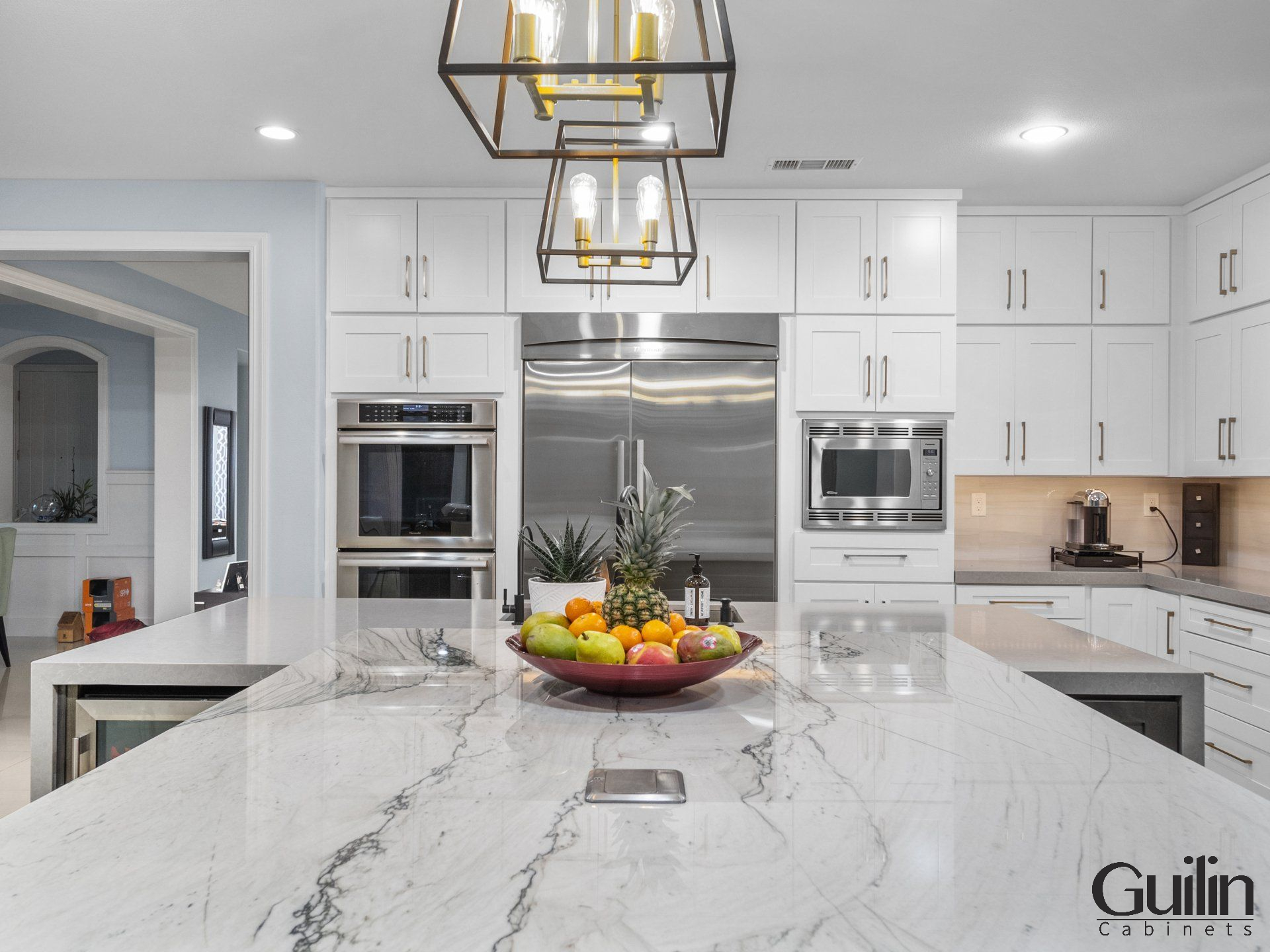 About Accessories & more
Your kitchen style depends not only on your kitchen design but also on the accessories, appliances… To make this clear, let's compare contemporary kitchen design with traditional kitchen design. Contemporary kitchens, tend to have a minimalist approach, with limited accessories and an emphasis on modern built-in appliances like dishwashers, ovens, refrigerators, and garbage disposals… On the other hand, traditional kitchens tend to have a more ornate style, with more accessories and an emphasis on beautiful wooden cabinetry. Another factor that distinguishes the two styles is the type of accessories used, with traditional kitchens utilizing decor items like traditional pottery and vases, and contemporary kitchens utilizing modern kitchen accessories such as stainless steel utensils and smart electronic gadgets…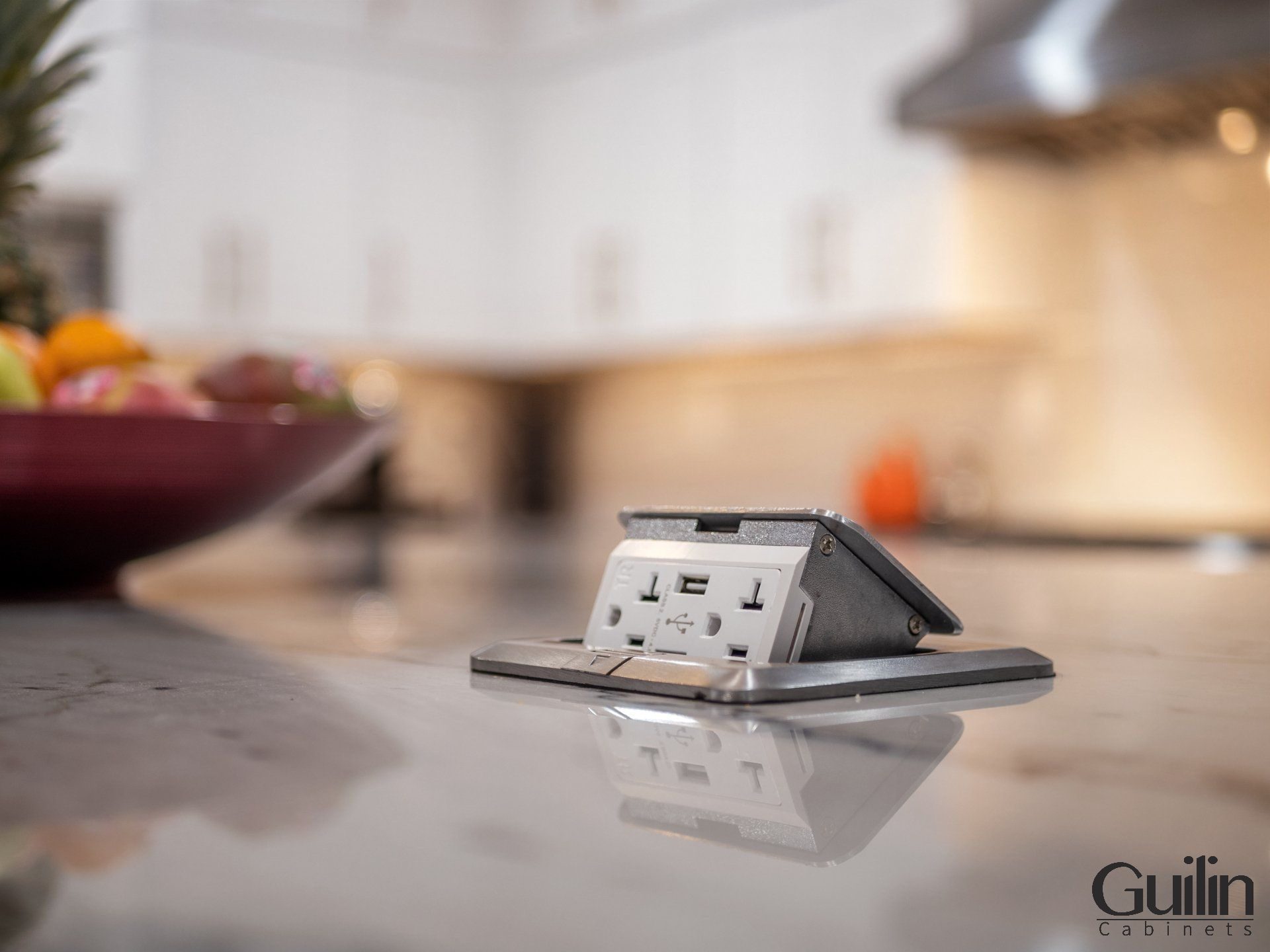 Advantages and Benefits of Having a Contemporary-Style Kitchen
A contemporary kitchen is a perfect choice for those looking for a modern, stylish, comfortable, simple space… for their cooking and dining needs. It can easy to combines modern styles and traditional styles design elements, providing a unique, inviting, special place. The benefits of a contemporary kitchen are numerous.
Simplicity:
The contemporary kitchen is a popular choice due to its embrace of simplicity and modern design. This type of kitchen is perfect for those Who love a kitchen with a minimalistic and sleek appearance, clean lines, minimalist color scheme,… and lack of decorative flourishes make it particularly attractive. Especially frameless cabinets have grown in popularity.
The Benefits of Modern Style Frameless Cabinet:
Modern design
Easy-to-mount shelves
Larger width drawer
More storage space
Easy to integrate high-end technology
Integrating technology in the contemporary kitchen is one of the most popular trends in contemporary kitchen design. Type of technology is designed to create a harmonious balance between the traditional kitchen and modern technology to give your home kitchen the ability to use the latest technology while still getting the maximum benefit from your kitchen appliances.
Incorporating technology in contemporary home kitchen design includes:
Smart refrigeration systems
Voice-controlled appliances
Induction cooktops
Touch-activated faucets
Automatic lighting systems
Countertop Hidden Charging Station
…
Maximize natural light
In Addition, The contemporary kitchen is known for its sleek and modern design, helping your home kitchen comes to maximizing natural light. With their minimalistic window treatments and light colors, contemporary kitchens allow plenty of natural light to flood the room. This helps to create an airy and open feeling in the room. The clean lines of contemporary design help to capture light in all directions, further brightening up the space, saving a lot of energy, and reducing your monthly bill.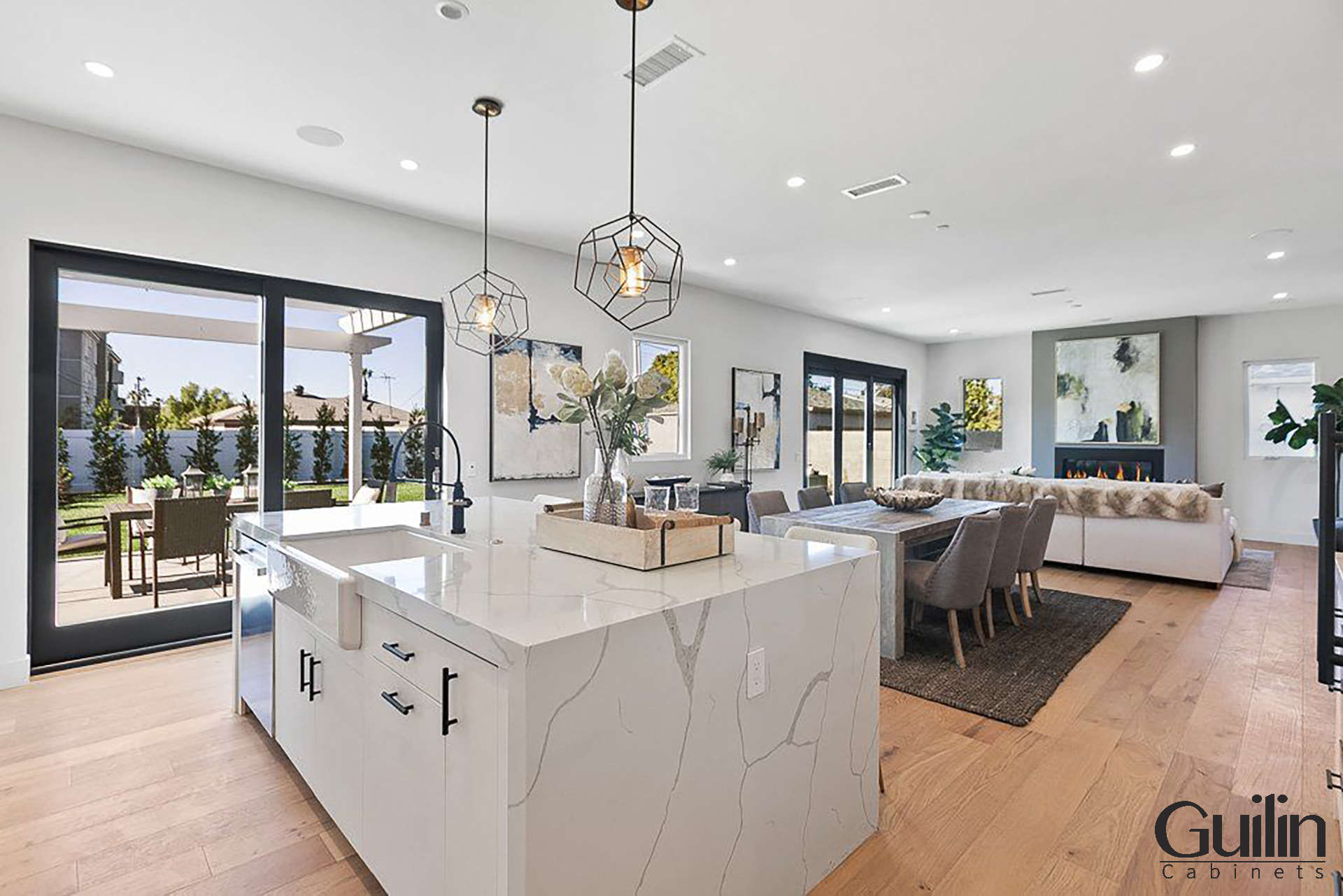 Similar Styles of Contemporary Kitchen Design
Modern Kitchen Style
Modern kitchen style is focused on the balance of form and function with clean lines, minimalism, sleekness, simplicity, and neutral colors. The Wood Cabinets used in the modern kitchen style are thin, flat panel style, neutral tones like white, gray, or black clean with crisp lines becoming more commonplace.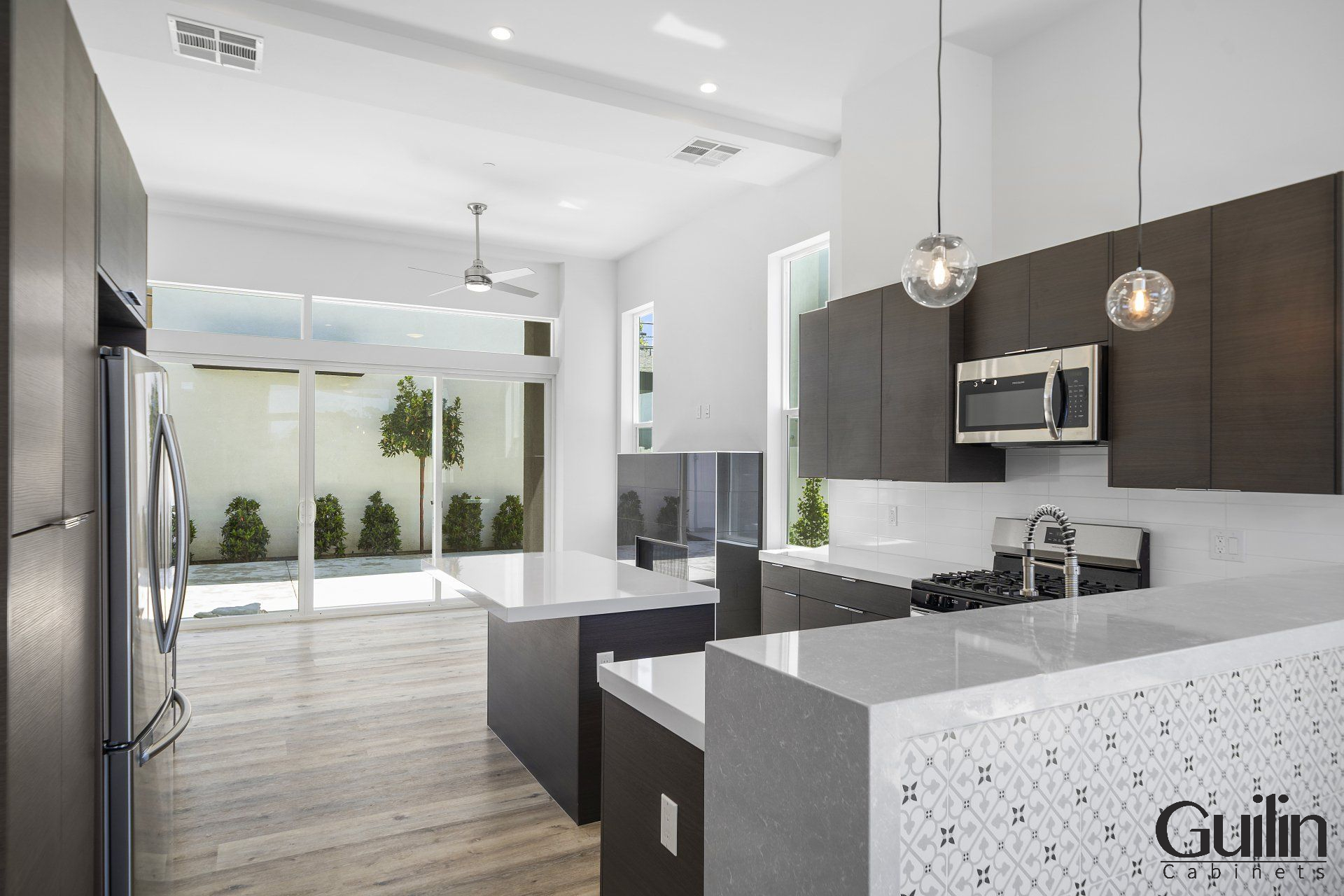 Industrial Kitchen Style
Industrial kitchen styles are becoming increasingly popular kitchen designs for commercial and home kitchens alike. The kitchen with Industrial styles is a simple but bold space where raw materials, tough appliances, and fixtures with minimalist finishes take center stage.
Other Styles That Different Contemporary-styles
Cottage kitchen style
The cottage kitchen style is all about creating a warm and inviting atmosphere in rural areas, that encourages families to gather and spend time together. With its focus on family-friendly design, the cottage kitchen is the perfect choice for those seeking a warm, comfortable, and welcoming space for your family to cook and dine.
Farmhouse style
The farmhouse kitchen style is a timeless and classical design that dates back to the 18th century. To make the iconic farmhouse look, classical elements like handcrafted wooden cabinets, exposed beams, and open shelving are emphasized. Additionally, farmhouse kitchens often incorporate traditional kitchen styles helping create a warm place for your family to eat together.
Traditional style
What makes a kitchen traditional – traditional kitchens evoke a sense of classic timelessness, drawing inspiration from grand 19th-century English estates, 18th-century French elegant chateaus, and rustic Tuscan villas… Although they may be equipped with modern amenities, a traditional kitchen creates a warm, inviting, heritage-rich atmosphere.