Refacing kitchen cabinets process involves removing the old doors, drawer fronts, and hardware, and replacing them with new ones. However, while refacing cabinets can be a cost-effective solution, it's not always the perfect fix. There are many common problems that can arise during the refacing process that can leave you with less-than-satisfactory results. This blog post will guide you through the top issues you may encounter when refacing kitchen cabinets and how to avoid them. Keep reading to make sure your new kitchen upgrade is everything you dreamed of and more!
=> READ MORE: What Cabinet Refacing: Understanding, Where to Get Start?
The Problems With Refacing Kitchen Cabinets
Difficulty in Matching Colors, Styles
When it comes to refacing kitchen cabinets, Depending on the material you use for the refacing process, there is maybe a limited range of styles and colors to choose from. This means that you may not always find the perfect style to match your kitchen's design theme or personal aesthetic preferences.
Refacing kitchen cabinets can be a challenge when you need to match the newly refaced cabinets with other components in the kitchen such as countertops, flooring, and appliances. If you are not careful in choosing the right colors and styles, the refaced cabinets may end up looking out of place in the kitchen. You need carefully to choose a style when you reface your kitchen cabinets To Avoid that clashes with the rest of your kitchen, Which will make you could end up downgrading your kitchen's aesthetic instead of upgrading it.
=> Read more: Refacing Cabinet Solution: Pros & Cons – Solve All Your Problems
For example: When you reface your cabinets, you are replacing the doors and drawer fronts, but the cabinet frames remain the same. This means that you have to find a cabinet door style and finish that matches the existing cabinet frames. Matching colors can be challenging because even slight variations in color can make your cabinets look mismatched. 
To avoid this problem: you need to choose a Pro cabinet refacing company contractor that uses high-quality materials and has experienced professionals who can help you match colors. They can provide you with samples of different finishes and help you find the best match for your existing cabinets.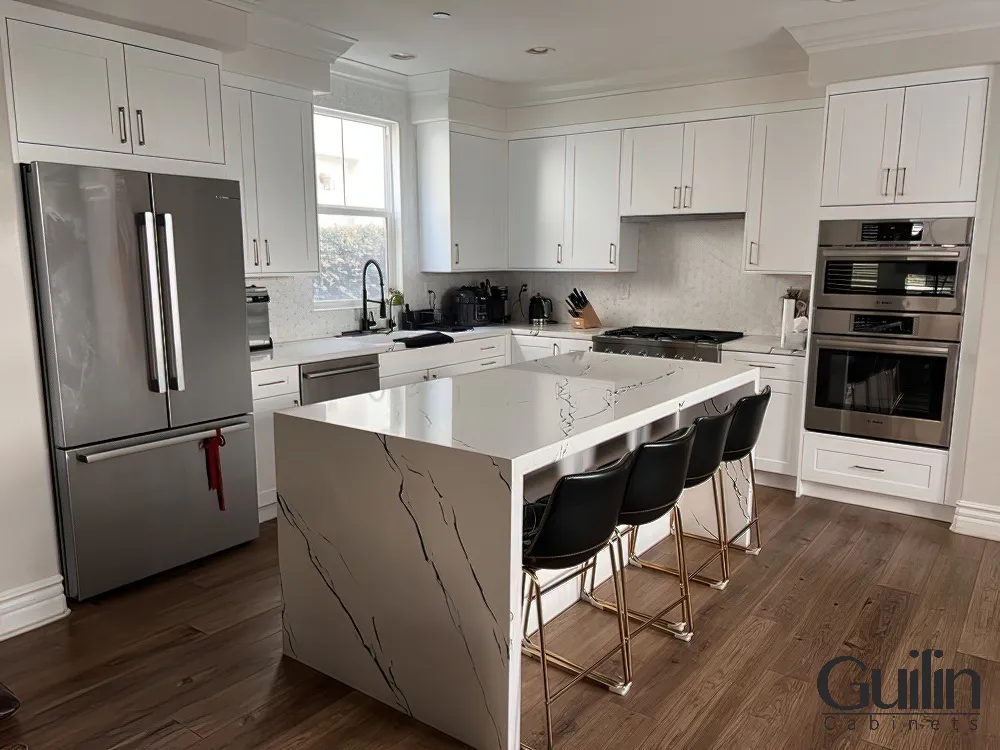 Layout & Structural Problems
The next common problem encountered when refacing kitchen cabinets is layout conflicts. This issue arises when replacing cabinet doors without paying close attention to the kitchen's existing layout. Small changes in the shape or size of cabinet doors can disrupt the placement of kitchen appliances, cookware, and dinnerware, making it difficult to fit them in their usual spaces. Furthermore, changing to a new style of cabinet hinges can create similar conflicts, or even prevent cabinets from opening properly. It's crucial to be mindful of layout issues when refacing kitchen cabinets to avoid these types of problems.
=> Related Service: Refacing Cabinet Contractor in California | Guilin Cabinets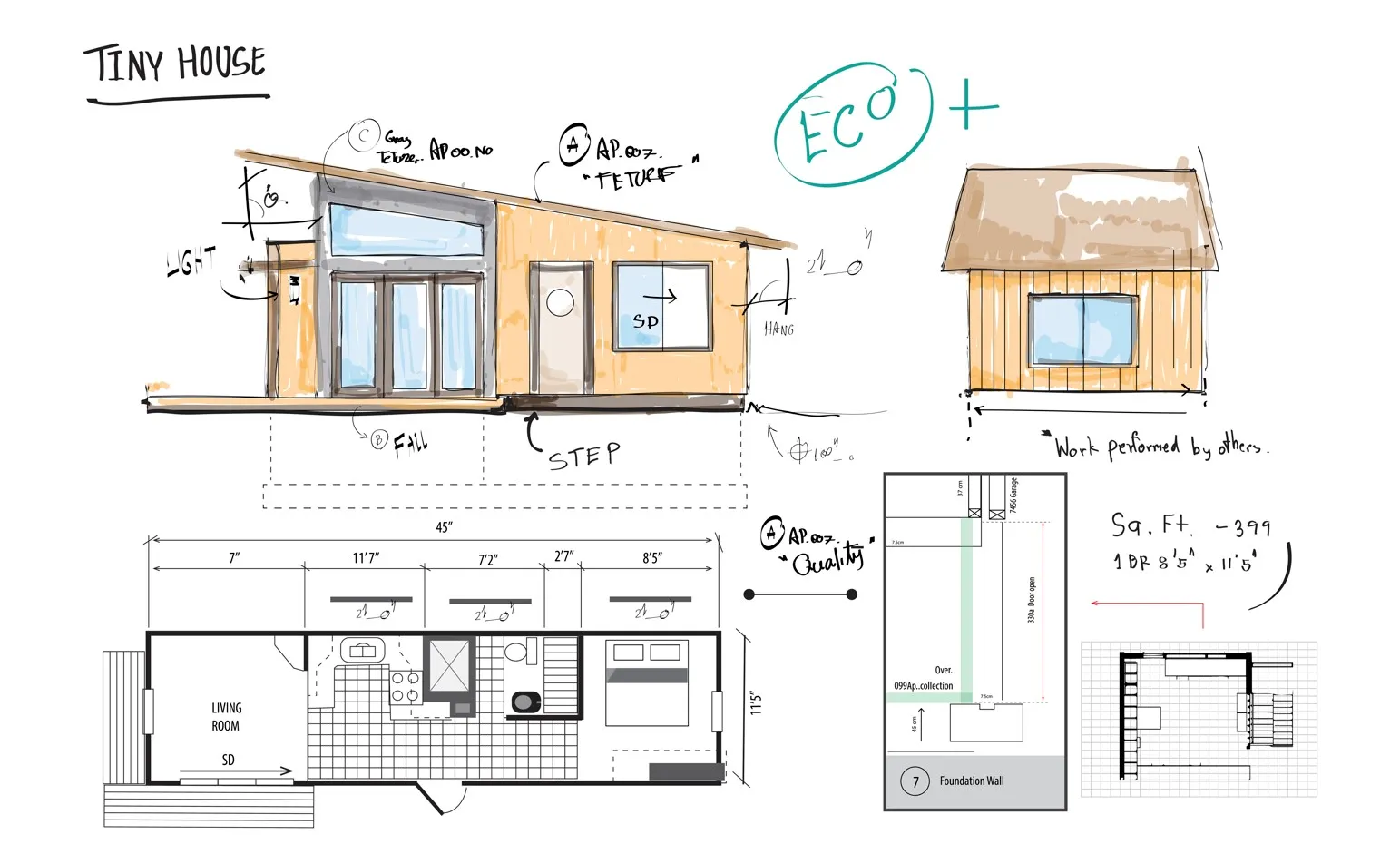 Limited Layout Options
One of the next limitations of refacing your cabinets is that you're working within the confines of your existing cabinets. This means that you can't make any significant changes to the layout or design of your cabinets, such as adding more storage space, changing the configuration of the cabinets, or custom the next cabinets… You're limited to the existing layout and configuration of your cabinets, which can be a problem if you're looking to improve the functionality of your kitchen.
For example: if you're looking to improve the functionality or layout of your cabinets or if your existing cabinets are made of low-quality materials, refacing may not be the best solution. In these cases, it may be more beneficial to consider other options such as replacing your cabinets entirely or remodeling whole kitchen solutions.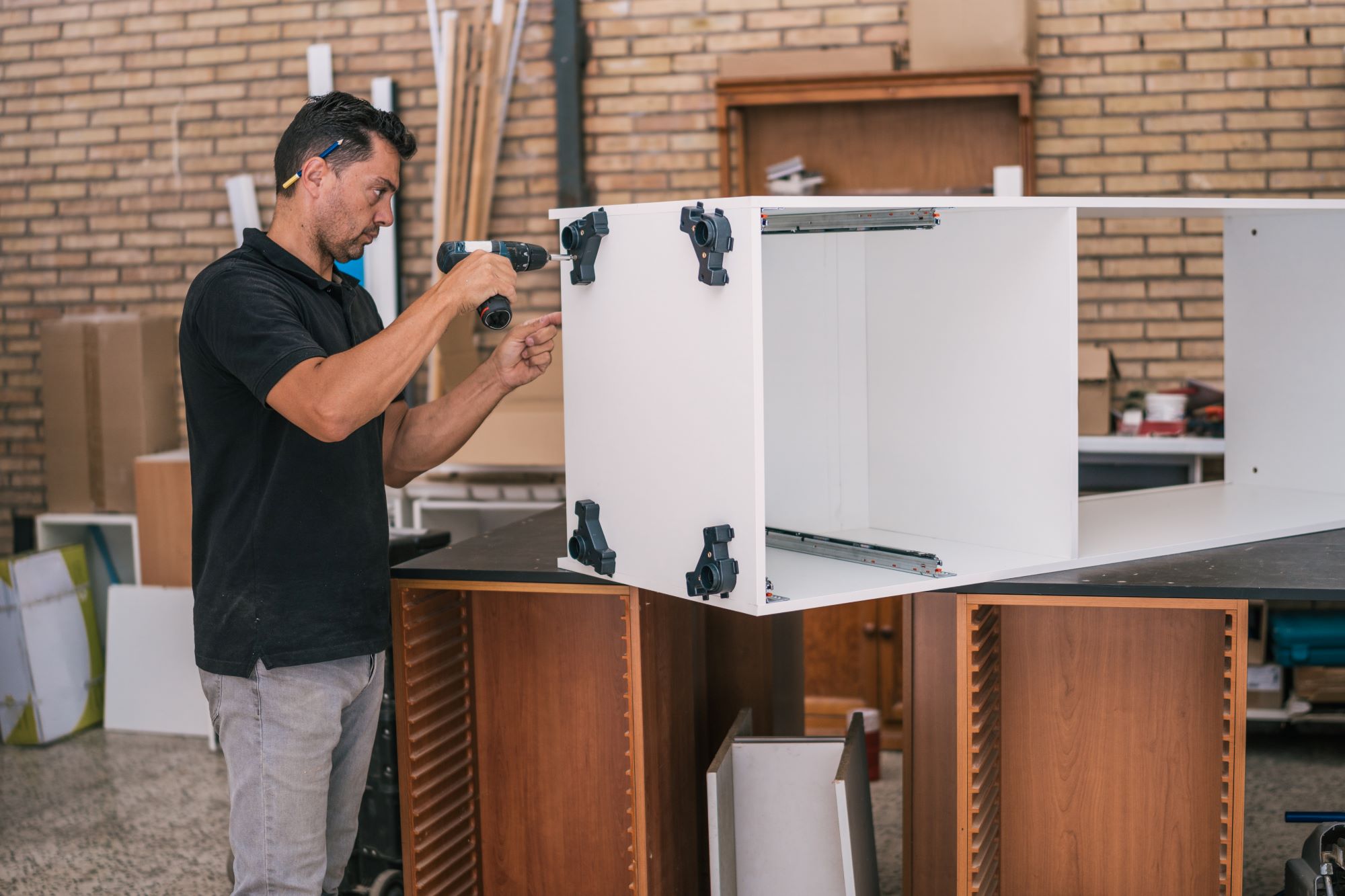 Not suitable for Damaged Cabinets:
This means that if your cabinets have structural damage, water damage, or mold damage, refacing may not be an option. Refacing only involves removing the old doors, drawer fronts, and hardware, and replacing them with new ones to the existing cabinet structure. If the structure of the cabinet box is compromised, refacing may not be possible, and you may need to replace the cabinets entirely.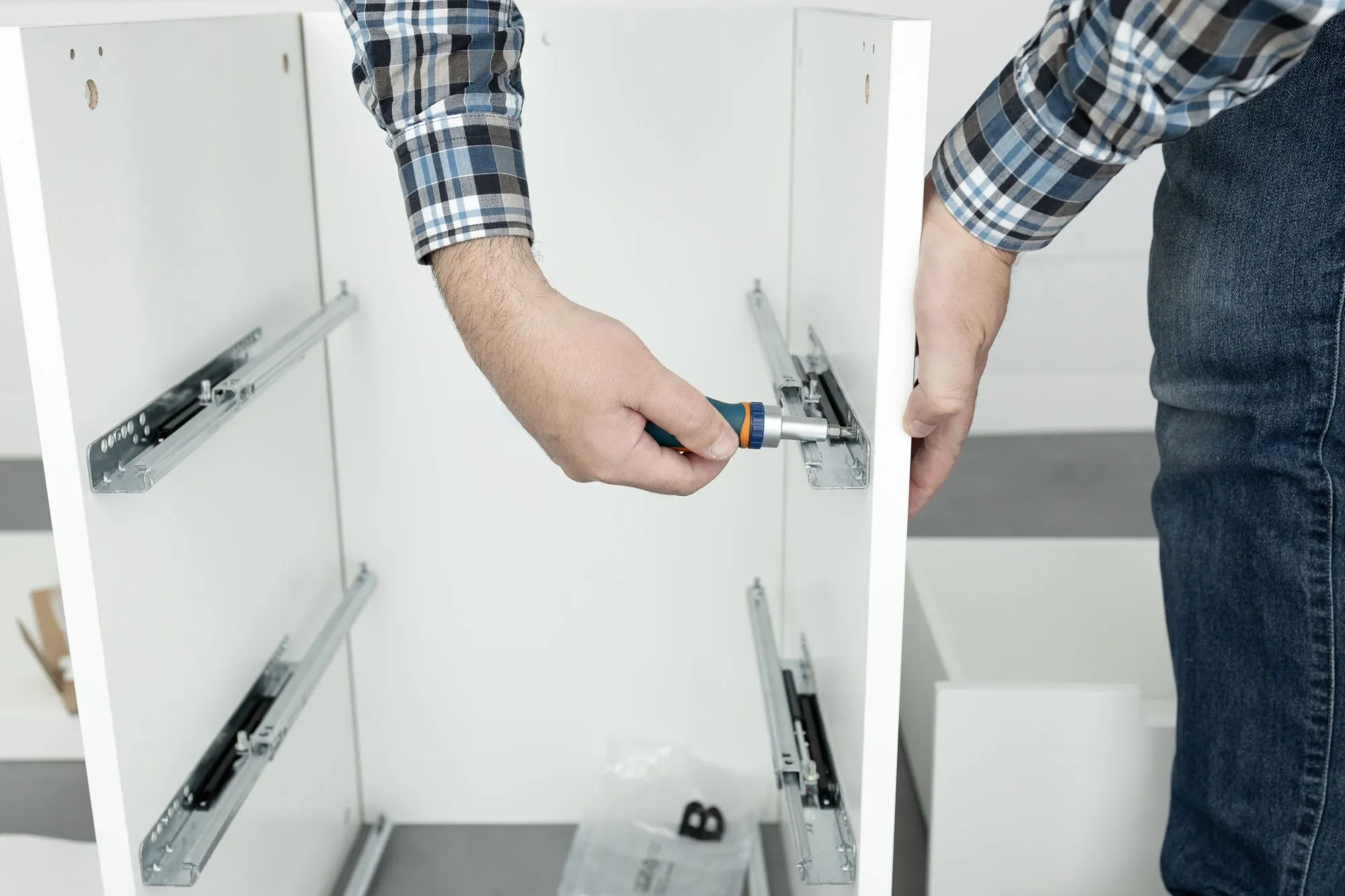 Hired Cheap, Bad Contractor
Refacing kitchen cabinets requires a certain level of skill and expertise. Poor workmanship during the refacing process can result in uneven finishes, poorly aligned doors and drawers, and ill-fitting materials. If you hired a bad contractor and the job is not done correctly, it could lead to problems in the future, such as cabinet doors and drawers that won't close properly or cracked veneers.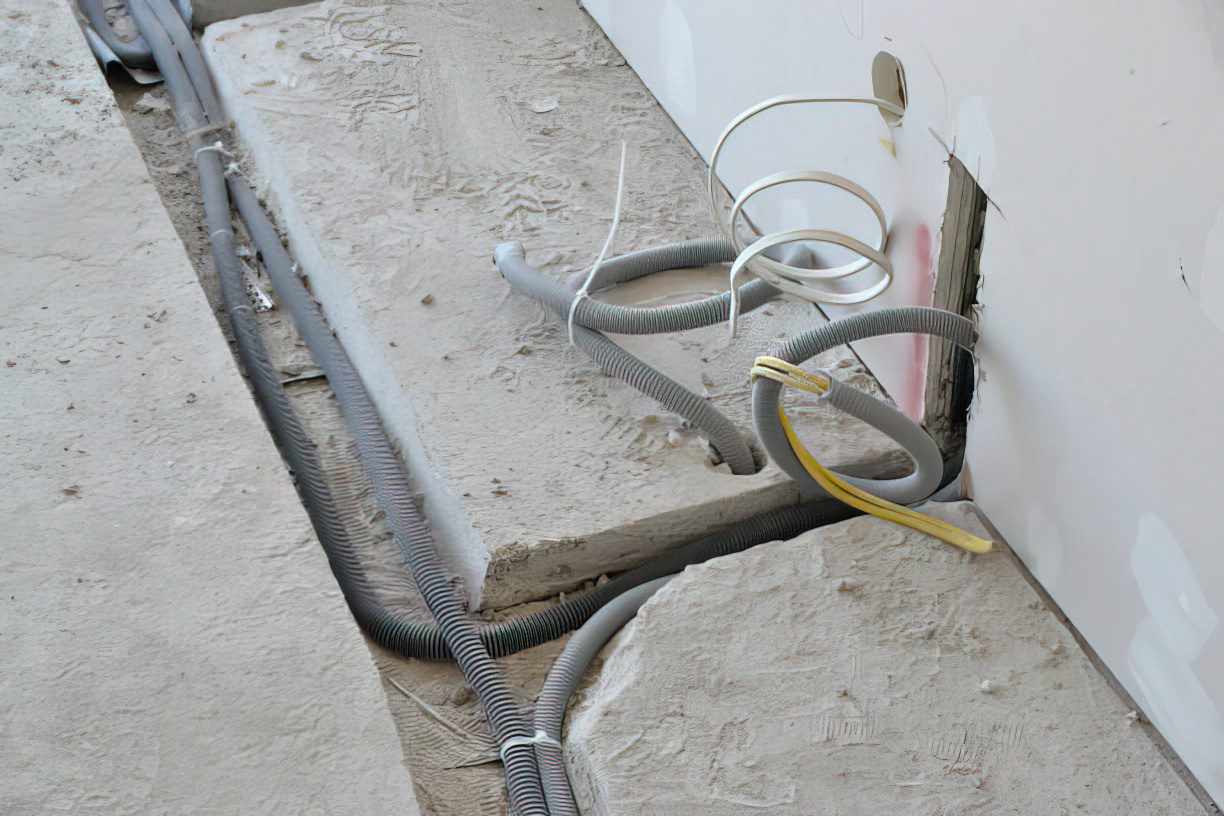 How to Avoid Problems with Refacing Kitchen Cabinets?
Despite these challenges, refacing kitchen cabinets can still be a great option if done correctly. To avoid all the problems, you need to ensure that you hire an experienced contractor to complete the job, use the right tools and materials, and check for any underlying issues that need to be resolved before starting the project. By doing so, you can avoid these common issues and achieve the updated look you want for your kitchen.
Understanding & Choose High-quality materials
You need to choose high-quality materials to avoid any problems with your refacing cabinet process. Poorly made materials can lead to problems down the road and can end up costing you more in the long run. Good quality materials will ensure the refacing job looks great for many years and stands up to everyday wear and tear. 
=> Read More: 10 Common Cabinet Materials: How To Choose Right!
By understanding the materials used in refacing kitchen cabinets, you can make informed decisions about your project and avoid problems with durability and aesthetics. From laminate, and melamine to wood veneer to solid wood, each material has its advantages and disadvantages. By selecting the best material for your needs and budget, you will easily avoid any problems in kitchen refacing cabinet projects.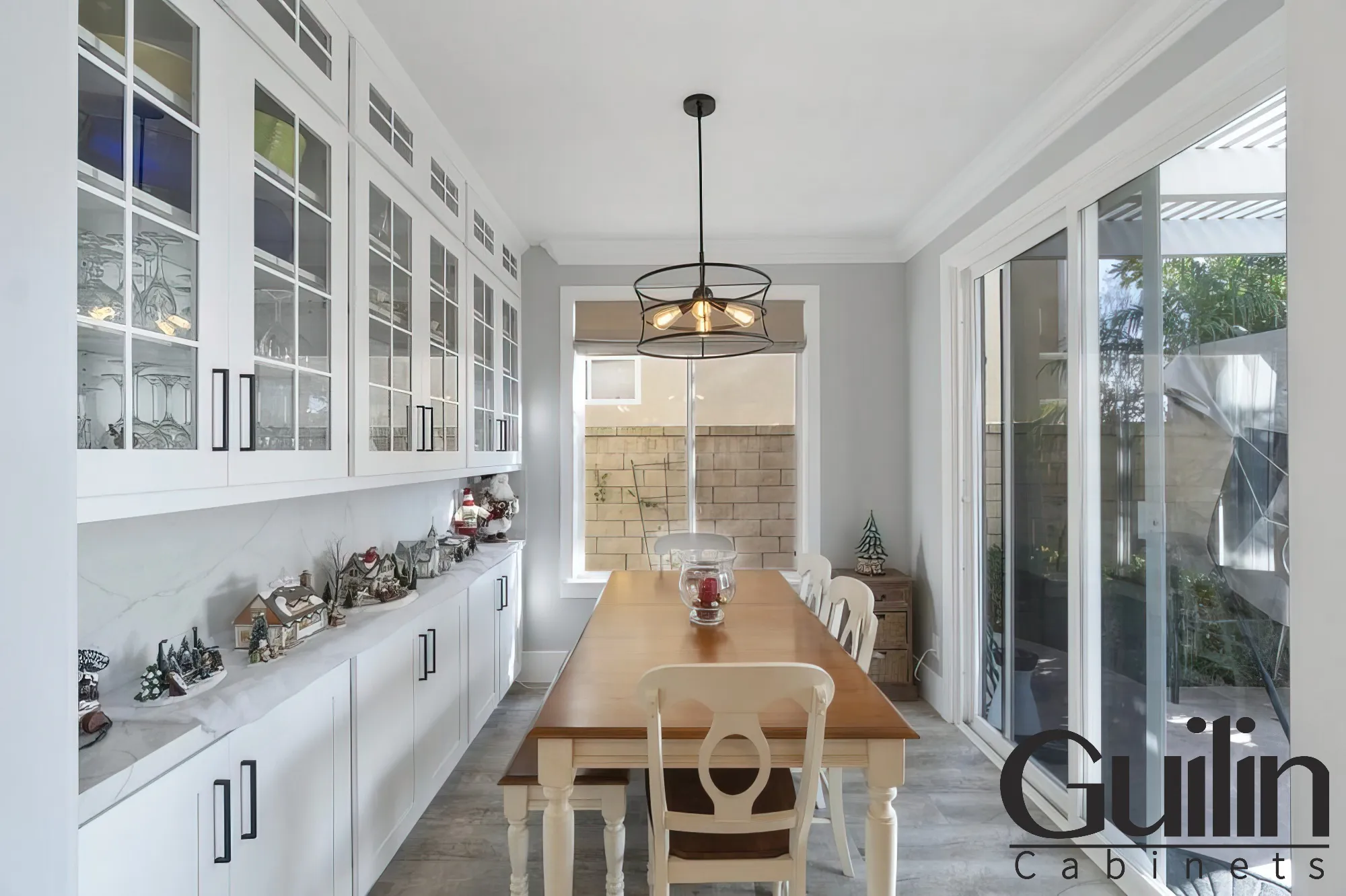 Hire a Professional refacing cabinets contractor:
The professional refacing contractor will be able to analyze the condition of your kitchen cabinets in order to determine what type of refacing is necessary. They will also be able to provide advice on the best materials, finishes, and designs to use in order to achieve the desired results. Furthermore, they will be able to provide technical support and guidance throughout the entire process. This will ensure that the job is done the right way the first time and that the refacing job will last for many years to come.
=> Read more: How Long Do Refaced Kitchen Cabinets Last?

In addition, the professional contractor will be able to provide an accurate estimate of the cost of the refacing job. They will be able to factor in all the materials, labor, and other costs associated with the project. This will ensure that you are not overcharged or undercharged for the job and that you get the best value for your money. Hiring a professional contractor to reface your kitchen cabinets is the best way to ensure that the job is done properly and that you are satisfied with the results.
=> Read more: Custom Refacing Cabinets Service CA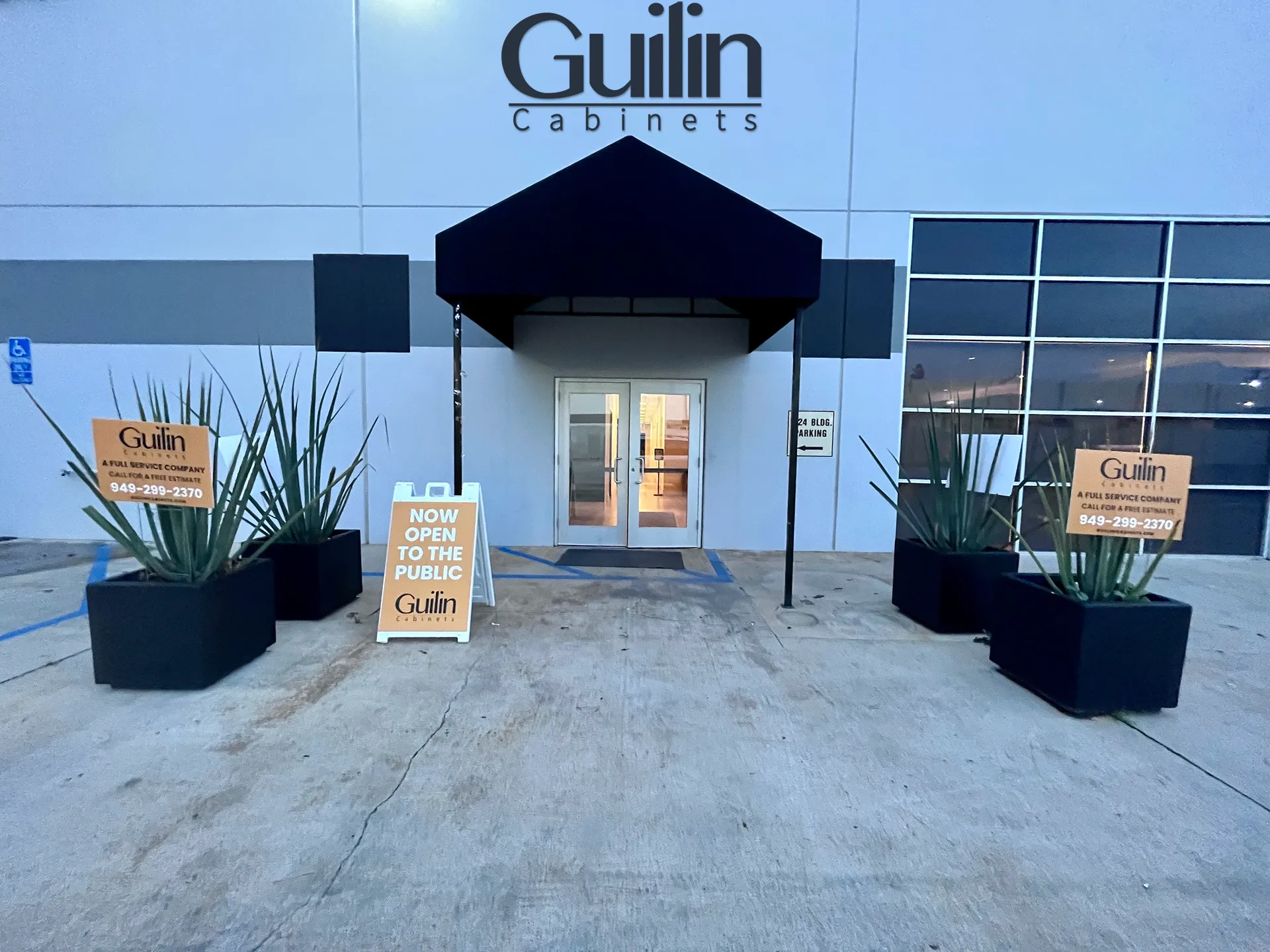 Guilin Cabinets is a remodeling contractor in Irvine, CA offering services including bathroom, kitchen, and custom home building. Our mission is to assist Southern California residents in achieving their dream homes while staying within budget. We have showrooms with a wide selection of cabinets, countertops, flooring, tiling, backsplashes, and more. Visit us to learn more and discuss your project with a design consultant.
=> Read more: How to Find Affordable Cabinet Refacing Contactor Near My Home?
FAQs of What Common Problems With Refacing Kitchen Cabinets?