Although everyone would like a bigger bathroom, expanding your home is not always an option. Fortunately, you can transform a small bathroom into a spacious retreat with clever remodeling techniques. By implementing strategic design principles, you can make your bathroom appear larger and more comfortable without knocking down walls or adding to your home. This article will provide practical tips and strategies to optimize your space and create the illusion of a bigger, more inviting bathroom. From storage solutions to lighting and color, we'll explore various options to help you maximize your small bathroom's potential.
A. Optimal Storage to Get More Space
Organize Vanity Storage Space
By focusing on efficient storage solutions, your small bathroom will suddenly look a lot bigger and more open. Remember, the key is to keep everything organized and uncluttered! To start, remove any unnecessary items, expired products, or bulky accessories that are taking up valuable space. Once you've got all your items sorted, consider utilizing storage solutions such as wall-mounted cabinets, floating shelves, or under-sink storage. This will allow you to keep all your essentials within reach while maintaining a tidy appearance.
=> Related Article: How To Organize Kitchen Pantry Cabinets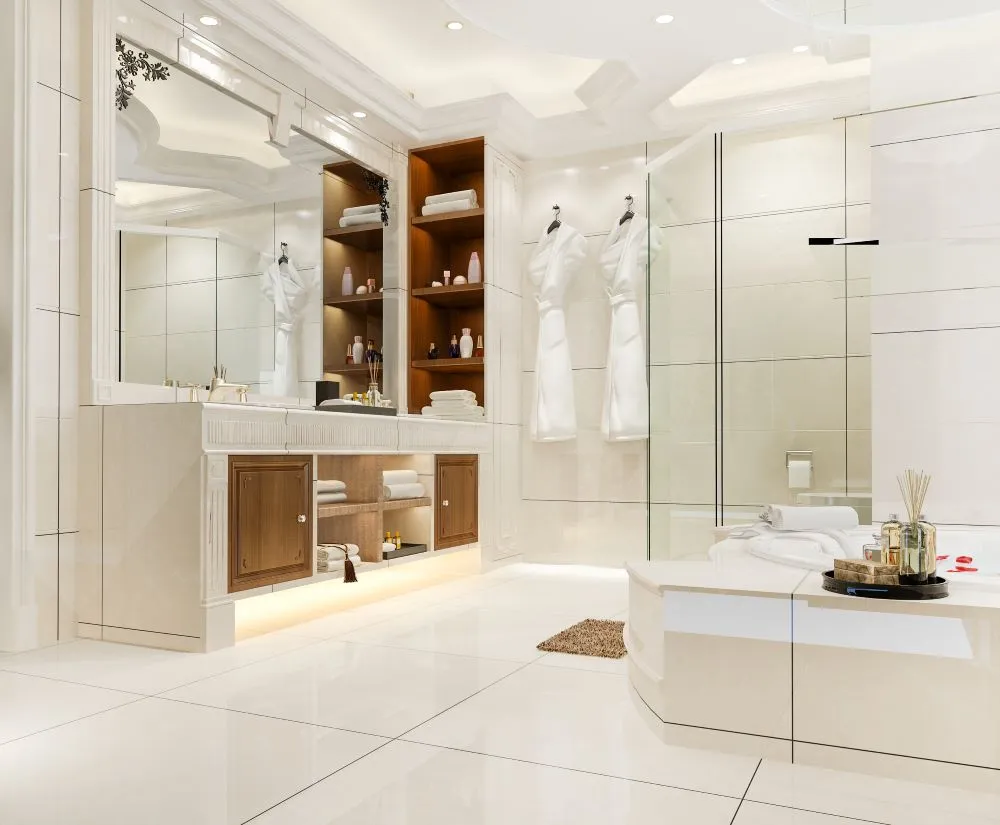 Use Minimalist Fixtures
Using minimalist fixtures in small bathrooms isn't only about creating an aesthetic look, but it's also the best way to maximize your space. In a small bathroom less really is more. You can consider selecting fixtures such as sinks, toilets, and showers, and opt for designs with clean lines and a minimalist aesthetic. Wall-mounted toilets and vanities are great choices as they give the illusion of more floor space. Pedestal sinks can also provide an elegant and airy look. By using minimalist fixtures, you help open up the bathroom, creating a perception of more space. These designs have minimal ornamentation, which allows the eye to focus on the overall area rather than being distracted by busy fixtures.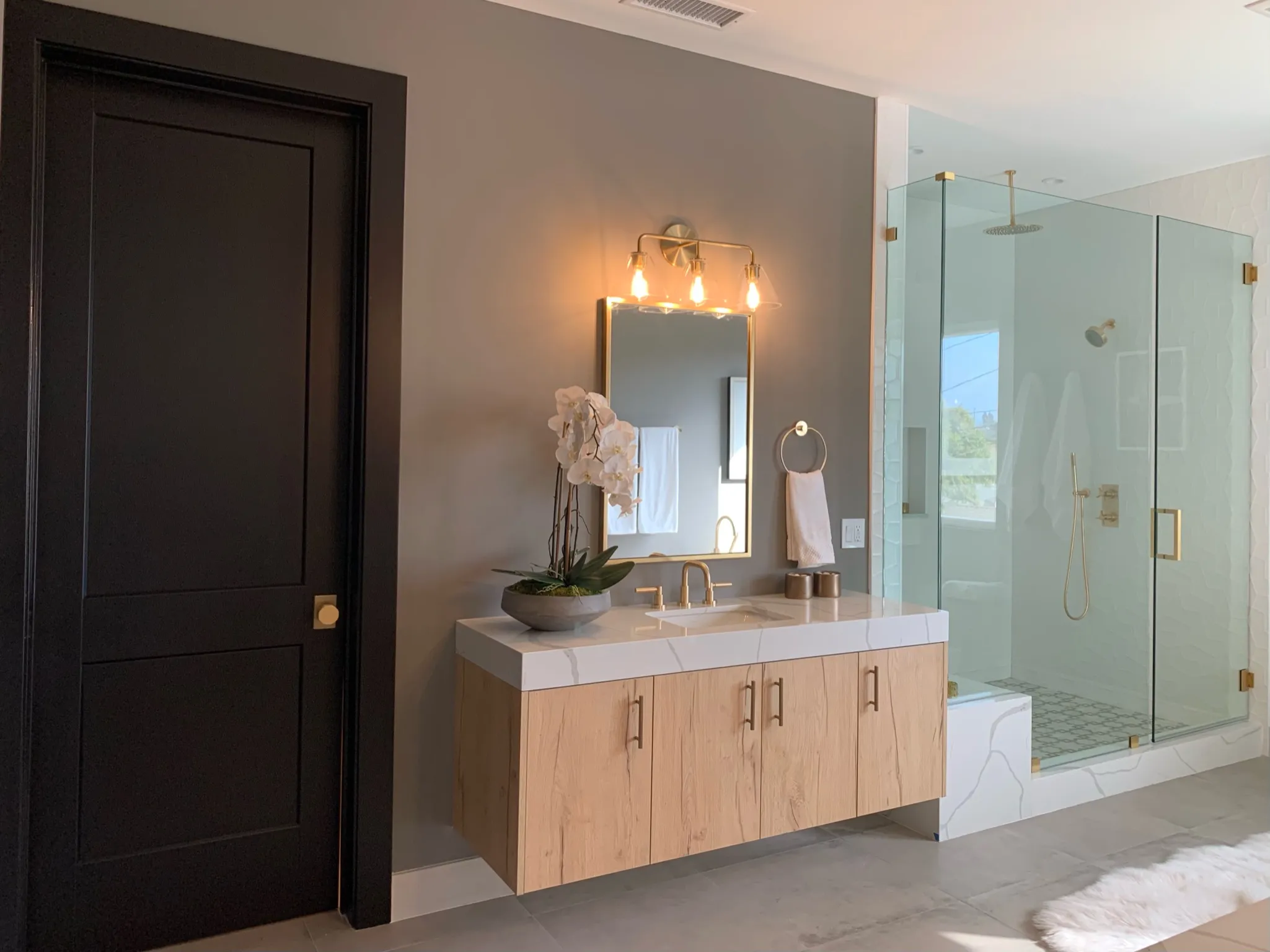 Use Vertical Space
Using more vertical space is another way to make a small bathroom look bigger. Make the most of your vertical space. Install tall cabinets, shelving units, or wall-mounted storage to free up floor space, draw the eye upward, and create the illusion of height and spaciousness. Using vertical space effectively is particularly important in small bathrooms where floor space is limited. It is also easier to move around while in the bathroom, making it a more comfortable space to be in. This in turn creates an airy and inviting atmosphere. You'll be surprised at how much of a difference it can make to your home.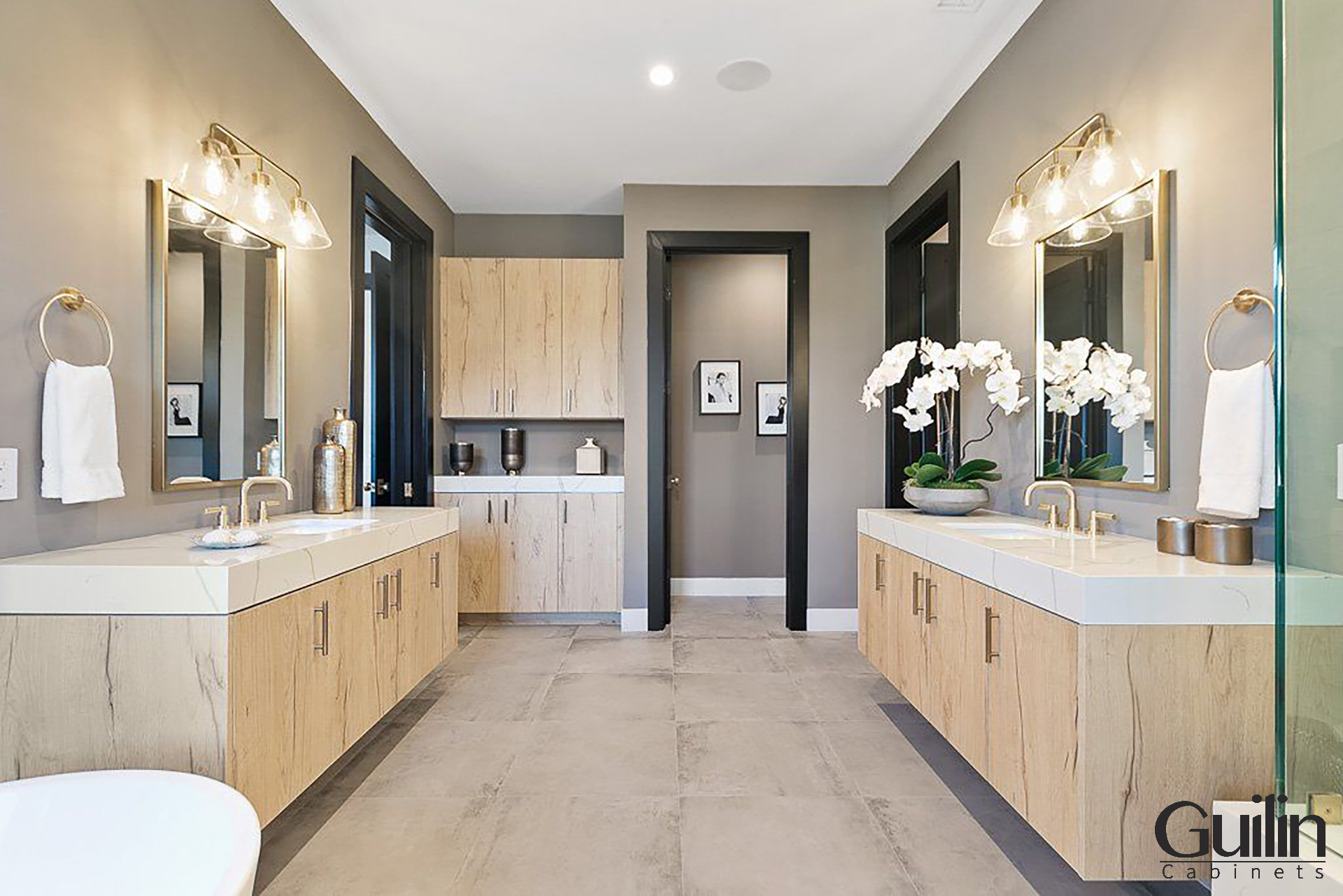 Open Space Under Sink
The space under the sink is a fantastic opportunity to create the illusion of a more spacious bathroom and give your small bathroom a bigger look. Some suggestions for accomplishing this is using a wall-mounted sink or a pedestal sink. These sinks have a smaller overall footprint and are less obtrusive than traditional vanity cabinets. If you don't have a cupboard beneath the sink, the bathroom will feel and look bigger as long as you keep it free of clutter.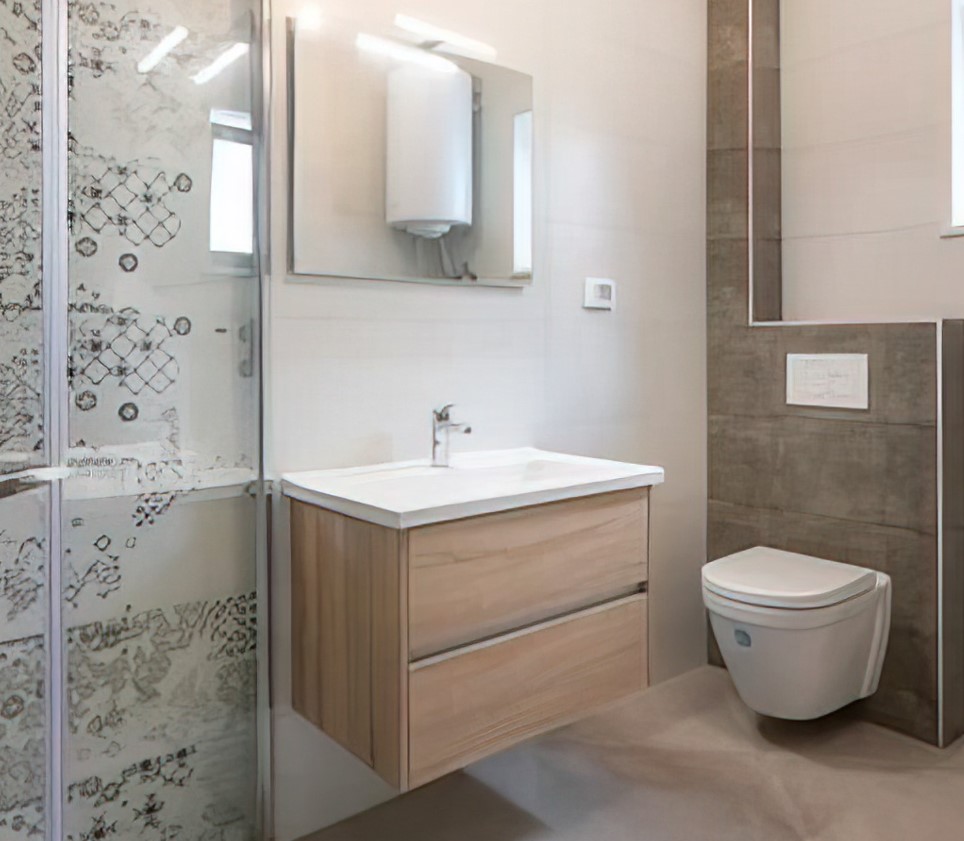 B. Enhance Lighting to Make a Bathroom Look Bigger
Let In More Natural Light
One easy strategy to enhance the space visually is by letting in more natural light. Sunlight has the remarkable ability to make a room feel bigger. It illuminates every corner of the room, making the space feel more open and inviting. This tip works not only for small half-bathrooms, but also for full bathrooms. A few ways to let natural light is by replacing your current window with one that is bigger, installing an additional window, or even adding a skylight. These choices can create a brighter, more welcoming space that will give the impression of a roomier bathroom.
=> Related Article: Bathroom Remodel Services In California | Guilin Cabinets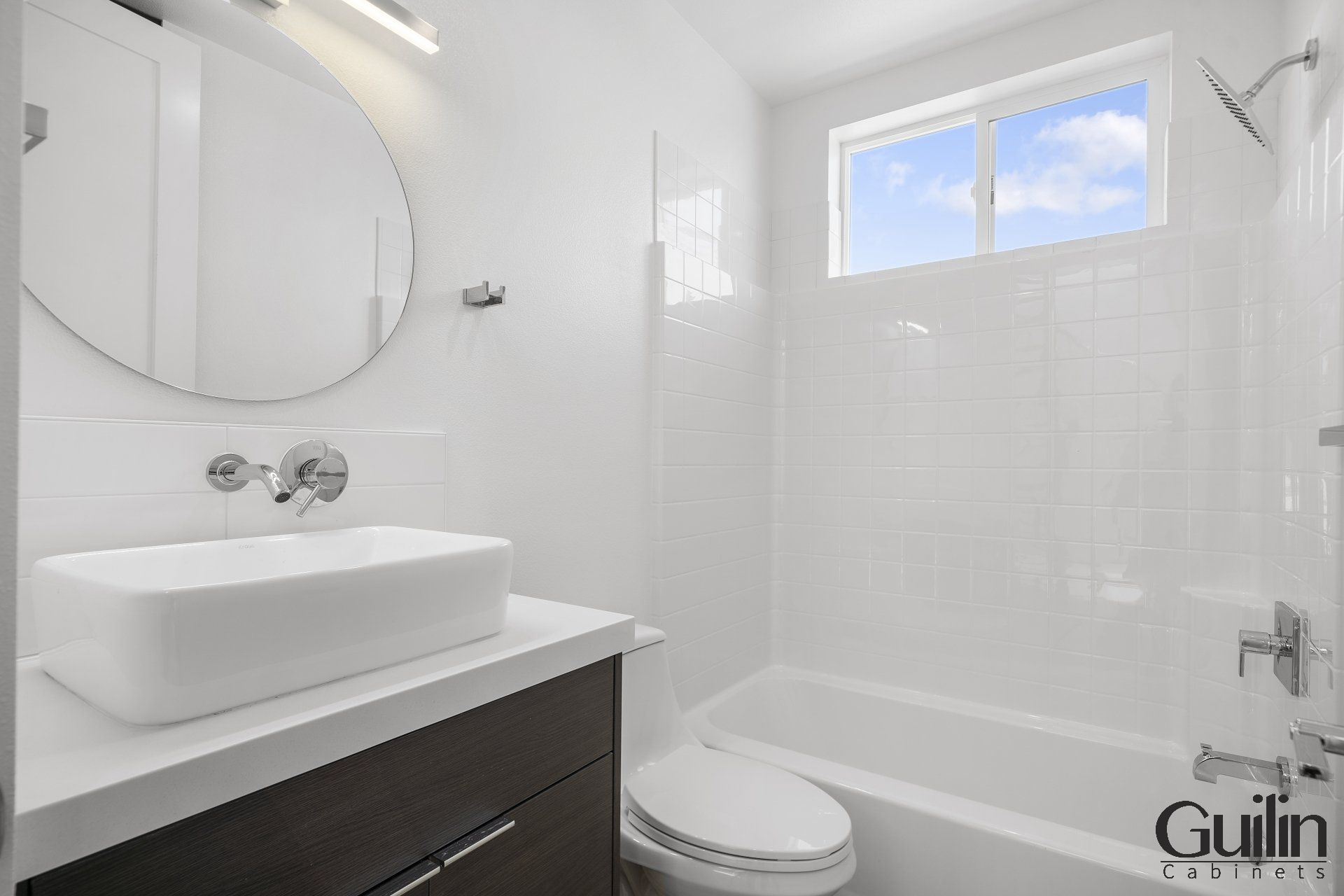 Install Proper Lighting Fixtures
You can additionally supplement natural light with a combination of ambient, task, and accent lighting. Ambient lighting brightens up the entire space evenly and can be achieved through recessed lighting or flush mount fixtures on the ceiling. Task lighting is more localized, providing ample light for specific areas such as the vanity or shower stall. Wall sconces or pendant lights work great for this purpose.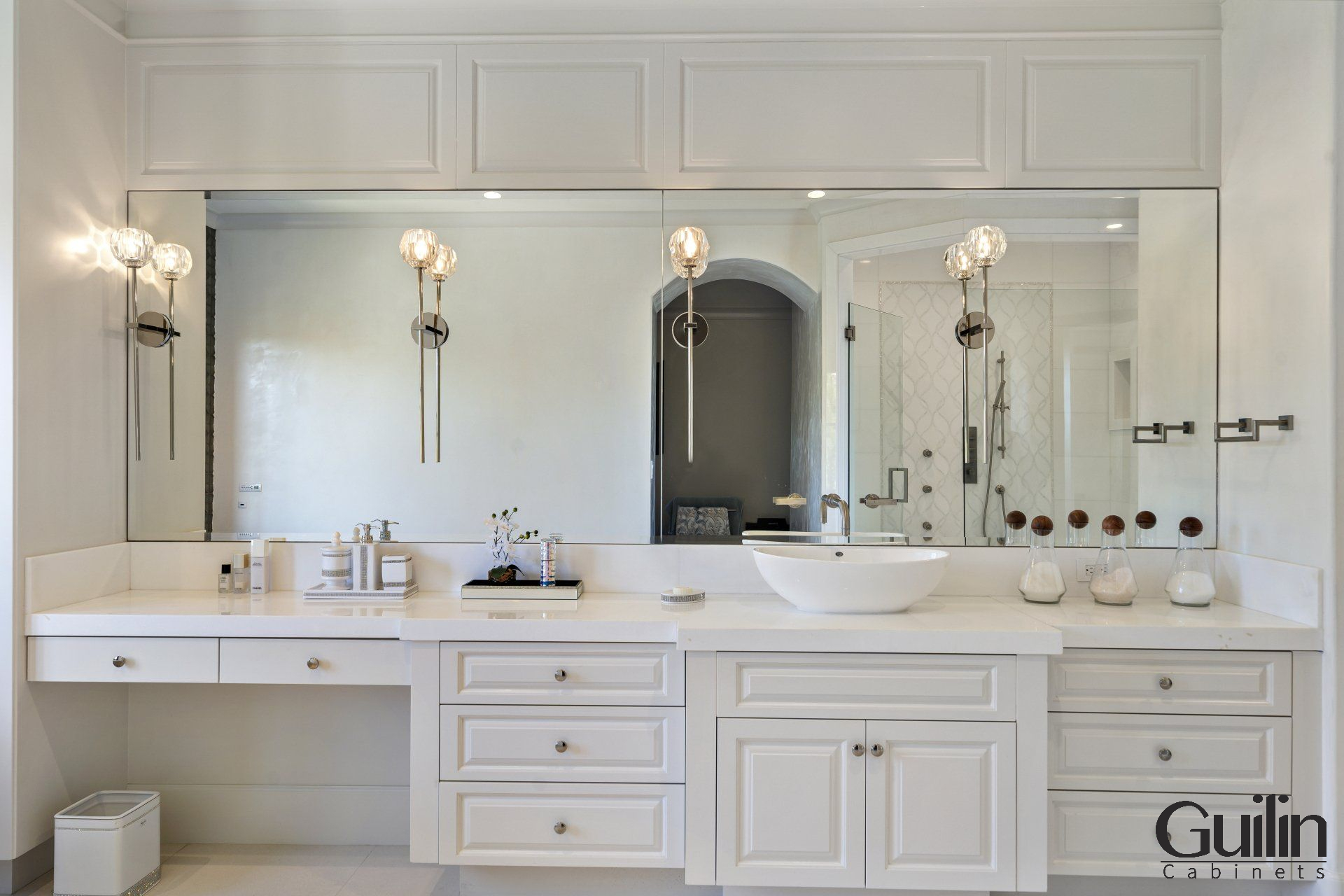 Finally, accent lighting is used to highlight specific features or areas such as artwork, plants, or architectural details. This can be achieved through spotlights, track lighting, or backlit mirrors. By highlighting these focal points, you can divert attention away from the size limitations of the room. This technique adds visual interest and makes the bathroom feel more intentional and carefully designed.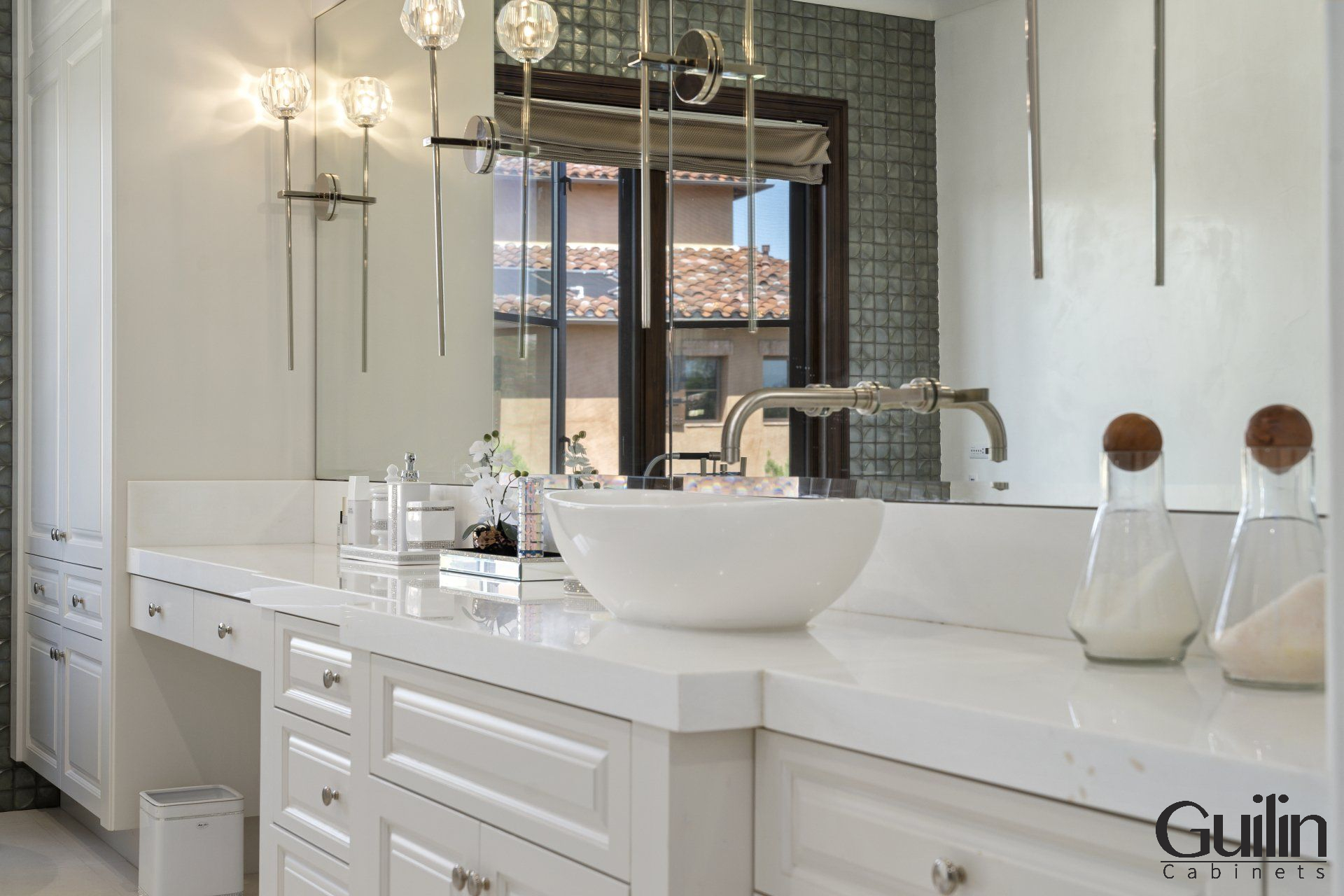 Use Mirrors to Reflect Light
You can install a large mirror or multiple mirrors to create the illusion of additional square footage and make the space look and feel bigger. The reflection will multiply the illusion of space and bounce light around the room, even if you don't have much natural light. Strategically placing mirrors in the bathroom can reflect sunlight from windows or skylights, and amplify its effect. This increased natural light can brighten up the space, making it look bigger and more open.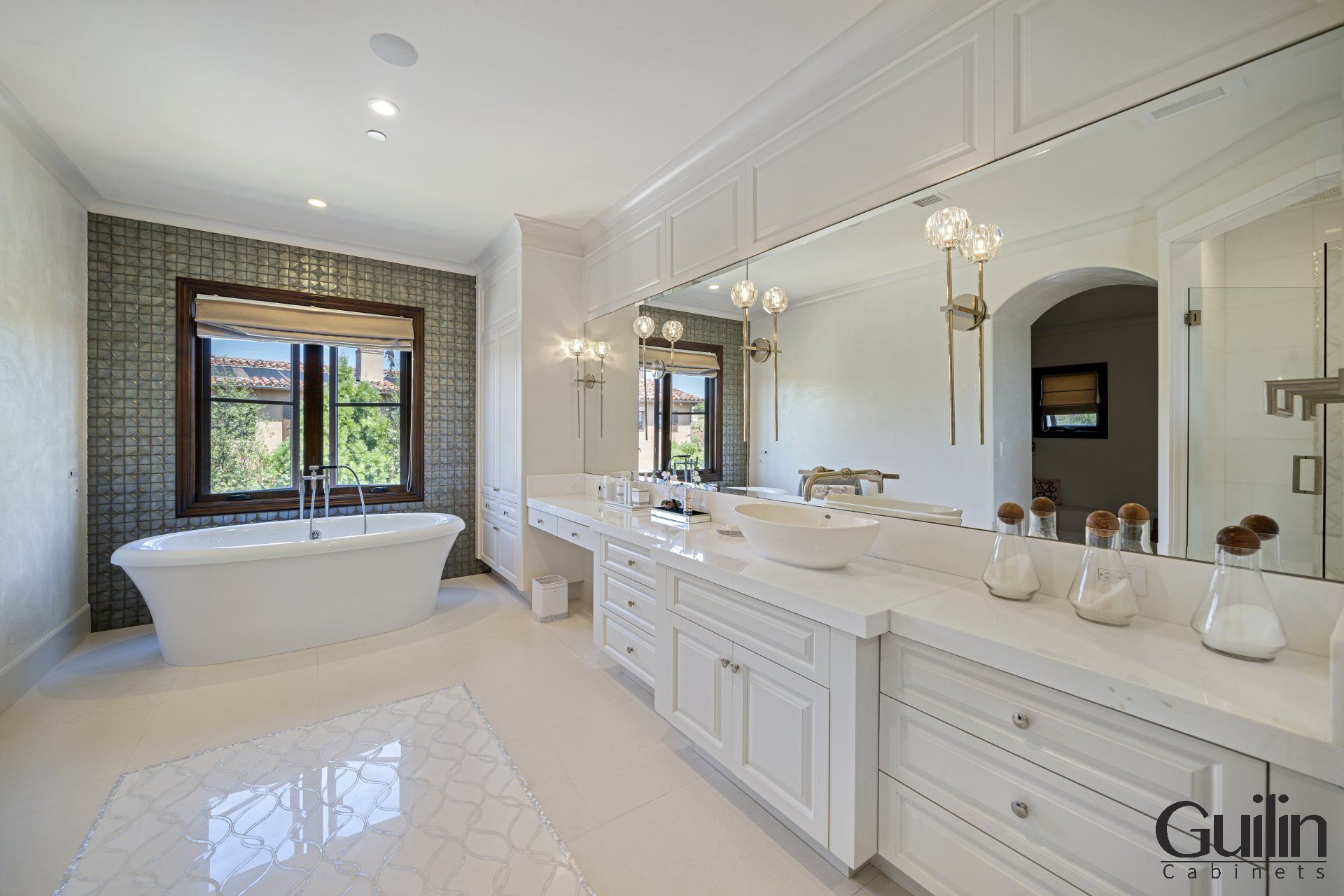 C. Other Ways to Make a Bathroom Feel Bigger
Consider Light Colors
The light colors have an amazing ability to create the illusion of more space and make a room feel more open and airy. Light-colored surfaces reflect more light, which creates a sense of increased space. In contrast, dark colors tend to absorb light, which can make a space feel more cramped and smaller than it actually is.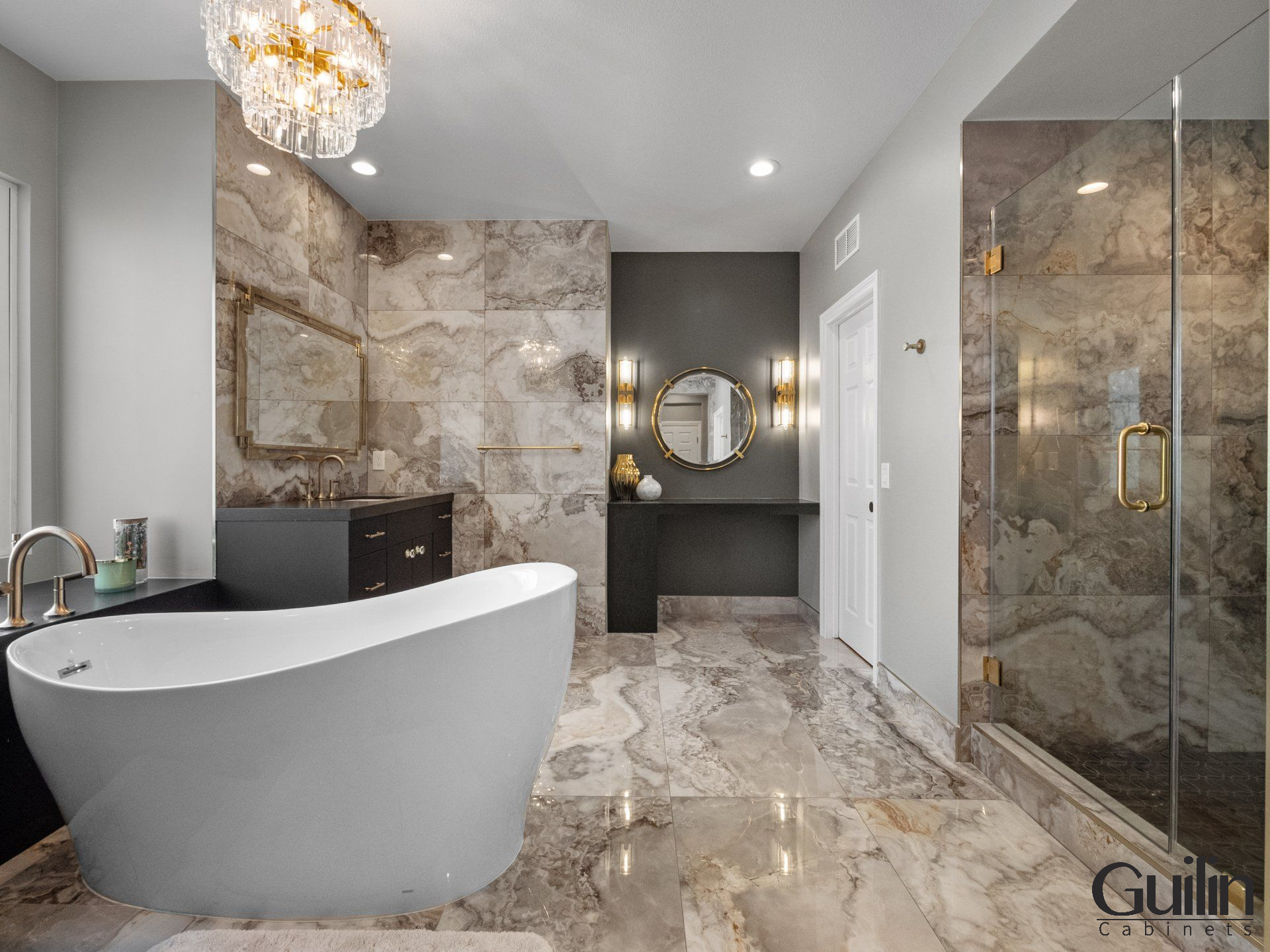 If you want to make your small bathroom look bigger and more inviting, go for lighter tones. By choosing lighter shades for your walls, tiles, and accessories, you can create a sense of spaciousness and lightness that will make your bathroom feel like a more inviting and relaxing space.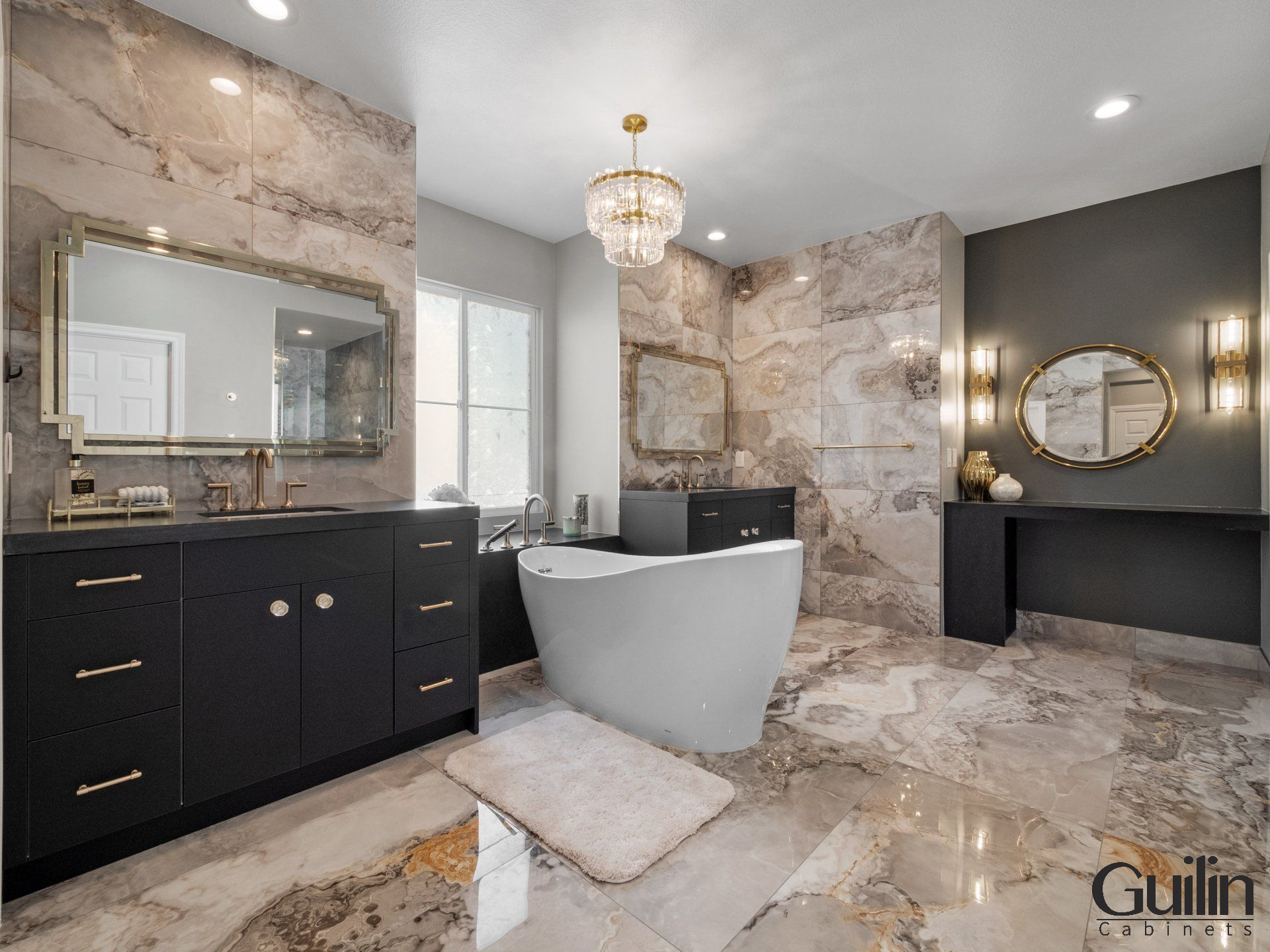 Create a Seamless Look
Creating a seamless look means using the same tiles throughout the entire bathroom. By doing this, you eliminate visual boundaries and create the illusion of a larger area. To take things a step further, try using larger tiles. This will reduce the number of grout lines you have, which can make the space look even bigger. The great thing about this trick is that it works for any style of bathroom. Whether you prefer a traditional or modern look, a seamless design will work wonders.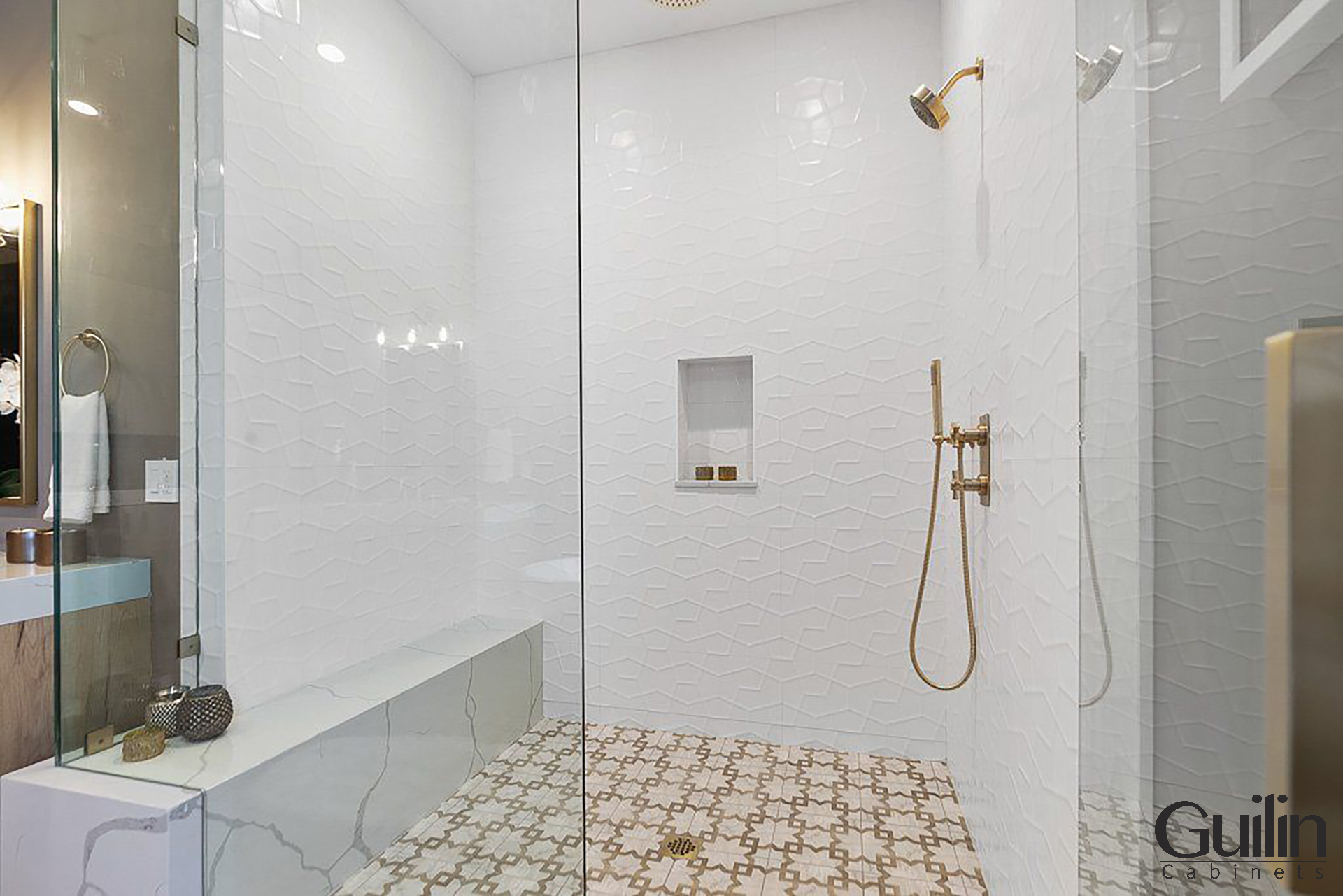 Incorporate Glass Elements
One easy way to do this is by installing a frameless glass shower enclosure. This gives the impression of an open and airy space, without any bulky barriers chopping up the room. Alternatively, consider adding glass shelves to your bathroom.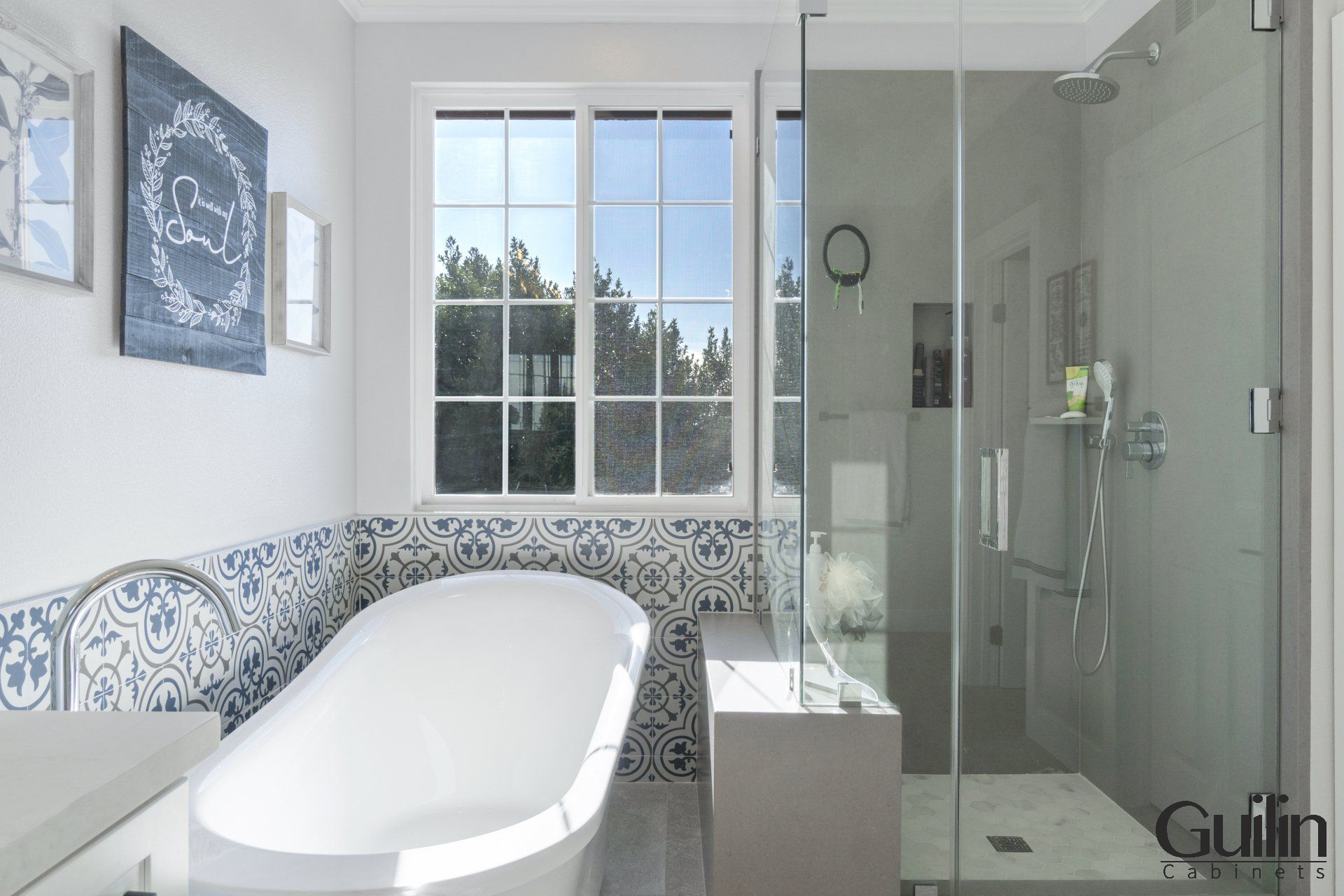 This not only provides extra storage space but transparent glass allows an unobstructed view of the room. Since glass reflects light, it also can gives the illusion of much more space than there actually is. This can mean the difference between a cramped, dungeon-like bathroom and a luxurious and spacious room. So, if you're looking to make your small bathroom look bigger, consider incorporating glass elements into your design. You'll be amazed at the difference it makes!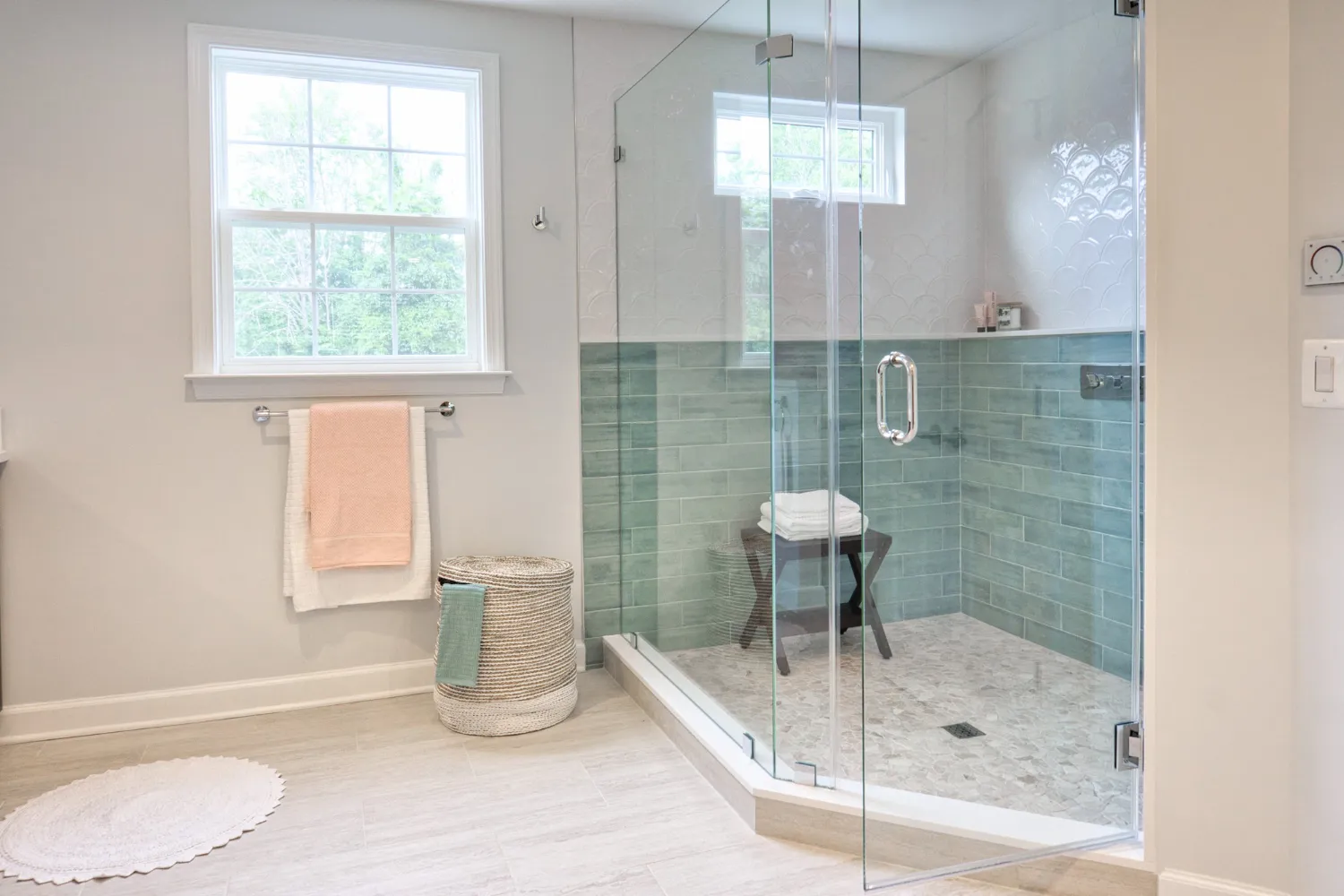 Install a Towel Bar Behind the Door
Want to make your bathroom look bigger? One trick you can try is to hide those bulky towels behind the door. By installing a towel bar behind the door, you'll be able to create more storage space without taking up any valuable floor or wall space. Not only will this give the illusion of more space, but it will also help your linens dry quicker. To make this storage solution even more efficient, try an over-the-door towel rack with staggered hooks. You can choose from chrome or bronze to complement your existing fixtures. There are also two sizes available to fit your door properly.
=> Related Article: DIY How to Install a Towel Bar in the Bathroom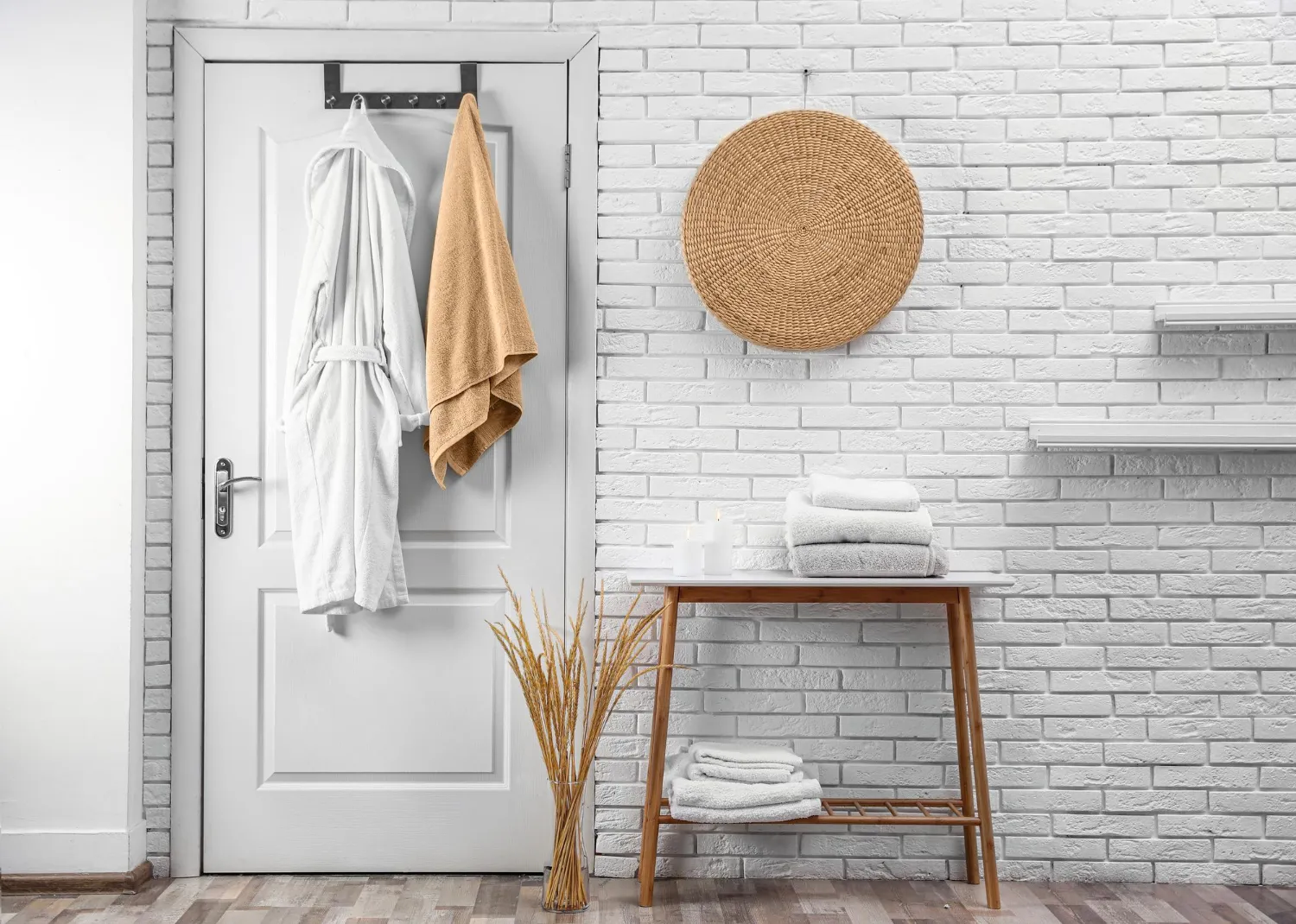 Repeat Tiles On The Floor and Walls
Repeat tiles on both the walls and floor is an effortless and cost-effective way to make your small bathroom look bigger and more polished. Not only will this create a seamless look, but it will also give your bathroom a chic and luxurious feel, just like a 5-star hotel. To achieve this look, opt for large format tiles in a light color, such as a marble effect or pale tiles. This will instantly brighten up your space and make it feel more spacious. Plus, it's easy to clean, which is always a bonus!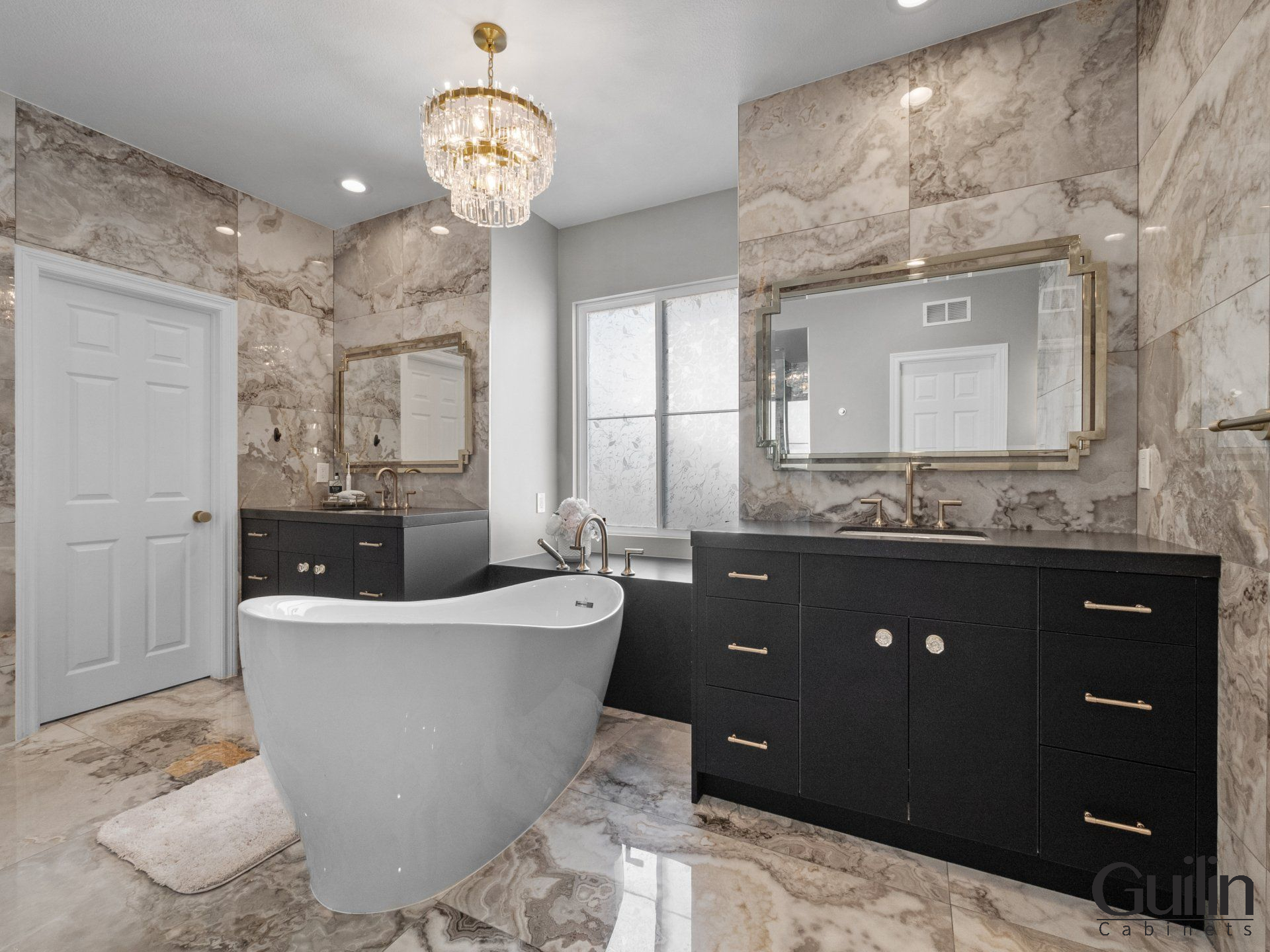 Need Assistance From a Professional Remodeler?
If you want to make your small bathroom look bigger, contact one of our professional remodelers for assistance and advice. Contact Guilin Cabinets Today!
Phone: +1 949 299 2370
Email: info@guilincabinets.com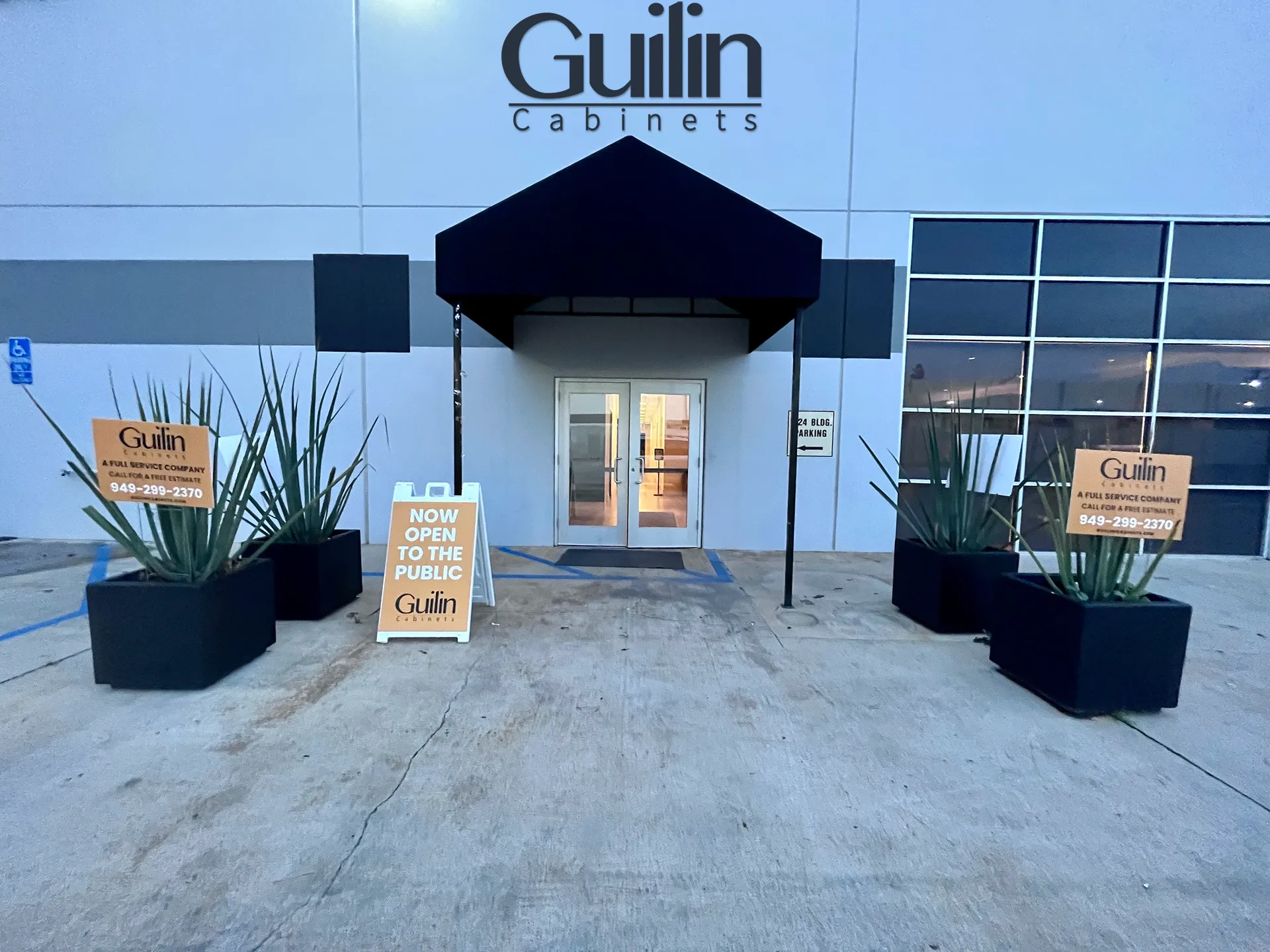 If you have questions about how to reimagine your dream bathroom to complement the other rooms of your home, call Guilin Cabinets at +1-949-299-2370 for a Free Design Consultation to see what your options are for an open layout that will leave you with plenty of room for activities.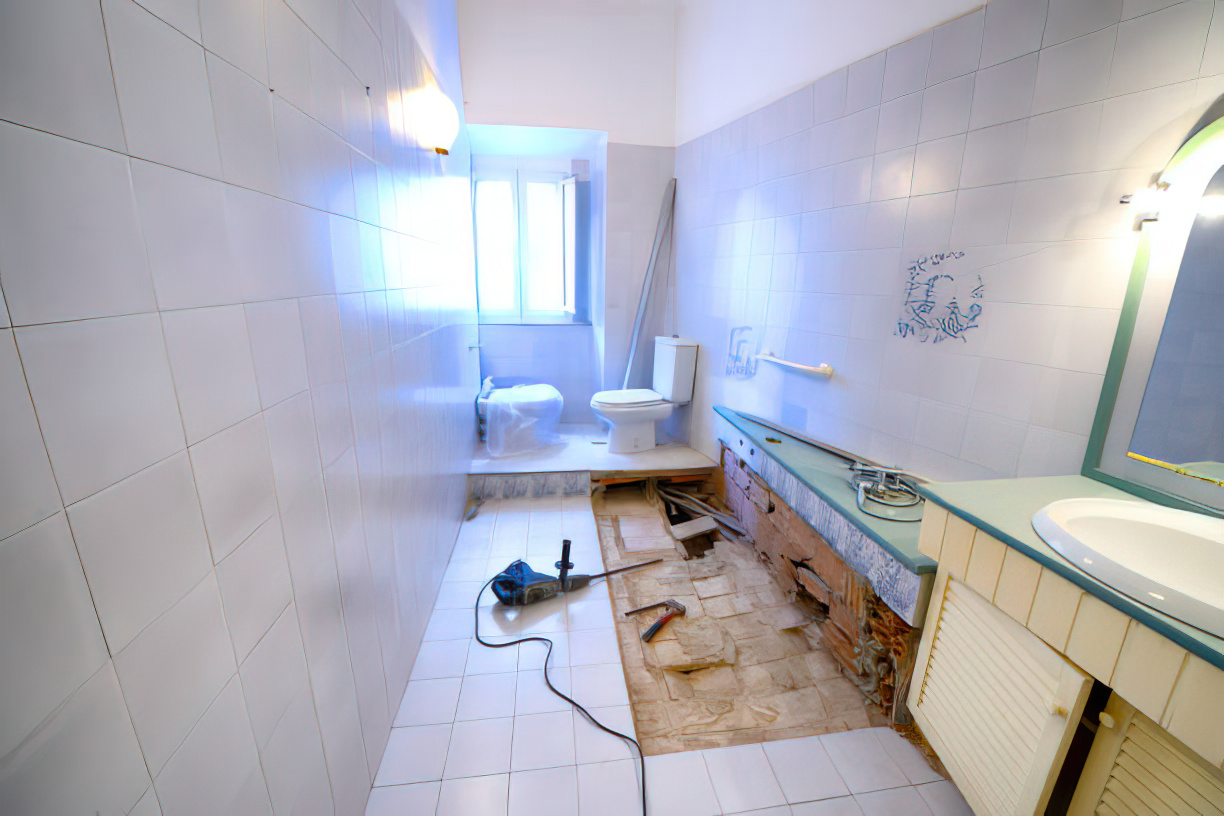 D. FAQs About to Make a Small Bathroom Feel Bigger?
How can I make a small bathroom look bigger without renovating it?
Even without a complete renovation, you can make your small bathroom look bigger by decluttering, organizing, and incorporating space-saving storage solutions. Additionally, using light colors, mirrors, and proper lighting can create the illusion of a more spacious environment
Can I make my small bathroom feel more luxurious?
To make a small bathroom feel more luxurious, focus on incorporating high-quality materials, such as marble or glass, and add elegant fixtures and accessories. Proper lighting, a cohesive color scheme, and attention to detail can also elevate the overall look and feel of the space.
Can I use wallpaper in a small bathroom to make it look bigger?
Wallpaper can be used in a small bathroom, but it's essential to choose a design that creates an illusion of space. Opt for wallpapers with light colors, vertical stripes, or subtle patterns that add depth and visual interest without overwhelming the space.